While Twitter was once exclusively a thought-sharing platform, the channel has evolved, becoming a source of limitless audience reach for the savvy marketer.
With 166 million daily active users, it's no wonder that marketers flock to the social platform.
It may have once been enough for companies to share funny tweets or content on the platform to be successful on Twitter. However, marketers today need to stay relevant with the rapidly changing features that are a hallmark of the platform. Your Twitter marketing strategy should be in constant flux in relation to the adjustments of the platform.
Sound overwhelming?
It doesn't have to be.
Below, this article breaks down the 10 advanced Twitter tricks and tips that can help you cut through the clutter on this unique platform.
1. Refresh Your Twitter Profile
Remember the saying, "there's no second chance at a first impression?"
That adage applies to your social profiles, too.
If it's been a while since you've actively worked to update and optimize your Twitter profile, now is the time. Check out these four advanced Twitter tips for making sure your profile is up-to-date and positioned to attract would-be consumers.
Twitter Bio
With only 160 characters at your disposal, make sure your Twitter bio is not only giving page visitors a clear understanding of your brand but also harnessing the power of your chosen keywords.
Header Image
Your header image shouldn't be stagnant. Instead, continually update the image to represent new offerings or seasonal themes.
Try out these different header image options:
upcoming event
new products
best-selling products
client testimonial
capabilities
Regardless of which route you decide to take, optimize your images and take advantage of this chance to use your branded keywords by including them in the image file names to boost the likelihood that your page appears in an image search.
Profile Image
Your logo should dominate your profile image.
However, if your logo includes a lot of text or complex imagery that won't translate well on mobile, consider crafting a secondary logo.
Website Direction
Move beyond the typical home-page link by strategically approaching where to send clients. In my Twitter bio, I direct visitors to 'Consulting' so they have a direct path to take.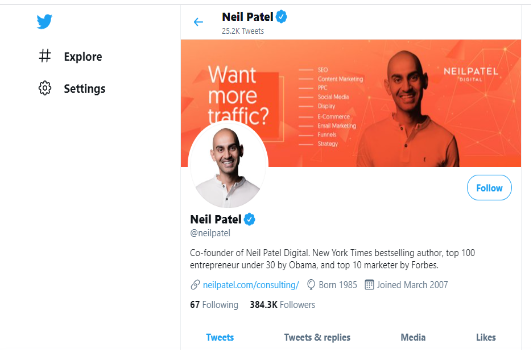 After you've completed these four advanced Twitter updates, remember to keep it up. You should update your Twitter profile to reflect changing facets in your industry, as well as those in your own business.
2. Share Different Content Types
Twitter is different from its social media contemporaries. That whitepaper you shared on LinkedIn might have seen a lot of engagement, but it may not perform well on Twitter.
According to Twitter, interactive content tends to perform best on the platform. The company suggests using:
Visuals With an Emphasis on Video
To bolster results, Twitter advocates for using arresting images, GIFs, and videos.
The data is there to back it up: With over two billion video views per day, ensure you're taking advantage of the highly-desirable content form. Twitter suggests using your company logo and subtitles to eliminate the need for headphones and sharing videos between 6-15 seconds.
In fact, posts with visuals generate 35 percent more retweets than those that are solely text-based, and videos generate 28 percent more retweets than text.
Moral of the story? The more visually compelling your tweets, the more likely they are to generate social engagement.
Check out this visual narrative from Threadless that tells a complete story through an interactive video.