Case studies go beyond simple testimonials by providing real-life examples of how your brand satisfied your customer's needs and helped them accomplish their goals.
An in-depth case study helps you highlight your successes in a way that will help your ideal potential customer become your next customer. They help you show rather than tell prospective customers how you can help them reach their goals.
But, creating a solid case study can be a challenge. Today, I'll provide actionable tips to help you write a case study, provide background information, and identify key metrics that will help your case study drive conversions.
1. Write About Someone Your Ideal Customer Can Relate To
Do you know who your ideal customer is? If it's someone in the education industry, then make your case studies about your university customers. If it's someone in the automobile industry, then make your case studies about auto parts and accessories manufacturers.
The goal is to ensure that your case study will show prospective customers that you are:
Comfortable in their industry.
Undertand their industry's specific needs.
Know how to give their industry targeted results.
Think about it on a smaller level, such as when you're reading a how-to blog post. Most of of these posts are geared toward average readers.
But when you come across a post designed specifically for your needs (such as online marketing for the healthcare industry), you are more likely to understand and apply the information.
The same goes with case studies – people who read about results in their industry will feel like the same approach will work for them.
2. Tell the Story from Start to Finish
Storytelling is a powerful marketing strategy. A great case study will allow someone to really get to know the customer in the case study including:
Who is the sample customer and what do they do?
What were the customer's goals?
What were the customer's needs?
How did you satisfy those needs and help the customer meet their goals?
But don't stop a month or two out. Follow up with the customer in the case study and update your case study a few months down the road to show how your solutions continue to provide long term benefits.
This gives readers the opportunity to see that your goal is not only to help with immediate needs, but also to ensure long term results.
3. Make Your Case Study Easy to Read
No one likes to read one huge chunk of text, no matter how interesting and informative it might be. Case studies, like blog posts, should be scannable and easy to read.
Be sure to use good content formatting elements as you would with articles, blog posts, and copywriting on your website, including:
Headers
Images
Bulleted lists
Bolded & italicized text
In addition to providing great SEO value for your case studies page, these formatting elements will help your readers (especially those that like to skim) find the most important parts of your case study and get a great impression about what your business could do for them.
Consider adding multi-media elements in addition to written content, such as videos, PDFs, and images to mix it up and make the content more engaging.
4. Include Real Numbers
Have you ever read case studies where a business states they "doubled traffic" for the customer in their case study and wondered if that meant they went from 100 to 200 visits or 10,000 to 20,000 visits?
Avoid using broad statements by using clear, direct numbers. This makes your case study more believable and helps build trust in your brand.
You want your case study to be as precise as possible. Instead of saying you doubled their traffic, provide specific, accurate numbers and (if possible) real proof in the form of charts, graphs, or analytics data.
Remember that not everyone is as familiar with analtyics technology as you are, so highlight the most importnat pieces of data and provide context to why it matters.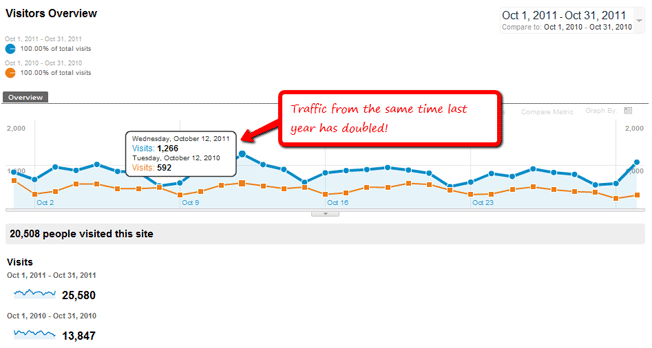 This way, the reader can see where the customer began and where the customer ended up with your help.
Plus having the picture proof can help the reader envision exactly what you might do for them, making your case study that much more powerful.
5. Talk About Specific Strategies in Your Case Study
So you doubled a website's traffic or sales, right? How did you do it? This is where you sell your products or services simply by saying which ones you used and how they led to the desired result.
Don't just say "our online marketing services led to these results." Instead, say something like, " A three-month social media campaign focusing on Facebook & YouTube and five-month of link building campaign led to an increase in rankings, plus brand exposure led to these results."
Don't worry about giving away your secrets — the goal is to establish your brand as an industry leader and you need to show you know your stuff.
6. Try Different Content Formats
Case studies do not have to be fit into a story form every time. Try different types of case studies, such as an interview format where you have your clients answer the same questions mentioned earlier about what they do, their needs, their goals, and how you met them.
Quoting your customer in their own words will make the case study even more relatable to your ideal customer than you telling the story.
Infographics, webinars, and even podcasts can also be used to highlight case studies. Don't get stuck in the same old text-only format — get creative and see what type of content your users respond to.
Here's a case study example from Venngage that uses a brochure-style case study to highlight how Vortex was able to grow conversion. (Notice the results section that highlights specific gains.)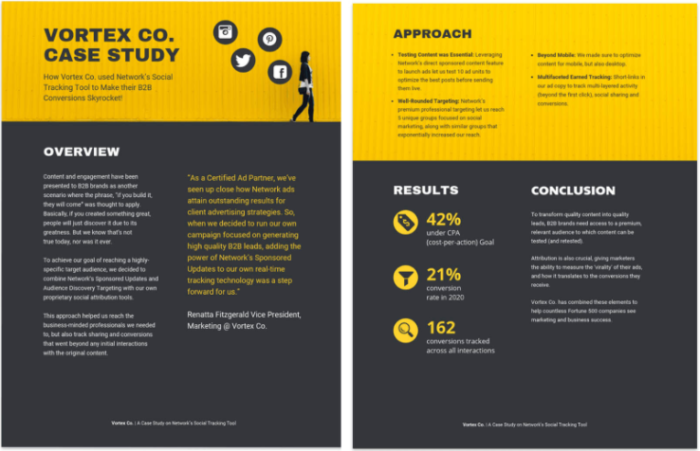 7. Appeal to Different Types of Learners
While some people enjoy reading, others may prefer audio, video, or visual representation of your case study. So consider taking your text-based case studies and re-purposing the content as:

The bonus with YouTube videos and infographics is that they are easy to share. This means that your case study may go further than just your own site, leading to more of your potential customers finding out how they could benefit from your products or services.
Case studies can also be embeded in other types of content — such as an ebook, how-to blog post, or resource guide.
8. Make Your Case Studies Easy to Find
What's the point of having great case studies if no one will ever read them? Be sure that your case studies are organized and easy to find.
Here's a few examples of good case studies that are easy to find — and therefore, much more powerful.
AWS provides case studies right on their homepage. They also make it easy to look for an-industry specific case study in manufacturing, financial services, fitness, and more.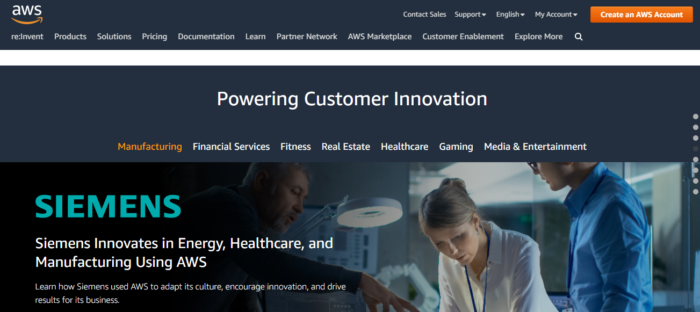 Drupal provides case studies right in their hero image. Users considering using their solution don't have to look far at all to see how other brands are finding success with Drupal.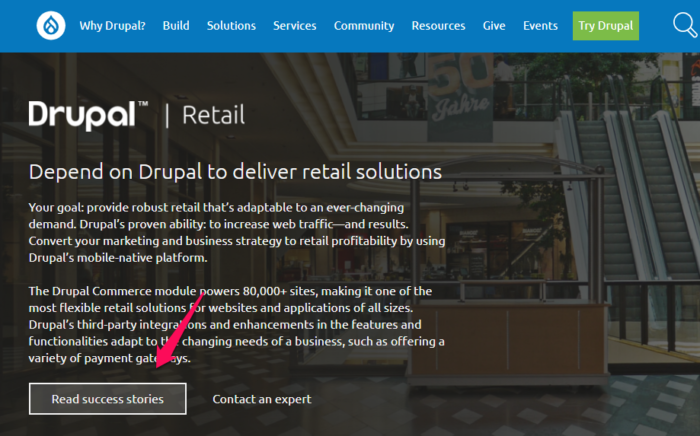 Conclusion
A great case study starts with case study research. Ask your customers to fill out a short form that highlights how you helped them reach their goals — be sure to ask for specific results.
Explain how the case study will help them by increasing brand awareness and link opportunities. Remember, a highly effective case study helps both you and your client build trust and reach a wider audience.
Have any case study best practice tips or examples of case studies you have enjoyed? Please share them in the comments!