Disclosure: This content is reader-supported, which means if you click on some of our links that we may earn a commission.
When your human team has trouble managing your customer service needs with sticky notes and cluttered inboxes, you need a new solution.
Customer service software lets you keep all of your tasks in the right baskets without losing track of anything. It also boosts your customer satisfaction and lightens your agents' load.
These customer service software options will help you organize your company, whether you're a startup or a seasoned business owner.
The Top 7 Options for Customer Service Software
How to Choose the Best Customer Service Software for You
Customer service software isn't one size fits all. Choosing the right customer service software means considering your customer's needs and what the software offers your business.
Features Offered
Do you mainly do customer support over live chat? Are your agents constantly fielding phone calls? Do you need software to connect with agents in the field?
When you get the right features in your software, you boost your team's ability to create positive customer relationships and increase customer satisfaction. Getting the wrong features can be just as bad as having no software at all.
Customer Preference
Consider which support channels fit your customer's needs. Offering call support alone to a Millennial or Gen Z audience will probably create some unhappy customers since both of these groups prefer live chat and social media.
Knowing your customers saves you money and helps streamline your customer service process.
Your Current Customer Support System
Your new software should focus on improving your current customer service practices. If you have a dedicated customer service team, make sure your software supports them, too.
If multiple people have their fingers in the customer service pie, purchase a system that clearly defines each person's role, and prevents overlap.
All-in-One vs. Specialized Systems
Some systems offer several services for your customers, but sometimes you don't need them all. If you provide online-only support, you don't need the frills of phone, video, and other options. So don't buy them.
All-in-one systems encompass different types of software, including:
Customer relationship management (CRM): CRMs focus on sales and interacting with people to bring them in as customers and retain them long-term.
Customer experience management (CEM): CEMs deal with the customer's experience throughout their buying journey, from marketing to purchasing to customer service. In other words, you want them to leave positive reviews and become repeat customers.
Marketing automation software (MAS): MAS systems concentrate on marketing efforts, communicating information about products and services, and generating leads.
The type of software you get depends on your business and customer needs, so choose carefully.
The Different Types of Customer Service Software
Different types of customer service software fulfill various purposes and conform to specific customer needs.
There are three basic types of customer service software.
Helpdesk
Helpdesk software functions pretty much as its name suggests. It keeps track of everything in one convenient location and can automate processes like ticketing and store canned replies, so you don't have to retype the same response to all those customers asking the same question.
Helpdesk software lets agents juggle different customer service actions in one place, so they have easy access to everything when they need it.
Customer Relationship Management (CRM)
CRM software gives you a more comprehensive view of customer service and related information. It builds a database for sales purposes and helps customer service agents manage various accounts differently depending on customer needs and habits.
CRMs are usually more comprehensive than helpdesk software. They're also more marketing-focused than other customer service software and tools. If you don't need too many bells and whistles, opt for something simpler.
Live Chat
Live chat sticks to online modes of customer service. It lets your reps respond quickly and conveniently to customer questions.
This type of software doesn't offer anything as broad as CRM or even helpdesk software, but that doesn't mean it can't serve you well. I'd recommend it for any business that values efficiency and a streamlined approach.
1. Hubspot's Service Hub—Best Free Software and Deals
Hubspot doesn't just offer marketing services. Hubspot's Service Hub gives you all the tools you need to organize your services.
The best part is that you can get a free version of this software without worrying about it expiring. Most other software companies give you less than a month to try theirs. With Hubspot, you might not need to pay at all to get what you need.
Hubspot makes it easy for your team to communicate with a conversations inbox and team email, so everyone stays on the same page. It even has email templates, so agents don't have to waste time crafting the same email over and over.
Live chat and chatbots save time and work to help customers in a way that's convenient for you and your team. You can also connect the software with others from Hubspot, like their sales software and CRM.
If you need more than what the free plan offers, you can buy this software in three tiers:
Starter: $40 per month
Professional: $320 per month
Enterprise: $1,200 per month
Each tier offers different features and supports two, five, and ten users, respectively. The Starter package comes with meeting scheduling, agent productivity reports, calling, and canned snippets, so agents don't need to repeat themselves for each customer.
With the Professional and Enterprise packages, you can get everything from automation, pipelines, and custom reporting to a knowledge base, hierarchical teams, and integration with Slack. While each tier has a significant price jump, the features that come with them make the cost worth it if your team needs the additional support.
Pros
Integrates with other Hubspot software
Established and popular brand
Offers more free software
Cons
Costly for the features and tiers offered
Limited number of users
2. Zendesk—Best for a Support Suite
One of the most established customer support software options available, Zendesk offers a whole support suite to give you all the tools you need to click with customers.
It offers convenience with live chat and messaging, so you give customers a personalized experience. You can also connect Zendesk to your social channels without managing a ton of different platforms.
With a ticketing system that includes tracking, solving, and a priority system, Zendesk creates agent efficiency. Tickets don't get buried in anyone's inbox, and you know the status at any given time.
The software's integrated voice system allows you to makes each customer's voice experience unique. You can create a new phone number or use an existing one, so your call center works for you.
Zendesk offers solutions for businesses of all sizes with solutions like:
Answer Bot—An AI bot that suggests articles to help customers
Zendesk Guide—A smart knowledge base to help you find resources
Zendesk Gather—A forum for customers to connect with each other
You can get five software levels for smaller businesses, ranging from $5 to $199 per agent per month, including Essential, Team, Professional, Enterprise, and Elite.
Larger businesses will benefit most from the Professional Support Suite and Enterprise Support Suite. With these options, you get omnichannel support, social messaging, and dashboards, and reports. Reporting and analytics are vital to know how your agents connect with customers and your customers' satisfaction with their experience.
Plus, with the Enterprise Support Suite, you have access to special features like multi-band support and 24/7 support for your agents if anything goes wrong. You also get a chat widget, roles and permissions, and content cues. The higher the tier, the more convenient Zendesk makes the customer service experience for everyone.
Pros
Many self-service options
Complete support suite
Can integrate social media with software
Cons
Not many options for larger businesses
3. Groove—Best for Small Businesses and Startups
Groove is newer than many of the options here, but don't walk away from it just yet. Its modern, intuitive design has boosted its popularity fast.
Groove is designed to learn quickly, so you don't have to take time out of your day to figure it out, giving your customer support team the ability to get up and running quickly. After all, the whole purpose of customer support software is to streamline your operations.
This software doesn't have tiers. Instead, you pay for the core software, which includes:
Rules
Tagging
Canned replies
Custom folders
Conversations
Performance
Customer reports
Mobile compatibility
Integration for almost any app
Because you pay for only the basic package, you can customize it however you want. Small businesses won't get overwhelmed with a million options, but that does mean you have to think a little harder about how you want to set it up. Once you do, you can make it easy and intuitive for your agents to get in the groove. You can also try a free 15-day trial of Groove to test it out.
Pros
Intuitive interface
Works well for small businesses
Customizable
Integrates with most apps
Cons
The basic package has fewer features
Takes more setup
4. TeamSupport—Best for B2B Support
Built for B2B customer support, TeamSupport lets you tailor your service options to business owners. You can group users into organizations, so you know who is part of which team and track common issues between businesses.
The Product Section feature allows you to put customers who use the same products together, so agents spend less time searching and more time resolving issues. With the Customer Distress Index, you can see how agents have helped customers and their satisfaction with their experience.
The Water Cooler brings agents together to communicate internally to resolve issues, but TeamSupport also has customer self-service options. The software only offers two price tiers, but they are cheaper than most other software.
The Support Desk version costs $50 per agent per month, and it lets you assign, track, and manage customer support requests using help desk operations. You can also customize and automate tasks to provide excellent end-user customer support.
The Enterprise package only costs a little more at $65 per agent per month. It works well for software and technology companies, allowing you to track products, support issues, and product defects, ideal for B2B customer service.
Pros
Used by industry leaders
Cheaper than many other options
Great for B2B customer support
Cons
Only two tier options
Less adaptable for B2C support
5. LiveAgent—Best for Live Chat-Based Customer Service
LiveAgent is an award-winning customer service software that has been recognized for its B2B- and SaaS-friendly service and live chat interface. This helpdesk software focuses mainly on remote work.
LiveAgent includes a universal inbox and automated ticketing, so agents get assigned tickets and can also see what everyone else is working on. It eliminates overlap and uses gamification to improve existing customer service practices.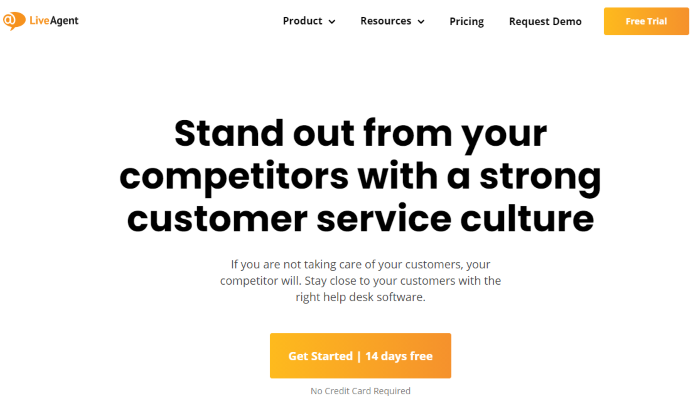 With a live chat and call center, your agents have the tools to respond to customers when they need help. Unlike other customer service software, LiveAgent also offers video calling support, rather than just phone and live chat. Unfortunately, its interface isn't as intuitive as others on this list.
Your agents get the support they need with 24/7 customer support for all four of its packages:
Free
Ticket: $15 per agent per month
Ticket+Chat: $29 per agent per month
All-Inclusive: $39 per agent per month
With a 7-day ticket history, the Free package gives you one email address, a live chat button, and a phone number. It also offers basic reports, a knowledge base, and ticket options like merging, splitting, exporting, and mass actions. For a free package, it's reasonably comprehensive.
The Ticket package upgrades you to unlimited ticket history and email ticketing, plus advanced reporting. You also get templates and canned answers, along with gamification to streamline the customer experience.
Ticket+Chat gives you all the features of Ticket, plus unlimited live chat, chat invitations, and chat satisfaction surveys. You can also keep track of who looks at your website with the real-time visitor monitor.
The All-Inclusive package does seem to give you everything you could possibly want in a customer service software. You'll have all the features of Ticket+Chat, plus unlimited call center support, video call, and call routing and transfers. Essentially, any call feature missing from the lower tiers you can find in this one, along with social account connectivity.
You can add specific features for an additional cost with every tier, such as an additional knowledge base or time tracking. The same applies to connecting social accounts, which can cost anywhere from $5 to $39 each per month.
Pros
Great for remote support
Offers video calling options
Many tiers and features
Low cost
Cons
6. Salesforce Service Cloud—Best for Remote and On-Site Support
Many well-known companies use Salesforce Service Cloud to boost their customer connection.
It's designed for field service so that you can answer customer questions anytime, anywhere. You can even tailor your software to your company's location, which helps local businesses.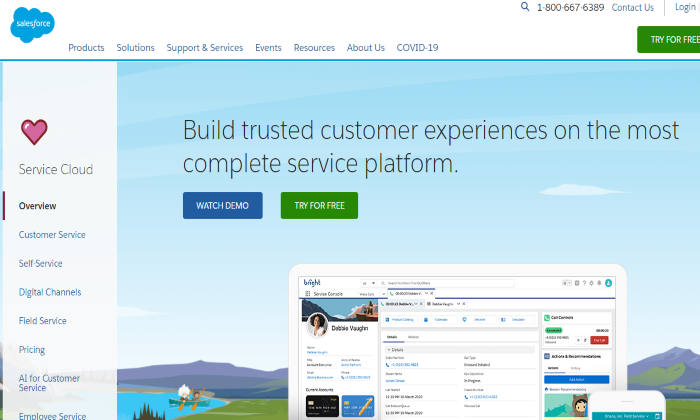 Salesforce Service Cloud uses AI, chat, voice, and field service to help agents customize their customer's experience. As the #1 CRM, Salesforce focuses on all aspects of the customer experience, so agents can keep up with customer needs with less effort.
The product has four tiers:
Essentials: $25 per user per month
Professional: $75 per user per month
Enterprise: $150 per user per month
Unlimited: $300 per user per month
The downside to this product is that the price sometimes more than doubles when you jump tiers without offering too many more features. With Essentials, you get case management, service console apps, a knowledge base, and phone integration.
While that might be worth the money for you, the only additional features you get with the Professional software are service contracts and entitlements. From there, Enterprise gives you web services API, and with Unlimited, you get 24/7 support and configuration settings.
Essentially, each tier only gives you one more feature. Whether you spend the money on them depends on how badly you need them. Nonetheless, Salesforce is a widely-known and trusted software, and many of your employees have likely used it before, which will cut down on the learning curve.
Pros
Excellent for field support
Most flexible software available
Has more AI options than other software
Cons
High prices for few features
No 24/7 support for tiers below Unlimited
7. Freshdesk—Best for a Streamlined System
Freshdesk can help you streamline any inbox disaster. Alternatively, if your current customer service software looks more like a virtual maze, Freshdesk makes it easy to switch.
Freshdesk's ticketing system comes with a team inbox, including agent collision detection. Its collaboration feature uses Team Huddle so agents can discuss tickets and share ownership when the project is too big for one person. Plus, with Omniroute, you can auto-assign customer service tasks to agents based on their bandwidth.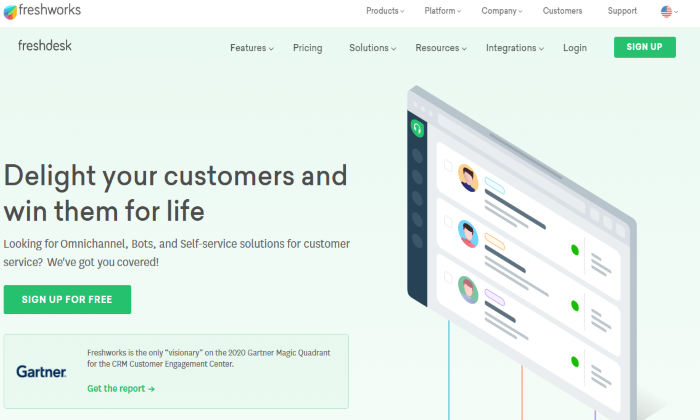 With multichannel support, advanced and custom reports, and field service management, you can cater to customers no matter where you are.
Freshdesk even helps customers help themselves with a forum, chatbot, help widget, and other features to guide customers before they reach out to you. These self-service features will help your customer service streamline even further and provide helpful resources.
You can get the Sprout package of this software free, but you can also get four other tiers:
Blossom: $15 per agent per month annually
Garden: $35 per agent per month annually
Estate: $49 per agent per month annually
Forest: $99 per agent per month annually
The Sprout package already gives you unlimited users along with email and social ticketing, ticket dispatch, and ticket trend reports. You also get a knowledge base, so no one stays out of the loop.
Once you upgrade, the Blossom package includes automation, collision detection, SLA management, and more. The Garden level comes with a multilingual knowledge base to enhance your ability to help customers. You also get performance reports, time tracking, and custom apps to personalize the customer service experience.
In the Estate package, this software gets serious about keeping your information together. With custom reports, dashboards, and roles, the software practically manages itself. You can even take advantage of versioning in the knowledge base, customer segments, service for multiple products, and dynamic ticket forms that include as much detail as you want your customers to give when they have a problem.
You don't get any more high-tech than the Forest tier. From an audit log and agent scripts to auto-triage and an article suggester, the software helps agents and gives customers resources to help themselves. Forest even lets you maintain HIPAA compliance when you use it, and you can use up to 5000 Freddy sessions per month when you use live chat.
Pros
Low cost
Can choose to pay monthly or annually
Versatile
Lots of features at all tiers
Cons
May appear overwhelming with so many features
Summary
The right customer service software can make or break a business. That's why you should evaluate every option and how it will work for your company's specific needs.
Whether you need a CRM or just a live chat option, you can find a customer service software in this list that is right for you and customize it to fit your business.