Disclosure: This content is reader-supported, which means if you click on some of our links that we may earn a commission.
Interested in customer relationship management (CRM) software that's free forever? You've got options.
This is not a typo. Free means no cost. Forever means no time limit.
I hope you're sitting down, because there's more shocking news. These zero-dollar-per-month platforms are packed with great features.
I've picked out the top five free CRM software products on the market. They're all a little different. Chances are, one of these options is going to work much better for you than the others.
There's no cost, but your time is valuable. Let's run through the important considerations that go into picking the right free CRM software on the first try.
The Top 5 Options For Free CRM Software
How to Choose the Best Free CRM Software for You
Trying to manage customer relationships with traditional spreadsheets and databases is a pain, to put it nicely. Speaking frankly, it's a barrier to growth.
You can only go long without a dedicated tool that centralizes and organizes all of your contacts.
And CRMs do so much more than that. They tie into virtually all of your other customer-related services and provide a home for contact information and data. Whenever someone makes a purchase, clicks on a link, or opens an email, it's all captured and reported in a CRM.
They can get pretty powerful, in terms of marketing automation and customer experience. Of course, when we're talking free CRM software, they're not giving away the full spread of features.
Here's what you want to consider as you look through your options.
The Limits of Free
Offering a software for free is not a form of charity. It's a calculated bet. They are hoping that companies using the complimentary service will grow to the point where they need a paid plan.
So there are limitations, for sure. If your team or scope stays small, though, free CRM software can be a decent solution for a good little while.
For each review, I've bolded the limits that are likely to have the biggest impact. These may include:
Maximum number of users
Maximum number of contacts
Maximum number of company records
It's important to forecast when and how these limits will affect your ability to use the product.
Contact Management and Tracking
With free CRM software, you want to be aware of your contact limit, but also the tools each product provides for contact management and tracking.
This is really the core responsibility of CRM software, what helps you manage each customer relationship.
All the products on my list will help you move from spreadsheets into a much more intuitive interface. At a glance, you'll be able to see an entire record of the relationship.
Some are going to come with sales-focused tracking features, like funnels and lead scoring, whereas others have helpdesk and ticketing features that work for customer service.
Think of the individual or team who is going to use the free CRM. Are the contact management and tracking features suited to their tasks?
Local Fit
How will the free CRM software fit within your current business processes?
It takes some thought to build around a tool that only several users can access, yet most freemium solutions are capped at 2-3 users.
Do you have the right collaboration software to enable CRM users to share the resource effectively?
That question fits right into my thoughts about integrations, so to speak.
Every vendor brags about the out-of-the-box capabilities of their product. The truth tends to be more complicated, as in they work perfectly… but only if you use Microsoft Outlook, for example. Or maybe there's a plugin for Shopify but not WooCommerce.
I could go on, but I won't. My point is that CRMs deliver more value when they integrate with the tools you are already using.
Score bonus points for products that have official integrations—the less time you have to spend getting things synced, the better.
Long-term Outlook
The time invested in a CRM isn't free, even if the platform doesn't "cost" anything. Ideally, companies find a product they really like using and one that helps them grow.
At some point, the capacity and feature set of any free CRM is going to hit its limit. Upgrading a plan takes a matter of minutes, whereas migrating from one CRM to another can be a bear.
If you outgrow your free CRM software, is the next pricing tier still within budget? And does it come with more features that are really going to have an impact?
The Different Types of Free CRM Software
When I reviewed the best CRM software, I broke the category down into operational, analytical, and collaborative products.
Breaking down what makes the best free CRM software is a little different.
They all come with a taste of the operational, analytical, and collaborative aspects of paid CRMs but, generally speaking, free plans focus on one of three areas:
Sales
Marketing
Customer service
Many of the products on this list will work for all three at the premium tiers, but trim their free offering to one of these categories.
Free Sales CRM Software
These platforms focus contact management on nurturing leads and converting prospects. They provide tools that help reps keep track of all the relationships they build.
Free sales CRM software will often include:
Appointment scheduling
Funnels
Pipelines
Reports
Some of the better free products also include:
Live chat
Invoicing
VoIP calling
Limited sales automation
Free Marketing CRM Software
With these products, teams get access to features that help them help them run successful campaigns that generate and qualify leads. They can grow their reach while individualizing the content they provide.
Free marketing CRM software will often include:
Forms
Landing pages
Email templates
Email tracking
Some of the better free products also offer:
Website activity tracking
Conversational bots
List segmentation
Limited marketing automation
Free Customer Service CRM Software
In this category, platforms are heavily weighted towards helping agents manage existing relationships. They provide a bird's eye view of the entire process, from contact to resolution.
Free customer service CRM software often includes:
Ticketing
Labels
Reports
Email templates
Some of the better free products also have:
VoIP calling
Live chat
Canned snippets
Basic workflow automation
Now that we've been through the different types of free CRM software, I'll review the top five, starting with the one that breaks the mold by doing it all.
#1 – HubSpot — Best Free Marketing CRM
Key plan limits:
Unlimited users
1 million contacts and company records
HubSpot CRM has to be the most generous free CRM software out there. Unlimited users and a million contacts. What?
On top of the free CRM software, HubSpot provides free forever versions of their sales, marketing, and customer service tools.
These are all relatively deep platforms, offering live chat, ad management, ticketing, and more, plus access to a best-in-class interface for managing contacts.
I'm calling it the top pick for marketing because that's where HubSpot really outshines the field, but it's solid all around.
The reporting dashboards in Hubspot are really well developed. With a lot of free CRMs, you don't even get dashboards. Instead you are stuck pulling reports about individual parts of your overall outreach strategy.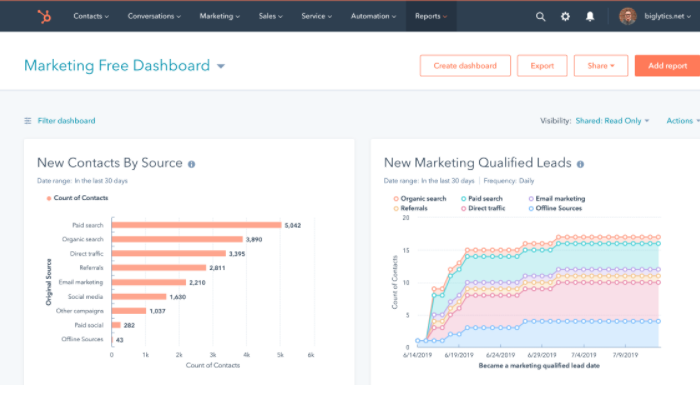 HubSpot ties into all your marketing efforts—email, forms, landing pages, ads, chat, Facebook Messenger—and delivers clear information about what channels and strategies are driving performance.
HubSpot integrates with G Suite, Gmail, and many versions of Outlook. There's also a drag-and-drop editor to create great email campaigns.
You can automate follow-up emails whenever someone fills out a form or responds to a pop-up, building out your list with zero effort.
Is that it? No. There are so many more marketing tools, including:
Website activity tracking
Conversational bots
Deal pipelines
Task and activity manager
Appointment scheduling
List segmentation
Email tracking
VoIP direct from CRM
Bear in mind that this list of features doesn't include anything that comes with the free sales, marketing, or customer service toolkits. There's also a rich App Marketplace full of ready-to-go solutions built for common business use.
HubSpot isn't crazy, they just practice what they preach. As pioneers of inbound marketing, they really believe in helping people discover their business by providing great content.
In this case, they are providing a free CRM that will work across an organization. HubSpot continues to grow, so they are doing something right.
The last bit of good news? When companies move up to a paid HubSpot plan, they only have to pay for users who use the paid plan features. Any user who only needs to use HubSpot CRM will remain free forever.
#2 – Really Simple Systems — Best Free Sales CRM
Key plan limits:
2 users
Unlimited contacts
100 company records
Really Simple Systems offers a robust free sales CRM with unlimited contacts. As you might expect from their name, this is not a difficult platform to master.
I like it for sales because of the breadth of features. You can track sales opportunities in a pipeline, funnel, or both. Add lots of detail by logging changes to opportunities and forecast sales based on probability.
You can do quite a bit of customization with the free CRM from Really Simple Systems. Create your own fields that capture important criteria and build the tables you need. This data can then be displayed in custom reports and dashboards.
Pull in all the information from across Really Simple CRM and quickly see which leads and opportunities need the most attention.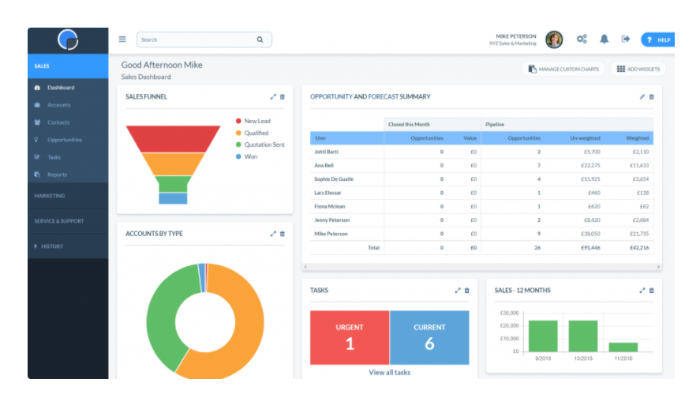 Sales reps will be able to call their smartphone contacts directly from the CRM platform, which is optimized for all devices.
Really Simple Systems lets you track the metrics you need and provides a really generous amount of CRM functionality that's super helpful for sales teams. Some of the highlights include:
Pipeline management
Sales funnel
Customer timelines
Opportunity history
Listing & sales forecasts
API access
Integrate with Google Contacts and Outlook
The two-seat limit is really the only lightweight aspect to Really Simple Systems' free plan. In fact, the only sales CRM features that aren't included are geolocation, email integration, and sales group permission levels.
Between all the sales tools and the ability to customize, Really Simple Systems is a great free CRM choice for freelancers, consultants, and SMBs that don't have a ton of sales reps. Because there's no contact limit, one or two people can get a lot accomplished.
#3 – Agile CRM — Best Free Customer Service CRM
Key plan limits:
10 users
1,000 contacts and company records
Agile CRM provides one of the few free forever options that can accommodate an entire team.
It will definitely work for sales and marketing because it comes with the core CRM tools in those areas, but the depth of their customer service features really stands apart.
There's a full helpdesk ticketing system. Customer support can assign labels to organize and prioritize tickets. They can also put customers in different groups depending on their needs, which means that tickets are automatically forwarded to the most appropriate agent.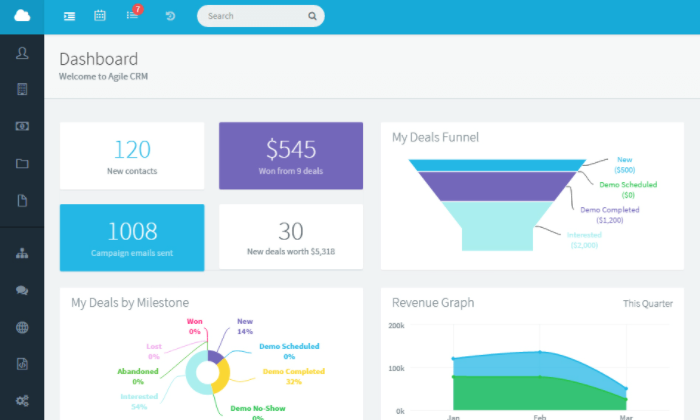 I really like the performance reporting features that help everyone can stay on track and manage queues together. They can quickly view tickets based on a range of status indicators, like date received, priority, service-level agreement, and more.
Another time saving feature are the canned responses. Teams can draft pre-formatted replies to common questions.
Thus, agents can deliver accurate information in less time, which cuts down on ticket backlogs and reduces stress during peak service hours.
Really, the only customer service feature that doesn't come with the free version of Agile CRM is Knowledge Base, which helps you create and share customer support documentation.
I'm focusing on the customer service aspect of Agile CRM, but I'd be remiss not to mention the really great sales and marketing features, like:
Unlimited deals
Lead scoring
Appointment scheduling
Email tracking
Email campaigns
Website activity tracking
Landing page builder
Bear in mind that in terms of automation, the free version is limited to a single campaign workflow with five nodes and one trigger.
I wish they let you do more, because the workflow builder is such a breeze. Automating basic processes in customer service is a huge time-saver, which makes being able to do more with the paid plans really attractive.
In the end, though, a ceiling of 10 users with the free plan makes fielding a helpdesk with Agile CRM a real possibility.
For what it's worth, I had a question about Agile CRM's free plan and reached out on their website chat. I got a polite answer from a human in under a minute and felt extra sure about recommending them as a customer service CRM solution.
#4 – Flowlu — Best For SMB Finance
Key plan limits:
2 users
20 contacts
Unlimited opportunities
Flowlu makes really great enterprise-ready CRM solutions that help massive companies keep a close eye on revenue.
Its free CRM software is ready to help SMBs do the same thing.
Flowlu's free version comes with a surprising number of the platform's best features. Even though users are limited to 20 contacts, they can create an unlimited amount of opportunities, which is the entire series of client communications leading to a potential deal.
From there, opportunities can be closed by invoicing the client, creating a project from the opportunity, or being marked as a loss.
The maximum of 20 contacts is an important limit to be aware of, but Flowlu's free CRM can help a small finance team get a lot done. For each contact, users can create as many projects and invoices as they need, which is great for repeat clients and vendors.
This allows managers to quickly project expenses, comparing them to the project budget and cost limits. Expenses can be assigned to bank accounts and or organizations stored in your CRM. The free version is limited to one organization and two bank accounts.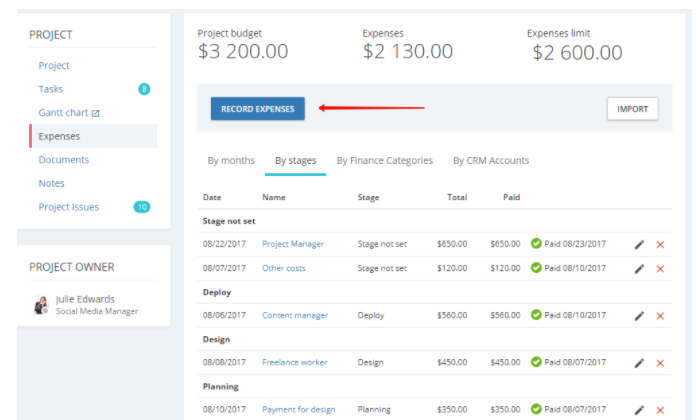 If you are looking for a finance-forward CRM that won't cost you a thing, Flowlu is definitely the option to check out.
Some of the other relevant features available are:
Payment tracking
Expense tracking
Customizable finance categories
Finance dashboard
Lead & contact management
Records management
One thing to note is that you can bump up to the Team version of Flowlu, which gives you room for eight users and unlimited contacts for $29/month total. This is less than $4/user, which is an insanely competitive price for a CRM that can save you thousands.
Flowlu's free CRM software is great for getting on the right financial footing and a value buy if you grow into the premium product.
#5 – Apptivo — Best For Basic Business Management
Key plan limits:
3 users
Unlimited contacts
Apptivo makes really affordable CRM software and offers a free forever Starter plan that can help out with a lot of administrative tasks. It centralizes all of your customer information and lets you create and manage all of your invoices, estimates, and proposals.
This saves time and minimizes the simple billing errors that I don't want to spend time solving.
The interface is clean and accessible. Apptivo includes the core contact and project management features, and you can import/export an unlimited amount of data.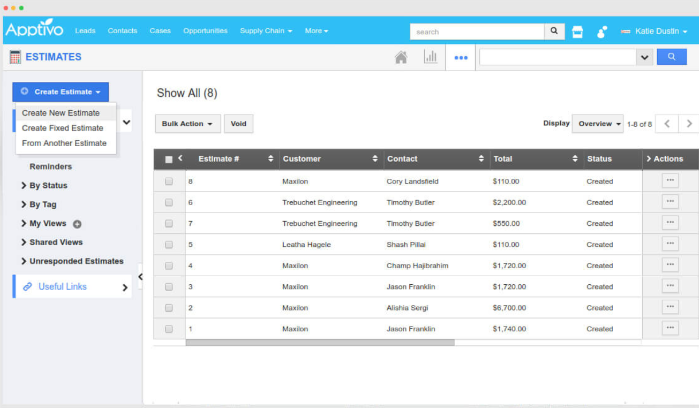 With three users included on the Starter plan, there's a lot that companies can get done in terms of consolidating and streamlining basic business processes.
Managing work orders and field services, for example, is centralized within a clean dashboard. Users can submit one-click approvals to clients or managers, edit the dispatch calendar, and automatically alert workers that the plan has changed.
The sales features are somewhat light compared to the other free CRM software on this list, and none of their great Apptivo marketing capabilities are included. That said, you still get:
Invoicing
Estimates and proposals
Procurement and purchase orders
Field services and work orders
Helpdesk
Product catalog
Of course, there are business management features I wish were included that only come with paid plans, like contract management, automated workflows, a built-in eSignature tool, and all the useful direct integrations.
All of that comes with Premium, the next tier up from Starter, which is only $10/user per month. It's also got nearly the full range of sales, marketing, and analytics tools as well, making it a much more complete solution.
All in good time.
Right now, if you are looking for no-cost CRM software to manage the paperwork involved with customer relationships, Apptivo will get it done.
Summary
Realistically, what's being offered for free by these companies is a CRM solution that covers the basics and showcases their strong suits.
Thinking about it from their perspective, the vendor is trying to hook potential long-term clients. They are giving away a taste of what they're really good at.
HubSpot CRM is the jack-of-all trades, offering the most complete set of tools for free. In terms of their marketing capabilities, HubSpot CRM is second to none.
If you are looking for a free CRM that's built for sales, Really Simple Systems is going to set reps up with everything they need.
On the customer service side, Agile CRM offers the most robust solution. You get all the helpdesk, ticketing, and tracking features necessary to support agents. Their sales and marketing tools are fairly rich, as well, though HubSpot is the deepest all-around free CRM.
Looking at a CRM for managing finances, Flowlu includes a unique feature set designed to help teams track costs and revenue. You can find these tools with other paid CRMs, but Flowlu makes them available for free.
In terms of a CRM to help manage basic business processes, Apptivo is really handy. Their free CRM software is a great way to start organizing and automating the everyday work of managing customer relationships.
Now I love a free trial as much as the next guy, because who doesn't want to test drive a product before making a commitment?
But can you really know if a CRM works for you after 14 days?
A truly free CRM gives you the time you really need to get comfortable with a product. When you are ready to invest in a more substantial product, you know what you're looking for.