Disclosure: This content is reader-supported, which means if you click on some of our links that we may earn a commission.
You want a quick and easy way to start a website yet have no clue how web hosting works.
Or perhaps you know how it works but don't have the budget or urgency to invest in one.
The good news is you can get a website up and running without spending a dime. The bad news is also the fact that it's free.
Free web hosting enables you to set up a website with a few clicks, but don't expect anything fancy. Ads, a cap on how much traffic you can get, sudden downtimes, and little to no customer support are just some of the trade-offs that come with using a free host.
However, free web hosting does have the same security, bandwidth, and port speed as most paid hosting options.
Unless you only want a basic website with no bells and whistles, I recommend spending as little as $2.75 a month on a shared hosting plan. Should you insist on a free web host, check out my list of recommended products below.
The Top 6 Options For Free Web Hosting
How to Choose The Best Free Web Hosting For You
Before we proceed, you have to remember that there's no such thing as a free lunch.
In the case of a free web host, it has limitations that don't appeal to everyone.
Free web hosting is designed to meet the needs of a niche market like a new hobby blogger who doesn't intend to earn from his website or a student looking for a free platform where she can test her web development projects.
With that being said, you can't use the same criteria in selecting a paid hosting plan when zeroing on the best free web hosting to suit your needs.
Remember, you get what you pay for. And in the case of a free web host, you shouldn't expect to receive round-the-clock support, daily or on-demand backups, and 100% uptime guarantee, among others.
However, some free options are a cut above the rest. Use the following parameters to figure out whether a free web hosting service is worth a try.
Custom Domain
Most companies are willing to host your website for free so long as you're also willing to use a subdomain.
For instance, Wix is a popular website builder that requires its free users to use a subdomain (e.g., neilpatel.wix.com).
A subdomain doesn't look professional nor is it good for branding. So, unless you only want a stripped down website you can play around with, it would be better to opt for a company that can host your custom domain for free.
A custom domain is one that you own (e.g., neilpatel.com). You can purchase it from a domain registrar or from any hosting provider that also offers domain registration on the side. Domains are inexpensive, and you'll need to renew them annually.
If branding is your top priority, make sure to find a free web host that gives you the option to stand out in a sea of other freely hosted websites.
Security
While advanced security features don't exist in free web hosting platforms, they should at least offer a free SSL certificate.
SSL (secure sockets layer) is a technology that encrypts the information that passes through your website. It protects your site visitor's sensitive data like passwords and credit card data from outside intruders.
If you're launching a basic ecommerce site on a free hosting platform, a free SSL certificate is non-negotiable. However, some free web hosting services only offer a self-signed SSL, which misleads users into thinking that it's the same as the industry-standard SSL certificate.
A self-signed SSL is issued by servers and not by trusted authorities like Comodo, Digicert, and Let's Encrypt. Since it's not a standard version, websites with self-signed SSL will still show security warnings to visitors.
Hence, a self-signed SSL defeats the purpose of an SSL certificate even though it offers the same level of encryption. Especially if you're planning to sell a product through your website, having a self-signed SSL is no better than not having an SSL certificate at all.
Storage and Bandwidth
As a rule of thumb, never go with free web hosting unless you'll use it for a basic website with little to no traffic.
A free web host isn't designed to handle huge traffic volume. This is why it's important to read the fine print of the hosting provider's terms and conditions before signing up.
Unfortunately, a lot of free hosting providers tend to mislead clueless users by including "unlimited storage" and "unlimited bandwidth" in their list of features.
Disk space or storage space is the amount of server space allocated to your website files, while bandwidth is the amount of data allowed to transfer from the server to your visitors in a given amount of time. If your website is hosted in a free platform, your disk space and bandwidth are best described as low and never "unlimited."
"Unlimited bandwidth" is a promotional tactic by free hosting providers based on the assumption that sites on a shared server will not use up the available resources, which is rarely the case.
Instead of being swayed by these superficial features, pay more attention specifically to file size limit and CPU limit.
A file size limit is the maximum file size your website can upload, while the CPU limit refers to how much of the server's central processing unit (CPU) your website is allowed to use.
Free web hosting providers can temporarily shut down your site without warning, so make sure you know exactly what and how much your limitations are.
Ads
The only reason why free web hosting continues to exist is because of the business behind it. And a business requires a source of revenue.
Some of the more popular free web hosts sustain their platform through ad space. This monetization method may be effective, but it comes at the expense of your visitors.
You have no control over what appears on the advertisements or where they're placed. Not to mention ads, in general, tend to be obtrusive and take the joy out of consuming your content.
If you want free hosting but care about your site's aesthetics and user-friendliness, you can opt for a company that supports their free platform through other means, such as the sales of premium hosting plans.
Customer support
Support for websites hosted in a free web host is limited at best. Unless you already have both the budget and need to upgrade to premium plans, there's nothing else you can do.
When looking for the best free web host to entrust your website, choose one with an active community forum.
Check the latest posts and see how fast the response time is. The more active users the service has, the quicker you'll get a resolution to any problem you might face in the future.
In addition to a community forum, some free web hosts also have a self-service knowledge base where users can quickly get answers to their most basic questions.
The Different Types of Free Web Hosting
Free web hosting comes in different forms. Let's explore these different free web hosting options and who they're for.
Freemium Web Hosting
Freemium means anyone can have access to the free web host anytime. But there's a catch: features are extremely limited, and your website will likely be littered with ads.
Wix and Weebly are free website builders that use this strategy to acquire customers. You have the option to upgrade to premium plans to remove the ads or keep using the free product for as long as you want. Either way, the hosting company wins.
"Free Trial" Web Hosting
This "almost free" web hosting allows users to use all or a limited number of its paid hosting features within a specific period. The time frame you can enjoy web hosting for free usually lasts anywhere from seven to 30 days.
Choose this type of free web hosting if you intend to pay for a hosting plan but are eager to know first if the web host can meet your expectations.
Free Site Hosting Service for Developers
There are free hosting services specifically built for students and web developers. The type of hosting you'll choose depends on whether you're testing a static or dynamic website.
Static sites are the most basic websites with fixed content built from HTML, CSS, and Javascript files. They're the easiest sites to create for developers as they don't need a web programming design like dynamic sites.
GitHub Pages is a fine example of free hosting service for static sites.
To publish a static site through GitHub Pages, you must first take the HTML files from the open-source code repository of GitHub, run it through a build process, and then publish the website.
Although websites are usually hosted on yourusername.github.io, there's also the option to host them on a custom domain.
As for dynamic sites, there are hosting providers that are free to use within a limited time frame.
For example, Google Cloud allows developers to have hands-on experience with their products for free so long as they don't go over the free usage limit. They also have the option to fully explore the Google Cloud platform using a $300 free credit and be charged only when they choose to upgrade.
Amazon AWS is a similar product that provides access to its free tier products for 12 months. Afterward, you will be required to pay only for what you use.
#1 – Wix — Best Free Web Hosting With Website Builder
When it comes to building a simple blog or an online portfolio that highlights your work, Wix is the best intuitive website builder you can count on.
With the help of its simple drag-and-drop interface, you can create a simple website in minutes. Wix takes care of your website through free hosting so long as you don't mind having Wix brand ads displayed on your pages.
Although free accounts can only use the Wix subdomain, there are enough templates and apps you can choose from to add a little bit of personal touch to your website.
Should you decide to create a website with Wix, you will get a storage space of 500 MB and a bandwidth of 500 MB, enough for a low-traffic site like an online portfolio.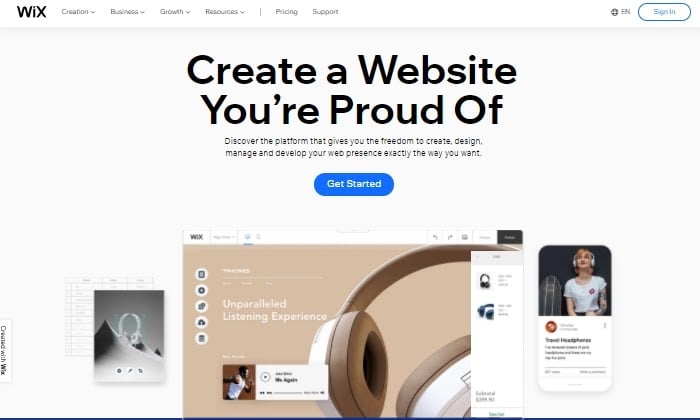 If you want more flexibility, you can upgrade to premium plans anytime to access custom domain, email, and ecommerce features.
Premium plans also eliminate ads so your website will look more professional and less cookie-cutter.
But even with ads, Wix has plenty to offer that will put the spotlight on your content. Whether you're a writer, designer, or photographer, Wix remains the best website builder to help you establish an online presence without touching any code.
#2 – GitHub Pages — The Best Free Static Web Hosting for Developers
Anyone with basic coding skills is already familiar with GitHub, an open-source platform where developers store their coding projects. GitHub Pages is where you can take these codes from the repository, have them go through a build process, and turn them into a simple static website.
A static website is ideal for those who prefer a small website that doesn't need to be updated regularly. It's also perfect for students who want a test site to play around with or present for their school projects.
GitHub Pages is completely free, yet it comes with a range of outstanding features:
One site per GitHub account
Unlimited project websites
1 GB of storage plus 100 GB bandwidth every month
Standard github.io subdomain or custom domain name you own
Free HTTPS to prevent others from tampering with your traffic
Built-in integration with Jekyll, a popular static site generator, for more customization options
To build your static website, all you need to do is sign in to your account and create a new repository. You can then use the Jekyll Theme Chooser to pick from one of the pre-made themes.
If you don't like your theme or your static website's content, no need to worry as changes are a simple edit and push away. You can make these changes either via the web or locally on your computer.
Whether you're a developer or a non-techy looking for easy-to-follow instructions, GitHub Pages has all the tools you need to create a free static site.
#3 – Square Online — Best Free Ecommerce Hosting Platform
Square Online is a free ecommerce platform for aspiring entrepreneurs who are still getting their feet wet with online selling. Unlike big names in the industry, Square Online lets you sell unlimited products without paying recurring fees.
To set up your online store hosted by Square Online, all you need to do is answer a few questions. The platform's Artificial Design Intelligence (ADI) will then automatically generate a website with a design based on the answers you give.
The drag-and-drop editor only offers four customizable themes, but you get an assurance that every design follows your industry's best practice. Without touching any code, you can create your online store with a responsive design that fits in any device.
Square Online also offers the following to help you get started with your business:
Square POS integration so you can automatically import your product catalog and let it sync with your online store for a seamless inventory management
Payment processing system that accepts all major credit cards, Google Pay, and Apple Pay
In-house and on-demand delivery
Instagram integration
Free SSL security
SEO tools
In exchange for hosting your online store for free, Square Online requires a small commission fee of 2.9% + 30¢ for each product sold. Should you decide to scale your business, you can leave the free plan and move to the premium plans starting at $12 per month.
Through a new feature called Square Online Checkout, sellers also have the option to sell their products and receive payment using only a link instead of a website.
Whether you're an established brick-and-mortar store owner or just starting from scratch, Square Online has all the basics to help you navigate the unfamiliar world of ecommerce with ease.
#4 – DreamHost — The Best Free Web Hosting for Nonprofits
DreamHost believes in every nonprofit organization's advocacy so much that they're giving them a shared hosting plan at no cost.
Aside from free web hosting, DreamHost also provides US-based charitable organizations with the following:
Free domain
Free backups
Free shopping cart installation so you can accept donations with ease
Unmetered transfer and unlimited monthly visitors
Free SSL certificate to keep online transactions secure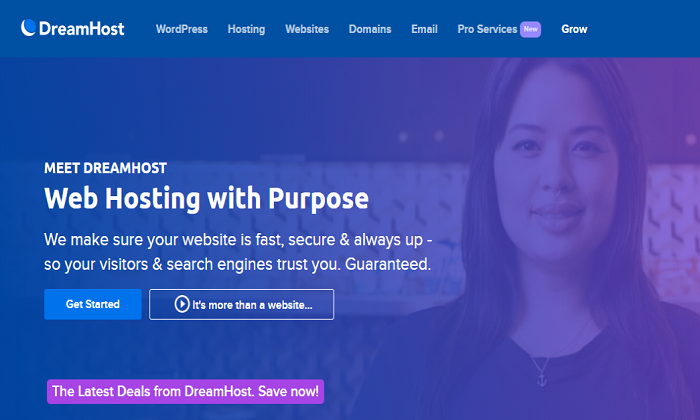 To create a free hosting account, DreamHost does not require any credit card details and needs just your billing address for verification purposes.
You also need to attach a 501(c)(3) determination letter, a document from the United States IRS proving your tax-exempt non-profit status under the applicable sections of the tax code.
Since it's a free account, you won't have access to reliable 24/7 customer support. However, DreamHost's dedicated help center and ticketing system offset this, which more than meets the need for straightforward troubleshooting solutions.
Should you want more control over your account, nonprofit organizations can also avail themselves of a 35% discount off DreamHost's managed WordPress hosting plans. This means you can host your site under a paid plan for as low as $11 per month.
#5 – SiteGround — The Best Free Web Hosting for Teachers
SiteGround, one of the leading providers of top-notch shared hosting technology, is giving away its StartUp Plan for free to teachers. This way, hard-working educators can focus on what they do best while SiteGround takes care of the technology that makes online learning possible.
In addition to a free hosting account, educators also get a free SiteGround subdomain which will serve as the home to their online course or a repository of their supplementary resources.
The plan also provides dependable 24/7 support via chat, phone, or ticketing system, so any technical issues will be resolved on your behalf.
This robust free web hosting also includes the following features:
LAMP server, PHP, MySQL with PhpMyAdmin
10 GB space and unmetered traffic
Free emails with spam protection
CDN caching solution to make your website faster
Free learning management system (LMS) to help you deliver efficient, user-friendly educational courses to your students
Whether your classes are entirely conducted online or through a hybrid of physical and online classrooms, SiteGround has the free tools you need to help your students adapt in a changing world.
#6 – WordPress.com — The Best Free WordPress Hosting Service
Often confused with the open-source software WordPress.org, WordPress.com is the free platform where non-technical users can create websites.
Since it is powered by the same robust and world-class infrastructure behind nearly half of the world's websites, WordPress.com is the best place to learn how to manage a website while you're still not ready or able to pay for a hosting service.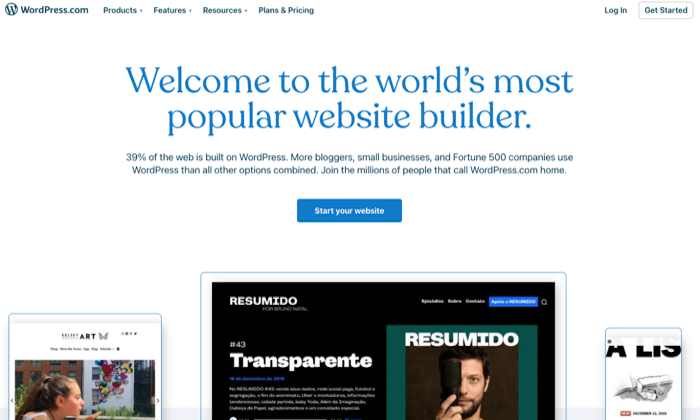 Setting up a website is easy. You can select a WordPress subdomain and choose from any of the available themes.
Just like Wix, WordPress.com also displays ads to sustain its free platform. While the ads may sometimes be annoying, this is a small price to pay for all the other features that WordPress.com has to offer:
3 GB storage space so you can publish both text and beautiful images
Unlimited bandwidth
Free SSL certificate for an additional layer of security
Optional backups so you can save your files on your hard drive
While it has excellent performance for a free hosting platform, WordPress.com can't beat the paid version in terms of flexibility. The WordPress CMS installed on websites in paid hosting plans gives you direct server access and freedom to install plugins and themes of your choice.
Still, WordPress.com is good for starters, especially if you only want a simple, stripped-down website to showcase your writing portfolio or personal diary.
Summary
Nothing beats a paid hosting plan for all the extra support, features, and functionality. Still, if you need free web hosting or if you want to try out different web hosts before committing to an investment, there are some good free options available.
The best free web hosting for you depends on what you're looking for. This guide will help you narrow down your choices to end up with free hosting that satisfies your unique criteria.