Disclosure: This content is reader-supported, which means if you click on some of our links that we may earn a commission.
"Knowledge management will never work until you realize it's not about how you capture knowledge but how you leverage it." – Etienne Wenger.
Considering the modern world we live in, what better way to leverage knowledge than with knowledge base software.
It tackles one of the most challenging aspects of running an online business: Supplying thorough information for your customers.
This type of software tool helps answer any doubts users have before they become paying customers. So not only do you look more efficient, but you also serve your customers better.
What's not to love, right?
Choose the right solution for your business that helps you establish a loyal customer base and an efficient workforce–both of which will allow you to scale your business and achieve your goals sooner.
But the question remains: What is the best knowledge base software in the market right now?
With so many options to choose from, it can be difficult to find the right software for your website, which is where this guide comes in.
We scoured the web for the best knowledge base tools. There were many, but we managed to narrow it down to five. In this guide, we'll discuss my top picks in more detail to figure out which is best for your business.
Let's delve right into it.
The Top 5 Options for Best Knowledge Base Software:
How to Choose the Best Knowledge Base Software for You
Before we discuss the options, you should know the methodology behind choosing our top picks and the factors we used to narrow down our decision. You should apply the same logic when determining the right choice for your business.
Data Security and Privacy Implementation
You can deploy solutions on the cloud where the data is hosted on third-party or vendor servers, or on-premise where it's hosted on your personal servers. Both are legitimate options. So you should review the measures for each and choose the one that suits your business better.
Verify the security provider's compliance certification, too, just to be safe. If you choose to opt for third-party servers, make sure the company has a good reputation.
Business Objective Alignment
Every software vendor offers solutions with distinct features to cater to different business needs. You'll find tools that are designed to be customer help desks, while others are collaborative tools to manage projects and ideas.
Make a list of your business needs, and then match your solutions to determine their suitability before making a purchase decision.
Alignment also includes how well the knowledge base software meshes with other processes and information systems already existing in your system. We'd suggest creating a roadmap for integrating the software into your systems with minimal downtime.
Configurability with Enterprise-Grade Back-Up Support
A good knowledge base software solution should be configurable and come with enterprise-grade backup support. Easy configurability will ensure the software meets your business requirements. You can customize your data in the form of searchable, shareable, and collaborative documents.
Developing content and documents is a very time-consuming process. Precisely why losing all that would be a total nightmare–something having a backup can prevent. You'll have greater peace of mind knowing all private and crucial data is stored safely.
Reporting Analytics and Search Engine Optimization (SEO)
Software with reporting metrics and analytics can tell you how users interact with the knowledge base. You can even figure out ways to optimize the content better to maintain an effective and informative online knowledge base.
Speaking of optimization, having SEO tools in a solution would make your knowledge base easily accessible. Plus, users and prospects across the globe can find your database easily, too.
Also, look for multi-language support if you want to maintain all your knowledge base articles better. That said, this feature may not be as important for a business that doesn't offer services and solutions in multiple regions.
We used these criteria to choose the best knowledge base software. Use them to identify a vendor that can give you a clean and hassle-free user experience, and you'll be all set to scale.
The Different Types of Knowledge Base Software
Knowledge base tools can look very different depending on how you plan to use them. For instance, software meant for internal use comes with a different set of features than those for external customer use.
The core values remain unchanged, though.
These tools are practically the same, where content creation, storage, and searching capabilities are concerned. Below, we've discussed the different types of knowledge bases and how they work in more detail.
Internal Knowledge Base Software
Internal knowledge bases are intended for, well, internal information and practices. Companies use these systems to archive repetitive tasks, business practices, and other data related to their operations.
Team members require explicit access to internal knowledge bases either through the company email or any other authorized email.
External Knowledge Base Software
External knowledge systems work differently from internal knowledge systems as they're hosted on a company's website or a separate website – one that's wholly devoted to the knowledge base.
These bases are either curated by the company or operate like forums where users can post tips or answer other users' questions. They don't require a login.
The primary purpose here is to create a knowledge base where consumers can get information, contribute, and engage with other users and the product.
Hybrid Knowledge Base Software
You can use these knowledge bases internally and externally at your discretion. Every hybrid solution comes with different functions for each type to meet your varied needs.
This dual-sidedness is its biggest USP, with one set of features for internal use and the other for external use. It's a cohesive knowledge base version that can be hosted on one application for internal and external use.
Open-Source Knowledge Base Software
These knowledge bases are open to the public and can be chargeable under certain circumstances. Such software can help your organization allow developers and programmers the chance to customize the source code whenever needed.
#1 – Document360 – Best for Internal Use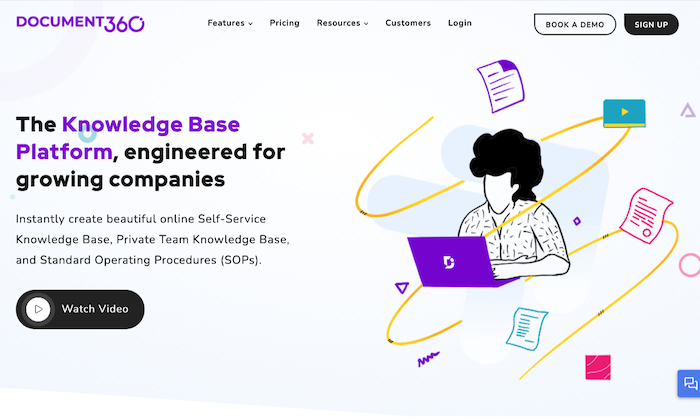 Document360 is one of the most powerful knowledge base tools with a wide range of collaboration features that makes it perfect for internal use, especially for bigger teams.
For instance, it has a markdown text editor that makes editing and styling easy. You can add links, videos, images, tables, code samples, and call outs.
It's very similar to Google Docs. You can add the members with different roles like owner, editor, admin, reader, and draft writer–each having the right to leave comments on articles and mention other co-workers. They also have access to the complete history of particle revisions and can restore previous versions.
There are two levels of access for external and internal knowledge bases. Plus, you can also create multiple knowledge base sites for different projects.
Document360 offers a performance overview and searches reports to users. While the former reports on how every article performs and what percentage of customers still reach out to your support team after reading your knowledge base, the latter gives you information about popular and failed searches.
Over 10,000 people from 80 countries have used Document360, including big companies like Microsoft, Harvard University, Mambu, and Customer.io.
Pricing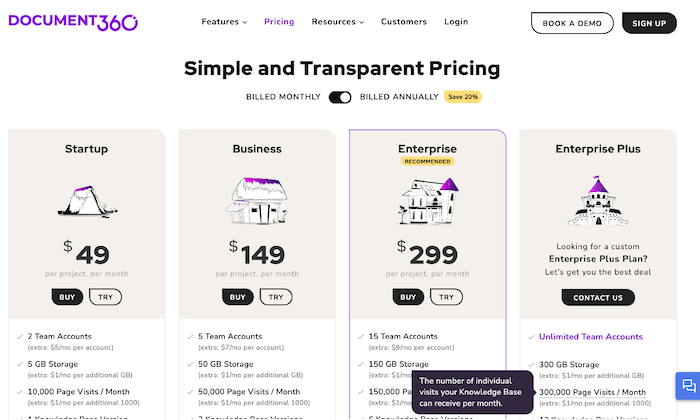 Document360 has a subscription plan for every preference and budget. You can choose from four tiers:
Startup – $49 per project per month
Business – $149 per project per month
Enterprise – $299 per project per month
Enterprise Plus – Request a quote from the company
A 14-day free trial is also available to see if it is right for you.
#2 – Zendesk – Best for Larger Businesses With Technical Setups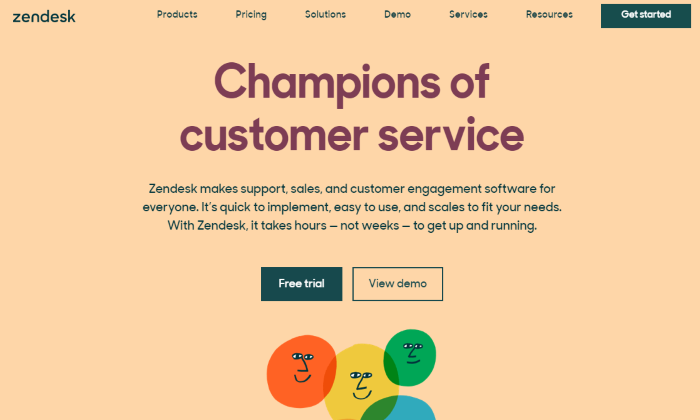 Zendesk lets you set a feature-rich knowledge base system while simultaneously managing customer support and creating support ticketing systems. All of this can be done using the same platform, which is both time-saving and convenient.
You can create articles in the text editor and personalize your help center with custom themes. Other features include a Google Docs importer, content history and re-storing, publishing permissions, and access control.
Zendesk Support can be useful for large enterprises that find themselves dealing with hundreds of customer requests daily thanks to its knowledge base, ticketing, and chat features. Still, there are subscription plans for every need and business size, making it a great option in general.
With its multi-language support, you can offer your knowledge base in several languages, allowing customers from other locations to easily switch between them.
Pro Tip: Integrate Zendesk Support with Zendesk Guide to get access to the Knowledge Capture app. The app can suggest relevant content based on customer questions and create new knowledge base articles directly from a support ticket.
Pricing
The pricing on the Zendesk Guide varies depending on the number of your agents. You have four options:
Lite – $0
Professional – $15 per agent per month
Enterprise – $29 per agent per month
Answer Bot – Starting from $50 per month
You can avail of a free trial for every plan except Answer Bot.
#3 – Helpjuice – Best for Detailed Analytics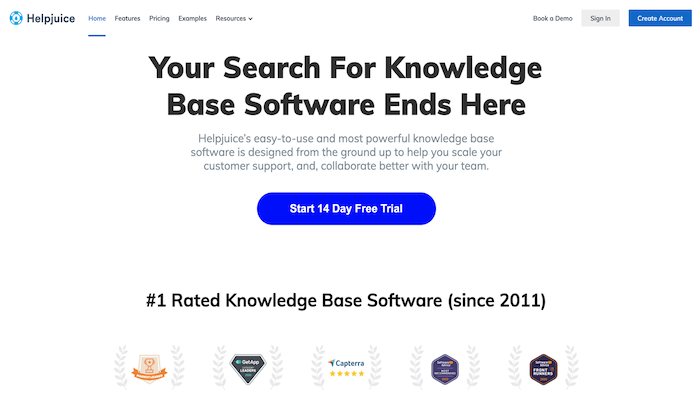 Helpjuice is a renowned SaaS platform that provides excellent knowledge base solutions, especially for companies with big teams.
The text editor comes with various advanced and intuitive features. It also has relevant collaboration features that enable multiple authors to work on articles simultaneously without bothering each other.
You get several access levels, such as public, internal, URL-based, and specific users. Plus, there are many customizable templates for you to choose from.
We would highly recommend Helpjuice if you want insightful analytics to improve your operations. Its powerful knowledge base analytics gives you insights into article performance in all kinds of numbers and graphs, author activities, and common search terms that people use, among other benefits.
The platform is more suitable for big companies and enterprises. But if you're a startup that can afford to spend a few hundred dollars monthly, then you should definitely consider Helpjuice's knowledge software features and very detailed analytics.
Pricing
Helpjuice offers leading standalone knowledge management products, which also reflects in their pricing. There are four subscription plans you can choose from:
Starter – $120 monthly up to 4 users
Run-Up – $200 monthly up to 16 users
Premium Limited – $289 monthly up to 60 users
Premium Unlimited – $999 monthly for unlimited users
A 14-day free trial is available for all subscription plans.
#4 – LiveAgent – Best for Handling Multichannel Support
LiveAgent is a software that combines communication from email, calls, and social media into one unified dashboard, making it easily accessible by your whole customer support team. It also offers knowledge base support as part of its larger support software program.
After logging into your LiveAgent account, you can start creating your knowledge base by adding articles, FAQs, videos, suggestions, and feedback. You can also have community forums in your system.
Moreover, it's fully customizable, so you have full creative freedom. You can change themes, upload logos, modify colors, or edit the HTML to keep your knowledge base in sync with your company's website style-wise.
LiveAgent is an excellent option for all businesses, irrespective of industry niches and sizes, and can integrate with over 40 third-party applications.
Pricing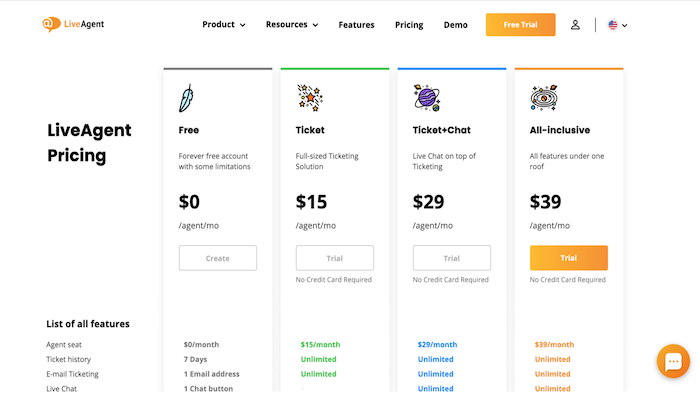 LiveAgent has four feature-rich plants available at affordable prices:
Free
Ticket – $15 per agent per month
Ticket + Chat – $29 per agent per month
All-Inclusive – $39 per agent per month
You can also avail yourself of a free 14-day trial of LiveAgent.
#5 – ProProfs Knowledge Base – Best Free Knowledge Base Software for Beginners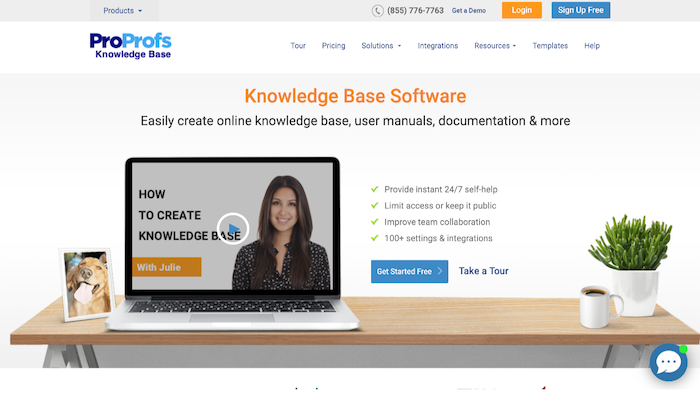 A free internal knowledge base software that's been around since 2006, ProProfs enjoys a loyal customer base that consists of Dell, Sony, DHL, and Cisco.
It's a powerful tool with several unique features, robust integrations, and smart settings that can help you create an online knowledge base, manuals, documentation, FAQs, help sites, and more. You also have anytime-anywhere access to information through the public or private knowledge base.
You can use the platform to streamline all aspects of knowledge management from content authoring and designing to customizing and publishing–everything you want.
ProProfs is like your English teacher from high school who grades your staff. It goes through all your knowledge base content and provides you with a readability score to improve your writing and make it more informative for future use. You can also analyze your most popular documents to gain insights.
Moreover, the software is as user-friendly as a tool can be. You don't have to worry about HTML or coding skills thanks to its compatibility with a host of powerful tools like Freshdesk, Salesforce Desk, Google Analytics, and Wufoo.
Pricing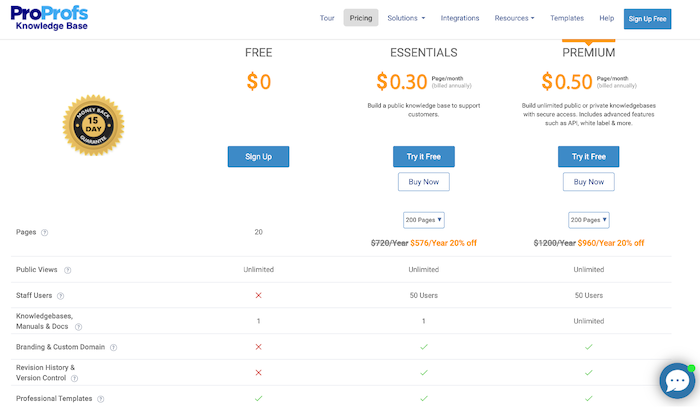 The pricing system for ProProfs users is different from all-in-one customer service solutions. Instead of charging per user, the company charges per page. The plans are as follows:
Free
Essentials – $.30 per page per month
Premium – $0.50 per page per month
You can try any plan for free for 15 days.
Final Thoughts
Now more than ever there's absolutely no reason for businesses to compromise on customer support services.
With solutions like knowledge base software available, everyone has tremendous opportunity to provide the best possible customer service and make the most of contemporary business practices to streamline employee training and business operations.
You can select any tool from my top picks depending on your business requirements. Regardless of what you choose, knowledge base software will help you shorten training times, safely store crucial company data, and supplement your service desk.