Launched in 2003, LinkedIn has become the most popular social network for professionals.
With over 700 million users globally, it is now one of the biggest social media platforms.
That's why every brand should be using LinkedIn to grow their brand.
One way to do that is by creating a LinkedIn newsletter.
What Is a LinkedIn Newsletter?
What exactly is a LinkedIn newsletter?

It's a series of articles you publish regularly. Just like your typical email newsletter, your LinkedIn newsletter should concentrate on the same topic. Of course, it must be a topic relevant to your audience's needs.
The ability to create a LinkedIn newsletter is rolling out in stages, but everyone on LinkedIn can subscribe to a newsletter.
When they do, they get in-app and email notifications that you've just published a newsletter.
So what's the difference between an article and a LinkedIn newsletter?
The main difference is when you publish an article, it goes into your timeline. Your connections only discover it by scrolling through their feed.
When you publish a newsletter, your subscribers get notified, which increases the chances of people seeing and consuming your content.
5 Reasons to Create a LinkedIn Newsletter
Is all the hype over LinkedIn newsletters worth it?
If you have the opportunity to publish a newsletter on LinkedIn, you should grab it by the horns.
Here are five reasons why you should create a LinkedIn newsletter:
1. LinkedIn Newsletters Expand Your Audience
Like most social media algorithms, LinkedIn rewards content that people interact with the most.
If you create a killer newsletter that drives engagement, LinkedIn will show it to more people.
Remember how you see articles from second- or third-tier connections in your feed because one of your connections interacted with it?
It's the same with newsletters.
The more people engage with yours, the more people it will reach. As a result, you'll reach a wider audience and build more meaningful connections.
2. LinkedIn Newsletters Create Engagement
Like all other social media networks, some of your LinkedIn connections are irrelevant and won't engage with your content.
A newsletter helps refine your contact list. This is because when you invite people to sign up for your newsletter, only those who resonate with your topic sign up. That can improve your engagement.
Your engagement will also improve across your other LinkedIn assets as well. Once your newsletter subscribers discover the great content you create, they'll want to check out your articles and posts as well.
3. LinkedIn Newsletters Help Boost Brand Awareness
Another reason to regularly publish a LinkedIn newsletter is to help boost your brand awareness. If you build your connections properly, most of your connections should be people you can do business with.
Unfortunately, many of these people will forget you after connecting.
A newsletter helps get your brand in front of the right people. It is a great way to remind them about your brand and helps showcase the solutions you provide.
4. LinkedIn Newsletters Help Build Authority
An essential ingredient to successfully growing a business is trust.
Trust is built by establishing yourself as an authority in your industry.
That's where a LinkedIn newsletter comes in.
It's the perfect tool to establish yourself as an authority in your niche. By creating valuable content, your audience will view you as a trusted source of information — especially when they need the products or services you provide.
5. LinkedIn Newsletters Help Generate Leads
Lead generation is the heart of online businesses. After all, without a steady stream of leads, your business won't go anywhere.
A LinkedIn newsletter can help. It can be an invaluable tool in your inbound marketing strategy.
A well-planned LinkedIn newsletter can generate leads for your business by showcasing your expertise. LinkedIn is 277% more effective at lead generation than Facebook and Twitter. With a newsletter as part of your LinkedIn strategy, that number might just go up.
How to Create a LinkedIn Newsletter in 3 Simple Steps
Now you know what a LinkedIn newsletter is and how publishing one can benefit your brand.
Before you get started, there are a few things you must remember:
The ability to publish a LinkedIn newsletter is by invite only.
You can only create and maintain one newsletter at a time. If you delete your newsletter, you might not be able to create another.
LinkedIn only allows you to send out one newsletter every 24 hours.
Let's quickly dive into how you can create your LinkedIn newsletter. To publish your article, you must:
On your homepage, click on "Write an article" and select "Write newsletter" in the publishing tool.
Add the headline and description of your newsletter.
Write your newsletter content.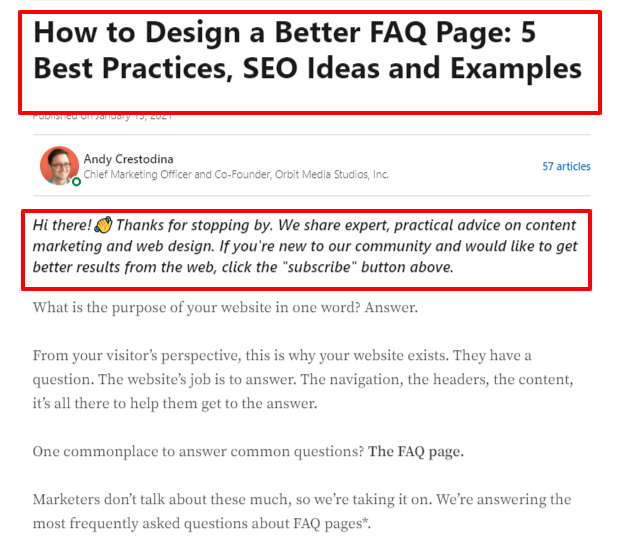 Once finished, you can then click "Done." Your subscribers will then get a notification that your latest newsletter is out.
It's that simple!
7 Tips for Creating a Great Newsletter on LinkedIn
Creating a newsletter on LinkedIn is simple enough.
However, creating a newsletter your audience loves and engages with is a whole different ballgame. Here are seven tips for creating a great newsletter on LinkedIn:
1. Pick the Right Name
A good name is one that describes what your newsletter is about and who is your target audience. It must also be easy to remember.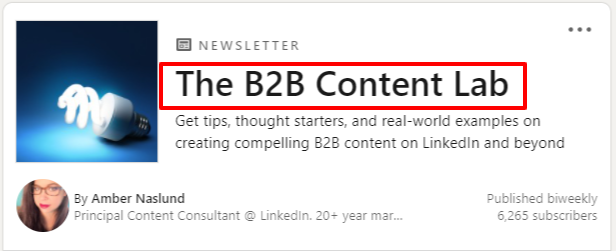 The example above shows the newsletter targets B2B content marketing practitioners. It's also clear that the newsletter discusses B2B content creation and marketing practices proven to work.
If you can, choose an intriguing title that elicits curiosity and drives subscribers.
Finally, your newsletter's name should reflect your brand and the problems you solve. This will help you attract the right kind of audience and generate leads for your business.
Take your time to name your newsletter. After all, it is an extension of your brand.
2. Craft a Compelling Description
After subscribing, one of the first things people will see on your newsletter page is your description.
Your LinkedIn newsletter description is your chance to hook your readers and get them excited about every issue you publish.

For it to be effective, your description should:
Sound Exclusive: People love being in exclusive clubs. Leverage that by letting them know that subscribing to your newsletter makes them part of an exclusive club that receives exclusive content.
Be Descriptive: It is a description, after all, so it should clearly explain what your newsletter is all about. Your description helps set expectations of what your audience should anticipate in terms of content.
Be Short: You don't have many characters for your description, so choose your words carefully and use as few as possible.
Use your description to pitch your newsletter to your target audience. Done well, it will get them excited to be part of your "exclusive" list.
3. Use High-Quality Images
To give your readers the best possible experience, make sure to incorporate high-quality images. Three places to use images in your LinkedIn newsletter are:
Logo: Your LinkedIn newsletter logo is a crucial asset in helping you drive brand awareness. Make sure it's crisp and clear.
Cover photo: This is the featured image displayed at the top of your newsletter. Use one that's not only clear but augments your message as well.
Within your content: Images help ensure that your message hits home. More than that, they help make your content memorable.
Treat your LinkedIn newsletter as you would the regular email newsletter you send your email subscribers. Make it look good by using images, and you'll definitely enjoy good engagement rates.
4. Create Valuable Content
Let's face it. Information is everywhere, and information overload is a real problem.
To stand out, you need to create unique and valuable content for your LinkedIn newsletter.
To create valuable content, make sure you:
Understand your audience. It's essential to clearly define your target audience before you start writing. Use the same buyer persona or customer profiles you use for your marketing campaigns.
Address their main pain points. Never publish a newsletter just for the sake of it. Make sure each publication solves a problem for your target audience or helps them achieve something.
Like all your other digital assets, invest time and resources in making the content you publish in your LinkedIn newsletter top-notch. That's the only way it can help grow your business.
5. Establish an Optimal Publishing Cadence
Establishing an optimal cadence is vital if you're to keep your subscribers engaged.
What's the right cadence?
From observing many newsletters, it seems the common consensus is once a week or every two weeks.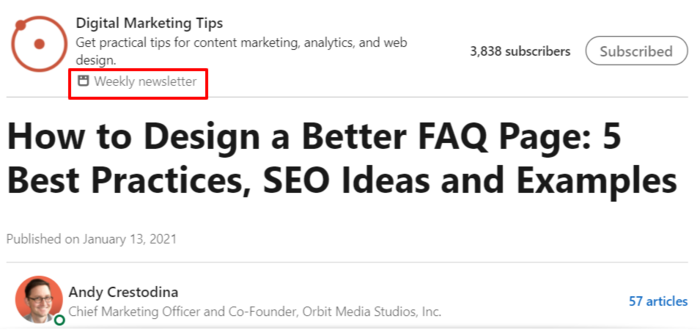 In all honesty, people are tired of getting notifications for content they don't find useful. Preempt that by letting them know how often you'll be publishing your newsletter.
6. Craft Catchy Headlines
Just like a regular email newsletter must have a well-crafted subject line, so too, your LinkedIn newsletter must have a compelling headline.
This is important as the headline plays a huge role in your subscribers' notifications.

For B2B marketers, who are the above example's target audience, nothing is more important than lead generation. That's why the headline, "B2B Marketers, We Need to Talk About Lead Generation," works so well for the intended audience.
To craft LinkedIn newsletter headlines that work:
Use Keywords
Use a keyword research tool like Ubersuggest to find keywords your target audience uses in their search queries and incorporate them in your headline. It will help pique your subscribers' interest. It will also show them that you know them well and are interested in serving them.
Inspire Urgency
"We need to talk."
I'm sure every time you hear those words, you drop everything you're doing and listen.
You may not necessarily have to use those exact words in your headline. However, try as much as possible to use words that inspire urgency. It will increase the likelihood of your subscribers responding to the notification immediately (before they forget).
Hit a Soft Spot
Highlight a pain point you'll address or a benefit your subscribers will get from reading your newsletter. Remember, people want to know how they'll benefit before they commit, even something as simple as spending five minutes reading your newsletter.
Your headline should hook your readers and elicit that all-important click that will lead them to your newsletter content.
7. Always Include a Call-to-Action
To encourage engagement, always end your LinkedIn newsletter with a call-to-action (CTA).
This could be a CTA asking your subscribers to:
Comment
Share
Read a LinkedIn article or blog post
Whatever you do, always give your readers a way to engage with your content. Remember, engagement is a metric the LinkedIn algorithm values highly.
Conclusion
LinkedIn has always been a powerful marketing tool.
LinkedIn newsletters are another powerful tool in your marketing toolbox.
If you have access, don't take this feature for granted. Publish a newsletter that will help you achieve your marketing goals.
Have you leveraged LinkedIn newsletters? How has your audience responded to your content?