By now, you've probably heard a lot of buzz about Gen Z's favorite social media app, TikTok.
TikTok is a video sharing platform that allows users to create and share dynamic short-form (maximum of 60 seconds) videos.
Users can add song snippets, special effects, and filters to their videos and then share them with a vast global network.
There are more than one billion users on TikTok, and the app is available in over 150 countries. It's ideal for brands targeting a younger audience, as the majority of TikTok users are between the ages of 10 and 29.
Tapping into this diverse market offers a lucrative opportunity for brands. With the right TikTok marketing techniques, you can leverage this social network and open your brand up to an exciting market of Gen Z'ers and millennials.
Below, I'll show you the strategies and tactics you need to sell products on TikTok.
Why Should You Sell Products on TikTok?
TikTok is the most-downloaded social app worldwide. In 2020, TikTok was ranked one of the world's top mobile apps, outperforming YouTtube, Tinder, and Netflix.
Bringing your brand to TikTok gives you visibility with millions of new users worldwide. These new customers have real buying power—–combined, they influence more than $350 billion in annual sales in the US.
TikTok's unique algorithm means even accounts with little to no followers can go viral on the TikTok For You page (FYP).
Plus, integrations with Shopify and other strong eCommerce platforms have made it easy for brands to sell products directly on TikTok.
When you look at these stats, it's no surprise brands across the globe are jumping on board and finding creative ways to sell products on TikTok.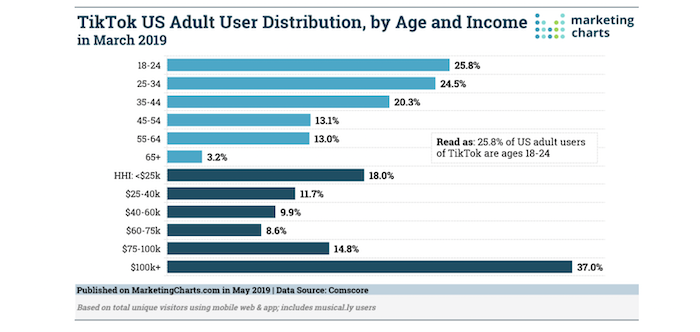 How to Set up an Account in TikTok That Will Drive Sales
If you want to sell products on TikTok, you need to lead your efforts with a strong strategy.
Your TikTok profile acts as your eCommerce home page, so it's important to optimize your profile before you start selling.
Here are a few easy ways to do this.
1. Describe Your Brand in Your Bio
Your TikTok bio is your chance to introduce your brand and products to your audience.
Your bio is the first thing people will see when they visit your page, so it's important to make a good first impression. It's also important to provide accurate information about your brand.
In a few words, describe your brand and what you do. Using keywords in your social networks is the best way to improve your SEO on TikTok.
2. Get Creative With Emojis
Remember, your target market on TikTok is mostly Gen Z'ers, millennials, and Generation Alpha.
That means it's important to speak their language.
Emojis are colorful and eye-catching and act as visual indicators of your products and services.
Using emojis can help increase conversions in your online store, so be sure to make good use of them when you sell products on TikTok.
3. Add a CTA
Your TikTok profile should lead users towards actions you want them to take.
Adding a CTA to your profile will tell users exactly what to do next, and can help increase conversions.
For example, you can use a CTA to direct followers to your eCommerce shop, blog, or another social channel where you sell products.
You can also promote discount codes or sales in your TikTok bio.
How to Sell Products on TikTok
Once you have your bio set up, it's time to create your strategy. Here are a few tips to help your products sell.
1. Use Sponsor Branded Hashtags
If you want to sell products on TikTok, you need to get your brand in front of as many people as possible.
One of the most effective ways to do this is by sponsoring a branded hashtag that asks users to create user-generated content (UGC). TikTok calls this the Hashtag Challenge Plus, and it allows users to shop for products related to a sponsored hashtag.
Once you establish your challenge, you can create a paid-for hashtag with a specific landing page to direct your users towards a sale. The challenge will show up on the Discovery page, which drives more views.
TikTok also allows in-app shopping for your hashtag so viewers can buy directly from the app.
Brands such as Kroger have leveraged this feature effectively, with campaigns such as the #TransformUrDorm challenge. TikTok users were asked to create before and after videos of their dorm room makeovers. From there, they were prompted to buy dorm items such as toasters and popcorn makers directly in the TikTok app.
The award-winning campaign brought Kroger more than 800 million views and generated 304k UGC videos.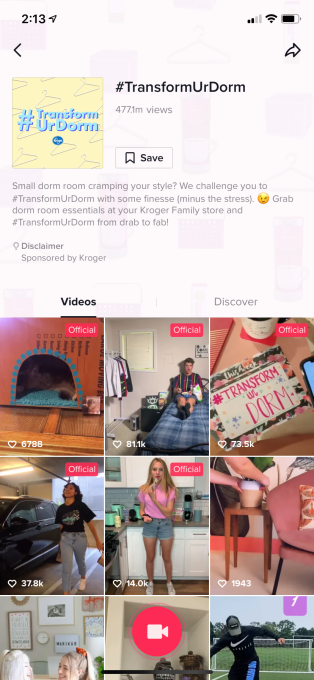 2. Use Shoppable Videos
In 2020, TikTok announced a new deal with eCommerce giant Shopify to integrate Shopify's more than 1 million eCommerce merchants with TikTok's growing audience.
Shopify merchants can now connect their shops to their TikTok for Business accounts and sell products on TikTok directly, through in-feed shoppable videos and ads.
This is a great way to grow your Shopify eCommerce store and your TikTok following at the same time.