Are you looking to monetize your blog or earn a passive income? If so, you might be considering joining an affiliate network.
This is a complete guide to choosing the right affiliate network for your platform, including what an affiliate network is, why you should consider joining one, and a rundown of the top networks on the market.
What is an Affiliate Network?
An affiliate network connects publishers, like blog owners or influencers, with companies looking to promote their products or services.
These networks often offer reporting tools, training, and other resources to help you become a successful affiliate marketer.
The most popular example of an affiliate network is Amazon, which allows publishers and influencers to promote thousands of products and earn a commission for each purchase their readers or followers make.
How Do Affiliate Networks Work?
Affiliate networks work as a marketplace for affiliate programs. Publishers or site owners sign up, choose the products or services they want to promote and receive custom links that track how many people purchase from their sites. Then, they are paid a small commission (usually around 5%) for each sale.
Why Should You Join an Affiliate Network?
Affiliate networks can connect you to hundreds—even thousands—of brands. This makes them one of the most straightforward ways to monetize a blog or earn passive income.
Here are a few more benefits of joining an affiliate network:
No need to chase payments; the platform handles it for you
Choose products or services that make sense for your audience
Some affiliate networks offer rewards and incentives—so the more you sell, the better your commission rates may be
Access to analytics and reporting tools so you can track your progress
There are some cons to affiliate networks. For example, some offer very low commission rates or require sites to have a specific amount of traffic before they can apply. Overall, however, they can be a powerful way to monetize website traffic.
Top Affiliate Networks To Consider
Type in "affiliate networks" into Google, and you'll see hundreds of platforms to choose from — some legit and others that look a little bit shady.
So how do you choose the right one?
Start by considering your audience. What types of products and services are your readers likely to be interested in?
For example, digital marketers are more likely to be interested in SEO tools than women's fashion, so I might choose an affiliate platform that can connect me with online tools and marketing analytic platforms.
Here are a few other considerations when comparing the top affiliate networks:
Commission rates: How much will you earn per sale? Networks can vary widely.
Product/service selection: Will the network connect you with brands your audience will be interested in?
Approval requirements: Some networks require your site to be well-established or have a certain amount of traffic.
Other fees: Some affiliate networks charge fees for training or setup.
Cookie duration: Cookie duration refers to how long a program tracks and gives you credit for a prospective buyer. Durations can vary drastically from platform to platform. For example, Amazon's cookie duration is 24 hours, while Avangate is 120 days.
Now that you know what to look for — and what to avoid — let's explore some of the top affiliate marketing networks.
ShareASale
This Chicago-based affiliate network has been around since 2000. As a ShareASale affiliate, you can connect with more than 4,000 programs and earn commissions on a wide range of products, including Reebok, Cricut, and Etsy.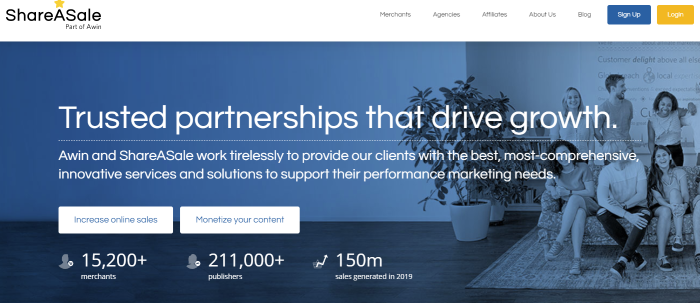 This is one of the largest players in the affiliate marketing field, and they offer highly competitive commission rates. However, the interface can be a bit tough to use, so I suggest taking advantage of the training they offer.
Commission Rate: Varies by merchant; averages between 5% and 20%
Product Types: Wide range, including accessories, clothing, art, computers, automotive, and even online dating services
Best For: New or established affiliate publishers looking to promote physical products
Awin
Awin is a global affiliate network platform with access to more than 15,000 advertisers, and they helped generate more than 150 million in sales in 2019 alone. It's also worth noting they own several other affiliate networks, including ShareASale, though those networks have their own sites.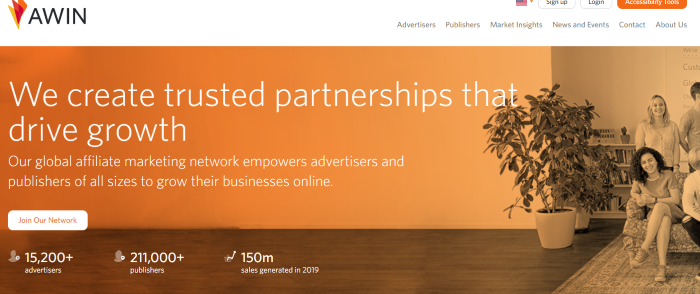 As Awin is one of the largest affiliate networks, it's worth considering. They offer access to a wide range of merchants, including StubHub, Hyatt, AliExpress, and UnderArmour.
Though trustworthy, they do charge a $5 application fee. It is more of a deposit, as it gets credited to your account if you are approved. Still, it can be a little off-putting. You also have to apply to each program separately, which can be a bit of a hassle.
Commission Rate: Varies by merchant, but averages around 5%
Product Types: Huge variety, including travel, fashion, technology, finance, insurance, and e-commerce
Best For: Newbies or established affiliate marketers
Amazon Associates
Probably the best-known affiliate network is Amazon Associates. As the largest e-commerce store globally, Amazon provides access to millions of products from baby gear to home goods, makeup, and much more.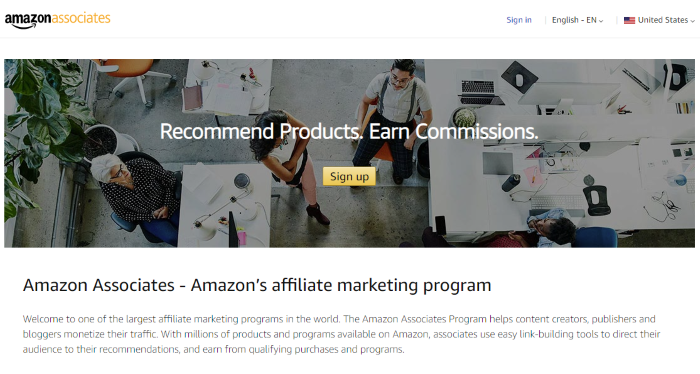 The platform is pretty easy to navigate, and getting started only requires a few minutes. Plus, you can earn a commission for any product your readers buy in the next 24 hours—not just the specific products you share.
However, they can be pretty strict about their terms and conditions, and commission rates tend to be lower than most other platforms.
Commission Rate: Around 5%; varies by product type
Product Types: Nearly any physical product you can think of: gardening, school, books, cooking, home goods, fashion, accessories, makeup, etc
Best For: Any type of affiliate marketer
CJ Affiliate
Formerly known as Commission Junction, CJ Affiliate is one of the world's largest and oldest affiliate marketing networks. They connect merchants with more than 14 billion readers annually and help affiliate marketers earn more than $1.8 billion every year.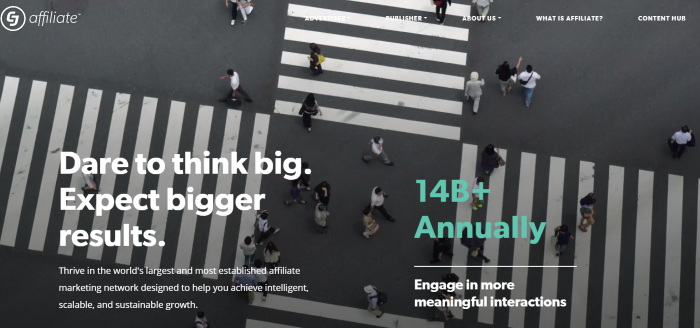 They're kind of a big deal in the affiliate marketing field, and it's pretty easy to see why. CJ Affiliate works with thousands of brands, including big names like Lowe's, Barnes and Noble, Priceline, and Overstock.
Overall, their approval process is pretty fast, and you won't need to pay any fees to apply. Each product is ranked based on earnings per click (EPC).
There are a few cons—you'll need approval from each merchant before you can start promoting, and there's a chance you might get rejected. Also, your account can be deactivated if you don't make a sale in six months.
Commission Rate: Varies by merchant
Product Types: Retail, software, travel, and finance
Best For: Mid-level to experienced level affiliates
Rakuten Advertising
Founded as a Japanese e-commerce brand, Rakuten Advertising is home to one of the top affiliate marketing networks. They provide affiliates access to hundreds of top brands, including Wells Fargo, Lilly Pulitzer, Virgin Holidays, and Ecco.

But, they don't make signing up easy. First, you'll need to join their affiliate network, then sign up and be approved by each merchant program you want to join. You must also have a well-established site.
Commission Rate: Varies by merchant
Product Types: Retail, D2C, finance, travel, and more
Best For: Well-established affiliate marketers with stable traffic
Avangate Affiliate Network
Avangate Affiliate Network connects publishers with digital goods merchants—think software companies and digital security companies like Malwarebytes. They've been ranked #1 WorldWide Affiliate Network by Blue Book Global for the past six years.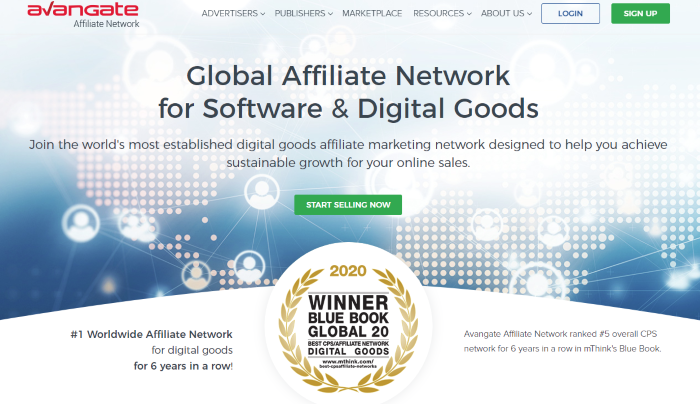 They have one of the longest cookie durations on the market at 120 days and allow affiliates to create coupons, helping drive sales. However, the reporting tools are a bit limited.
Commission Rate: Starts around 25%; it can reach over 50% for some merchants
Product Types: Digital products like security and SaaS products
Best For: Publishers in the tech, business, SaaS, or related industries
ClickBank
ClickBank is a global affiliate marketing platform providing access to a wide range of products you can promote, including physical and digital ones.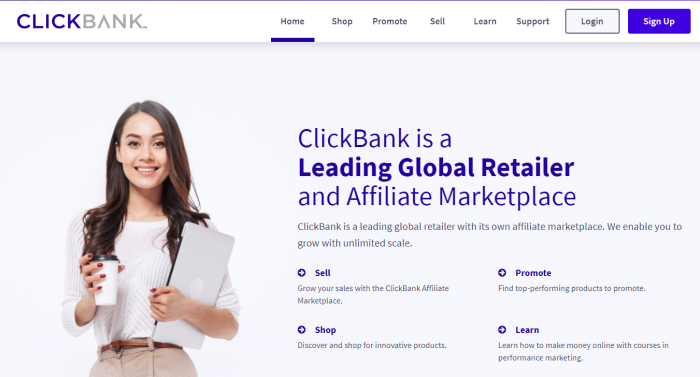 Overall, ClickBank is easy to join and provides access to a wide range of products. However, be sure to check out products before you promote them—not all available products are of high quality. Their free training resources are also a bit limited, though they offer a paid training platform called ClickBank University.
Commission Rate: Up to 90%, though most are much lower
Product Types: Wide variety, including arts and entertainment, business, marketing, games, parenting, health, fitness, languages, and self-help
Best For: All levels of affiliate marketers who want to promote mostly physical products
Peerfly
Promoted as the "fastest-growing affiliate network," Peerfly is a new breed. They haven't been around as long as some of the other players in the field, but they have won several awards and work hard to make sure their platform is as useful as it is easy to use.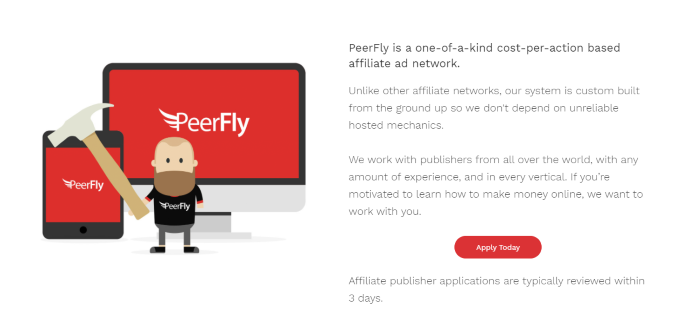 They offer access to a wide range of products and services from brands like Target, Fiverr, UGG, and CBS. However, each merchant has its own requirements, which can be time-consuming to deal with, so it's not necessarily the best fit for those just getting started.
Commission Rate: Varies by merchant
Product Types: Mostly physical products, but some digital
Best For: Established affiliate marketers
FlexOffers
FlexOffers connects publishers with more than 12,000 advertising programs and 500 premium advertisers.
Like many of the larger affiliate networks, they offer access to a massive range of products, including automotive, clothing, accessories, electronics, education, health, and home and garden.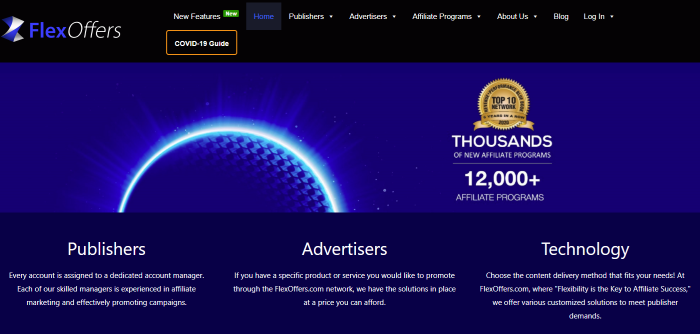 Every publisher is also assigned a dedicated account manager, and they offer a quick approval process.
Commission Rate: Varies by merchant
Product Types: Mostly physical, some digital
Best For: All affiliate levels, from beginner to advanced
Sovrn//Commerce (VigLink)
Formerly called VigLink, Sovrn//Commerce is a top-tier publishing network that connects publishers with hundreds of merchants. They do this automatically using natural language processing to connect you to the merchant with the highest commission.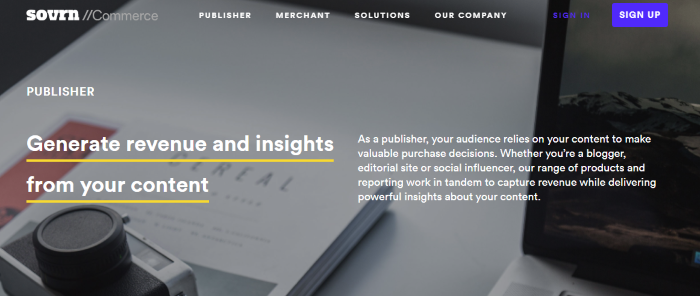 They also provide access to detailed performance metrics to help you increase conversions. The platform also connects publishers with sponsored content opportunities.
Commission Rate: Varies by merchant
Product Types: Some digital, mostly physical products like skincare, home goods, sports equipment, clothing, and accessories
Best For: All affiliate marketers with a blog
JVZoo
JVZoo is a massive affiliate network with more than 800,000 active affiliates. Unlike other networks, which allow you to promote a wide range of products, most JVZoo merchants are in the marketing, tech, and artificial intelligence field.
JVZoo offers automatic payments and provides an easy-to-use dashboard so you can keep track of your performance.
Commission Rate: Varies by the merchant
Product Types: Digital products in online marketing, AI, training, and financial fields
Best For: Affiliates in IT, AI, and digital marketing fields
SKIMLINKS
SKIMLINKS works with publishers to automatically add affiliate links for merchants. This means you can focus on writing great content, and SKIMLINKS takes care of the rest. They work with more than 60,000 publishers, including big names like HuffPost, CondeNast, and Yahoo!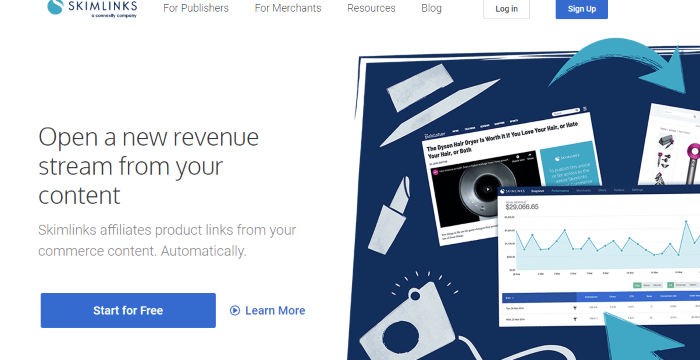 Simply sign up, add their Javascript to your site, and start earning commissions. While this does mean you'll have less control over what you promote, it's an easy way to earn affiliate income.
Commission Rate: Varies by merchant
Product Types: Mostly physical products in areas like fashion and electronics, but also some digital products like dating apps
Best For: Ideal for big publishers, but works well for those just getting started as well
Conclusion
Affiliate marketing may be one of the best ways to monetize your blog. An affiliate network makes it far easier to connect with merchants so you can focus on what you're best at: publishing great content.
But, juggling dozens of merchants and programs can be a hassle. Also, you need to be sure to read the fine print. Not all affiliate networks are legit, and even well-known names might not offer the type of products your audience is interested in.
Have you tried any of the networks above? Which is your favorite and why?