Let's be honest—search engine optimization (SEO) can take a lot of work. This is especially true if you're on a small in-house marketing team, or if you work for a busy agency with just a few dedicated SEO experts. 
While it would be great to stumble upon a magic genie who could grant you the power to finish your SEO tasks with the snap of your fingers, that's most definitely a pipe dream. 
But there are some incredible Google Chrome extensions for SEO that can make the work day (and your entire professional life) a whole lot easier. 
Here, we'll cover the 10 best SEO Chrome extensions and answer a few common questions people have about the function of Chrome extensions for SEO. 
Let's get into it! 
Why Are Chrome Extensions Great for SEO? 
A Google Chrome extension allows you to customize your browser and gives you easy access to some cool features that can make your workday easier. These software features run on different web languages such as CSS and HTML. 
Hundreds of cool extensions are available on the Chrome Web Store, ranging from leisure tools like the Hulu Random Episode button, which generates a completely random episode of a show for you to watch, to the more practical Note Anywhere, which allows you to mark any webpage with your notes and thoughts. 
So, why should SEO specialists consider adding Chrome extensions to their browsers? Because many of these tools offer quick snapshots of vital data at your fingertips or provide a service that streamlines your day-to-day SEO tasks. 
10 SEO Chrome Extensions That Will Change Your Life 
There's no shortage of fabulous Chrome extensions for SEO work. Below you'll find our top 10, which are all available in the Chrome Web Store. 
1. PageImprove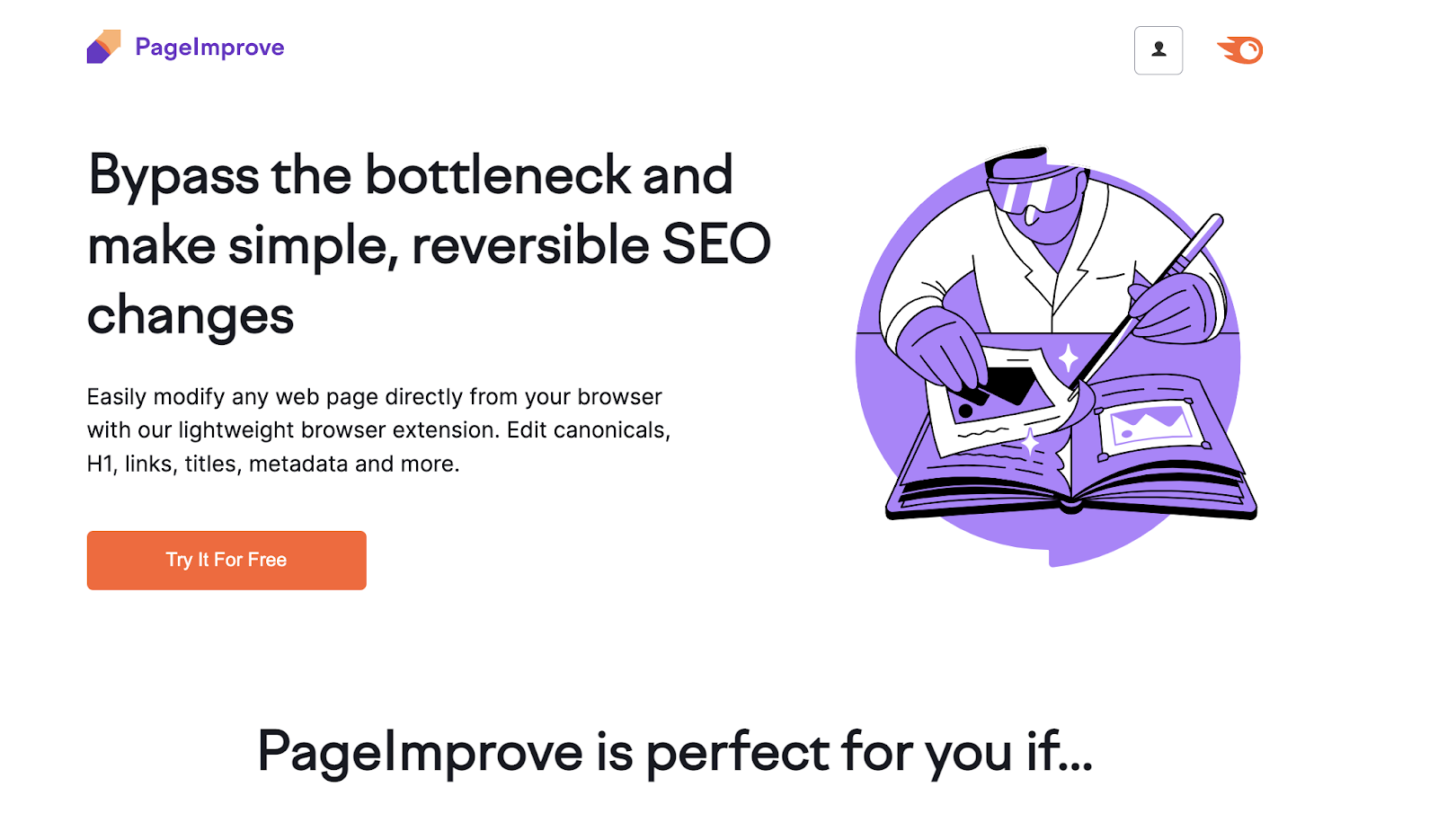 PageImprove by Semrush is our top SEO Chrome extension. It allows you to tweak pages on your website directly from your browser. You can rework canonicals, H1s, titles, metadata, and a whole lot more. 
Think of PageImprove as a first aid kit for all your web content needs. If you are always waiting for developers to implement changes, this is the extension for you. It isn't heavy and won't bog down your browser, and it allows you to make changes on the fly and keep your web content as accurate and up-to-date as possible. 
This is a good matchfor digital marketers with a difficult content management system (CMS), SEO specialists working in a small agency with limited developer resources or lack of access to client CMS, and SEO strategists who need to make frequent changes to the content they are creating. 
​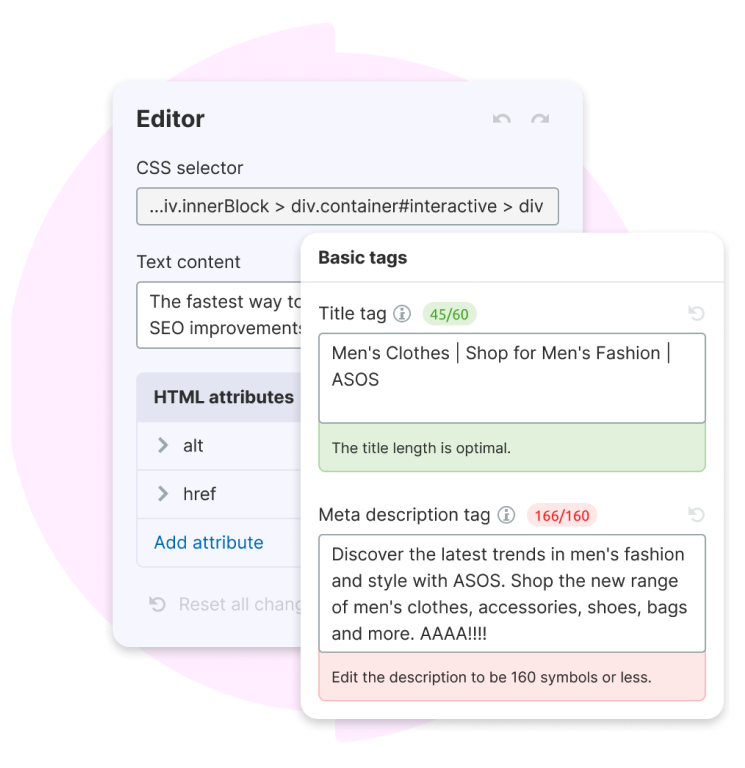 ​
2. Keyword Surfer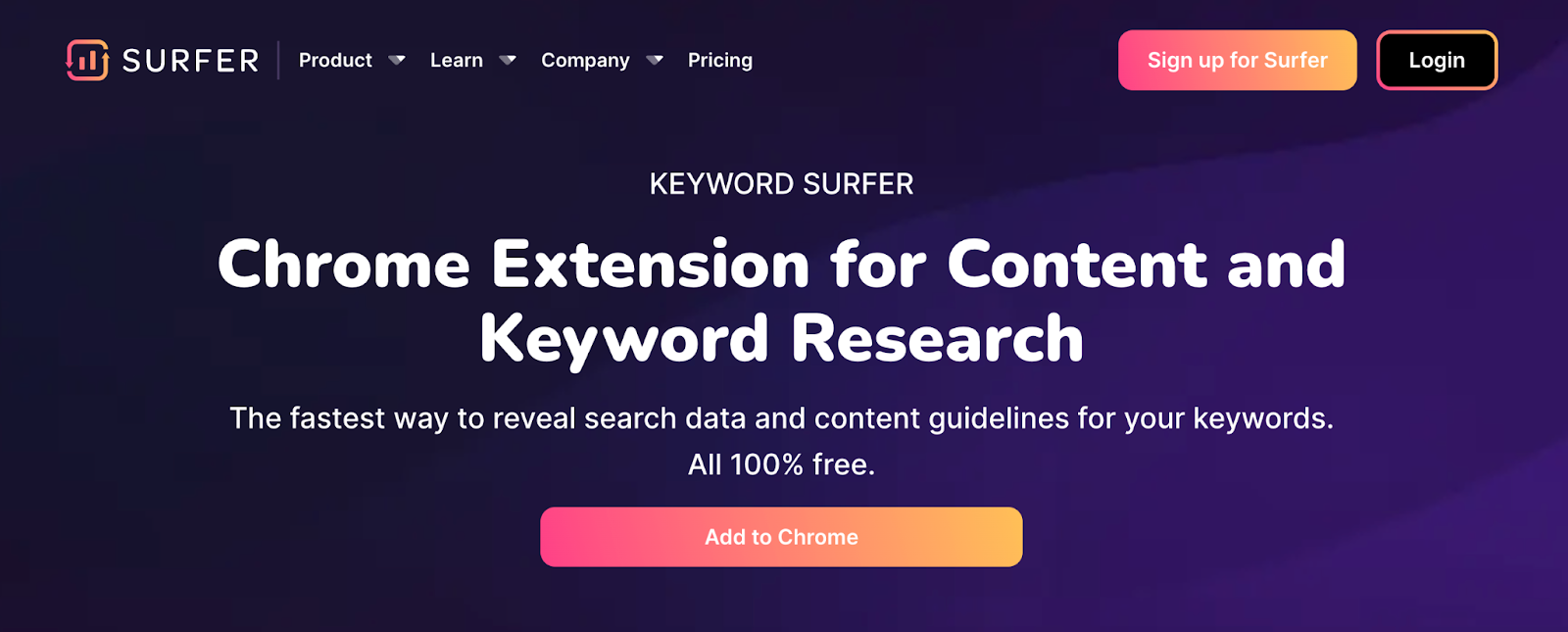 If you love to limit your tabs and windows, Keyword Surfer might just be your new best friend. 
This completely free extension allows you to view keyword volume data for each Google search result. No more jumping back and forth between tools to get a quick view of what kind of volume a search term has. 
In addition, every new search will give you data like CPC, related terms, visibility metrics, and information about on-page performance.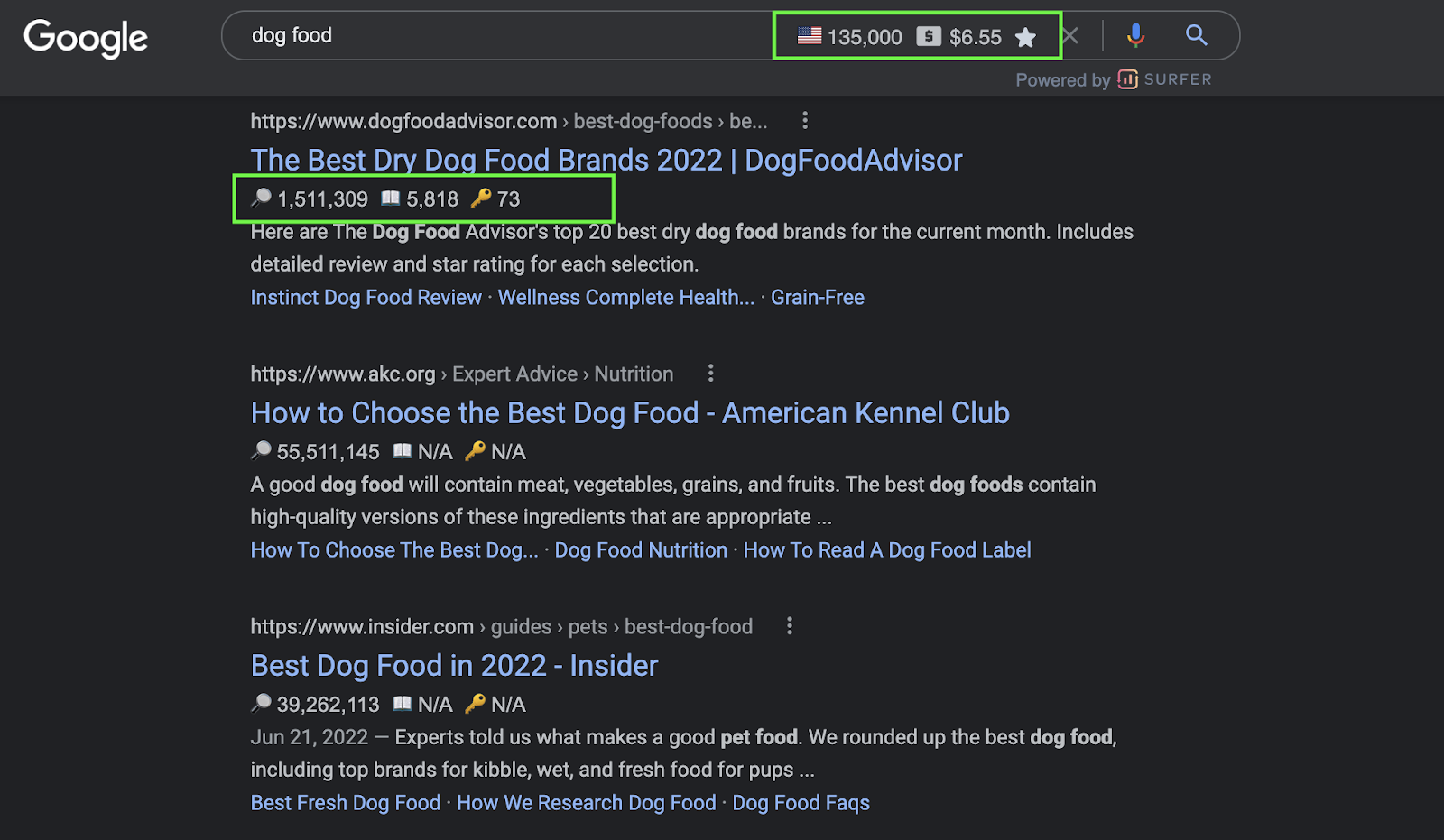 Clean metrics right at your fingertips! You can see multiple data points in the search window itself with this extension. 
This is a good match for busy SEO experts who just want to quickly get to the nitty-gritty on search volume and other basic metrics, agency employees who wear multiple hats (and maybe SEO isn't their main hat), and content specialists who need to bolster their content with highly valuable keywords. 
3. SEOquake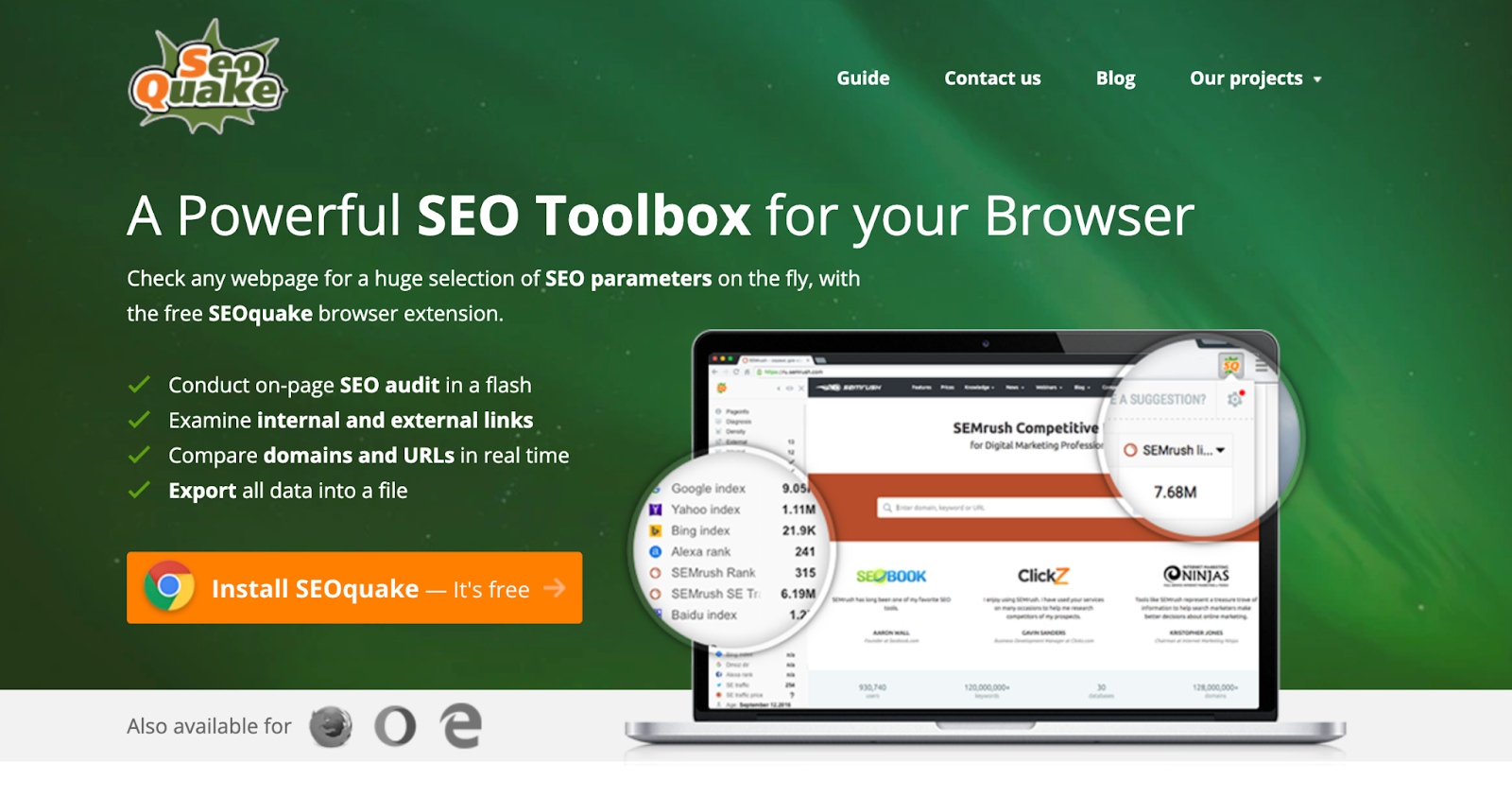 SEOquake is like the Swiss Army knife of SEO Chrome extensions. With this plugin, you get all the vital SEO metrics you need right at your fingertips—for free! 
SEOquake gives you an in-depth analysis of the search engine results pages (SERPs), allows you to calculate keyword difficulty of valuable search terms, and gives you the power to perform a site audit on the spot (as well as check the mobile-friendliness of a site).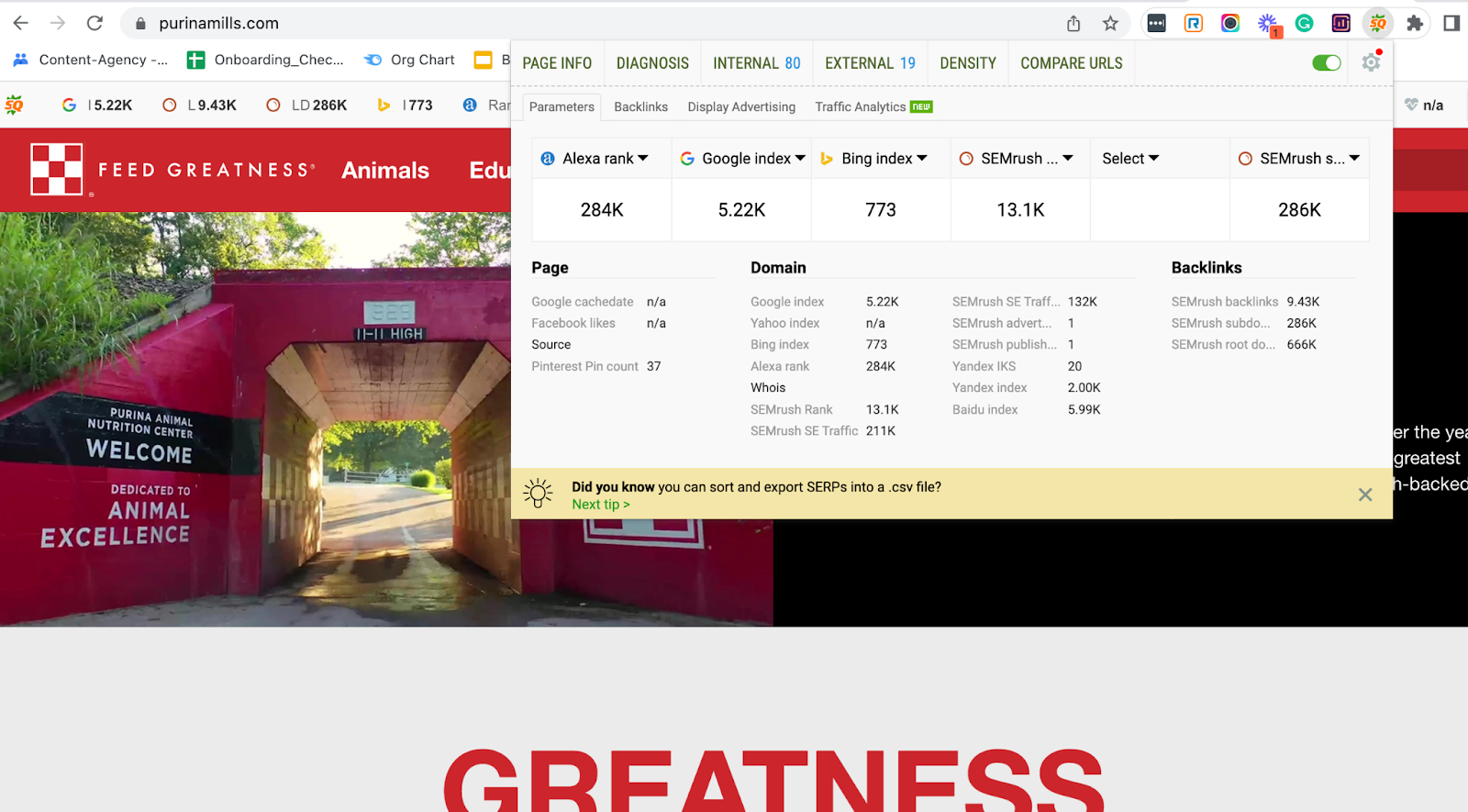 SEOquake gives marketers a snapshot of the site they've navigated to. If you have a Semrush account, you can connect it to the plugin to get even more data points. 
This is a good match for SEOs charged with doing a lot of link analysis, social media managers keeping tabs on social stats for Facebook and Google Currents small business owners just getting started in SEO (it's super easy to install and navigate), and multi-faceted content strategists. 
4. Mangools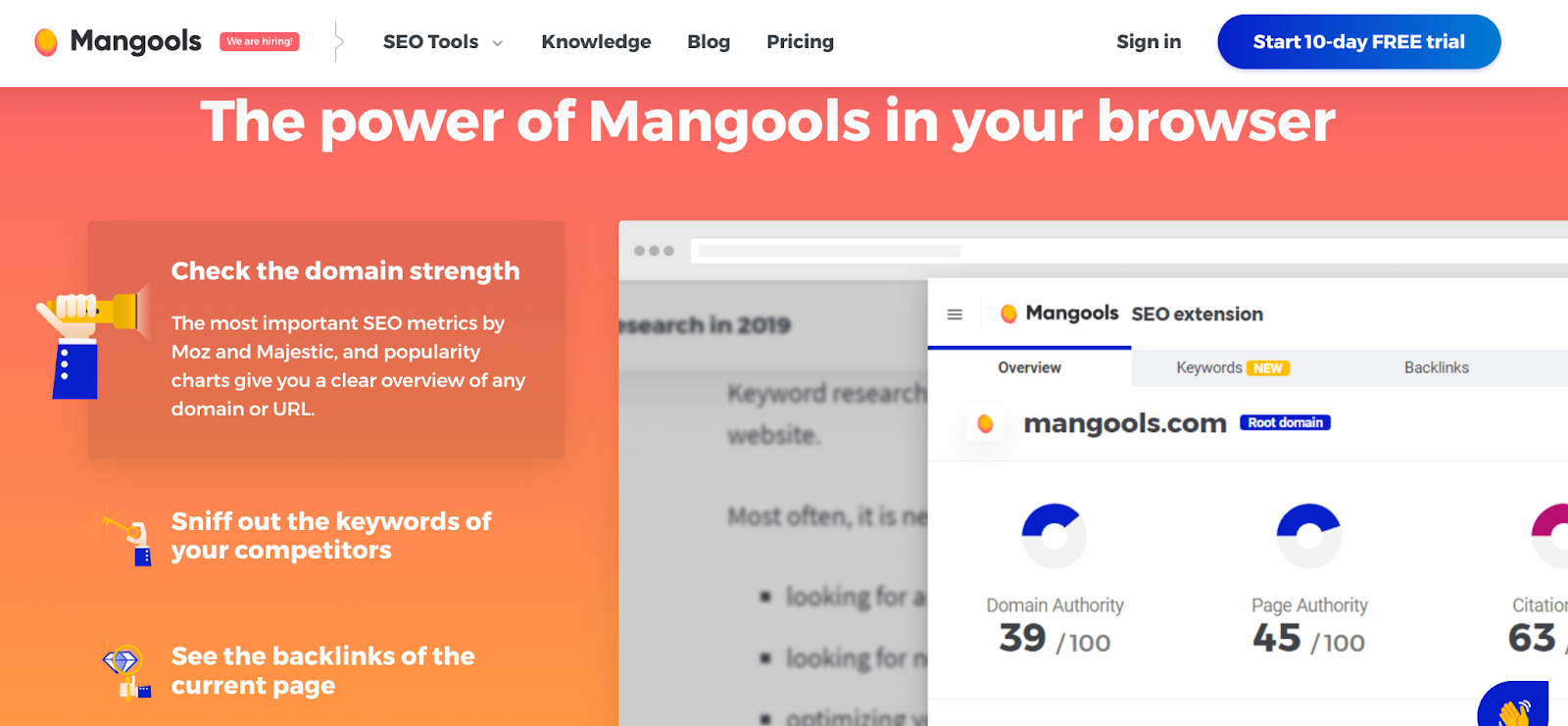 Another great all-in-one extension for busy digital marketers, Mangools offers tons of analysis and data with just a few clicks. It does a little bit of everything. According to its overview in the Chrome Store, Mangools has the capability to give you info on: 
Domain authority
Page authority
Citation flow
Trust flow
Alexa rank
Referring IPs
Facebook shares
Followers on social profiles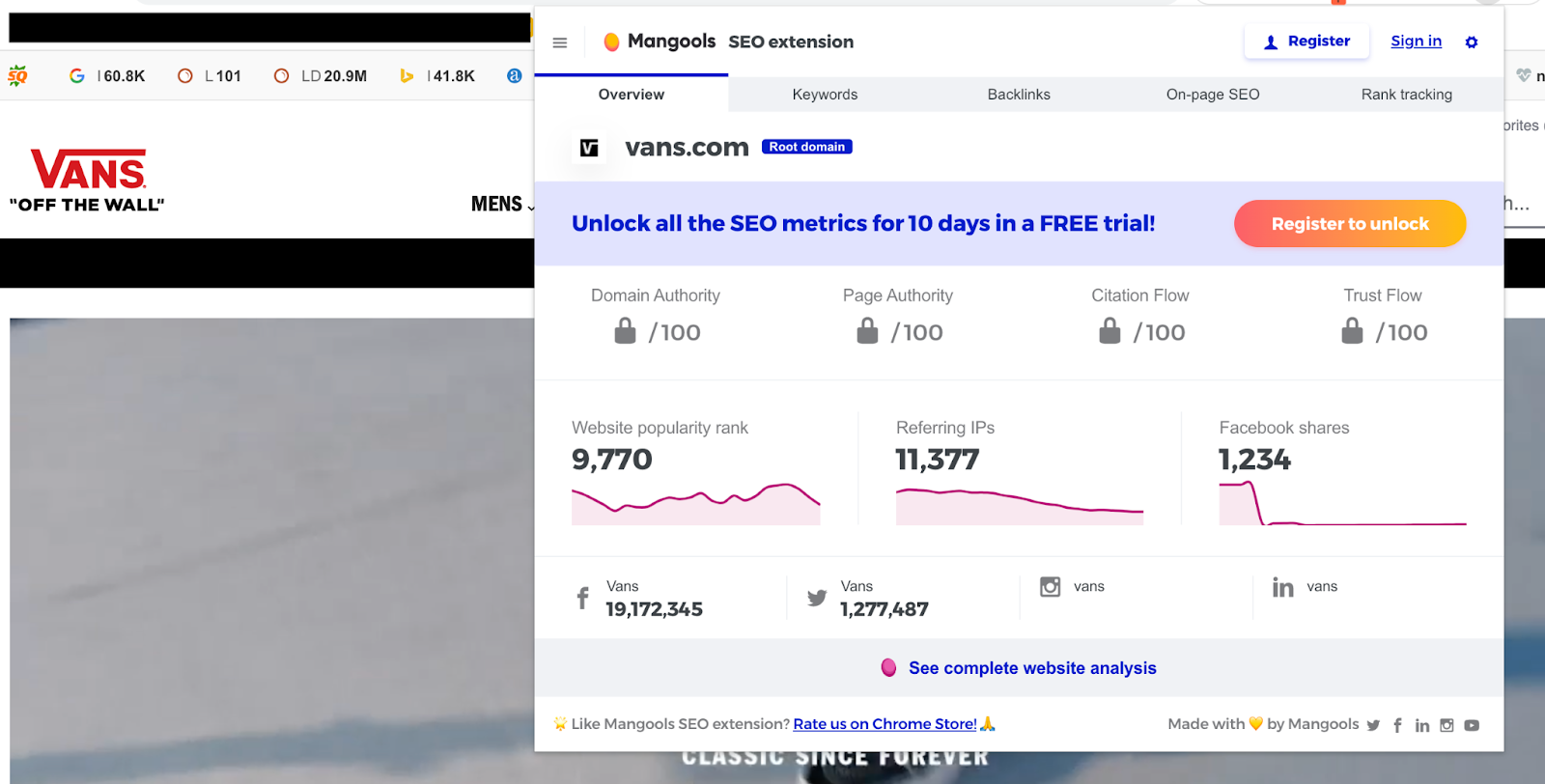 In addition, you get access to competitor data, backlink data, rank tracking, broken link data, and more. This is truly a hefty toolbox! 
After the free 10-day trial, a Mangools subscription will range from $29.90 to $79.90 depending on your business needs. 
This is a good match for digital marketers who need to wear a ton of hats during their workday as well as SEO specialists who like to compare the data between tools like Moz and Majestic. 
5. SEO Minion 
SEO Minion is a must-have if you perform data-heavy SEO tasks. This extension gives you the ability to do on-page analysis, view (highlight) all links on a given page, find broken links, preview a SERP, and check the validity of hreflang tags. It's also free!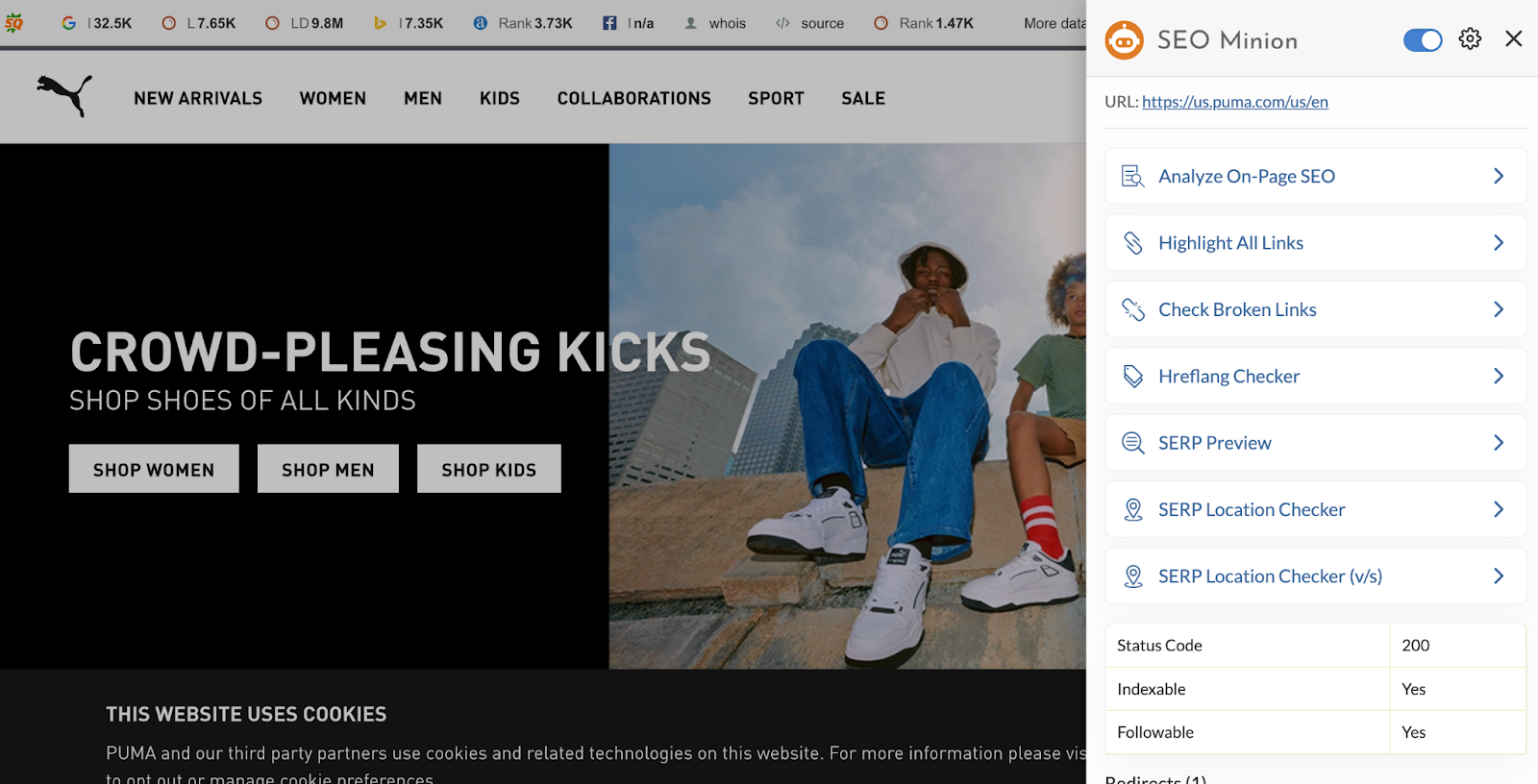 Better yet, if you hate chasing down redirects, the tool identifies those for you, too! 
This is a good match for busy SEOs who do it all for either a small agency or business, marketing managers who just need to tap into data from time to time, and SEOs working on a budget. 
6. SEO Meta in 1 Click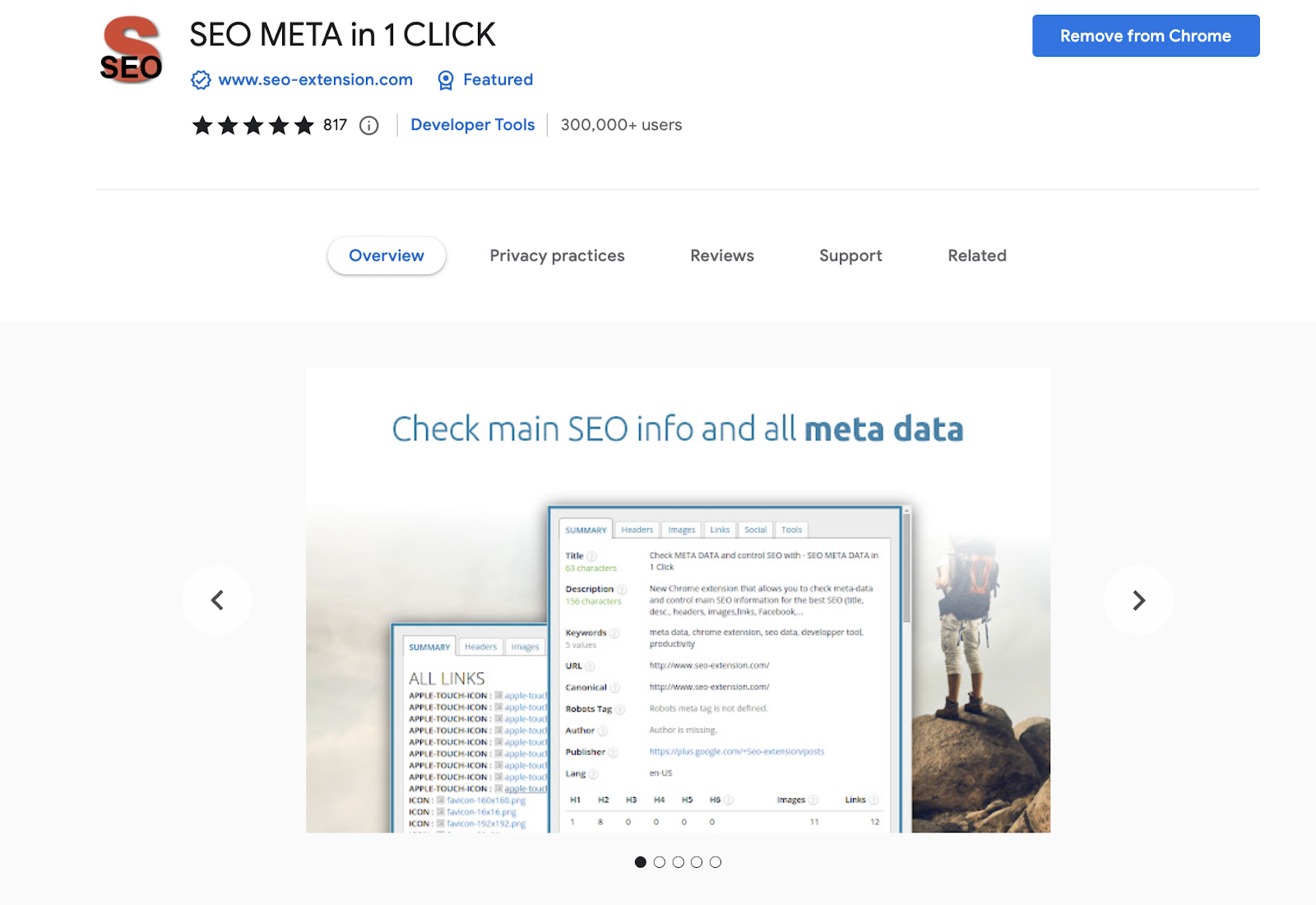 If you need a one-stop shop for metadata, SEO Meta in 1 Click is the perfect solution. According to its Chrome Store description, this tool gives you: 
Title and length
Description and length
URL (plus meta-canonical URL)
Meta-robots
Displaying headers in chronological order
Number of images with and without ALT
Number of links
Open Graph and Twitter social data
Robots.txt and sitemap.xml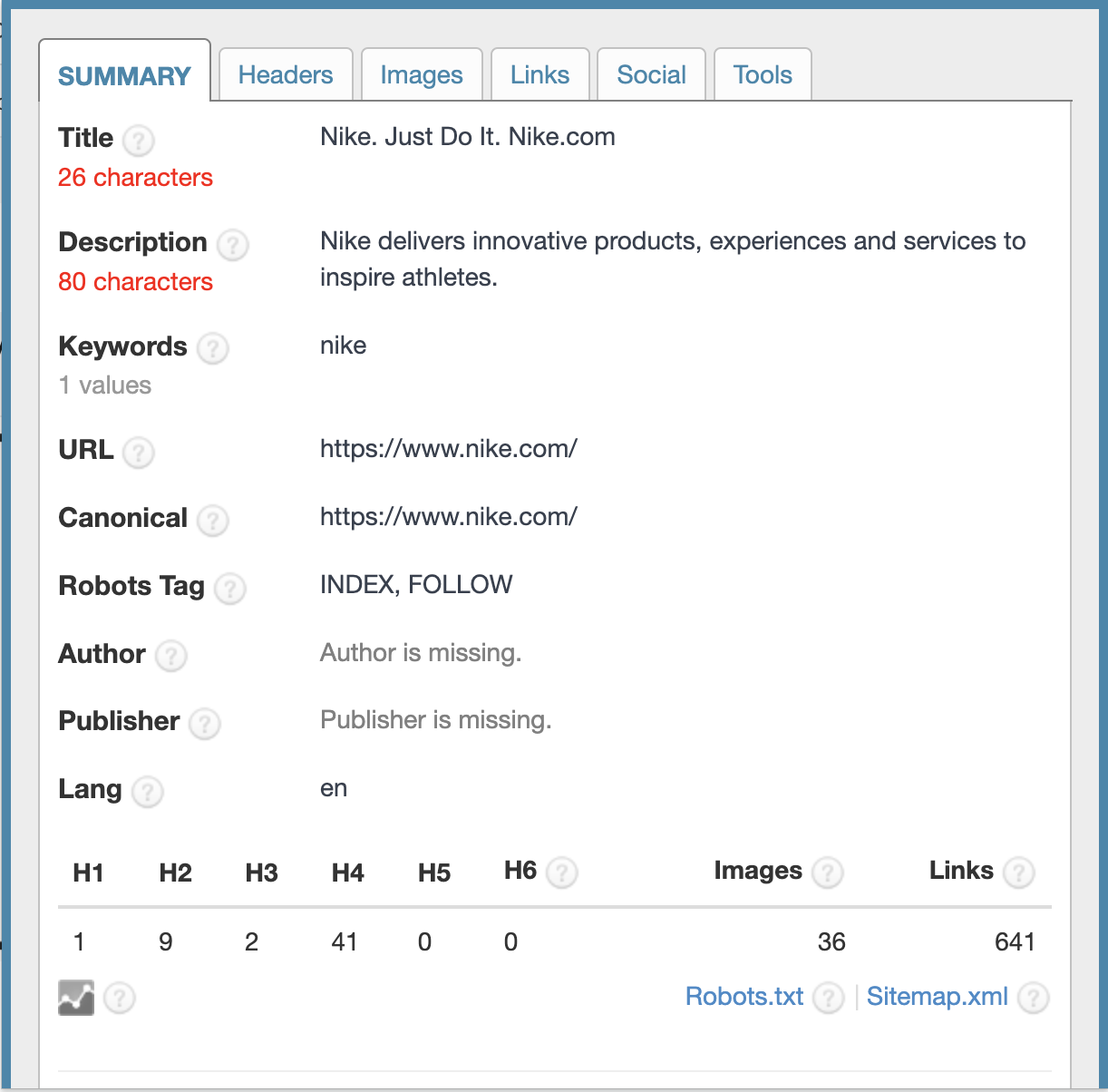 The breakdown of this information is shown in a simple pop-up window, making it ideal for on-the-go SEOs! 
This is a good match for digital marketers who just need the meta basics, content creators who want to structure their writing appropriately, and strategists who need to give writers a breakdown of how a piece should be outlined. 
7. SEO Analysis & Website Review by WooRank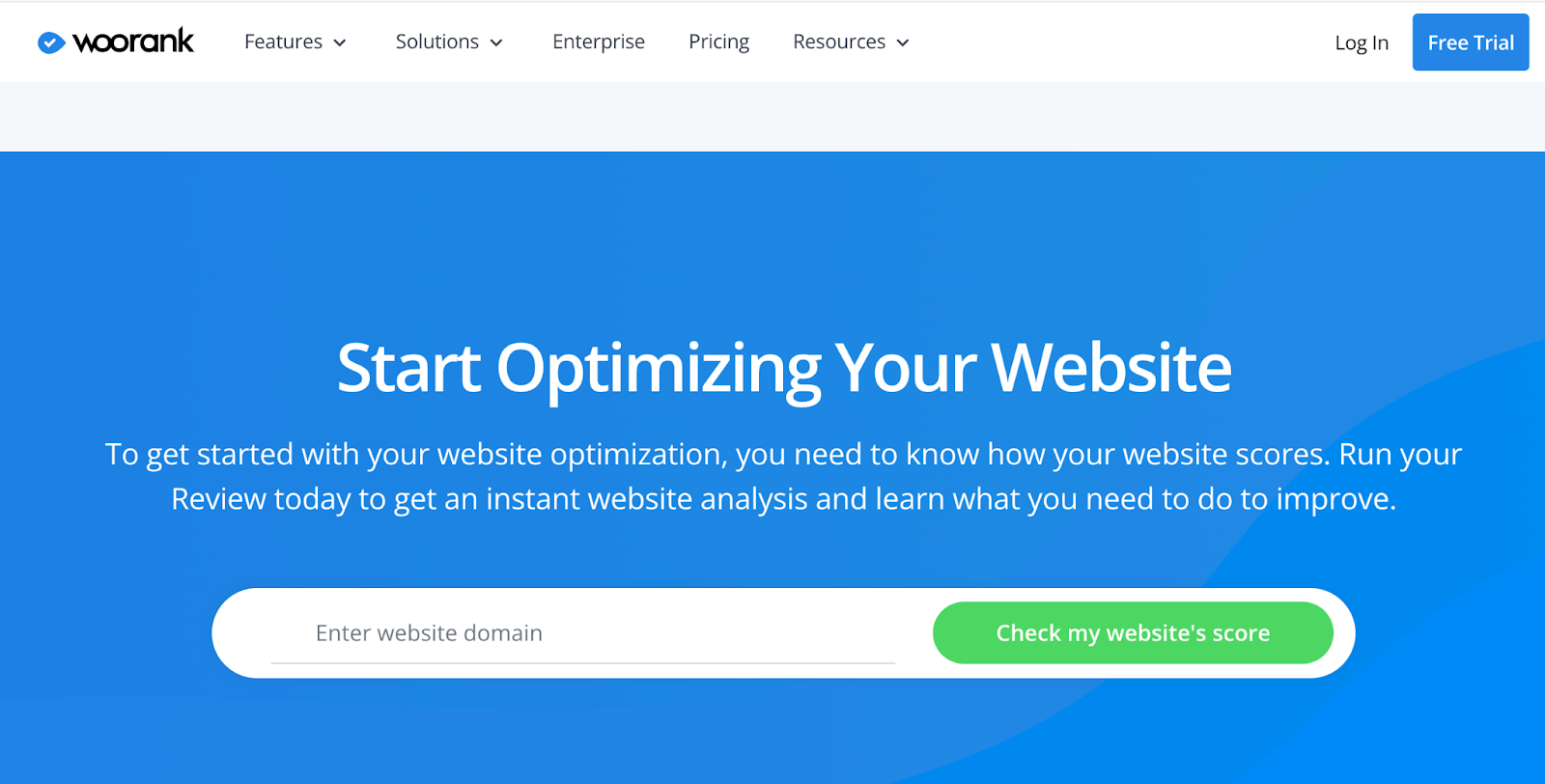 SEO Analysis & Website Review is a free extension offered by WooRank. With it, you can view a website's SEO data, such as usability, mobile friendliness, traffic, social media metrics, backlinks, and a whole lot more. 
A big bonus: no sign-up or account necessary. You can get started by simply inputting your URL into the search bar. 
The data is broken down into helpful visuals and eye-catching metrics that will help you determine where your site needs the most work. 
This is a good match for solo SEO agents who do a lot of freelance work, marketing teams needing info on a site to make a more thorough pitch, and agencies with a number of clients to track. 
8. Yanado's Task Management Inside Gmail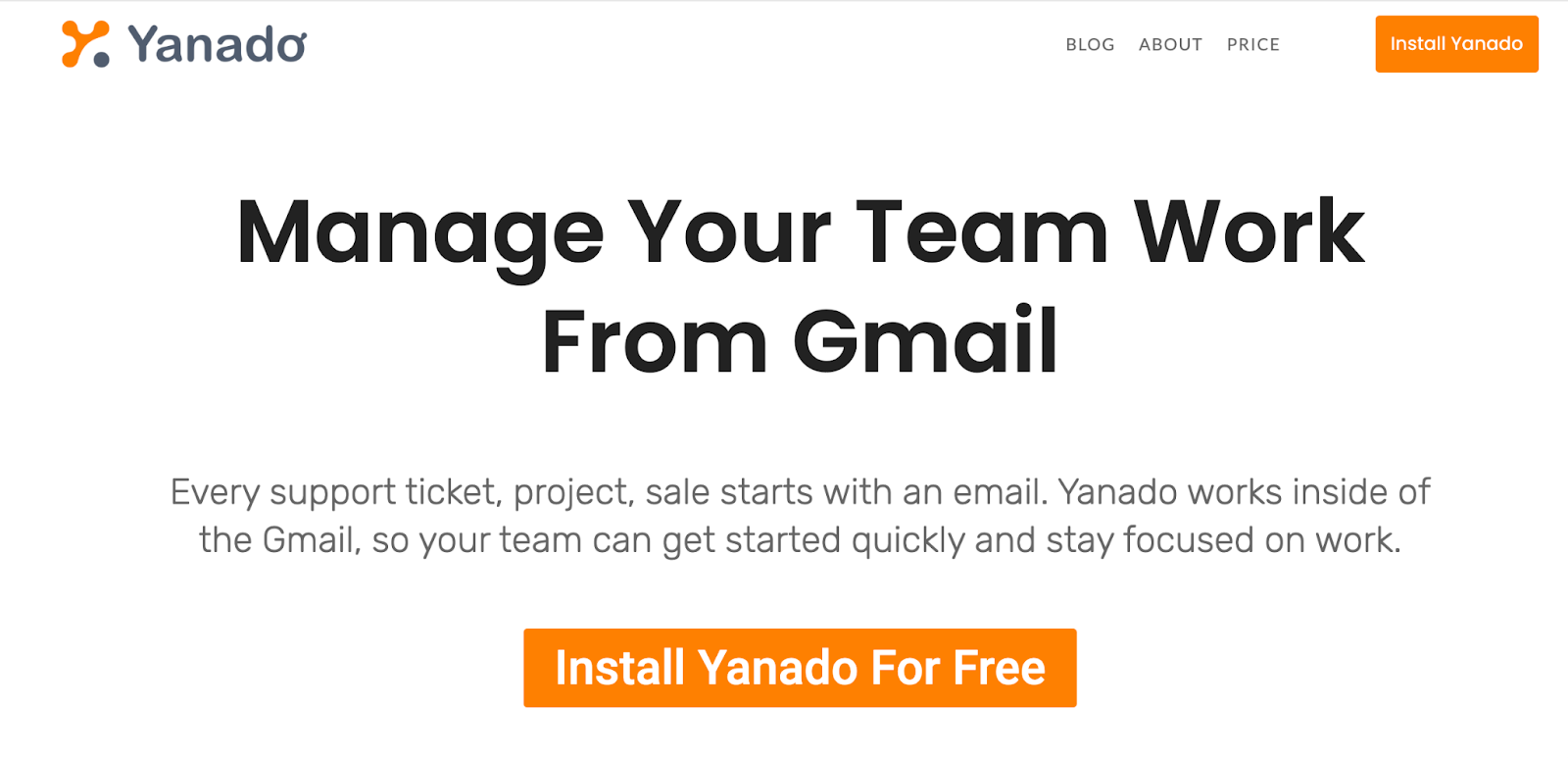 While it's not technically an SEO-focused extension, Yanado's task management tool is a gift for digital marketers who need to manage dozens of day-to-day SEO tasks from their email. This extension works within Gmail, so you never have to worry about missing an important message as you track your workload. 
Create tasks and to-do lists from your email with the click of a button, as well as add tags to better organize your workflow. 
You can even delegate tasks to your team, create due dates, and complete other important project management steps without ever leaving Gmail. 
After a free trial, you can choose from several subscriptions. Prices range between free and $15 a month for a premium membership. 
This is a good match for digital marketers who get anxious when they are away from their Gmail. You might also benefit from this extension if you love a centralized organization system for your SEO tasks. 
9. Majestic Backlink Analyzer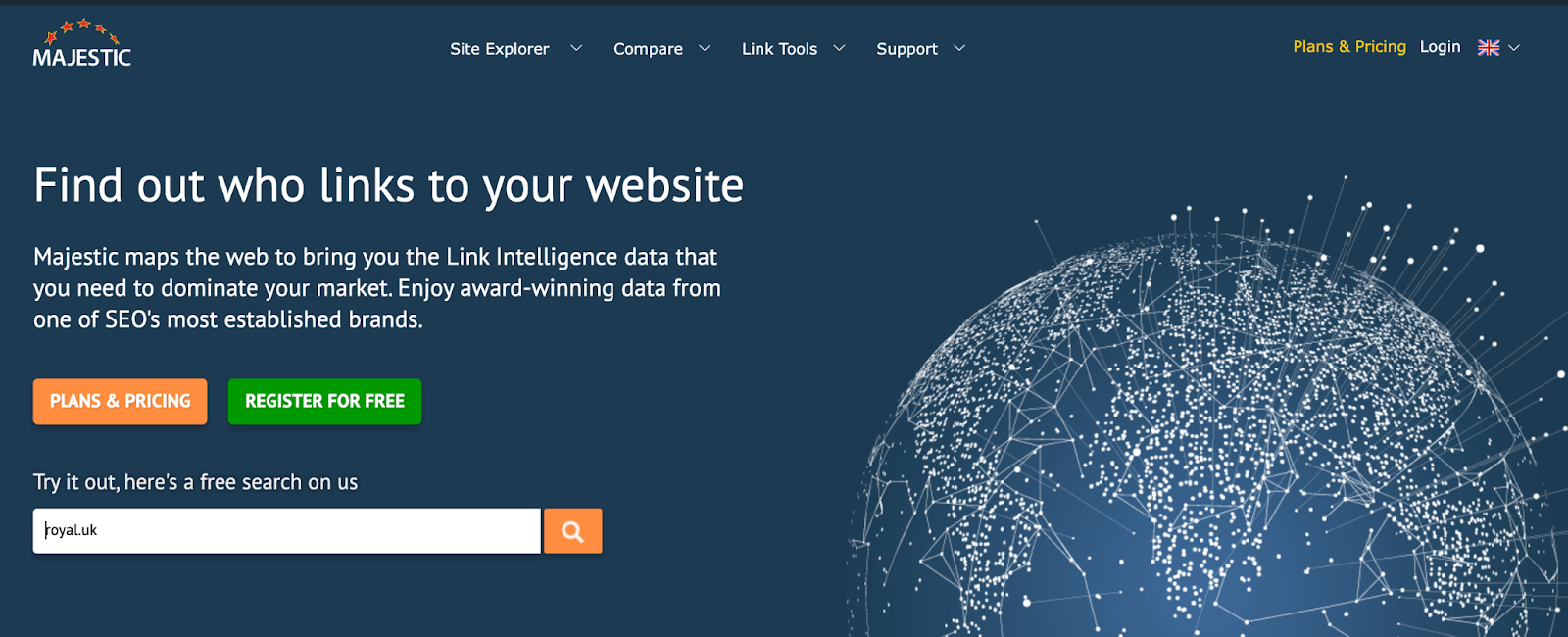 The Majestic Backlink Analyzer extension is great for marketers who are always neck-deep in backlink analysis. 
This tool gives you a lightning-fast way to assess the performance of a page based on its backlink profile. While the extension is free, you can unlock more paid features with a Majestic account. 
This extension doesn't use a third party for its data mining; it crawls the entire web for the most accurate results possible. You'll get a list of the 10 strongest backlinks to whatever page you're assessing along with a list of the 10 strongest anchor texts, too. 
This is a good match for SEOs who are always tracking backlinks and website owners who need to wear a number of SEO hats.
10. Rank Up Content 
Rounding out our list is Rank Up Content. If you work in SEO or are a content creator, this is an excellent tool for keyword planning and content ideation. Once you do a Google search of your desired keywords, the extension will produce a pop-up window with an analysis of the top 10 positions in Google. 
It will also give you "Hot related keywords," a difficulty score, and frequency. Paid users can get a deeper analysis of the SERPs for even more keyword ideas. 
This is a good fit for individual content creators, agency content staff, marketing managers looking for keyword ideas for campaigns, and strategists looking to create unique and compelling written content for their websites. 
All SEO specialists and strategists need to focus. Forest is an excellent productivity app perfectly designed for creatives and digital marketers who need to home in on tasks and projects with laser attention.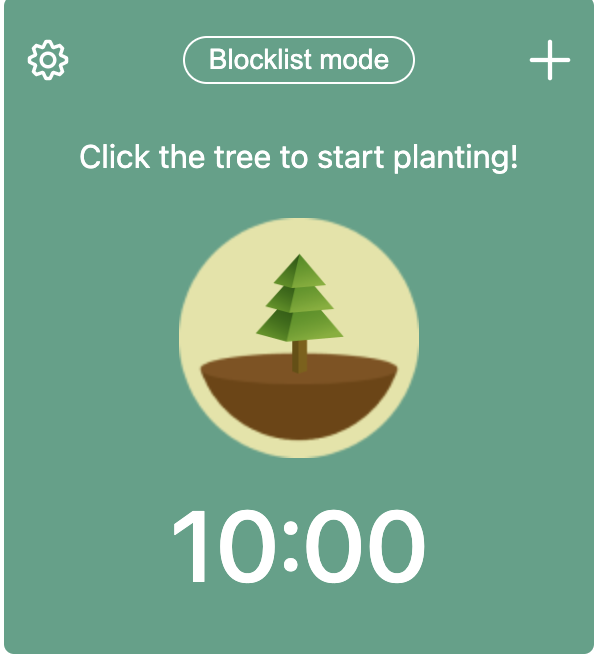 Forest offers a sweet little pop-up that asks you to plant a tree when you are ready to focus on a project. As you stay on track, the tree grows. You can even manage a block site list to keep you away from tempting and distracting websites. 
It's free to use, and—even better—you can help plant real trees using virtual coins within the tool. Forest has planted over a million trees thanks to its users. 
This is an ideal addition to your toolbar if you find yourself getting distracted between tasks. Stay on point and get your work done while saving the environment. What could be a better use of your time? 
How Many Chrome Extensions Can You Have? 
The good news is there doesn't appear to be a limit on the number of Chrome extensions you can add to your digital toolbox. 
That said, Chrome extensions can slow your computer down, the more of them you add to your toolbar. So, it's still best to be selective about what you add. You can always manage your extensions from your toolbar (the little puzzle piece at the top right-hand corner of your Google browser). Unpin and pin your most frequently used extensions, and eradicate the ones you no longer use. 
Which SEO Extensions for Chrome Are Free? 
Dozens of free extensions for SEO specialists are available through the Chrome Web Store. You can browse using the search bar. Most developers list their prices either on the extension's page or their website. 
Even paid extensions often offer free trials, so you can test drive the tool before buying it. 
Make Life Easy—Get the Best Chrome Extension for SEO 
Well, there you have it! Hopefully, we've made your workday a little easier with these extension suggestions. 
While the results of implementing an SEO strategy can take a long time to realize, the tasks and workload involved often need to happen fast. Change is also inevitable. That's why it's vital that you have instant access to your site to make quick changes and ensure that you are giving your customers the best web experience possible. 
Don't wait around for your developer to implement changes that need to happen ASAP. Get the access and control you need for successful SEO—try PageImprove for free.