If you're an emerging business, a start-up looking to secure funding, or a brand trying to make a bigger splash in your market, then this article is for you. From big businesses to small enterprises, brand awareness continues to rise in the ranks of marketing priorities. 
In fact, a survey by Nielsen found that brand awareness was among the top 6 concerns among marketers. 
While you could spend months talking about brand awareness tactics, these 10 tips should get you started on your journey to creating bigger, better brand campaigns. We'll cover: 
Creating a brand awareness strategy
How to get customers and employees to talk about your brand 
Leveraging social media channels to reach broader (and more specific) audiences
Finding thought leadership opportunities 
…and a lot more. Let's start building that brand awareness!
1. Secure Consensus and Support for Your Brand Awareness Strategy
"If you don't know where you are going, you'll end up someplace else." — Yogi Berra
Brand awareness, like virtually all aspects of marketing, requires a thoughtful strategy. That may seem obvious to some, but even seasoned marketers underestimate the power of a holistic, written strategy. Bringing everything together in a Google Doc or some kind of shared asset management tool gives everyone responsible for your brand awareness the chance to rally around common goals and understanding. 
Even holding a 30-minute, recorded Zoom meeting to establish expectations can have a positive impact. In addition to getting together to discuss your brand awareness strategy, you should also consider writing down: 
Your short-term KPIs 
Your long-term goals 
What kind of budget you have to play with
Your employee bandwidth for creating campaigns 
Marketing assets (pictures, social media channels, reviews—we'll get to some of these in a second) 
All the marketing tools/software that you currently use in your existing projects 
How you will monitor the progress of your brand awareness campaigns
Once you have this brand awareness framework buttoned up and secured in a place where all necessary stakeholders have access to it, you can get down to business. 
One of the first and easiest places to start? Customer testimonials. 
2. Encourage and Incentivize Customers To Leave Reviews 
In this time of social media and third-party review sites, you can choose to look at customer feedback in one of two ways—either as a pain in the neck or as free, untapped, unlimited marketing potential. 
And really, who doesn't love free? 
One of the most common mistakes brands make is pouring thousands, or even millions, of dollars into flashy ad campaigns…all while completely ignoring their customer reviews and feedback. 
This is like throwing money right in the garbage. After all, nearly 90% of consumers consult reviews before making a purchase decision.
Sites like Yelp and Google Reviews can indeed be challenging to maintain. But having that touchpoint is invaluable to both your customers and your business. And that kind of personal relationship with customers, more often than not, leads to compelling, organic brand awareness. 
These sites provide a free platform to engage with your customers. Did someone leave a five-star review about one of your employees? Amazing. Tell them in your own words what that kind of feedback means to your brand, directly.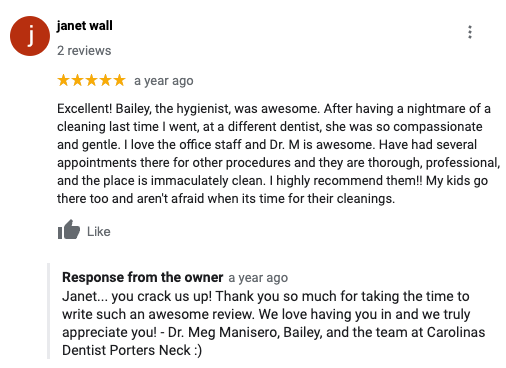 Also, if issues do arise that could damage your brand's reputation or positive awareness, you can get to work right away in resolving them and making things right for your customers. 
So, while you can't necessarily always guarantee that your customers will leave sparkling, glowing reviews for your business, you can absolutely use the positive feedback to fuel your brand awareness campaigns. Happy customers are more likely to share their positive experiences with friends and family, too.
Leveraging these testimonials is the easy part. You can: 
Share them across your social media channels 
Add them to your email marketing campaigns and newsletters 
Build a customer testimonial page on your website 
Tie them in to stakeholder presentations and reports 
Use them as pull quotes in paid ad campaigns 
The harder part is incentivizing customers to leave these kinds of detailed testimonials. 
One way to make it really enticing for customers to give their public, honest opinion of your brand is to build a customer loyalty program. 
If this seems daunting, don't worry—in recent years tons of great loyalty program tools have been developed to help brands manage this. These tools reduce the number of manual hours you have to spend tracking down customers to thank and reward them for their business. 
In fact, customer loyalty management platforms like Kangaroo also help you manage the reviews and testimonials.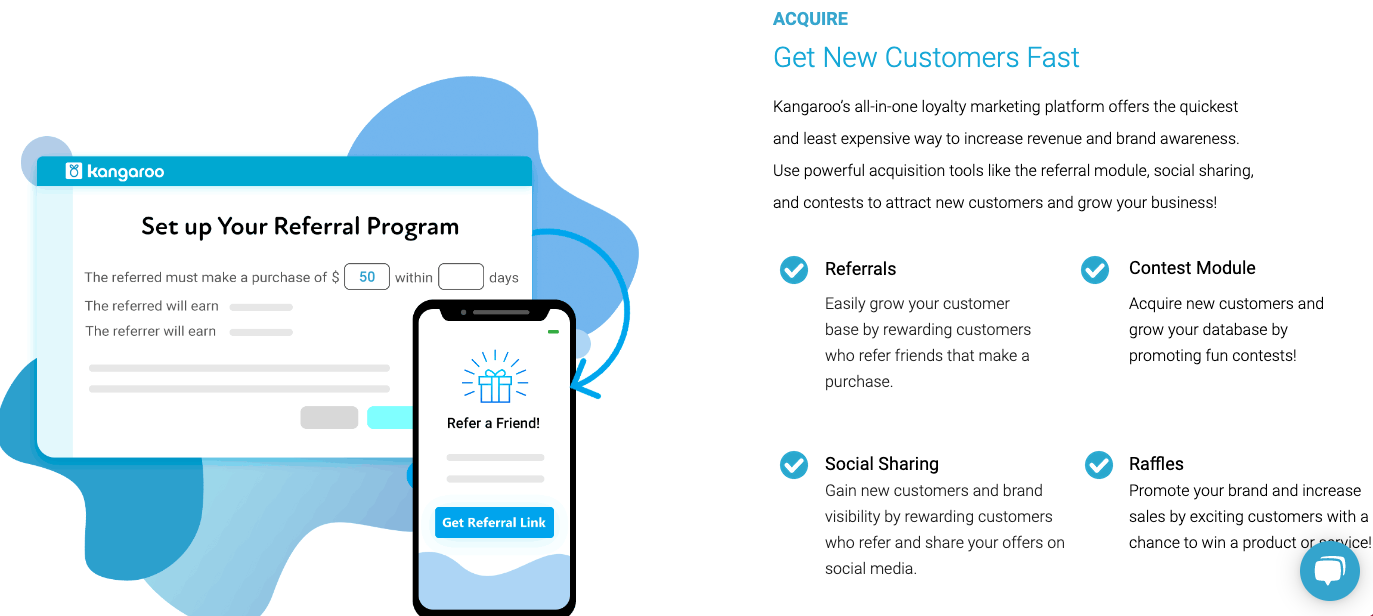 Kangaroo is a customer loyalty program management tool that helps businesses incentivize and encourage loyal customers to share their honest opinion of your business—a great way to generate organic interest and awareness of your brand. 
If Kangaroo doesn't fit your budget, there are plenty of other tools out there that might. 
Pro Tip: Make an effort to turn negative reviews into positive interactions. 
Many brands struggle with the concept of addressing customer concerns or negative feedback, especially if it involves issues with your business that are out of your control. And look, you will probably not be able to avoid negative feedback. If the Grand Canyon can get one-star reviews and still be breathtaking, so can your brand.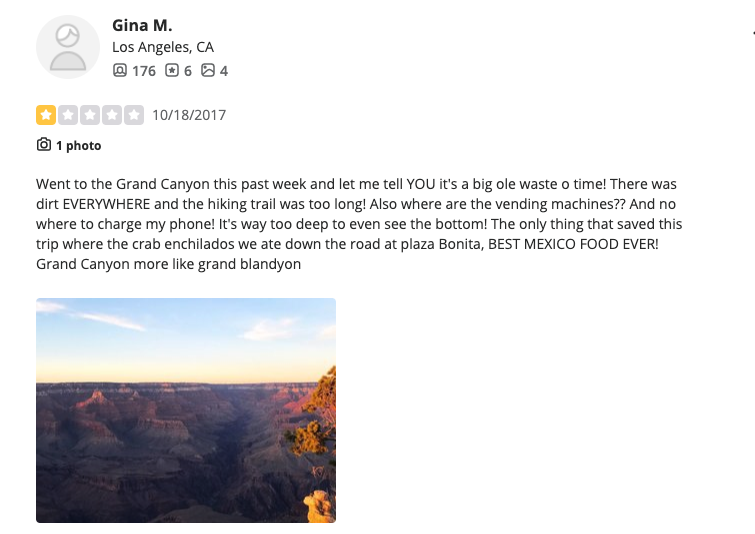 Image credit: Yelp.com
That's not to make light of one-star reviews. They can be a pain to manage, that much is true. But if you see a one-star review, keep it top of mind to address as soon as you can.
For instance, let's say a customer leaves your business a one-star review on Yelp because the item they ordered was received later than expected. More than likely, the post office delayed your customer's package and this issue really didn't originate with your brand. 
On the surface, it might seem unfair that your business is shouldering the blame for a wider issue that lots of businesses are facing right now. But remember, your customer only really interacts with your business when they make a purchase.
They aren't thinking about what the post office might be going through. 
Some brands might consider this kind of a review a lost cause. But it doesn't need to be. In fact, ReviewTrackers found that 53 percent of customers are expecting you to respond to their negative review within the week! 
By not responding, you are probably just making the problem worse. Brand awareness should be a positive thing. The best way to get in front of issues like this is to respond in a timely manner to any and all reviews—no matter how challenging the customer concern might be. 
So for that one-star Yelp review on a late delivery, you might respond with: 
"Hey (name of reviewer), 
We are so sorry your special item didn't arrive on time. We try to be very vigilant about meeting our delivery promises, but we missed the mark with your package. We would love to make this up to you! I'll send you a DM right now." 
Fighting with the customer on a public platform won't do any good for your brand image. So, even though the finger should probably be pointed at an overburdened postal service, you will most likely want to take responsibility for the concern. 
Remember, though, to always approach these interactions carefully; if it's a serious issue, you will want to defer to your legal team or business advisor on how to best respond. 
But if it's a simple concern like the example above, it's best to show your dissatisfied customer and all other potential customers that you do care about customer satisfaction. 
You might even be surprised at how quickly a personal touch like this for the customer turns a negative interaction into positive brand awareness. 
Even offering to reimburse their shipping costs and giving them a 20 percent discount on their next order can make a lot of customers happy, and they might even revise their review on a third-party review site to explain how you helped make things right. 
So, if you're getting one-star reviews for your "Grand Canyon" service, don't get discouraged—get engaged! Your customers are waiting to be dazzled again. 
3. Encourage Employees To Give Honest Feedback
What kind of impact do employees have on your brand awareness? Well, it's a pretty big impact, actually. In fact, Haiilo found that 71 percent of executives surveyed felt that employee engagement was essential to the success of their brand. 
People want to engage with brands that treat their employees well. Most consumers don't want to do business with brands that treat their employees poorly. In fact, even big retailers like Shein and Amazon have experienced a lot of public scrutiny over the reported mistreatment of their employees. 
So, you'll want to invest in your team's health and happiness as best you can. If you know your employees love your business, start encouraging them to share their experiences across their social platforms and on employee review sites like Glassdoor. 
Adobe is consistently rated one of the top companies to work for in the U.S. Their reviews on Glassdoor reflect their commitment to employee satisfaction. In turn, their employees are very eager to sing their praises and raise brand awareness. 
Speaking of Glassdoor, if you do get a stellar review from an employee, you can feature it like Coca-Cola did in the image below.
Some brands choose to incentivize their employees by building employee brand ambassador programs. This means they select a small team of employees to rally their coworkers to share their brand pride on social media (and elsewhere). 
Bamboo, an HR and employee management platform, has a handy list of 10 ways to find and energize brand ambassadors for your business. 
Pro Tip: Don't be afraid of Glassdoor reviews.
Don't cover your eyes every time you get a new Glassdoor review! 
Remember, sourcing employee brand awareness materials/reviews/testimonials means taking the good with the bad—you shouldn't force employees to give you glowing reviews if they don't truly feel your business has earned them. 
And, in reality, you can't make every customer and every employee happy. You just want to have the vast majority of your reviews end with a positive digital touchpoint from your brand. 
So, just like with customer reviews, you don't want to leave negative (or even mediocre) employee reviews to languish without a response. 
For example, this three-star review of a nationally renowned zoo could use a response from the business. You might be thinking, "Isn't a three-star review fine?" It probably doesn't hurt the brand's reputation, but it also won't build positive brand awareness.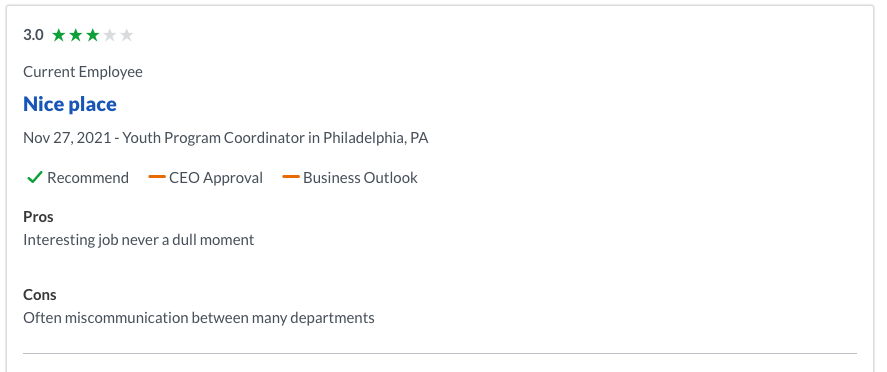 Image credit: Glassdoor
If the business wanted to respond to this employee review, they could say: 
"Hey Youth Program Coordinator, 
Thank you so much for taking the time to give us your honest feedback. We are so glad to hear the job keeps you on your toes in a good way! But we definitely want to make sure that communication between our departments is at its absolute best. If you want to reach out to HR with any suggestions, we would love to hear them. 
In the meantime, we will continue to survey the staff to see how we can meet everyone's needs. We appreciate you!" 
While this response doesn't promise anything, it shows that someone is reading these testimonials and cares enough to respond. That's building positive brand awareness. 
Admittedly, it can be hard to manage your public image alone. If this is the case for your brand, you should explore PR services next. 
4. Invest in Great PR Services
If you are a small brand with few employees, you may have to wear the PR hat yourself. This is totally okay! As you scale, you can reassess your need—and this tip will become more applicable to your business. 
If you're a medium (or large) brand that can't scale internally to meet your marketing/PR needs, outsourcing is entirely appropriate and even recommended. 
Public relation services can act as a reactive shield against any negative brand news/reviews, and they can proactively help you boost the signal on your positive interactions. They can also help you source opportunities to plug and promote your brand in high-visibility spaces. 
These elements of brand awareness campaigns can drain resources and slow down your progress if you attempt to do them all on your own with a limited staff. 
Clutch has a ranking of the top PR firms. This is a great resource because it includes customer satisfaction ratings, reviews, costs, and a lot more about each firm. 
Keep this list handy as you decide which firm is best for your needs. You can even filter it based on your needs and share the resulting list with your team.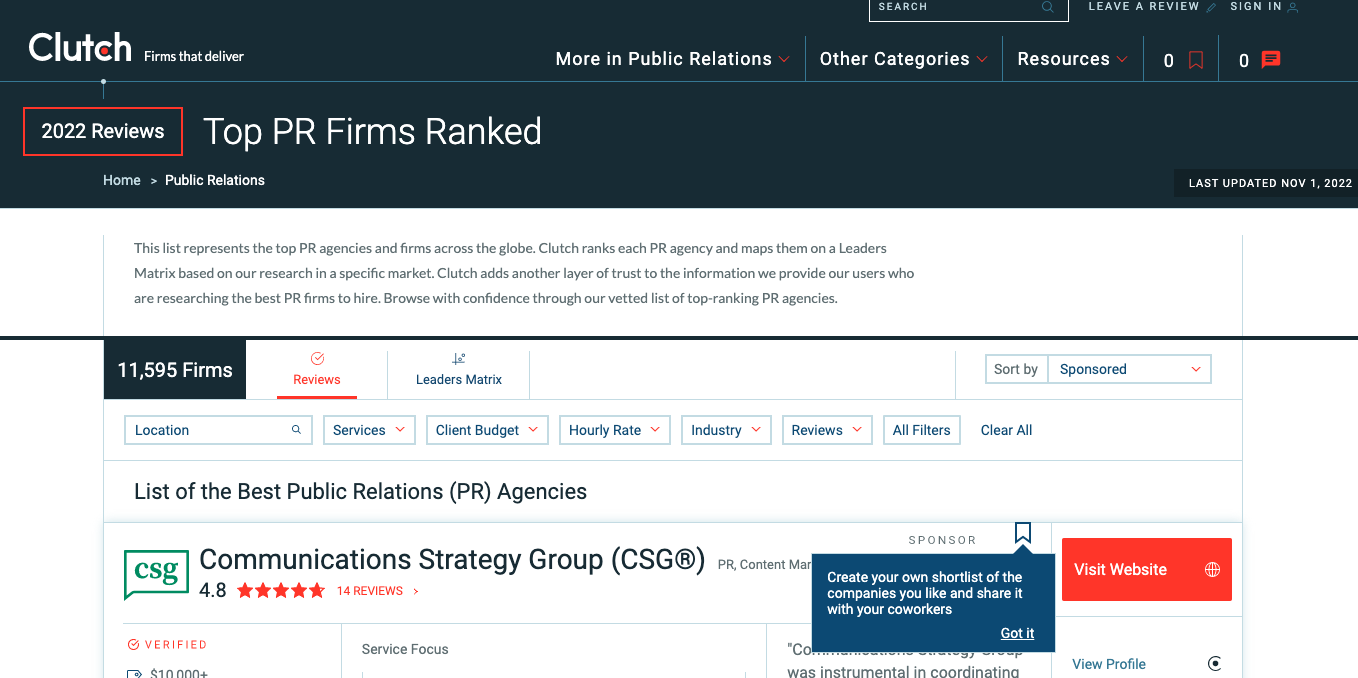 Image credit: Clutch
Whichever direction you decide to go with your PR, make sure you have your brand awareness strategy solidified and written down somewhere. You should also know your budget, time frame to completion, and whether you will be contracting your PR firm per project or on an ongoing basis. 
Pro Tip: Be proactive—don't wait for a crisis.
No matter how you choose to approach PR, do not wait until there is already a crisis and your brand reputation is at risk. The best way to build awareness in a positive way is to know your limitations and allow people to help with your positive and negative reputation management issues. Additionally, building a strong community takes time and effort, but when there's a crisis, you'll be glad you invested in it.
If you are doing this in-house, you will want to use a tool that helps you monitor your brand. We will get to that a bit later!
5. Try Experiential Marketing 
Experiential marketing is a strategy/marketing channel that places you directly in front of your customers in real life. 
This can include events like boat and car shows, state fairs, craft shows, trade shows, raffles, and other company-sponsored events that allow people to interact with your brand, directly. 
For example, airline carriers are pretty well-known for designing some incredible demonstrations at industry and trade events.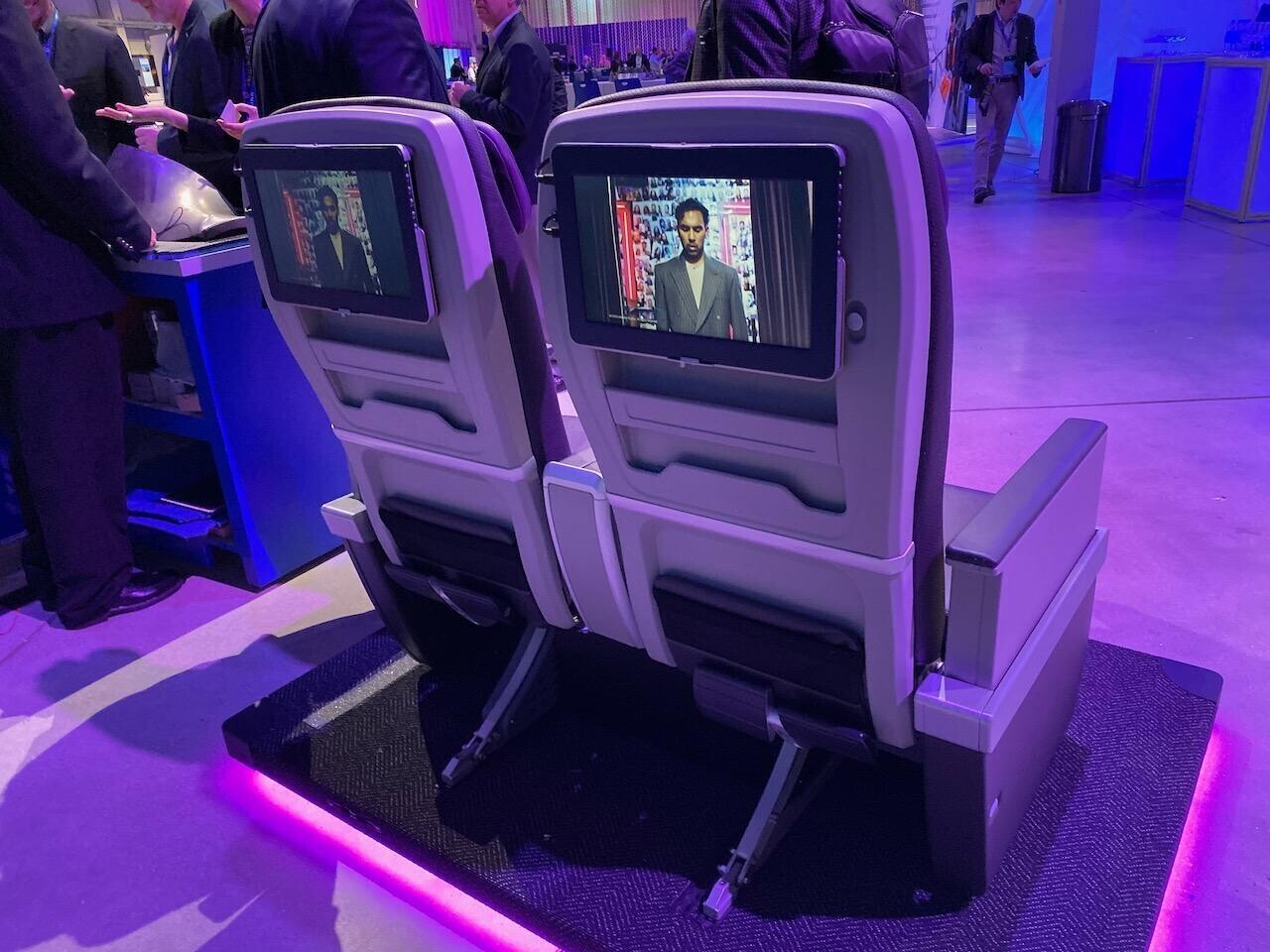 Image credit: theairchive.net
At a recent United Airlines demo booth, participants could actually sit and explore the seat experience of one of United's airplanes. As you can see in this photo, approaching experiential marketing like this generated a lot of interest from guests of the show—a United representative in the corner of the picture is fielding questions from multiple attendees of the event at once. 
If you're not in the position to create expensive experiential marketing demos, fear not! There are easier and cheaper ways to get your brand name out there in a positive way. 
Sponsorships are an especially effective way to insert your name in a positive way. Plus, you can often choose your level/tier of financial sponsorship, and you can choose the brands you partner with. 
The Boston Marathon is a prime example of what experiential marketing in the form of sponsorship can do. 
Attendees come from all over the world to Boston, Massachusetts, to watch top runners compete for the best marathon completion time. Often, these runners will take on sponsors (in fact, some marathons require it) and include these sponsors' names on their running kits or participant badges.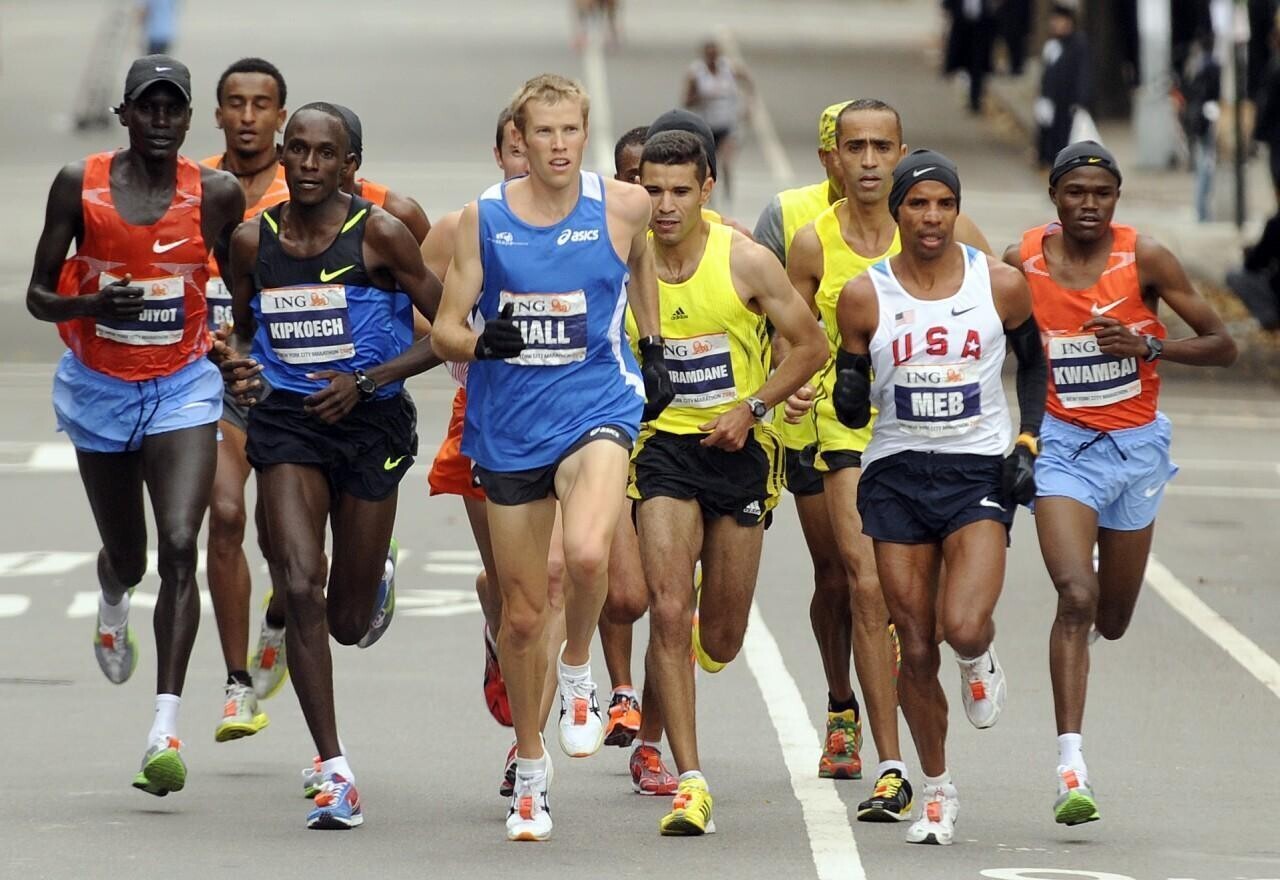 Image credit: Wbur.org
Here you can see a group of Boston Marathon runners repping brands from ING to Nike and Adidas. It puts these brands in an especially good light if these runners complete the marathon in an impressive time frame. Who wouldn't buy Nike shoes if the fastest runners in the world wear them? 
If experiential booths or sponsorships don't fit into your brand awareness campaigns, you can also try: 
Giving out samples of your products in-store 
Doing meet-and-greets with your loyal customers 
Offering factory/behind-the-scenes tours 
Getting involved in charitable causes like beach cleanups or children's hospital fundraisers 
The key takeaway is that experiential marketing is a fun way to experiment and try new things with your brand awareness. Put your best foot forward by meeting customers where they are and want to be! 
Maybe you're an old hat at social media marketing, or maybe you've never created social media posts for your brand before—either way, you'll want to broaden your social horizons by considering the newest and most innovative platforms that your customers are most likely using. 
That's not to say you should abandon marketing efforts on platforms like Instagram, LinkedIn, Facebook, and Twitter. You should still consistently post to these platforms and share your success stories with your followers. 
But there are emerging trends in social media marketing that are quite compelling. Let's talk about social media's current golden child, TikTok. 
TikTok Is a Rising Social Media Star 
Depending on what industry you are in, urging you to use TikTok might seem like an unusual tip. But more and more brands are investing in this hugely popular social media platform. TikTok has amassed over 30 million active users—that's 30 million potential customers/followers just waiting to discover you.
Not only that, TikTok's hashtag capabilities make it easy to organize your content under specific keywords, allowing you to target your ideal audience. So, TikTok allows you to do direct marketing from your profile and collaborate with other users to promote your brand via influencer marketing. 
Some big brands have become pros at navigating TikTok. Language learning program Duolingo's beloved (and also feared) mascot owl has become an iconic TikTok presence. 
The social media team behind the language bird has fully committed to being a source of funny, relevant, fresh content. 
Image credit: TikTok
Duolingo's mascot is constantly getting up to hilarious hijinx on TikTok. This viral content spreads organically across TikTok's platform with videos that garner hundreds of thousands of views (sometimes even millions of views), and it's often featured in news stories and on other social media platforms. Great brand awareness!
If you have someone on your marketing team who keeps up with the current trends, knows how to film quick, engaging videos, and—most importantly—can commit to posting regularly, you should definitely start exploring TikTok's keyword/hashtags and start up your own profile. 
Let's discuss why that bit about posting consistently is important.
Pro Tip: It's the consistency of posts that matters.
Some marketers think that in order to be successful on social media, you need to post constantly. In reality, most followers are looking for consistency. If you post six times a day and suddenly trickle down to posting two times a week, that might make your followers confused or even angry.
Figure out what kind of posting schedule you can commit to, and work hard to stick to it. You can use free tools like Semrush's Social Media Poster to help you schedule and automate your posting. 
7. Find and Take Guest Blogging Opportunities
If you are an industry expert, or even if you have a fresh take on a facet of your industry you'd like to share, start exploring guest blogging opportunities. 
A guest blog is a blog written by a marketer (or other professional) that is shared on another brand's website. Often these blogs will include a link to your own website somewhere in the text. 
These blog posts not only signal to Google's algorithm that your brand has authority; they also signal potential customers that your product or service is trusted by other leading industry experts/publications.
You can (and should) also include these posts in any email newsletters you send out to customers. This helps generate even more traffic to both your content and the publisher's website.
"…The SEO benefit for guest blogging isn't from the obvious bio links, it's from everything else that comes from being known." — Craig Fifield, Stream
Pro Tip: Do your research first.
No two guest blogging opportunities are created equal. There are tons of websites out there that are dedicated to a guest blog bartering system—you write for them, they write for you. While these aren't necessarily bad websites, or even a bad concept, you'll want to aim for the best guest blogging opportunities you can. 
That means doing your research on the most authoritative industry publishers and websites. Research their tone of voice, what kind of guest articles they publish, and who they tend to publish (competitors, etc.), and then follow a few of their experts on Twitter or other social platforms to get a sense of what issues are important to decision-makers at that publisher or business. 
8. Leverage User-Generated Content
User-generated content is similar to influencer marketing in many ways, but unlike influencer marketing—which usually requires a budget and an organized process, sometimes involving an entire group of marketers—user-generated content (UGC) is about finding and featuring content that already exists. 
So, your job as a marketer for your brand is to be on the lookout for opportunities to highlight, showcase, or otherwise signal-boost when loyal customers take the time to make this content that celebrates your brand. 
We will talk more about the tools you can use to find these opportunities in just a bit. For now, a really easy and quick way to see what people are doing with your brand's name is to go to one of your social channels like Instagram and see how customers are tagging you. 
Image credit: Instagram
Just click on the little icon to the far right (highlighted above) to see what customers are generating.
Using the beloved ice cream brand Ben & Jerry's as an example, if you click on their tagged posts you can see thousands of pieces of user-generated content. While not all of these posts might be share-worthy, certainly Jasper the friendly Bernedoodle digging into a pint of B&Js will generate some "Awws" from other Ben & Jerry's customers. 
Image credit: Instagram
Jasper's human was sure to tag Ben & Jerry's so they could share in the credit of creating this adorable little dessert shot. 
Ben & Jerry's social media team is great about signal-boosting these fabulous pieces of content. They're organic, they're positive, and typically they're really cute. 
One thing to note is that social media posts don't directly influence the ranking of your website via search engine optimization (SEO). So, this type of content marketing is purely for indirect benefit. Resharing these types of posts to your own feed shows that your brand is trusted and authoritative. 
But just because this kind of work won't be directly responsible for rocketing your web content to the top of Google's search results doesn't mean that it's not worth pursuing—it definitely is. People want to be able to picture themselves using your product or service. These types of reshares give them the opportunity to put themselves into the shoes of existing customers. 
If you want to focus on user-generated content that does help improve the rankings on your website, you can focus on adding dynamic, customer-created content to your website/web pages. 
For example, if you are a skincare brand, you may want to see if your product is being reviewed in unsponsored skincare routine videos on YouTube. If you do find suitable user-generated content that you would like to share, you can embed these videos into your website. 
This signals to Google that you're invested in giving your audience a holistic website experience. 
Another way to highlight user-generated content is to create a separate web page on your website for customer success stories. If your team has received rave reviews from customers, you can build those into testimonials and collect them together to create a powerful and persuasive corner of your website. 
Monday.com is a work management platform that helps teams keep track of their projects. They created a customer success page with a suite of impressive logos and testimonials from their customers. Some of these videos were generated by Monday staff, but other aspects of the page are all user-driven. 
Put together, it creates a visually appealing argument to trust their brand for your workplace needs.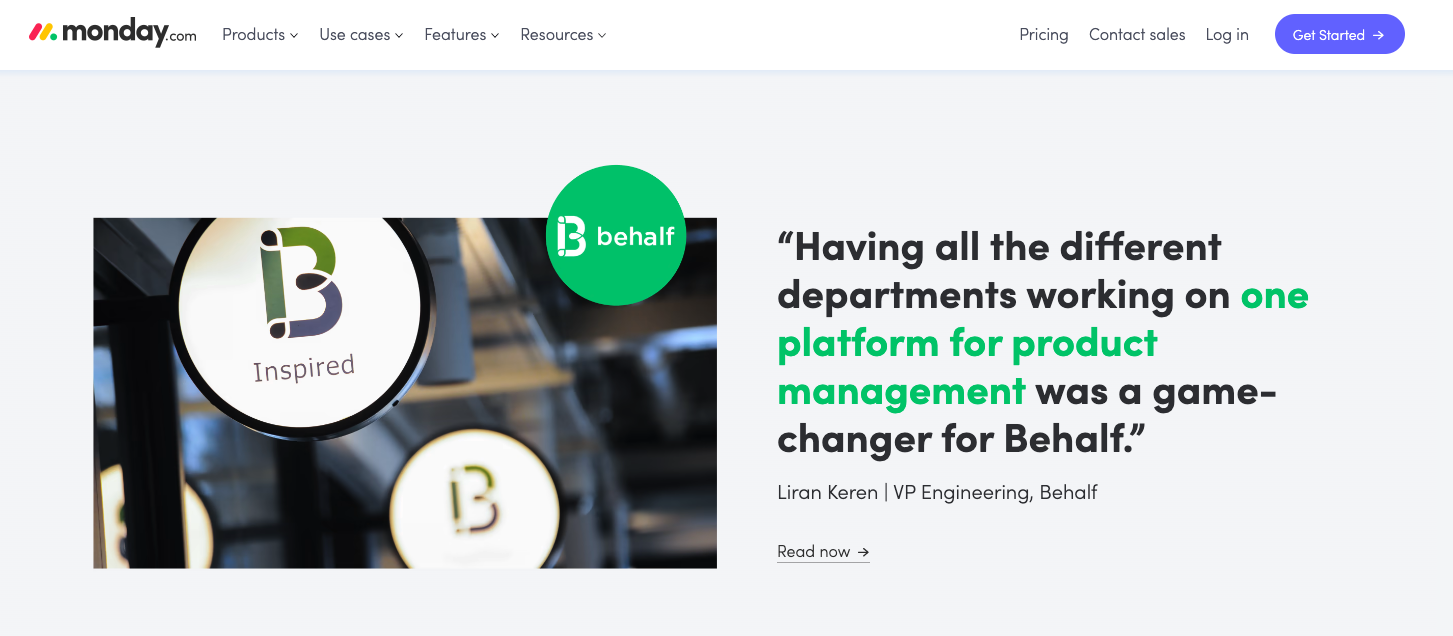 Image credit: Monday.com
However you choose to use it, customer-created content is a lucrative source of free marketing/PR materials that you do not want to dismiss from your marketing strategy. 
9. Network Within Your Industry 
Since a majority of travel restrictions related to COVID-19 have been lifted, now is a good time to start looking into industry conferences you might be interested in attending. 
While there is a cost associated with a lot of high-quality networking events, conferences and social hours can put you face-to-face with some of your niche's experts. You can shake hands, fist-bump, or give them a friendly wave and tell them what you think about their contributions to the industry. 
For example, if you're in the car industry, the Automotive USA event might be your Super Bowl of networking. It's also a chance to see what your competitors are up to. Do they have an engaging booth at these events? What kind of experiential marketing are they engaging in?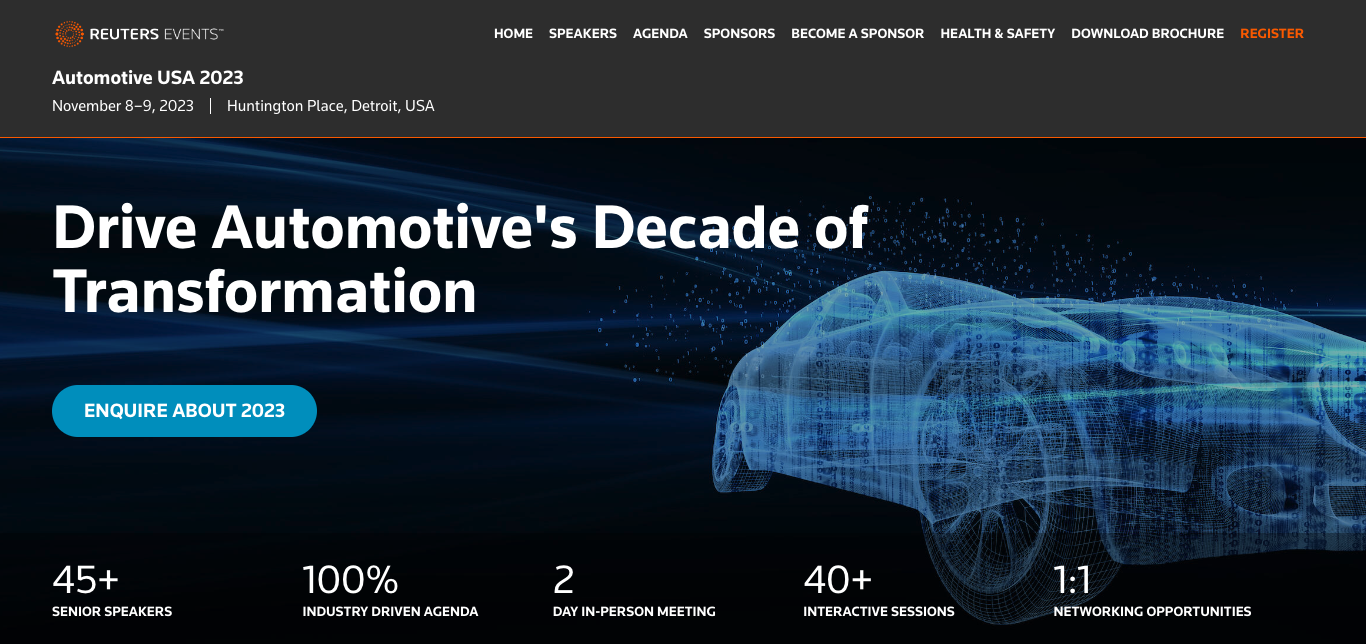 Image credit: Reuters
You may also score a connection that could lead to guest blogging opportunities, or possibly form partnerships you can promote on social media. It can also lead to word-of-mouth recommendations.
If in-person events aren't feasible, there are digital networking opportunities that can just as easily boost your brand awareness. 
Pro Tip: Don't underestimate the power of LinkedIn.
If you're active on LinkedIn, you know the platform provides a highly visible space for professionals to showcase their skills and thought leadership. It's not just a social media channel for casual networking like other social platforms might be. 
On LinkedIn, you can tag people in your posts, use hashtags to boost your signal to specific audiences, and even attend virtual events and webinars.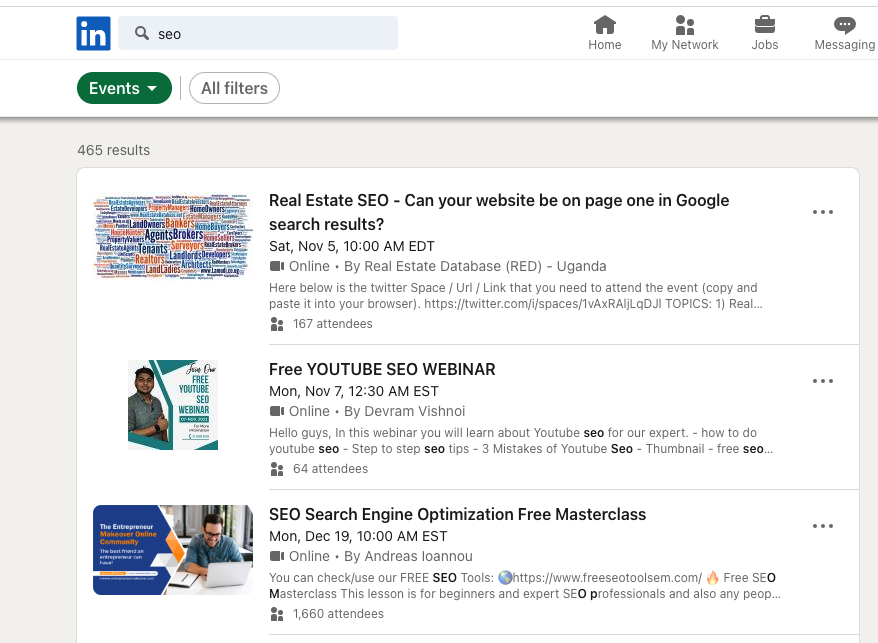 If you're looking for new ways to network or explore what other industry leaders are doing, you can use LinkedIn's search bar to enter your industry and then filter "events" to only see what upcoming events might apply to your industry. 
Phew, you've made it through a lot of tips! Hopefully by now you are starting to feel super confident in your abilities to build successful brand awareness for your business. 
One last thing—the internet is not getting any smaller. Many industry marketers are finding that it's difficult to stand out in crowded industries with lots of businesses investing big money into advertising and brand awareness. 
Don't let this deter you. Your brand deserves a fair share of the market, and you can increase your share of voice with the help of some very smart tools. 
10. Improve Your Share of Search 
Once you've outlined your brand awareness goals, started a campaign or two, tracked your data, and decided it's time to look at improving your campaign performance, you can start envisioning ways to stand above your competition in the digital crowd. This probably means leveraging SEO in a new and expanded way.
"Surround Sound SEO" does just that. With Surround Sound, you find opportunities to take advantage of sites that already rank for your keywords. When you get several of them to mention you, this puts your brand in front of many more people than would otherwise see you—even if you happen to rank #1! 
You don't have to do this on your own. There are tools out there designed to help very busy marketers keep tabs on important developments in their share of SERPs and brand awareness. 
Pro Tip: Amplify your reach with Surround Sound.
Your brand isn't the only tool in your brand awareness toolkit. Your potential customers are searching for solutions on Google. They're looking at review sites, blog posts (think "the 10 best…"), affiliate sites, and news sites—and you will want to be the brand to give them all the answers. 
Surround Sound shows you where your brand is being mentioned online and, even more importantly, where it is NOT mentioned. Then it gives you actionable data to improve the customer journey, polish your brand message, and increase organic traffic—leading, ultimately, to more money for your business.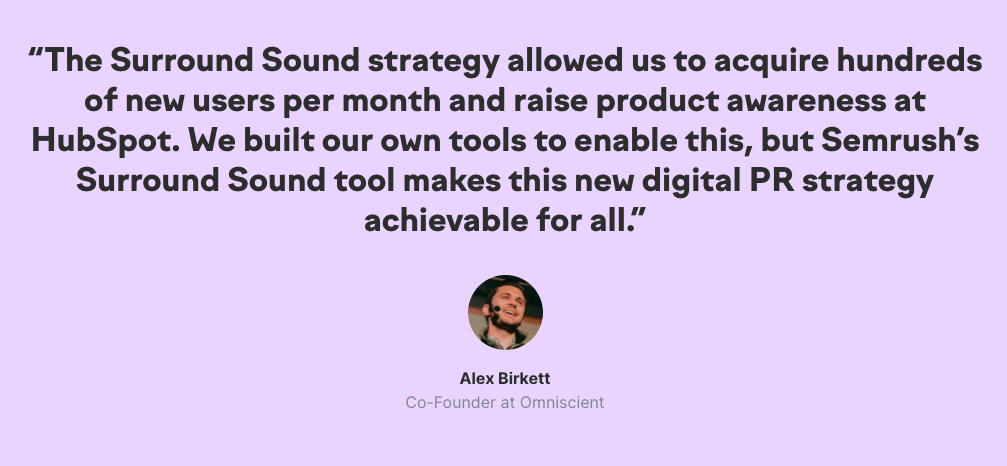 Bonus Tip: Invest in Eye-Catching Advertising 
Okay, one last tip! Don't give up on paid marketing, especially if it's been successful for your business. Amplifying your brand awareness through organic search/search engine results is a great, cost-effective way to bring in new business, but it's not the only way. 
And, actually, paid advertising and organic search marketing pair really well together. This is especially true if you're willing to spend money on high-quality ad campaigns. 
If you're looking for ad inspiration, it's everywhere. The most famous TV ad marketing in the U.S. happens during the Super Bowl. While your business might not yet have a Super Bowl ad budget, you can see what big brands are creating and spending major dollars on. 
Chances are they're betting on winning ads when they spend that kind of money. Take E*Trade's adult baby Super Bowl ad.
This humorous ad for the trading platform featured two very impressive adult babies. The CGI quality was outstanding, the writing was hilarious, and they chose some very adorable (and memorable) mascots to get their message out. This is brand recognition at its best.
It also resonates with a young target audience most likely to use a site like E*Trade.
Track Brand Awareness Data—Share Your Success
It's important that you keep track of all your best customer and employee testimonials, but there is other brand awareness data that you should keep tabs on, too. 
For instance, knowing what kind of reach a particular ad campaign had? That's brand awareness data! Tracking how many people read your email newsletters? Also brand awareness data. 
Plotting key performance indicators (KPIs) and deciding what you consider to be a success are the hardest part of this tip. Some businesses consider these KPIs to be important in brand awareness campaigns: 
Website traffic 
Search rankings 
Social engagement 
Newsletter subscriptions 
Share of search (or share of SERPs)
If you've built out your marketing strategy as suggested in step one, you should have already identified the KPIs that are important to you, but maybe the suggestions above will help fill out your data toolkit. The next step is to figure out how you will track and log your data. 
The tool and platform options for tracking marketing data are essentially endless. The important thing to remember is that, whatever tool you use, it should be collaborative and offer access to all important stakeholders in your business. 
To make life easier, you should also aim to find a platform that does a multitude of marketing tasks. You get more mileage for your spending that way. 
Pro Tip: It's okay to brag.
When you find success stories in your KPIs/brand awareness data, don't be shy—share it! It's okay to brag about your brand on social media and on other publishers' websites. Some marketers are hesitant to do this, fearing that it might be corny. 
But in reality, people love researching companies they intend to spend money with. If they stumble on a customer testimonial or statistic about customer satisfaction, they are more likely to trust your brand.
Make Brand Awareness Fun 
At the end of the day, creating awareness for your brand should be a passion project. If you love your brand and you want other people to love your brand, that will come across in your messaging. 
All you have to do is decide, strategically, how you want to approach amplifying your business. It should be an exciting endeavor that brings together colleagues, customers, stakeholders, marketers, and PR professionals to create a lasting, positive impression of your brand. 
Make your brand unforgettable!