Digital marketing channels are platforms brands use to market products and services. You can choose one or many channels to deliver your message and reach your target audience. 
In this article, we'll show you seven of the best digital marketing channels and break down how to use each one to grow brand awareness, generate leads, and increase sales.
Let's get started.
What Is Digital Marketing?
First, let's define digital marketing.
Digital marketing is any marketing that happens on the internet. These marketing campaigns appear on your computer, phone, tablet, etc.
Digital marketing takes many shapes—social media posts, display ads, paid social posts, and so on. And this content is featured across the channels we'll cover below.
Here's why you should care about digital marketing:
You can target users who are actually interested in your product or service
It provides multiple points of contact with customers throughout their journey
You can build a relationship with customers and potential customers
Not to mention that 87% of shoppers start their buying journey in digital channels. Which shows how digital marketing is vital to businesses of all sorts.
With that in mind, let's cover seven of the top digital marketing channels. And learn how to make the most of them.
1. Content Marketing
Content marketing is the creation and distribution of content (like blogs, videos, or social media posts) to attract and retain customers.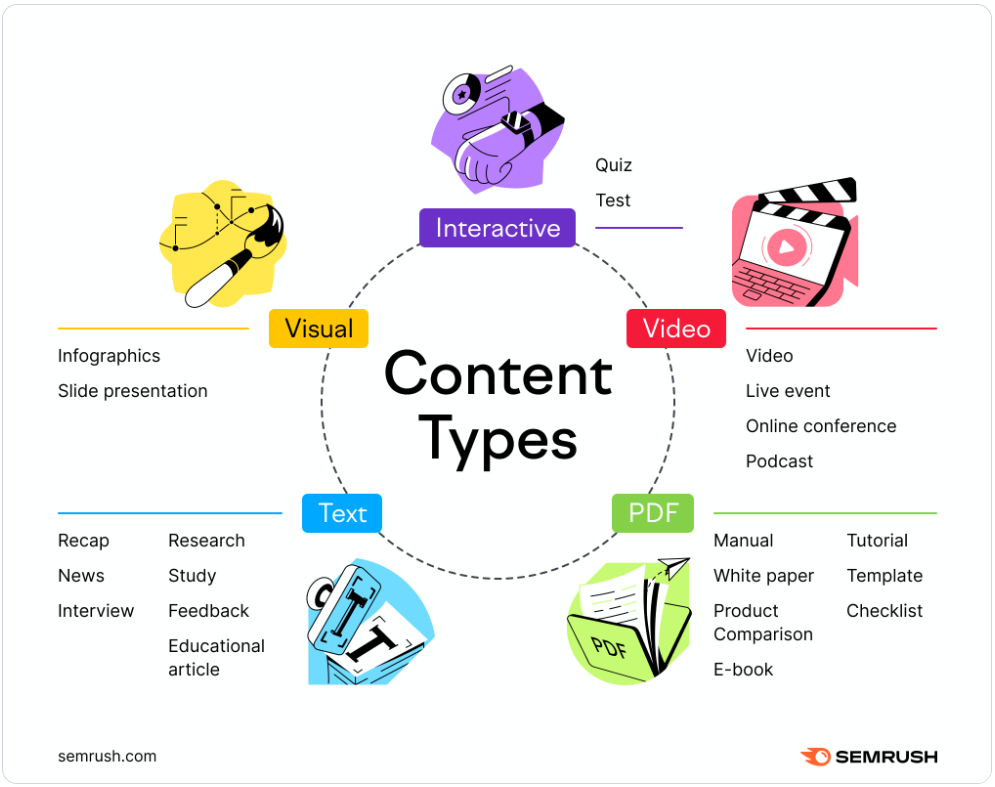 It's an increasingly valuable tactic for gaining your audience's attention, keeping them engaged with your brand, and reminding them you exist.
Content marketing is a popular channel because it builds trust and brand equity (how a brand is perceived and valued). 
When you speak directly to what customers care about and need help with, you provide value.
And when you consistently provide value, you become a trusted source. 
The more people trust you, the more likely they'll do business with you and tell their network to do the same.
Let's look at food safety company LiberEat. CMO Michelle McClure turned to content marketing after realizing advertising wouldn't be a sustainable method for acquiring new customers in the long run. 
Using Semrush's Market Explorer tool, McClure was able to identify LiberEat's main competitors.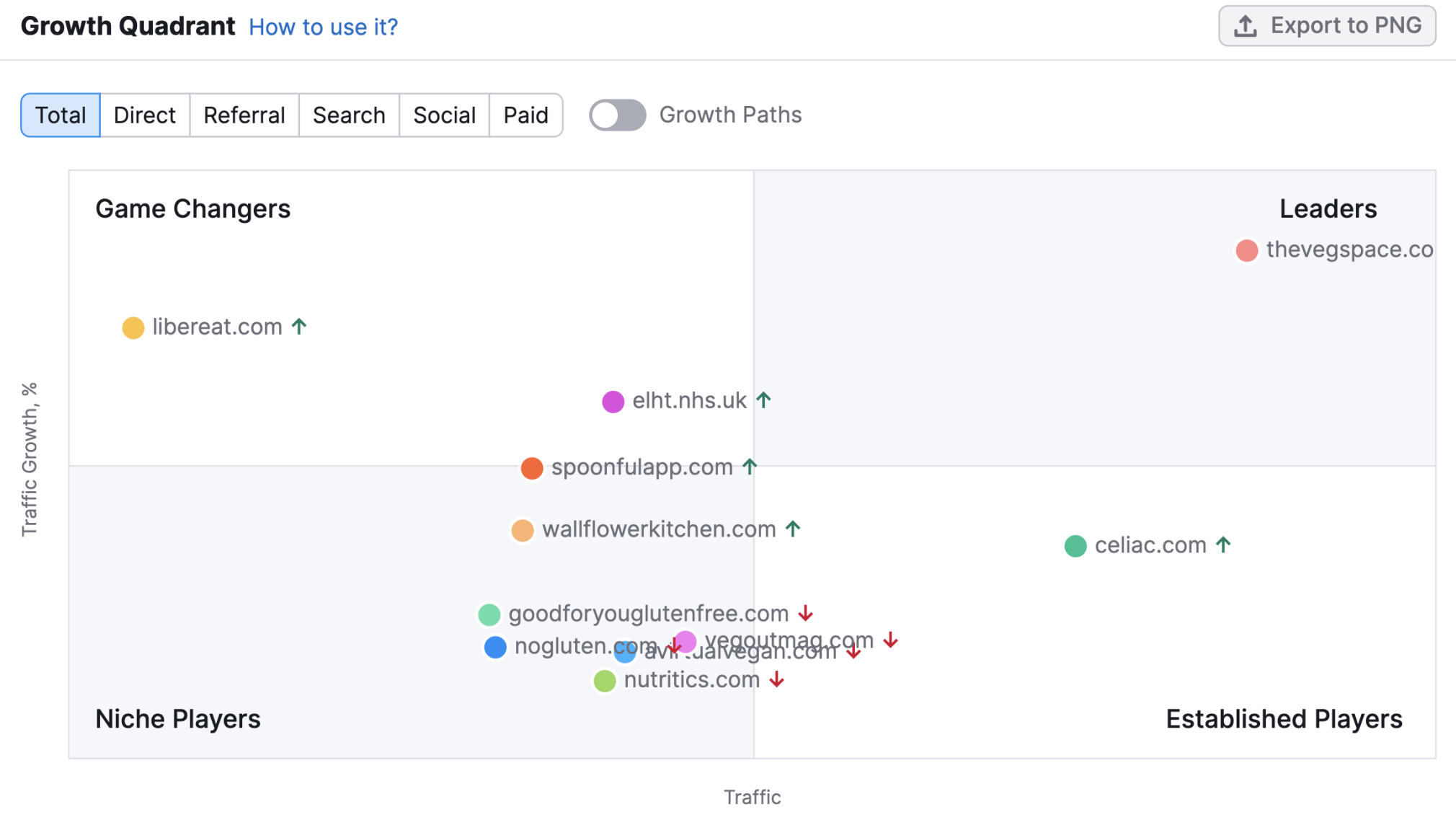 She then ran those competitors through the Organic Research tool to narrow down a list of target keywords.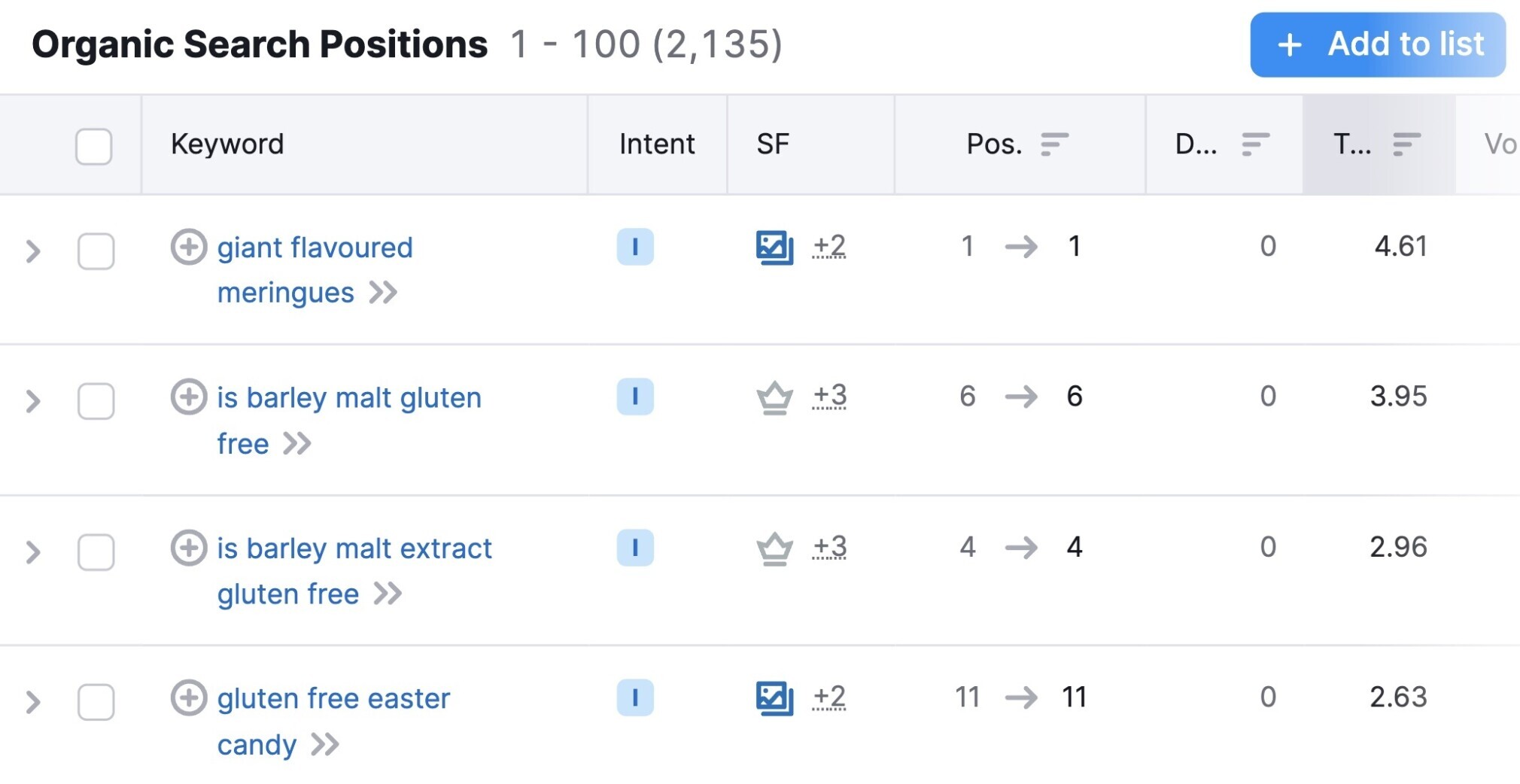 Next, McClure used the Topic Research tool to find out what customers cared about in her niche.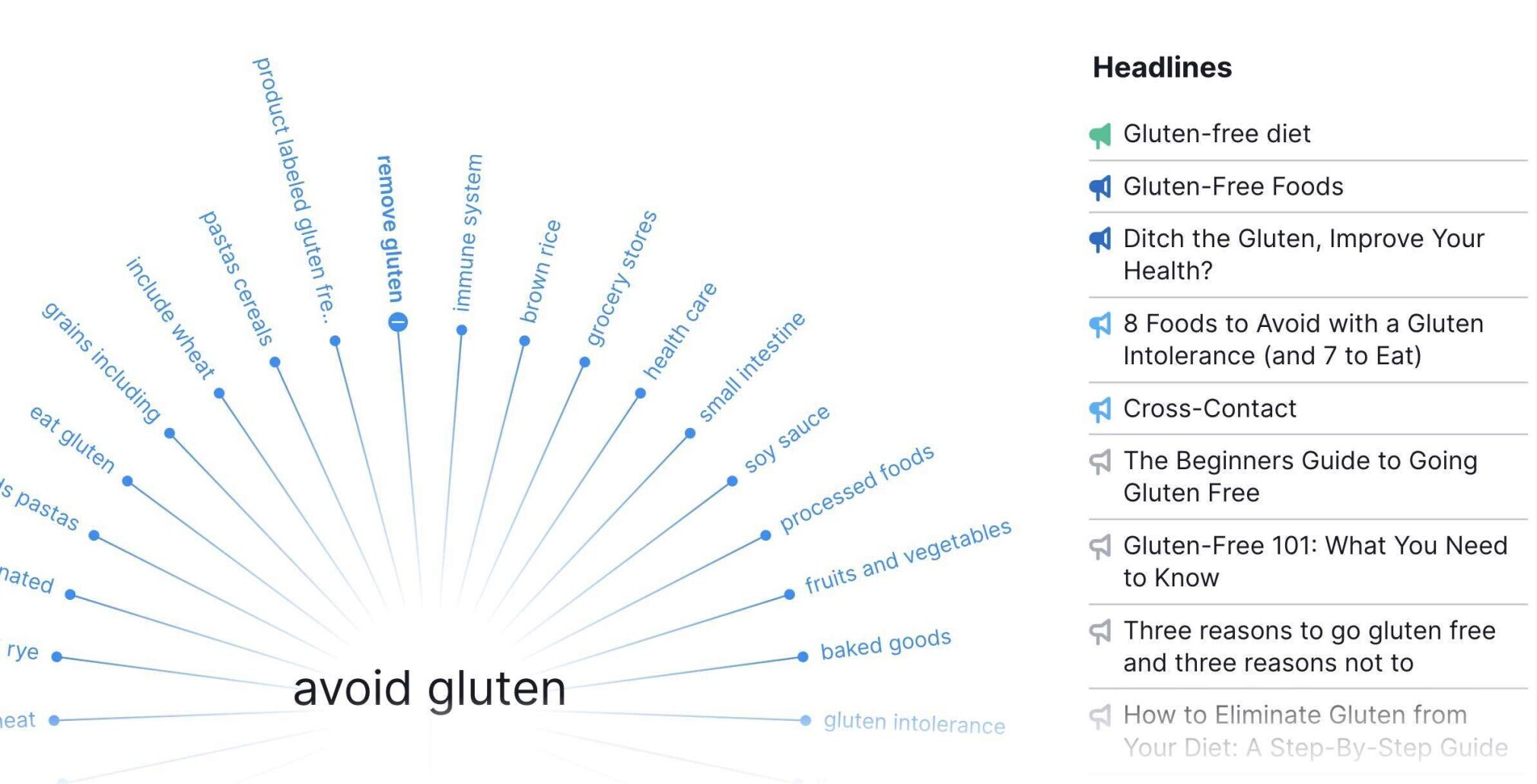 She combined this research with social monitoring to create a list of helpful, fun, and interesting topics for articles.
The results were astounding: LiberEat grew their organic traffic tenfold in three months and increased conversions by 25%. 
Advertising did drive user acquisition. But to compete with other advertisers, they needed a large budget. Content marketing proved to be a cost-effective alternative. 
How to Get Started with Content Marketing
To start creating content that attracts your audience, you need a marketing strategy. You also need a place to define and organize your marketing efforts. 
78% of marketers who feel their content marketing is effective have a documented strategy. It details your purpose and what you want to achieve with your marketing efforts. 
Include the following in your content marketing strategy:
Clearly defined goals
A breakdown of your buyer personas
Clearly defined brand and product positioning
A content marketing mission statement and value proposition
An action plan for the type of content you'll create and how you'll distribute it
We cover how to create your strategy in depth in our Ultimate Guide to Content Marketing Strategy. 
But a good starting point is researching your audience and determining their pain points. Then, you can plan content that will answer their questions or solve their problems.
Use a keyword research tool like Keyword Magic Tool to get started. You can even filter by "Questions" to give you specific content ideas.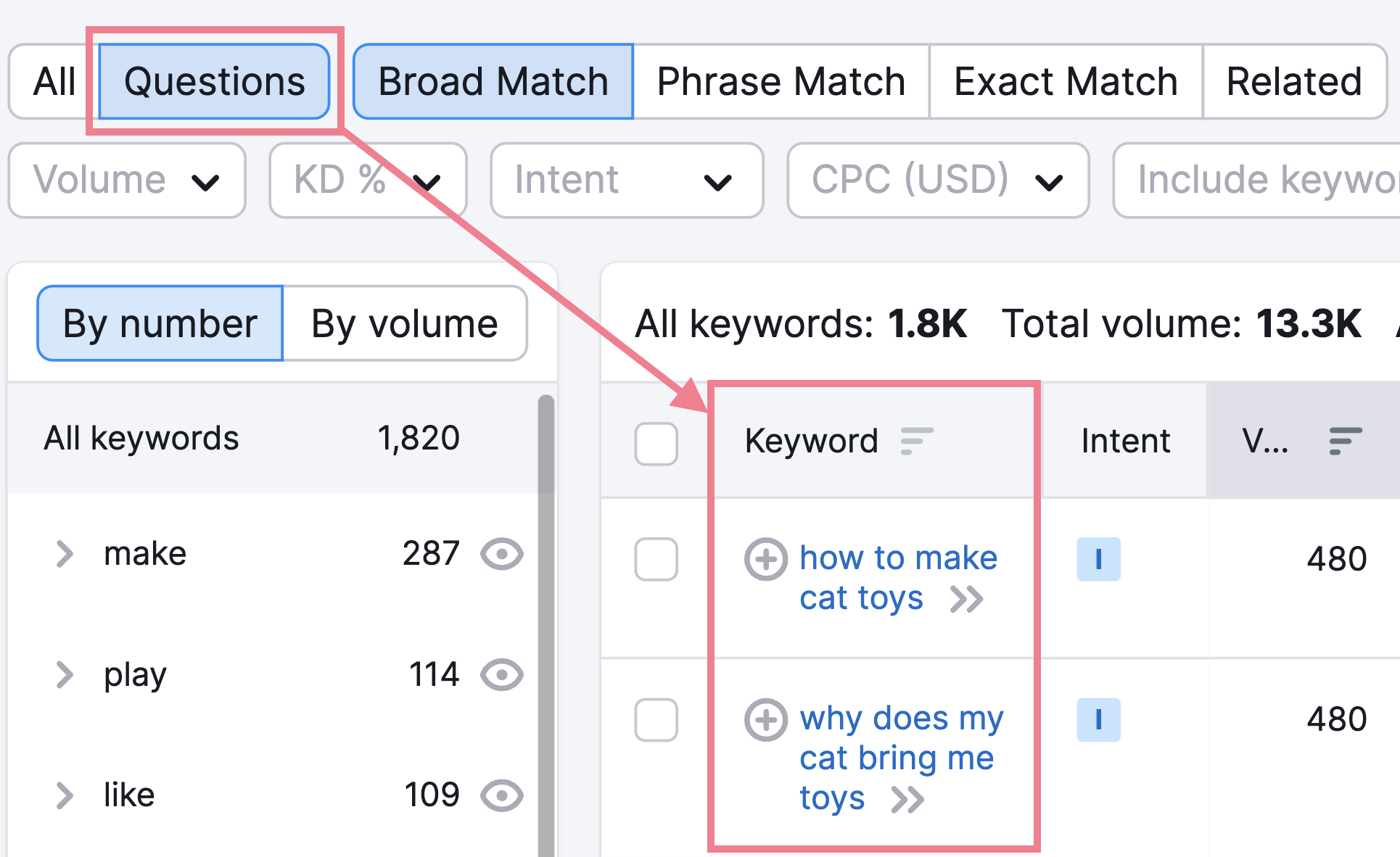 But it's a good idea to audit your existing content before publishing brand-new pieces. You can save time and resources by improving existing content.
You can use a tool like Content Audit to see which pieces could use an update.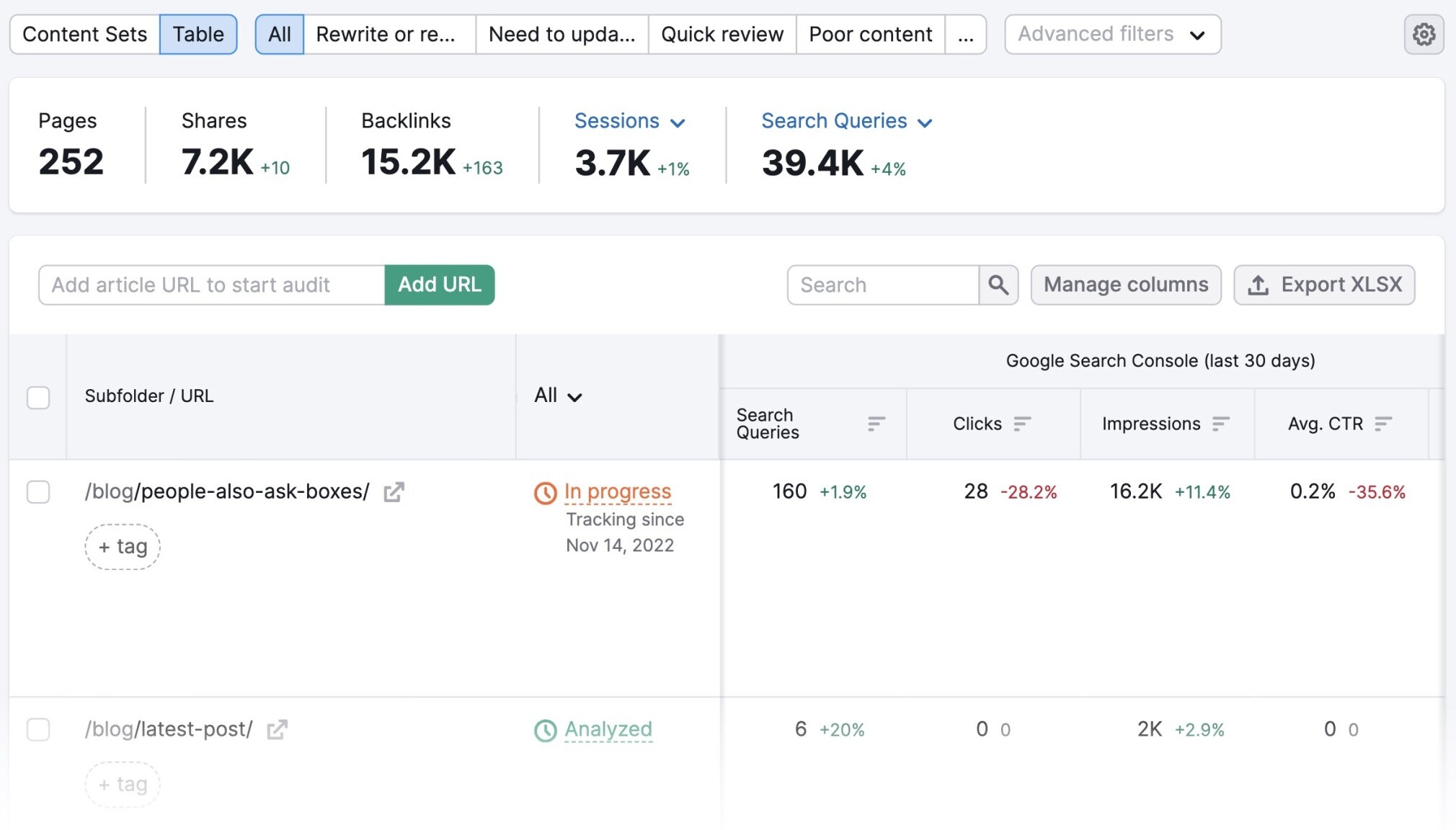 Lastly, be sure to consistently track metrics to gauge your content's performance.
You can use:
Data is the best way to improve your content. If a particular topic strikes a chord with your audience, create similar content. 
Similarly, if data shows customers aren't engaging with a topic, you can park the idea to save wasted time. 
2. Search Engine Optimization (SEO)
SEO is the process of improving your website ranking in search engines like Google.
SEO is closely linked with content marketing. If you consistently create high-quality content around relevant topics, it will help improve search visibility, which can increase website traffic.
But you also need to make your website technically efficient so search engine "bots" can find content and rank it accordingly.
Monitor your website regularly to check that there are no issues that might stop your pages from being ranked (like broken links or slow-loading content).
You can do that with our Site Audit tool. 
Site Audit will check every page on your website for issues (e.g., page speed, website code, site security) and tell you how to fix them.
Here's an example of a Site Audit that German fintech company Penta ran for their own site. Their team runs weekly health checks as part of their SEO strategy.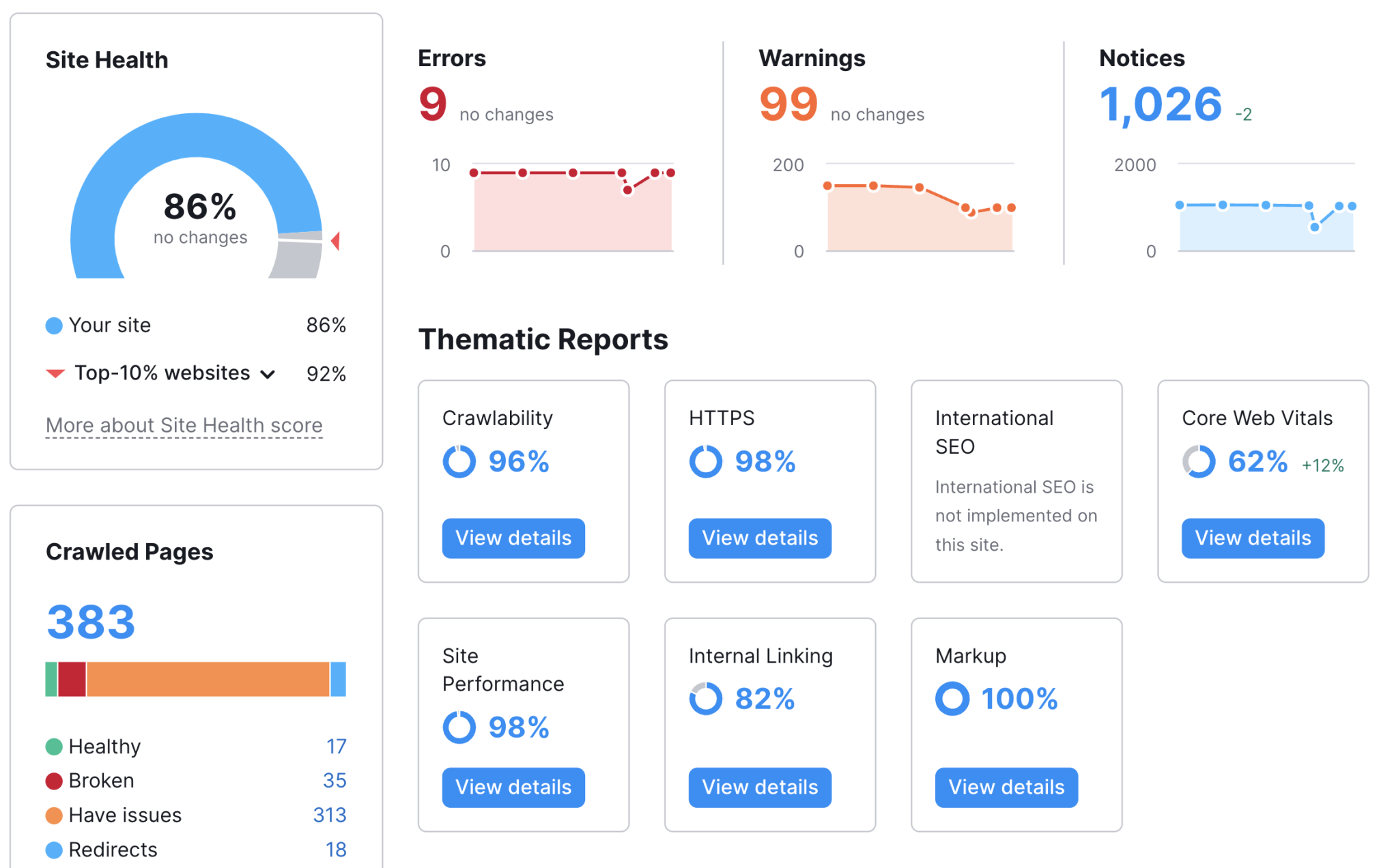 How To Get Started With SEO
There are many tasks you can complete to improve your search presence—we even have a complete SEO checklist.
But there are a few things you can do first that can make a big impact.
Start by performing keyword research to find the topics your audience is interested in. Like we did in the section on content marketing
Then include these keywords in your written content, image descriptions, and page URLs to help Google understand what your content is about.
Once you publish content to your site, link to relevant internal pages. Doing so helps both Google and users navigate your site.
Pro tip: Read our guide to internal linking to learn more.
But backlinks—or external links—also matter for SEO.
Backlinks are links from other websites to pages on your website, and they are a powerful Google ranking factor. 
The best way to earn backlinks is to create engaging, shareable content. Like original research, a thorough how-to guide, or even something humorous.
Note: Creating good content is a great start to earning backlinks. You can read about more specific strategies to earn backlinks here.
It's also important to keep an eye on technical SEO factors.
Here are a few first steps you can take:
To learn more about SEO best practices, read our beginner's guide to search engine optimization.
3. Email Marketing
Email marketing is a direct marketing channel where you send marketing materials to subscribers' email addresses. 
On average, email marketing delivers a return on investment (ROI) of $36 for every dollar spent.
So you don't want to miss out.
For best results, you can segment customers (group them) into separate email lists once you have subscribers. 
Doing so helps you send customized messaging to users who responded to your last offer, live in a specific geographic area, purchased a specific product, etc.
But email marketing won't work without email addresses. 
To turn visitors into subscribers, provide a clear value proposition (i.e. the main benefit) about why a person should hand over their email address. 
Take a look at how Backlinko entices action: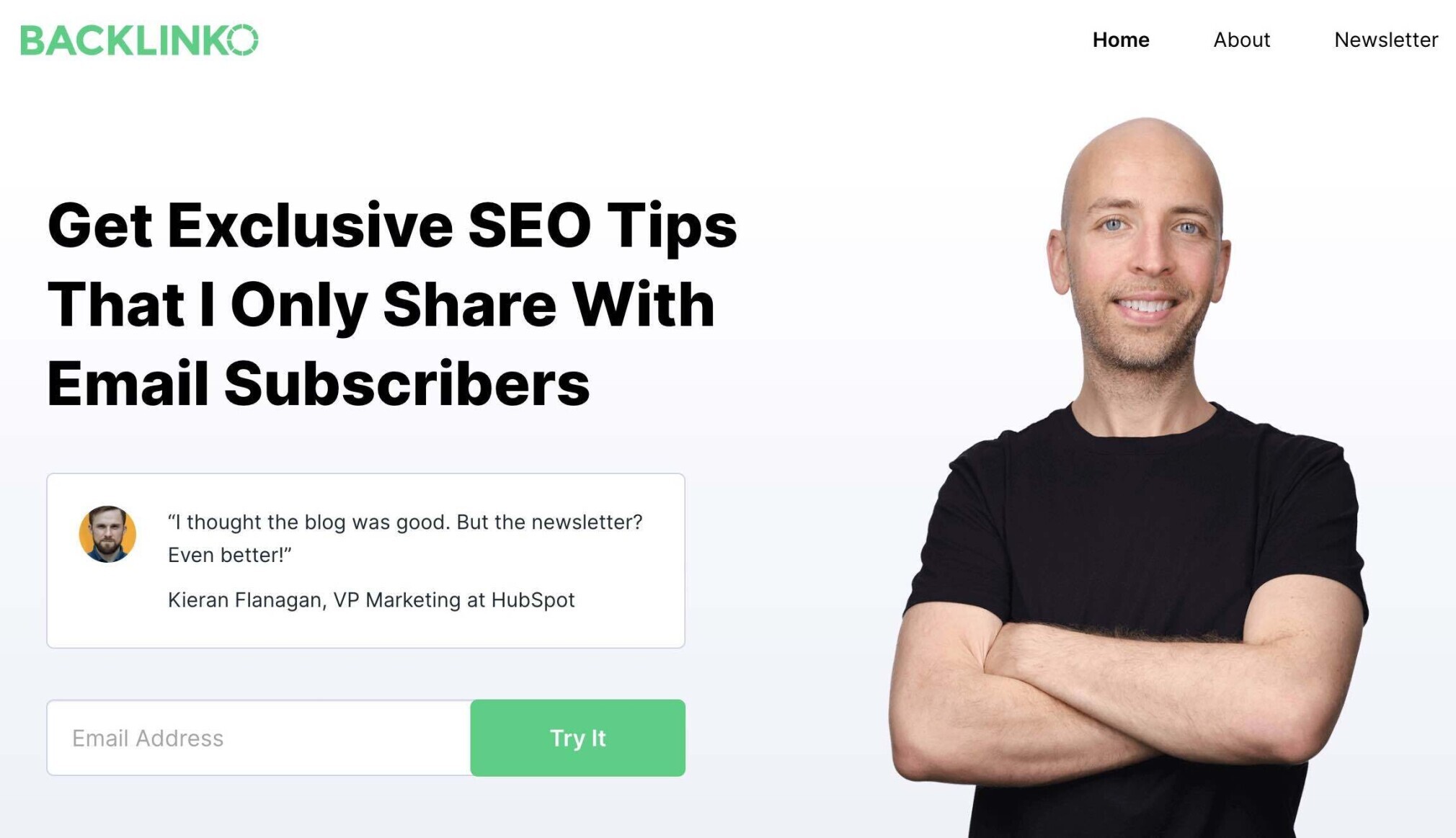 Brian Dean entices visitors to subscribe with strong social proof to build confidence. 
Social proof is a powerful marketing technique that leverages people's drive to do what others are doing. 
Seeing that others have trusted Brian Dean helps visitors feel inclined to do the same. In this case, he leveraged a positive review and popular websites he's been featured on.
The headline tells visitors what's in it for them: "Get Exclusive SEO Tips That I Only Share With Email Subscribers." 
By signing up, people get content they won't find anywhere else.
And the Hubspot review is powerful. It's a respected company in SEO circles, so a shoutout from its VP carries a lot of weight.
Finally, the call-to-action (CTA) button gets ahead of objections. 
Inviting users to "Try it" removes the friction a visitor might feel about signing up. Nobody wants to subscribe to another newsletter that will clog their inbox. 
The way it's worded implies if they don't love it, they can easily unsubscribe. 
Plus, "SEO tips" are highly relevant to Backlinko's audience. Use an enticing offer that's relevant to your audience to get buy-in. 
How to Get Started with Email Marketing
You can collect email addresses in a spreadsheet. But that's time-consuming and hard to manage as you grow.
Instead, choose an email marketing service provider. Here are three options detailed in our guide to email marketing:
Each option is beginner friendly. They help you collect email addresses, create email templates, and schedule emails to reach your audience.
Next, decide on what you want to get out of email marketing (e.g., promote products/services, make more people aware of what you do, encourage people to shop with you). Create a content plan that aligns with your goals.
Then, use your first email to set expectations or reward subscribers.
For example, beauty brand Birchbox sends new subscribers welcome offers: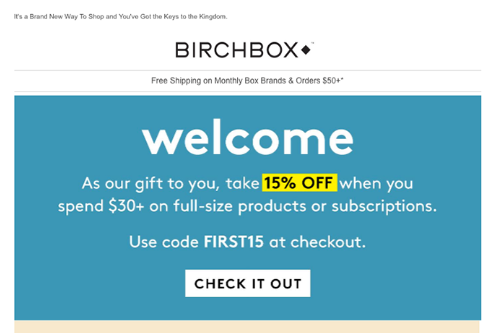 A 15% off gift validates their reason for signing up. It also tempts subscribers into making a purchase. 
Email platforms let you design and schedule welcome emails so that they are sent automatically whenever a person signs up for your list. 
Create two versions of every email you send, called A/B testing. This lets you test what audiences engage with.
By testing two different email subject lines you can look at open rates (how many people clicked into the email) and see which one subscribers preferred.
You might also create two different offers or lead the email with different topics.
Improve your future emails based on the results.
After some time, you'll learn what content resonates best and who it resonates with. Segment these people into different groups and send them emails based on their interests or activity. 
People engage more with relevant, personalized content.
If you want to read more about email marketing, learn how to send emails that convert. 
Social media marketing is using social media platforms to interact with customers. It's an effective way to build awareness and grow a community of loyal followers that champion your company. 
There are more than 4.6 billion active social media users worldwide. Each spends an average of almost two and a half hours online every day. 
Whatever your industry, product, or service, there's a social media audience out there for you. 
Let's look at fashion brand Pretty Little Thing. Umar Kamini started the company from his car. He's grown his business into a multi-million dollar empire that turns over almost $700 million in revenue.
This is largely thanks to social media marketing. 
We don't have an expensive brick-and-mortar retail estate and we don't do costly TV advertising. Instead, we use the wonder that is social media, – Umar Kamini
Umar grew his brand by reacting to "what the customer wants and what the customer needs."
And the best content is relevant content that resonates with your audience. Pretty Little Thing listens to its audience and creates content around problems and desires. 
They use a diverse range of models to make content relatable. And combine professional product images with user content, fun clips, and giveaways. 
Salford Business School breaks down why the brand's social media strategy works:
They leverage influencers to promote new products (celebrities like Molly-Mae Hague and Doja Cat wear their products)
They engage consumers by posting multiple times a day
They create content that people want to engage with, rather than just showcase a product
They use hashtags to promote content
They drive engagement with giveaways
They embrace experimentation—nothing was off-limits when the brand started out
How to Find Your Audience on Social Media
Semrush's Social Media toolkit can help you find your audience and schedule social posts.
Use Social Media Tracker to find popular social channels in your niche.
Start by entering a competitor company's name. You'll see their engagement and growth metrics, such as their audience totals and platforms where they publish. 
If a competitor has a large social media audience, it's a sign that people who use that platform are interested in your industry. This means you should build a presence to compete. 
You can also use the Social Media Tracker to assess competitor content.
Enter a competitor brand name into the search. Look for trends in their content types, chosen hashtags, and performance. 
Ask yourself: how can I improve on this? What can I do differently to stand out?
For example, you can see a competitor's top posts by network. And you can see what kind of posts bring them the most engagement.

But remember to set goals for your content, too. 
Do you want to use your social presence to grow brand awareness? Interact with your community? Promote website or other platform content? Increase sales?
Determining your goals will help you create the right type of content. 
If you want to interact with your community, participate in the comments section and host live streams. If you want to promote content, think about what messaging will grab attention, so people click on your links.
And once you're ready to start posting, you can use a tool like Social Media Poster to schedule your content.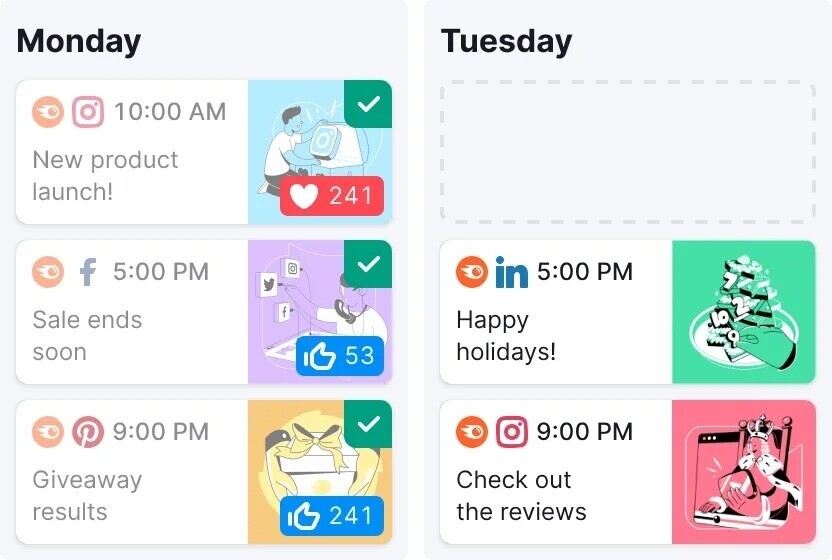 Also remember to monitor and respond to followers' comments. Always reply to good and bad feedback. This lets customers know you're listening. It also shows them there are real people behind the brand.
You can also use Semrush's Social Media Analytics tool to assess content and channel performance. 
This tool allows you to view internal analytics metrics for your Facebook, LinkedIn, and Instagram accounts. Including audience information, mentions, page likes, engagement, and posts.
This data will help identify what resonates with followers and when to post to improve metrics.
Want to grow your social presence? Read our guide to social media for small businesses next. 
5. Paid Advertising
Paid advertising is an online advertising model where you pay to place ads on different platforms. If you want to grow quickly, ads can help.
Digital marketing channels like content marketing and social media marketing help you build relationships over time. 
But ads put your products and services in front of your target audience in real-time. This guarantees exposure.
Like any content, tailor your ads to your audience with data-driven elements (copy, visuals, design). The more you know about their pains and desires, the more you can grab their attention.
Take this Instagram ad for Smol's multi-purpose spray: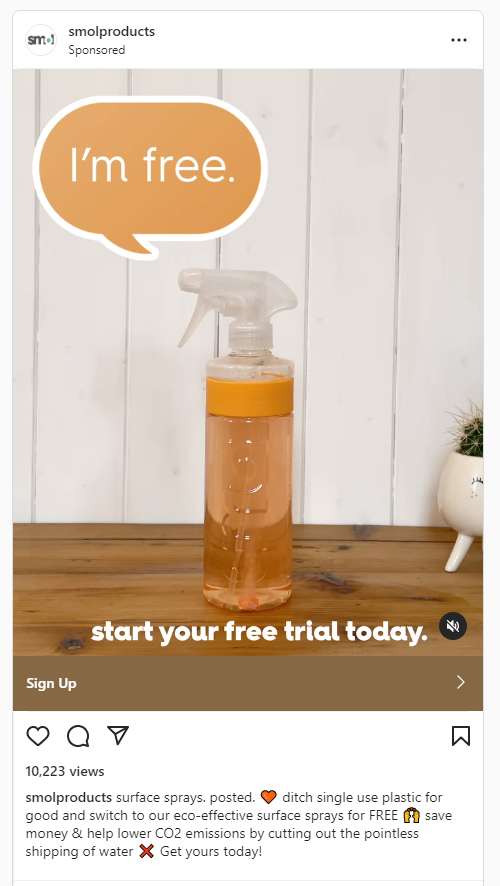 The video shows how simple it is to move from single-use plastics to refillable bottles. This resonates with a target audience that's eager to help lower CO2 emissions without spending a fortune.
There are several ways to use paid ads for lead generation or sales. We break each of these down in our guide to online advertising. 
Here's an overview:
Paid search: Pay-per-click (PPC) ads that show at the top, right, and bottom of Google search engine results pages (SERPs)
Shopping ads: Product ads that appear in Google search results
Paid social: Ads that appear in social media feeds (e.g., Facebook, Instagram, Twitter, TikTok, LinkedIn, and Quora) 
Display ads: PPC ads that appear on websites, Gmail, and other products in the Google Display Network (GDN)
How To Get Started With Paid Ads
Paid ads can eat into your marketing budget quickly. 
To have the best chance at a good ROI, start by running ads based on a target market.
In order to target a specific group of users, you'll need to set up your ad audience.
Base your first audience on who your closest competitors target. Semrush's Market Explorer tool helps you do this. 
Just enter your domain and "Research a market" to find competitors.
Then, head to the "Audience" report to get details about your target audience.

Once you have these audience insights, you can use a tool like AdClarity to research your competitors' ad campaigns. Including their estimated spend, buying methods, where they publish their ads, and even their top ads.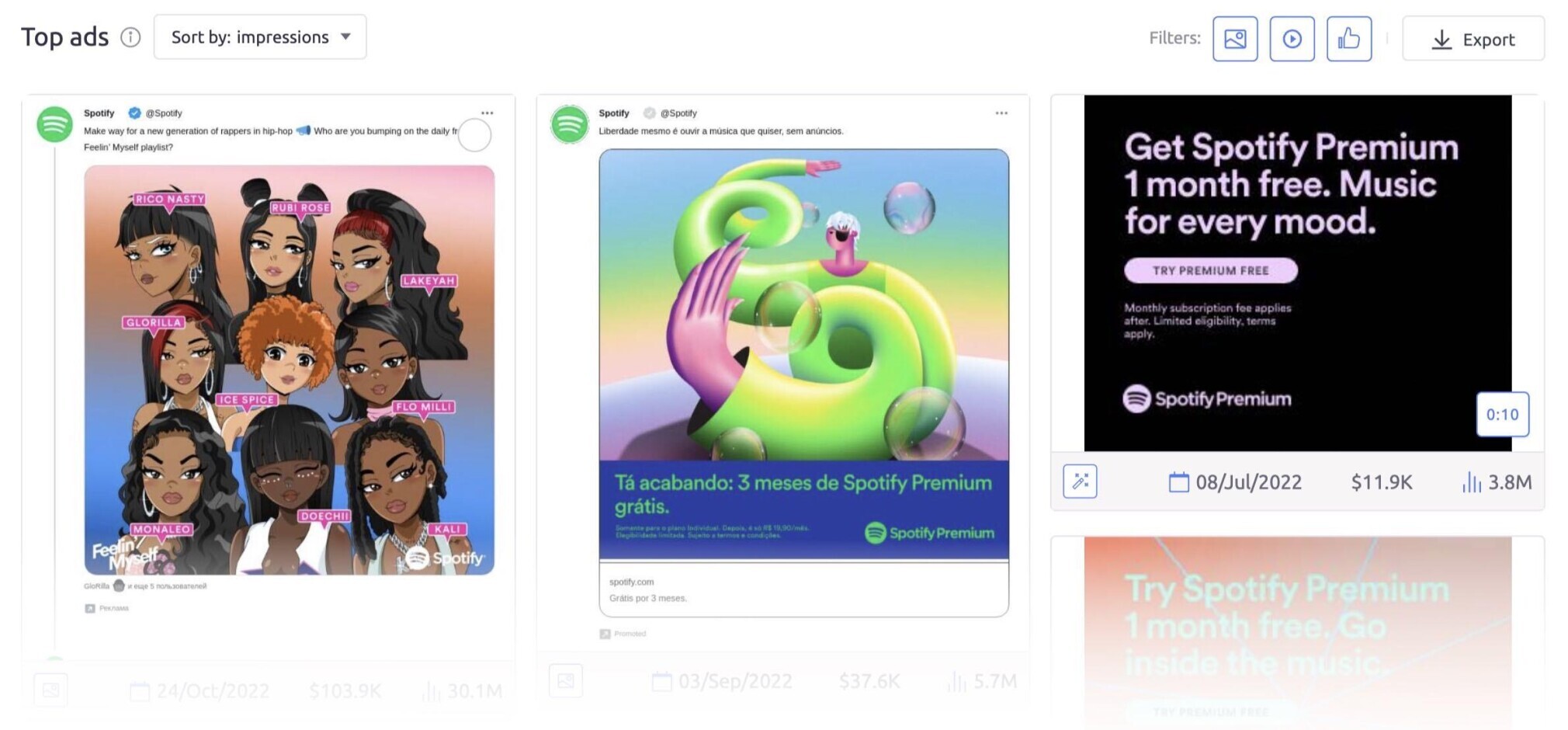 As you gather data from your own ads, tweak your audience to reflect the people clicking through to your website.
You can also use this information to retarget customers who clicked through but didn't complete an action (e.g., make a purchase or sign up for a trial). 
Retargeting is a good way to remind people of your product/services and tempt them back with an offer.
Pro tip: Check out our guide to retargeting to learn how it can help your business.
Next, test ads to find what resonates with your audience.
Create two separate versions of each ad and run them both at the same time to see which performs best.
Test one element at a time (e.g., image, headline, button, audience targeting). For example, these ads from Klarna that test different products in the image: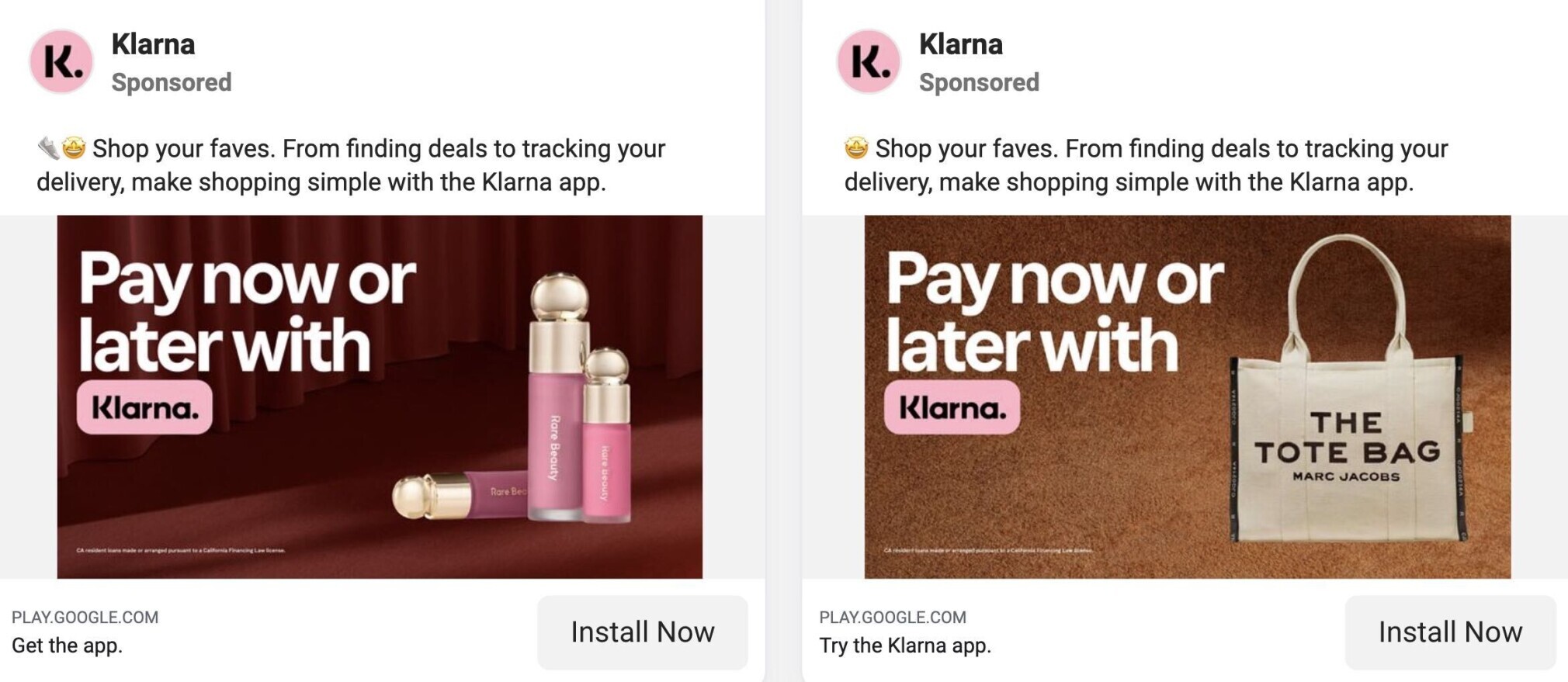 Run each test with the same budget, so ads run for the same length of time and reach the same number of people.
Look at the results in your ads platform and use the most successful elements to guide future ads.
But keep in mind that ads will only run for as long as your budget lasts. So you'll need to come up with a budget to generate meaningful results. 
The general rule for ad spending is 2-5% of sales revenue. So, if you make $100,000 in sales, set aside $2,000-$5,000 for ads. 
If your business is still young, you can start with just a few hundred dollars per month. You'll reach your audience and get enough clicks to make decisions on whether to increase or decrease spending. 
6. Video Marketing
Video marketing is using videos to promote your business and product/services.
With people watching an average of 19 hours of video per week, video marketing is an opportunity most businesses can't pass up.
And video marketing is a goldmine for capturing attention and turning interest into sales.
Take the Missouri Star Quilt Company. Posting on YouTube has been central to the company's success. 
They started by running quilt-making tutorials. This attracted an engaged quilt-enthusiast community.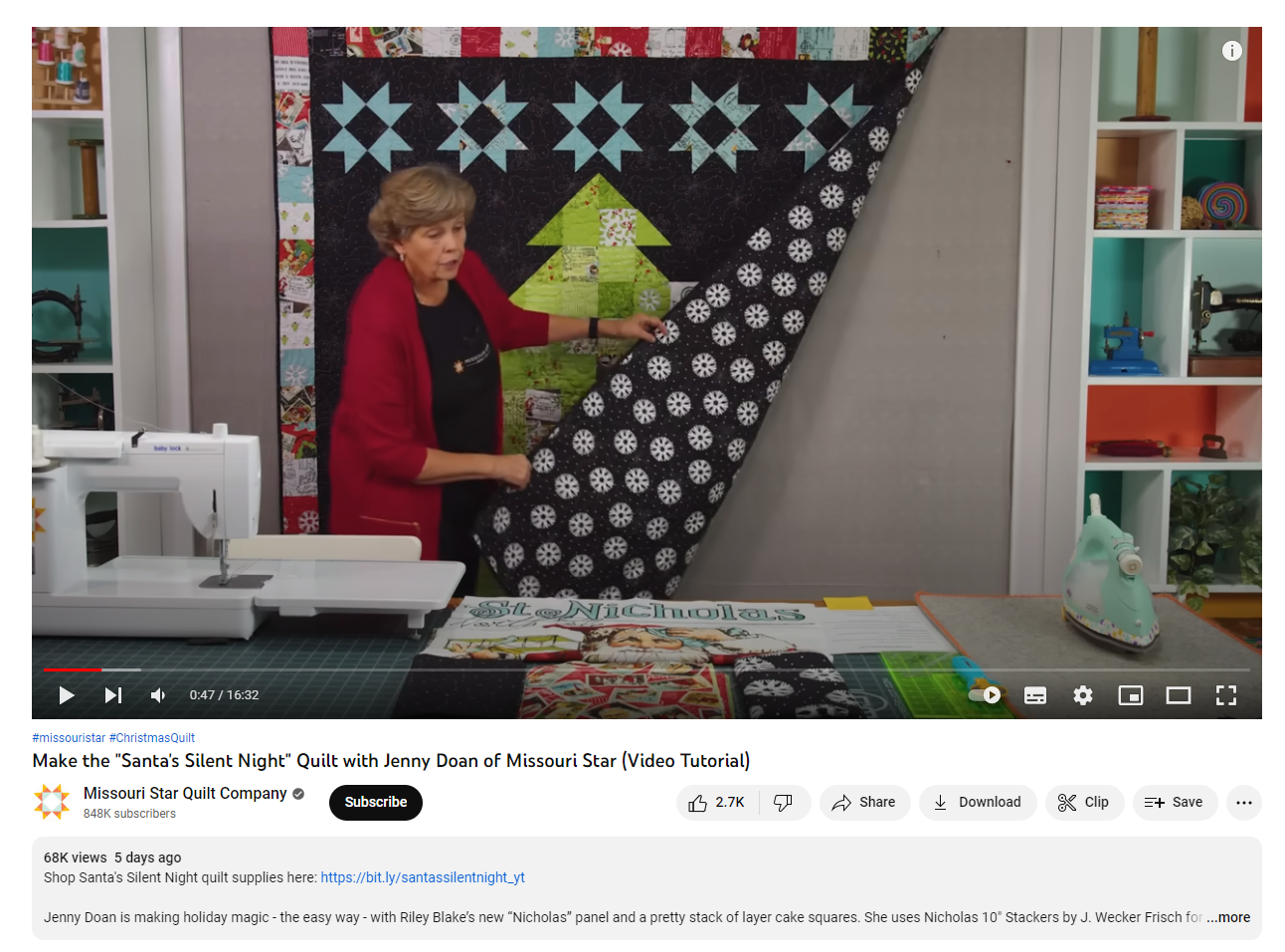 Building on this interest, they created video ads to reach potential customers. The ads targeted arts and crafts lovers and people in the market for textiles. 
Within six months, Missouri Star Quilt Company reached over one million potential customers and made over 14,000 sales. And they've continued to grow, amassing millions of views and over 800K subscribers.
The best part? They did it with a modest budget and zero video or advertising experience.
How to Start Reaching Customers With Video Marketing
Missouri Star Quilt Company is a case study on how to deliver value to customers.
Its videos humanize the brand. Real employees present videos, which creates authenticity and removes any barrier between company and customer.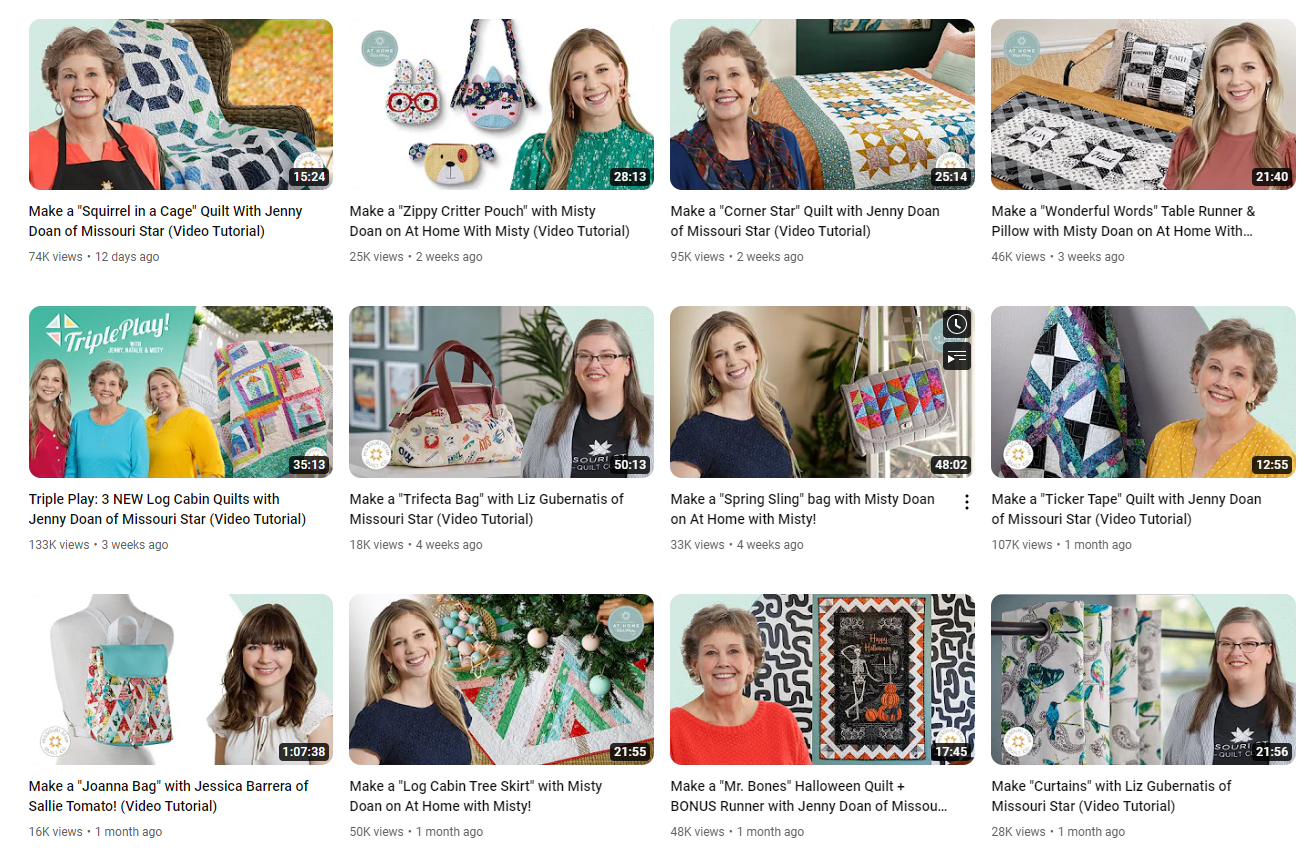 It also builds authority. People tune into tutorials to learn. And having an expert walk viewers through steps improves their experience. 
But creating video content alone doesn't guarantee you'll rack up views. YouTube is a search engine, and it's the one of the biggest besides Google, Bing, and Yahoo. 
This means you need to optimize video content to get found when users search for your topic. Your headings and video thumbnails also need to be interesting enough to be clicked on.
Missouri Star Quilt Company does this by creating engaging titles and descriptions. 
For example, this video title: Make a "Squirrel in a Cage" Quilt With Jenny Doan of Missouri Star (Video Tutorial).
They also highlight the content's main benefit in the video description, so viewers know exactly what they're getting. 

Terms like Quilt, Missouri Star, and Video Tutorial resonate with their target audience. 
And each video ends with clear steps that describe what they want customers to do next. 
If viewers watch your content until the end, they likely enjoyed it. Ask them to subscribe, watch another video, or go to your website to capitalize on their enthusiasm.
Learn how to find trends, improve video SEO, and get more views in our guides to YouTube and video.
7. Referral Marketing
Referral marketing uses customer recommendations and word-of-mouth to earn new customers.
Happy customers are your brand's biggest asset because people trust their friends' and family's opinions more than anything else.
Humans are social creatures. We intuitively tell people about good experiences so they can enjoy them too. 
Similarly, if we've had a bad experience, we share it so others can avoid the pain and frustration. 
But while 83% of people say they're willing to refer new business to the company they love, less than a third actually do. 
Referral marketing encourages people to promote your business by rewarding them for spreading the good word. 
For example, A Box of Stories teamed with ReferralCandy to create discounts that encouraged people to recommend the subscription service to their friends. 
For each successful referral, customers got discounts on their next order. And their friends enjoyed 25% off their first order. 
This kept existing customers spending while introducing new people to the service. In four months, the program generated a 3000% return on investment. Referred customers contributed to over 3% of all purchases. 
How to Start Getting Customer Recommendations
Make recommending your business worthwhile. Ask yourself: why should customers tell others about you? What's in it for them? 
You can use Net Promoter Score (NPS) surveys to find out how likely customers are to recommend you. NPS asks customers to rate you on a scale of 0 to 10 (10 being the most positive).
A tool like Typeform or Survey Monkey will help you create NPS surveys. 
People are busy, so ask a simple question that takes little-to-no effort to answer. 
For example, "On a rank of 0 to 10, how likely are you to suggest this product or service to a friend?" 
Follow up with open-ended questions to find out the why behind their rating.
For example: "Why did you give this score?" or "What would make you more likely to recommend us?" 
You'll learn what customers value most, what isn't working, and how you can improve.
And when you begin your referral program, ensure that the rewards are worthwhile.
Rewards typically fall into one of three categories:
Refer and Earn
The customer receives a discount, loyalty points, or cash back for every friend they refer. The friend enjoys a similar benefit to encourage the first purchase. 
For example, the fitness apparel brand Girlfriend Collective uses refer-a-friend to encourage sales: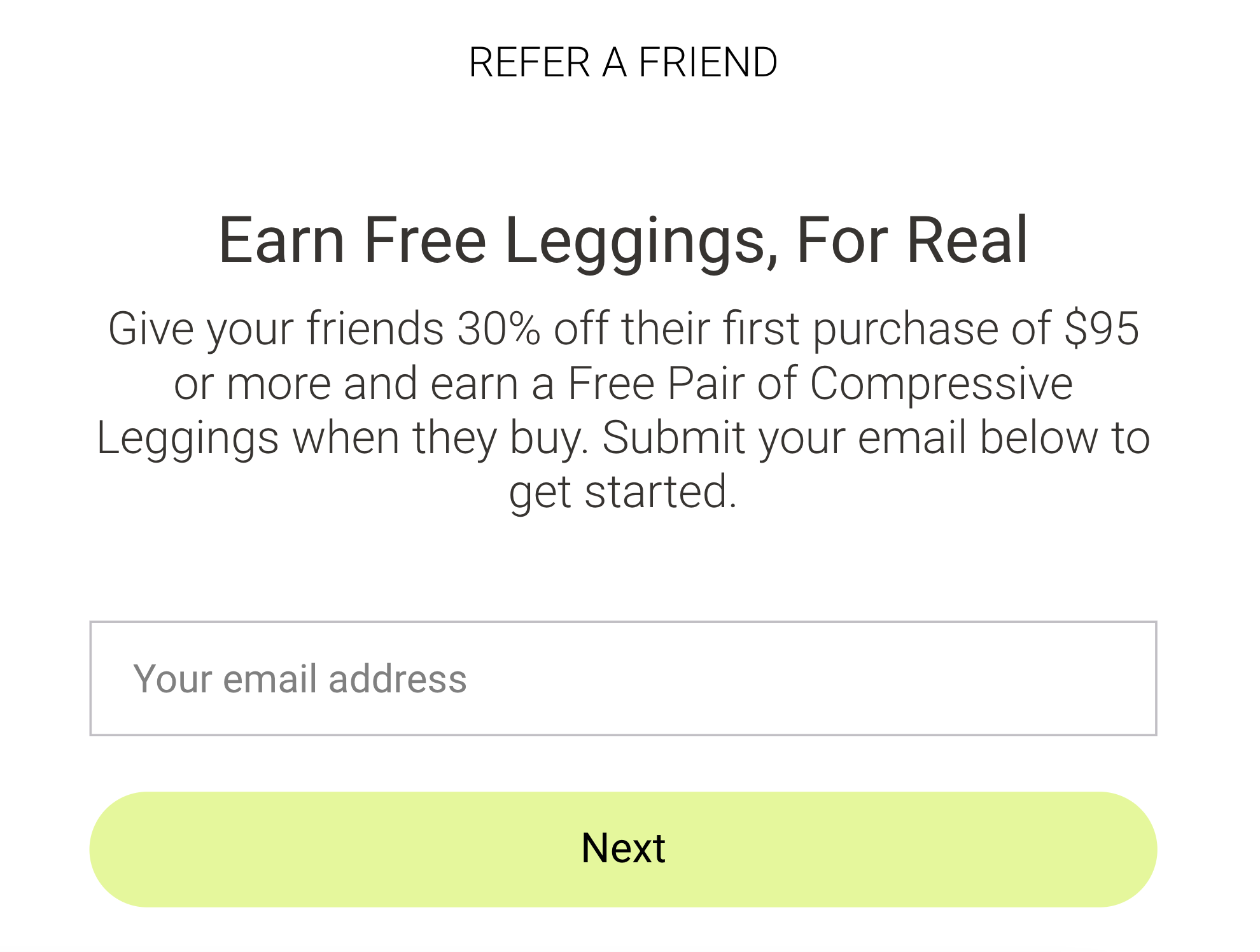 Tiered Rewards
Customers collect points that can be exchanged for progressively better rewards. This is an effective way to keep earning referrals. 
For example, grooming brand Harry's used milestones to keep customers invested while preparing for launch.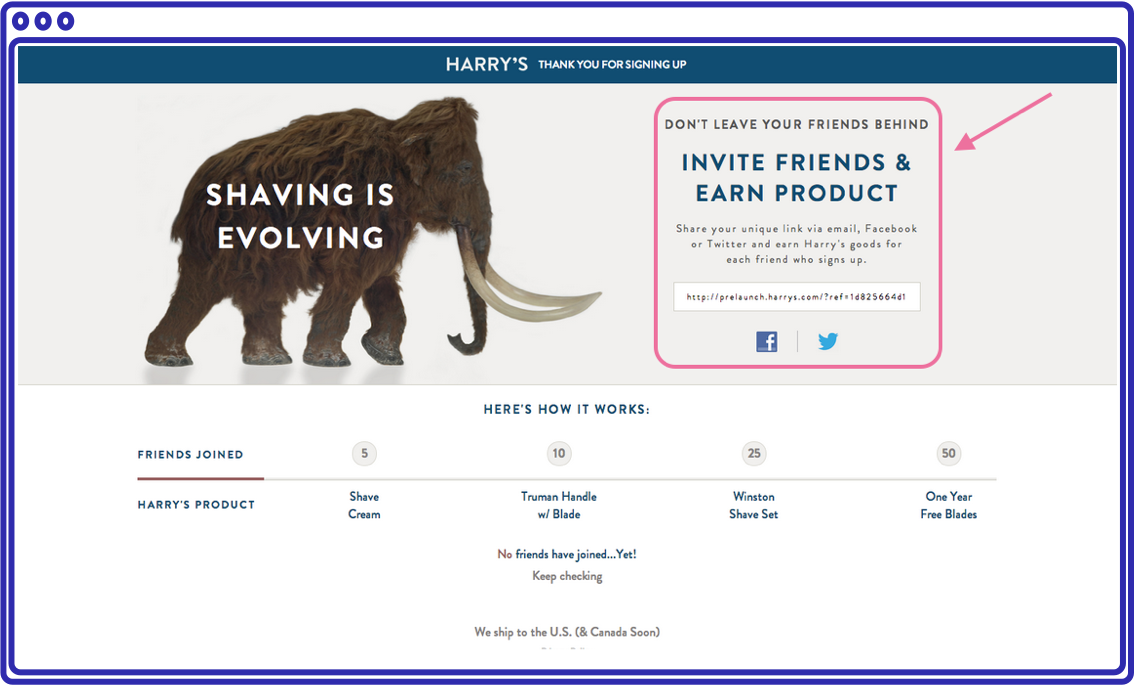 For five referrals, a customer receives free shave cream. For 10 referrals, they get a razor. For 25 referrals, a shave set. And for 50 referrals, a year's worth of free blades. 
Personal Referral Codes
Use influencers to attract new customers. Influencers are industry celebrities—people with online followings who are well-known and respected in your niche. 
Fans of influencers trust their opinions and engage with their recommendations as they would with a friend's.
You supply a unique link or code to an influencer. They share that code with their audience, who get a discount on their purchase.
For example, Squarespace partners with YouTube influencers to target creatives and small business owners. YouTuber Ten Hundred gets his audience 10% off a Squarespace website: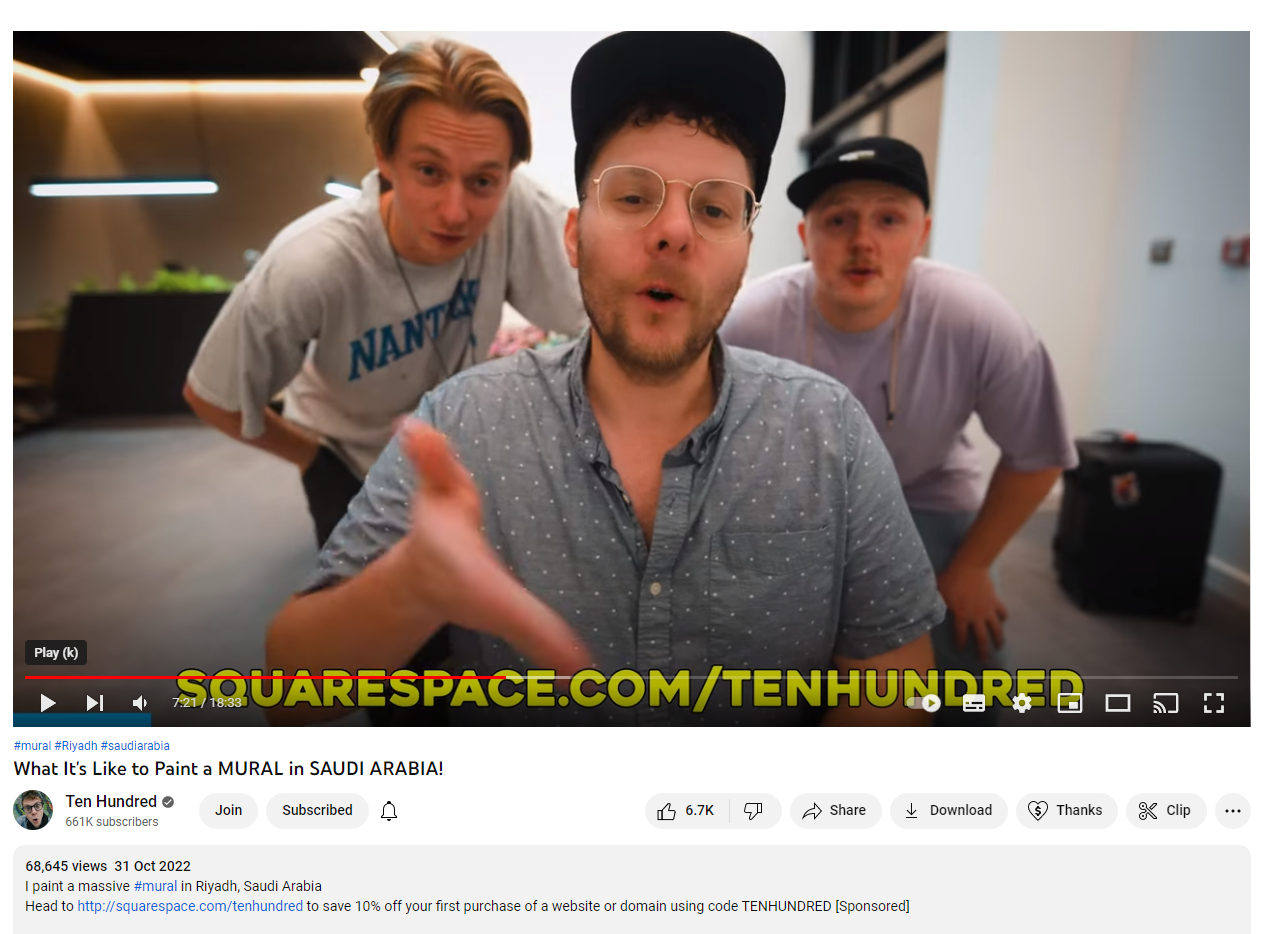 Pro tip: To learn more about building partnerships, read guide to influencer marketing.
And once you begin your referral program, keep these tips in mind for best results:
Make referrals easy: Clearly describe the program benefits and what customers need to do to earn rewards
Ask for referrals at the right time: Ask when customers are happiest, like when after they make a purchase or engage with your brand in a positive way
Monitor referral campaigns to gauge results: Test different incentives to find out which rewards best resonate with customers
You can use a referralmarketing tool like Referral Rock, Referral Factory, or ReferralCandy to track key metrics, such as referred traffic to your website, referral revenue, and the number of customers who join your program. 
Pro tip: Divide customers into groups based on their referral activity. This way, you can remind slightly active or inactive participants about reward benefits and incentive them to redeem.
Learn More About Digital Marketing
The best part about digital marketing channels is that there is no one correct way to reach your audience.
Do your research, experiment with different content types, and measure results to hone in on what engages customers.
Above all else, deliver value. If your marketing efforts help customers learn, laugh, or solve a problem they'll keep coming back.
Want to learn more about the world of digital marketing? We recommend reading these articles next: