What Is an SEO Score?
An SEO score is a metric that indicates how well your site performs when it comes to search engine optimization. The exact meaning of the metric may differ between various SEO tools.
Commonly, the term "SEO score" describes a site's overall technical SEO health.
A typical SEO scoring example would be Semrush's Site Health metric in the Site Audit tool.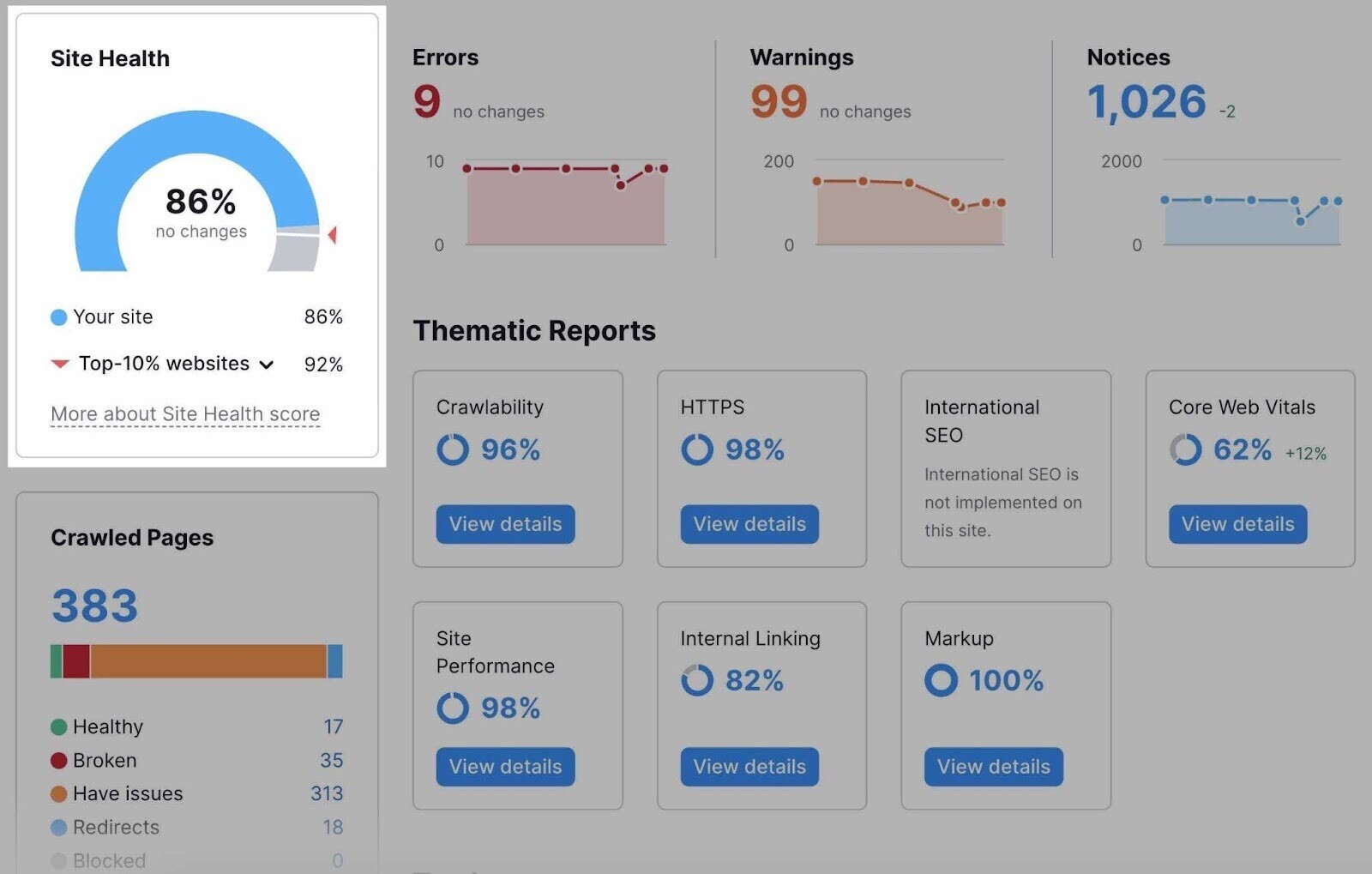 A high Site Health SEO score means your site's technical aspects are well-optimized for search engines. The more technical issues and problems you have within your site, the lower your SEO score will be.
Note: In this post, we'll focus mostly on the Site Health score. However, we also cover other SEO metrics that can be great indicators of your overall SEO performance. 
How to Check Your SEO Score?
To check your website's SEO score, run a technical SEO audit to analyze your overall SEO health. Semrush has a dedicated tool called Site Audit that can help you with that. 
Here's what you need to do:
First, create a free Semrush account (no credit card needed).
Then, go to "Projects" and create your first project by entering the domain and project name.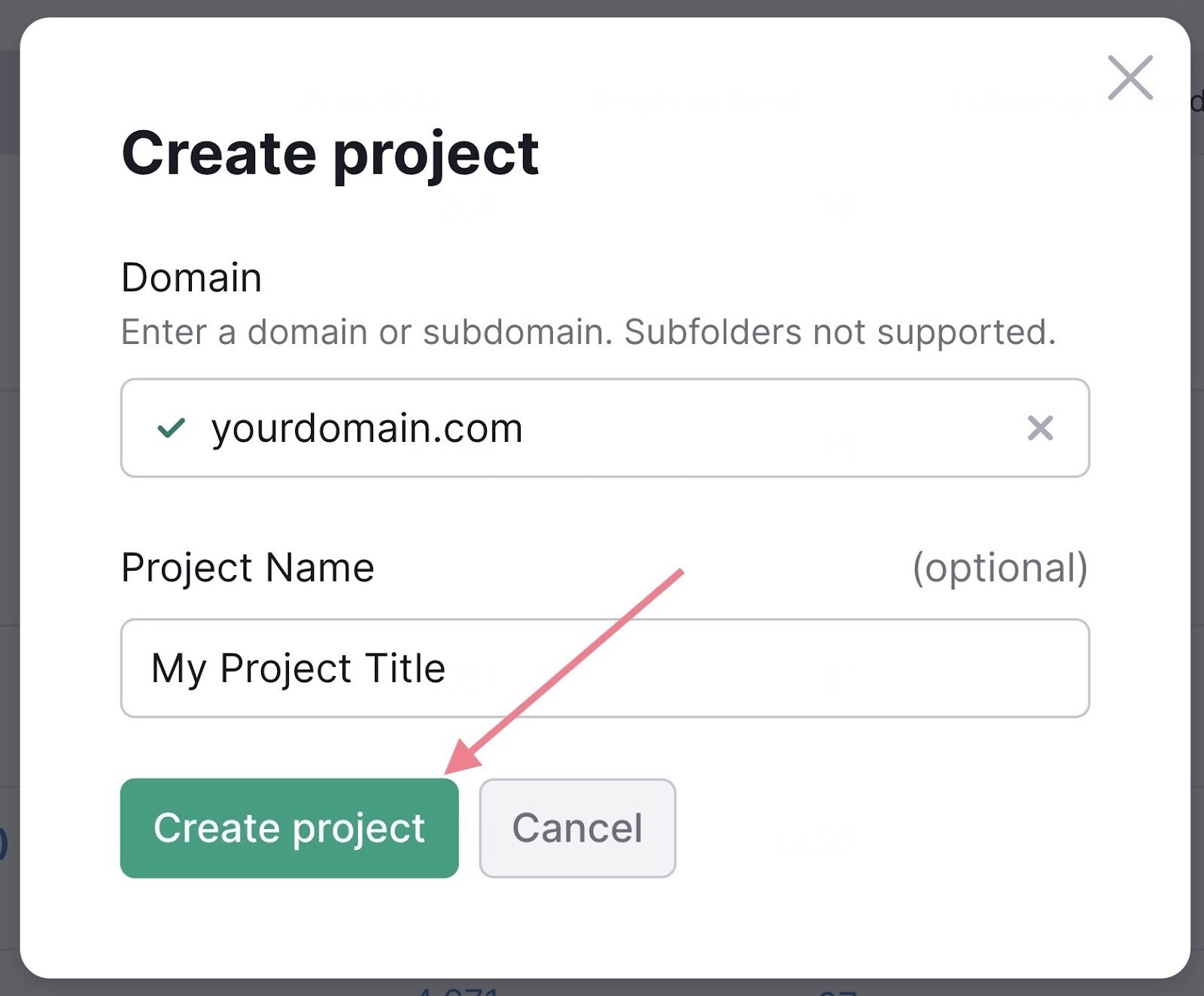 Once you create the project, head to the Site Audit tool and select your domain (or subdomain or subfolder). The tool will crawl your website the same way Google does to analyze any potential technical SEO issues.
You can crawl 100 pages with your free Semrush account. To set up your first crawl, follow the steps in this article. It will guide you through the process.
Then, hit the "Start Site Audit" button.

Once the crawl is complete, Site Audit provides a detailed overview of your site's health.
It will look like this: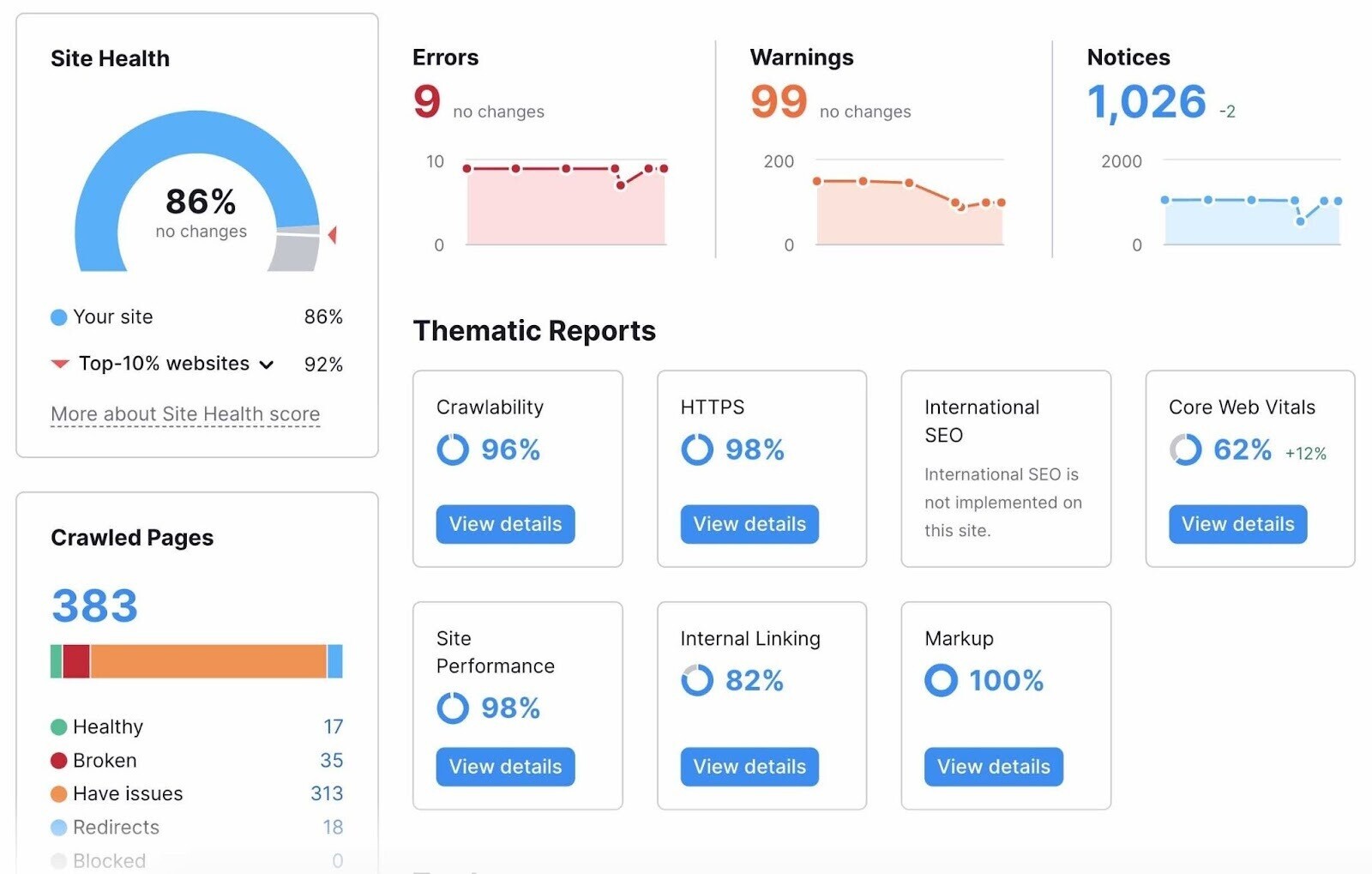 The "Site Health" section gives you two important pieces of information:
Your Site Health score: based on the number and variety of errors and warnings found on your site
The average industry score: based on the Site Health scores of the top 10% of websites in your industry
Now, let's take a look at what impacts your site SEO score and how to improve it.
What Impacts Your SEO Score?
Here are some of the most important technical SEO aspects that influence your website's overall health:
Crawlability and Indexability
Search engines must be able to crawl and index your website in order for it to rank. 
Further reading: Crawlability and indexability
Site Architecture
The architecture of your site influences how easy the site is to navigate for both humans and search engines.
It includes things like:
URL structure
Internal linking
Navigation
Further reading: Website architecture, Internal links
Website Security
Running your website on a secured HTTPS protocol is an absolute must nowadays.
Further reading: HTTP vs. HTTPS
Usability
In order to rank, you need to provide a great user experience and high usability. This includes things like having a website that loads fast and is mobile-friendly. 
Further reading: Page speed, Mobile SEO, Core Web Vitals
Structured Data
Implementing structured data can help search engines understand various types of content on your site. 
Further reading: Schema markup
How to Improve Your SEO Score?
You need to address any issues with your website to improve your SEO score.
Begin by clicking the "Issues" tab in the Site Audit tool.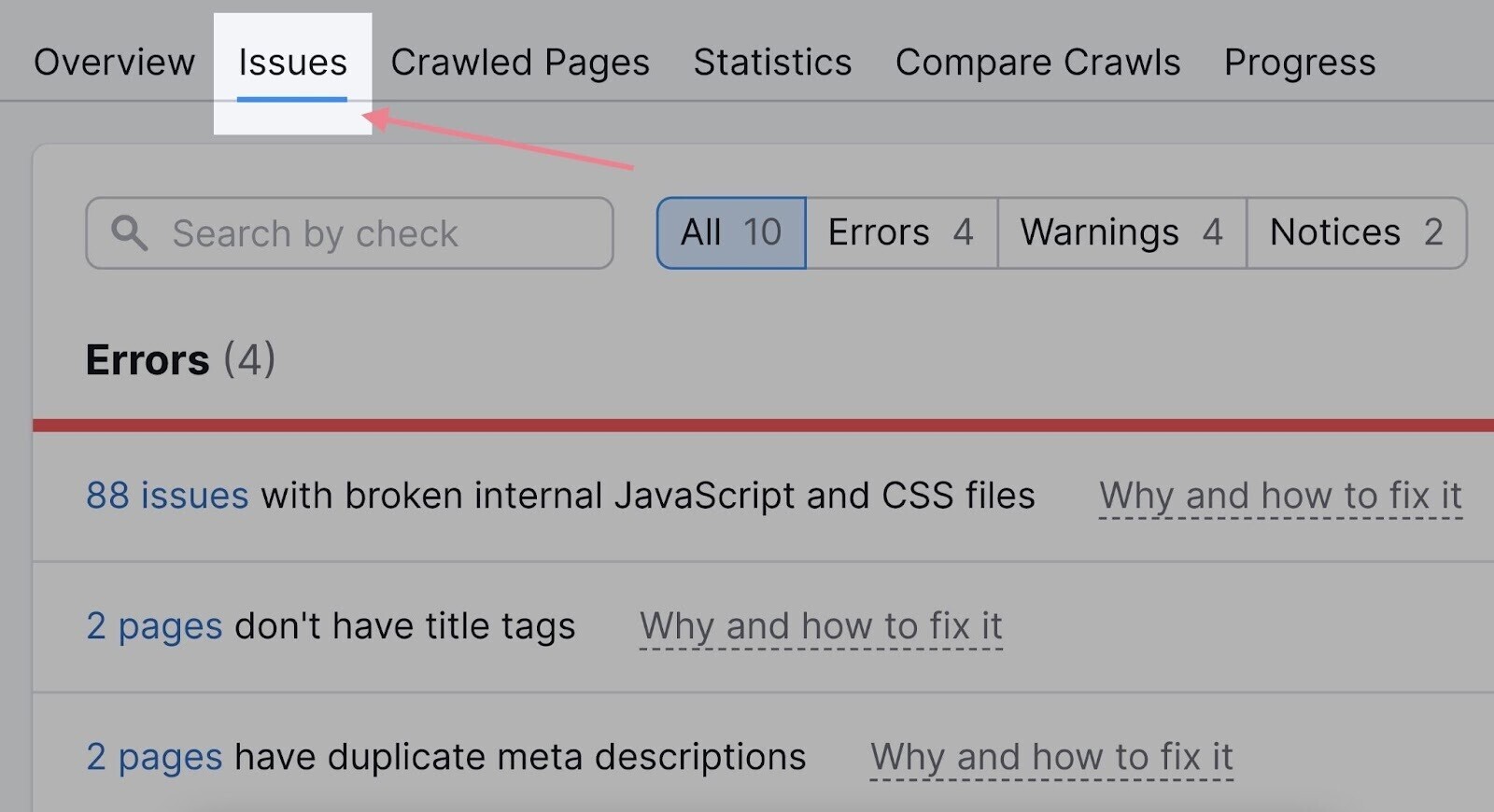 Start from the top. The issues in the Site Audit tool are ranked by severity:
Errors: high-severity issues
Warnings: medium-severity issues
Notices: not necessarily issues (But it's good to go through them and see what you can improve.)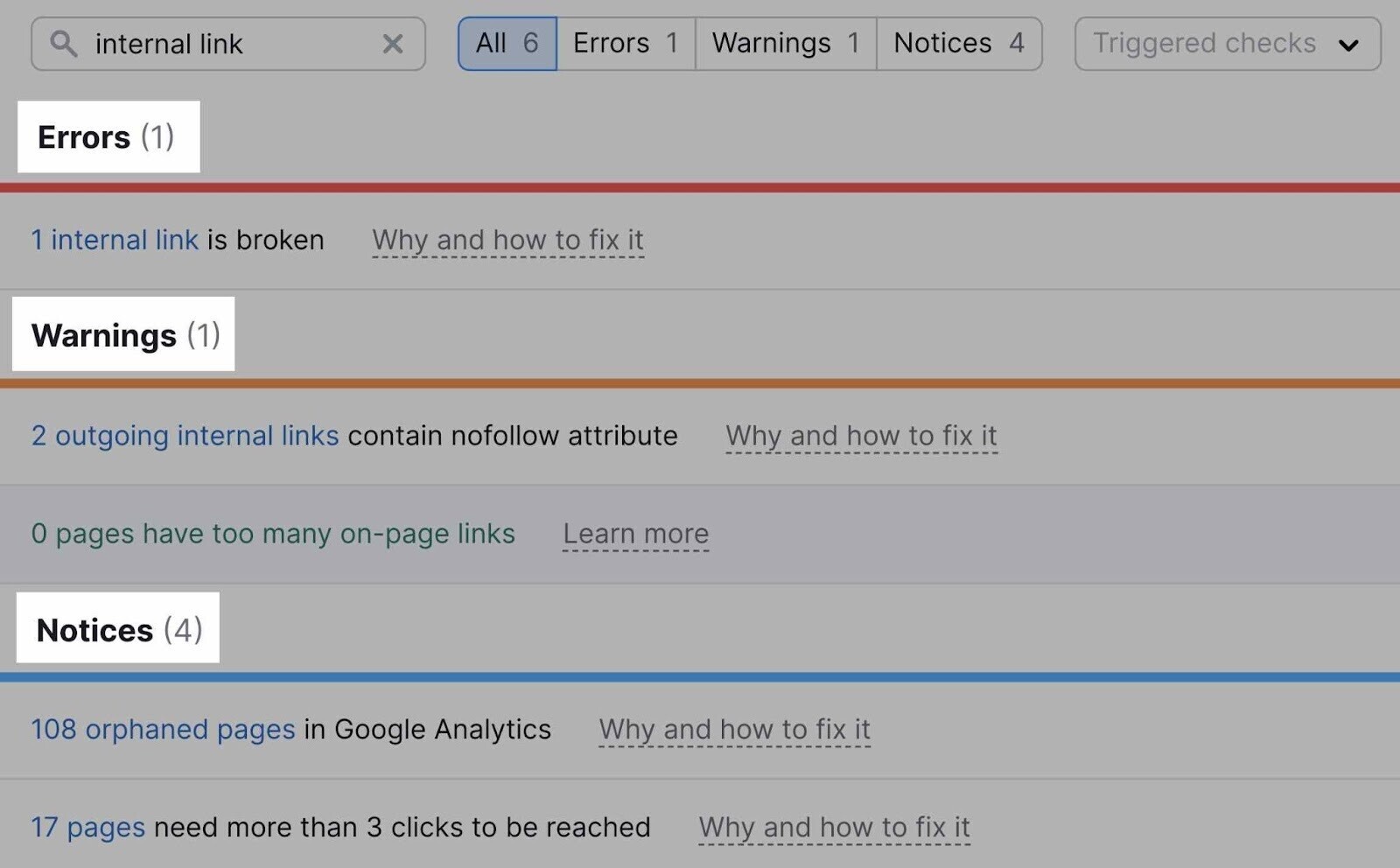 Each line in the list of issues will include a link to the list of affected URLs. Plus an explanation of the issue and tips on how to tackle it (the "Why and how to fix it" part).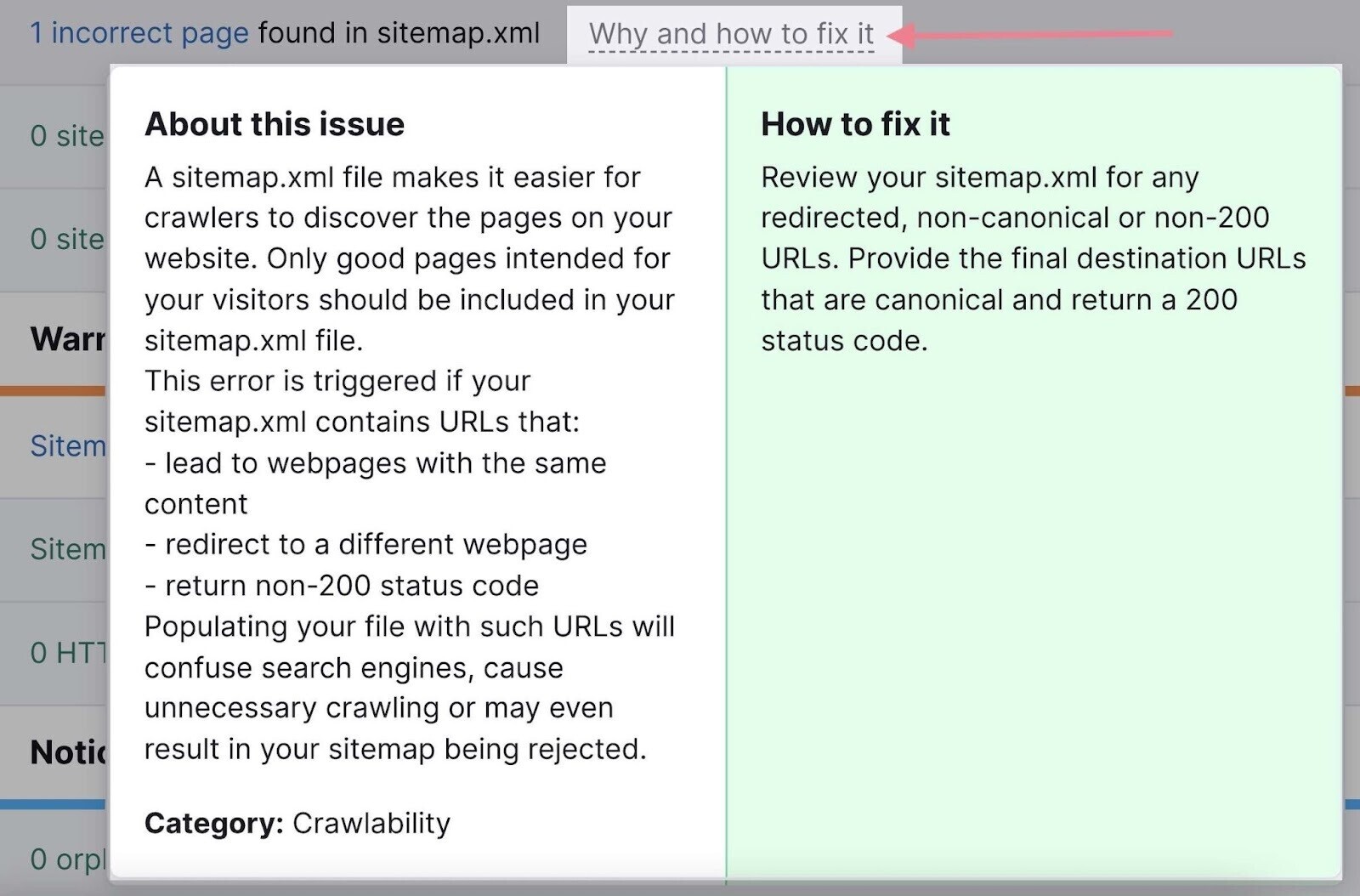 After you fix some (or all) of the flagged issues, you can re-run your audit manually to see your new results. Simply click the "Re-run campaign" button in the top right corner of the dashboard. 
And after you've run more than one audit (you can schedule them weekly), you'll be able to view historical results to track your progress over time.
To do so, visit the "Progress" tab and select the desired time period and metric(s)—including Site Health.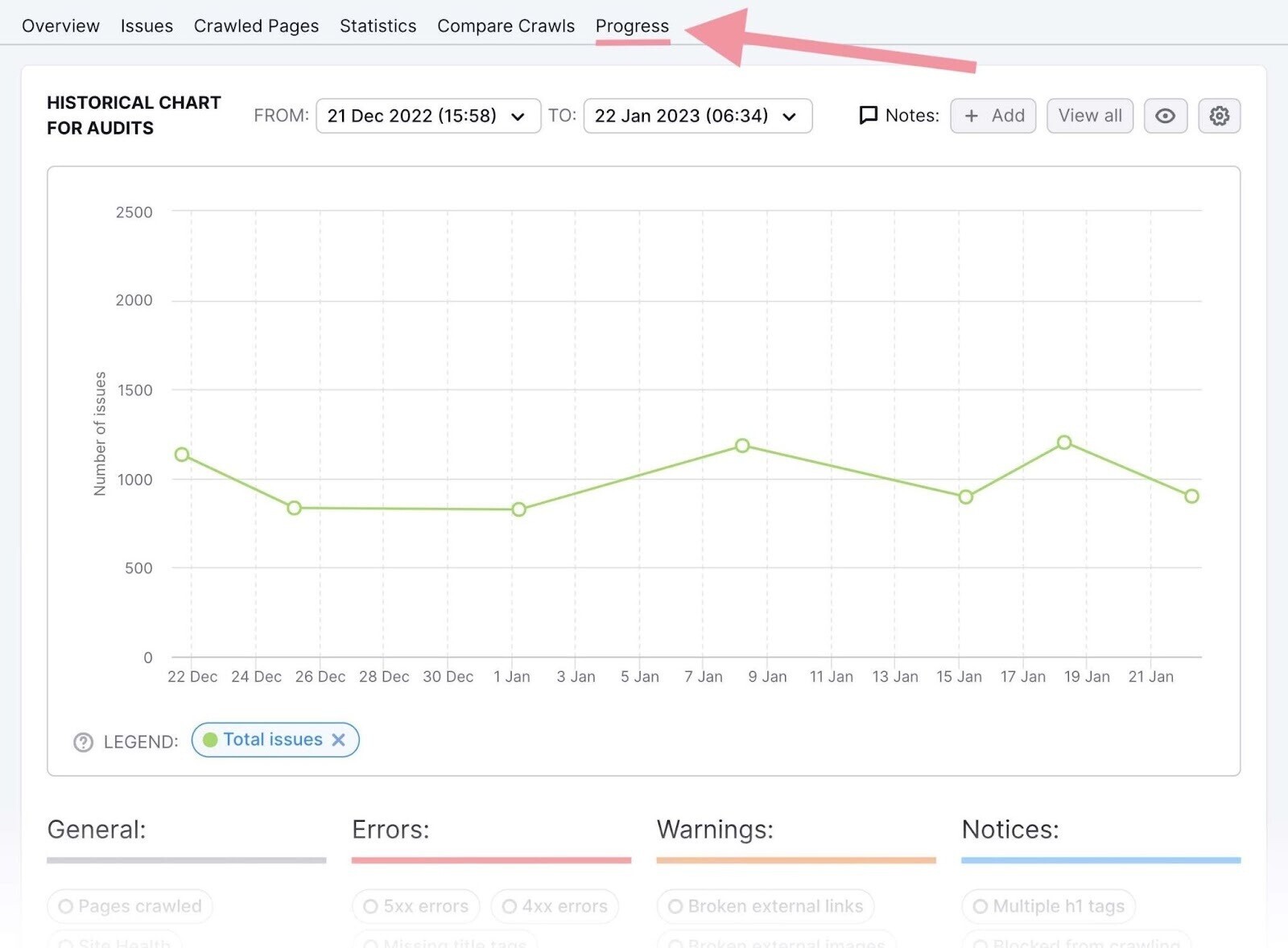 Other SEO Score Metrics
No single metric can tell you where you stand in all aspects of search engine optimization.
Here are some additional SEO metrics you can use alongside your Site Health to see how your site is performing.
Authority Score
Authority Score measures a domain's overall authority based on the quality and quantity of the backlinks, organic traffic, and other data.
Like the Site Health metric, it's presented on a scale from 0 to 100.
You can easily check your Authority Score with Semrush's Domain Overview tool.

To get the most out of this metric, compare your Authority Score to your competitors. 
You can do so by visiting the "Compare domains" tab.

Here, you can enter up to four competitor domains to analyze their Authority Scores and other useful SEO metrics. 

Tip: To improve your Authority Score, you need to build quality backlinks to your website.We recommend starting with the Backlink Gap tool, which helps you find backlink opportunities by analyzing competitors' backlink profiles.
On-Page SEO Score
Sometimes, you just want to look at the overall quality of one page. 
Semrush has a handy tool that analyzes the text on a single page and scores it on a scale from 1 to 10. It's called SEO Writing Assistant.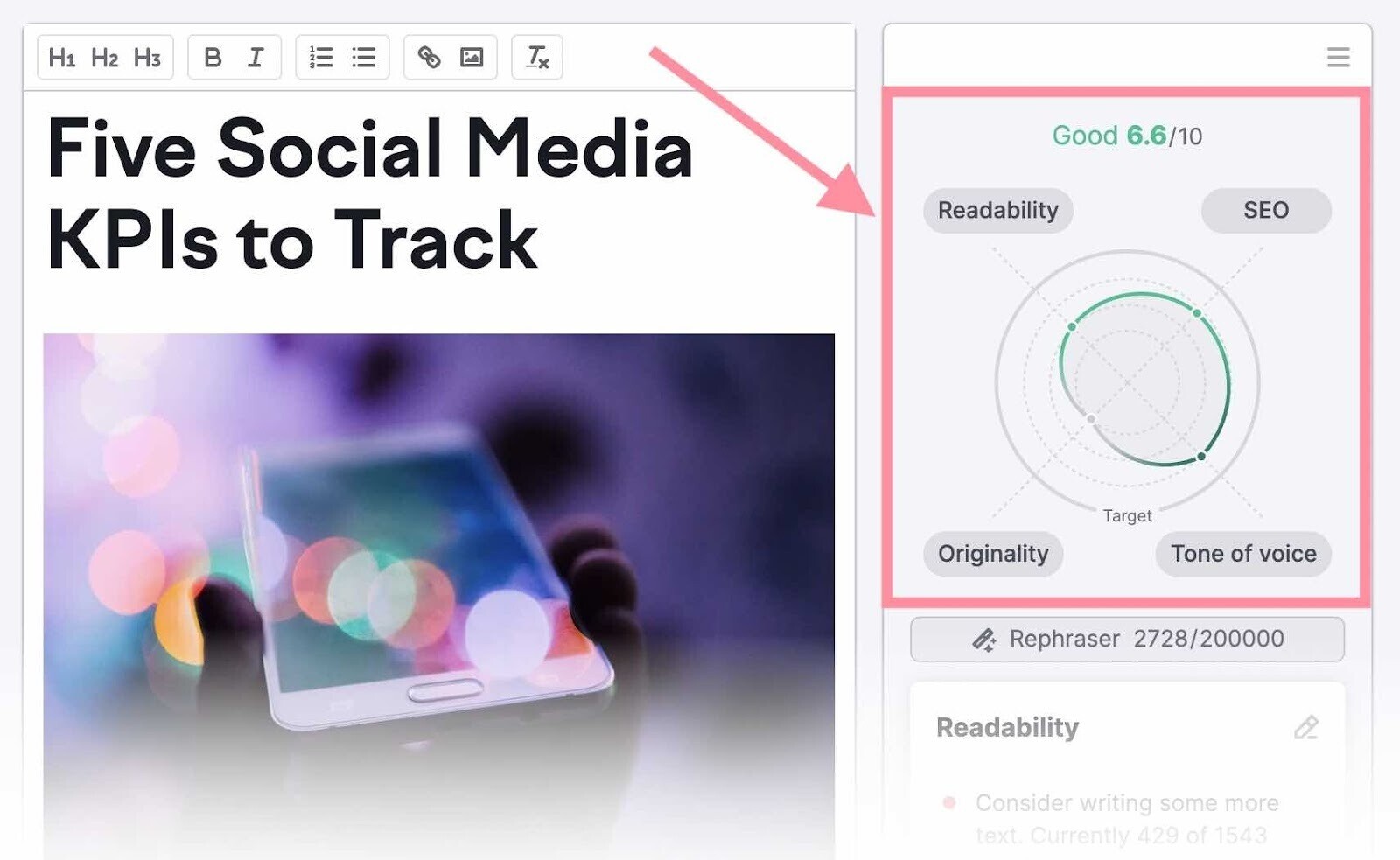 It analyzes your text in four categories:
Readability
SEO
Tone of Voice
Originality
You can follow the provided suggestions and improve the score of your text in real time. (The tool is also available as a WordPress plugin and a Google Docs or Word add-on.)
If you want a more in-depth on-page SEO analysis of your most important pages, you can also use the On Page SEO Checker.
You'll get an overview of all the ideas categorized by these topics:
Strategy
Backlinks
User experience
Technical SEO
SERP features
Semantic
Content

Start by creating a new project or using an existing one.
Select the pages you want to analyze and their target keywords (up to 10 keywords in the free plan).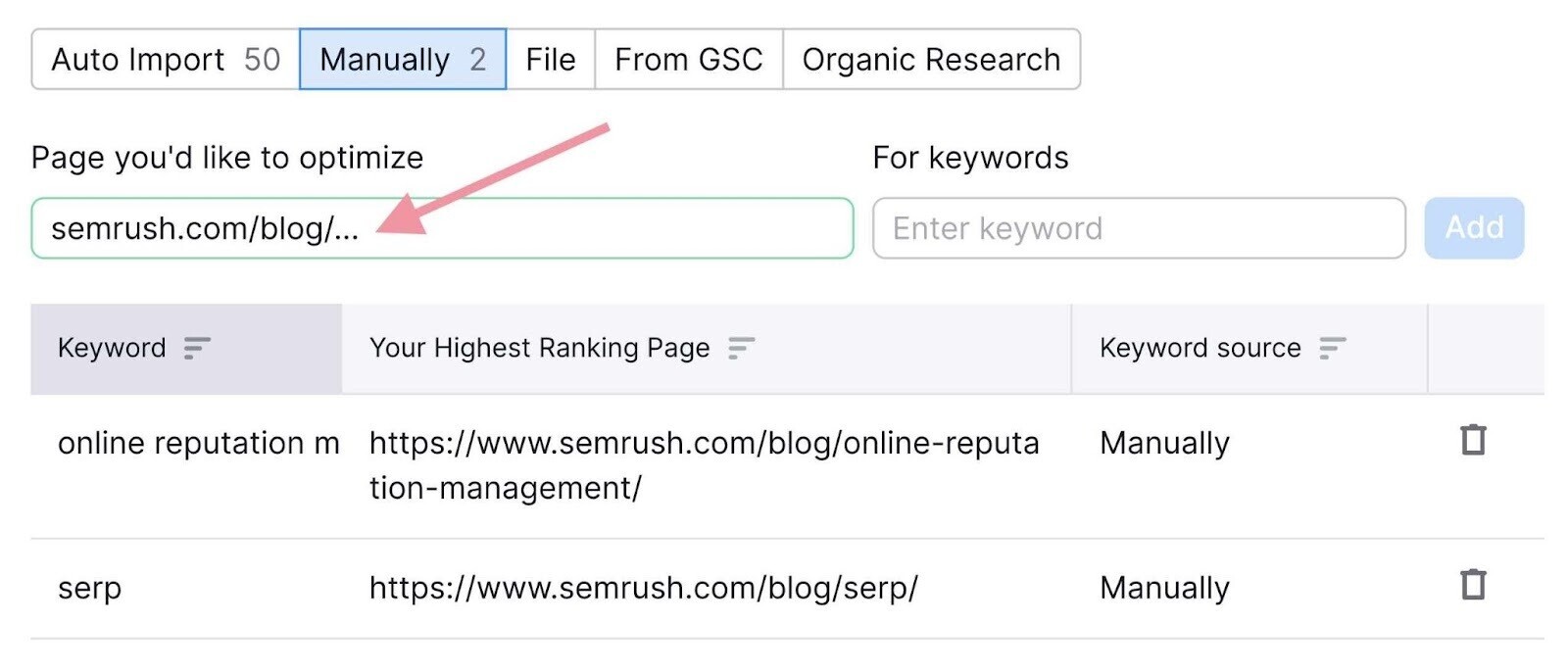 Once you hit the "Collect ideas" button, the tool will start collecting on-page SEO ideas for you.
Then, you can switch to the "Optimization ideas" tab and start implementing the recommendations page by page.
Just click the button with the number of ideas: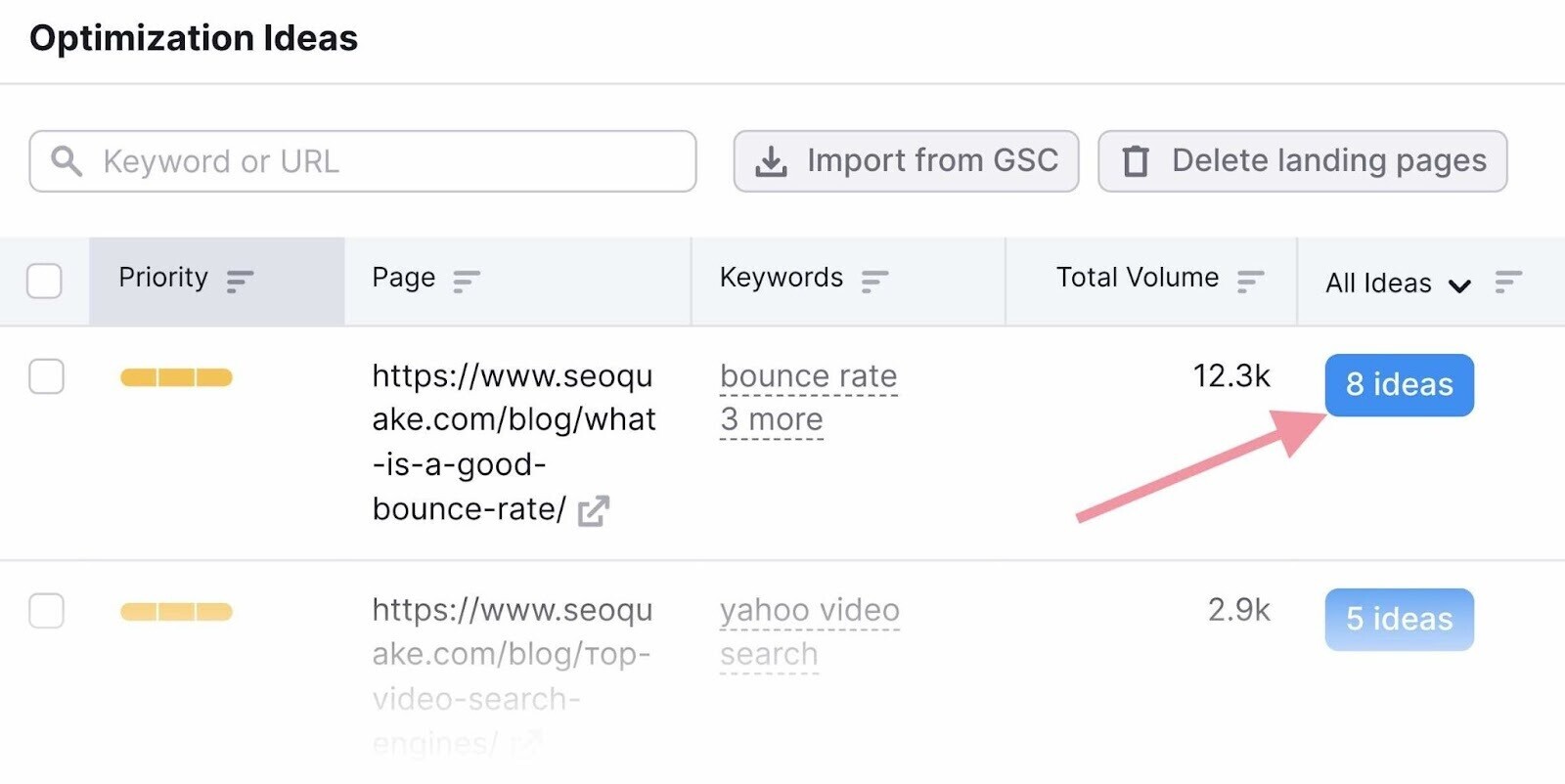 You can learn more about each suggestion by hovering over the "Why should I do this?" link in the right column of the table.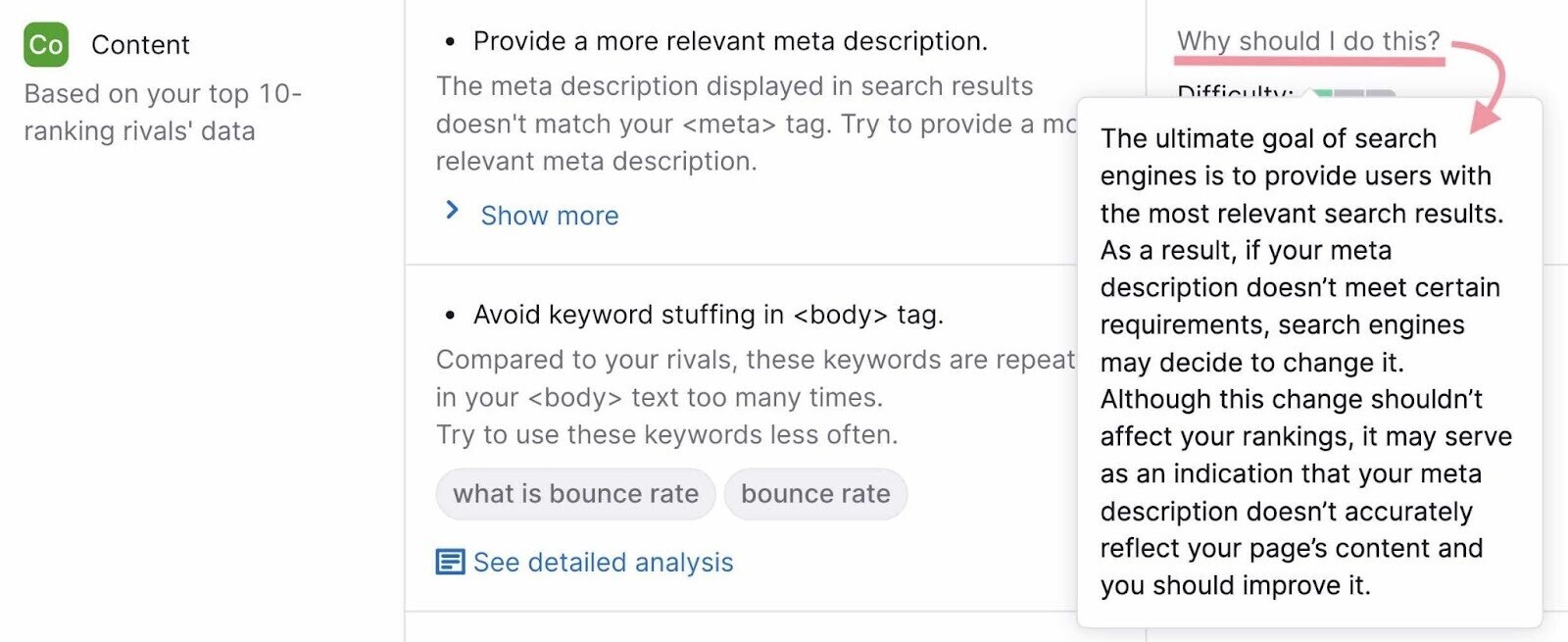 By implementing the ideas the tool provides, you can improve your chances of ranking for your most important pages.
Read our detailed on-page SEO guide to learn more. 
FAQs
Why Is Your SEO Score Important?
Checking your web SEO score gives you a comprehensive overview of your website's overall technical health. 
By using an SEO score checker (like Semrush's Site Audit tool), you can track your SEO score progress over time. You'll also receive alerts any time a new serious issue appears. 
What Is a Good SEO Score?
A good Site Health SEO score is anything above 80. If your score is over 90, it means your website is in the top 10% of the best technically optimized websites on the web. 
Once you reach a high SEO rating, you can:
Schedule regular Site Audit crawls to spot any possible new issues 
Focus on other SEO aspects
Is SEO Score a Ranking Factor?
No. Google doesn't consider any third-party metric when ranking webpages. 
Although Google and other search engines consider the aspects that contribute to your SEO score, they use their own algorithms to do so. 
That is why increasing your SEO score doesn't always mean your rankings will improve dramatically. That being said, checking your SEO score on a regular basis can still be a valuable tool to help you identify common problems and stay ahead of competition. 
How Can I Check My SEO Score for Free?
The best way to get an overview of your technical SEO score is to look at the Site Health metric in the Site Audit tool.
You can create a free account within minutes. 
You'll see your SEO score, compare your score to your top competitors, and start fixing technical issues on your site.