For enterprise organizations, SEO requires an approach that addresses the complexities of being (or becoming) a large market leader.
It involves advanced SEO tactics and tools.
In this article, we'll explain what enterprise SEO is, how to find the right tools, and which tactics to prioritize.
What Is Enterprise SEO and Why Is It Important?
Enterprise SEO (search engine optimization) is the process of using different tactics to improve a large organization's website so it gains better visibility in search engine results.
It takes "traditional" SEO tactics and scales them to better help enterprise organizations that have significantly larger, more complex websites.
How Does Enterprise SEO Differ from Traditional SEO?
Traditional SEO refers to the fundamental methods you use to optimize a small- to medium-sized business (SMB) or startup website. Which includes things like:
Enterprise SEO also includes these tactics, but on a larger scale. 
That means taking into consideration the complexities of an enormous website. In other words: more pages, more traffic, more tasks to manage, and more potential problems.
For example, marvel.com has about 226,000 indexed pages: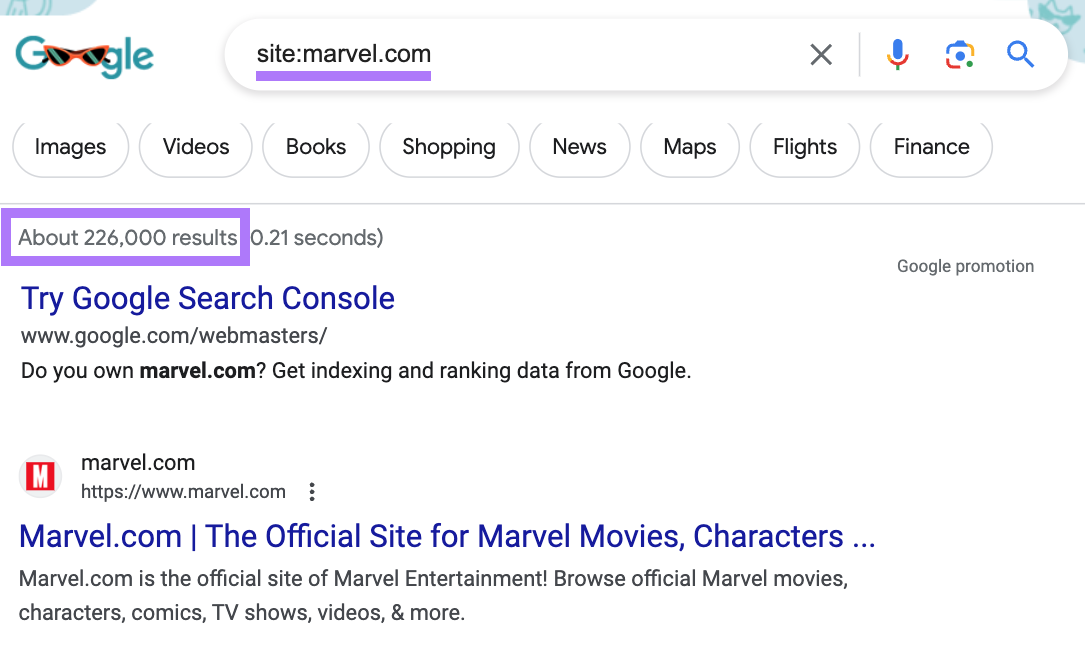 Tasks you can perform easily on a small site are impossible to manage for a site of this size. They're also unlikely to make a noticeable difference to your search rankings when performed at the same small scale.
And technical SEO issues are magnified for enterprise sites. Like duplicate content, which can negatively affect rankings.
But for all the challenges of managing enterprise-level SEO, there are big opportunities.
Where SEO for small businesses often looks at how to build brand awareness with limited resources, enterprise SEO is more about staying at the top of search results. Because enterprises already have brand recognition.
Enterprise organizations are likely trying to answer questions like:
How can we leverage organic search to grow our market share more rapidly?
How can we use SEO to protect our brand's reputation?
How can we use featured snippets and reviews to get visibility for our primary keywords?
Here's an example of the type of SEO results an enterprise organization would be interested in achieving: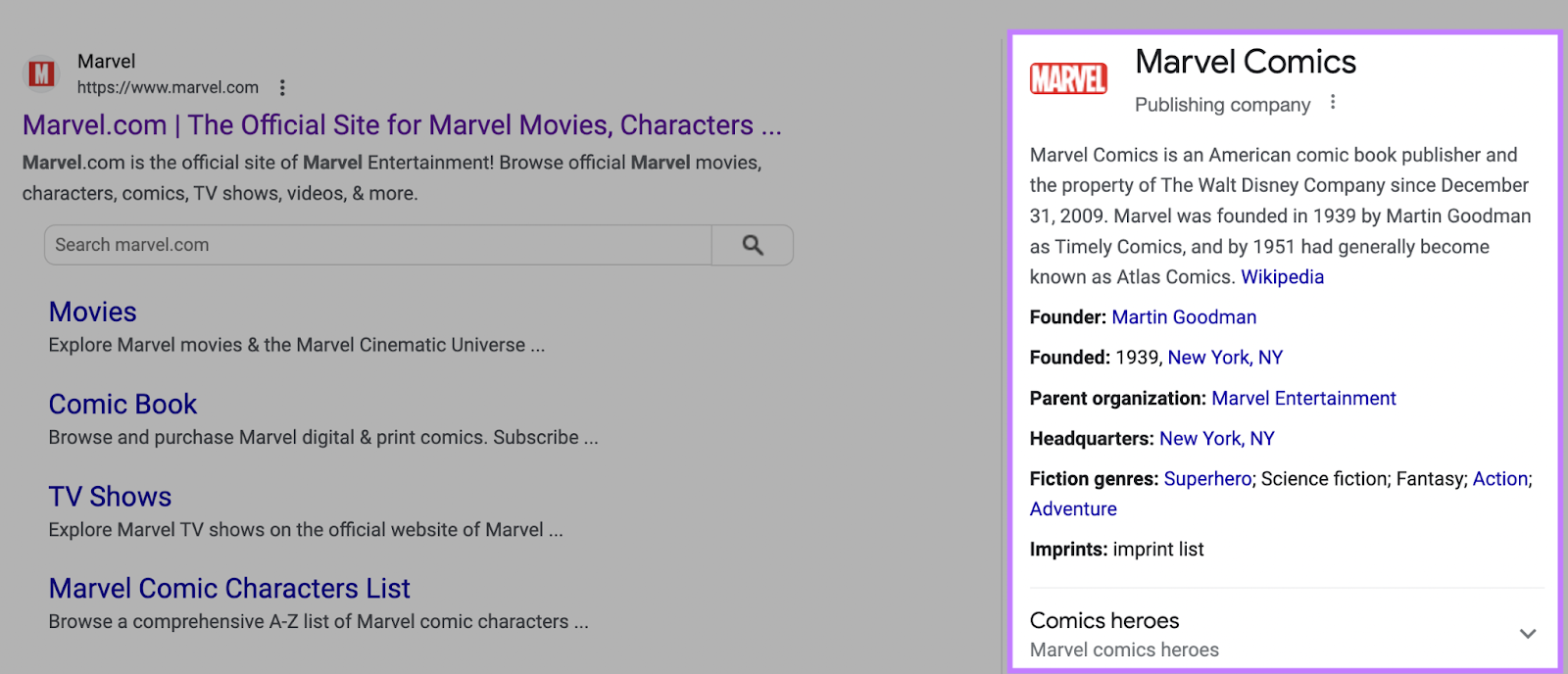 That requires more expertise and enterprise SEO software that's capable of supporting large-scale tactics.
Who Needs Enterprise SEO?
There are two schools of thought for what defines an enterprise website.
One is the size of the organization. If your company has thousands of employees in many different locations and you need a large team to maintain your site, it requires an enterprise SEO platform and tactics.
The other is the size of the site. If your site has a large volume of pages and a strong Authority Score (a metric that conveys a website's overall quality), it needs an enterprise SEO approach.
How do you know if your site has a strong Authority Score?
You can find it with Semrush's Domain Overview tool by entering your website's URL and then clicking "Search."
The Authority Score appears at the top. Like this:

The higher the score, the more reputable the domain.
Businesses that fall into these two categories include:
Ecommerce websites with thousands (or millions) of pages
Companies with multiple websites or subdomains
Companies that operate in multiple locations (nationally or internationally)
How to Choose an Enterprise SEO Platform
The best enterprise SEO tools are all-in-one platforms that provide everything you need to manage, implement, and measure your organic (meaning unpaid search) performance.
They should allow you to do keyword research, track your keyword rankings, create and optimize content, do competitor research, find technical SEO opportunities, and generate comprehensive reports.
They should also help make your work more efficient. 
In short, SEO software should make your life easier.
Ensure You're Ready for a Purchase
An enterprise SEO platform is a significant investment. On top of the upfront price, there are costs for staff training and potentially for installation.
The value you get in return for your investment makes it worthwhile if you make the right choice.
To ensure you're ready, ask yourself:
Do we have C-level executive buy-in? Directors and other stakeholders must be clear on the importance of SEO to the company's bottom line.
Do we have in-house expertise? You need an SEO team capable of using the technology.
Can we invest in staff training? Even if you have a skilled SEO team, they'll require training to make the most of a new SEO enterprise platform.
Do we have clear key performance indicators (KPIs)? It's key to know which metrics you should use to track results.
Research Options and Their Capabilities
Once you're sure enterprise SEO software makes sense for you, start researching vendors.
The right platform should go beyond the basics to:
Automate resource-intensive tasks like finding new keywords, locating broken links, and generating reports
Include multiple user profiles to ensure cross-team collaboration and accountability
Integrate with other marketing tools. For example, your social media accounts, Google Analytics, and more.
Feature real-time performance data that ensures always-up-to-date insights
Use machine learning and artificial intelligence to recommend ways to improve your SEO performance
Incorporate data visualization to help stakeholders make sense of numbers showing the impact of SEO
Keep up with search engine algorithm changes to promote best practices
Assist you in using its features through access to guides, tips, and customer support
4 Enterprise SEO Platforms to Consider
To kickstart your research, here are four of the best enterprise SEO tools on the market:
1. Semrush
Semrush is an award-winning, all-in-one online visibility management software-as-a-service (SaaS) platform that allows businesses to manage SEO, market research, PPC, social media, and content marketing.
Ten million marketing professionals and 30% of Fortune 500 companies trust our tools, some of which we've covered in this post.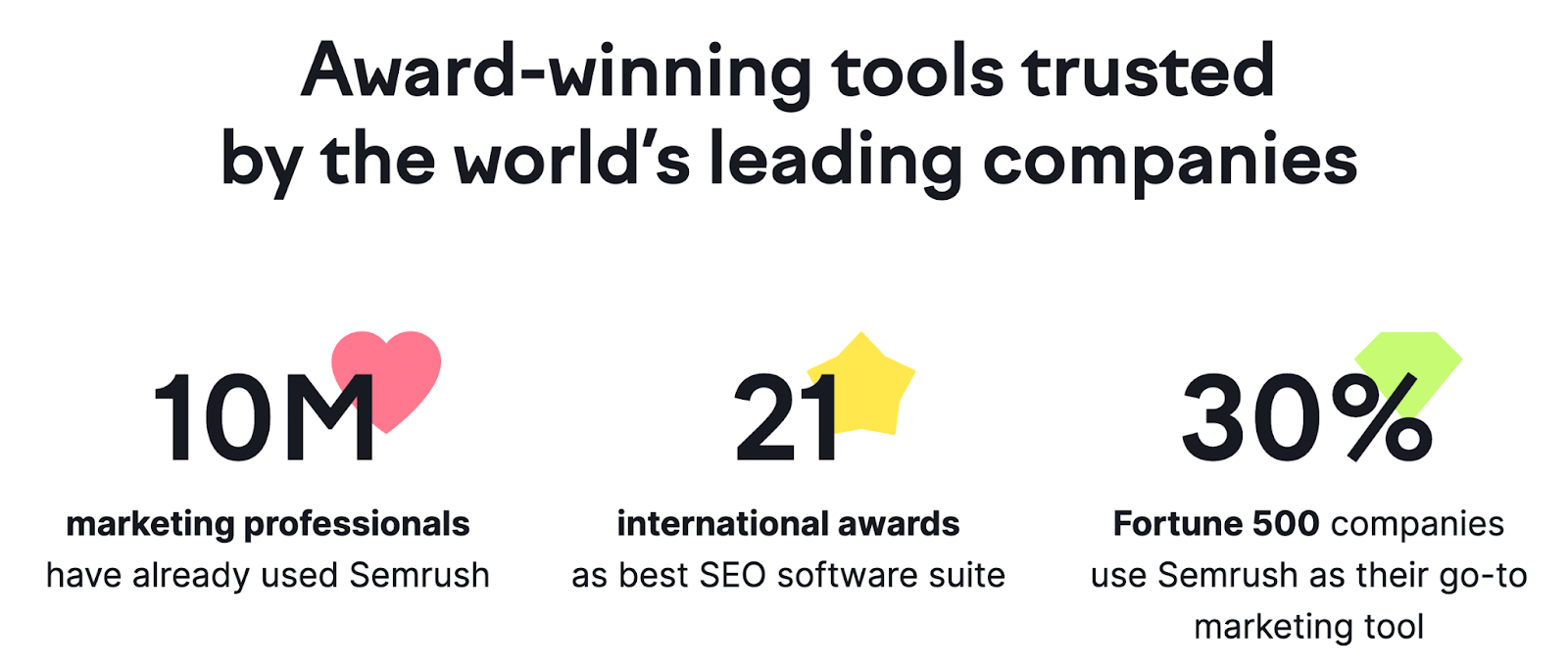 You can use many of our tools for free to get a feel for how they work and how you can use them to improve your marketing performance.
Our custom enterprise platform scales these features up according to your needs, users, and integrations.
Visit our pricing page to contact us about a custom plan that can help you achieve your marketing goals. Or start with a free trial to get a better feel for our tools.
2. seoClarity
seoClarity is an enterprise SEO platform with a ChatGPT-powered AI assistant called Sia. 
It helps with content optimization, research, and creation. And offers technical SEO assistance and reporting.
Sia can recommend an internal linking structure, add hyperlinks to existing content, analyze competitors' content to find content gaps, and assist with topic research.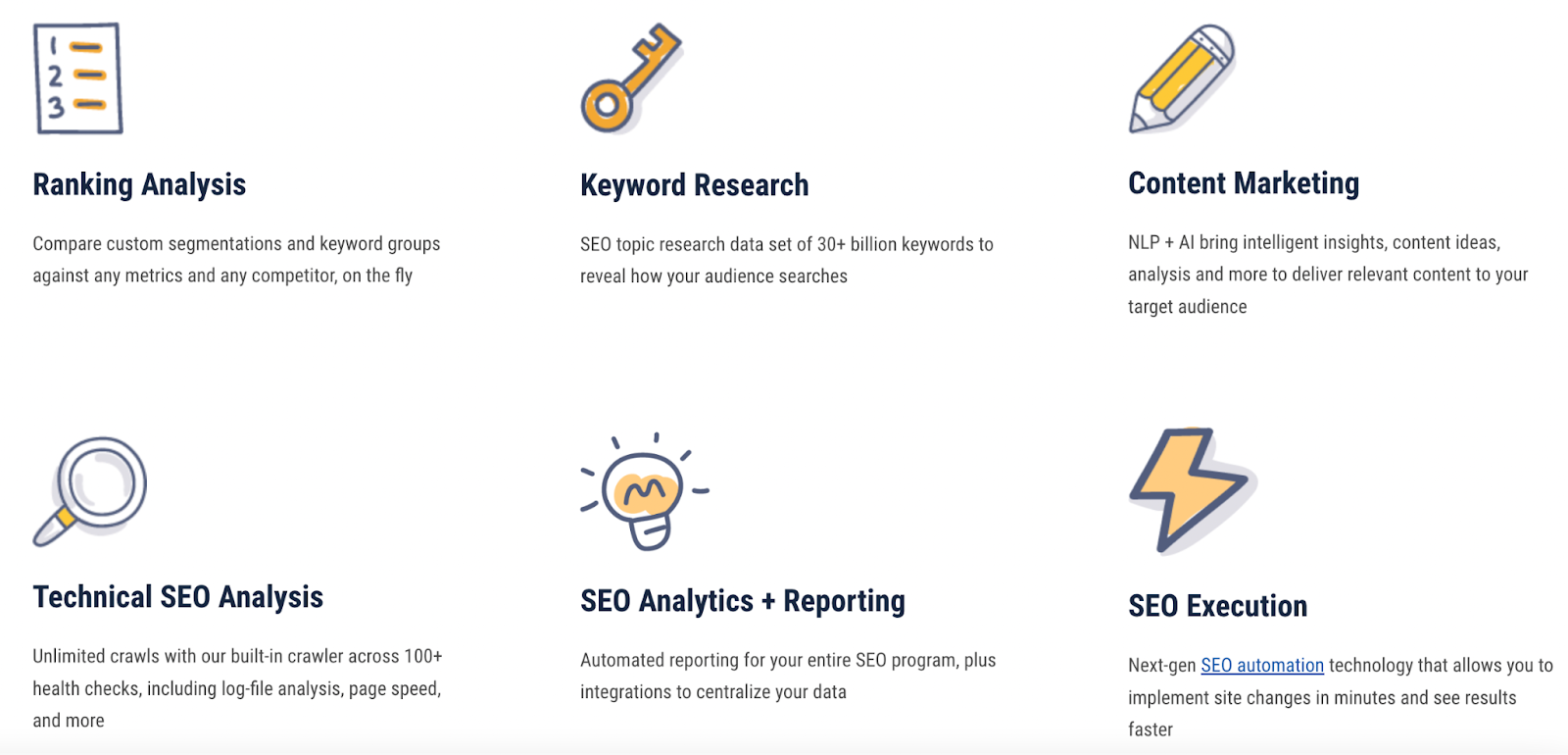 seoClarity also provides real-time analysis at scale via Clarity Grid, a tool to help you understand intent and create content around customer needs.
The platform offers a free five-day trial customized around your priorities, so you can explore the platform in greater depth.
3. BrightEdge
BrightEdge is another full-service platform with enterprise SEO features that are powered by AI and machine learning to help companies improve organic performance and drive business results.

Its capabilities mostly center on content optimization, with tools to help you understand search intent (the reason behind a search) and build content around it.
BrightEdge offers a free personalized demo that walks you through the platform's features and how to use them to improve engagement with your target audience.
4. Conductor
Conductor focuses on helping web and content teams grow organic traffic.
For example, it can help you create content briefs that include information on key areas like search and sentiment analysis. It can then send these briefs to popular task management apps like Jira and Trello.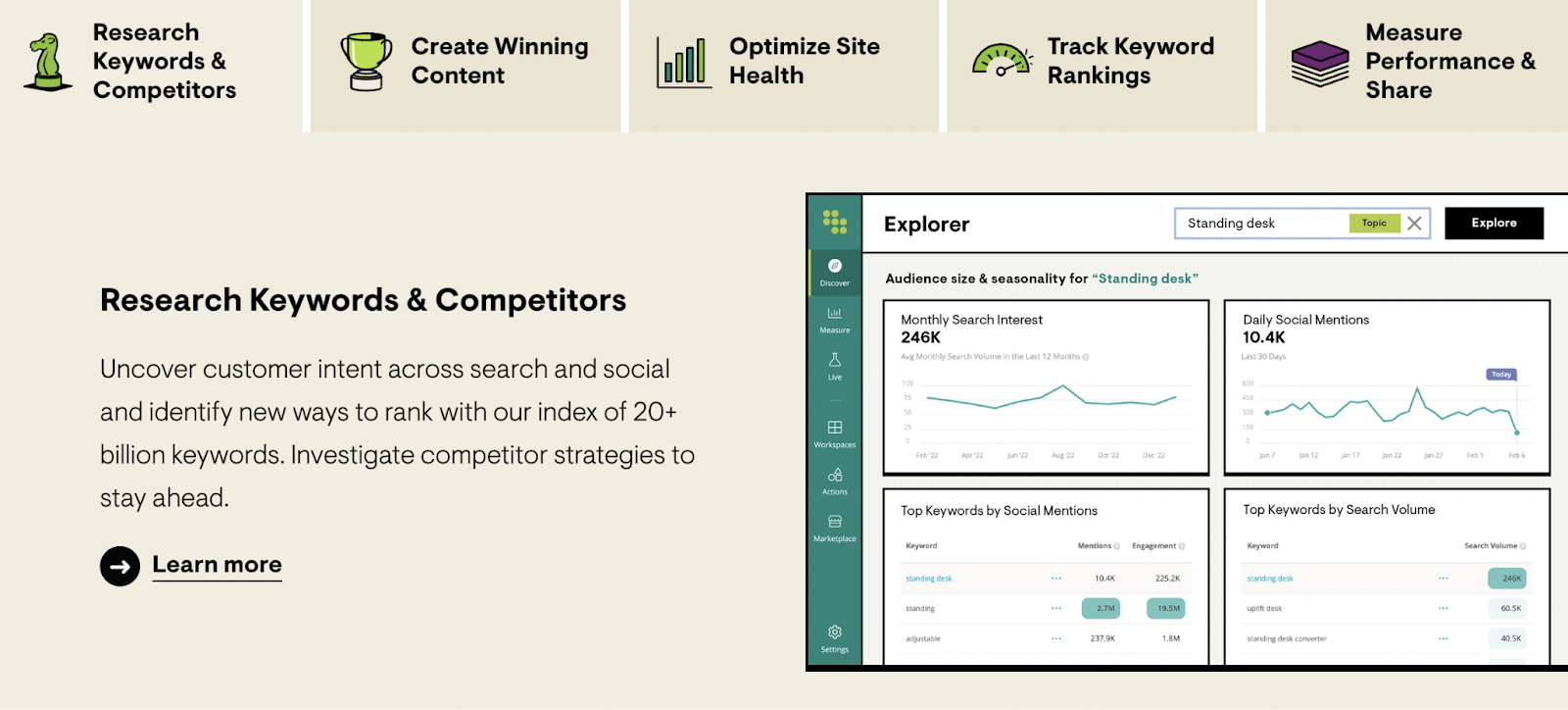 It also offers integration with a range of partners to bring your tools together in one platform. They include:
Conductor can also offer technical SEO insights and the ability to A/B test (test two versions against one another to determine a winner) different page variations quickly and easily.
Conductor offers a free demo tailored to your needs and delivered by a digital marketing expert.
How to Create an Enterprise SEO Strategy
An enterprise SEO strategy shares the same core elements as any other SEO strategy. But there are two significant differences:
1. You have existing brand recognition and authority in your industry
2. There's a greater demand on technical issues due to various subdomains, website languages, architecture, internal linking, and duplicate content
These differences matter.
Why?
Because in SEO for a small business or startup, you start from the ground and work up. Your focus is typically on building authority through content.
In enterprise SEO, you usually look for strategic opportunities and make fixes on your website to improve results.
Here's how to get started.
Note: The following steps show how you can use Semrush to create your strategy. You can perform these steps with a free account. But upgrading to a custom plan will better serve your needs.
1. Do a Comprehensive Website Audit
Performing a site audit helps you understand what you need to do to maintain and improve SEO performance.
There are two stages to this:
1. Perform a content audit to find pages that don't perform well and determine how to fix them
2. Perform an SEO audit to find issues that affect performance for search and users
Use On Page SEO Checker to start a content audit.
Open the tool and follow the configuration instructions. And click "Collect ideas."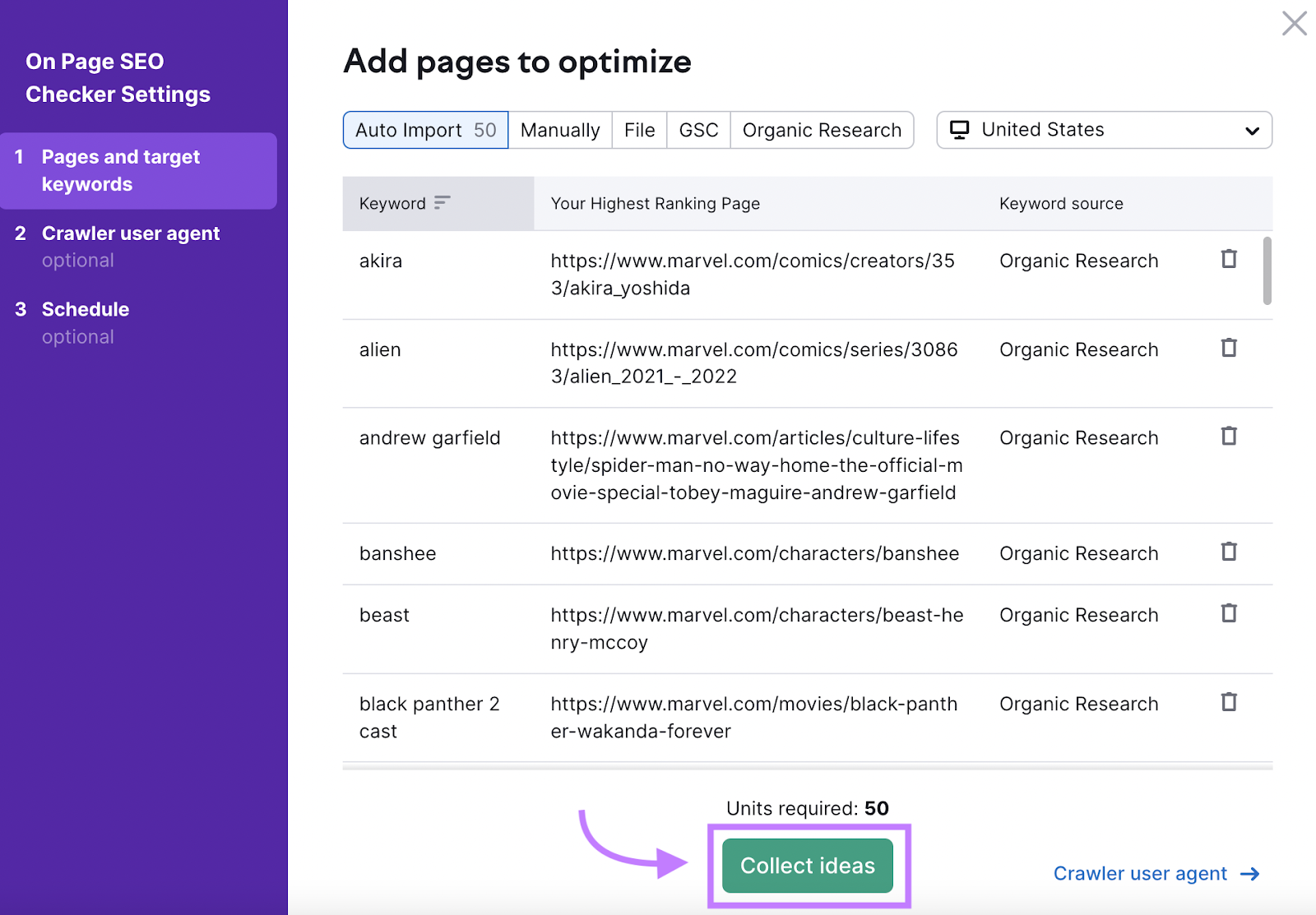 When you get to the "Overview" tab, you'll see high-level insights about ways to optimize your webpages.
Click the "Optimization Ideas" tab to see a list of pages you can optimize. Plus specific recommendations for each page.
Use the audit results to evaluate your content. And group it into three categories:
Keep: Content that performs well and remains relevant
Update: Content that underperforms but can be improved by updating statistics or information. Or content that performs well but is outdated.
Delete: Content that you don't need anymore or that it isn't worth updating. Like stories tied to old campaigns or content about a particular event.
Next, start your SEO audit by entering your domain into the Site Audit tool and following the configuration instructions. 
Click "Start Site Audit."

The tool will analyze your site for more than 140 technical and on-page issues related to crawlability, indexability, speed, and more. And suggest fixes.
You can get a general understanding of performance on the "Overview" tab.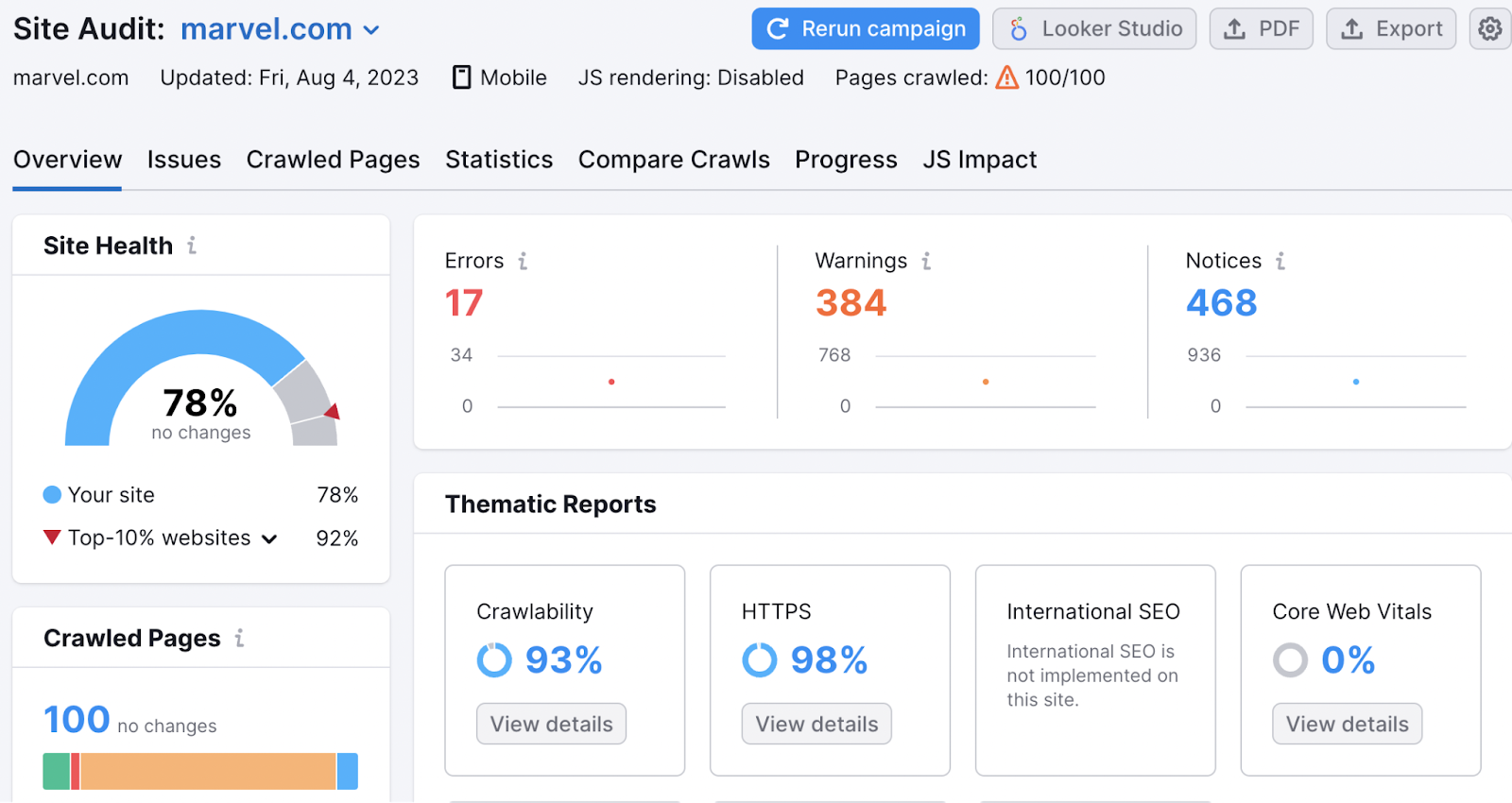 Click into the different modules to discover more specific issues. Then, find out how to address them.
It's a good idea to start with "Errors" (the most severe issues), and then move on to "Warnings" and "Notices."
2. Analyze Your Competitors' Performance
Analyzing your competitors' sites helps you see what they're doing right, spot gaps in their strategy, and find ways to stand out.
Established companies with sophisticated SEO strategies have the brand recognition and resources to rank higher in search results and grab customers' attention. But up-and-coming brands are often willing to adopt new technologies and take risks to attract attention.
To find your main competitors for organic search, enter your domain into our Organic Research tool. And click "Search."

Then, click on the "Competitors" tab.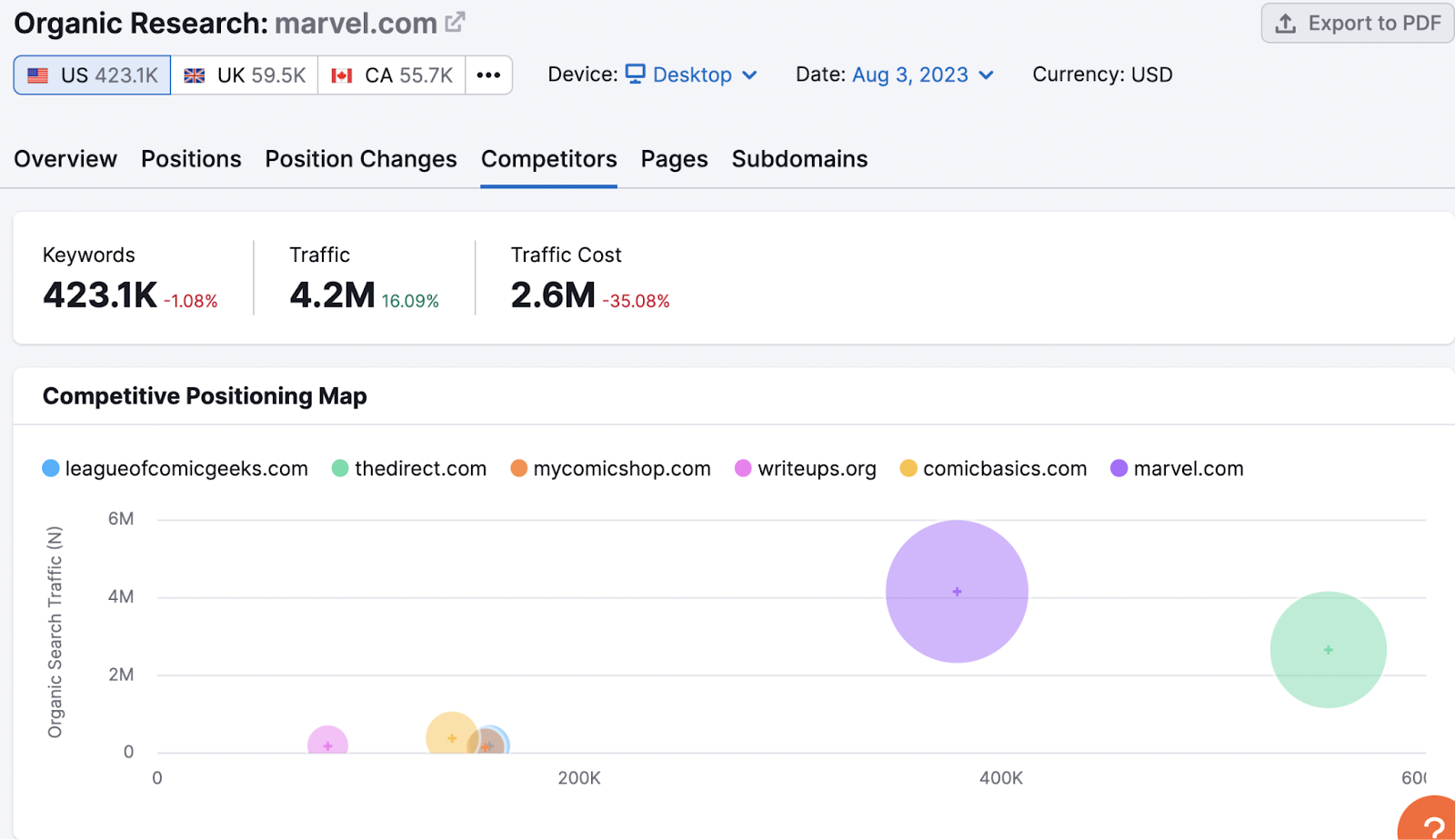 You'll get an overview of your main competitors. And be able to see how many keywords you have in common with them, how many keywords are driving users to those domains, and more.
You can then take the top four competitors and enter their domains alongside your own in Keyword Gap.
Then, click "Compare."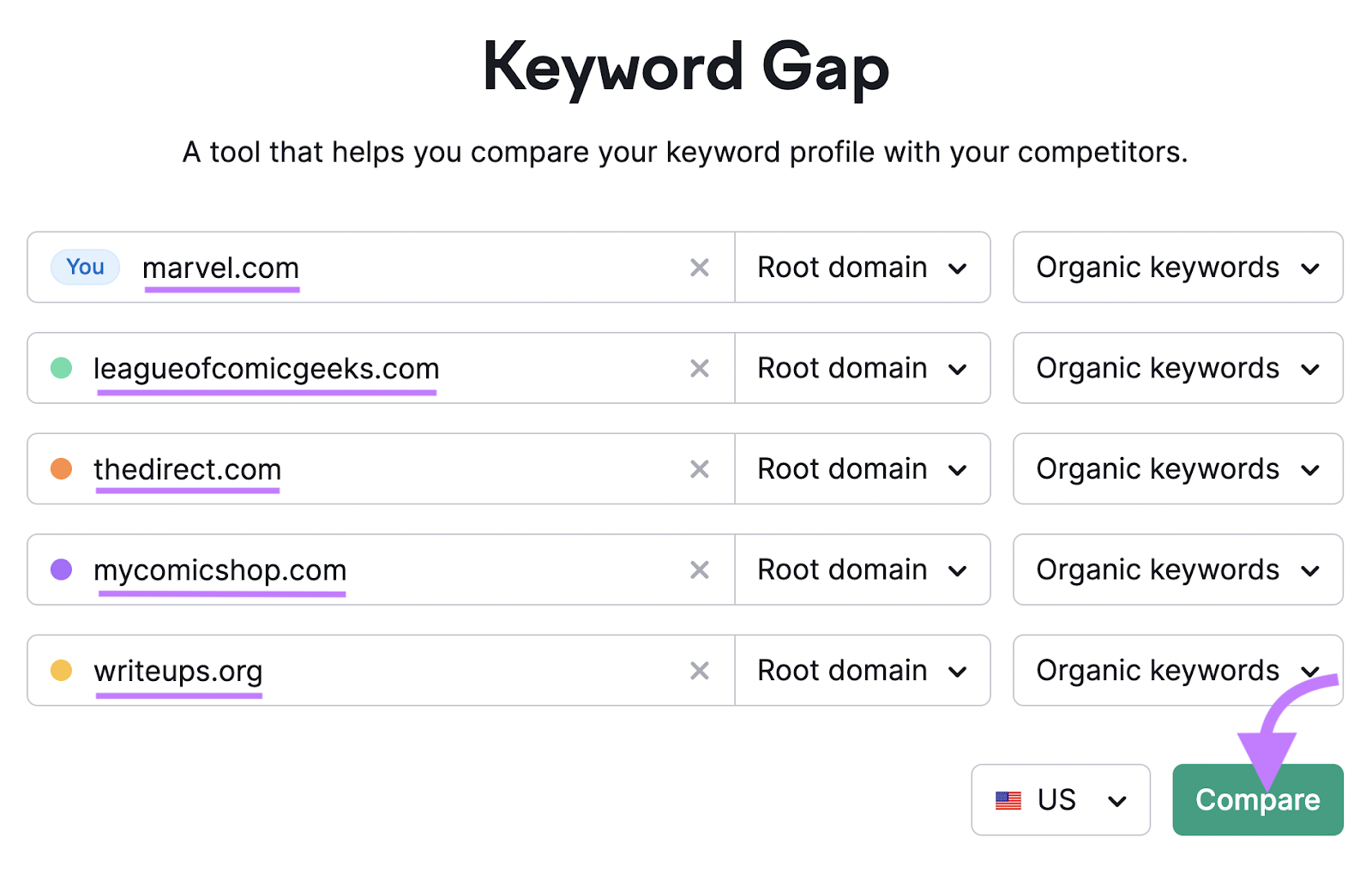 The "Top Opportunities" chart shows keywords your competitors rank for but you don't when set to "Missing." 
There may be some keywords you're missing out on, but many enterprises won't have many issues with this. It's likely a better idea to select the "Weak" tab. To find keywords that you rank for but your competitors rank higher. 
Each of these is an opportunity to outperform the competition. And start capturing more SERP features.
3. Set SMART Goals
Use your audits and your competitive analysis to set SMART goals for your enterprise SEO strategy. SMART goals are:
Specific: A goal should have enough detail that everyone understands what it is without having to ask follow-up questions
Measurable: Ensure the goal can be tied to a concrete metric. Most metrics are easy to track using enterprise SEO software.
Actionable: Your goal should encourage the team to change their behaviors and improve performance
Relevant: Your goal must be specific to the problem the you're facing
Time-bound: Results should be demonstrable within a specified timeframe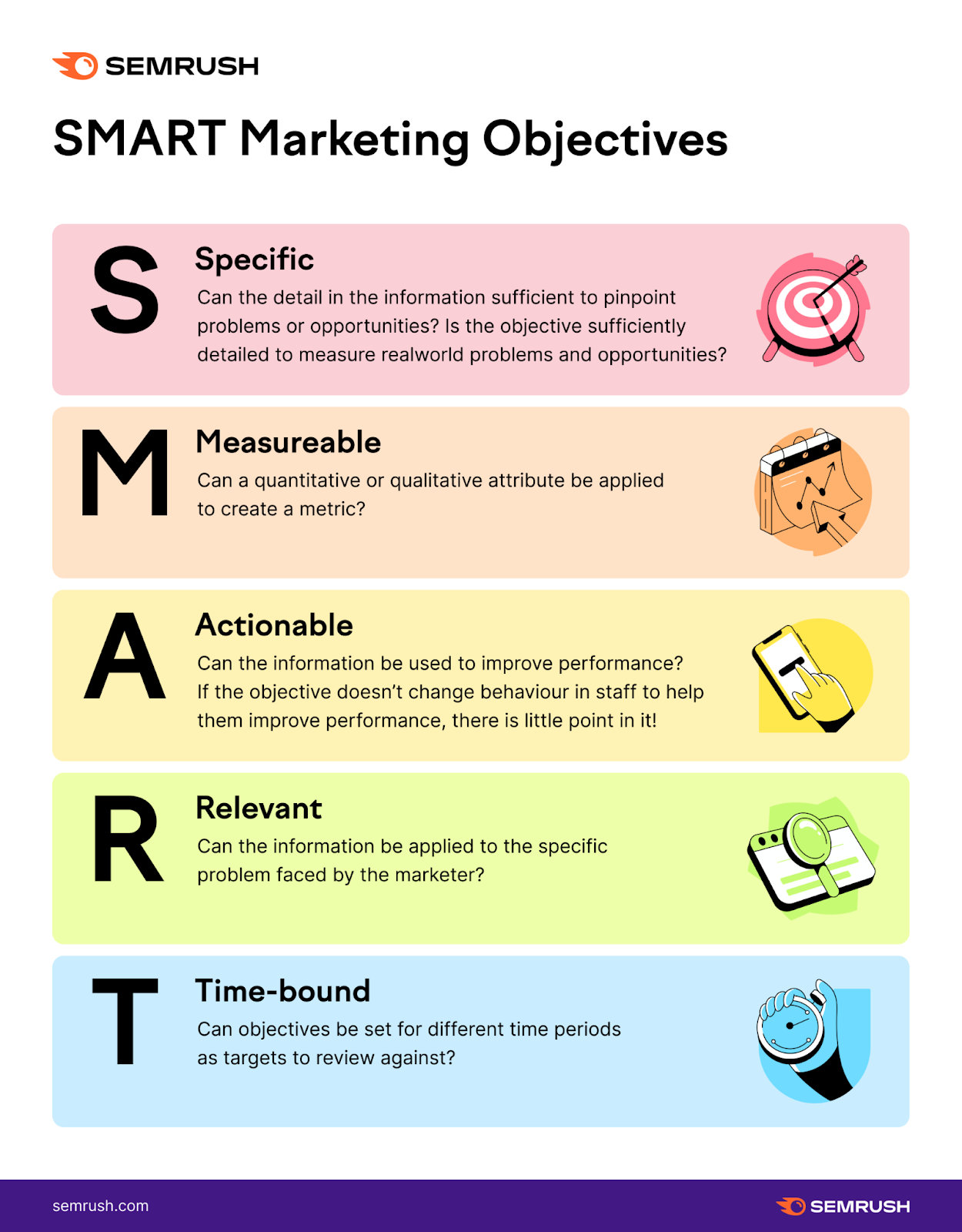 Based on this framework, an enterprise SEO SMART goal might be to drive a 5% revenue improvement by increasing organic traffic to category landing page XYZ by 20% by July 31.
By making goals SMART, you're more likely to get buy-in from results-driven directors and stakeholders. 
It's also easier to align everyone on what you're working toward.
3 Examples of Enterprise SEO Actions to Implement
Working at the enterprise level means you can reach a large audience and have the potential to achieve sales goals quickly.
But it can be tricky to stay on top of SERPs. And you also risk incorrect or irrelevant information appearing at the top of search results if others target your branded keywords.
To capitalize on opportunities and overcome challenges, prioritize these elements:
Clean Site Architecture
The hierarchy of your website pages and how they connect is important for a few reasons:
It helps search engine crawlers find and index your pages
It helps visitors find the content they're looking for
It spreads authority to pages via internal links
Clean site architecture is especially important when your website has thousands (or millions) of pages.
Google uses internal links to discover, index, and rank pages. And users use these same links to navigate your website.
It's difficult for Google and users to make sense of a website that looks like this: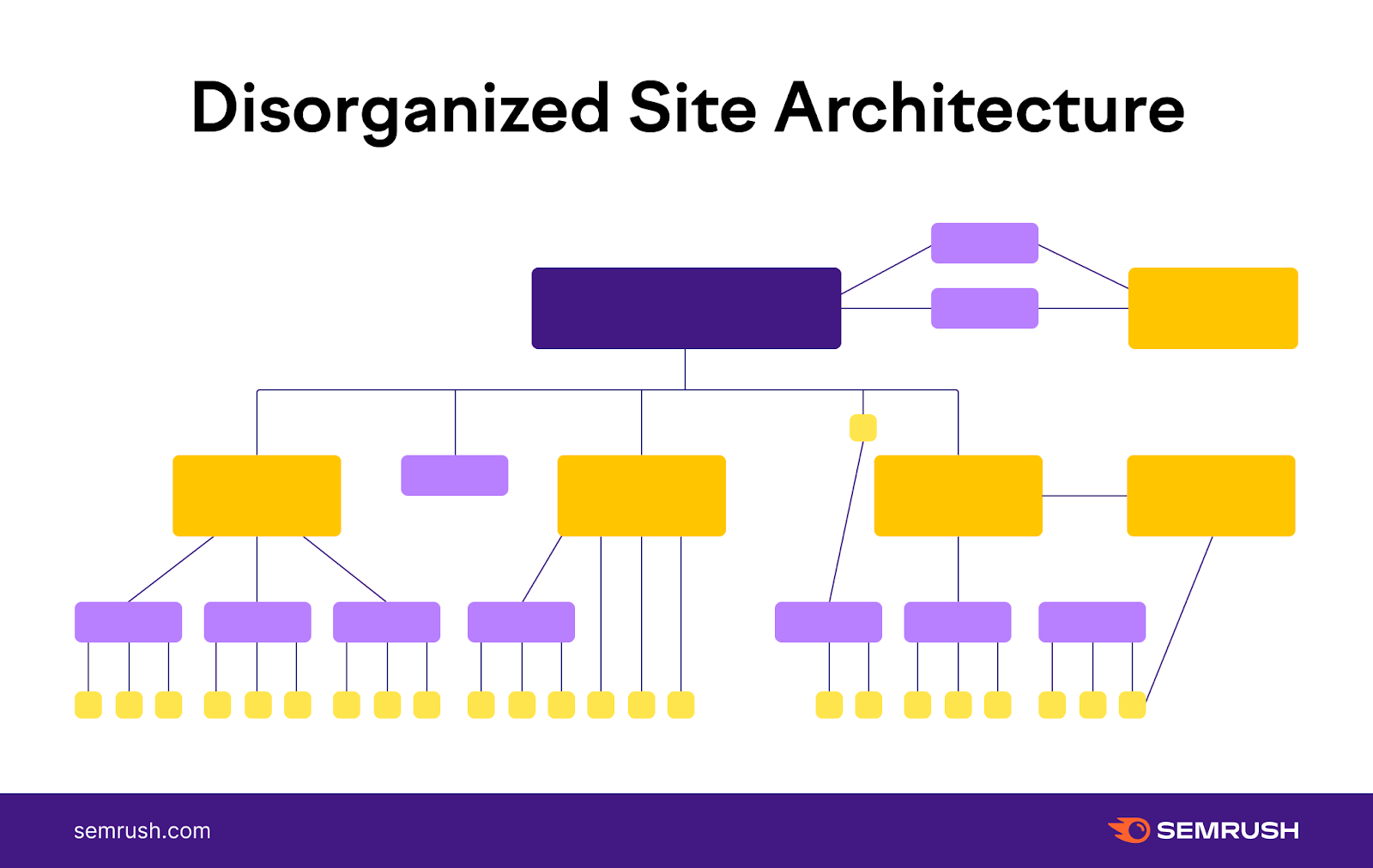 You risk your pages not being indexed and visitors leaving your site frustrated at not being able to find what they came for.
So, use website architecture that:
Groups related topics together
Organizes groups into a logical hierarchy
Highlights your most important pages
Here's an example of how what that website looks like: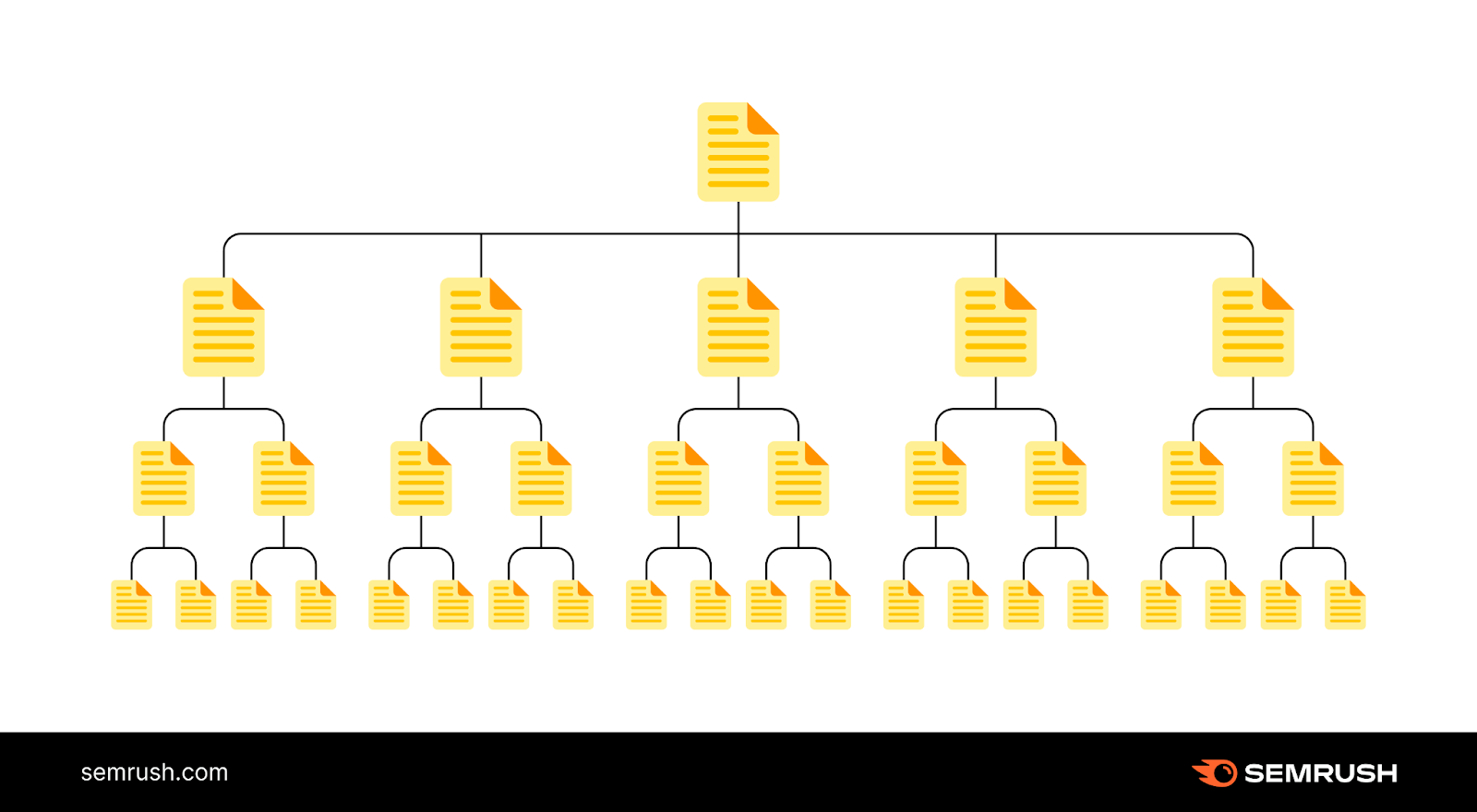 It's more appealing to search engines and visitors.
Need a more concrete example?
Take Macy's. Its website groups products into well-known categories and links pages internally. "Men's Clothing" links to "All Men's Clothing," which links to "Jeans" and "Sweaters," etc.
The result is a website that's easy to crawl and offers a better user experience.
Learn more about structuring your website in our guide to building website architecture for SEO.
Optimized Content
For content to help you achieve your goals, it has to be optimized for SEO and the user experience.
Even the most insightful article in the world will struggle to make an impact if Google can't find it. Or if users aren't interested.
Here's an optimization checklist to follow for each piece of content you publish to ensure your SEO efforts are effective:
Find the right topic and the right keyword: Focus on topics and keywords that align with your website's size and authority. And consider the user's search intent.
Include semantically related keywords: Include keywords related to your target keyword to boost your ranking potential and to reach even more audiences
Establish your structure: Use seed keywords to find relevant terms related to the topic. While it's always a good idea to aim for topics that have a high monthly search volume and a low keyword difficulty, enterprises can typically compete for highly competitive terms
Manage keyword density: Avoid keyword stuffing
Add visuals: Include images and videos to increase engagement and keep people on your site longer
Interlink: Leverage internal linking to make it easier for search engine bots to crawl your content. And help people navigate your content.
Cover the topic in depth: Research your competitors' content, then offer more value through the use of expert insights, graphics, or original data. And answer all questions a user might have on the topic.
Don't ignore the technical elements: Poor technical performance can impact your SEO rankings. Pay particular attention to meta tags and Core Web Vitals.
Update your content regularly: Make sure content is accurate and up to date. And audit your content regularly to keep it competitive.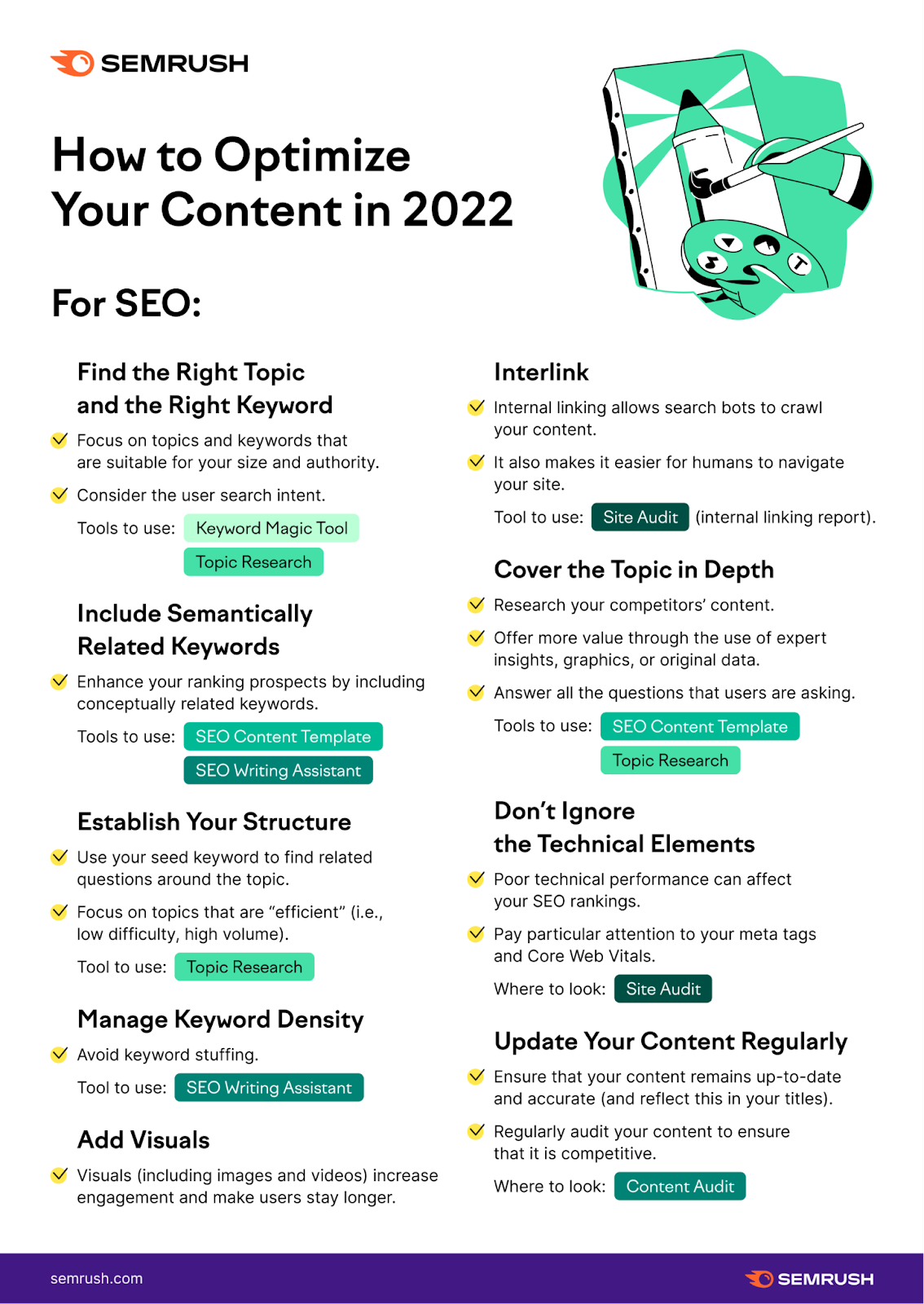 Dive into these tasks in detail and learn how Semrush tools can help in our complete guide to content optimization.
External Linking
The more links your website has from relevant sites that have high domain authority, the more credible, valuable, and useful it appears to Google.
Having enough links isn't an issue for enterprise websites. But having low-quality backlinks (links on other domains that direct to your domain) can be.
Google usually does a great job of determining which links aren't trustworthy. But they say that removing or disavowing links may be necessary if you've been issued a manual action penalty (you'll receive an alert about this in Google Search Console).
That's why it's important to monitor your backlink profile.
And you can find low-quality backlinks using Backlink Audit.
Open the tool, follow the configuration instructions, and click "Start Backlink Audit."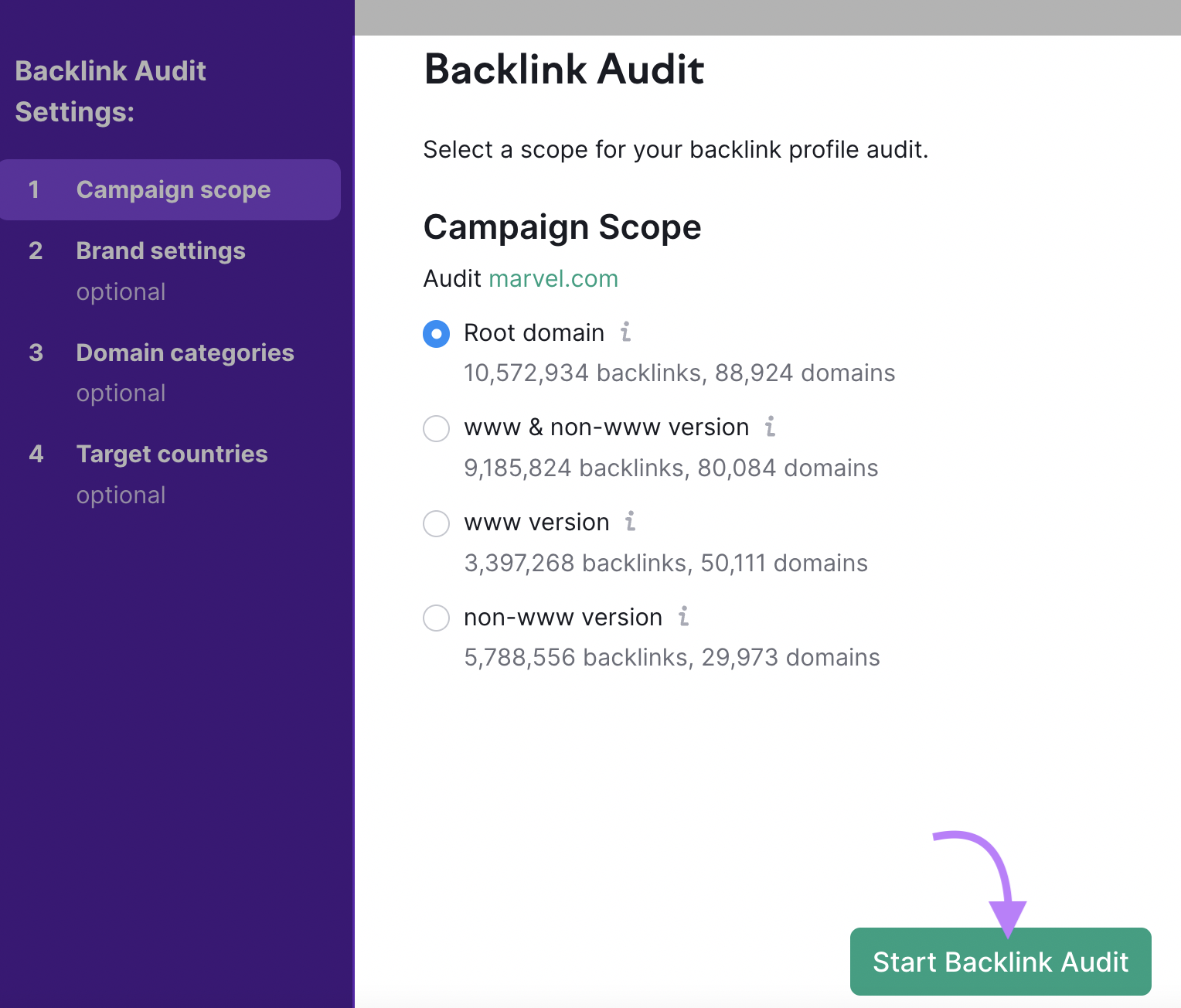 The "Overview" tab will show you a high-level look at the quantity and quality of your backlinks.
To evaluate these links one by one, click the "Audit" tab.

You can check the box next to any of the links in the list after you review them. And click the "Move to Remove list" button to start compiling a list of domains you can reach out to directly within the tool.

Or choose the "Move to Disavow list" button. To compile a list you can upload to Google's disavow tool.
Further reading: How to Do a Backlink Audit (5 Simple Steps)
Beat the Competition With Enterprise SEO
Enterprise SEO presents many challenges, but also many opportunities.
With everyone on the same page, a clear strategy, and the right enterprise SEO tools to drive your marketing efforts, you'll be able to navigate hurdles and dominate your industry.