For any marketer driven to prove themselves, making the Forbes 30 Under 30 list is the ultimate flex. In the Marketing and Advertising category, the accolade is a triumph, a badge of honor, and a testament to talent and grit in one of the most competitive industries out there.
Newcomers to the advertising and marketing scene (or those who are just dipping their toes into a career in digital marketing), can look to Forbes 30 Under 30 alumni for inspiration and guidance as they forge their path to success.
With the 2023 Forbes 30 Under 30 nomination period closing on September 1, 2022, we wanted to look at the common traits, skills, and qualities of winners on the marketing and advertising list. Our research reveals enlightening facts, patterns, and ideas that can empower hopeful candidates on the horizon. 
While many roundups focus on the individual stories of some of the most high-profile winners, our research is predicated on something more practical and actionable—the composition of the winners' LinkedIn profiles from the North American edition.
By examining the data, we found common ground, surprising outliers, and other revealing insights that paint the picture of a marketing innovator. For those eyeing the 2023 Forbes 30 Under 30 in the marketing and advertising category, we hope these anecdotes will motivate you to seek your own glory.
Research Methodology: What We Did
The Semrush team analyzed the LinkedIn member data of 177 marketing and advertising professionals who earned the award between 2018 and 2022. We then developed criteria for evaluating specific skills, experiences, and attributes of the Forbes 30 Under 30 alumni, including:
Multilingualism and top languages spoken
Educational backgrounds
Past professional experiences
Volunteer and pro-bono activities
Favorite influencers
Skills endorsed on LinkedIn
Before we get into our findings, let's cover our bases first and examine the qualifying guidelines and selection process that earns a hungry young marketer their shot at this prestigious title.
How to Qualify for the 2023 Forbes 30 Under 30 Award
According to Forbes, the carefully curated list is dedicated to building a community of "bold, innovative young leaders who are changing the course and face of business and society." We looked at the requirements for the 2023 Forbes 30 Under 30 application to get a clearer picture of what they might look like on a winner's LinkedIn page. 
As the name implies, applicants must be aged 29 or younger on December 31 of the current year to qualify. In fact, that's the only rule.
The application itself is completed through Typeform and claims to take seven minutes (though we did ours in five). It's very simple and clear-cut: aside from basic contact information, there's a section to include the nominee's LinkedIn page and another to describe why they deserve the award. You can nominate yourself, a colleague, or even someone you don't know but whose creativity or success inspires you.
Forbes' beat reporters, editors, and other experts review the applicants based on myriad factors like social impact, ingenuity, and overall potential. Four final judges select the winners from a shortlist assigned to their category.
Now let's take a look at what we found based on the last five years of Forbes' winning list.
LinkedIn Traits of the Forbes 30 Under 30 Alumni
As open-ended as the application is, we wanted to dive into each winner's LinkedIn profile for insights to empower the next generation of digital marketers poised to change the industry. 
The first criterion we considered was language. We delved into the multilingualism factor and most popular languages to determine any underlying trends.
Top 10 Languages Spoken
While more than 350 languages are spoken in the U.S., English, Spanish, and French took the clear lead as the top most popular languages. Trailing closely behind were Chinese and Italian, with more than 30 other languages listed.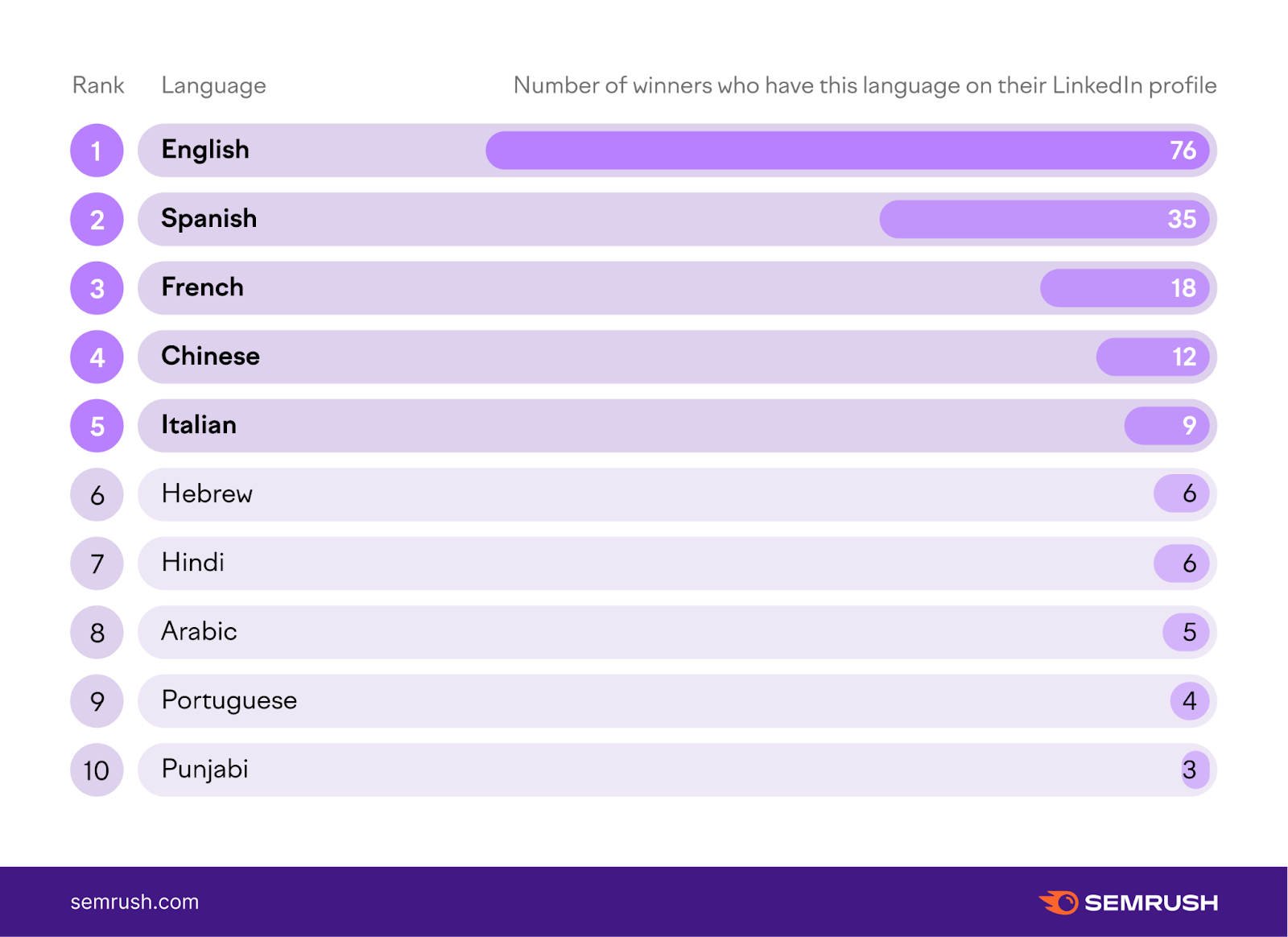 The benefits of speaking multiple languages are well-known. From multitasking to improved memory, heightened communication skills and cultural awareness—and even higher earnings.
Multilingualism and Success
We found that nearly one-quarter of winners listed two languages spoken, while 19% of them speak three or more languages. 
Surprisingly, nearly half (45%) don't list any languages on their profile at all.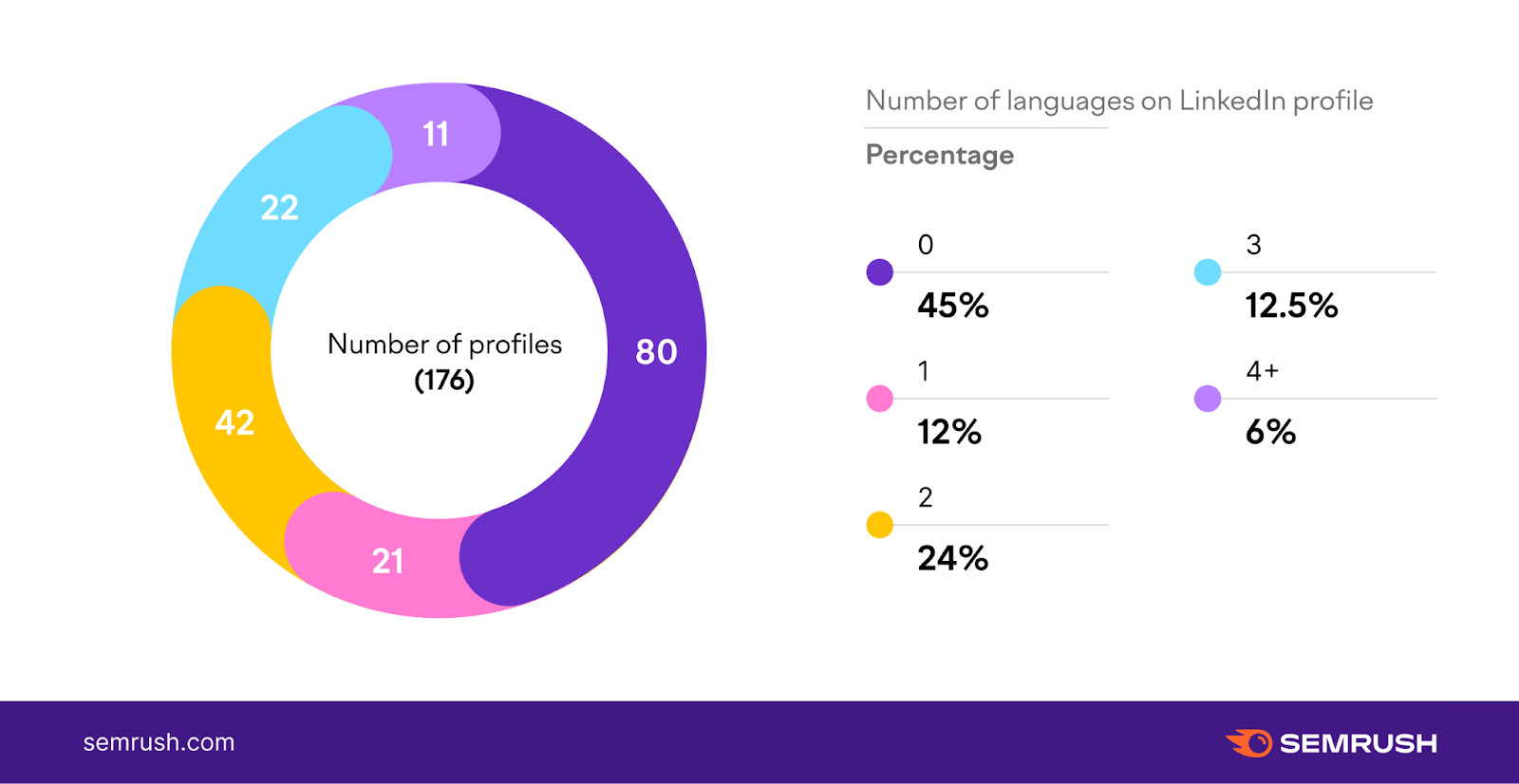 For digital marketers in a global economy, multilingualism is an attractive quality for prospective employers, and it shines an opportunity for bilingual and multilingual speakers.
In particular, international companies have a need for content marketing and international SEO to drive online visibility and positive user experiences.
Another language showcased by two Forbes alumni is American Sign Language (ASL). Growing emphasis on accessibility, as well as diversity, equality, and inclusion (DEI) are shaping marketing messages around the world—in addition to becoming a priority for companies and places of work.
Where Did They Study? The Top 10 Universities Revealed
While you don't need to be a university graduate to apply for the Forbes 30 Under 30 award (or an accomplished digital marketer, for that matter), we identified a few schools paving the way for those in the field.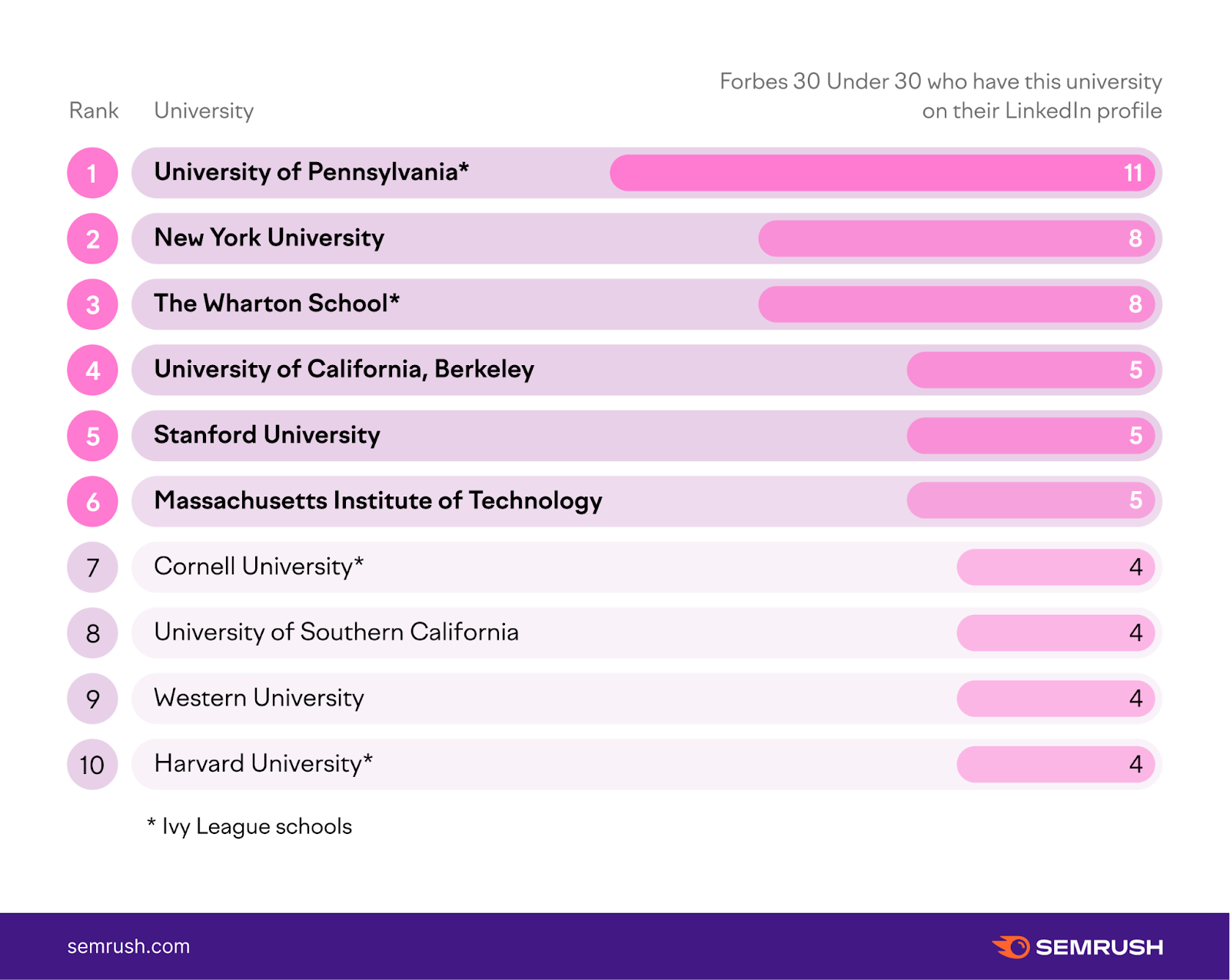 The University of Pennsylvania tops the list, with New York University, Stanford University, and MIT relatively close behind. 
Considering the ambition and industriousness of a Forbes winner, it's not unexpected to see a strong correlation with them graduating from some of the most notoriously selective schools in North America.
What is surprising, however, is the geography they hold in common. The winners listed campuses located predominantly on the coasts: Massachusetts and New York in the east and California in the west.
Job Roles and Past Work Experiences
We next looked at the winners' job titles and companies to see what they most frequently held in common.
One thing's for sure, job titles within the marketing and advertising world have become increasingly creative and specific. For example, TikTok content specialist and crypto influencer weren't even on the map a few years ago.
Most Widely Used Job Titles
Despite the surge of new titles, we found that the majority of the Forbes winners stayed close to traditional job roles, looking at the most recent five work experiences listed on their LinkedIn page.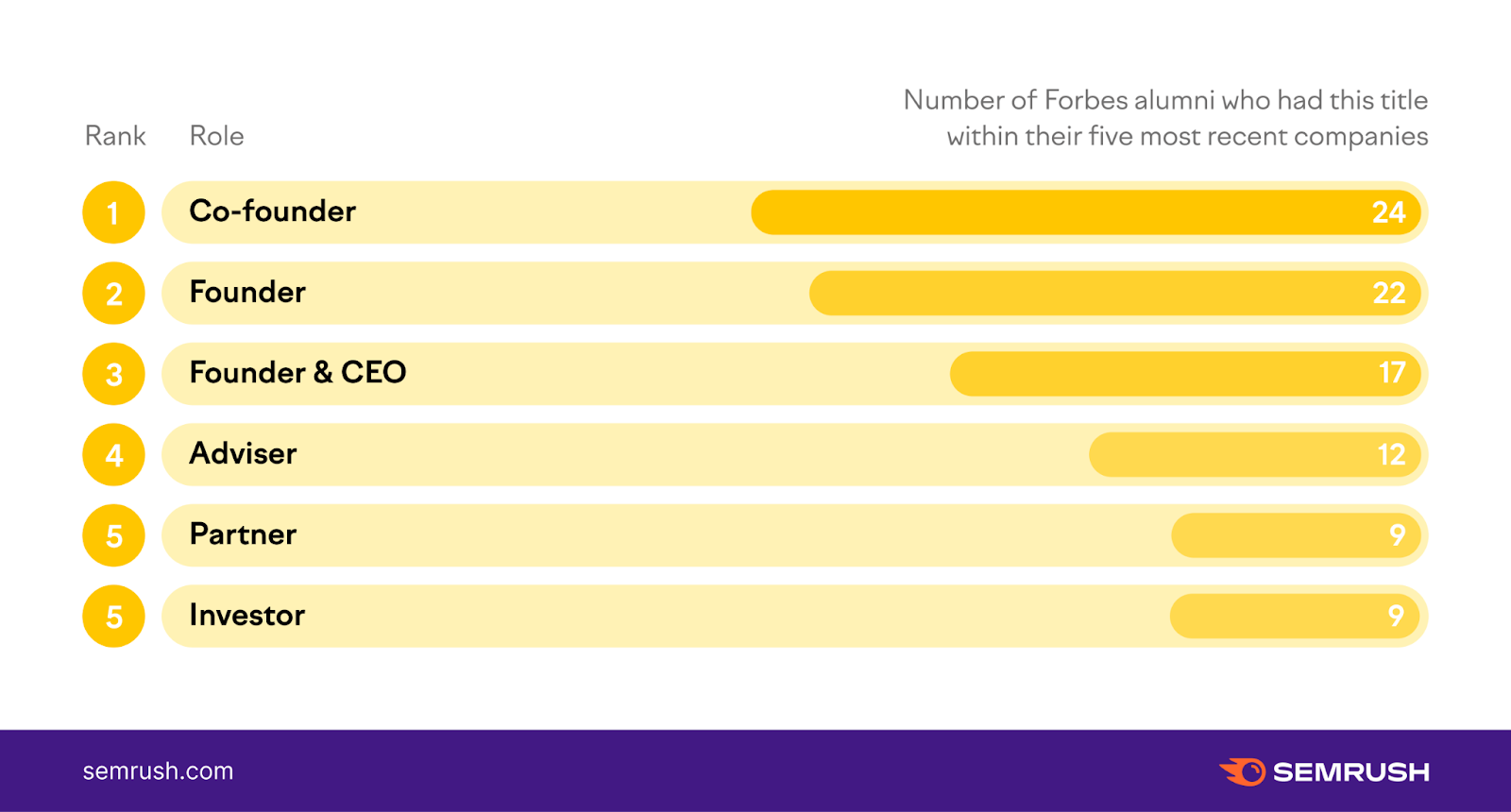 A plausible explanation for this (aside from being marketing innovators) is that the award garnered more opportunities for leadership, advisory, and investor-type positions.
Which Companies Do the Forbes 30 Under 30 Winners Work for?
Next, we looked for parallels in the companies they listed on their LinkedIn profiles.
You may think that the most successful advertising and marketing professionals cut their teeth by starting their own agency or hailing from a long-established firm, though our research painted quite a different picture.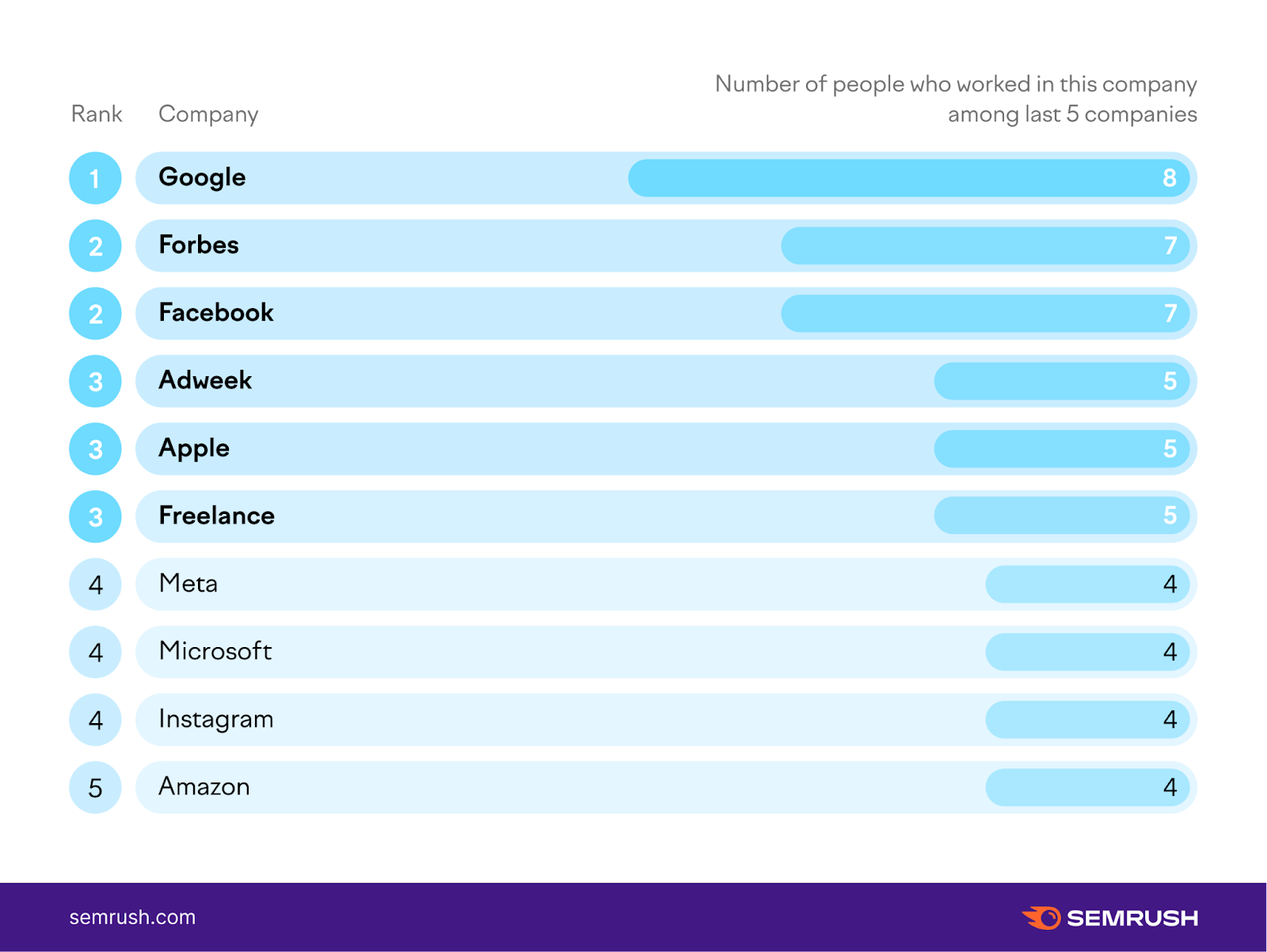 Forbes alumni list some of the biggest media and technology companies in their past work experience, most of which are in tight competition with one another.
This finding suggests again that winners may expect opportunities to work for some of the world's leading brands and companies around the world, and those companies are likely to seek them out.
Volunteering and Social Impact
It's not just about work, though. Forbes looks to candidates who have the potential to change their communities and the world around them. That's why we included volunteer work as part of our research study.
More than three-quarters of Forbes alumni participated in an act of volunteerism, ranging from national nonprofits to local charity organizations. We found that only six volunteer organizations were shared in common by the 177 winners.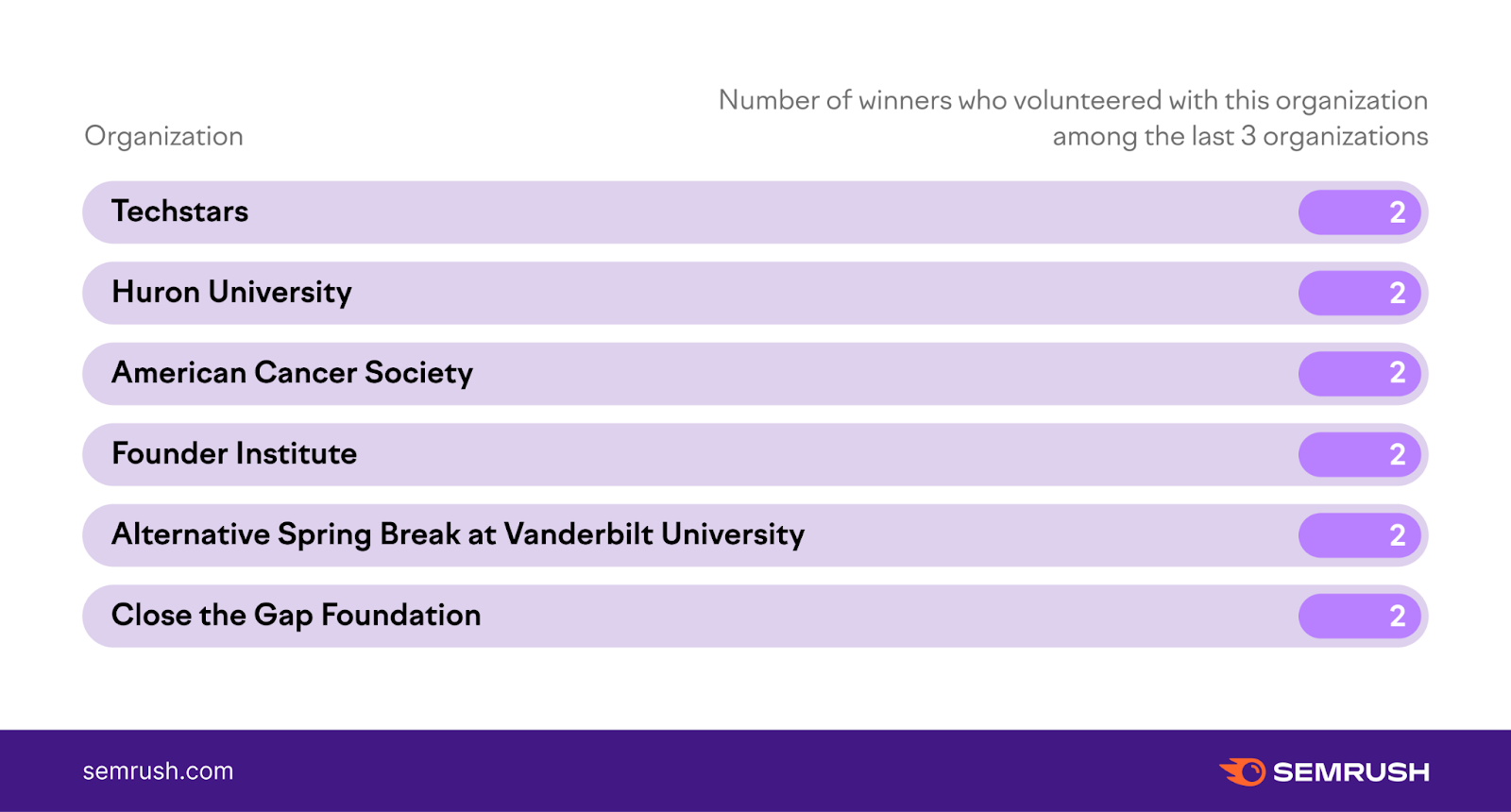 From health-related nonprofits to community projects, art and culture fundraisers, film festivals, and more, the list paints a picture of active volunteer service and dedication to unique causes. 
With the growing importance of corporate social responsibility, these experiences may encourage positive career opportunities and provide a unique and inspiring narrative for a nominee to highlight in their application. 
Top LinkedIn Interests: Influencers
Consequently, inspiration is a theme that permeates the entire Forbes 30 Under 30 list. Since so many look to the winners for inspiration, we decided to look into who inspires them.
The top influencer that Forbes' winners follow is none other than entrepreneur and Shark Tank investor Mark Cuban, who consequently makes another Forbes list on his own—the 2022 Billionaires list. 
Gary Vaynerchuk, a rags-to-riches immigrant (and founder of global agency VaynerMedia) follows immediately behind. Notably in third place, we see marketing professor Scott Galloway.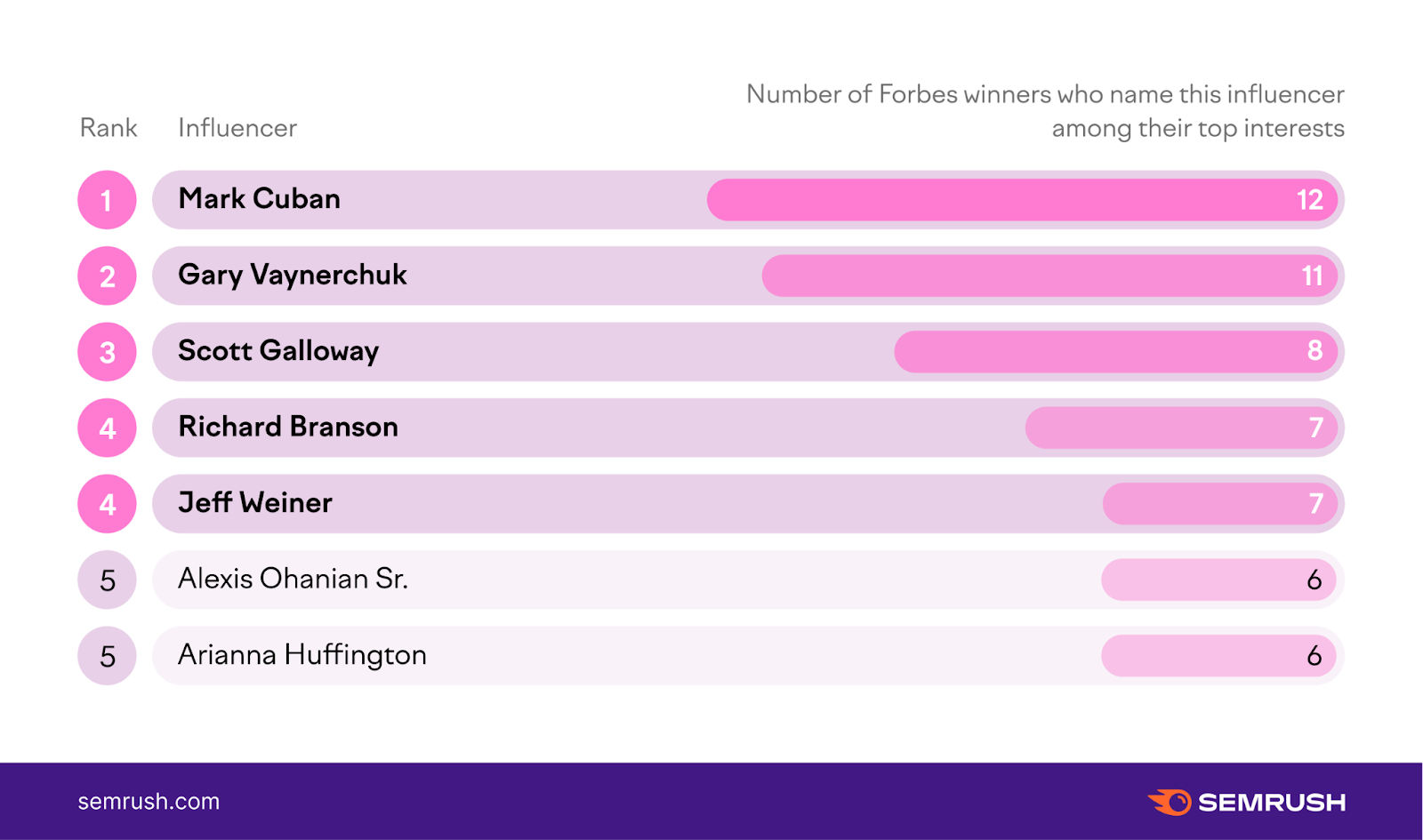 It's an interesting mix of entrepreneurial figures, academic influences, and a trail of self-made tech innovators and successful businesspeople. If Forbes alumni are gathering motivational nuggets from these individuals (despite many of them not being in the marketing and advertising space), it's worth leaning into the messages and ideas they share.
Skills: Top 3 LinkedIn Endorsements
Tapping more into the concepts of motivation and success, our study takes us next into the power of LinkedIn endorsements.
One of the keys to an optimized LinkedIn page is including all your top skills and areas of knowledge, and acquiring endorsements from your connections to support those claims.
Just like the TikTok specialist and the cryptocurrency influencer, digital marketing is becoming an exponentially diverse range of roles and specialties to carve your niche and build a personal brand around.
We looked at the top three digital marketing skills endorsed by the Forbes alumni and found the most popular endorsements.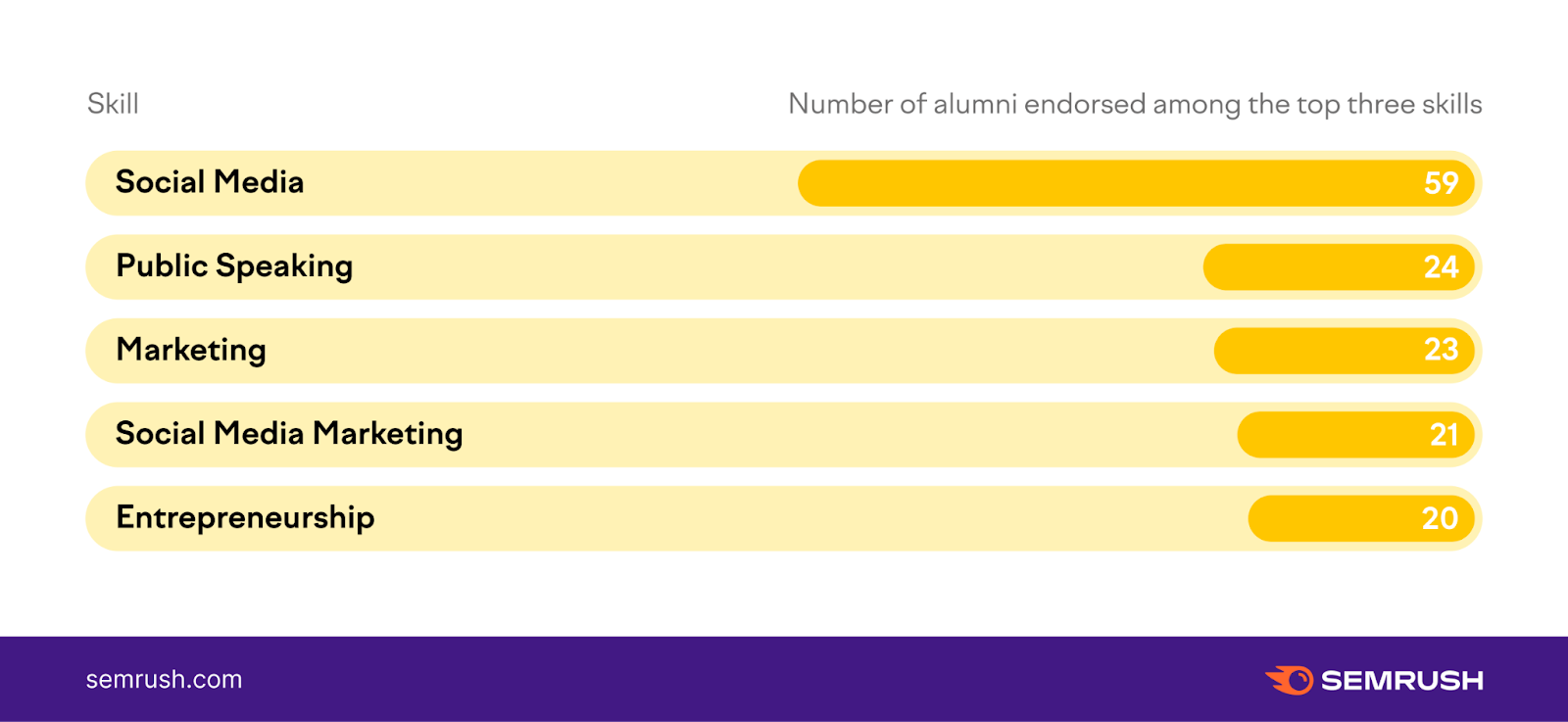 Social media and marketing, in general, remain top endorsements, though entrepreneurship and public speaking are also within the top three. This suggests that Forbes alumni are focused on building their thought leadership and personal brands, extending beyond the scope of marketing and advertising alone.
We also examined the overall number of skills endorsed, on average, on each winner's LinkedIn profile.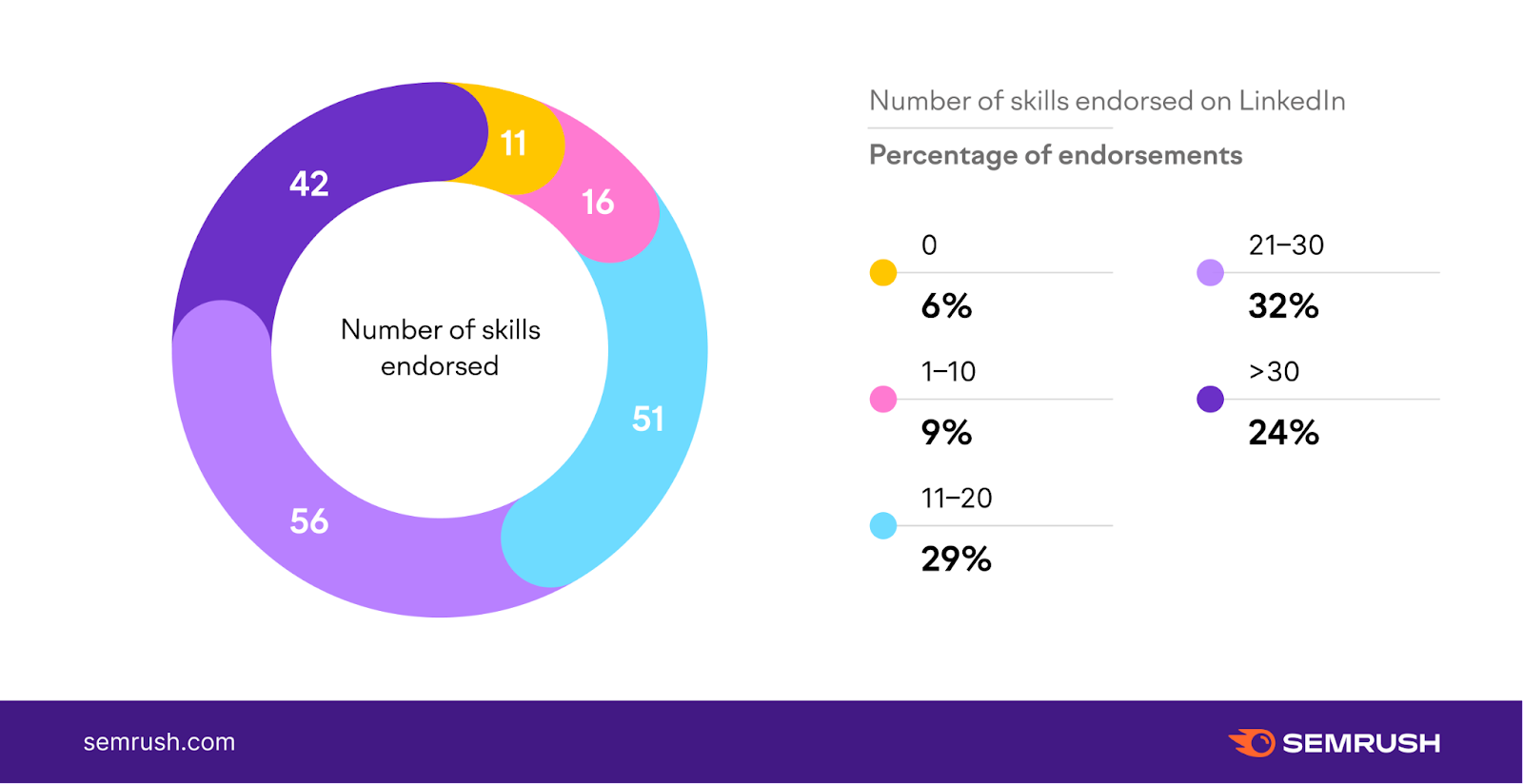 What we saw is that endorsements remain a popular feature, with nearly a quarter of Forbes alumni boasting 30 or more endorsements. 
The Portrait of a Forbes 30 Under 30 Winner
No two paths to success are identical, but our investigation provides some compelling takeaways for rising marketing stars.
More Languages + More Skills = More Opportunities
As we note from the multilingualism amongst the Forbes 30 Under 30 winners, it seems to have real advantages for digital marketers.
Speaking multiple languages is an ability many companies and organizations look for when recruiting. It fosters better communication, particularly in virtual and global companies. It gives bilingual or multilingual marketers more opportunity to spread their wings, prove their value and versatility, and thrive in multicultural settings. 
If you've taken classes or have basic knowledge of a second (or third) language, consider studying digital marketing in other languages to enrich your professional vocabulary. This can enhance your cultural versatility—plus give you a better grasp of marketing and advertising trends across international markets. 
Diversity of Experience Matters
While we focused on the biggest companies that Forbes winners were most recently employed by, all of the winners detailed their work experiences on LinkedIn. Furthermore, the vast majority included their volunteering activities as well. 
This may suggest that the Forbes review process truly does take into account all the experiences, potential, and social responsibility that an individual embodies.
Skills and Endorsements Have Gravitas
According to LinkedIn, endorsements are a way to showcase your skills, recognize those of others, and strengthen the connections within your network. Your endorsements (both received and given) are on display for your peers, managers, and even prospective employers. And we see that the Forbes 30 Under 30 alumni fully grasp this advantage. 
The first step to acquiring a healthy number of endorsements is to demonstrate proficiency within those skills. Build out your marketing skillset by earning certifications that validate your expertise and position yourself as a marketing maestro. With the rules of online marketing and SEO always changing, dedication to an ever-changing industry is a sure way to demonstrate your passion and commitment to the field.
As important as it is to receive endorsements for your achievements and abilities, giving them out to past or present colleagues or managers can be valuable, too. It confirms your professional relationship and adds credibility to your work experience. 
Take the First Step with Semrush
Whether your goal is to jumpstart your career in digital marketing, be the founder of an agency that changes the world, or be adorned with the Forbes 30 Under 30 award, there are tools and resources to help you get there.
As you forge your own path to success, the data from our Forbes research suggests that versatility, multilingualism, and diversity of digital marketing skills are key traits that winners hold in common. 
While the industry of digital marketing continues to evolve, such as the emergence of new currencies and virtual experiences, we look forward to the successes of the new generation of Forbes 30 Under 30 winners.