Want to work with content, but not sure what role is best for you? Find out what it takes to become a content developer.
Content developers write and publish all sorts of content. But they also know a thing or two about HTML and websites.
If you're interested in learning more about this multifaceted role, read on. We'll discuss what a content developer does, what they do, and how to become one.
What Is a Content Developer?
Content developers research, create, publish, and distribute content for websites or publications.
While the responsibilities of the role vary by company, content developers may work on: 
Blog posts
Website copy
Social media posts
Video content
Podcasts
Ebooks
Infographics
And more
Companies often hire content developers to create and publish content that follows an established brand voice. Typically, content developers work with a company's marketing team. 
Below, we'll cover the skills you'll need to become a content developer, as well as typical duties and responsibilities.
What Do Content Developers Do?
We've covered some common things content developers might publish. But what does their day-to-day look like?
Here are some typical tasks for a content developer:
Research content topics, target demographics, and products
Write and edit blog articles and social media posts
Source or create visual content, like graphics and videos
Optimize existing website content for SEO best practices
Ensure all content follows in-house standards for style and brand voice
Identify and fix errors on a company's website platform
Content Writer vs. Content Developer
Many people refer to "content writer" and "content developer" interchangeably, but they describe two distinct roles.
Content writers create written content for brands (typically adhering to SEO best practices). They write many types of content, including blog posts, white papers, case studies, etc.
But in most cases, content writers won't be involved in the entire content creation process. They oversee just the written copy.
Content developers, on the other hand, are responsible for the entire production process. 
In addition to writing and proofreading, they research, publish, optimize, and track the content. This could include written content, graphics, video content, podcasts, and other formats.
Because of this, content developers should have a wide range of skills. Let's cover a few of the most important ones.
What Skills Do Content Developers Need?
Based on what content developers do, they should have a mix of writing and technical skills. 
They need to create content that will resonate with their target audience. But they also need to publish the content and fix formatting errors within a content management system (CMS).
Here of the main skills we recommend working on if you're interesting in becoming a content developer:
Research
Research is a large part of a content developer's job. The content they produce needs to be up to date and accurate.
And accurate, helpful content helps build a brand's credibility.
"Research" is an umbrella term that encompasses digital research, customer interviews, surveys, and more. Content developers may need to get creative depending on their assignments.
To start the research process, sign up for a free trial of Semrush and use tools like Topic Research. 
Simply choose a topic, and the tool will show you related headlines, questions, and searches.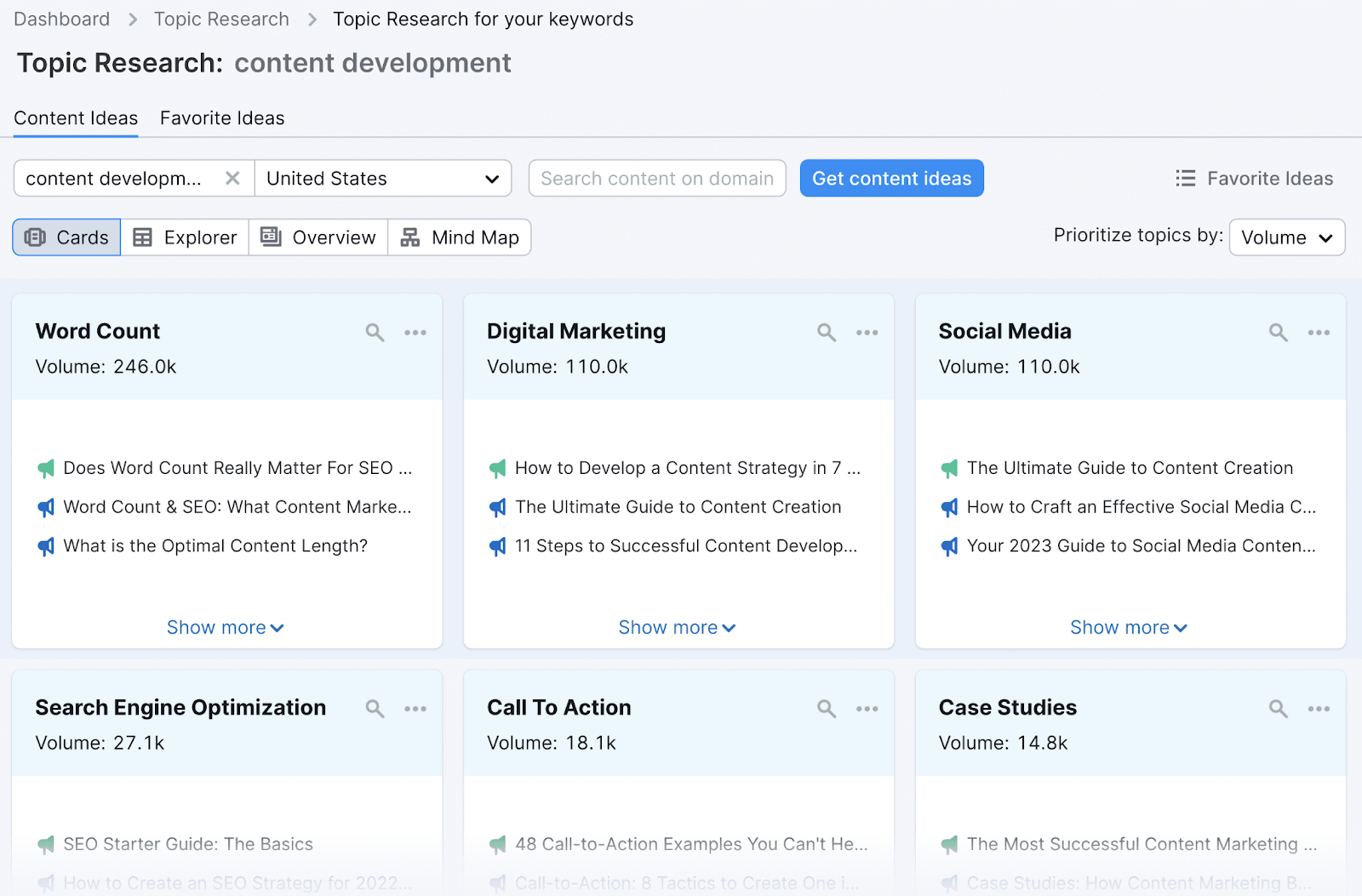 You can come up with plenty of content ideas with the help of a single tool.
Related reading: How to Find Blog Post Ideas
Writing and Editing
Writing is a large part of the role for content developers. Announcements, product changes, and sales offerings happen quickly in the world of marketing. 
A content developer needs to write compelling copy that matches a company's tone of voice. 
It's crucial that they are comfortable writing because they'll likely be producing a wide range of written content formats.
It's also important that content developers have editing skills. They'll need to proof their own copy, plus spot errors and inaccuracies on live content that could interfere with user experience.
We recommend using a tool like SEO Writing Assistant whenever you work on written content.
Type or import text from the web, and you'll get grades for your content's readability, SEO, originality, and tone of voice: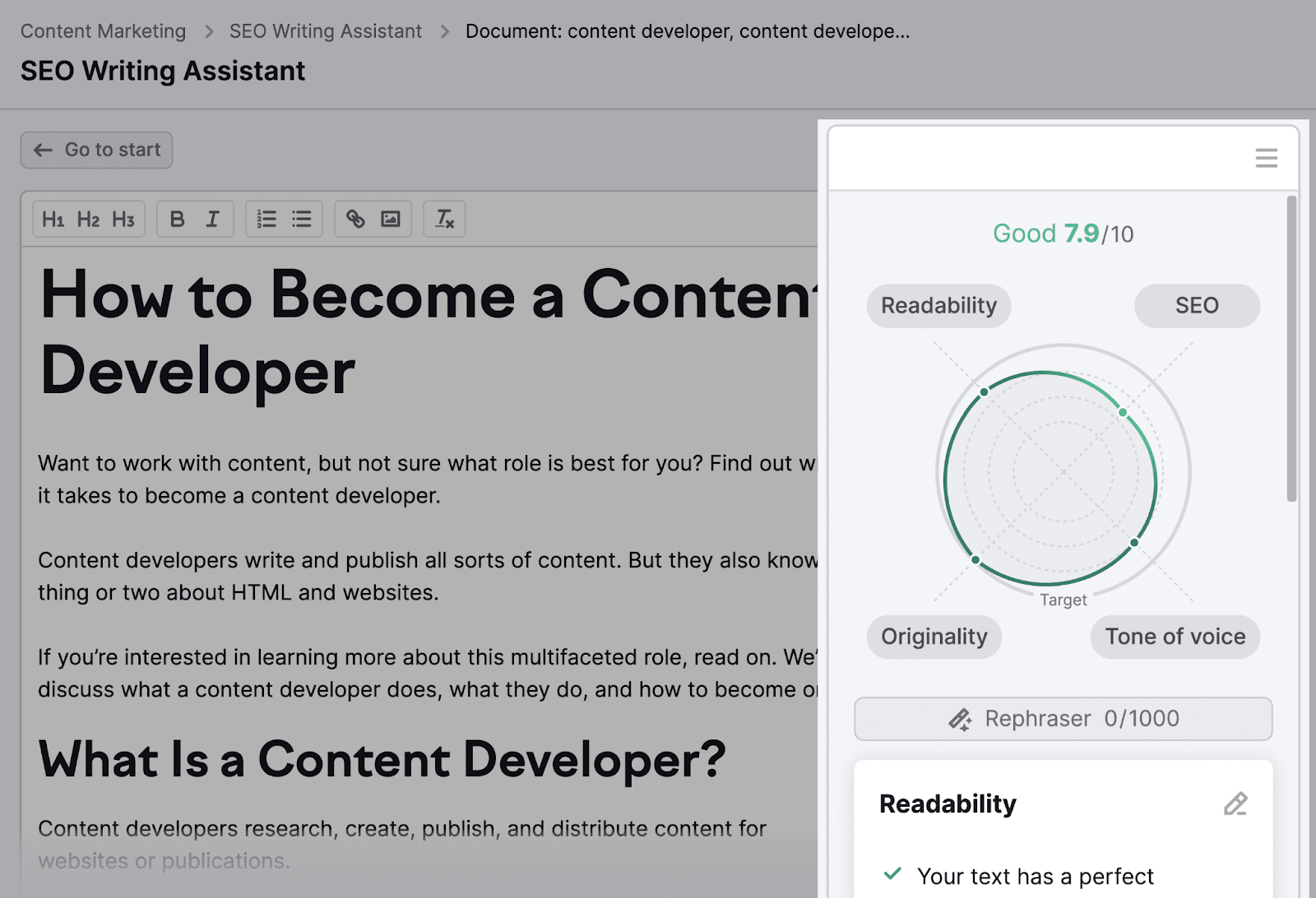 You can also connect the SEO Writing Assistant to WordPress, Google Docs, and Microsoft Word.
Further reading: SEO Copywriting: How to Create Content Than Ranks
Search Engine Optimization (SEO)
SEO is the process of improving your site's rankings on search engines like Google. Because content developers produce web content, they should be familiar with SEO basics.
Whether you're optimizing website copy, publishing a blog, or writing product descriptions, you need to follow SEO best practices if you want your site to rank.
And the higher a company website page ranks in the SERP, the more visits (and business) they're bound to get. 
Further reading: What Is SEO, SEO Writing Guide, SEO Basics
Multimedia Content Creation
Web content developers don't just create written content. So it's important that they are multifaceted in their skill set.
The best content developers are also familiar with creating graphics, video content, and audio content.
If you're still expanding your skill set, use a tool like Canva to get started. They have templates for still ads, social media graphics, infographics, and other images that you may need.
And find professional, free stock photos from sites like Unsplash, Pexels, and Pixabay.
Related reading: Image SEO, Social Media Video Marketing
CMS and HTML Proficiency
Content developers spend a lot of time in the backend of their company's website. And they'll need to post content directly to the site's CMS.
So it's important to understand common CMSs, like WordPress and Wix. This way, content developers can publish error-free content, spot technical bugs before they become a problem, and, eventually, teach team members to do the same.
Most CMSs don't require deep coding knowledge to operate. However, it can be useful to know basic HTML if you're going to publish content.
Knowing basic HTML allows you to fix all sorts of CMS bugs and issues. So it's a useful skill for any content developer.
Related reading: HTML Tags List: HTML Cheat Sheet
How To Become a Content Developer
If you want to pursue a career in content development, here are a few tips you can do to help you get started:
Study a Related Discipline
Many companies require a degree or equivalent certification for marketing roles. Marketing, writing, or graphic design degrees can help you get a leg up. But don't be discouraged if you don't have a formal degree.
There are plenty of free online resources you can use to learn more about writing, editing, publishing, visual content, etc.
Here are a few that we recommend:
Also check out Harry Dry's Marketing Examples blog to learn more about what sets great content apart.
Get Hands-On Experience
Hands-on experience through an internship or freelance position will help you: 
Determine if you want to be a full-time content developer
Grow your skill set so that you're ready for a full-time position
Use a site like Taproot or Catchafire to find opportunities and gain practical experience in your field. While also volunteering for a good cause. 
Next, use your experience to create a portfolio.
Create a Portfolio
A portfolio is a collection of documents that represent a creative professional's work. 
Like this:
Keep track of everything you work on. And keep in mind that webpage copy isn't forever—so be sure to grab screenshots and save articles of work you're proud of in case they're updated later.
Get started by creating a free portfolio with GoDaddy, Authory, or Squarespace.
Don't be discouraged if you don't have any professional samples yet. Get creative and publish your own samples. 
You don't need to have a business or even a website, either. Come up with a fake business and publish samples for it in your portfolio. Or if you really want to impress a company you're applying to, you can create a sample for their brand.
Network
Anyone can network these days thanks to LinkedIn and other social networking sites. 
Start by following people and companies you're interested in. Engage with their content and keep an eye out for open positions.
You can also use LinkedIn's job search search feature to find roles you're interested in. Then, reach out to the hiring manager if they're listed. If they aren't, navigate to the company's LinkedIn page to try and find someone in a related role or department.
Content Developer Job Description 
Every company has different requirements when searching for a content developer, but some job requirements are more universal. 
We analyzed some of the most competitive content developer job postings to create a description for your reference:
Duties and Responsibilities
Create a variety of digital content formats 
Follow SEO best practices
Perform background and audience research 
Proofread content for accuracy and errors
Publish content on the website/CMS
Follow in-house copy and formatting standards
Track content performance
Requirements and Qualifications
WordPress experience
Basic HTML knowledge
Project management skills
Adobe InDesign and Photoshop experience
Familiarity with SEO and SEO tools
Attention to detail
Average Salary for a Content Developer
The estimated total pay for a content developer is $61,453 per year in the United States area, with an average salary of $58,213 per year.
If you're just starting out, the estimated entry-level salary for this role is $55,945.
Grow Your Content Developer Skills
Whether you want to get a content developer job or you already have one, it's important to keep working on your skill set.
First and foremost, stay up to date with trends in marketing and SEO. And if you have the time, earning certifications and familiarizing yourself with new tools and software will only help.
No matter your background, you can become a strong content developer if you have the right skills.
Here are a few resources we recommend for further learning: