To achieve your business goals, it's important to lay out your roadmap. You need to create an SEO strategy.
A good SEO strategy will help you answer these questions:
Where are you now?
Where do you need to get to?
How are you going to get there?
Each question can impact how your strategy performs and need to be considered alongside your plan to achieve the goals that you've set.
A Step By Step Guide To Creating An Effective SEO Strategy in 2021
When it comes to putting together an effective SEO strategy, it can help to have a process to follow. While you'll absolutely need to personalize this guide for your own business, you can use it as a great starting point to get you thinking about the right focus areas. 
Below, you'll find a proven 11-step process to help you create a strategy that sets you up for success.
1. Benchmark Your Current SEO Performance
If you don't know how your site's performing right now, it's nearly impossible to put together a plan to take you to the next level.
For this reason, your strategy development must begin by benchmarking your current performance. As a baseline, you need to be benchmarking performance across:
Organic visibility
Keyword rankings
Branded vs. non-branded traffic split
Use the Semrush Organic Research Tool to gather these insights that you'll be using to build your strategy.
You'll find your current (and historical) organic visibility displayed as the 'Estimated Traffic Trend' on the 'Traffic' tab of the overview dashboard. You're also able to see the breakdown of branded vs. non-branded traffic on this same view.

The estimated traffic trend helps you understand how your site's visibility has changed over time and how it currently performs. 
Understanding your site's branded and non-branded traffic split is important to help you to identify opportunities, given that the majority of branded searches are made by those already familiar with your business. Increasing non-branded traffic typically aligns with the acquisition of new users who have not come across you before.
You can then see a breakdown of your site's current ranking positions on the 'Positions' tab of the tool and how the number of indexed keywords has changed over time.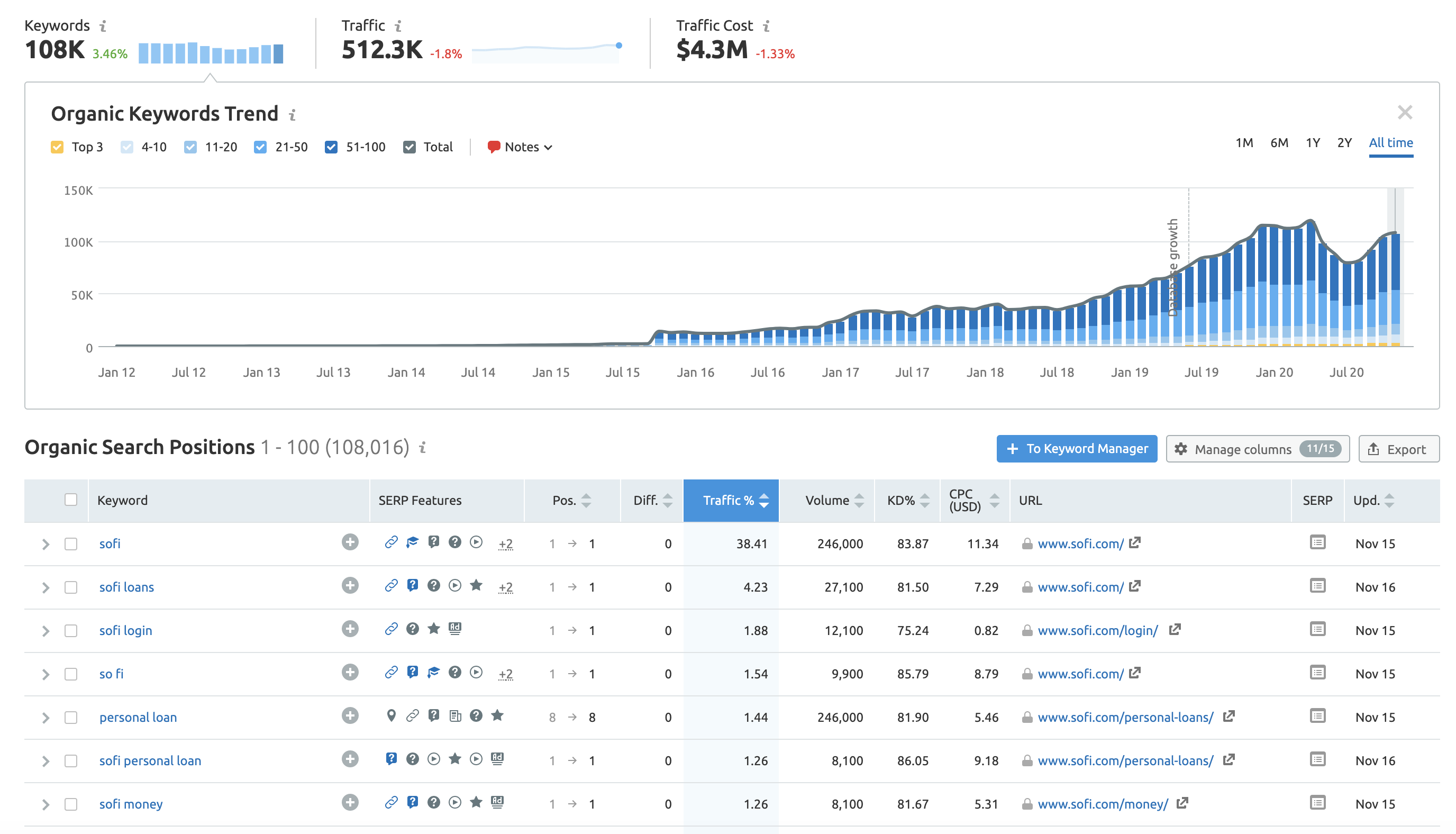 By starting to gather these insights, you're able to build up a comprehensive picture of how your site is performing right now before setting goals and putting in place a plan to take you from where you are now to where you want to be in the future.
It's important that you also supplement the insights from the Organic Research tool with business data from Google Analytics or your own platforms around conversion rates, revenue, and leads generated to gather a full picture of your current performance. 
2. Analyze Your Competitors' SEO Strategies
It's one thing benchmarking your own SEO performance, but smart marketers also take the time to analyze their competitors' performance and strategies to identify where they're winning and where they're not.
So, where do you start, and how should you be analyzing your competitors?
Compile a list of your competitors. You'll likely be able to do this from wider competitor research that your business has done. Still, it's worth also supplementing this with an analysis of your SERP competitors (these are the businesses that have a strong keyword overlap with yours).
You can find these using the 'Competitors' tab on the Organic Research Tool, where you'll see the common keywords with your own domain.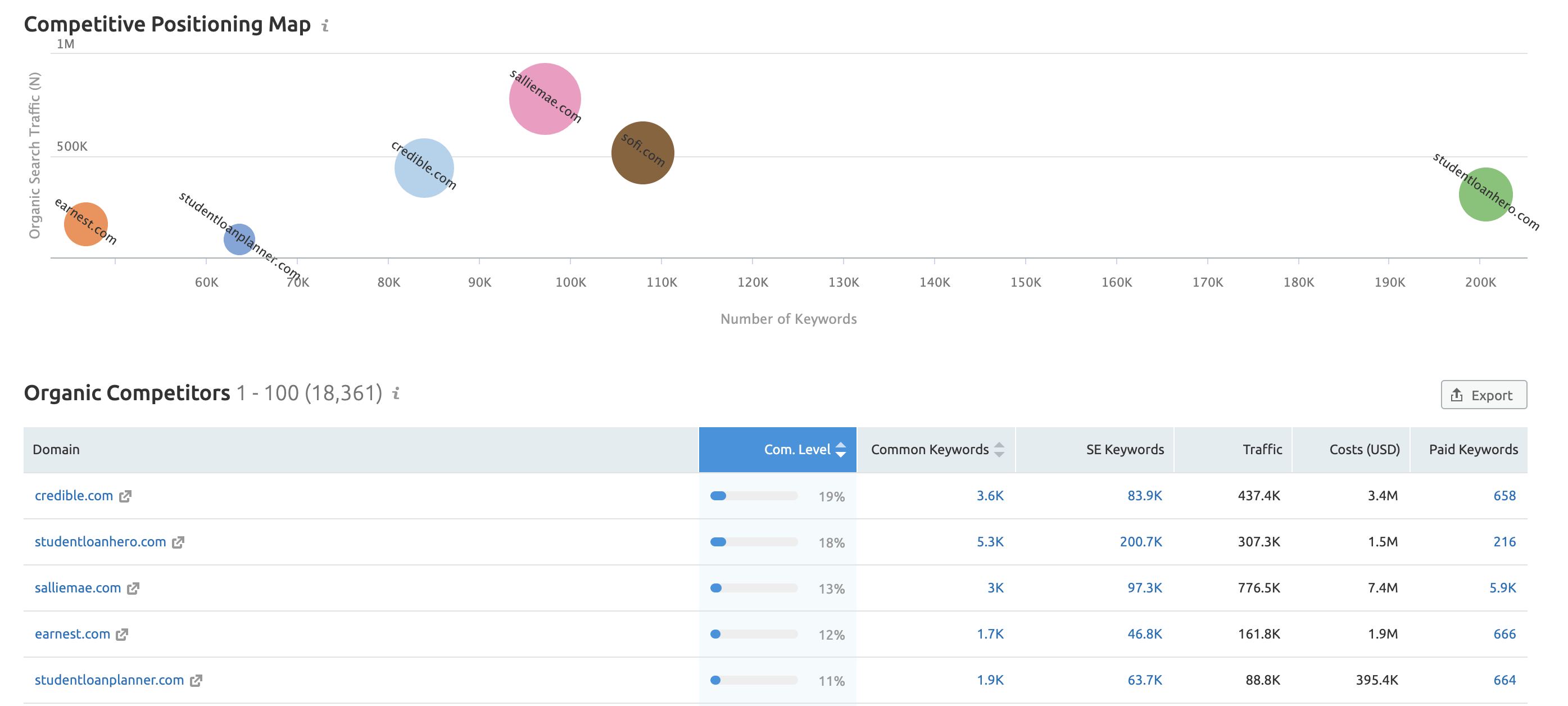 Use the 'Pages' tab of this tool to see which pages drive the highest volumes of organic traffic. This insight can help you to identify the type of content that you should be using to rank. Pay particular attention to whether it's largely blog content, product and category pages, or other types of content driving traffic, as this can help you identify opportunities to double down on.
Use the Keyword Gap Tool to help you identify keywords that your competitors are ranking prominently for and those you are not. While we'll dive deeper into this when looking at keyword research, this is an exercise that's worth undertaking at this stage to help you to understand which competitors are performing for which keywords.
This tool is as simple as entering your own domain and up to four competitors (either enter competitors who you've identified or choose from the recommended list on the dropdown).
From here, you'll gain insight into how each of your competitors performs compared to yourself across the identified keywords. Use this insight to steer your keyword strategy.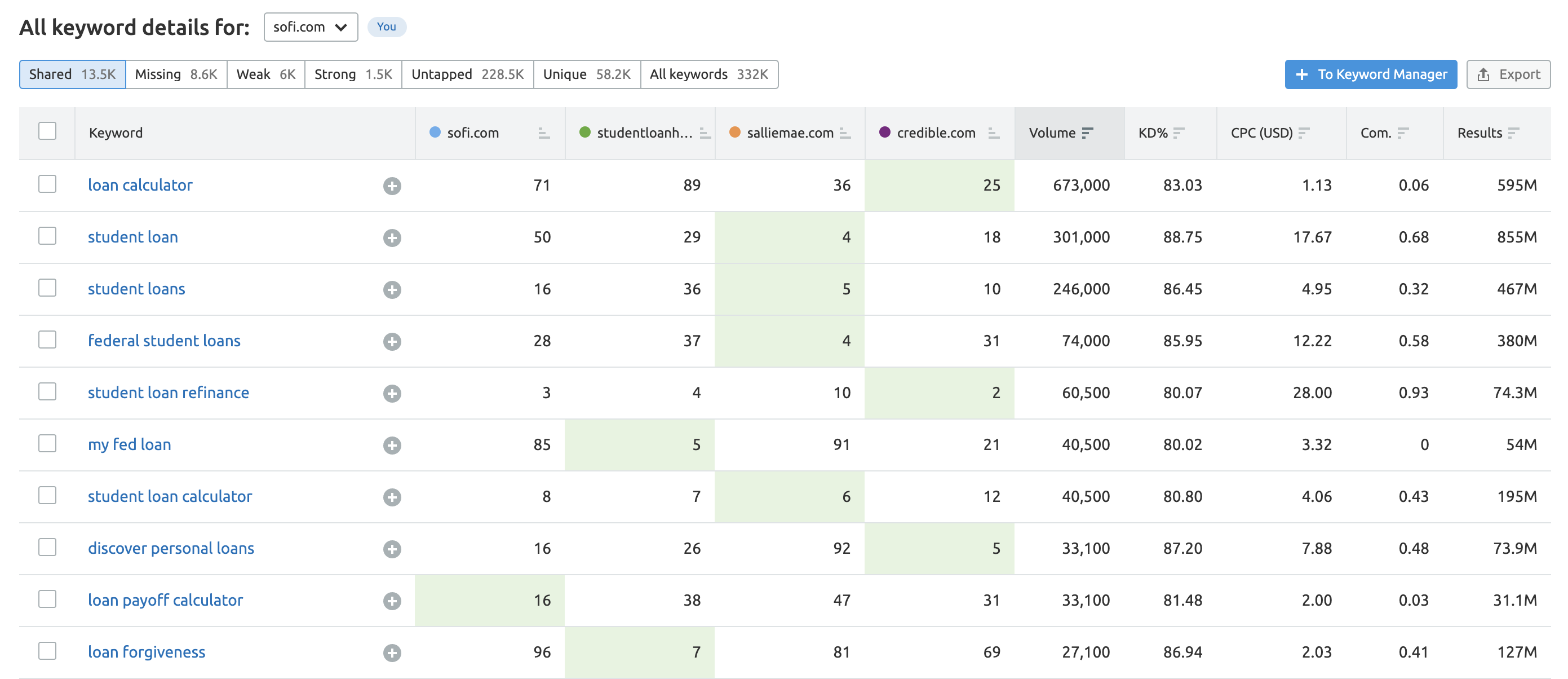 Use the Backlink Analytics Tool to audit your competitors' link profiles to understand how they're building links and where these are coming from.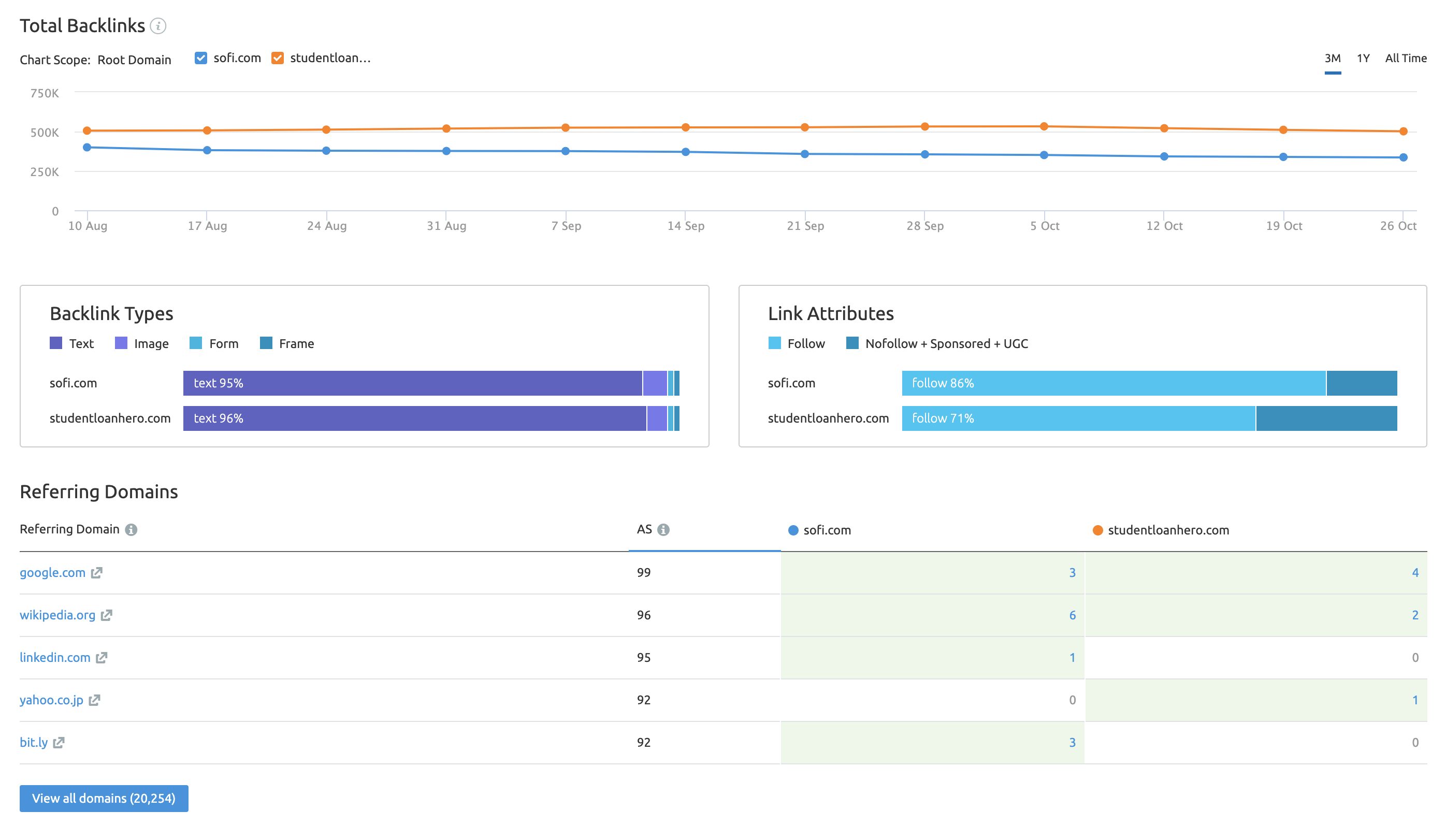 At this stage, it's also important to use this insight to determine the size of any link gap between your own domain and competitors. This is the difference in the link profile size between your own domain and your competitors, usually noted as the number of referring domains rather than total backlinks.
3. Set Your Goals and KPIs
Setting goals and KPIs is perhaps the most important part of creating an SEO strategy.
You need to know where you want to end up so that you're able to both put in place a plan of action to get there but also to be able to measure your success and know when you've achieved your goals (as well as tracking your progress against these and knowing when it's time to pivot).
But let's determine the difference between goals and KPIs because you really need to be setting both.
Goals = The end outcome that you want to achieve 
KPIs = Metrics that demonstrate progress towards your goals
While these are often used interchangeably when it comes to SEO, you must set both during your strategy creation phase.
To give an example, this could look something like this:
Our SEO goal is to increase organic revenue by $500,000 over the next 12 months. The KPIs that we'll track to show progress against this are organic impressions, organic traffic (including an increase in non-brand traffic), and rankings. 
4. Define Your Primary Keywords and Pillar Pages
Once you've set your goals and KPIs, it's time to head straight into keyword research and, primarily, define your site's primary keywords that you'll target with pillar pages.
But let's quickly look at the concept of pillar pages in a little more depth before turning to keyword research.
If you're not familiar with the concept, a pillar page serves as the foundation for a topic cluster that is built around it. You can learn more about topic clusters here or see our guide on the 3 types of pillar page.
In short, topic clusters help you to focus on owning the SERPs for topics. This differs from focusing on single keywords and is a proven method of establishing tight topical relevance for sections of your site.
For this reason, it makes sense to map out your topic clusters early on in the creation of your strategy so that you can build out a content and keyword strategy around this.
In practice, topic clusters are structured like the below, and in this phase, you'll be looking to identify topics for the pillar (middle).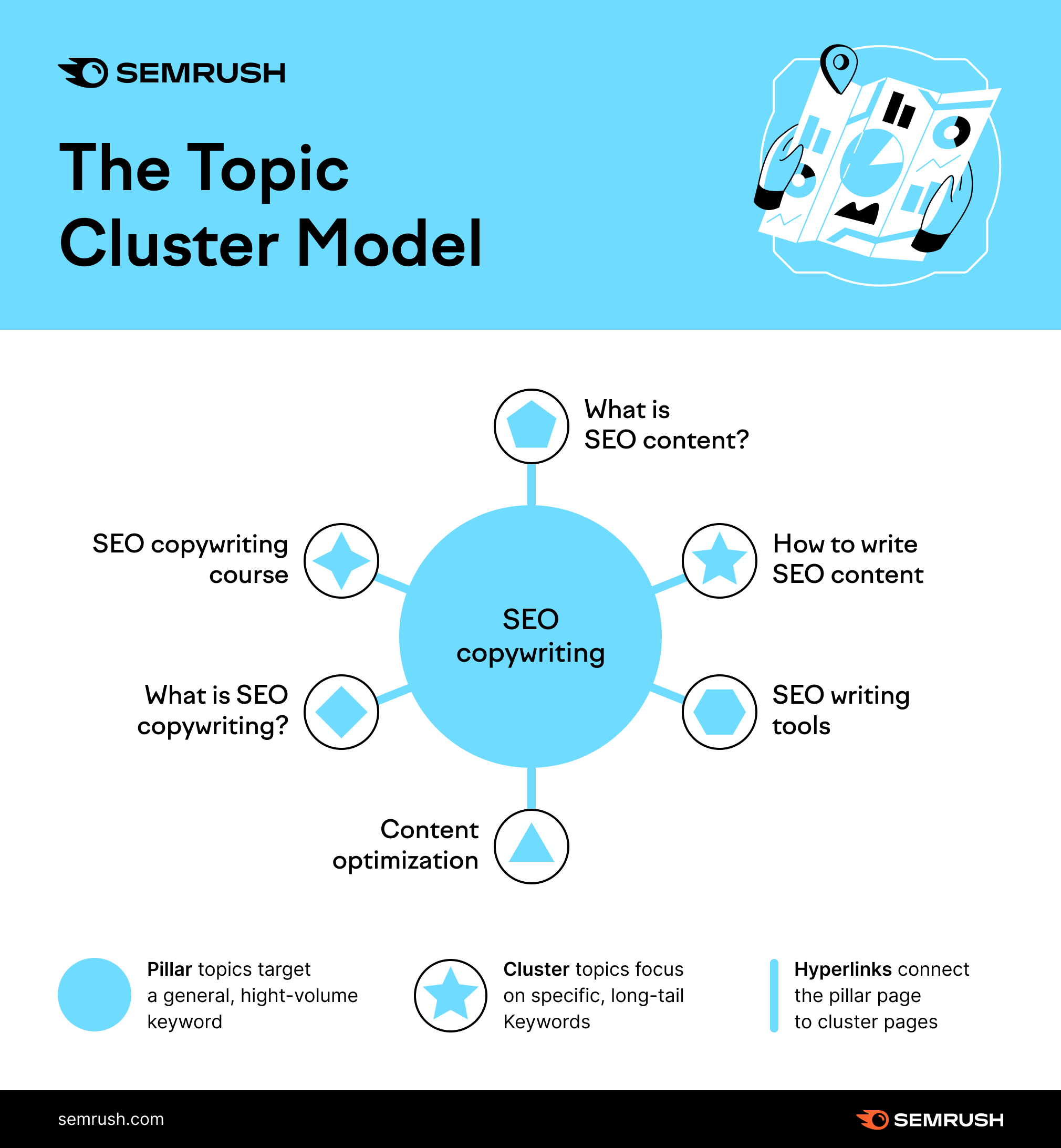 While you're likely familiar with carrying out keyword research, if you're building out a topic cluster strategy from scratch, you'll want to start by establishing the targets for your pillar pages.
These keywords define topics at a broad level; think 'shoes,' 'sales software' or 'student loans' rather than more specific long-tail keywords or subtopics. 
Firstly, this means identifying the topics you'll build clusters around, and a great starting point is our Topic Research Tool. 
Head to the tool and enter a topic that aligns with your business and any specific growth goals you have around certain areas.

From this, you'll be served with a list of content ideas that can help you to identify potential subtopics or to establish whether there's enough depth to a topic to build out a cluster.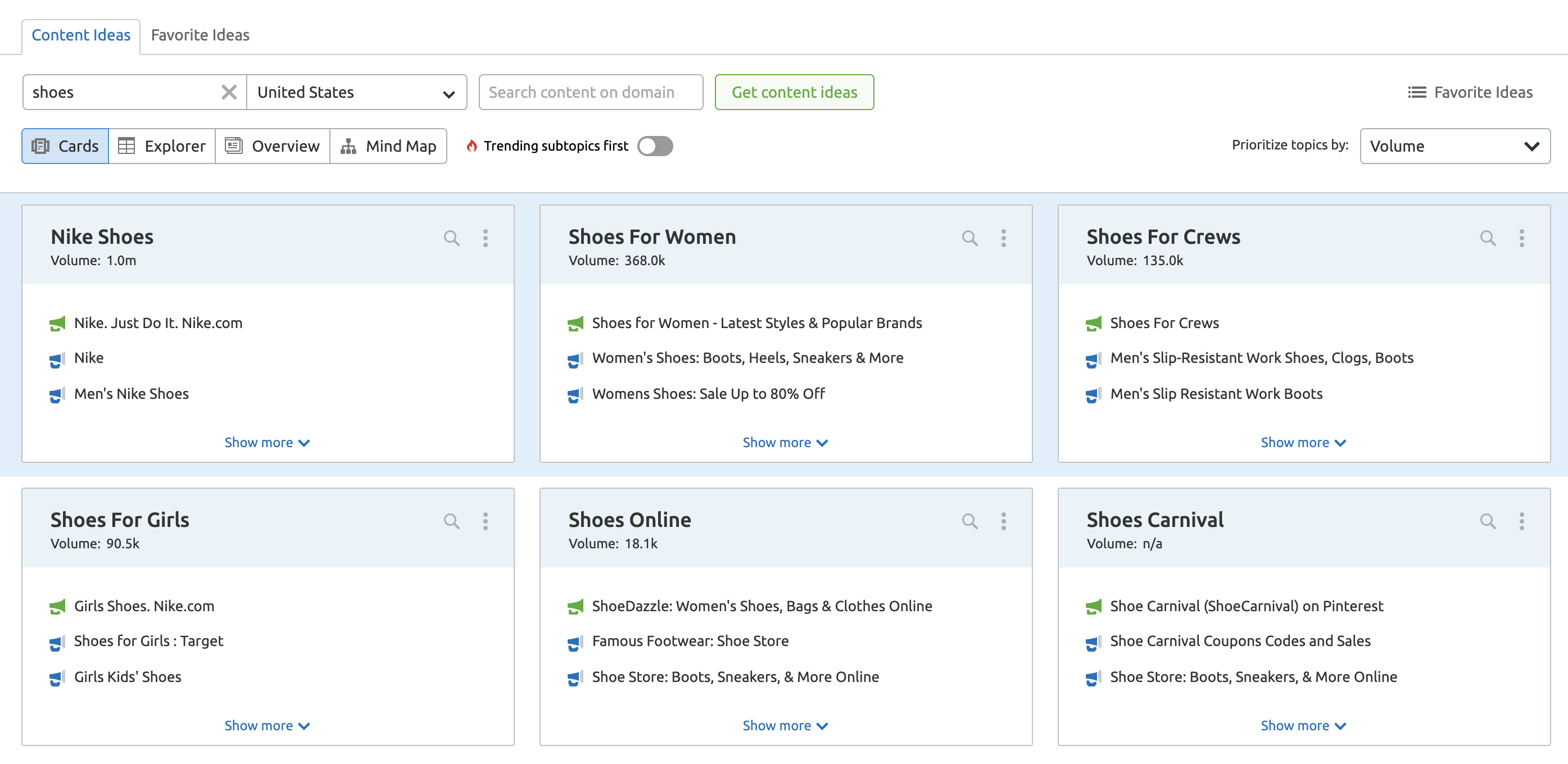 You'll want to begin to map out potential topic clusters that you can build out around certain topics, and you'll notice that the topic research tool shares the estimated search volume associated with each of these. 
Some of these suggestions might not be relevant to your business, so just ignore these.
Those that you deem relevant click into these to see further ideas around subtopics and potential areas of consideration as you build out your topic cluster.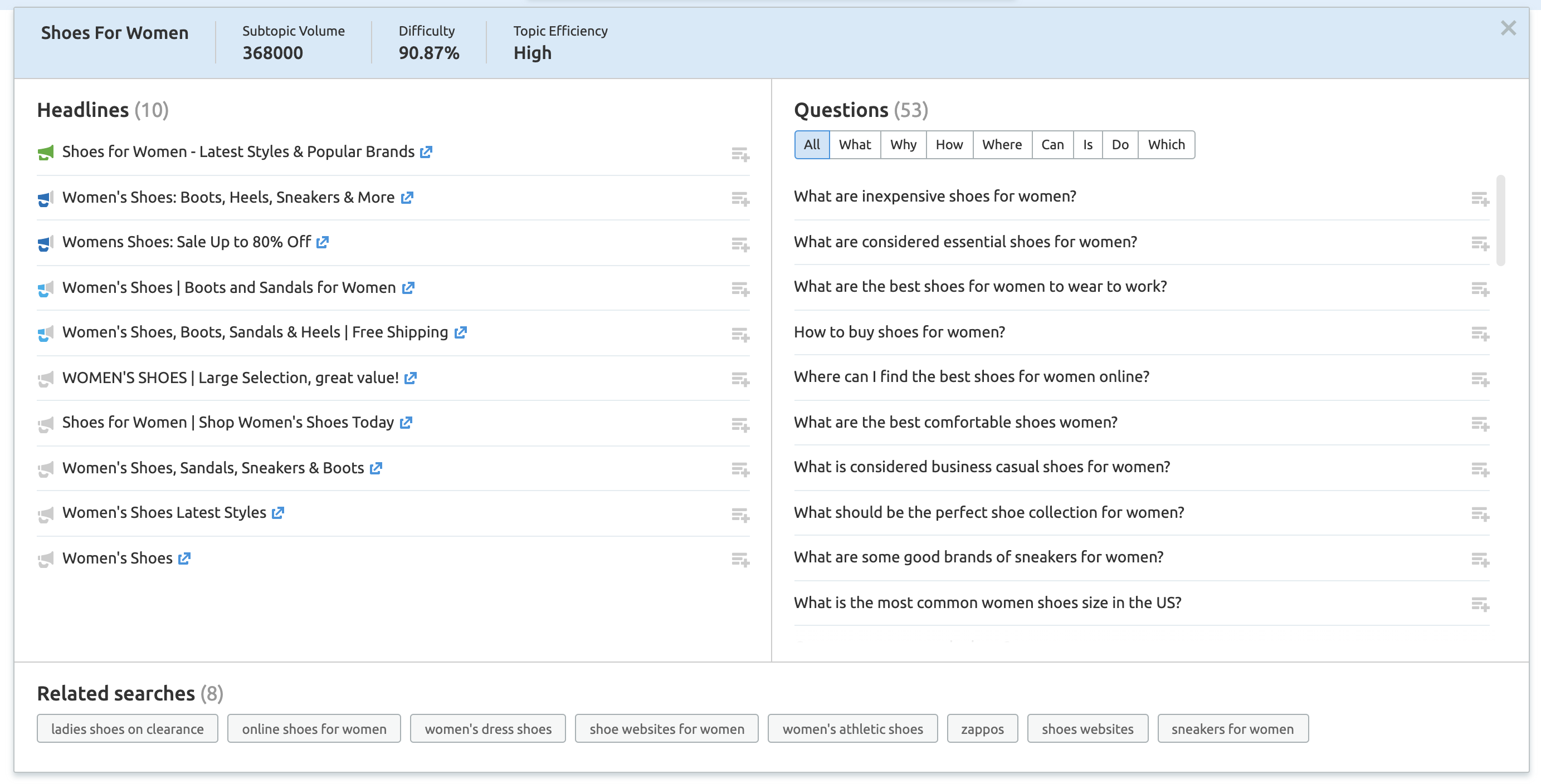 Don't forget to validate the keywords to optimize your pillar page for using the Keyword Overview Tool. Essentially, you're looking to define the main keyword targets for multiple pillar pages at this stage.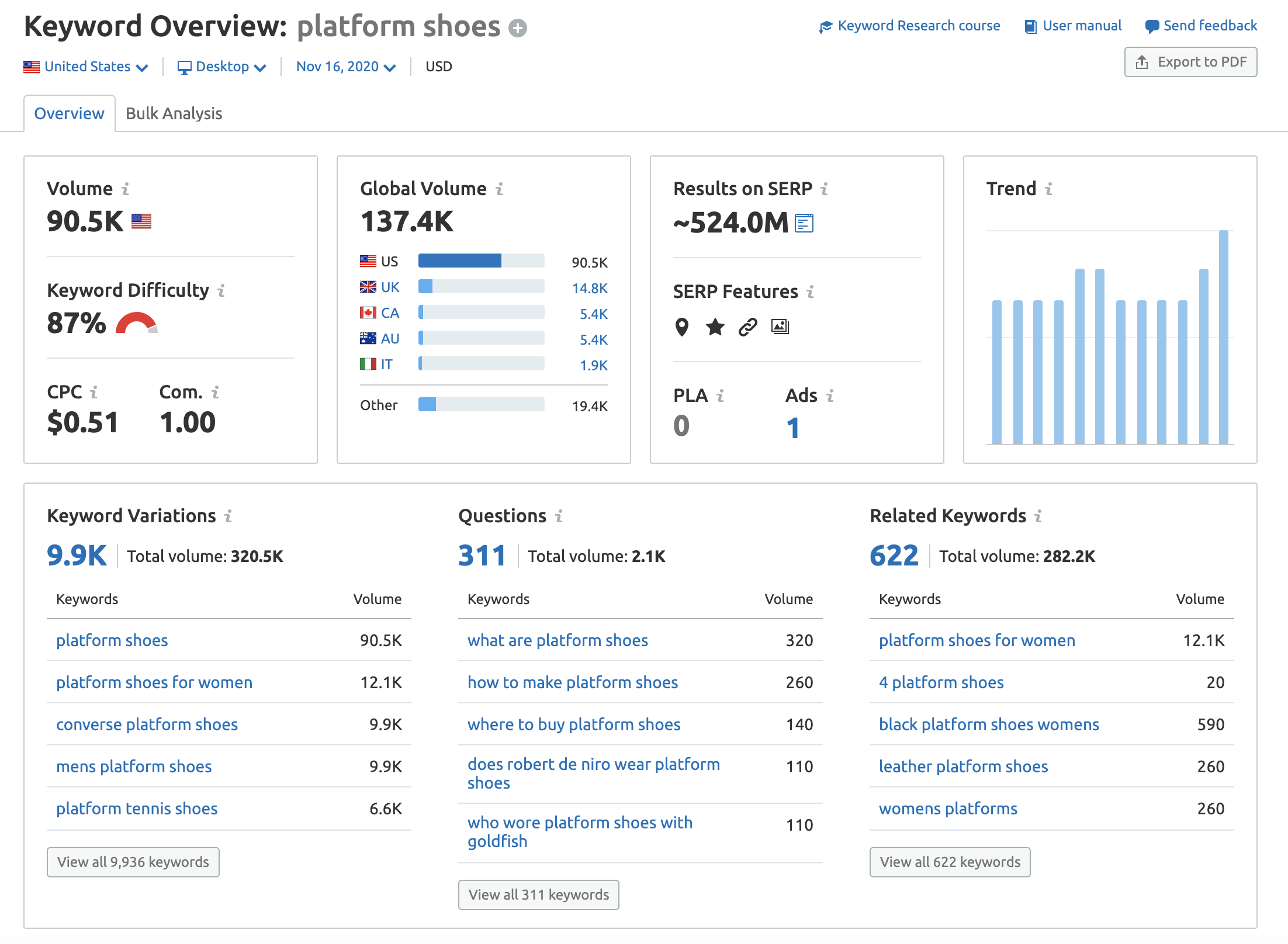 Once you've completed this step, you should have a list of topic clusters for your site.
5. Find Long-Tail Keywords and Define Cluster Content 
Once you've identified your main topic clusters and pillar page keywords, you need to build your cluster content strategy. These subtopics and supporting pieces of content add depth to a topic and sit around your pillar page.
While there's no set number of pieces of cluster content that you should be creating for a particular topic, it's usual to expect anywhere between 15 and 25, depending upon the size and nature of the topic. Sometimes it's significantly more; sometimes, it's less. 
Whereas pillar pages typically focus on higher search volume, broader head terms, cluster content is more commonly focused around long-tail keywords.
Think content that explores a specific part of a topic in great depth. This could be answers to questions, guides on particular areas, or even opinion pieces on a current trend.
But how do you identify keyword targets for cluster content?
If you're not already familiar with the concept, start by understanding what long-tail keywords are:
Long-tail keywords are keywords that don't get searched as much as other, more popular terms; usually, because they are very specific. Most long-tail keywords are, at a minimum, three words long. However, length itself doesn't define whether a keyword is considered long-tail or not.
Long-tail keywords take their name from a graph of Google's search results. A few terms (the "head" of the graph) are searched frequently, but the majority of searches (the "tail" of the graph) are for longer and more obscure keywords.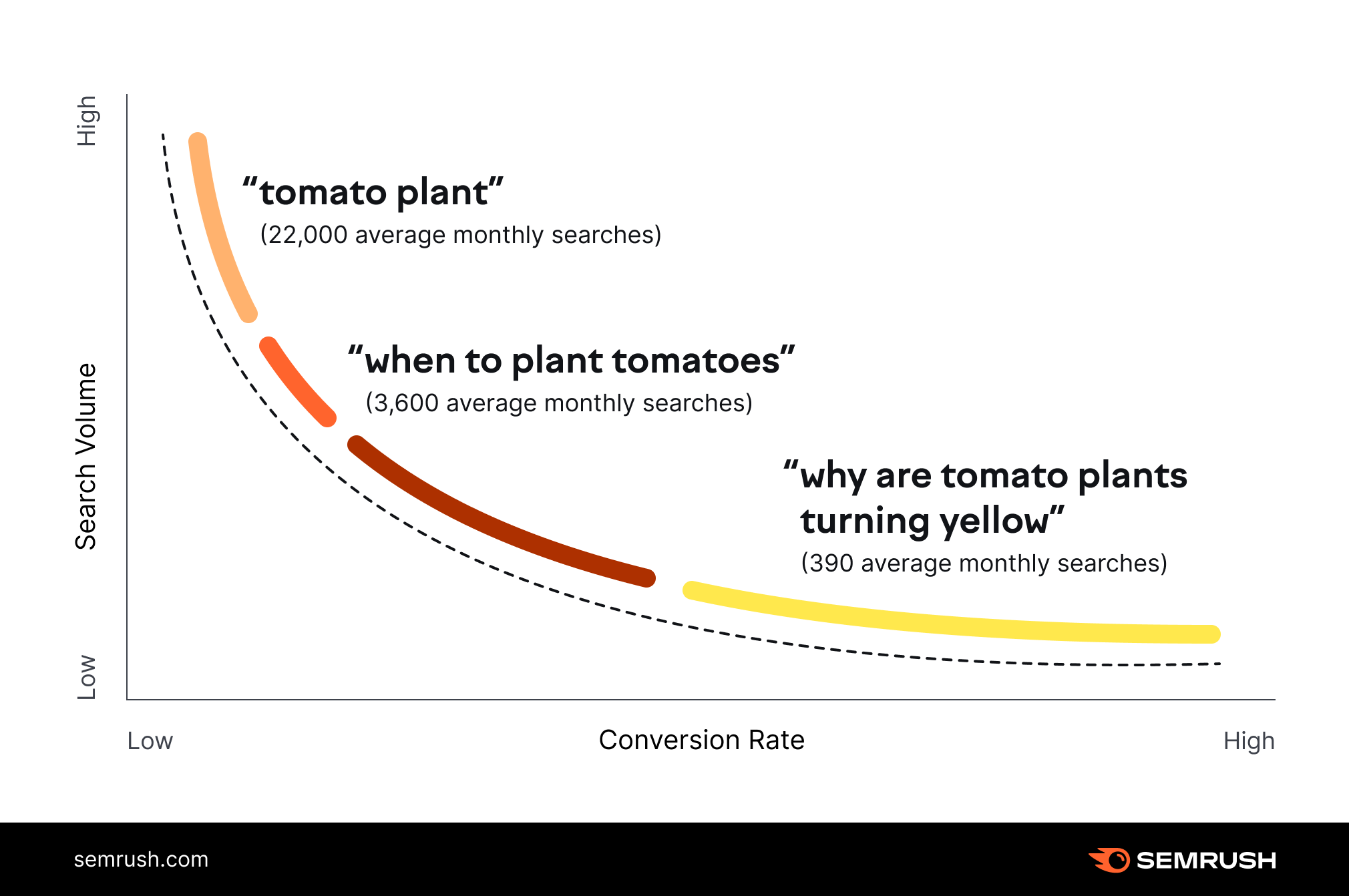 When finding cluster content keywords, you want to dive deeper into a topic.
And a great place to start your search is the Keyword Magic Tool. Enter your main pillar page keyword, and you'll get an extensive list of potential search queries. Consider the intent and depth of these and identify those that could work as a cluster page.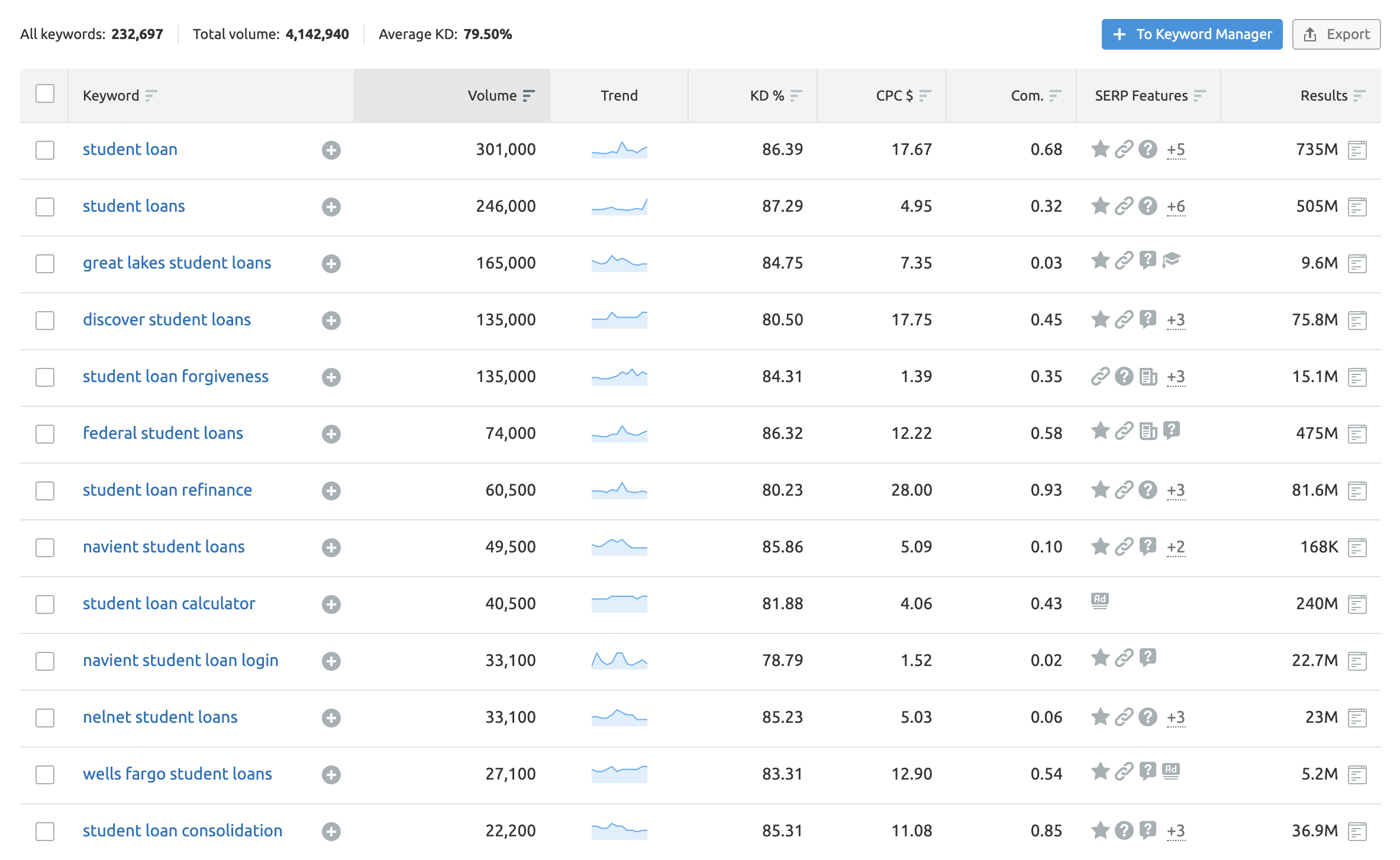 In the example above, let's assume that the main pillar page targets the broader topic of 'student loans.'
Potential cluster page keywords that we could pull from this list include 'student loan forgiveness,' 'Federal student loans, 'student loan refinance' or 'student loan calculator.'
All of these go deeper into a specific area of the main topic and warrant being created as a piece of cluster content. You can think of cluster content as showing your depth of expertise in a topic.
But that's not all. 
Questions make a great source of discovery for long-tail keywords, and you can select to show just these in the Keyword Magic Tool.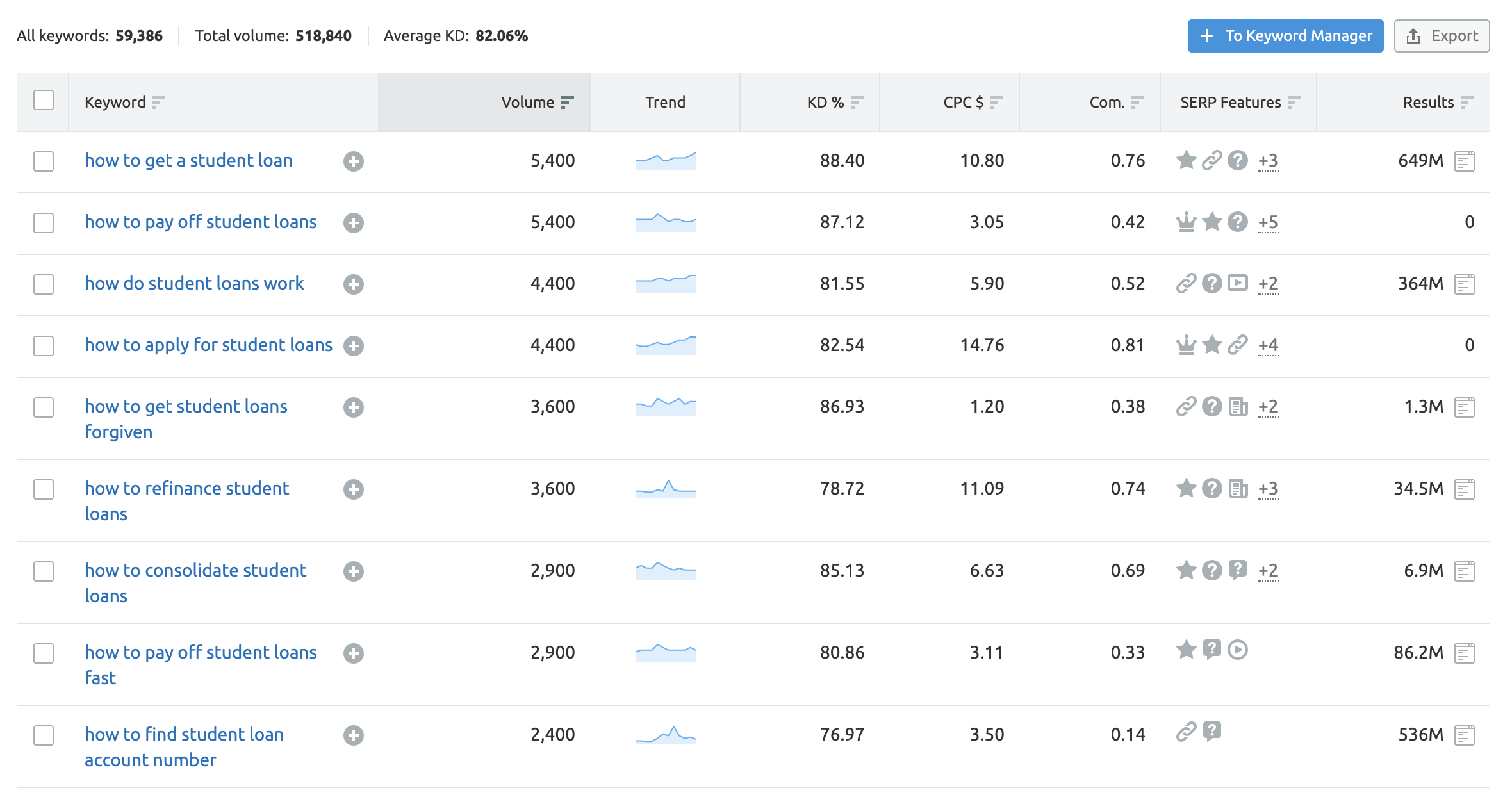 You're looking to map out supporting content that sits around your pillar page, making sure there's no crossover between two or more pages and that you're targeting a specific focus area with each piece of cluster content.
Check out this video to learn more about how to choose and find the best long-tail keywords:
6. Audit Your Site's Existing Content
Before you start to build out and create fresh content, it's recommended that you audit your existing content to identify existing pieces that could be improved or that could fit into your topic clusters. To help you do this, you can do this using the Semrush Content Audit Tool.
However, a content audit mainly helps you to identify content that you should either:
Keep
Update (improve content to better target search queries that it ranks for)
Delete (content that's thin, duplicated, or is cannibalized could be holding back your rankings; it needs to go)
Running a content audit is all about starting with what you've already got before creating anything new. In most instances, websites will have opportunities to make their existing content work harder based on the available data.
Taking the time to audit your site's content allows you to make decisions based upon data, focus your efforts on meeting your goals, and recognize that improving existing content often drives quicker results than creating something new.
7. Build Out Your Topic Clusters
Once you've identified your pillar pages and cluster content within a topic cluster, it's time to start creating content and building this out.
While we're not going to talk you step-by-step through how to write content that ranks, let's take a quick look at some pointers to keep you going in the right direction. It all starts with intent.
You need to know what a searcher is expecting to see when they search for a query. That helps you create content that captivates users and leads to conversions.
For example, someone searching for 'shoes' hasn't specified what type, color, or even style of shoes. You could expect to land on a page that offers options to browse different types of styles from this query. 
Think a top-level category page: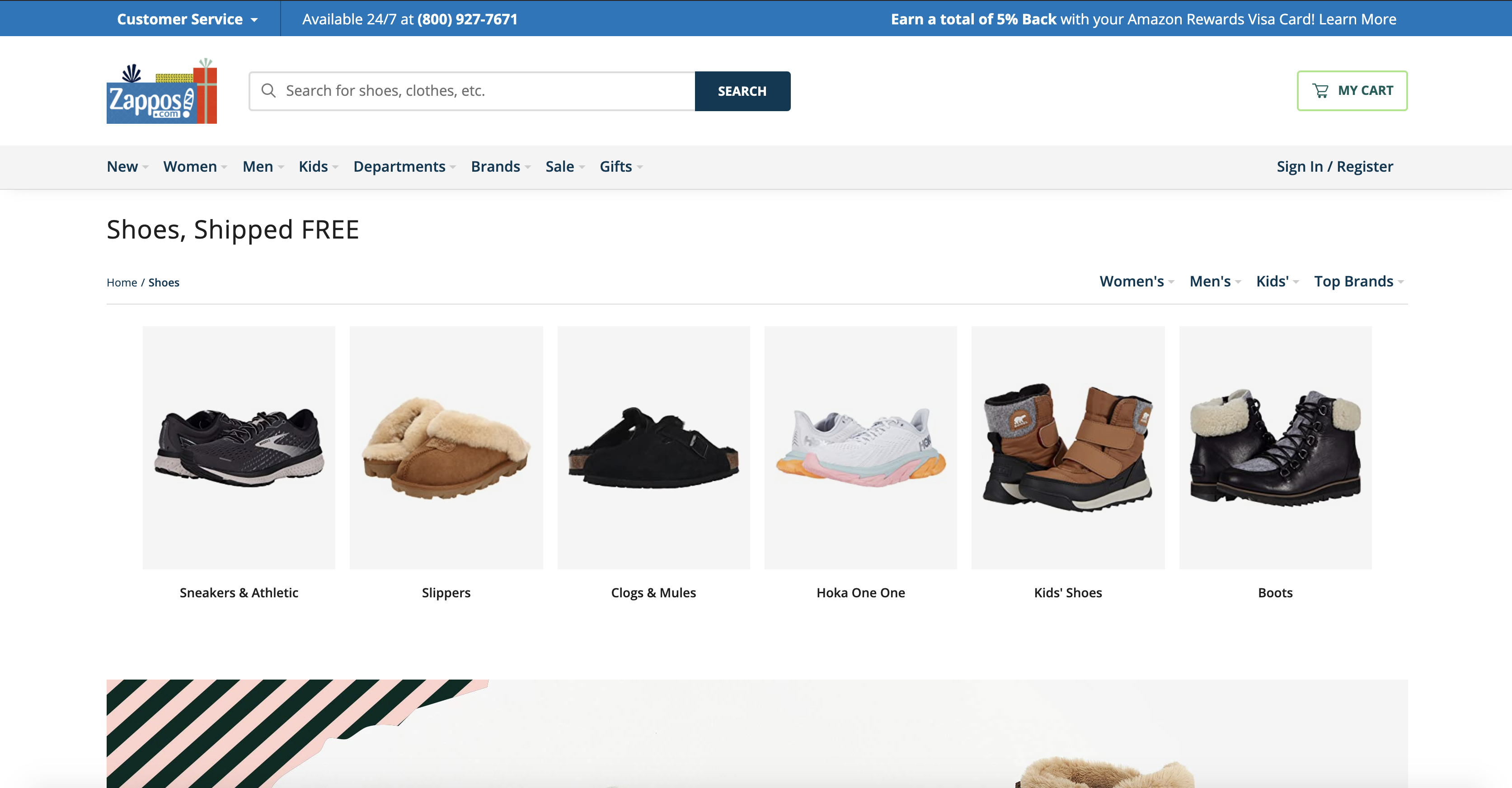 However, if the user searched for 'Adidas Sneakers,' you'd expect to land on a subcategory page that listed these items.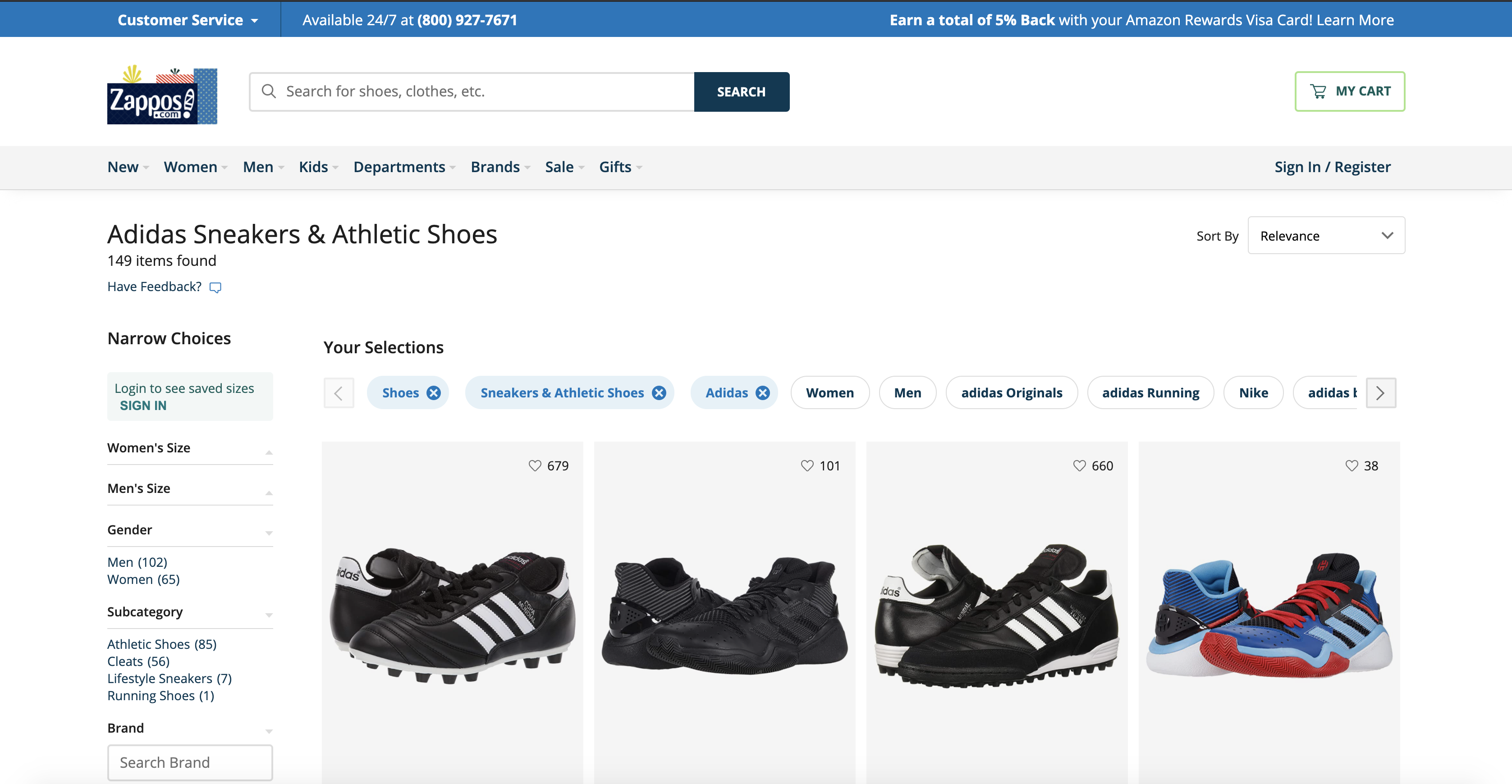 Getting searcher intent right is one of the main things to consider when building out your topic clusters, but you can understand this by running a search for your page's main keywords and analyzing the content that currently ranks. 
When it comes to writing your page copy, turn to the SEO Content Template tool to help you to create guidelines for your writers that focus on the recommended length of the content, target keywords and variations, and readability based upon analysis of the top 10 results for the entered search query.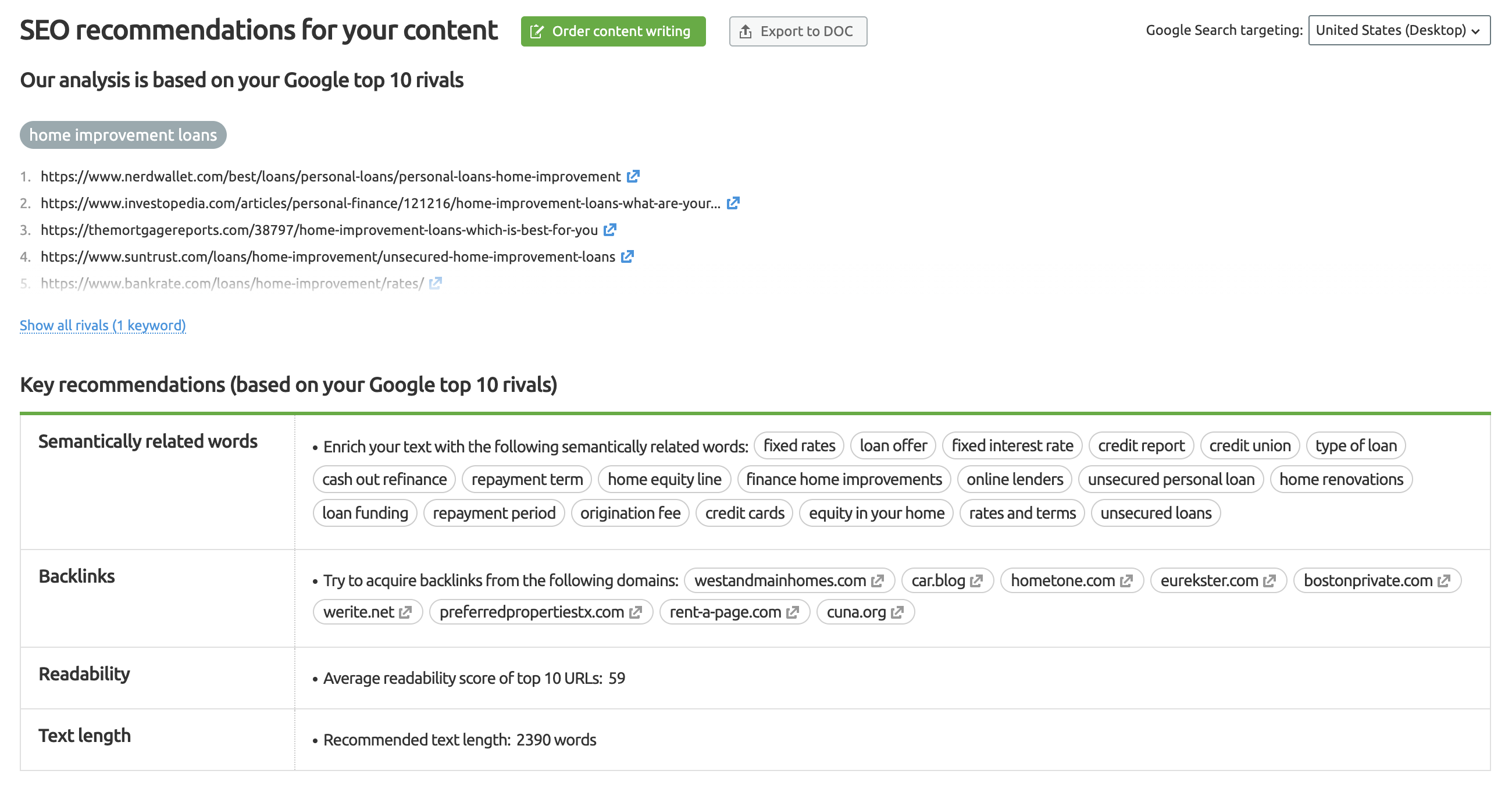 8. Get Your On-Page SEO Right
There's a fine line between creating great content and on-page SEO, but there's no getting away from the fact that you need to make sure you're optimizing these elements in-line with your keyword strategy.
And in short, on-page SEO is all about optimizing:
Title tags
Meta descriptions
H1/H2/H3 tags
Internal linking
And more
You can use the Semrush On Page SEO Checker to get actionable recommendations to help you to improve your on-page optimization in minutes, alongside a clear explanation as to why these should be acted upon.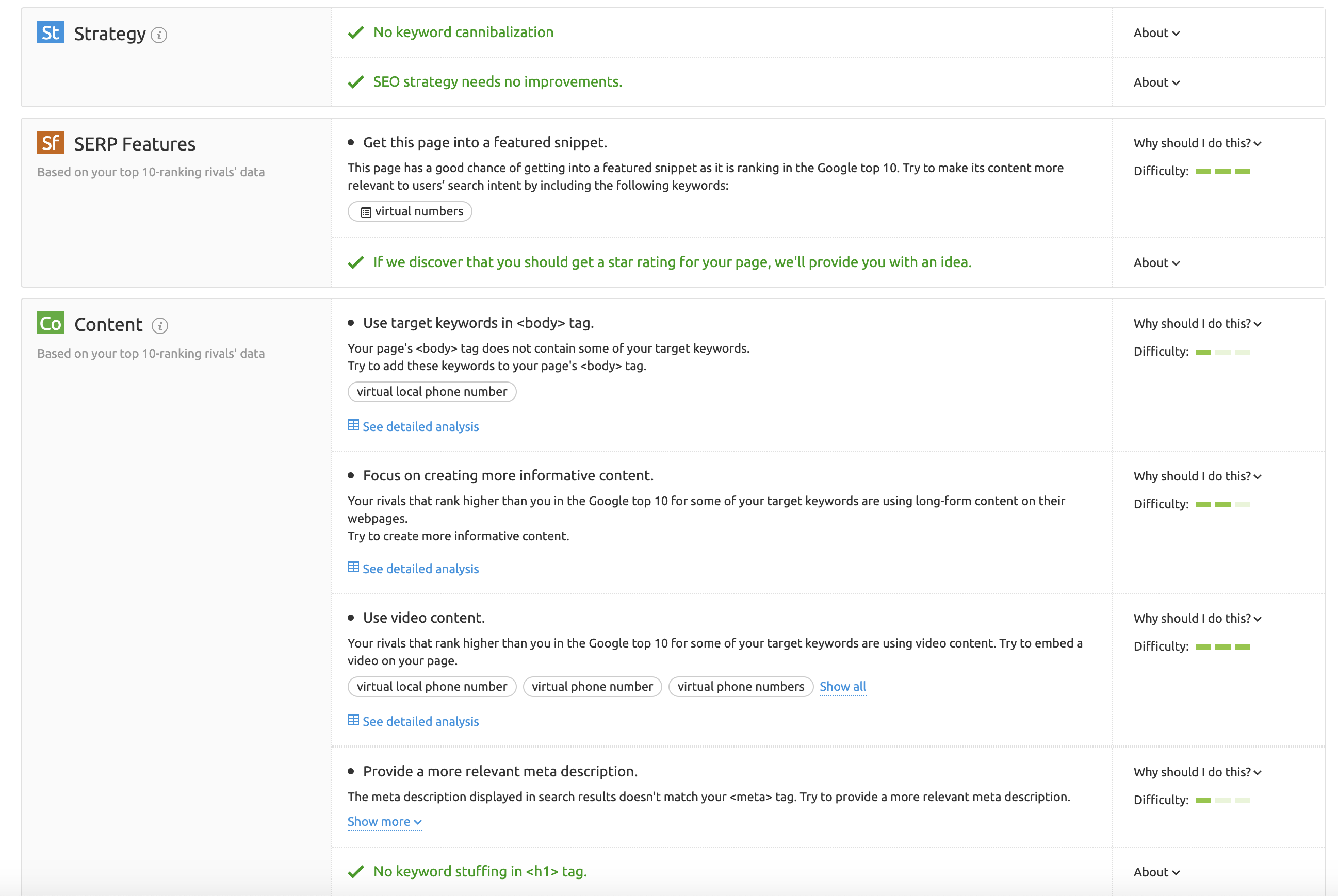 On-page SEO might seem like SEO basics, but improvements to these elements remain a proven way to increase your page's organic visibility. 
9. Find and Fix Technical SEO Issues
If your site has technical SEO issues, these could hold back its performance and stop it from ranking as well as it could if these were fixed. You can find technical SEO issues using the Semrush Site Audit Tool and get an insight into the errors or problems that could be holding your site back.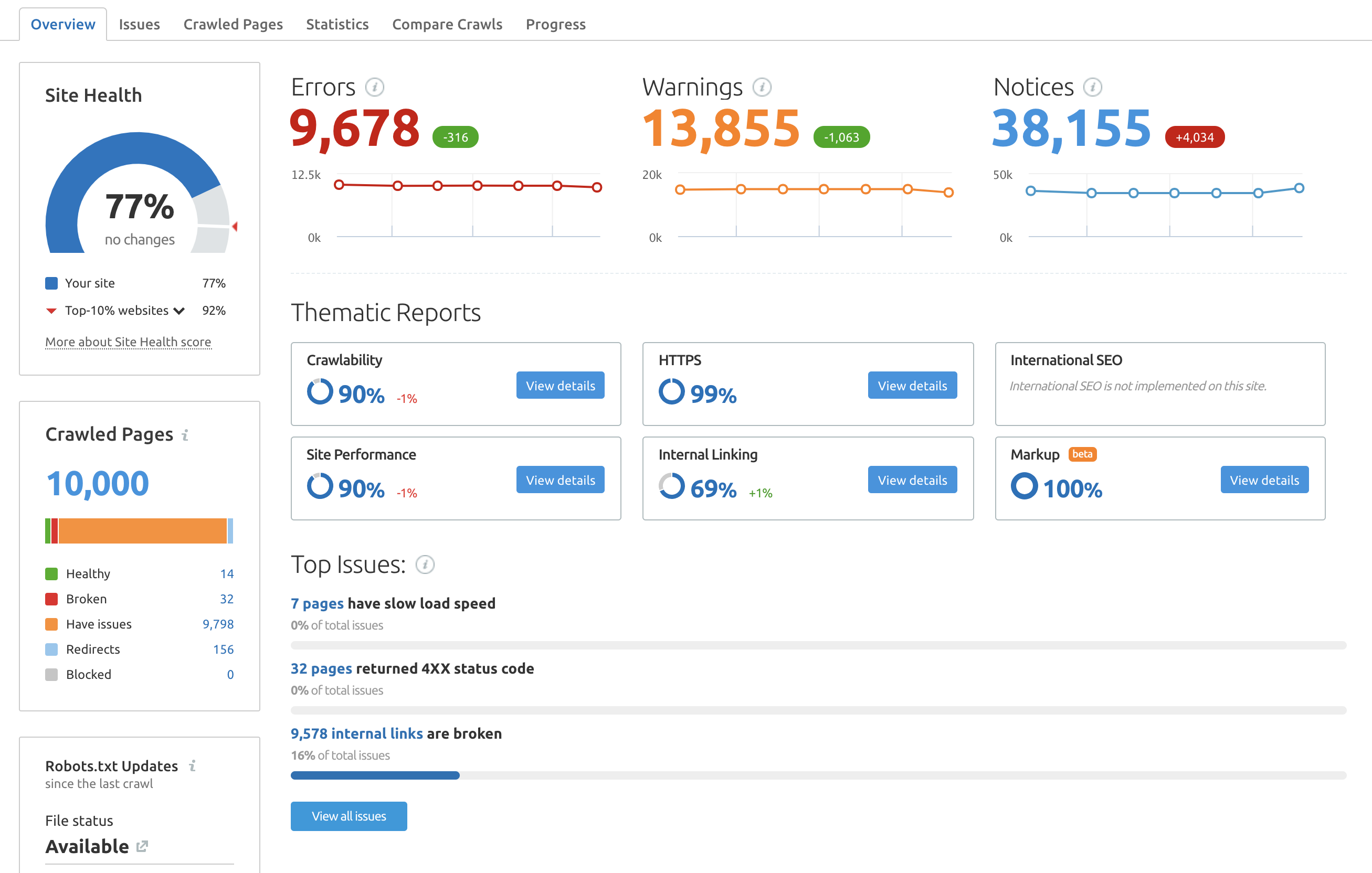 This audit will analyze your site against more than 130 technical and SEO mistakes. The audit categorizes these by errors, warnings, and notices based upon their severity and ability to impact performance.
Use this as a way to quickly identify priority opportunities to add into a roadmap to begin working through the resolution of the issues that exist, as well as running periodic scheduled audits (we recommend monthly for most sites) to alert you to any new issues that need your attention before they turn into a problem. 
10. Master Off-Page SEO
Backlinks remain one of Google's top three ranking factors, and the reality is that you'll struggle to rank for competitive search queries without a solid link building strategy.
This means that you're going to need to put together a plan that helps you to earn quality backlinks if you want to drive growth and meet your goals. While there are many different tactics that you can use to earn links to your site, those that are often the most effective include:
Digital PR
Resource link building
Broken link building
The Skyscraper Technique
Creating link bait and promoting it with outreach
But that doesn't mean you should discount other techniques. Our guide to link building strategies for 2021 and beyond is a great resource to help you find new ways to build links.
Another great way to find backlink opportunities is by using the Semrush Link Building Tool. Use the tool to set up your project, and it presents you with prospects that you can focus your efforts on to attempt to land links from these pages.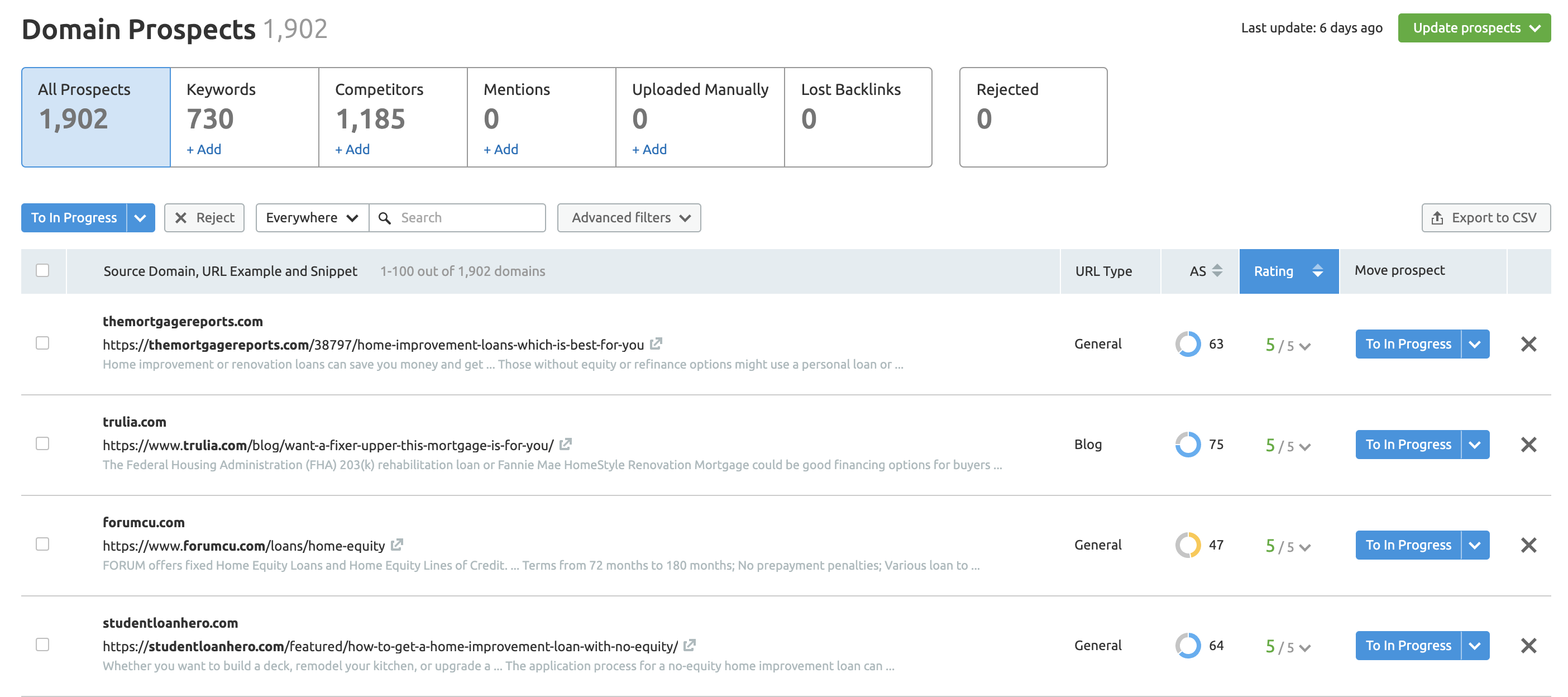 11. Analyze and Refine Your Strategy
Once you've created your strategy and begun to work through the implementation of the tactics, you must take the time to analyze and refine it regularly.
No SEO campaign is ever 'finished,' and there are always opportunities to continue to drive growth. Whether it's creating new content, optimizing or improving what you've already created, or ensuring that no technical issues appear, you need to be constantly evaluating and refining the work you're doing to ensure it's successful. 
Remember you set goals and KPIs early on in your strategy creation?
You need to make sure that you're measuring and reporting on these at least monthly to be in a position to make sure that your progress is on track to meet your goals. Adopt a mindset of continuous improvement and focus your efforts on achieving growth.
---
Without an SEO strategy in place, you're working blind.
Take the time to create a strategy that helps everyone on your team to understand the channel's long-term goals and how you'll get there. Setting a strategy is all about communicating what you're going to do in a way that makes sense to multiple stakeholders and gives everyone involved a clear focus.