What Is DALL·E 2?
DALL-E 2 is a type of generative artificial intelligence (AI) that produces images from text. These generated images can look like drawings, paintings, and photos created by humans.
To use DALL-E 2, a user types in a sentence (a text prompt) describing a visual scene. Then the software creates a relevant graphic instantly.
For example, the tool generated four images for the prompt "3D render a diver meeting a sea turtle in the ocean."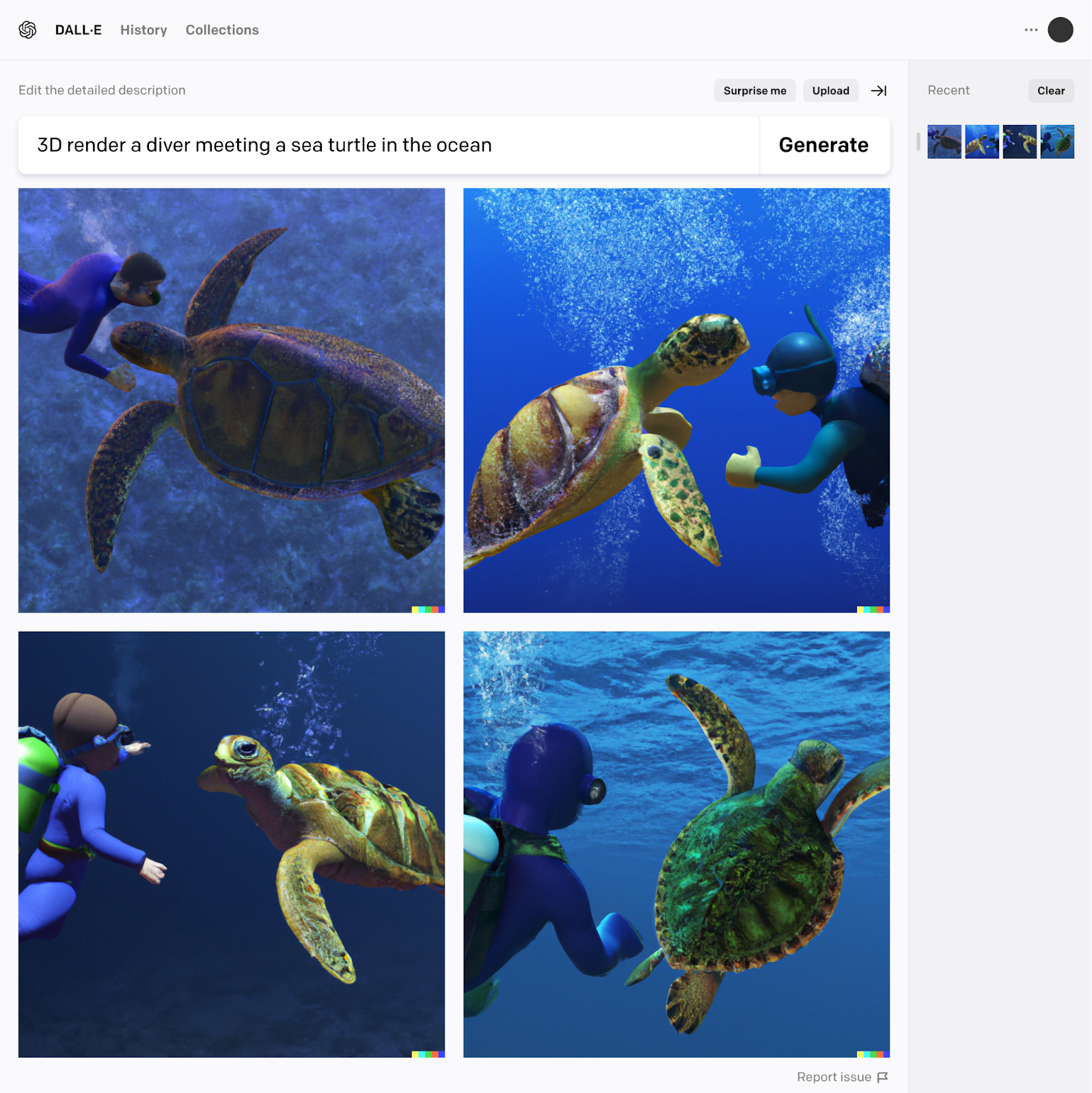 Fun fact: The name of DALL-E is a mix of Pixar's WALL-E movie and artist Salvador Dali.
When its creators updated the way the software generates images, they changed its name to DALL-E 2.
How Does DALL-E 2 Work?
DALL-E 2's trainers "showed" the software millions of images (all with associated meanings) from all over the web.
The art generator refers to this dataset when given a prompt and then uses statistical patterns to create its own.
DALL-E 2 relies on a computer program called a diffusion model. 
A diffusion model analyzes images to learn the underlying patterns and features of each part:
Then it can use these pieces to recreate its own original, AI-generated images.
For example, DALL-E has analyzed thousands of images of cats and birds. Which is why it recognizes that cats have pointy ears and whiskers while birds have beaks and wings.
So if a user asks for AI art that includes a cat, DALL-E can replicate what it thinks a cat looks like.
For example, here are the results for the prompt, "A realistic photo of a cat with a bird's wings."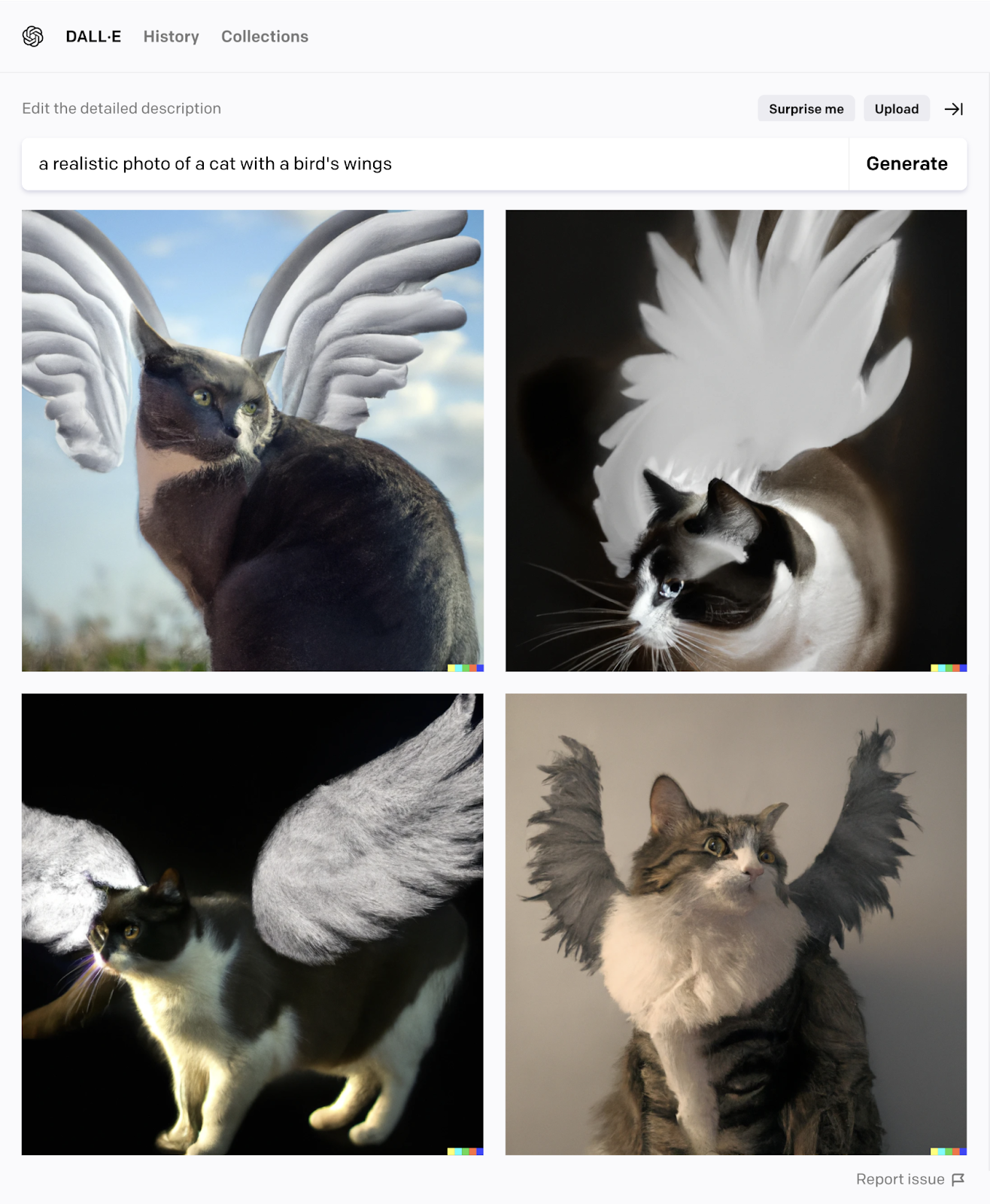 Now that you know the basics, let's generate some images.
How to Use OpenAI's DALL-E 2 to Generate Compelling Digital Art
To use DALL-E 2's image creator, set up an account on OpenAI and generate your first graphic.
Want to align them better with your expectations? 
Work on your prompts, edit your graphics, and discover what DALL-E struggles with.
Set Up an Account on OpenAI
To sign up for an account, go to chat.openai.com and click "Sign up."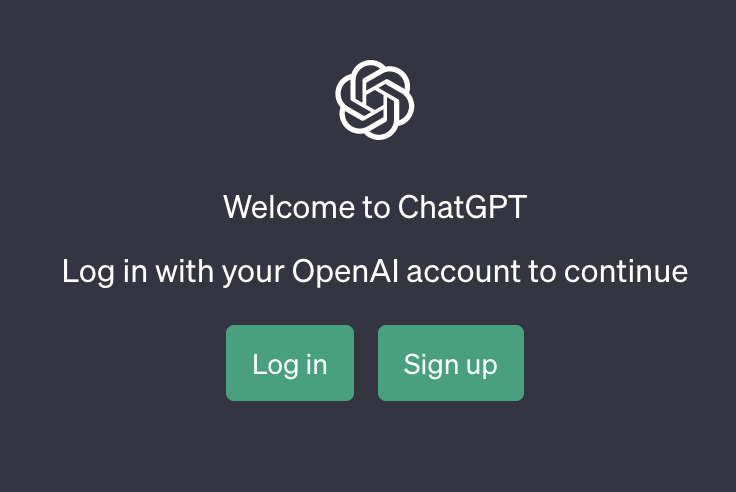 Then, follow the prompts to create and verify your account.
With the original DALL-E, new users got 50 free credits when they set up a new account. Plus an extra 15 to use every month.
Unfortunately, those perks only apply to users who signed up for the AI system before April 6, 2023. 
Now, you have to buy 115 credits for $15 to try it out.
Take Note of DALL-E 2's Image Generation Guidelines
Before you use your account, take note of DALL-E 2's content policy.
Here are a few examples of images you can't create, upload, or share:
OpenAI also encourages users to share that AI was involved in your work. You can remove the DALL-E signature, but you can't say it was entirely human-generated.
You are also not allowed to:
Upload images of anyone without their consent
Upload images you do not own the rights to
Create images of celebrities and public figures
Breaking these rules can get you banned. 
Find Out What Content You Need for Your Marketing
Look at your website, blog posts, and social media platforms. Then decide which kind of images will help to promote different aspects.
Let's say you run an online candy store.
You may have landing pages that categorize different types of candy you sell. For example, chocolate, fudge, gummies, and vegan candy.
You already have your product shots for these. But they don't stand out from any other candy shop.
Instead, you want more arty, whimsical images. 
For example, a cartoon drawing of a lollipop in space:

DALL-E 2 can create these kinds of images in a few seconds.
To decide what you need, break down your marketing channels.
You may already have:
A website with landing pages for each category of candy
An Instagram and Facebook account where you ask for feedback on new products
A blog where you write about the "top 10 types" of each candy
An email marketing newsletter where you promote monthly deals
A scheduled social media post to promote your event or products
Note your channels and which upcoming pages you need images for. Including older posts you want to refresh with new content.
Pro tip: If you need to create social media content (images or videos with a caption), then check out Semrush's AI Social Content Generator.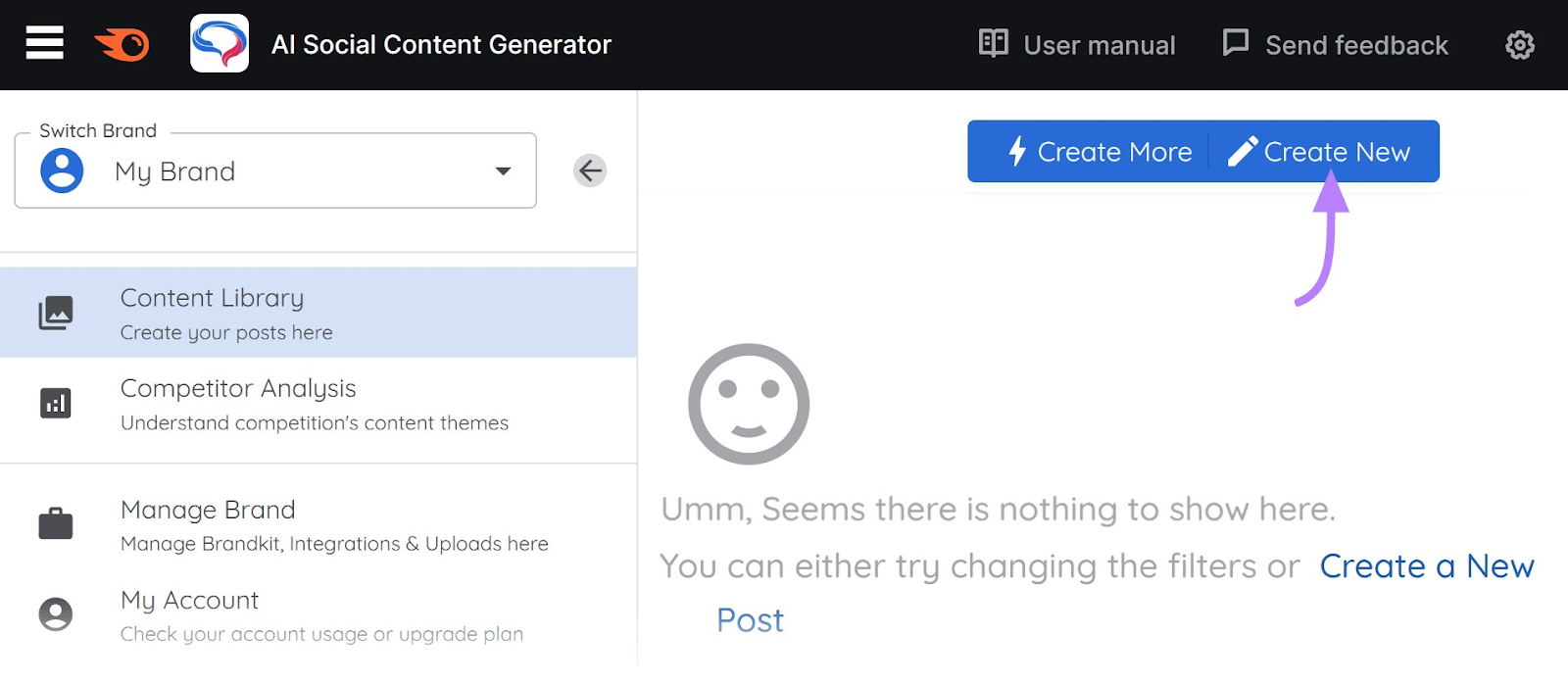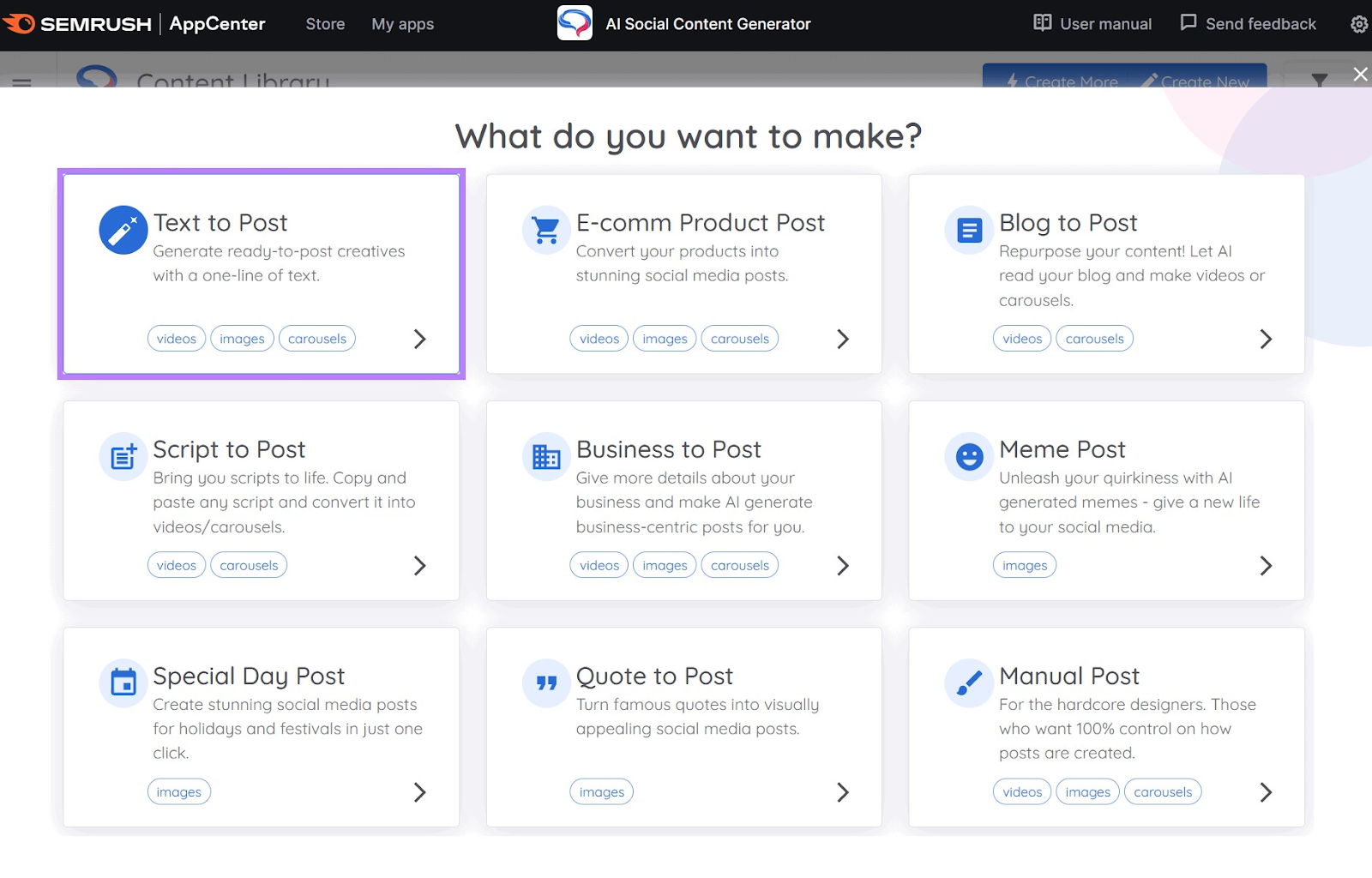 Simply provide the following information:
The post topic
The language the post should be in
Your brand logo, colors, and preferred font
And the tool will generate entire social media posts for you. Including the caption, image, carousel, or video.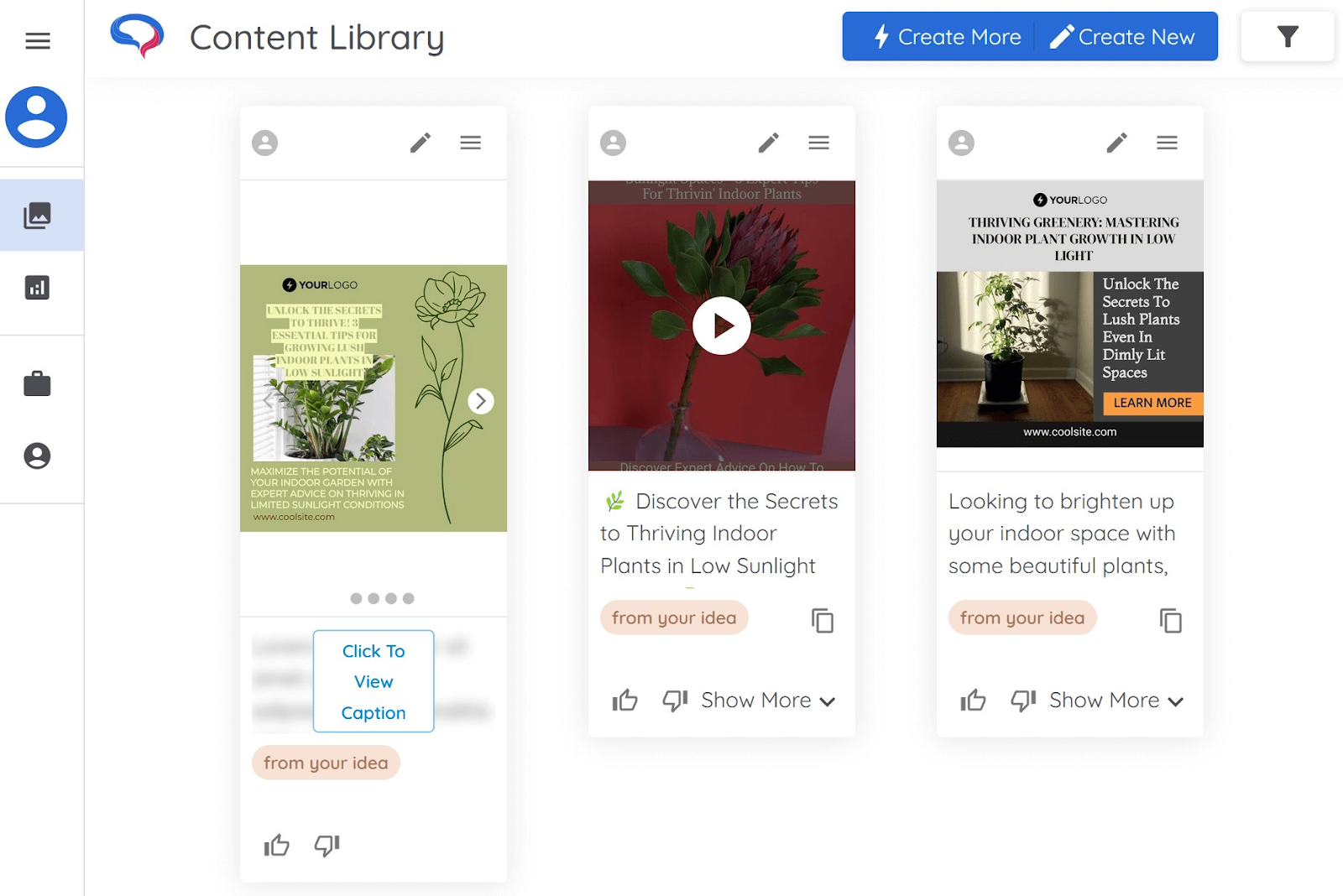 Once you have your list of channels, move on to the next step.
Generate Your First Generated Image (+ Prompts)
Head to DALL-E 2's landing page. Then type a detailed description (a prompt) into the text box and click "Generate." 
There will be a short loading time. 
Then the software will generate several variations of AI images that it thinks match your prompt.
Let's try to create an image to promote your candy store's new "Day at the Fairground" treats on social media.
Note: DALL-E 2 is faster than the original version and offers variations of higher-resolution images.
Here are four generated images for the prompt, "A blue elephant made of candy floss flying above a fairground."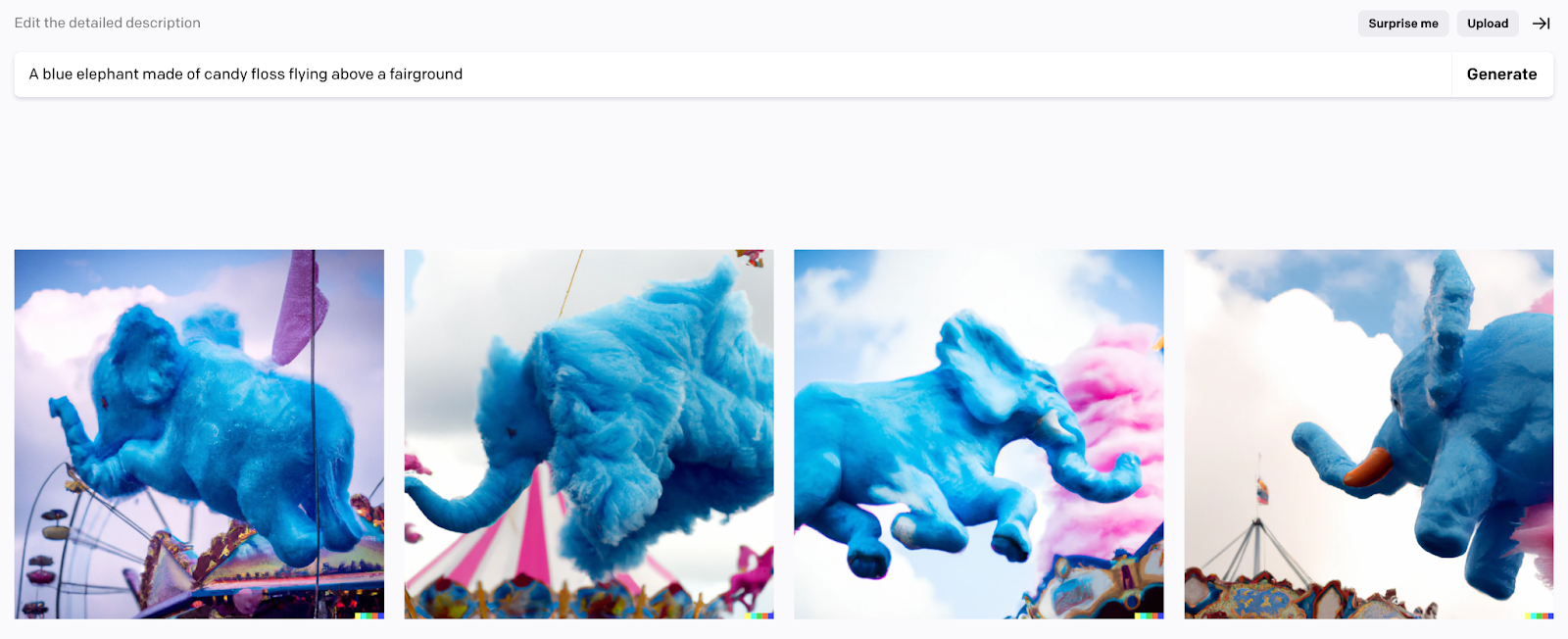 Not exactly how you pictured? Add a few more details to the prompt box and click "Generate."
DALL-E 2 suggests adding a style to improve the quality of results.
Let's add "a painting of" before the original prompt: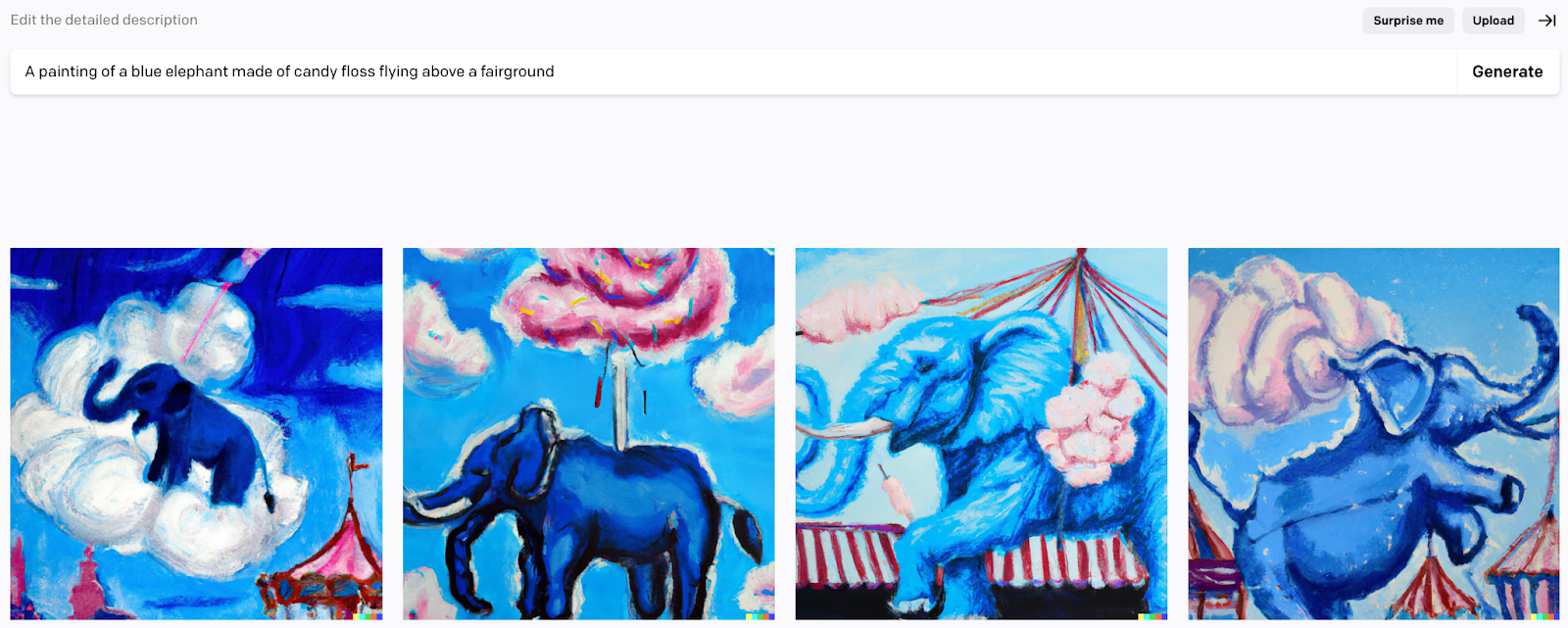 The fairground is now more accurate. But the candy floss texture of the elephant is gone.
Keep tweaking your prompt until you get the results you want. After all, more detail usually means more accurate graphics.
For example, DALL-E 2 suggests that you can get more specific by adding an artistic style or your favorite artist.
Here are a few variations of "An oil painting of a single coconut tree on an island surrounded by water:"

But more detail isn't always better.
These images started with the prompt "A happy mushroom skipping through a meadow:"

But in this case, adding "with legs and a face" lowered the quality.

Here were two variations for "A tiger climbing a tree in the jungle with a monkey sitting on a branch eating an apple, pixel art:"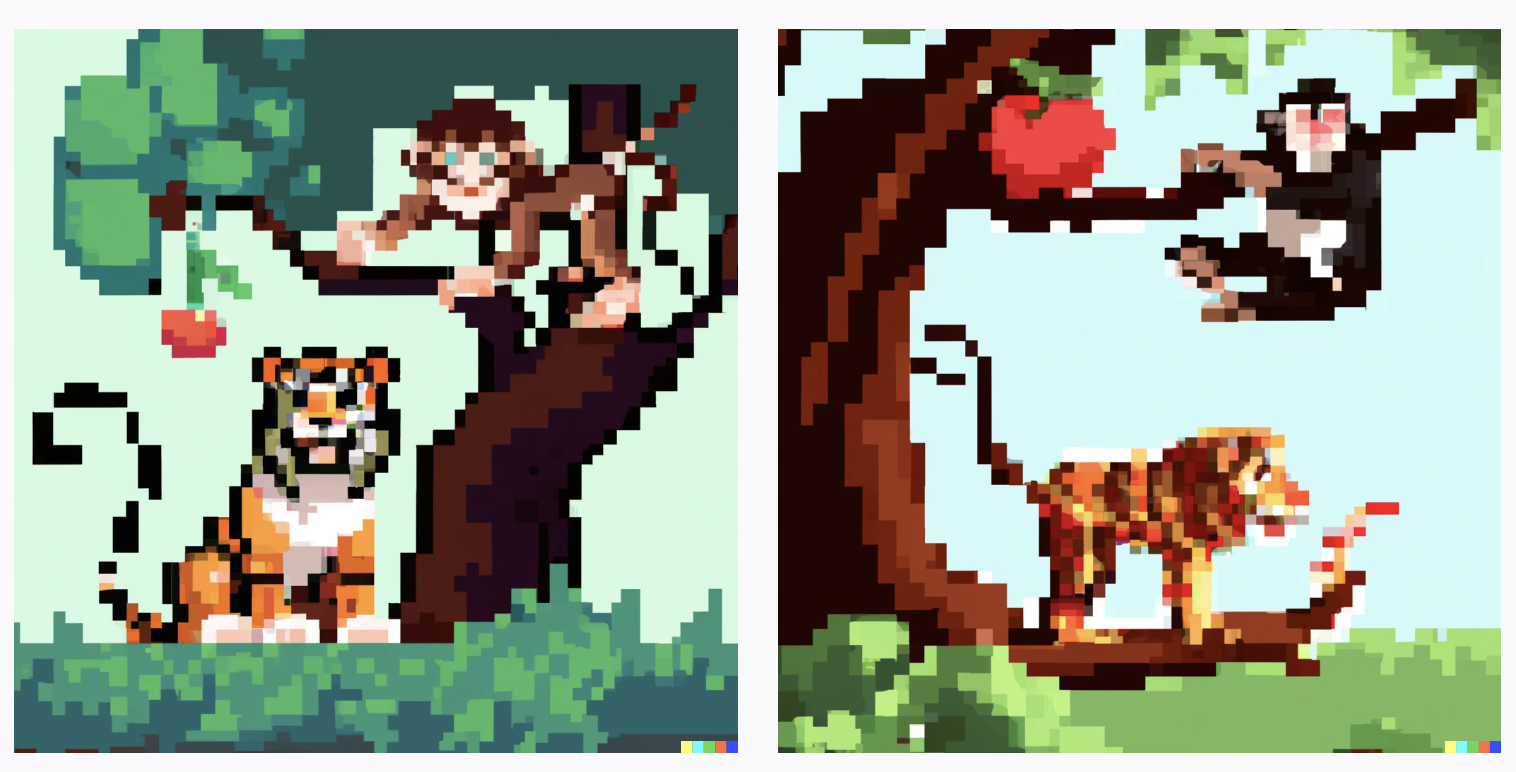 DALL-E 2 got the style and the subjects right. But the tiger isn't climbing the tree and the monkey isn't eating an apple.
Here are some of the ways you can improve your prompts for more accurate graphics:
Be more specific and detailed
Don't add too many subjects doing different things
Try various styles and artists (other than realism)
Join OpenAI's Discord to ask the community for tips
Read this free ebook of prompts
You can also try Semrush's free Sentence Rewriter Tool.
Simply type in your sentence and click "Paraphrase." And the tool will come up with three versions of your sentence.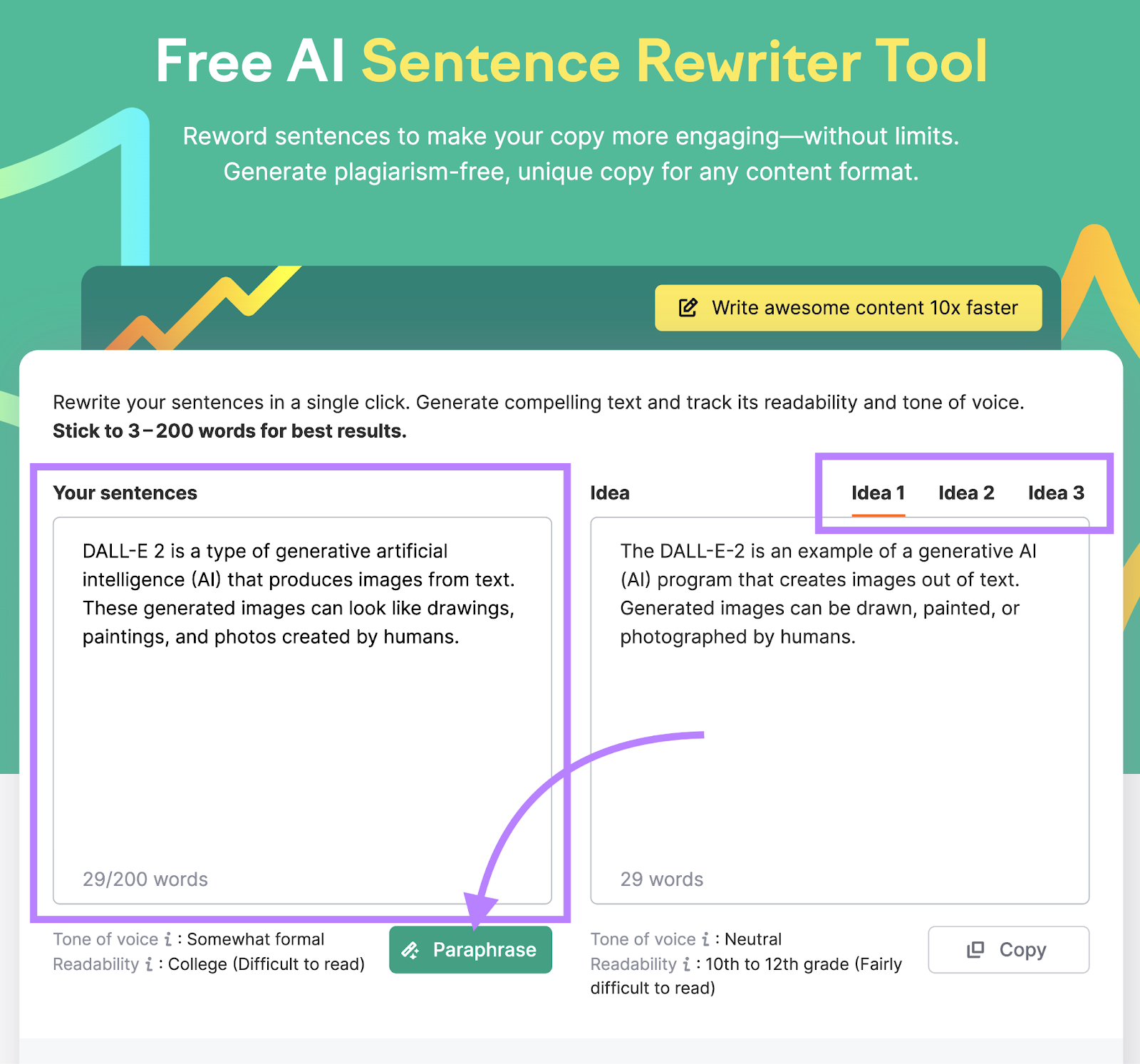 When you're happy with the rephrased version, click "Copy" and paste the text into your content.
Download Your First Generated Image
Let's go back to our fairground prompt.
Once you're happy with one of the generated images, click on it to view a larger size.
Note: The image will shrink slightly when you hover over it, so you know which image you're selecting.

You can then click the top right icon on the image to download it.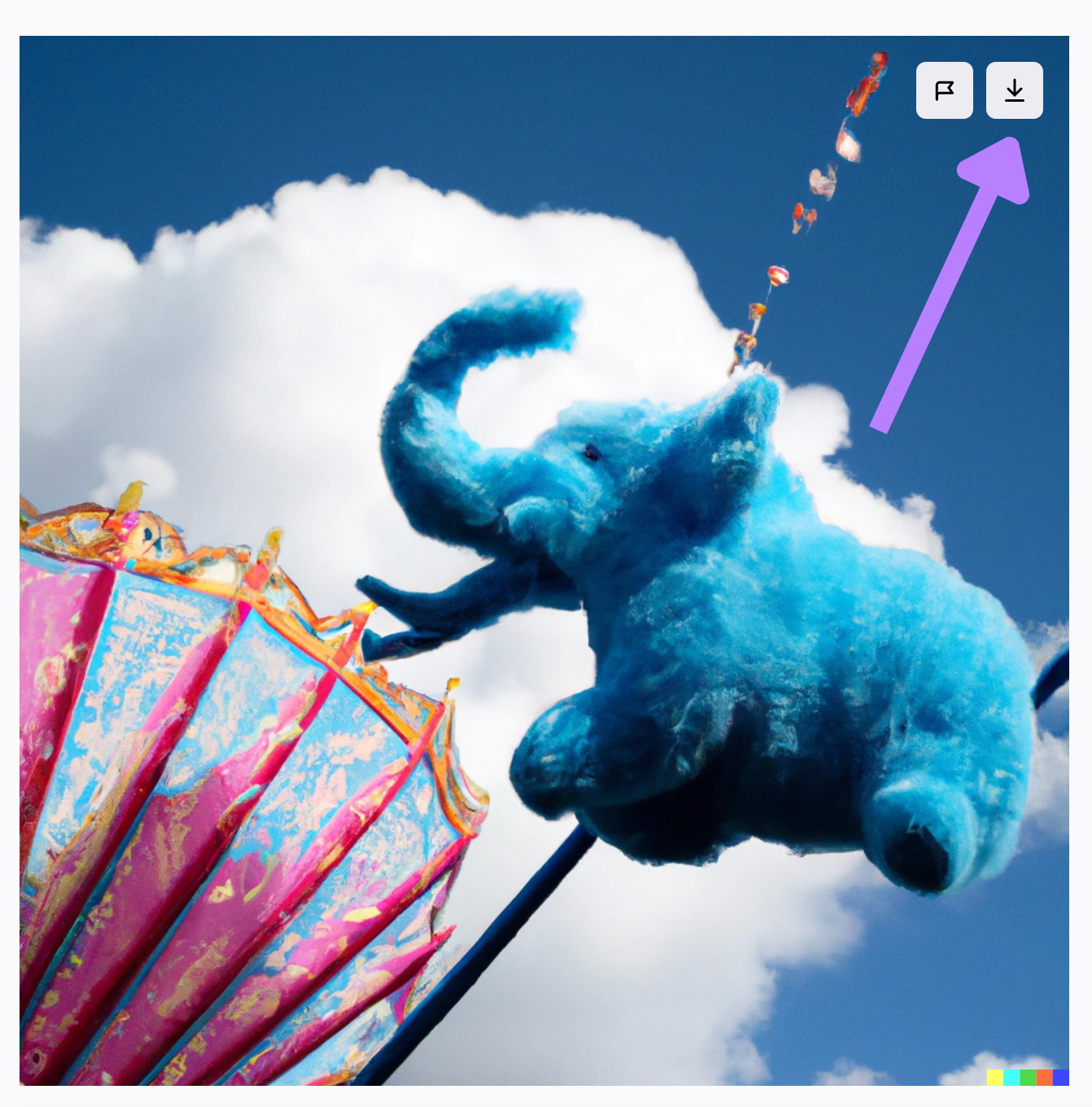 You can also "Share" it to a public page. Or "Save" it to a customized collection:

Recent variations are available in a toolbar on the right side of the DALL-E 2 dashboard.
Edit Your Graphics In-App or with a Third-Party Tool
You can use DALL-E 2's inpainting and outpainting features to tweak your images in the app. Or download them and use a third-party tool like Adobe Photoshop for editing.
Here's what "outpainting" with DALL-E 2 looks like for the prompt "Landscape:"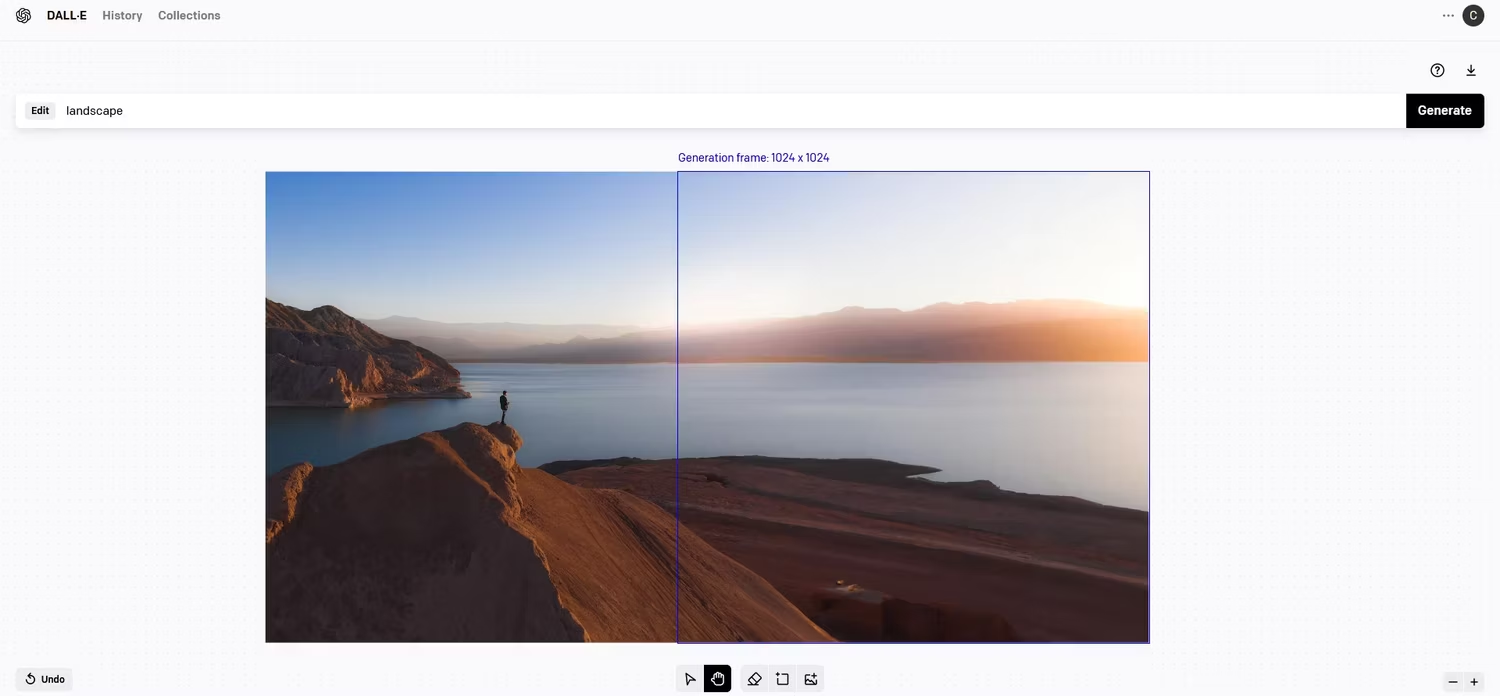 And here's how it compares to Photoshop's Generative Fill feature: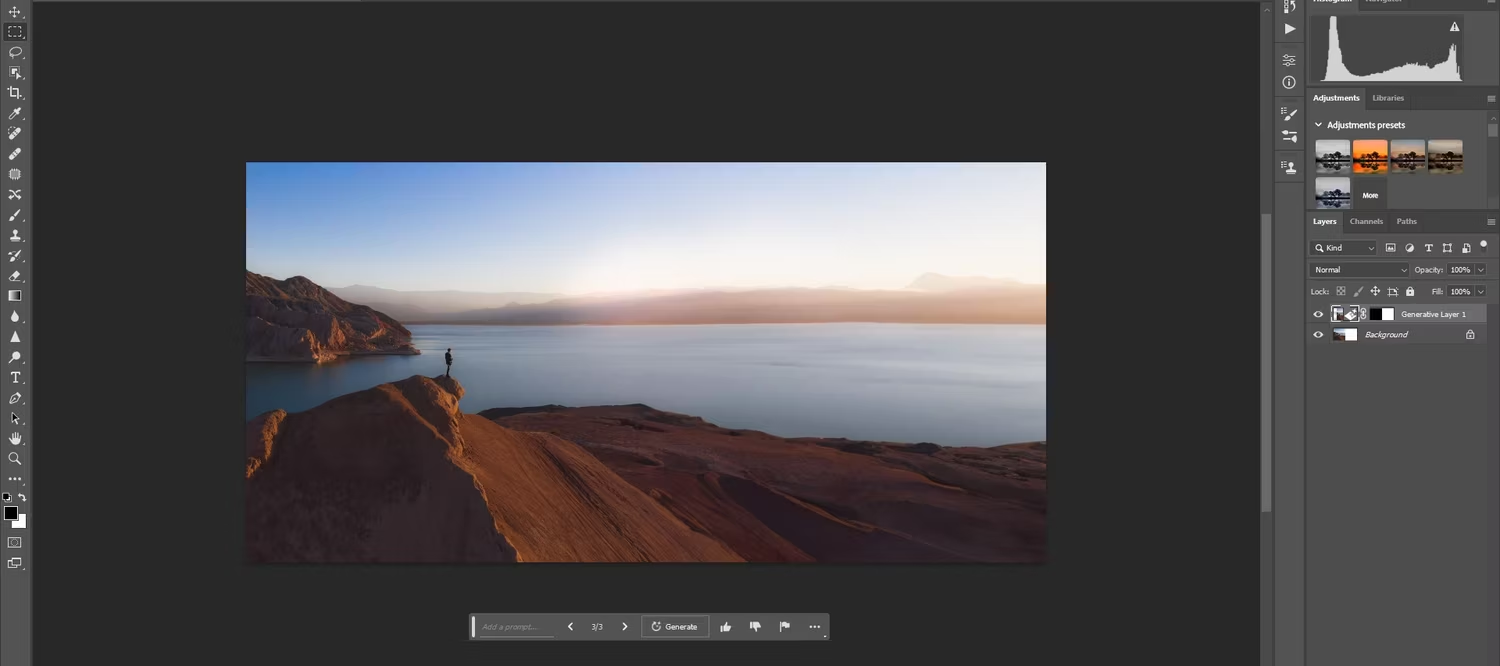 DALL-E offers two main types of in-app editing:
Inpainting allows you to change visual elements within a graphic 
Outpainting expands an original image past its borders with visual elements of the same style
Here are two examples of inpainting where the user asked DALL-E 2 to "add a flamingo" and specified where:

You can use this feature (and outpainting) to make your composition more interesting.
Try outpainting on one of the earlier images.
Choose an area outside the image (in this case, it overlapped) and add a new prompt: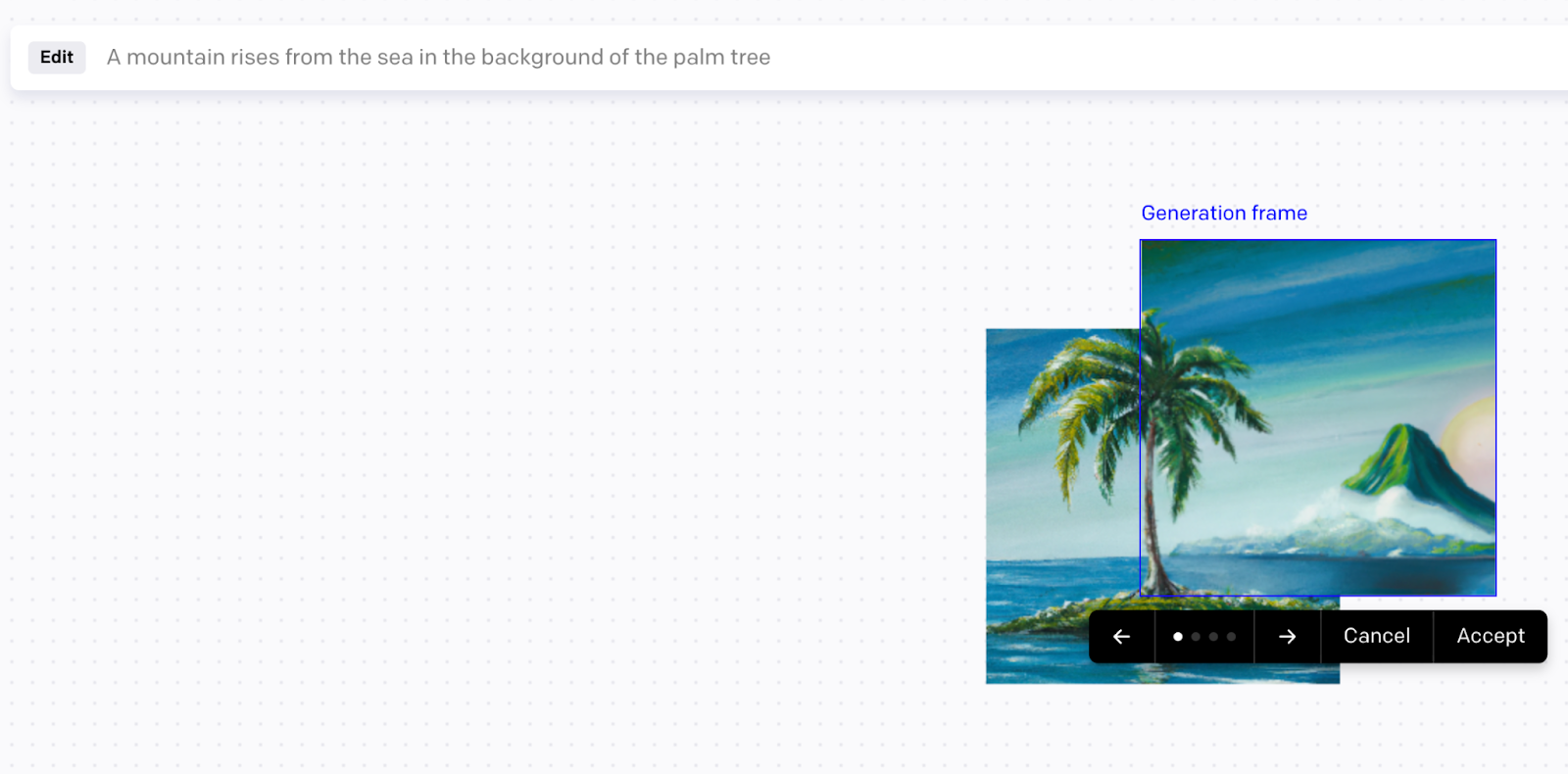 You still get four variations to choose from. So scroll through and click "Accept" when you're satisfied: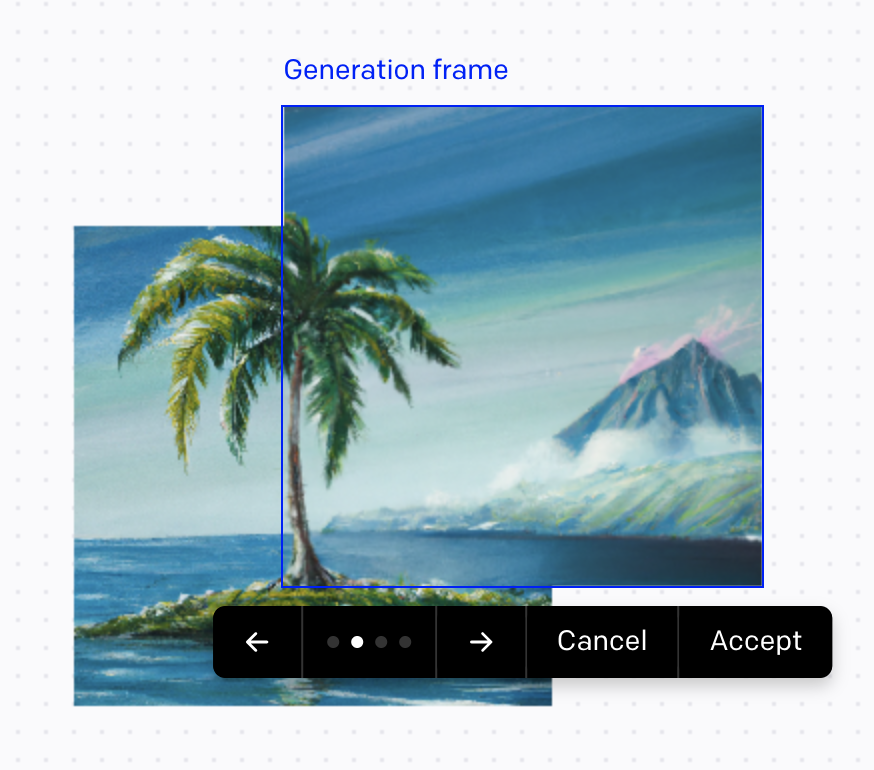 If you click "Cancel," DALL-E 2 won't add the additional part.
You can use these features for images you generate within the tool. Or you can upload your own and edit it in-app.
Be aware that each generation will use a credit. Even if you don't pick any of the variations.
Because of that, a third-party tool like Photoshop might be a better option. Since it gives you more options and could be more cost-effective in the long run.
But money isn't the only issue. DALL-E 2 also has some creative limits.
Use Your Graphics in Your Content
When you're happy with all of your DALL-E images, use them in your content. For example, share them as social media posts, videos, or blogs.
Ketchup giant Heinz based an entire marketing campaign around DALL-E 2 images in 2022.
The brand noticed that any ketchup-related prompt looked like a bottle of Heinz: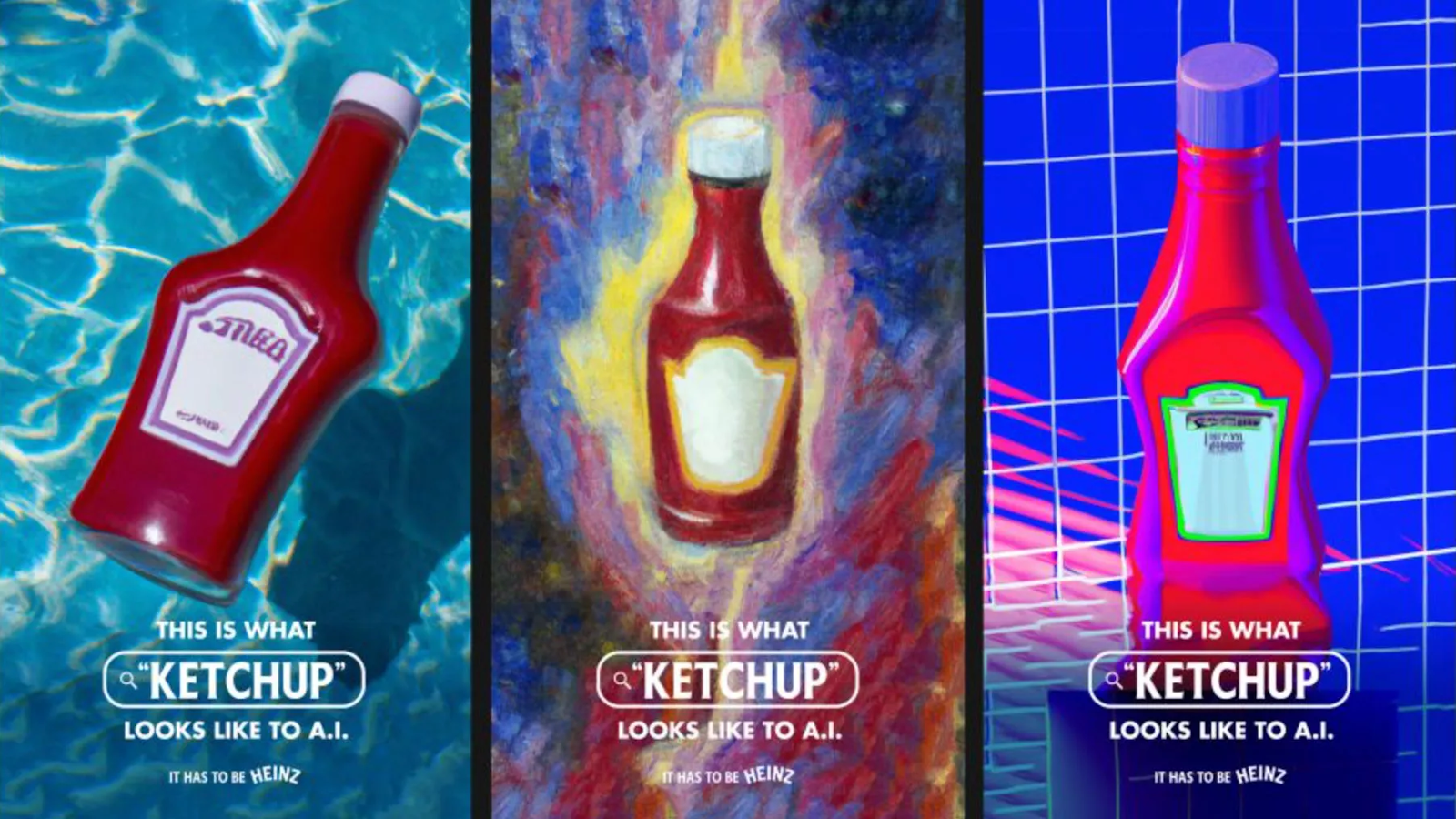 So it created a clever YouTube video and used a variety of DALL-E 2 images to "prove" that even AI prefers Heinz.
The brand shared the images on social media, its website, billboards, and paper ads.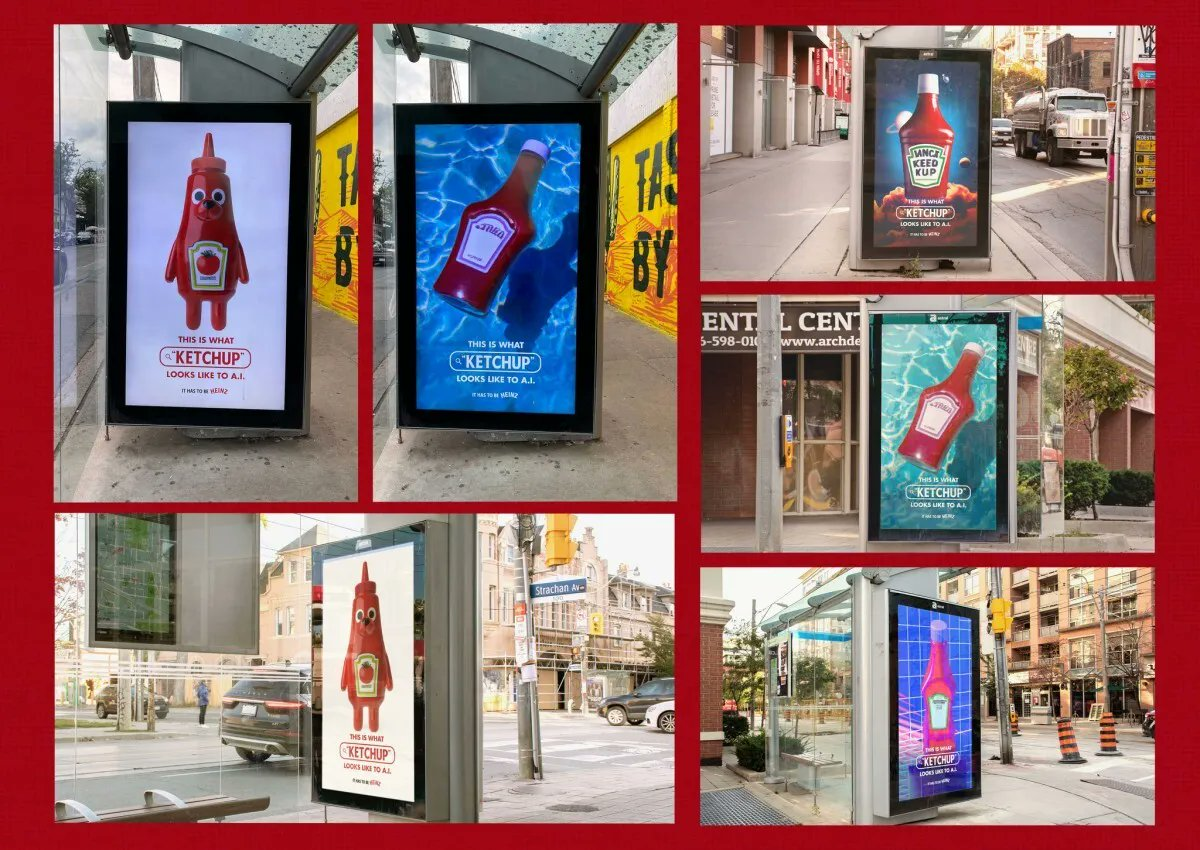 Their creative use of DALL-E 2 even won the marketing agency several awards. 
You can use your images in a similar way.
For example, Semrush's AI Social Content Generator can help you generate the copy and design parts of your social posts.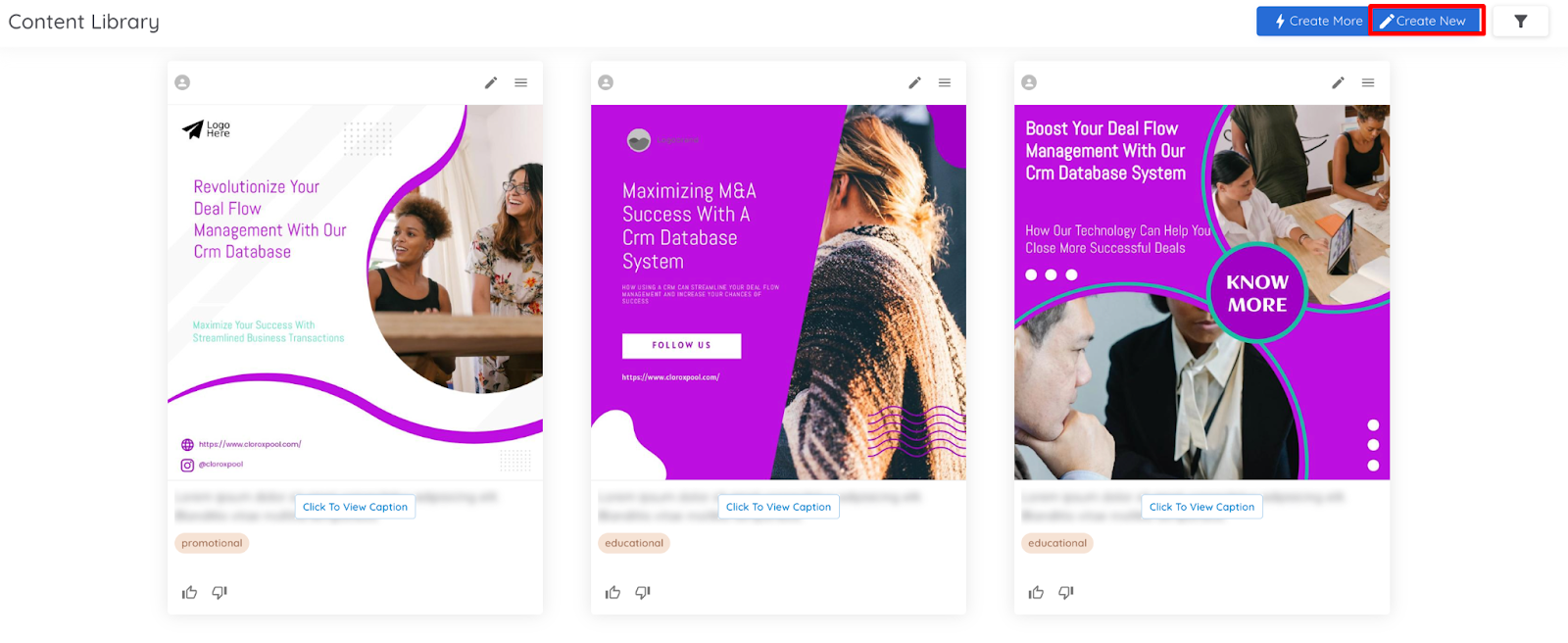 Instead of using stock images, you can start with one of your DALL-E 2 creations. Or have the tool suggest a post idea and go back to DALL-E to create a relevant image.
You can also create banners with Instant Banner Generator.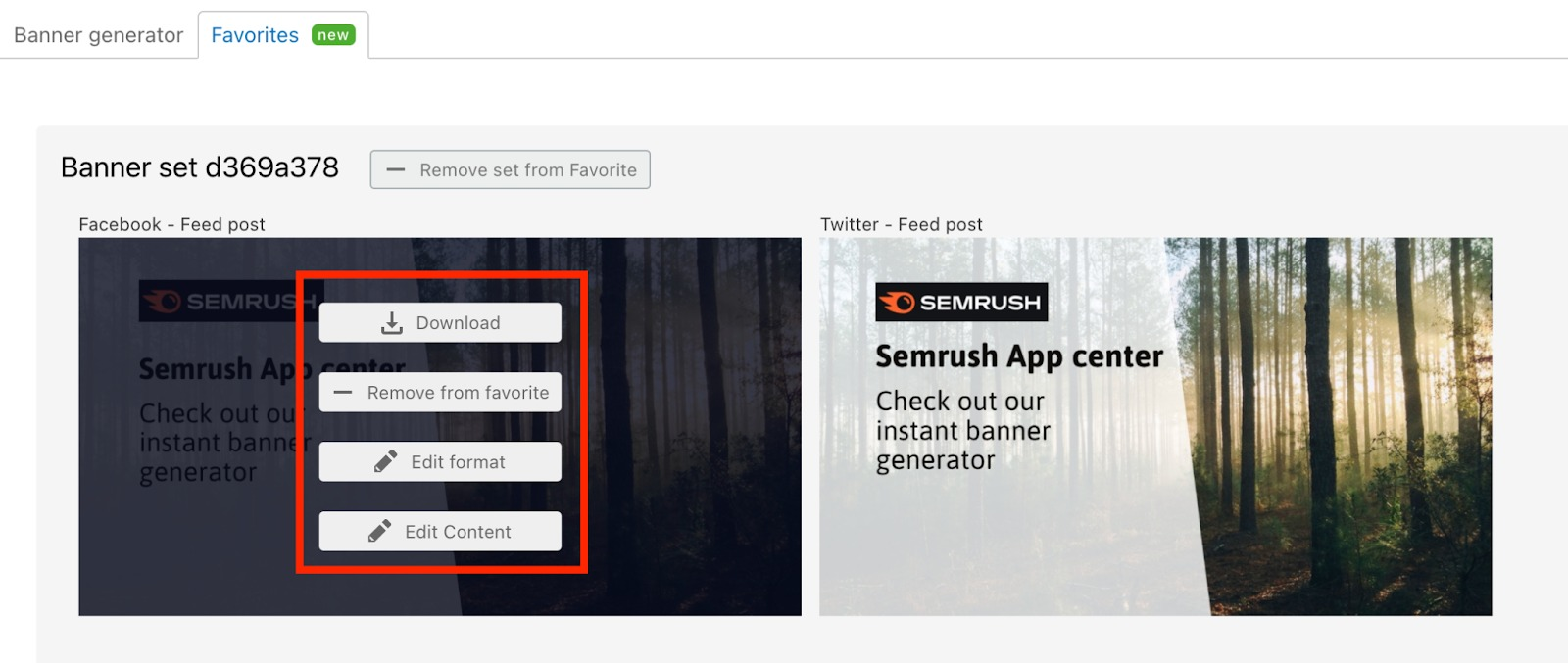 The tool allows you to pick options from stock photography site Unsplash. But you can get more creative with your DALL-E images instead.
Once you fill your blogs with eye-catching AI imagery, try Instant Video Creator to turn your posts into videos.
Simply upload the URL and the tool will create your video.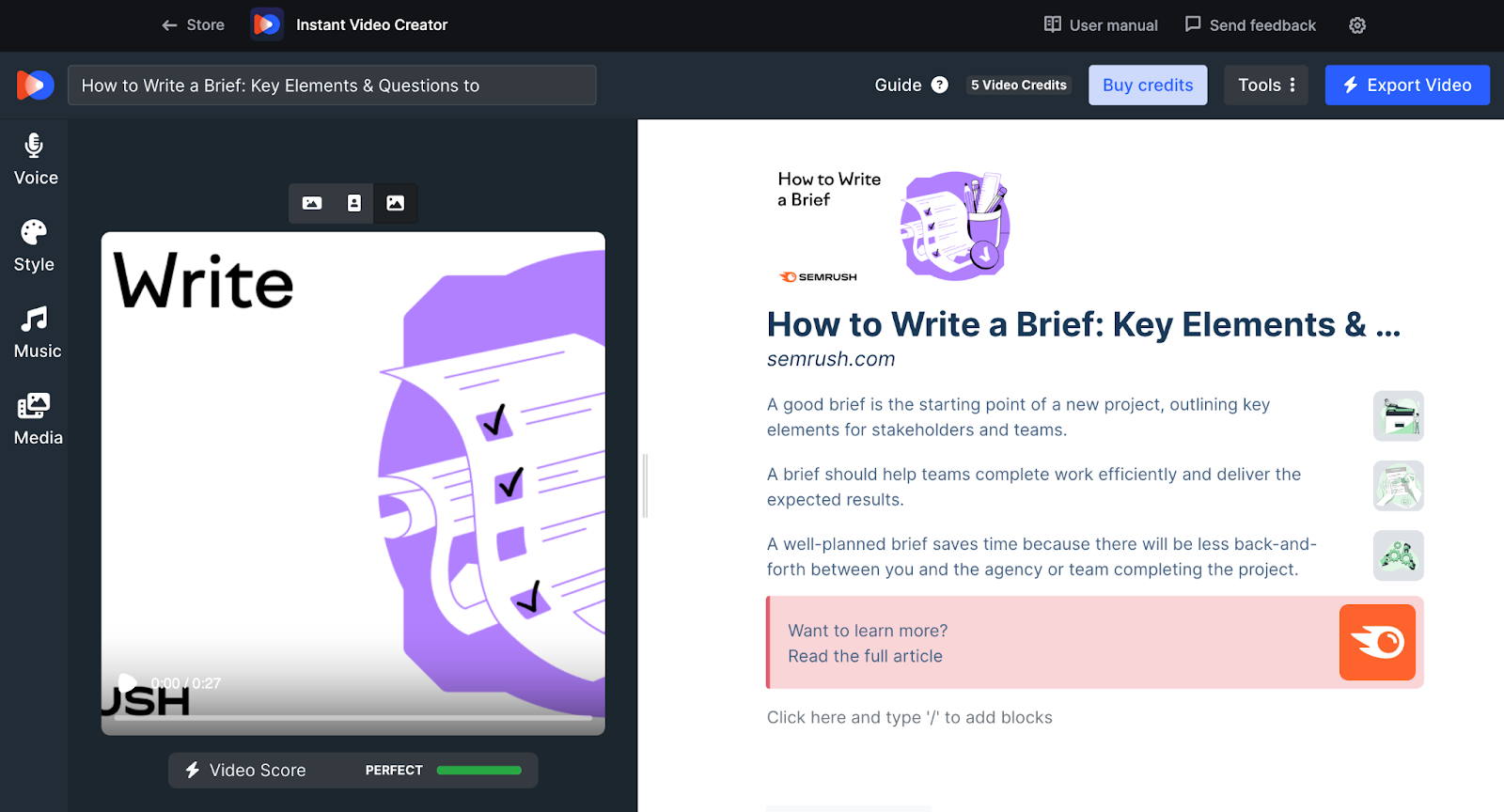 If you want to add any extra images, you can do so before sharing.
Whatever the format, DALL-E 2 images add a unique twist to any marketing materials.
Bonus: Be Aware of DALL-E 2's Limitations
DALL-E can produce some amazing graphics. But it's not perfect. 
It struggles with composition, spelling, and objects it doesn't recognize.
At the time of writing, here are some of the main elements that DALL-E 2 has trouble with:
Scenes with two or more characters
Objects it doesn't "recognize" (e.g., a specific type of skateboard)
Distinguishing between foregrounds and backgrounds
Spelling out words within graphics
Hyper-realistic scenes (e.g., human hands usually have more or fewer fingers than they should)
Let's look at a few examples.
Here's what "A female gangster in a fedora hat talking to a cat wearing sunglasses around a poker table" produced:
The prompt specifies that the cat should be the one wearing sunglasses. But DALL-E 2 misunderstood.
So try being more specific: "A female gangster wears a fedora, a cat wears sunglasses, they talk around a poker table."
But that doesn't work either.
Instead it created three characters. But no cat wearing sunglasses.
Another element DALL-E 2 can't produce are words within a graphic.
For whatever reason, anything you ask for will be a jumbled mess of characters.
The software also tends to ignore elements it doesn't "recognize." 
For example, it created a pretty accurate "drawing of a blonde woman riding a longboard."

But the longboard looks different in each image.
Luckily, the tech is always learning despite these limitations. And something DALL-E 2 struggles with today may not be an issue tomorrow. 
You may also find a way to phrase your prompt to achieve more accurate results.
The only solution is to keep experimenting.
Use DALL-E 2 to Enhance Your Content Creation Efforts
OpenAI's photo generator DALLE-2 is powering a new creative renaissance for marketers. 
As a result, those with little artistic ability can now create original graphics from a line of text.
Once you have your images, head to Semrush's AI Social Content Generator to get help with your captions and hashtags. Or start with a banner using Instant Banner Generator.
Want to turn your new image-packed blogs into videos? Try Instant Video Creator.