Looking to measure brand awareness but feeling intimidated? 
Measuring brand awareness is not only possible, but will help you better understand your market presence, visibility, reputation, and growth. But how do you measure awareness? 
Brand awareness is how familiar people/an audience are with a brand. The challenge is that awareness is a broad concept and hard to quantify. 
However, there are some metrics and KPIs you can use that can illustrate brand awareness and allow you to report on any growth or changes.
Here, we'll cover the key performance indicators (KPIs) that can help you determine the success of your brand. 
Pro tip: Doing all of this work internally can take a lot of resources and time. Using tools like those offered in the Semrush App Center can help you automate the tedious process of collecting and analyzing data so that you can focus on coming up with your next brilliant brand message. 
Let's get started. 
Why Should Businesses Care About Brand Awareness? 
Before diving into the KPIs, let's discuss the necessity of measuring brand success and awareness. 
Brand awareness signifies how well a brand is known and remembered. By tracking several metrics, you can highlight a particular brand's market penetrance and significance. 
This will help you determine your brand's reputation, positive or negative. 
Brand awareness can be broken down into two main categories:
Aided Awareness: This type refers to the extent to which consumers can recognize a brand when prompted with its name or logo.
Unaided Awareness: Also known as top-of-mind awareness, this type measures a brand's ability to spontaneously generate in consumers' minds when thinking about a specific product or service category.
Measuring brand awareness and reputation involves gathering data from various sources and channels to assess the brand's visibility, reach, and impact. 
Part of that data gathering step should include competitive benchmarking. That way, you can have an idea of what numbers you should be aiming for with your KPIs.
This data can help you gauge the effectiveness of your marketing efforts and understand how the target audience perceives their brand. Without these measurements, you're left to guess how well your advertising and marketing dollars are being spent. 
What KPIs Can Brands Use to Measure Awareness? 
Let's cover some specific KPIs that can assist in evaluating brand awareness: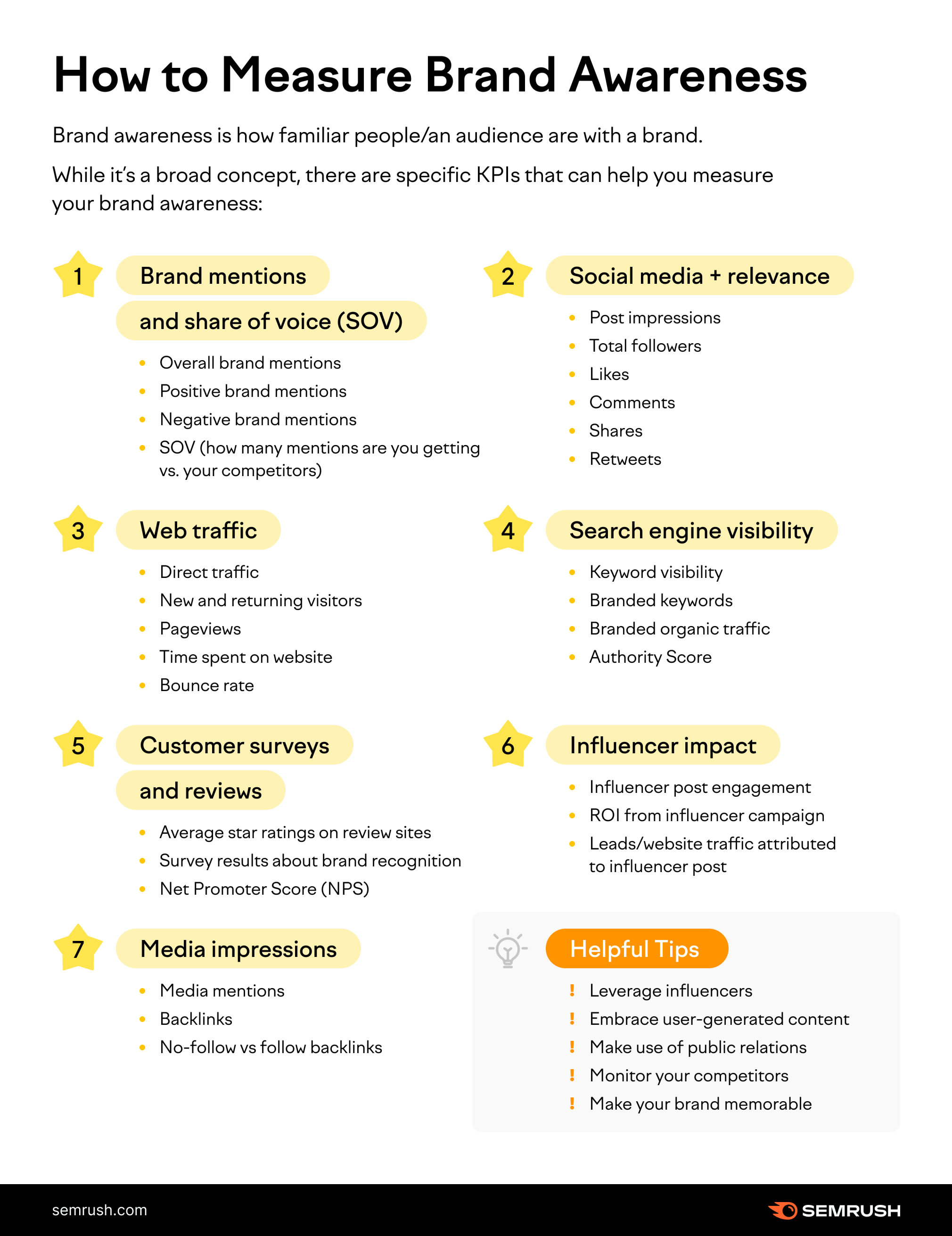 Brand Mentions and Share of Voice
Be sure to track your brand mentions across social media, blogs, forums, and news websites. Brand mentions are any time—as the name suggests—your brand is mentioned by the public on a digital platform. 
Then, calculate your brand's share of voice (SOV) by comparing the number of brand mentions your brand has with those of competitors in the same industry.
KPIs/Benchmarks: 
Overall brand mentions
Positive brand mentions
Negative brand mentions
Share of voice
First, you'll want to monitor your brand mentions. This is virtually impossible without the help of an aggregate tool like the Media Monitoring app. 
Sure, you can manually attempt to track every brand mention out there for your business, but your time is better spent elsewhere. Tools like Media Monitoring can do a more thorough analysis. 
Media Monitoring will help you assess what percentage of your mentions across the web are positive vs. negative, you'll get a list of specific mentions, and you'll be able to assess if you have new, undiscovered backlink possibilities. 
An easy benchmark to set here is to maintain and grow the percentage of positive mentions your brand has across the web. You can do this by seeking thought leadership opportunities, partnerships, and influencer marketing campaigns. 
Next, you'll want to calculate your SOV metric for your website, social platforms, and paid advertising. To do this, you'll need to compare your web traffic, social followers/engagement, and paid advertising placements against competitors in your industry/market.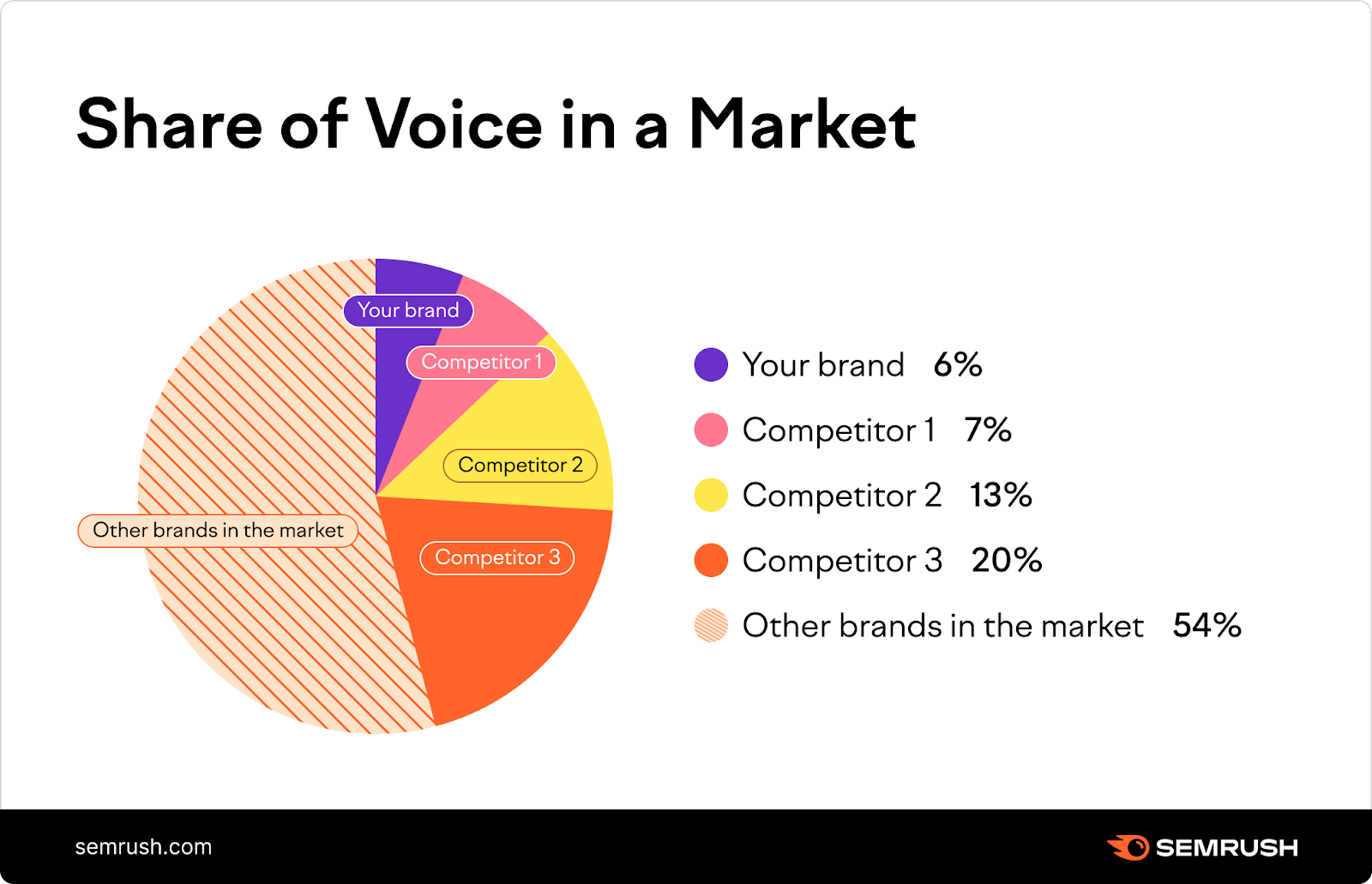 Once you have those numbers, you may choose to target a certain channel or set a benchmark for a specific percentage increase of SOV overall for your brand. 
For example, you could choose to target your paid advertising SOV by increasing your advertising by 10-15 percent a quarter. Or, target your SEO share of voice with an SEO campaign.
Pro-tip: If you're looking to generate buzz for your brand, but aren't sure what topics are trending in your industry, tools like TrendFeed can help you find and curate new content that targets hot topics across the globe.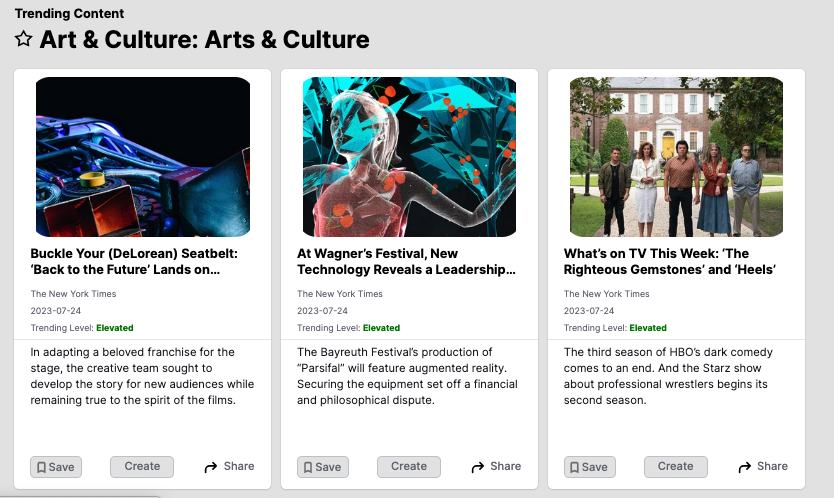 Social Media Relevance and Reach 
Social media platforms are now almost ubiquitous with brand exposure. These channels offer virtually endless brand exposure potential. 
Measuring social media reach involves determining the number of unique users who have seen a brand's content over a specific period across key platforms like:
Facebook
Instagram
Twitter 
LinkedIn
YouTube
TikTok
KPIs/benchmarks: 
Post impressions
Total followers per each platform
Total followers overall 
Measure the number of impressions your posts get. And then consider if these are followers you already have or visitors who don't follow your accounts. If you have more new visitors than followers accessing your social media content, you will likely use well-targeted keywords. Your efforts are pushing your platforms further and further out to new audiences. 
A good benchmark is one that is attainable. It might vary quarterly depending on time, existing social presence, and budget restrictions. 
For example, you may decide to budget for a campaign to increase your follower count by 15 percent across your social media channels in the first fiscal quarter of the year. Once your goal has been reached, you may choose to budget less on social media growth the next quarter. 
Social Media Engagement
Engagement metrics, such as likes, comments, shares, and retweets, indicate the level of interaction between a brand and its audience.
KPIs/Benchmarks: 
Likes
Comments
Shares
Retweets
You will want to measure each engagement metric separately, and then look at them as a whole picture of your social media reach and reputation. 
For example, if your brand got 200 comments across your social media channels, and you made 2,000 posts this year, you'll know only 10 percent of visitors feel engaged enough with your content to leave a comment. This might mean you need to focus on generating more interactive and engaging content for the next quarter, in order to raise that number to 20 percent comment engagement. 
Pro tip: Platforms like SproutSocial can help you automate many of your social media tasks so you can focus on building content that gets users to share, retweet, comment, and like.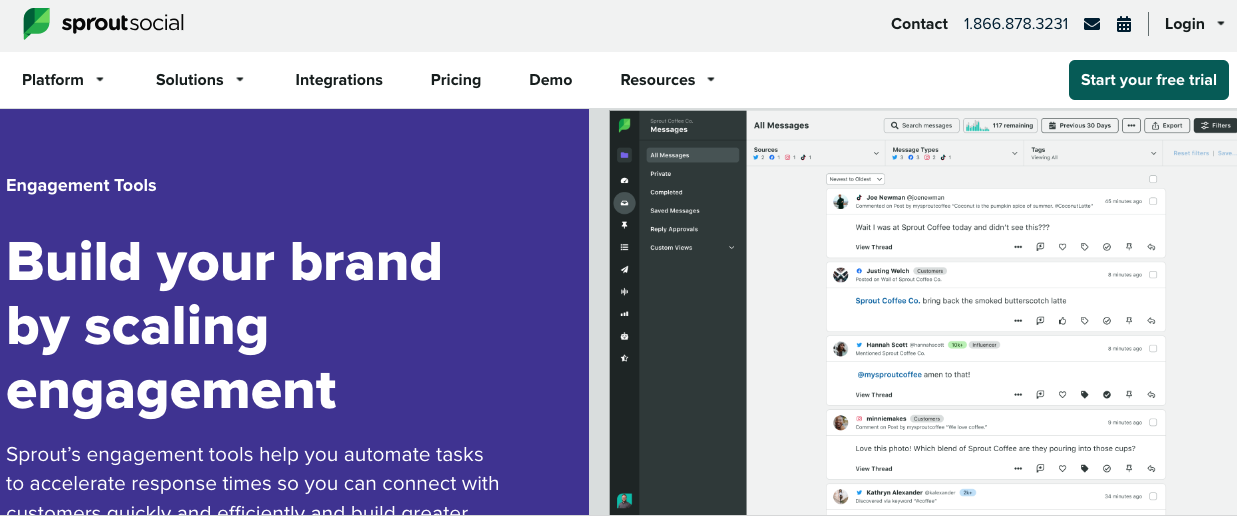 Web Traffic
Monitoring your website's traffic is a must. Web traffic can tell you how many people across a virtually infinite audience pool visit your digital properties. This is just like counting the number of visitors to your brick-and-mortar store every day. 
KPIs/benchmarks: 
Direct traffic
New and returning visitors
Pageviews
Time spent on website
Bounce rate
Analyze the number of new and returning visitors, page views, and time spent on your website to assess the appeal and engagement of your content. Once you clearly understand your content performance, set another attainable quarterly growth goal. And, you may decide to target different things during different quarters. 
For example, you may focus on bounce rate—the number of visitors who navigate away from your site after visiting only one page. Then, in the next quarter, you might focus on the number of returning visitors by creating a full-funnel content strategy. 
Pro tip: 
To get these metrics for your website, you must have Google Analytics set up correctly. You should also be assessing your direct competitors' web traffic analytics. To do this, you will need to use a tool like Traffic Analytics.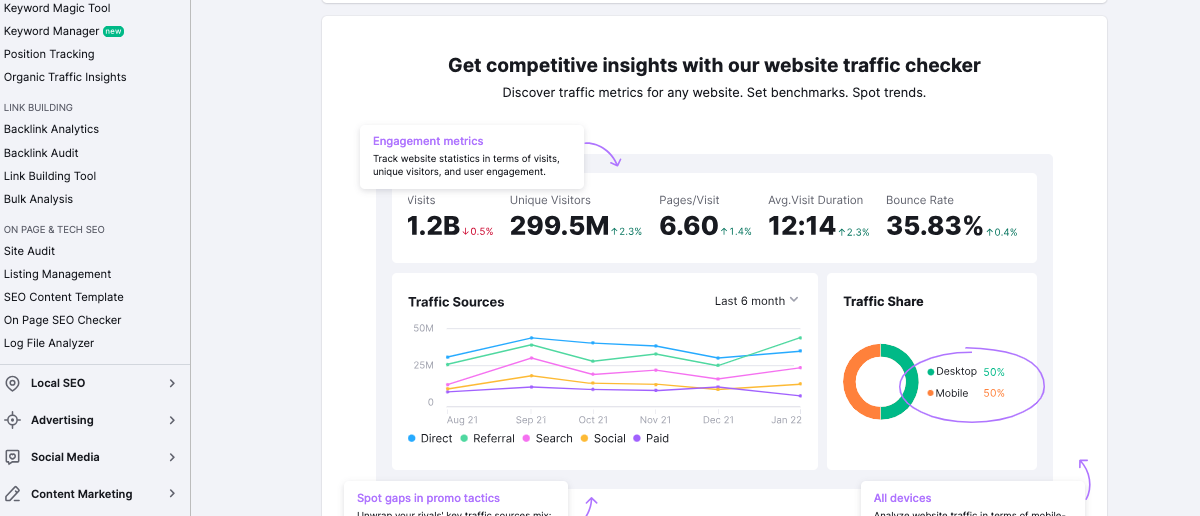 Traffic Analytics is a competitive research tool that gives you estimations of any website's desktop and mobile traffic, as well as other benchmarks that will help you better assess your site's performance against the competition. 
Search Engine Visibility
Search engine visibility assesses your brand's presence in search engine results for relevant keywords. Higher rankings on search engine results pages (SERPs) indicate better brand awareness, but not necessarily positive brand awareness.
With a keyword strategy, you can create a plan to use SEO to boost your brand awareness.
KPIs/Benchmarks: 
Keyword visibility
Branded keywords
Branded organic traffic
Authority Score
Compile a list of keywords that you would like your business to rank for in the SERPs. 
How well are you performing for these highly valuable, relevant keywords? 
If, say, you're only ranking in the top three positions for 25 percent of your keywords, you may want to focus your marketing efforts on unseating your competitors for an additional 10 percent of your keyword list per quarter. 
Branded organic traffic refers to search engine visits to your site that come from searches that include your brand name. 
You can measure your branded keywords and branded traffic with Semrush's Domain Overview report to see how much estimated traffic your site (or a competitor's) is getting from branded searches. This tells you how much brand awareness you have among people searching on Google. 

Customer Surveys and Reviews
Conducting regular surveys can assess how well customers remember your brand. Ask them to name the first brand that comes to mind when considering a specific product or service category.
You'll also want to track your reviews and star ratings across third-party websites like Yelp and Google.
KPIs/Benchmarks: 
Average star ratings on review sites
Survey results about brand recognition
Net Promoter Score (NPS)
Fortunately, star ratings have made it easy to get a quickly digestible view of your brand's reputation. On the flipside, these star ratings can be mercurial. You'll want to keep an eye out for dips and upward trends in the number of stars associated with your brand. 
Surveys also provide tangible metrics you can use to improve brand exposure. 
Aim to keep your star rating consistently high (four or five stars), and be the first brand customers think of when they respond to a survey. 
Pro-tip: Tools like Review Management Service can help you aggregate all of your third-party reviews in one place, and quickly respond to customer feedback. Doing so can help you keep or improve your star ratings.
Net Promoter Score (NPS)
The Net Promoter Score measures customer loyalty and willingness to recommend a brand to others. This metric provides valuable insights into how satisfied and loyal customers are. With more loyal customers, you could expect your brand awareness to grow. A low NPS, on the other hand, could lead to a more negative reputation.
Aim for an NPS above zero at the very least. The creators of the Net Promoter Score define anything above 20 as "great" and anything above 50 as "Amazing" 
Pro tip: Platforms like Delighted by qualtrics can help you send NPS surveys and track feedback. 
Influencer Impact
Influencer marketing has become huge in the last ten years. The industry now generates billions of dollars a year. If your brand collaborates with influencers, be sure to track the impact of their posts on your brand's awareness. Measure engagement and follower growth resulting from influencer partnerships to ensure that you're getting the best return on your investment.
KPIs/Benchmarks: 
Influencer post engagement
ROI from influencer campaign
Leads/website traffic attributed to influencer post
The KPIs and benchmarks for influencer marketing will depend on what you're looking to achieve by partnering with influencers. Are you looking to generate leads or brand exposure and awareness? 
If you're looking at revenue/ROI, Influencer Marketing Hub's 2020 report showed brands can earn as much as $18 in media value for every dollar spent on partnering with influencers. However, that same report also found that the average was closer to $5-$6 dollars per dollar spent. 
So, you may want to start by setting a bench market of making $5-$6 dollars per every dollar spent. This is a less intimidating goal than an 18:1 earn/spend ratio. Once you have a better idea of how lucrative influencer marketing will be for your brand, you can continue to aim for higher ROI. 
Media Impressions
Keep track of the number of times your brand's content is shared across digital media platforms. This metric highlights the potential reach of your brand's messages and can tell you how well your PR efforts are performing. 
KPIs/Benchmarks: 
Media mentions
Backlinks
No-follow vs follow backlinks
You have a number of ways to measure brand awareness in media and the effectiveness of a media story on your brand awareness. First, set up a tool or service that keeps track of all media mentions across the web. 
Then, look at what backlinks your brand is generating. Backlinks are links on a website that point to another website. Google values these backlinks and sees them as a sign of trust—another brand or website has vouched for you. 
One KPI you will want to set for your brand is the number of follow backlinks vs. no-follow backlinks any media mentions have generated for you. You will want to set a reasonable goal to then reach out to the publishers with no-follow links and kindly ask them if they'd be willing to switch it to a follow-link. 
Here's an example: If you had 100 backlinks, but only 30 percent were follow-links, you might want to make it a goal to reach out to 20 percent of the no-follow publishers in a month to see if they will switch. 
Pro tip: Tools like the Media Monitoring app can help you monitor and analyze your brand's sentiment as well as help you uncover backlink opportunities you'll want to follow up on.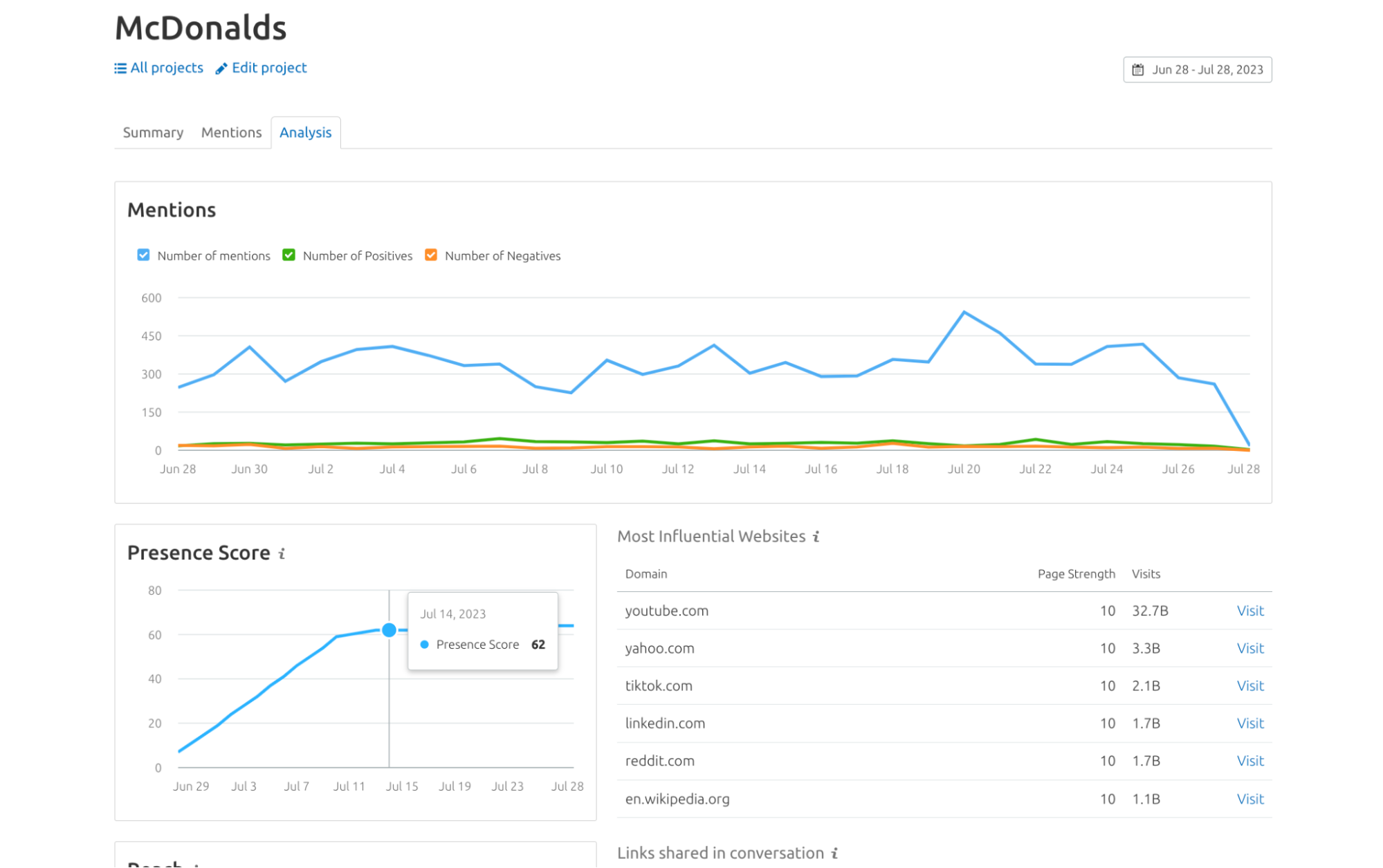 Helpful Tips to Raise Brand Awareness
Now that we have covered the different types of KPIs and benchmarks brands should be using to calculate their awareness, let's discuss some tips that can help you improve your reach and visibility.
Be Consistent and Creative with Your Brand Awareness 
Consistency and creativity are two of the biggest building blocks of brand awareness. A cohesive brand message and visual identity across all of your marketing channels can strengthen your brand recognition. Ensure your brand's logo, color scheme, and tone of voice remain consistent across social media, websites, advertisements, and any other marketing materials you generate. 
Moreover, creativity can help your brand stand out in a crowded marketplace. Engaging and innovative content can capture the attention of potential customers and leave a lasting impression. Consider using storytelling, interactive content, and user-generated content to foster a deeper connection with your audience.
Leverage Influencers to Enhance Brand Awareness
Influencer marketing has emerged as a lucrative tool for increasing brand awareness. Collaborating with influencers who align with your brand values and target audience can amplify your message and extend your reach to new demographics. 
However, authenticity is crucial in influencer partnerships. Consumers can quickly detect insincere endorsements, which may negatively impact your brand's reputation. In other words, you will want to make sure you are sourcing relevant opportunities. 
One way to do this is by using tools like BuzzGuru to uncover ideal ambassadors for your brand.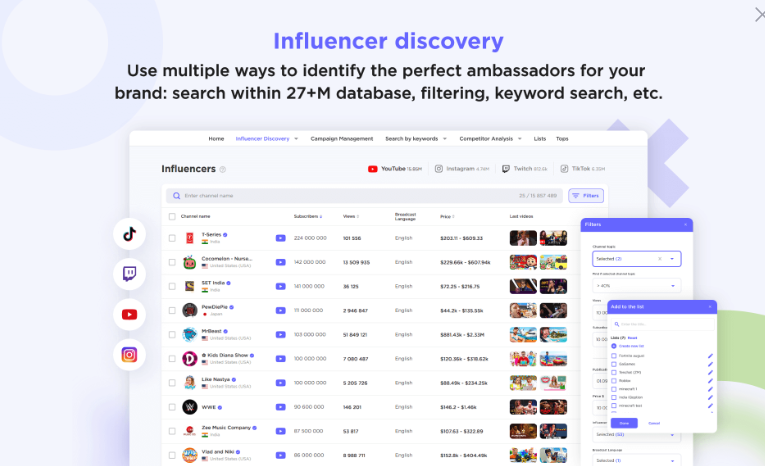 By using tools to help you focus your efforts, you can expend more time and energy crafting partnerships that offer sincere and true value to your potential customers. 
Pro-tip: When selecting influencers, focus on relevance and engagement rather than solely relying on follower count. A smaller, engaged audience closely matching your target demographic can yield more significant results than a large but uninterested following.
Embrace User-Generated Content
User-generated content (UGC) is valuable for measuring and enhancing brand awareness. Encourage your customers to share their experiences with your brand through reviews, testimonials, and social media posts. UGC is authentic and demonstrates that your brand resonates with its audience.
Reposting UGC on your official channels acknowledges and rewards your loyal customers and strengthens the connection between your brand and its followers. The power of word-of-mouth marketing cannot be underestimated in building brand awareness.
Make Use of Public Relations (PR)
Securing media coverage, press mentions, and features in relevant publications can significantly boost visibility and credibility. These collective efforts are all a part of managing your public relations. 
Consider crafting compelling press releases, pitching story ideas to journalists, and participating in industry events and conferences. Collaborating with media outlets and influencers can extend the reach of your brand's message to a broader audience. 
If you don't have the resources to scale your PR efforts internally, Semrush's Agency Partners Platform can help pair you with a top-performing, vetted PR agency to do the work for you. 
Monitor Your Competitors
While striving to improve your brand awareness, keeping an eye on your competitors is equally important. Analyze their marketing strategies, social media presence, and brand mentions to identify areas where you can differentiate yourself and gain a competitive edge.
Pay attention to the tactics that yield the most significant results for your competitors, and adapt them to suit your brand's unique identity and goals.
Tools like the Audience Intelligence App can also help you get deep insights into your target audience and to refine your content strategy efforts. 
Make Your Brand Memorable 
The goal of brand awareness tracking is to build on what is already working for your brand, and to improve in areas where you can gain exposure and positive association with your audience. 
Ideally, your brand should be memorable in all the right ways—the first and best thing that comes to mind when audiences think of your niche.
Check your most recent brand mentions with the Media Monitoring app to see what people say about you.
If you have questions, we would love to hear from you. Dive into the App Center to get started or reach out to our support team here for more information.