Want to warm up your cold emails either on LinkedIn or direct? If you want to generate more leads through a cold email campaign, a bit of background help can be invaluable.
We'll take you through how LinkedIn can create a valuable database of targeted contacts to make your cold email targeting more accurate, professional, and personable. 
How Can LinkedIn Improve My Lead Generation through Cold Emails?
We could spend ages debating the relative merits of traditional email versus LinkedIn InMail. Yes, emails give you more word space and you can reach tons of people, but InMail is an effective way to reach a more targeted audience. 
Both are good, and both have their place. However, how about combining the two approaches? LinkedIn has the tools to create a really tailored list of contacts that you can integrate with your CRM and use to form the basis of your cold email strategy.
Or how about combing a strategy that enables you to view, connect, like posts, endorse skills and then send out emails both direct and through LinkedIn.
A LinkedIn connection is a great way to validate yourself when you're sending out cold emails. We'll take a look at how this can work for you.
How Can I Use LinkedIn for Lead Generation?
How can you build leads using LinkedIn? LinkedIn's free search is actually pretty good. If you know what to look for, there are a lot of people on this platform and it's easy enough that anyone can find someone they need or want in just minutes! Type in the broadest term in the search bar ("Content writer", "SEO", "Programmer"), then use the filter option to narrow it down (company, location, specialization).
Free LinkedIn will only get you so far with your lead generation strategy, as you're rather limited to who you can contact. Enter… LinkedIn Navigator Sales. Sales Navigator is a paid-for service; however, it absolutely ups your networking game.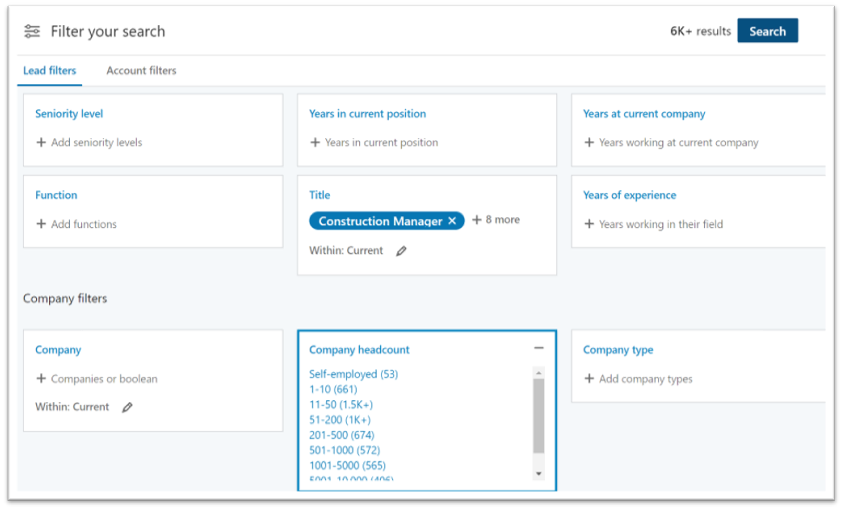 Navigator enables you to really hone your searches and find the decision-makers you need to reach within the right organizations. You'll increasingly get customized recommendations as well, as the program learns your targets. Then (and this is one of the really great bits), it'll save your lists in a CRM-ready format.  Or in a URL format that you can drop into your automation tool
Remember that LinkedIn is a two-way process, so before you send out anything, you'll need to get your own house in order, starting with your profile page.
How Do I Optimize My LinkedIn Profile for SEO?
If you want to attract potential useful contacts, make the most of your LinkedIn profile. LinkedIn is far more than Facebook for business, and it seems to be a little-known fact that you can optimize your profile for SEO and so attract more visitors to your page. (Even when people aren't searching for your products or services on LinkedIn!)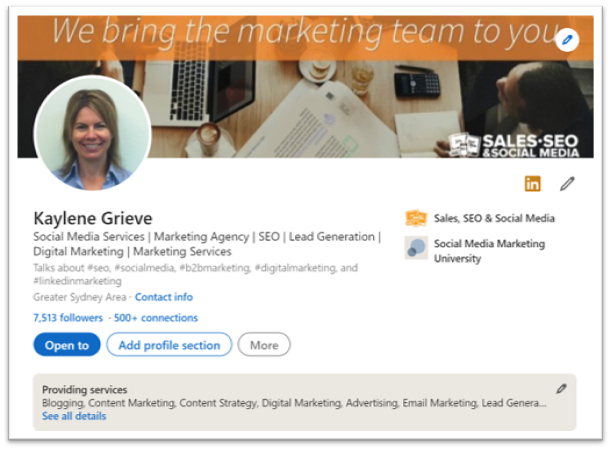 As part of your holistic LinkedIn strategy, you need people to find you as well as vice versa. How can you do this? Looks matter, so market your profile with a good headshot, an eye-catching banner/backdrop, an SEO-friendly headline, and make your URL and handles search-friendly.
That initial window-dressing done, move on to that all-important summary/about section. This essential personal sales pitch is where you can get your SEO terms in. You have 2600 characters to use in the "About" section, so think about crafting your text with search terms that your clients are likely to type in to find your products and services. Keep the "About" section client focussed: How you help clients, ideal clients you like to work with, the problems they face, the solutions you offer, offer a little bit of social proof if it is ok to drop some client names that you work with into the text and remember to finish off with a call to action.
If someone wanted to find you in the search bar, what would they have to look for? Check out the competition: what do they say? Likewise, don't make the Experience paragraphs read like your resume, but write engaging little paragraphs and get those keywords in. Two to three paragraphs are usually sufficient here.
How Can I Use LinkedIn to Build an Audience?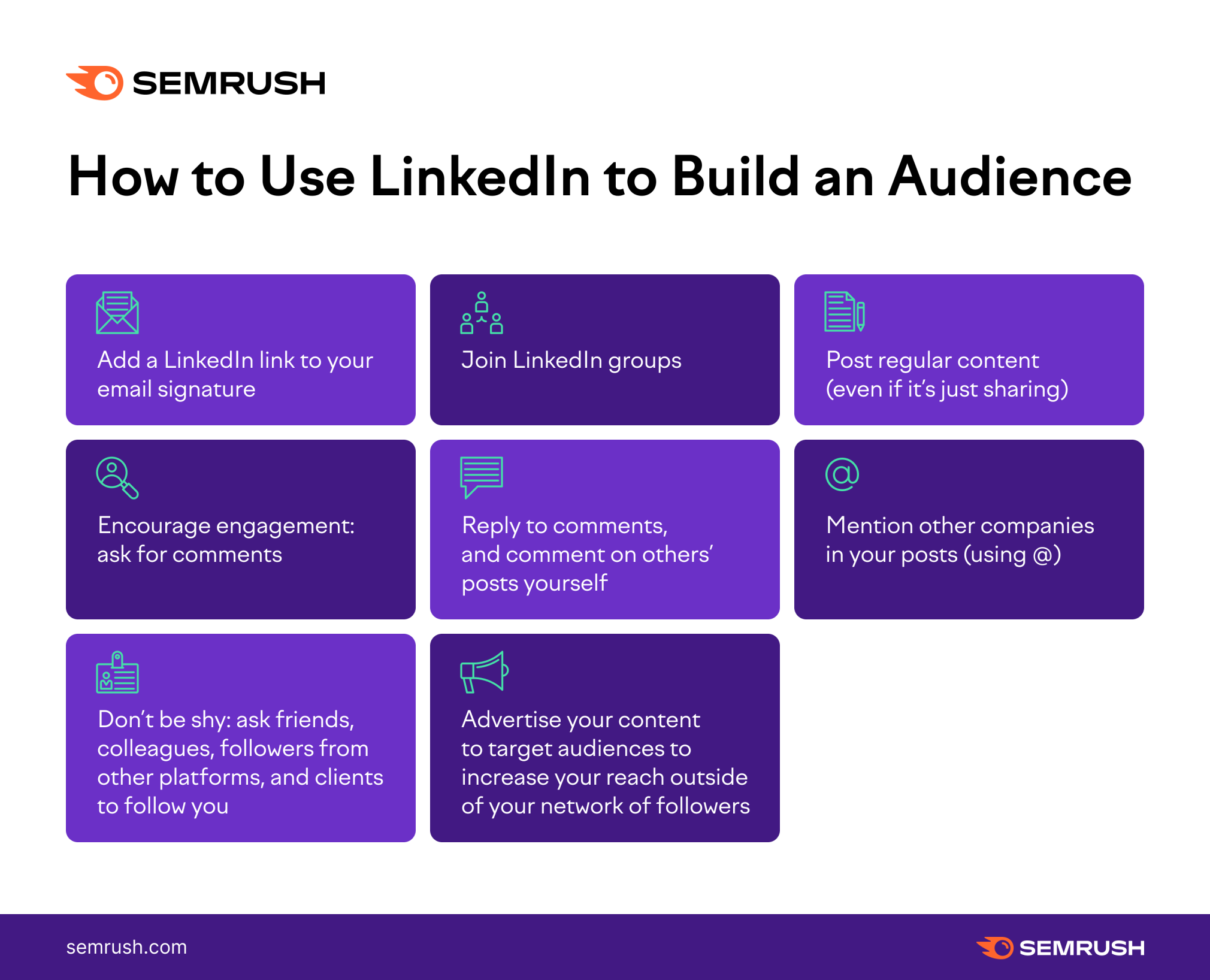 You now have a lovely profile page, and you want people to see it. The SEO terms should help, but you'll need a few more tricks up your sleeve. Try these:
Add a LinkedIn link to your email signature
Join LinkedIn groups (You can join up to a 100 where your target audience is)
Post regular content (even if it's just sharing)
Encourage engagement: ask for comments
Reply to those comments, and comment on others' posts yourself
Mention other companies in your posts (using @)
Don't be shy: ask friends, colleagues, followers from other platforms, and clients to follow you
Advertise some of your content to target audiences to increase your reach outside of your network of followers
How do I convert my LinkedIn audience into cold emails?
So, you've made the most of Advanced Search and Navigator to build up your database of contacts, and your new profile has encouraged more people to connect with you. Now it's time to send out those cold emails.
Through automation, you can add a CSV file of contacts or the URL out of advance search in Sales Navigator. 
On LinkedIn, you can send out 80 connection requests per day. (at the time of writing this, this can change!) From there, if your audience is targeted properly, you should see a 20-25% acceptance rate. 
The people that connect with you then go into a 3-4 email sequence. (Using automation tools) This is where the sales process/relationship building starts which should then generate sales qualified leads.  Using this approach, you should receive 8-10 sales qualified leads per month. (This varies with different industries) Most clients receive a lot more than this (usually between 20-40 leads per month) however we like to keep figures conservative.
What are the legal requirements for sending cold emails?
Yes, the dreaded spam. Every country has its own laws regarding unsolicited emails, and we suggest you check out your local regs (or ask your legal team to update you, if you're lucky enough to work in an organization with in-house expertise).
For example, in Australia (as in most places) you need to have permission from the recipient in order to email them. There are two basic forms of consent for this: express and inferred. So, before you wing out an email to everyone in your new database, make sure that the permission is clear.
How do I structure a cold email?
Please, please, please spend time on this. A cold email shouldn't be, well, cold. If you're using a marketing platform to email, be very careful that you don't get too impersonal: LinkedIn is about real-life connections, and it's not a paid-for list of names.
Think about covering these points:
Address people by name
Validate yourself: what's your connection
Why are you emailing them?
How can you help? Why should they be interested in your email?
How can you make sure they respond? What's your killer question or cliffhanger?
And having asked you to cram all this into an email… Keep it short!
What happens when the leads come in?
Hopefully, because you've found the right contacts and written them an appealing email, they'll get back in touch. Have a follow-up strategy in place for when this happens, otherwise, your lead is, to use the marketing expression, dead if it goes nowhere.
We know this takes time, but when you get a response, you need to keep the dialogue going. This is where a more personal approach works best, as you'll be able to gauge if someone has a very business-like approach or is keen to build a working relationship (they'll be looking for things like people and places in common. Bring your soft skills to the fore here!).
And – log everything. Update your CRM database so if someone says that they don't need your products or services just yet, make a note to email them again in three months' time, or whatever the time frame was that they specified. Sales 101, always follow up!
We've been asked if this strategy keeps sales pipelines more consistent. Yes, it does, a steady approach to lead generation prevents major fluctuations in your pipeline figures. Don't stop growing your network and database and keep those emails coming: this isn't a one-time project.
When you've read this, log into your LinkedIn account, and start by critically evaluating your profile: is this what you want your new connections to see? Move on to searching for that fabulous new database and sending out irresistible emails.
We can help you create these leads, manage your LinkedIn accounts and create those perfect, must-read emails. Contact us at SSSM to discuss how we can generate those leads together.