There's no one correct way to create content.
But you can rank better with SEO-friendly content. Which you can create using SEO writing best practices.
Read on to learn all about SEO writing, plus nine SEO content writing tips to help you rank higher on Google.
What Is SEO Writing?
SEO writing is the process of writing and publishing content with the goal of ranking on the first page of results in search engines (like Google).
By writing with SEO best practices in mind, you can give Google more insight into what your page is about. Which Google can use to determine whether your page is relevant to a user's search query. 
If the page is relevant and useful to users, Google will likely rank it.
Here's a little SEO lesson (or a refresher for the veterans):
The SEO ranking process begins with Google crawls or finds webpages.
And it ends with your page ranking for keywords—sometimes on page one, sometimes not.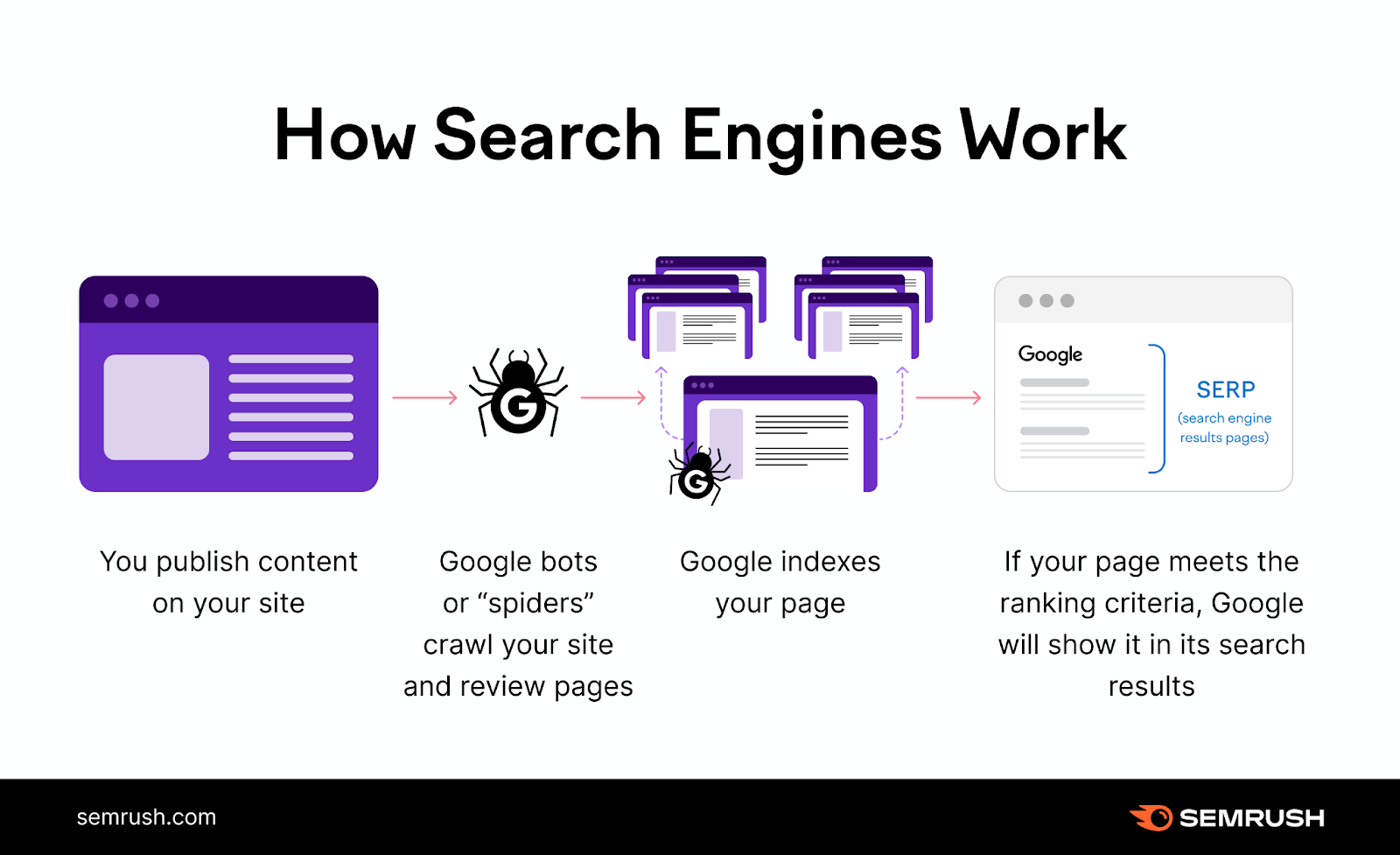 To increase your chances of ranking higher (i.e., becoming more visible), SEO content writers can:
When you approach content creation with SEO writing in mind, you can create content that:
Achieves steady organic traffic (traffic coming from search engines)
Gives readers more information to encourage them to make a purchase
Attracts new audiences who have found the answer to their question in your article
And if you don't write SEO-friendly content, people may never actually see your page.
Keep reading to learn nine SEO article writing tips that can help you improve your Google rankings.
9 SEO Writing Tips to Help You Rank
Whether you're just starting to create content or you're a seasoned pro, these tips can help you learn how to write SEO content that ranks:
1. Match Search Intent
Search intent refers to a user's purpose when they search for something.
For example, someone who types in "best dog food for senior dogs" wants to find out more about food for older dogs.
Google understands this and shows the user articles and a "People Also Ask" (PAA) section about senior dog food.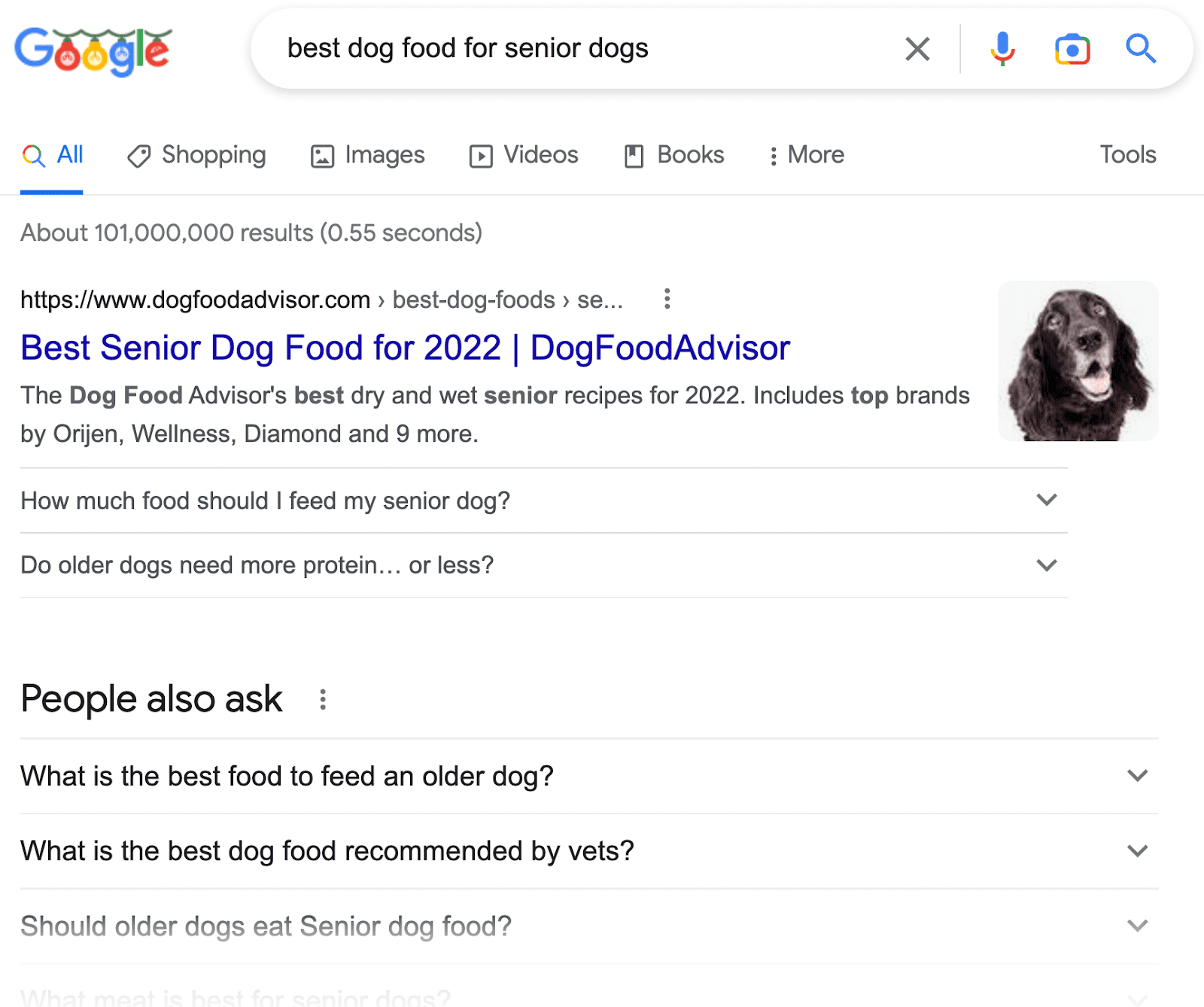 Google devotes a lot of attention to teaching algorithms to evaluate search intent correctly. And encourages content creators, SEO writers, and web admins to publish content that adequately answers users' questions.
The content format you choose, the message you convey, and the call to action you include all depend on the search intent of the keyword you're hoping to rank for. 
There are four basic types of search intent:
Informational
Navigational
Commercial 
Transactional
Let's discuss the different types of intent and what content formats pair well with them.
Informational Intent
As the name implies, informational keywords suggest users are looking to learn more about a specific topic.
These keywords may include words like "guide," "tutorial," "recipe," or "checklist." Or question words like "how" and "what." 
Informational keyword example: "what is raw dog food"
Recommended types of content: How-to guides, tutorials, industry research, listicles, and thought leadership
Navigational Intent
Searchers use keywords with navigational intent to look for a specific website or page. 
Targeting these queries works better if you already have an established brand and get direct traffic. 
Navigational keyword example: Someone who searches "netflix" is likely looking to enter the website and navigate through the site until they find something to watch.
Recommended types of content: Optimize your homepage, about page, and other important pages on your site for branded keywords
Commercial Intent
Users search for commercial keywords when they are considering making a purchase and want to investigate their options. 
These keywords may include product modifiers like "cheapest," "best," "review," and "comparison." Or variations on a product name—like "iPad vs. iPad," "iPad features," etc.
Commercial keyword example: "best headphones 2023"
Recommended types of content: Product/brand comparisons, product reviews, and articles about product features and specifications
Transactional Intent 
Transactional intent describes keywords users search for when they are ready to convert.
These are sometimes called "buyer keywords" and can include words like "buy," "price," "coupon," or "deals."
Transactional keyword example: "buy Harry Styles tickets"
Recommended types of content: Product pages and discount pages
Identifying the intent of your target keyword will help you determine the content you write and the format of the piece.
Let's say you own a food blog and want to target the keyword "lobster bisque."
You can reference Semrush's "Intent" filter—which is available in all of our keyword research tools—to find a keyword's search intent.
Here's what it looks like in the Keyword Magic Tool: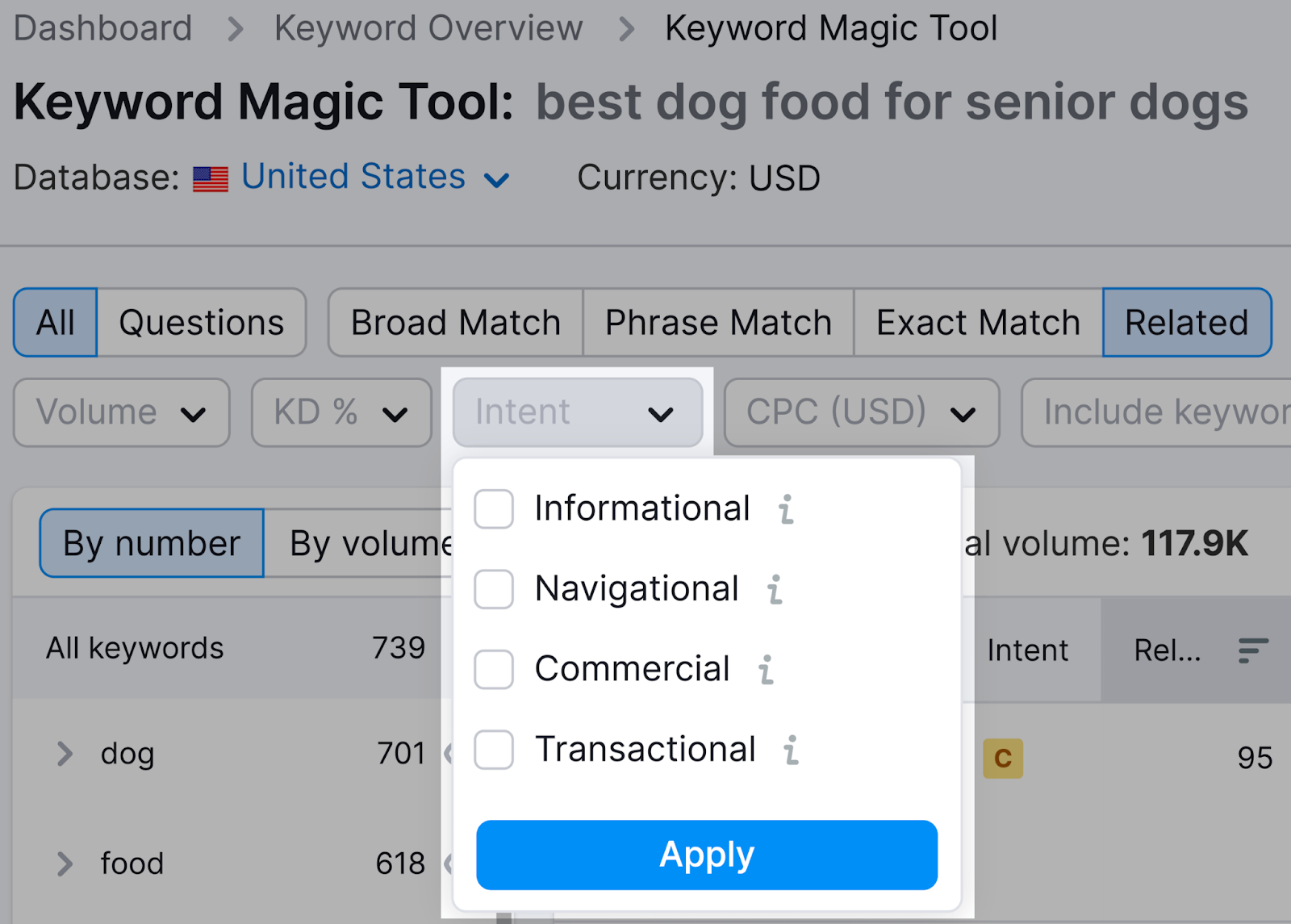 Let's get even more specific.
Say you manage a pet shop and want to target customers looking to buy dog food.
Select "Transactional" in the "Intent" filter to view only transactional keywords related to "best dog food for senior dogs."
You get a list of related keywords filtered for transactional intent:
2. Perform Keyword Research
Optimizing your content for particular keywords helps search engines display that content for relevant search queries. 
Which can help you increase organic traffic to your site and grow your audience. 
Search engines use keywords to understand content. So optimizing your content means adding relevant keywords.
But not just any keyword will do. For example, you shouldn't target the keyword "dog food" if you only sell dog toys.
Let's cover how to do keyword research and how to pick your keywords.
Choose a Primary Keyword
In SEO copywriting, the primary keyword is the main keyword you plan to optimize for. Your primary keyword should denote the main focus of each of your articles or pieces of content.
It can be tempting to choose as many keywords as possible to optimize your text. However, doing so will likely result in spammy content. Which Google doesn't reward.
In fact, it does the opposite.
Google penalizes you for keyword stuffing.
So, instead of stuffing your content and hurting your chances of ranking well, start with just one primary keyword that directly relates to your topic. And use it naturally.
Let's say you're writing an article about "dog food." And your target readers are senior dog owners.
Start researching by plugging your main topic into a keyword research tool, like Semrush's Keyword Magic Tool.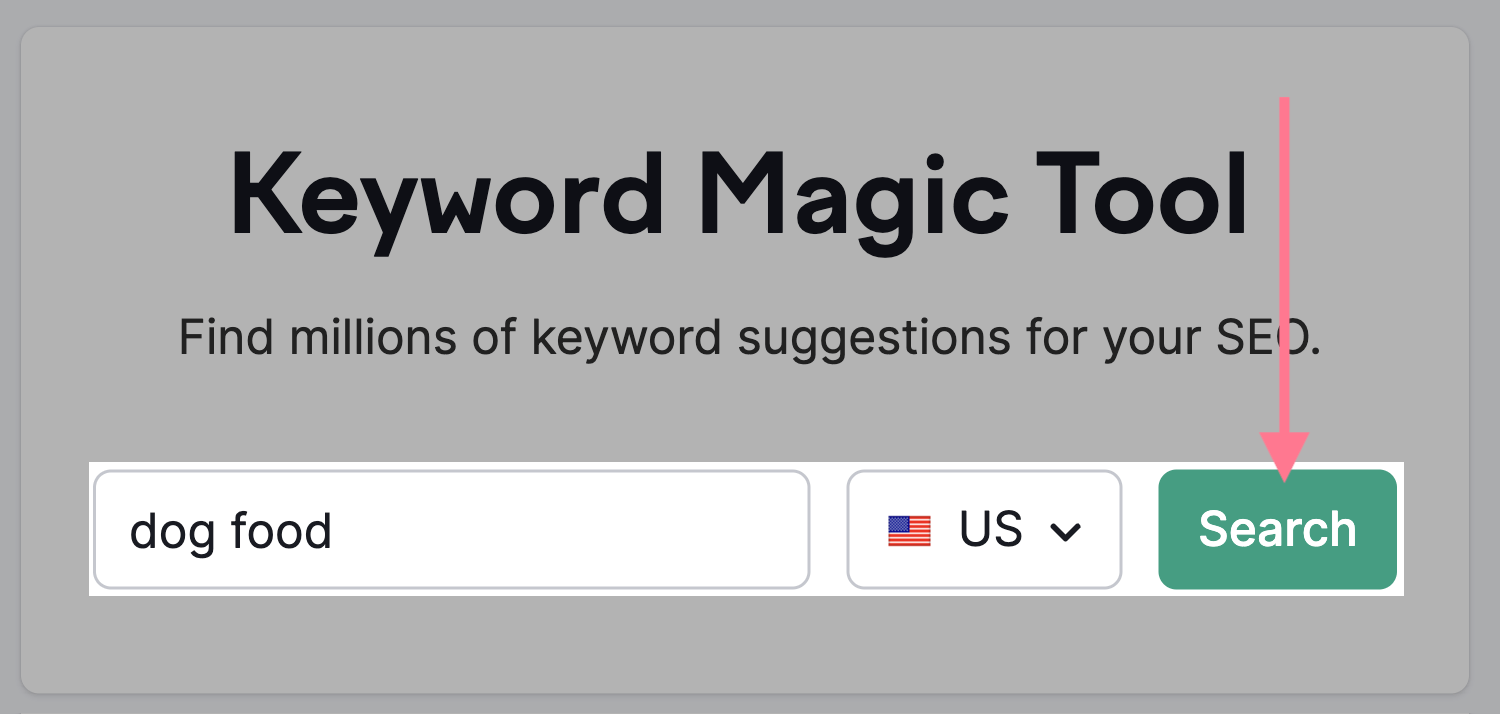 You'll see several columns of data for each keyword in the results. Directly to the right of the keyword column is the "Intent" column:
Search engines read webpages to determine the purpose of the page. And choose the most relevant pages to a user's search to display on the results page. So it's crucial to nail the intent.
Next is the "Volume" column, or search volume. Which refers to the estimated number of times users look up a specific keyword per month.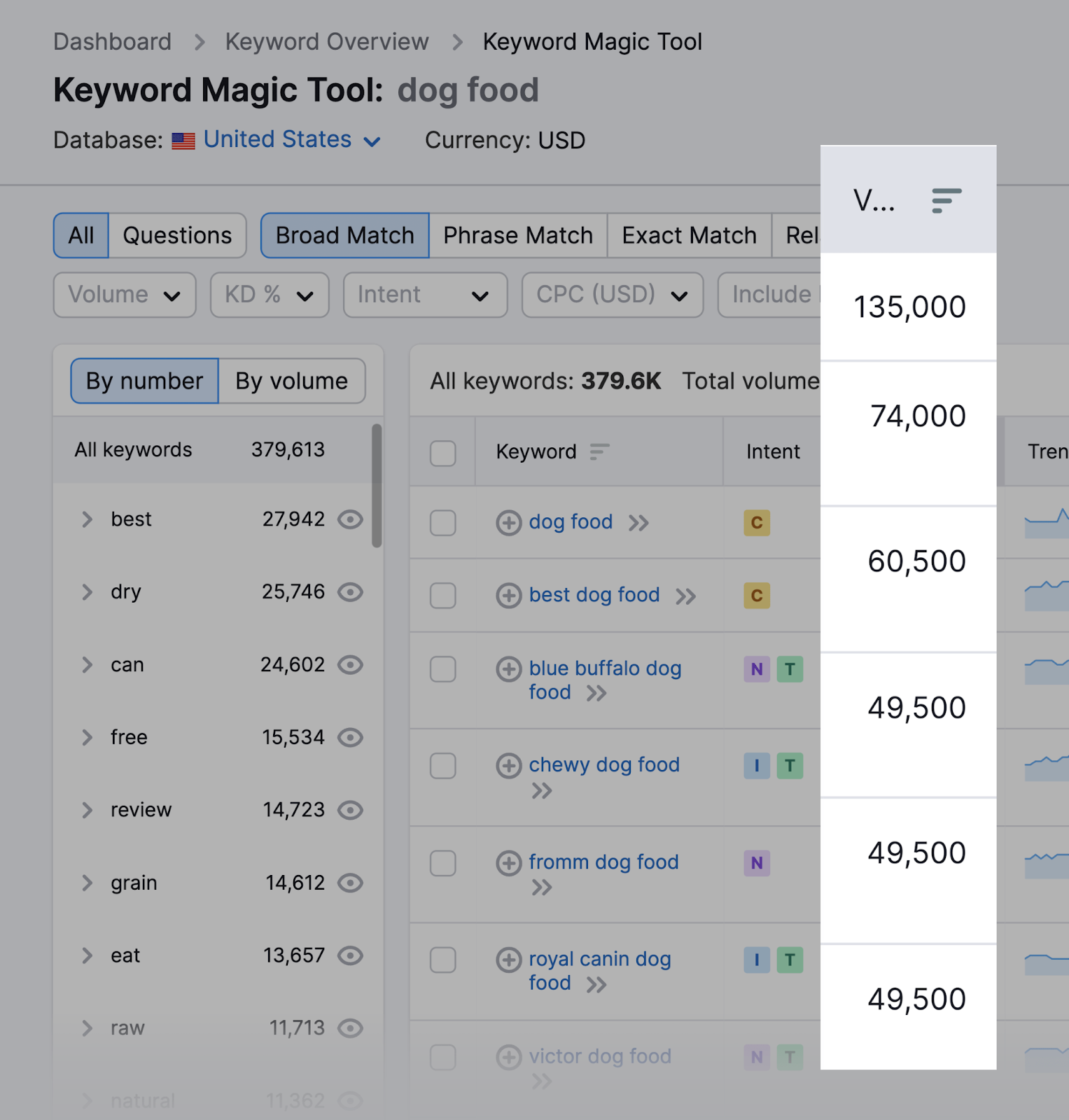 Keywords with higher monthly search volume are generally harder to rank for.
That doesn't mean you shouldn't target them. But if your site is newer or smaller, you may have a tough time competing for the top spot.
Pro tip: Targeting long-tail keywords is an effective strategy. These are more specific keywords that tend to have lower search volume but higher conversion rates. 
You'll also want to take note of the "KD%" column, which refers to Keyword Difficulty.
Keyword Difficulty measures how difficult it would be to rank in Google's top 10 search results for a particular keyword.
So the higher the number, the harder it will be to rank for that keyword.
For example, the keyword "coffee shops" gets 60,500 searches every month. And has a keyword difficulty of 81. If you own a small, local coffee shop, that may be out of reach for you.
But "coffee shops in chicago," a long-tail keyword, has a search volume of 590 and a difficulty of 44%. Which is much more attainable.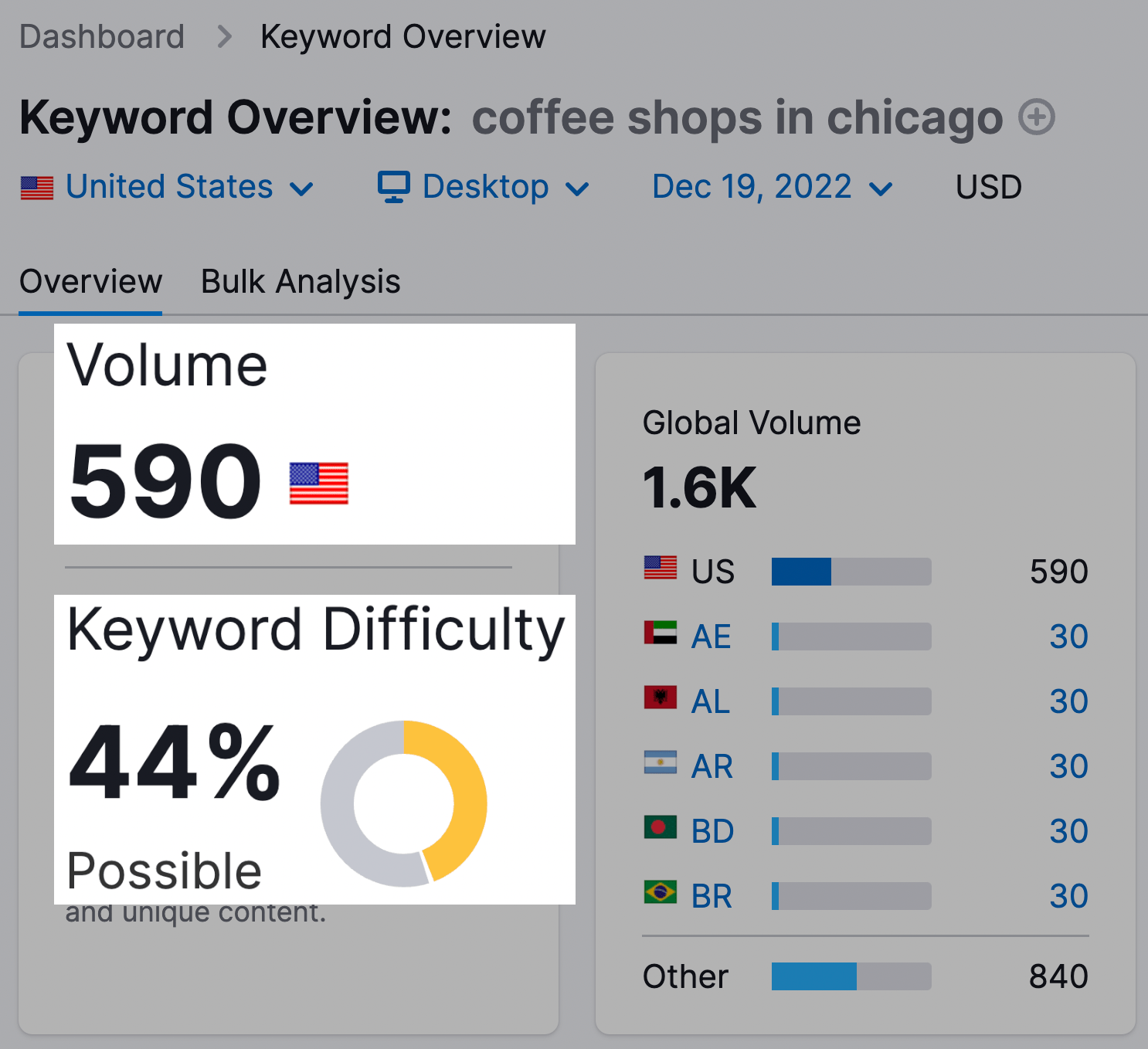 Find more attainable keywords by filtering your results by "Volume" and "KD%."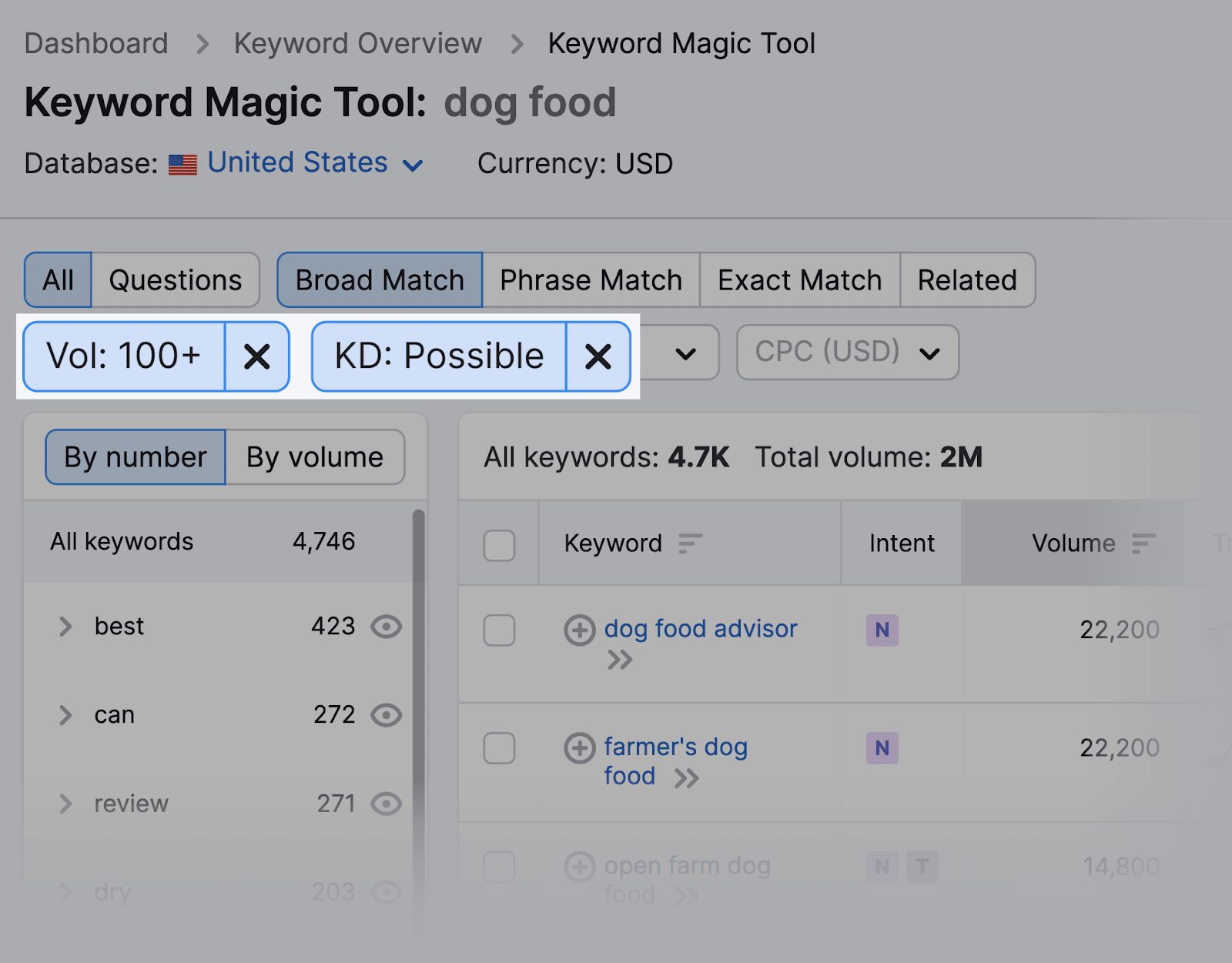 Or you can filter results by group by choosing one from the left-hand sidebar. For example, some groups related to the keyword "dog food" are "best," "dry," "can," and "free."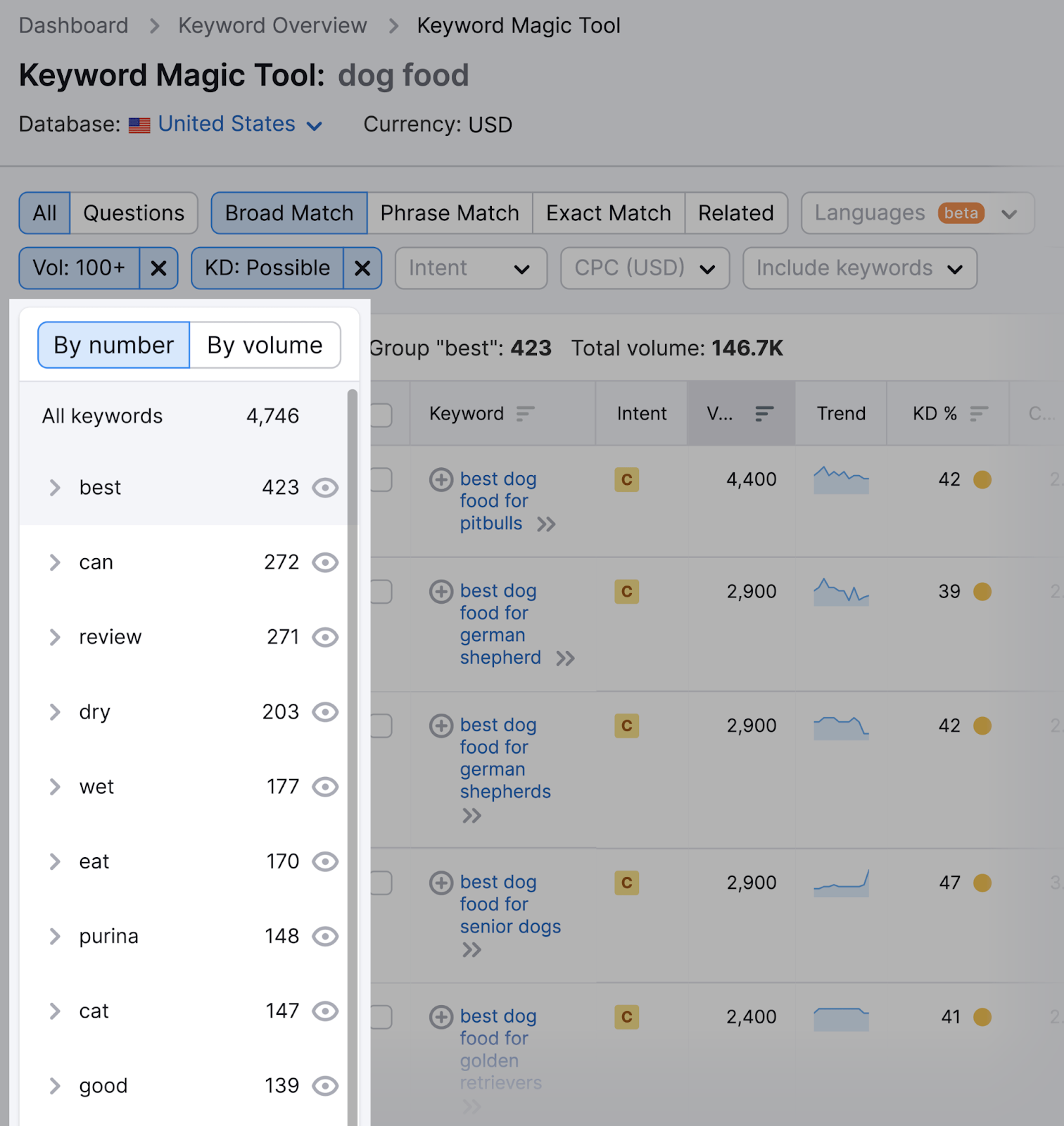 Once you click a topic, you'll only see results that include that word. For this example, we chose the group with the word "best."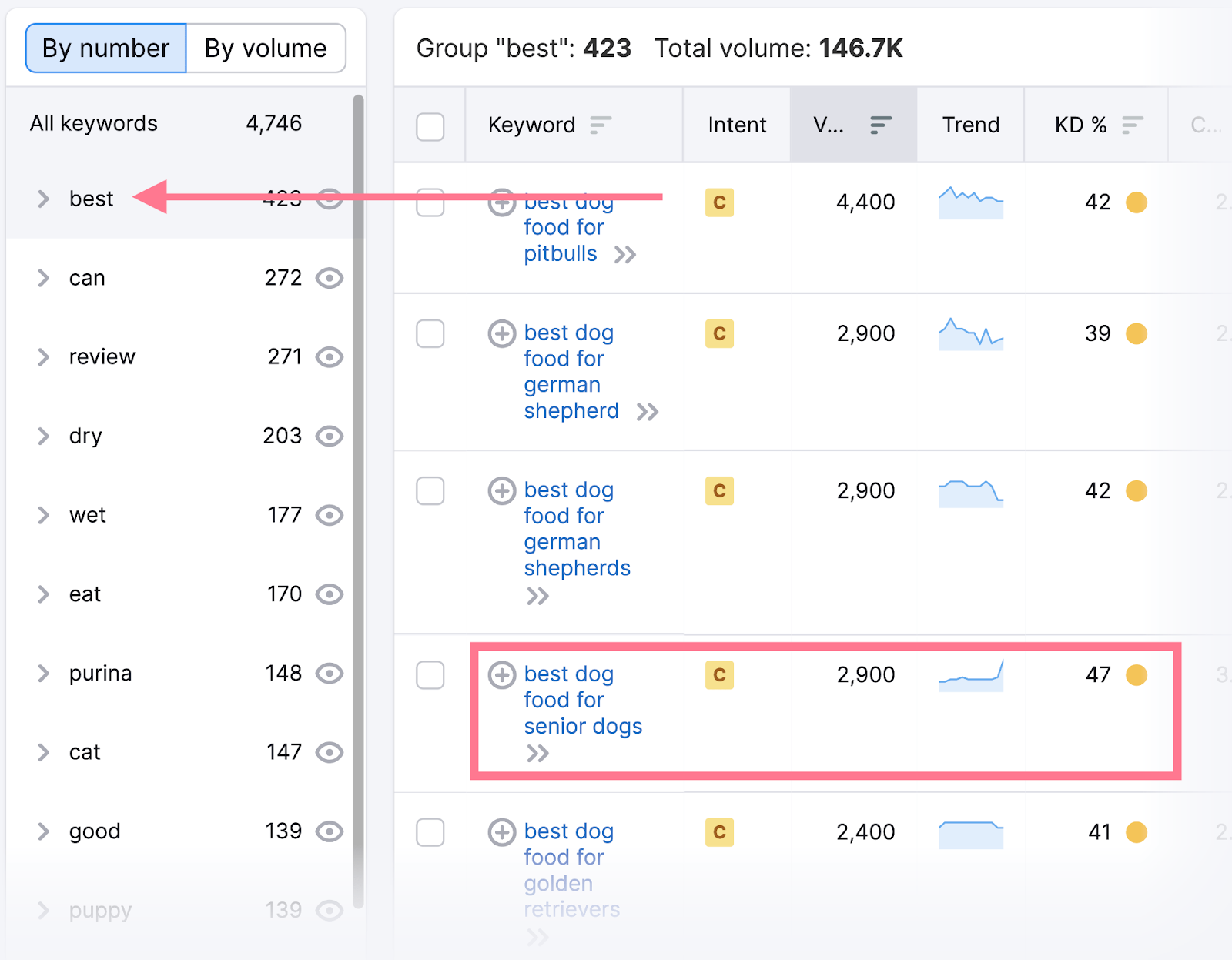 We chose the primary keyword "best dog food for senior dogs" because it gets 2,900 searches per month. It also has an attainable keyword difficulty: 47%.
Choose Secondary Keywords
Secondary keywords target related subtopics in your article. 
These keywords should support your primary keyword (rather than take the article in an entirely new direction).
There are a few easy ways to find secondary keywords with the Keyword Magic Tool.
First, use the tool to look up your newly chosen keyword. Then, continue to search the categories on the left-hand sidebar like we did in the previous step.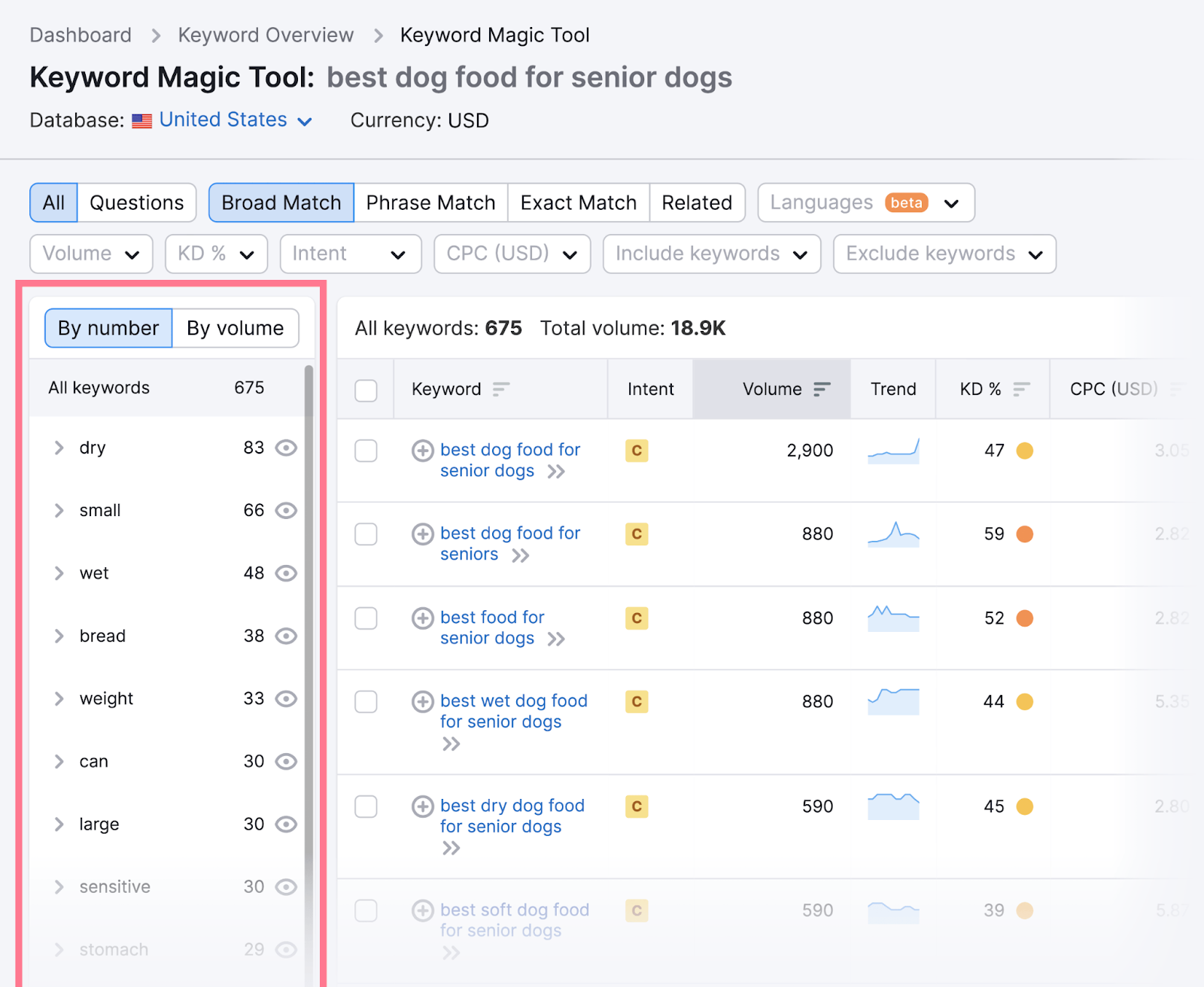 Another way to refine your results is to click on the "Questions" button.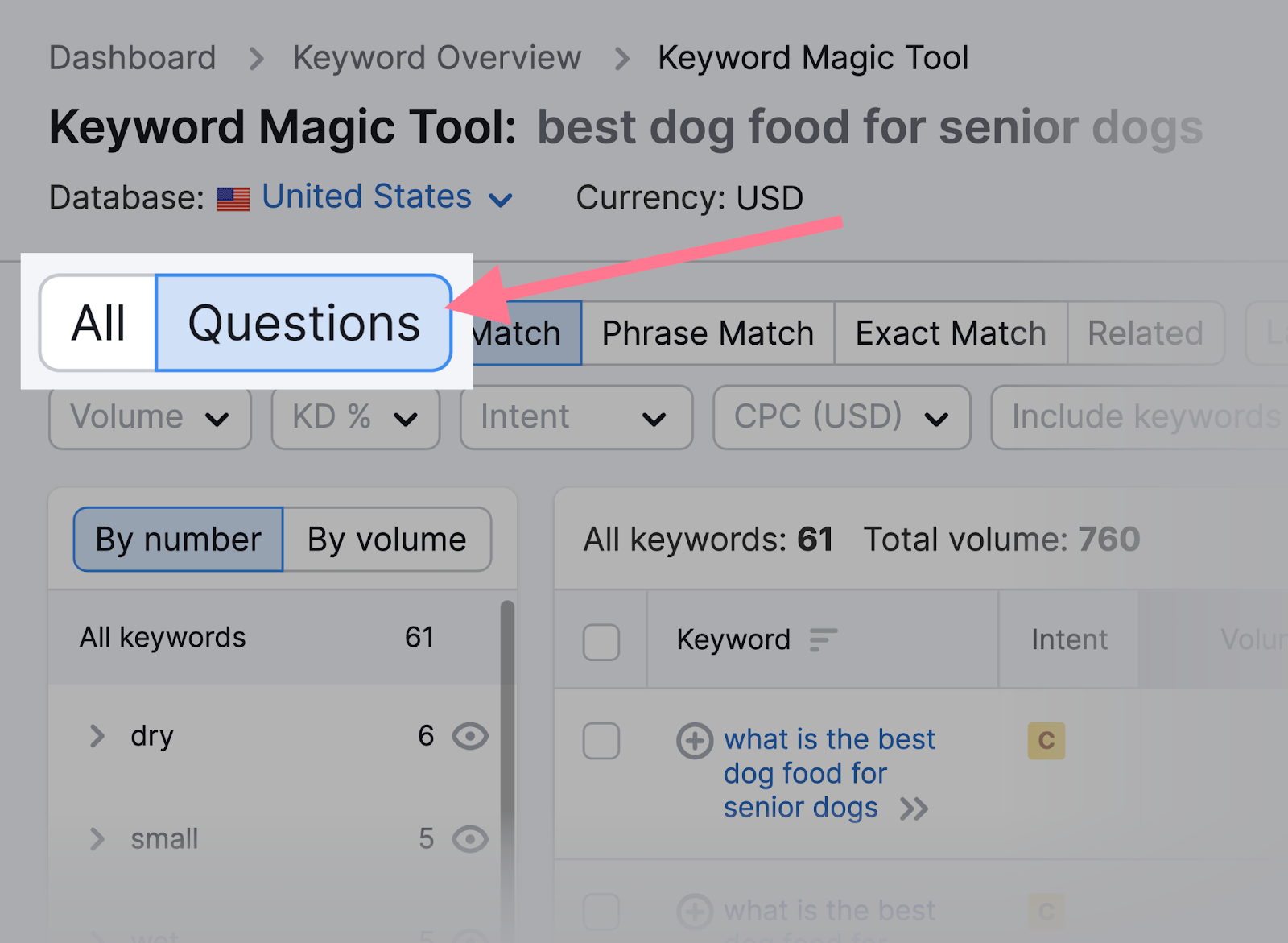 This will display a list of question-based keywords based on your seed keyword. Many of which are long-tail keywords.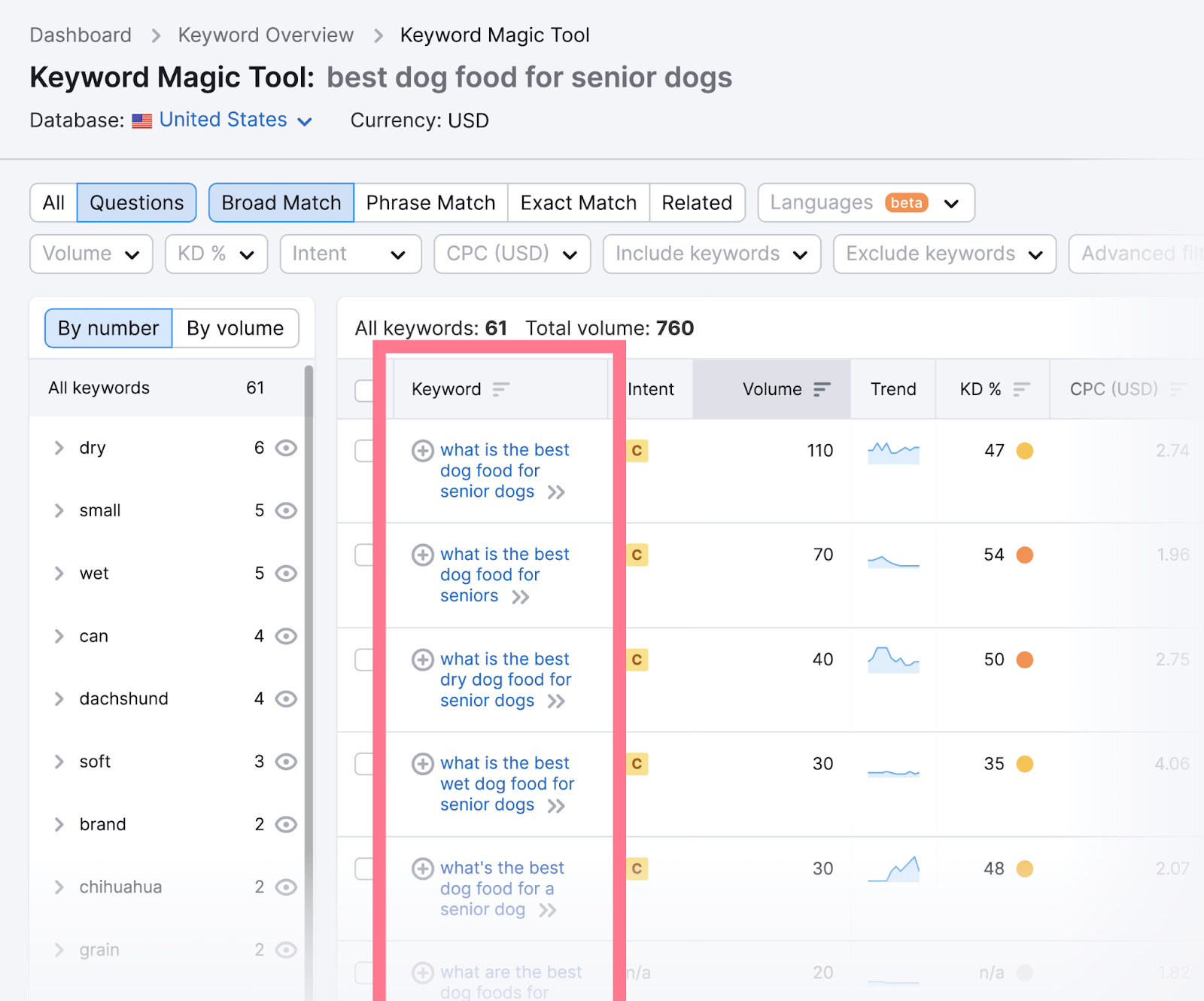 One last way to hunt for secondary keywords is to click the "Related" button.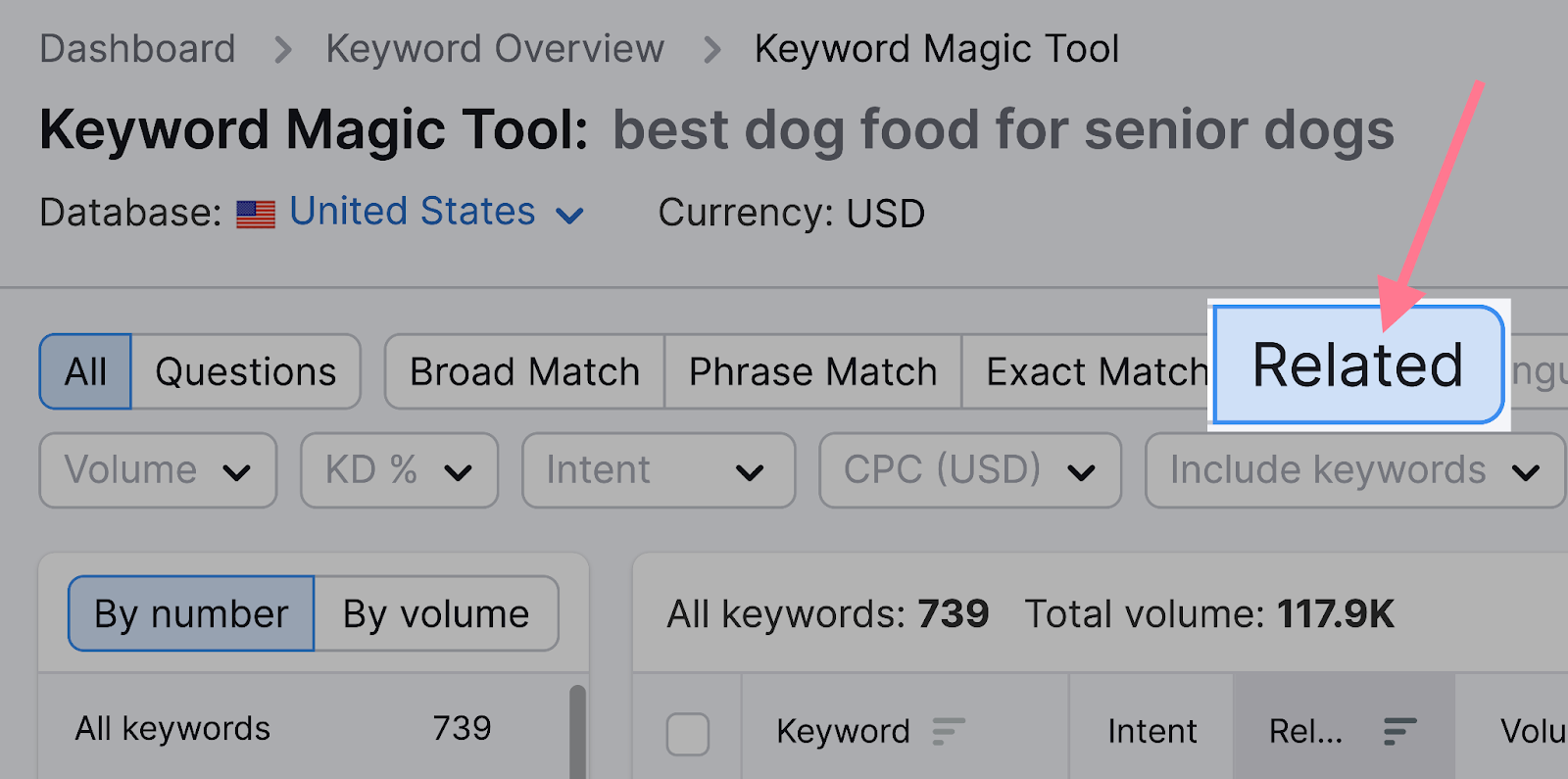 This will show you keywords similar to the seed keyword you entered.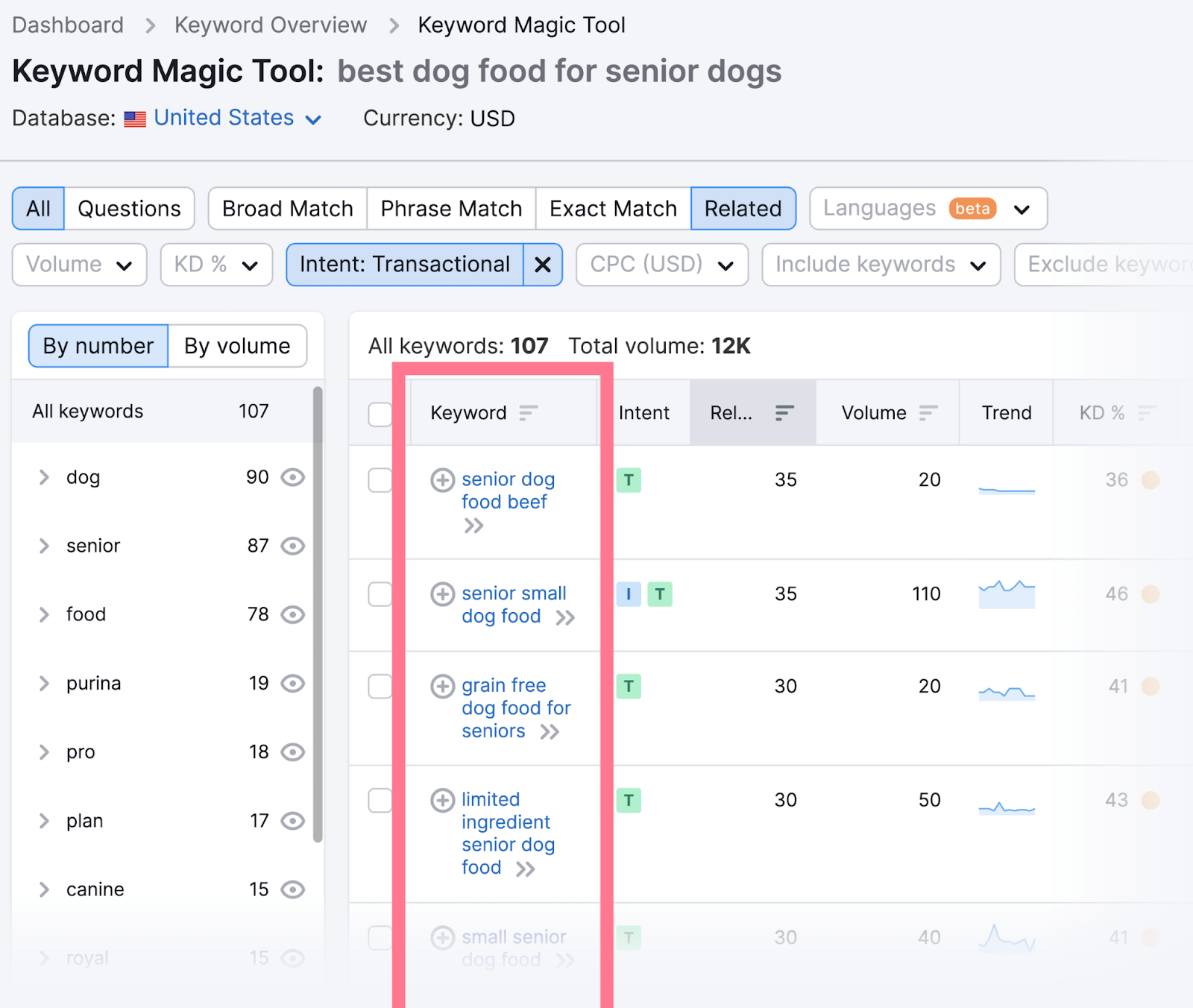 When choosing secondary keywords, use the same criteria you did for finding primary keywords:
Ensure the secondary keyword matches search intent
Review search volume
Review KD%
Pro tip: You can see what keywords your competitors are ranking for using the Organic Research tool.
Plug in your competitor and click the "Positions" report.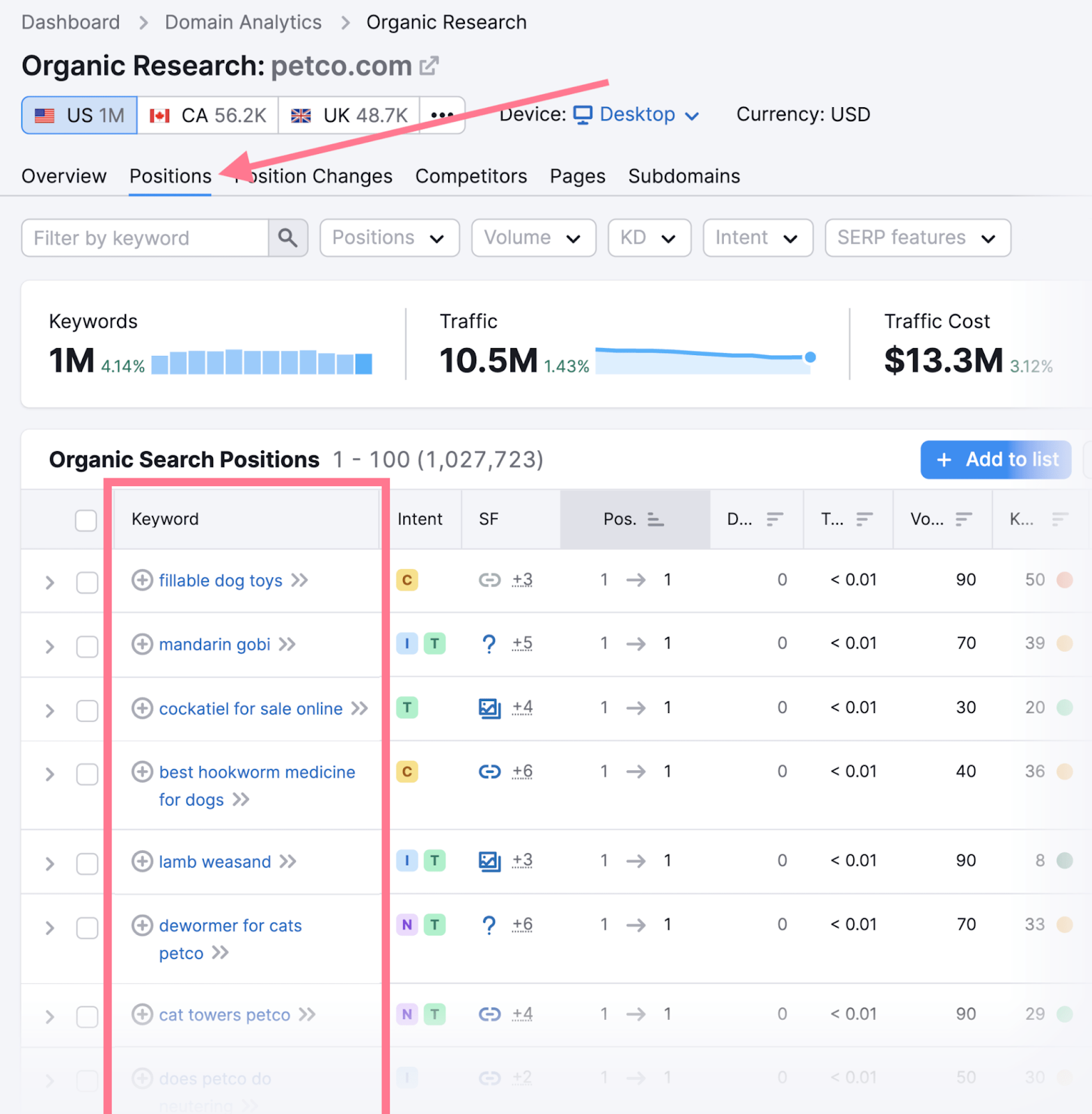 This will show your competitors' top-ranking keywords. And which pages rank for them.
Now that you've looked through and identified keywords you're going to target, let's dive into the next step: researching your topic.
3. Find Topics Relevant to Your Audience
Google's algorithm rewards content that is helpful to users. And creating helpful, understandable content is a primary aim of SEO blog writing.
To do that, you need to find out who your target audience is and what topics matter to them. This way, you can anticipate their problems and create content that offers solutions.
Pro tip: Follow our guide to finding your target audience if you're starting from scratch.
You can use our Topic Research tool to get started. 
This tool helps you find your audience's interests and provides a wide range of related topics, popular article titles, and questions people ask about your primary keyword and related topics.
Let's stick with our "best dog food for senior dogs" keyword.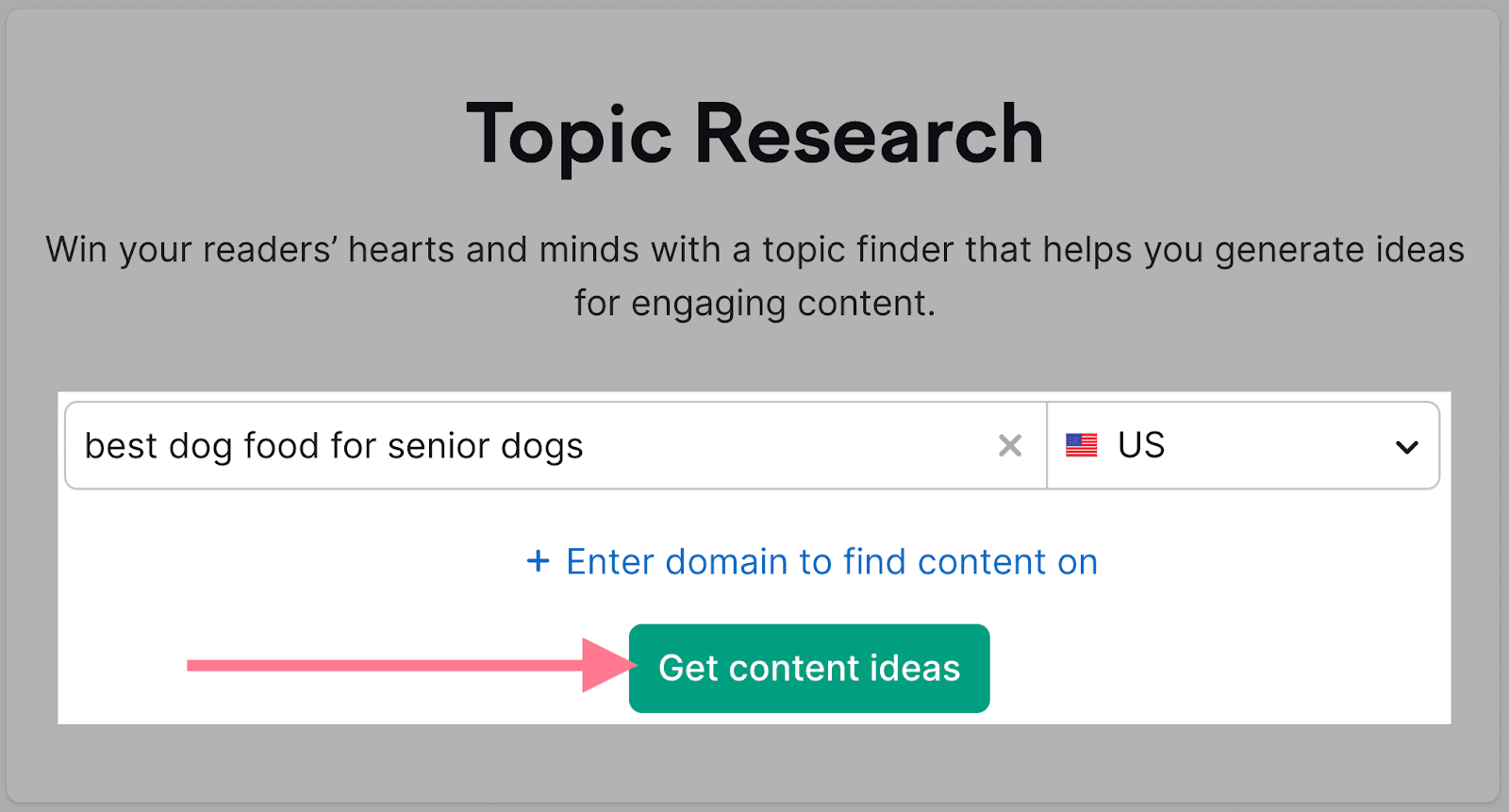 Here are the further insights we get about the keyword. You can see topic ideas related to the main keyword displayed on different "cards," plus titles of related articles.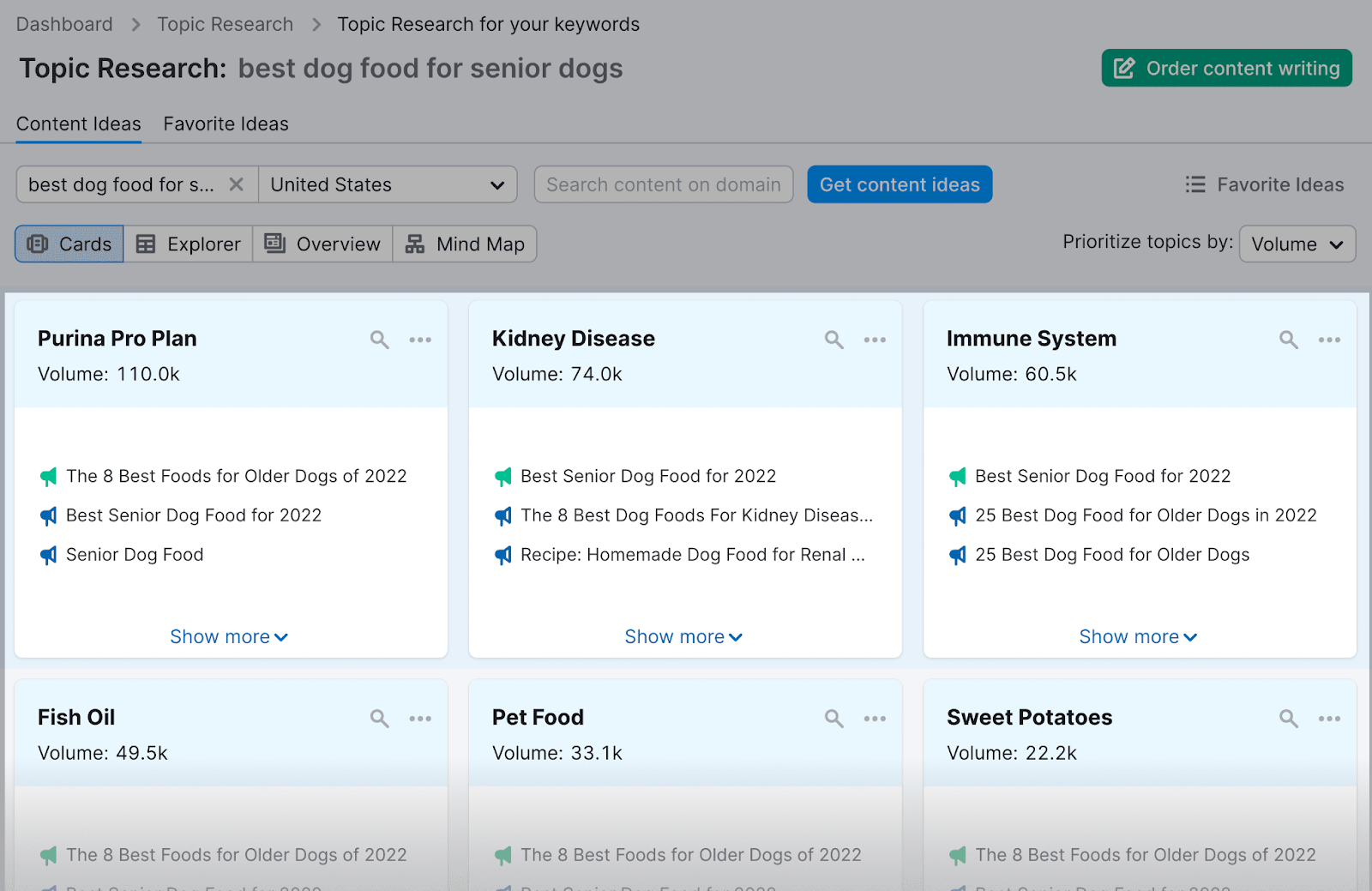 And here are the details you find if you click on a particular topic card: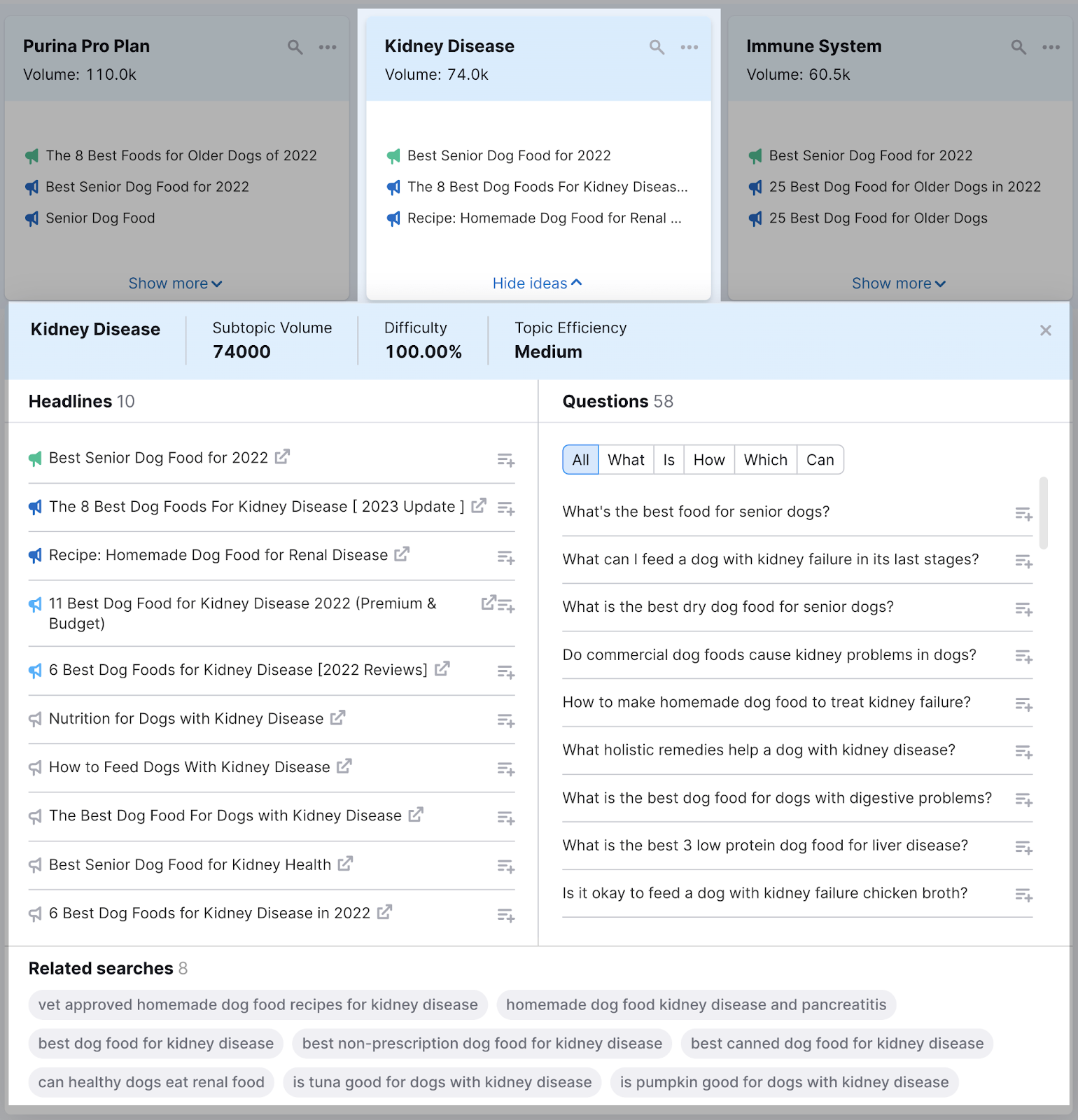 You'll find data like keyword volume, keyword difficulty, and topic efficiency (i.e., how difficult it will be to rank). The tool also lists popular headlines, related questions, and related searches.
The "Questions" column is particularly useful when it comes to SEO blog writing. It shows you exactly what questions your potential audience is asking.
4. Create a Well-Optimized Title Tag
Title tags are pieces of HTML code that define the page title for search engines. 
They're displayed in search engine results, social media posts, and browser tabs. Here's an example: 

Always include your target keyword in your title tag—as title tags are a confirmed ranking factor. 
Also:
Page titles can influence whether users decide to click on your page.
Consider search intent, as well. Choose a title that indicates what problem users can solve by reading your article. 
In addition to including your target keyword and considering user intent, keep your title tag relatively short. Titles may get cut off in mobile search results after about 60 characters (or 600 pixels).
And lastly, be unique and specific. Your title tag should be unique to your page and communicate to a user exactly what kind of content they're going to find if they click.
Pro tip: Use Semrush's Site Audit to find pages with missing or duplicate title tags.
A meta description is an HTML tag that describes your webpage's content. It usually shows up on the SERP (search engine results page) below your page's title.
Like this:

Meta descriptions are a big part of writing for SEO. They don't directly influence rankings, but they can influence whether a user clicks on your page.
Include your target keyword in your meta description. This will signal to users that your page covers a topic they want to learn about.
(Plus, Google might bold the keyword in the meta description, making your snippet stand out even more to users.)
Here are a few additional SEO writing tips to follow when crafting meta descriptions:
Keep it brief. Mobile devices cut off meta descriptions after about 120 characters (680px). Keep them to one to two short sentences to stay below that threshold.
Use active voice: Active voice will save you characters and clearly communicate your intended message
Add a call to action: Use call-to-action phrases that may compel a user to click (like "try for free," or "download now")
Pro tip: You can also use Site Audit to identify missing or duplicate meta descriptions.
Headers are a great way to grab users' attention and improve your page's readability.
They also help Google better understand the content your page covers. Which allows Google to surface your content for the right keywords.
Plus, headings allow users to easily scan webpages for the information they need. Which is great for user experience.
See how the example on the right is much easier to scan for information?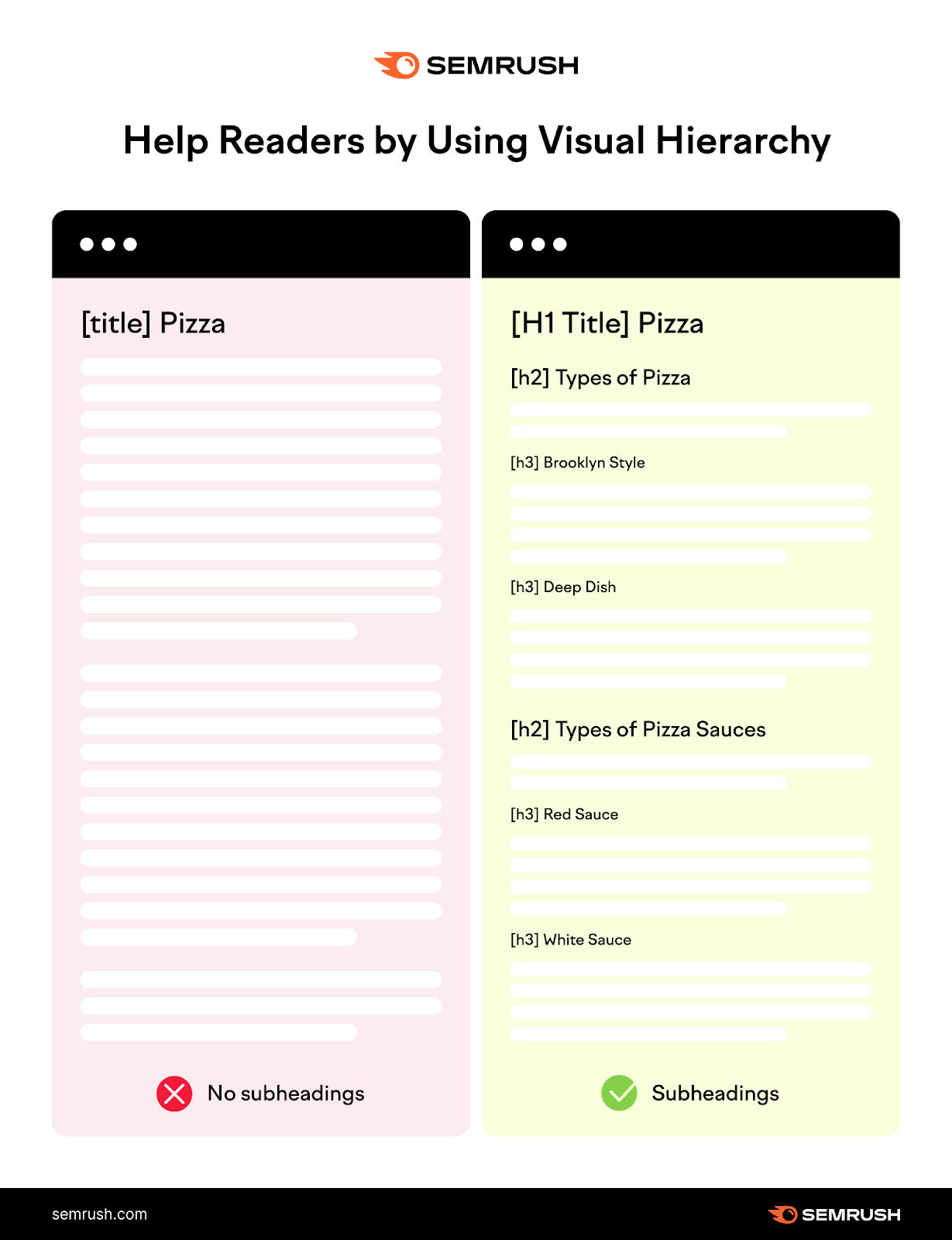 Start by writing a catchy title that includes your target keyword. This will be your H1 (a tag used to mark up a webpage's main subject).
You can get inspiration from the Topic Research tool by looking at headlines related to your target keyword.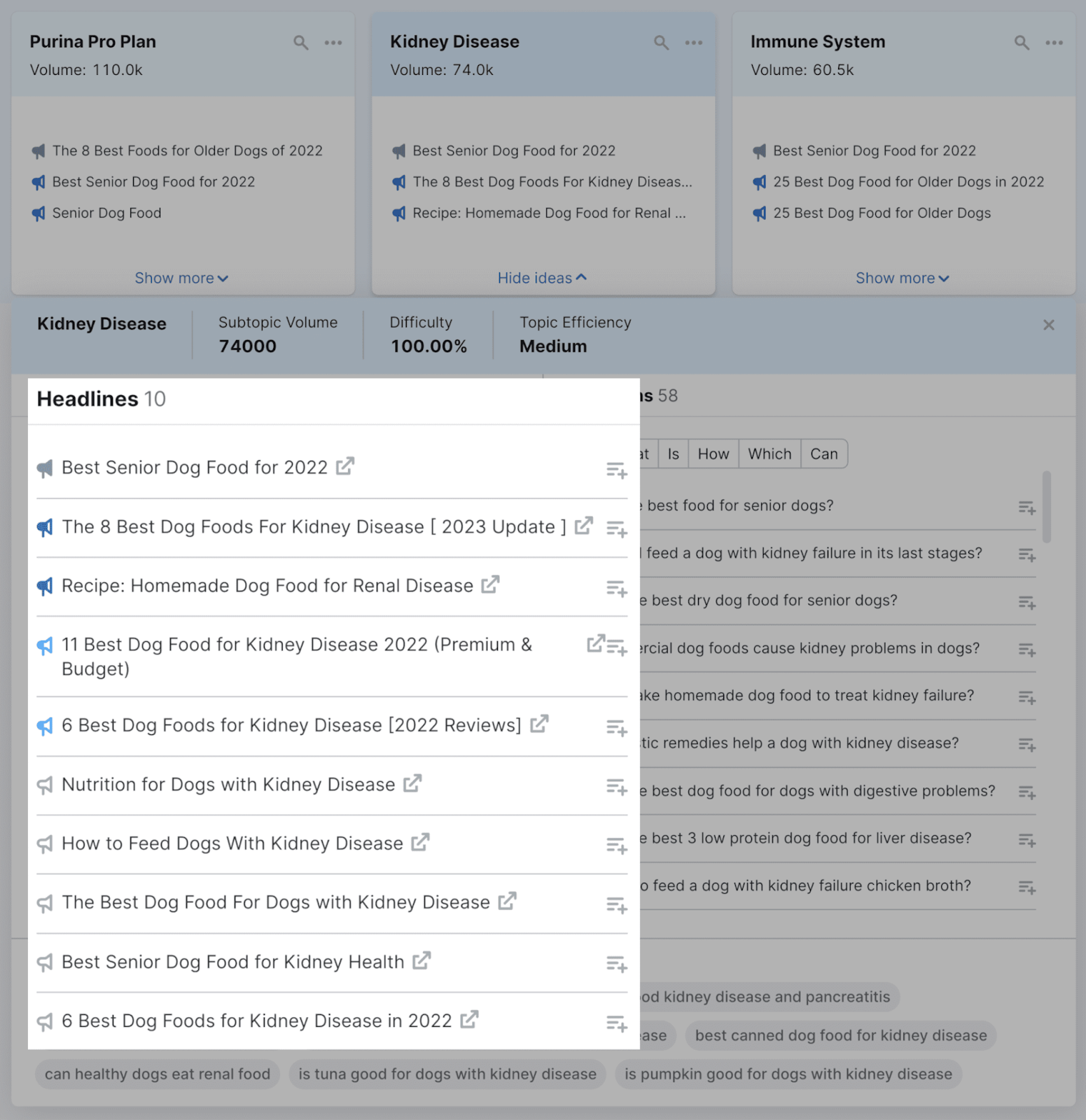 Next, organize the rest of your page with relevant H2 subheadings, H3 subheadings, and so on to organize the content.
(H2 subheadings should support your H1, H3 subheadings should support your H2s, etc.)
Like this: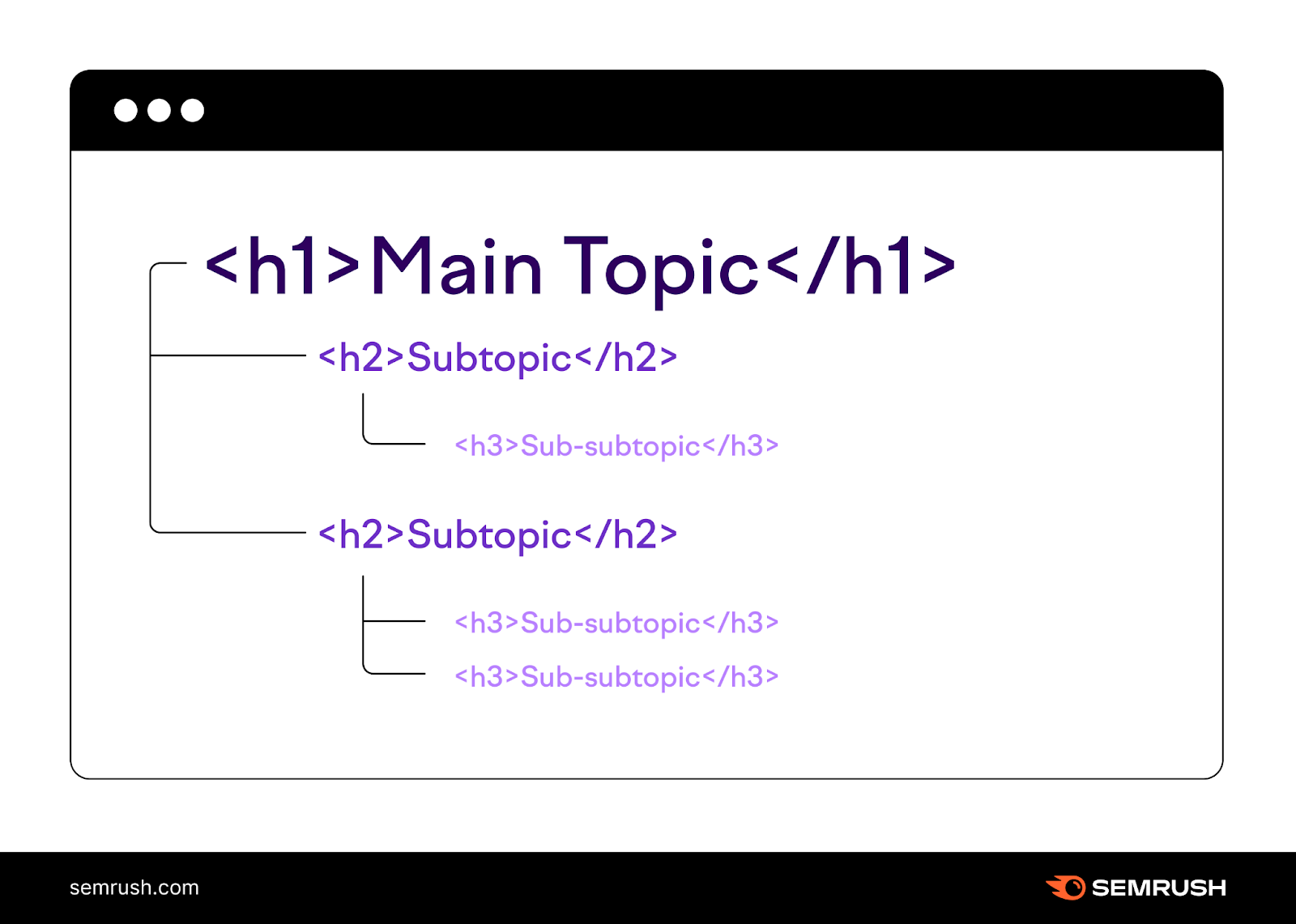 And when Google understands the context and hierarchy of your page, you could rank better. Around 44% of articles that organize their content with H2 and H3 tags have higher performance in terms of traffic, shares, and backlinks. 
7. Structure Content for Readability
Headers are a great start. But you can do a lot more with structure to make your content SEO-friendly.
Imagine if you opened a result from the SERP and it's one long block of text. How likely would you be to continue reading? 
You'd probably bounce off the page to find a better-structured (easier-to-read) article. 
(And a high bounce rate can often be a sign of a weak page.)
In other words: Good structure is an essential element of high-quality content development. 
Here are a few ways to improve your content structure for readability:
Add a table of contents that allows users to quickly visit their desired section
Only include one idea per paragraph to keep paragraphs short and scannable
Divide long sentences into shorter ones whenever possible
Answer user questions at the very top of the relevant header
Highlight important ideas with bold font, quotation marks, or other kinds of visual emphasis
Use bulleted or numbered lists to convey lots of information in a concise form (Bullet points may also help your chances of getting a featured snippet.)
Keeping so much information in mind when creating content doesn't have to be overwhelming. 
You can rely on SEO tools like Semrush's SEO Content Template to ensure your content is SEO-friendly. 
To start, choose your target keyword(s) and click "Create content template."

The tool analyzes the top 10 search engine results for your target keywords and provides content recommendations for:
Semantically related keywords
Backlinks you should try to acquire
Text length
Average readability score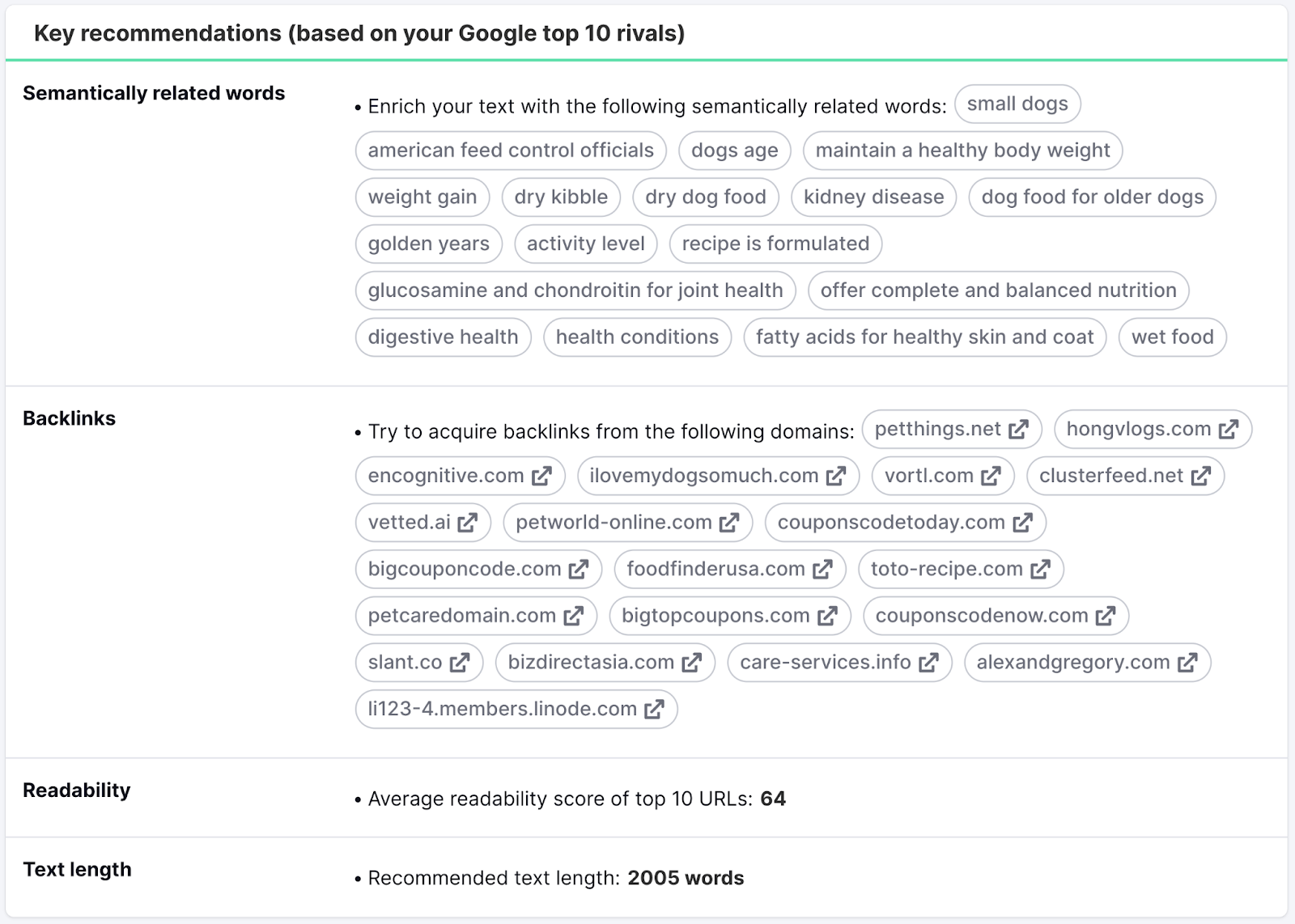 You can also see how your top 10 competitors use your target keywords throughout their text: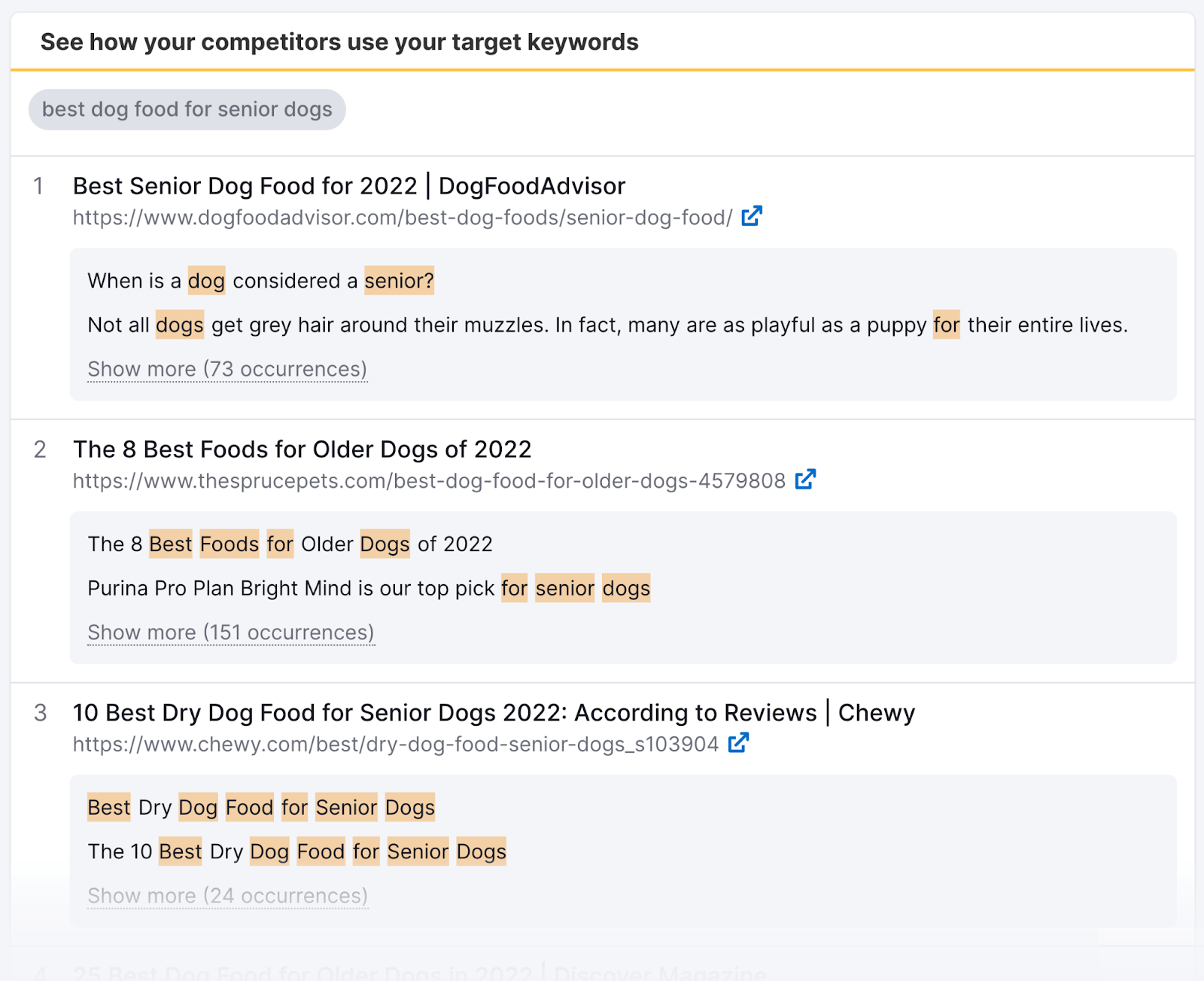 And lastly, your template will provide basic on-page SEO recommendations for your:
Page title
Meta description
H1
Text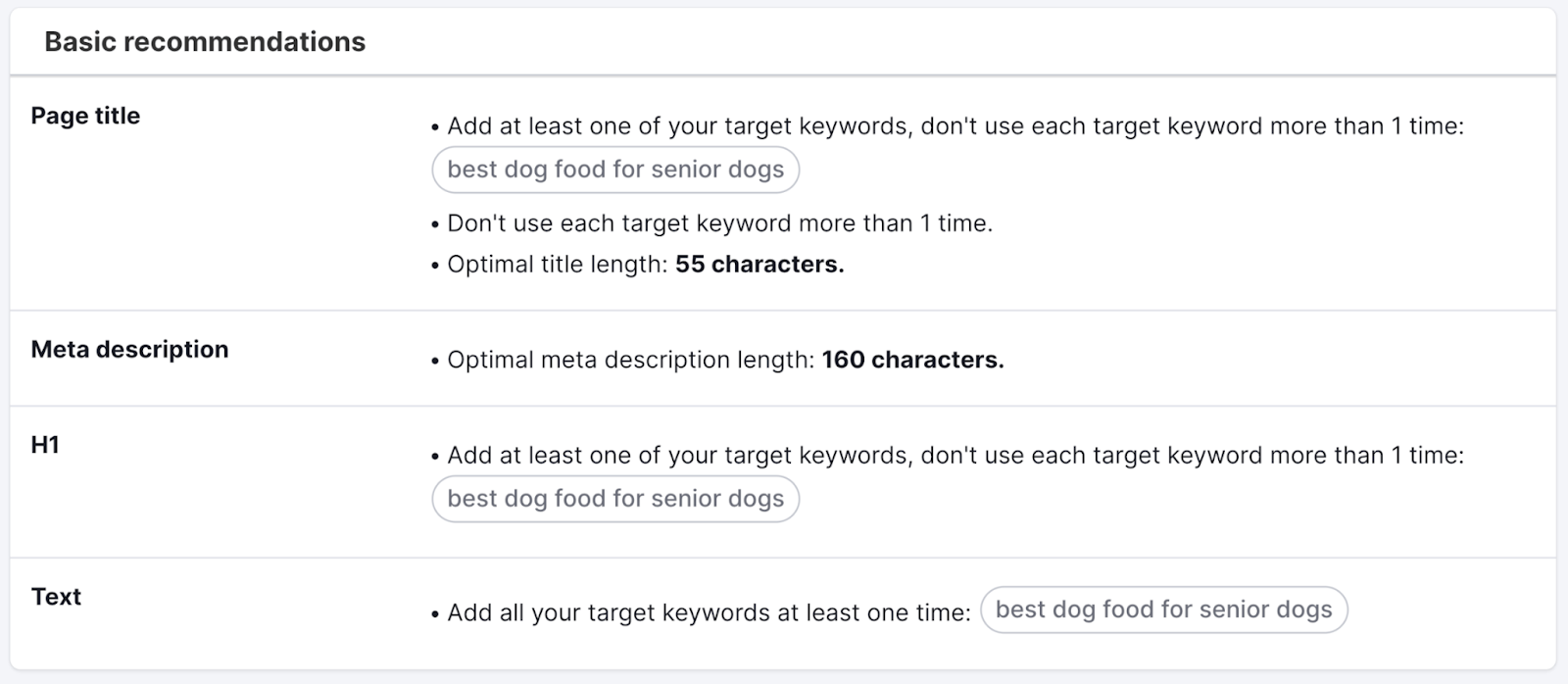 To get real-time content recommendations, select "Real-time Content Check" at the top of the page.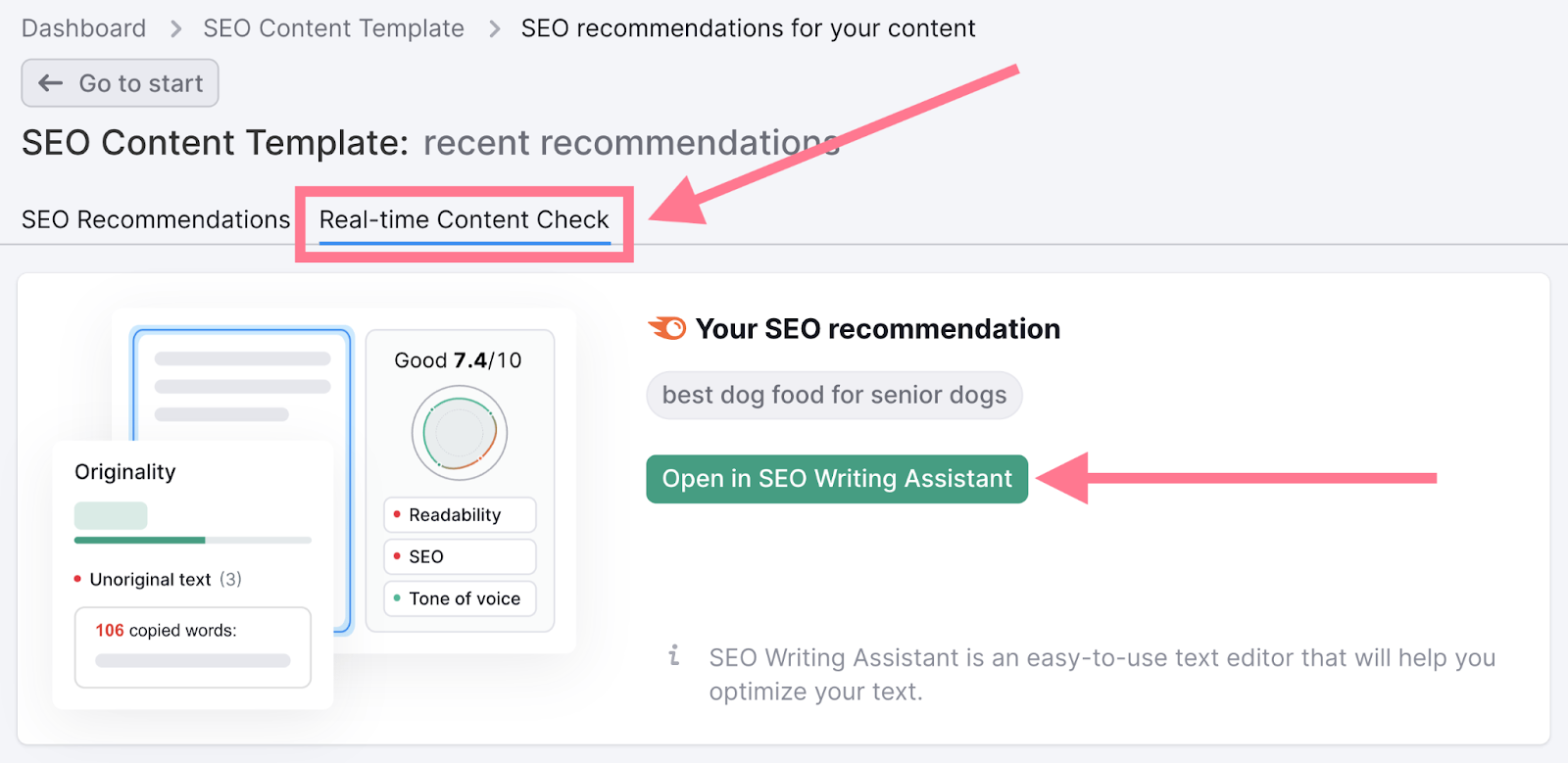 This will take you to the SEO Writing Assistant tool, which grades content based on readability, SEO writing, originality, and tone of voice.
You can even download SEO Writing Assistant as a Google Docs extension, WordPress plug-in, or Microsoft Word app to get content recommendations wherever you write.
8. Add Visual Content
Visual content can convey complex information in an easy-to-understand format. Plus, it does well on social media.
Use infographics, checklists, templates, and other types of visual content to deliver value to your audience in a memorable way.
That can improve user experience and on-page behavior signals.
Plus:
The more valuable, engaging, and relevant content is, the more backlinks you're likely to get. Because the better your content is, the more shareable it is.
Backlinks from authoritative websites also signal to Google that your content is trustworthy. 
Which means that earning more backlinks can give you a boost in the SERPs.
An additional benefit of visual content is that the images or videos you add to your copy can also rank in the Image and Video sections of Google Search. 
Just remember to add alt tags to any images you add. Alt tags provide alternative text (or alt text) that both search engines and people using screen readers can read.
Here's an example:​​
And here are a few best practices to follow when writing alt text:
Write unique alt text for each image on your page
Keep alt text under 125 characters (the length that most screen readers can process)
Try to include a related keyword to provide context to search engines
Don't waste space with filler words like "image of" or "picture of"
Pro tip: Use Site Audit to find images with missing alt text.
To learn more, read our image and alt tag optimization guide.
9. Use Internal Links
Internal links point from one page on your website to another page on your website.
When you strategically interlink your content, you help search engines understand your site's structure and how your pages relate to each other.
This also directs users to other valuable, relevant pages on your site. Which can lead to conversions.
A win-win for users and search engines.
Internal links are also important because they pass authority between pages (i.e., trust in the eyes of search engines). And authoritative links pointing to your page can help it rank better.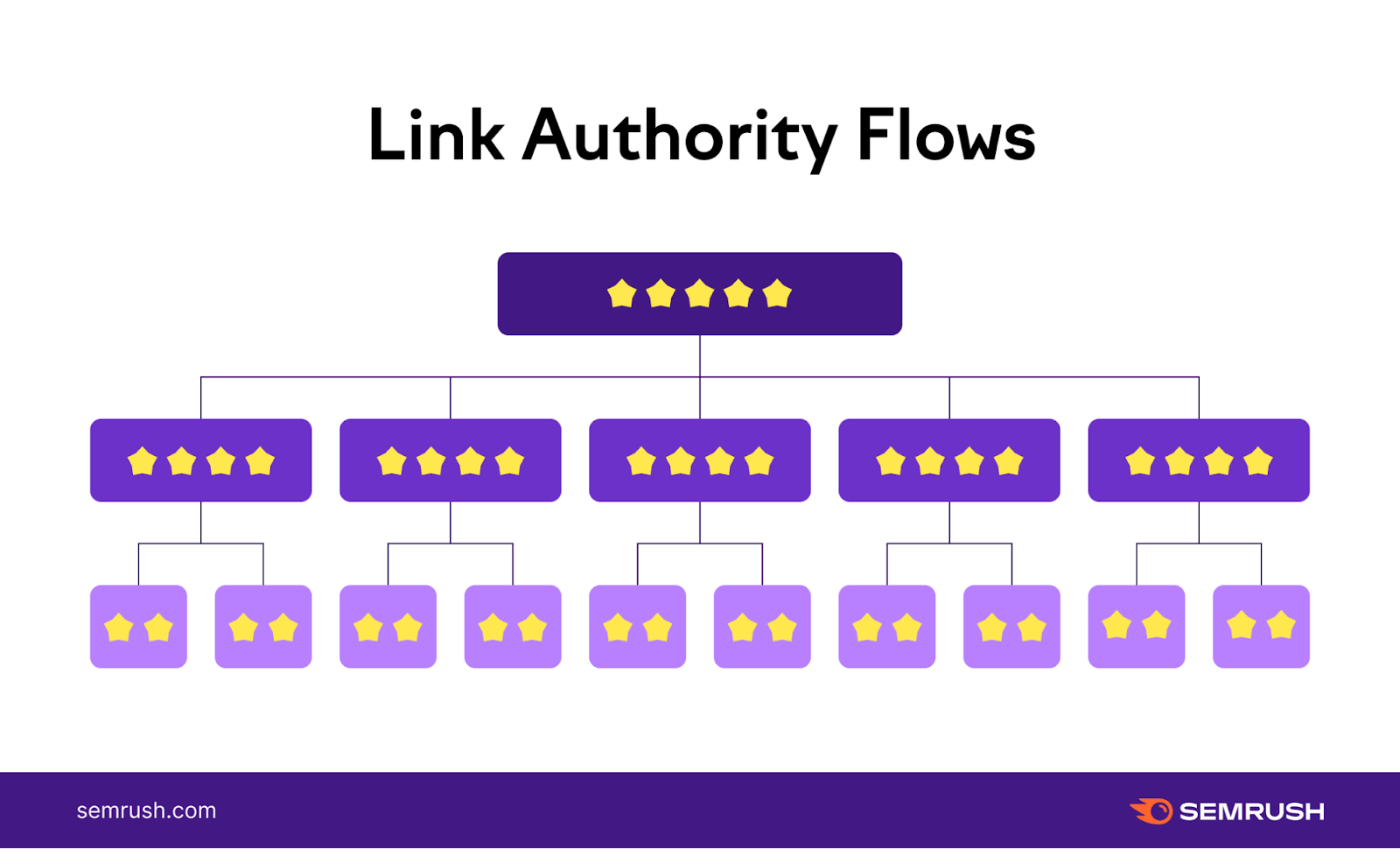 Ensuring there are internal links pointing to all of your important pages is an important step in making sure Google can find your page.
It works something like this: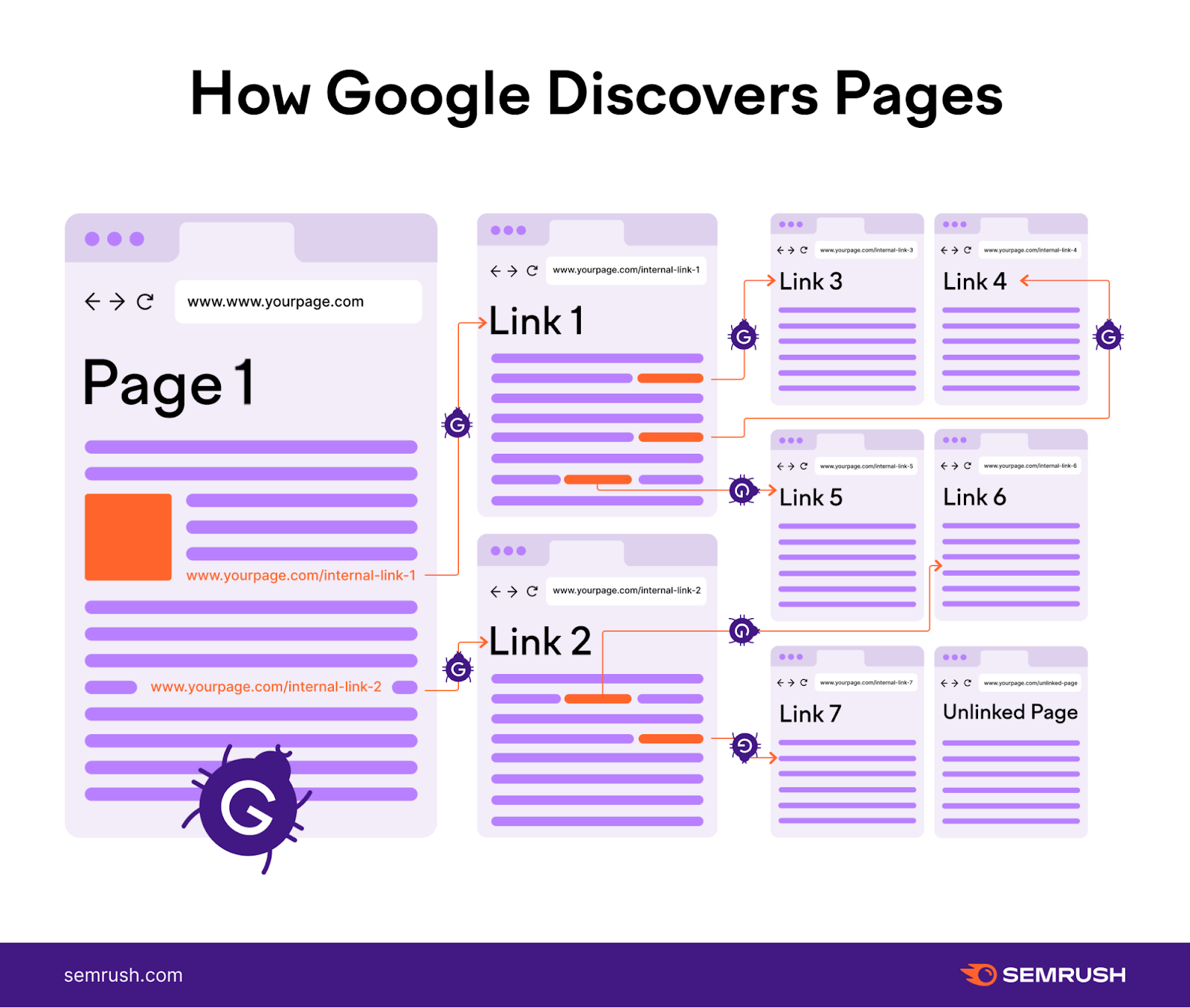 You can also optimize your internal links. Which means you need to add keywords in your clickable link text, or anchor text. 

Here are some best practices for writing SEO-optimized anchor text:
Keep anchor text brief and to the point
Make sure anchor words are relevant to the page you're linking to
Avoid keyword stuffing for the sake of optimization
Pay attention to the words surrounding your anchor text and what context they provide
To identify anchor text and internal link issues, you can use Semrush's Site Audit tool.
And to learn more, read our internal linking strategy guide.
Pro tip: Link to authoritative external pages, too. This shows Google (and users) that you're using trustworthy sources. Using external statistics can make an article more compelling, provide additional information to your readers, and strengthen points made in your copy.
Learn More About SEO Writing
Once you nail the basics behind writing SEO-friendly content, it's time to learn more about content creation and strategy.
Here are a few articles to get you started: