Content Providers, You've Got Homework to Do
To outsource, or not to outsource: According to our 2021 State of Content Ops & Outsourcing report, businesses are split down the middle like a ripe coconut. 
Just over half of the professionals we surveyed don't outsource their content at all. The rest either fully outsource their content or rely on a hybrid model. Every company has its own reasons for their content production processes. But one thing's for sure — content outsourcing comes with a unique set of challenges.
If you want to be an excellent content provider, you'll need to be aware of the difficulties associated with content outsourcing. At the same time, you'll need to make sure not to repeat them when offering your services.
Read on to learn about the top 11 challenges of content outsourcing. Then discover 6 concrete actions content providers can take to keep improving their services in the future. Enjoy and get ready to take your content business to the next level.
The Top 11 Challenges of Content Outsourcing
The top content outsourcing challenges that we found in our 2021 State of Content Ops & Outsourcing report might surprise you. Typical difficulties like missed deadlines and lack of writing style consistency certainly come into play, but they're far from the top of the list. 
Let's dive into the less-frequently talked about troubles that come up when businesses outsource their content to digital and content agencies.
1. Difficulty finding writers with hands-on experience
By far, the biggest challenge businesses face when outsourcing content is finding writers with hands-on experience and industry-specific knowledge. The numbers speak for themselves: 49% of the businesses we surveyed felt that way. 
Ultimately, even though agency writers are usually reliable and produce good quality content, they most often haven't worked in all the industries they write about. This can create a disconnect in their writing.
Mailshake VP of Marketing Alessandra Colaci explains that "[they'd] like to have more different voices and personalities, so [they] need to find people for certain types of content — long-form, data-driven, or editorial. Those are the formats outsourced teams can do."
Nevertheless, her team has struggled in their pursuit of content writers because "[they] need industry knowledge as well, and usually, they are people who are very good writers or very reliable, but they don't have industry knowledge or they are not really in tune with the day-to-day of the people who are in [their] market."
2. Low content quality

41% of the companies who participated in our report admitted that they encountered problems with content quality when outsourcing. Even though businesses usually expect high-quality results from digital and content agencies, the results can leave a lot to be desired.
When businesses outsource their content to agencies, they usually can't choose the writers they work with. Piktochart VP of Growth Agata Krzysztofik explains that "this makes it challenging because you don't know if they will assign your next piece to someone who has just started."
When agencies assign work to newer or less experienced writers, it can also result in companies spending a lot of time editing content after the fact.
3. Too much editing required in-house
Alongside low-quality content, many businesses feel that they have to do too much editing when they outsource to agencies. In fact, 36% of the companies we surveyed had experienced this problem. 
When outsourcing to digital and content agencies, most companies hope to save time and receive great finished work. This will allow them to scale up their content output efficiently. 
When they have to start spending hours editing each piece, extra work piles up on their end and makes the outsourcing process seem less worthwhile.
4. Content not delivering expected results
Another 29% of the businesses that participated in our report identified that they'd struggled with outsourced content not delivering their desired results.
When outsourcing content, most companies have specific objectives and outcomes in mind: organic traffic, social media engagement, generated leads, and conversions are just a few examples. It's only natural that they'd feel frustrated if the content they receive doesn't end up delivering on those goals.
5. Too much explaining necessary with external writers
Similar to the first challenge in our report, many companies who outsource to digital and content agencies feel like they need to spend a lot of time explaining things to writers to get the right results. In fact, 28% of the businesses in our report say so. 
Different industries have different content needs. However, those that are more technical or niche often have trouble finding agency writers with enough industry-specific knowledge to produce high-quality content without too much consultation. Rather than spending tons of time explaining, they prefer to keep their content production in-house.
6. Lack of consistency between writers
Businesses usually end up working with lots of different writers when they outsource their content to agencies. Even though this provides a great opportunity for variety and diverse voices, it can also lead to a big problem:a lack of content consistency.
27% of the businesses in our report identified inconsistent writing styles as a challenge they had faced when outsourcing content.
Although most agencies and companies develop style guides and brand voice resources in order to ensure consistency between different writers, they don't always work in practice.
7. Difficulties scaling up content production
Most companies who outsource content decide to do so in order to produce more than they feasibly can in-house. Nevertheless, some encounter organizational and logistical challenges when they start scaling up their content production. 
Indeed, 17% of our survey respondents reported that they'd experienced these kinds of problems. This just goes to show that content outsourcing challenges can stem from both internal and external issues.
8. A general desire for in-house content creation

Some companies downright prefer creating content with their full-time team. Even if they could save money and produce more by outsourcing, they prefer the processes and workflows that happen when content production is kept in-house.
In fact, 16% of the businesses we surveyed identified a simple preference for creating content internally.
LiveChat Brand Ambassador Marcos Bravo understands those who gravitate towards in-house content creation. 
He explains that "the biggest challenge [when outsourcing content] is not having your own team to discuss the subject, analyze it, and brainstorm around articles. You're missing the flow of creating stuff together."
9. Missed deadlines

It might not have made it to the top of the list, but several companies who outsource content reported having trouble with writers submitting work late and missing deadlines: 14% of those surveyed, in fact.
RedTrack Head of Marketing Dasha Nazarova describes how too many missed deadlines lead to scheduling problems and organizational issues down the road. 
She points out that "sometimes it requires a lot of time to see the final result of content, and because of this it's hard to scale the number of content pieces to be ordered and published."
10. Top writers lacking availability
When creating content in-house, companies can always rely on the fact that their employees will be available to work. On the other hand, 13% of the businesses we surveyed reported difficulties booking top writers when outsourcing their content.
Basically, some companies found that top agency writers are often very busy and have full schedules. This makes it hard to pin down their availability or book them as often as they'd like.
11. Brief and tone of voice inconsistencies
Last but not least, 13% of the companies who participated in our report said that they'd experienced external writers submitting content that wasn't consistent with the brief they'd delivered.
In-house employees often spend a lot of time putting together content briefs when hiring agency writers. It's understandable that they'd be frustrated to receive results that didn't take their guidelines into account.
6 Actions Content Providers Should Take in the Future
If you've made it this far, it's probably clear to you that outsourcing content creation isn't always rainbows and butterflies. It's a great option for companies who have a lot of content to produce and not enough employees to do so. But it also comes with its own unique set obstacles.
Now that you're aware of the top difficulties associated with content outsourcing, it's time to think about addressing them. Here are some of the best steps digital and content agencies can take to improve their services and better serve their clients moving forward.
1. Learn to turn ideas and instructions into valuable content

A whopping 76% of surveyed businesses felt that content providers need to learn to turn ideas and instructions into content that's valuable for customers.
Netguru Content Team Lead Natalia Chrzanowska says that "the most important aspect is how to translate ideas and technical knowledge — input from developers, designers, and other domain experts — into information that's valuable for our customers."
Doing so is easier said than done, but practice makes perfect. The more time that writers spend turning guidelines, instructions, and briefs into worthwhile, high-quality content, the easier it becomes.
Agency writers will also be better equipped to produce valuable content if they have the opportunity to work with the same clients consistently. 
2. Take professional development seriously

Many content agency writers are freelance. As a result, they likely don't have the same professional development opportunities that they might otherwise have through in-house positions. This means that they either have to take responsibility for their own career advancement or rely on their agency to organize professional development opportunities for them.
Our report underlined the importance of content providers taking professional development seriously. Tellingly, 66% of participating companies agreed that content writers should prioritize progressing, acquiring new skills and knowledge, and adapting to fast-changing environments in the future.
Mailshake VP of Marketing Alessandra Colaci points out that agency writers can build long-term, mutually-beneficial relationships with clients if they get to know their specific industry. "Writers should also be eager to learn about the company itself, and learn about the industry. If a writer becomes a subject matter expert, then it helps the company more," she explains.
LiveChat Brand Ambassador Marcos Bravo also encourages agency writers to stay on top of their professional development. 
He advises to "keep learning and understanding the target, adapting to the target together with us. Do not wait for instructions. Be more proactive."
3. Spend more time researching

Just over half ( 51%) of the companies who participated in our report felt that content providers should put more focus on the research portion of their writing process. Many felt that writers don't spend enough time on this phase. The lack of research ends up being obvious when they deliver their finished content.
RedTrack Head of Marketing Dasha Nazarova feels that a lot of writers skip researching altogether, but for her it's the most important part of the content creation process. 
She explains that, "there's so much content written already, and you need to put those unique points in your text and not be similar to hundreds of others. And this is only possible through prior investigation." 
4. Improve communication skills

45% of surveyed businesses felt that content providers should continually focus on honing their communication skills. 
Of course, great communication skills are an asset in any industry. Not only do they help make the collaboration process easier and more effective, but they also translate into better client relationships and higher-quality results.
Since external writers most often don't meet with their clients face-to-face, it's essential that they keep them informed about key developments.
Piktochart VP of Growth Agata Krzysztofik says that: 
"Communication skills are crucial, especially when you are an outsourced content writer. You're not part of the company, so you need to keep the client up to date on what is happening. The client has no way of guessing it."
5. Deliver content on time
Companies establish content deadlines for a reason. It's important that content providers stick to them. Delivering work late can wreak havoc on publishing schedules, editing processes, in-house employee availability, and more. 
For this reason, 24% of the businesses we surveyed reported that content providers should make delivering work right on schedule a priority. This not only leads to satisfied clients, but also contributes to less chaos and confusion internally.
6. Take a proactive approach
Since external writers and content providers aren't part of their clients' day-to-day teams, they sometimes fall into the habit of waiting. That is, if they don't receive any updates or instructions about their work, they wait until someone gets in touch with them.
However, 9% of the businesses we surveyed identified that they'd like agency writers to take a more proactive approach to communication. In their view, it's a more professional attitude and shows that they care about their work.
It makes sense to be more proactive if you're not a permanent member of your clients' team. Since you're in contact with them less, you'll probably be less informed in general. Our takeaway is to stay communicative.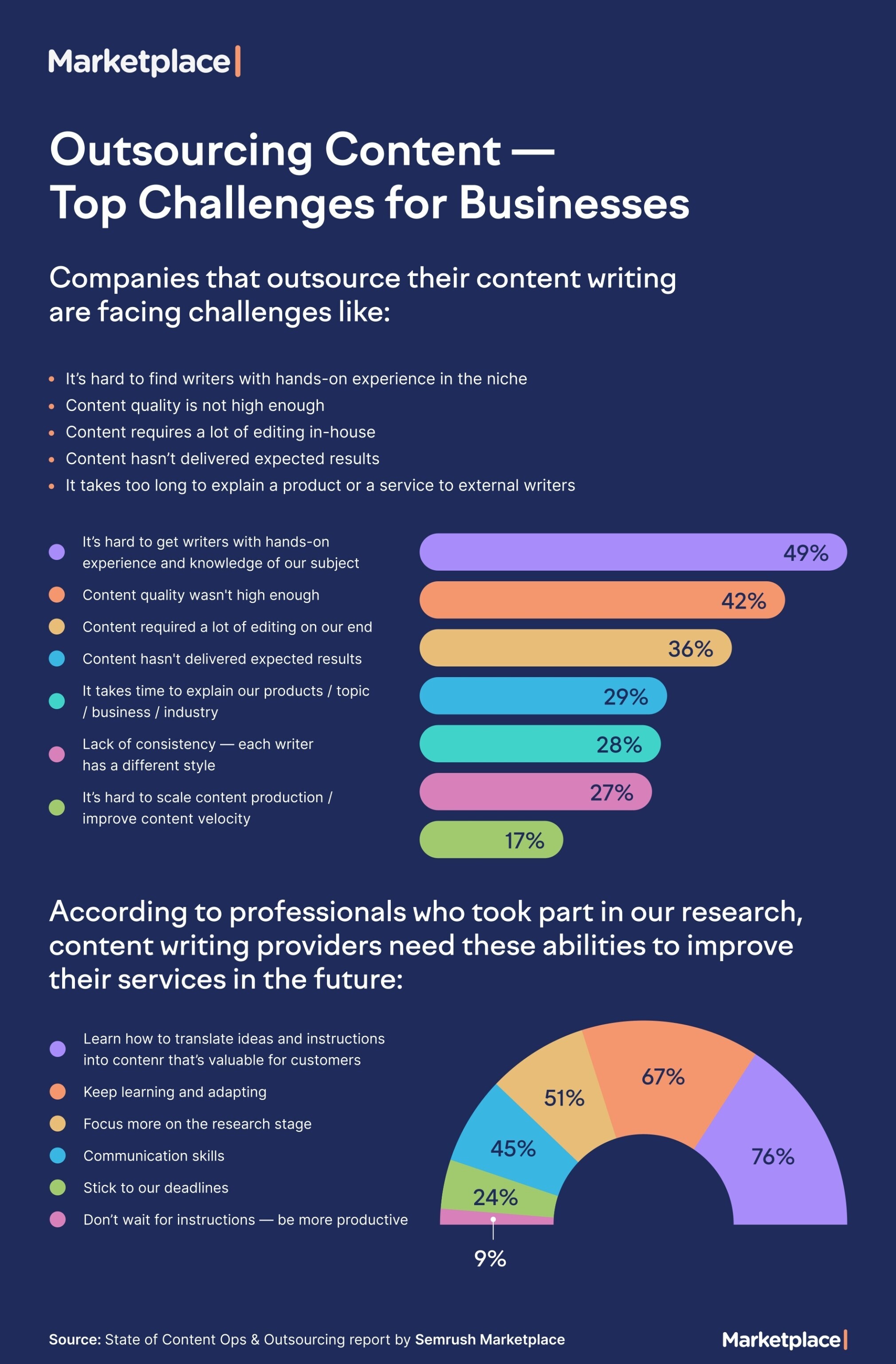 Integrate These Content Outsourcing Insights and Take Your Services to the Next Level
Ultimately, content outsourcing comes with its own set of unique challenges. Yet, it remains an incredibly popular way of producing content in a wide range of industries.
Almost half of the businesses that took part in our 2021 State of Content Ops & Outsourcing report outsource their content to some extent. 11.71% outsource all of their content while 37% rely on a hybrid model that mixes in-house and external content production.
Without a doubt, content providers like yourself benefit from this significant demand for content outsourcing. It's therefore essential that you reflect on these most common content outsourcing challenges. It's time to take action and make sure you don't repeat them in your own business practices. After all, happy clients make for thriving, successful businesses. 
Read the full report: 2021 State of Content Ops & Outsourcing