If there's one thing you need from your digital marketing toolbox, it's efficiency. You need access to real-time data so you can quickly make the most effective decisions and convert those all-important leads into paying customers.
You can start by deploying iPaaS, or "Integration Platform as a Service". It's a little tricky to understand at first, but don't worry. I'll break it down for you. So, let's go over how iPaaS works, starting with some fundamentals.
What Is iPaaS?
Let's be clear on some terminology before we dive into what iPaaS is.
Chances are you're already using various apps, or Software as a Service (SaaS), across your organization. Statistics show that small businesses use 40 apps on average, and larger businesses use many more.
SaaS examples include Monday, Trello, Salesforce, and Gmail. You usually need to switch between these SaaS applications to complete tasks, whether it's assigning someone a project in Trello, or responding to a customer in Gmail.
The problem? It's time-consuming and inefficient to constantly move between these different systems. Since over 82 percent of customers expect almost instant solutions to their problems, this is time you can't afford to waste.
How does iPaaS help? It's simple. iPaaS integrates your SaaS applications and cloud services. In other words, it brings all these different apps together so they're accessible from one place.
With iPaaS, you can read an email from a prospective customer in Gmail, and immediately assign someone a follow-up task on Trello. You can track inbound and outbound marketing in real-time and quickly update a lead's status on Salesforce.
From a marketing perspective, what's most important is why iPaaS can work for you. Here's what you need to know.
The Benefits of iPaaS
Whatever the size of your company, there are three key benefits of iPaaS:
Cost savings
Business efficiency
Security and compliance
Let's go over these one at a time.
iPaaS Could Save You Money
If you're looking to streamline your IT budget, iPaaS could be a great option for you. Here are three specific reasons why.
Flexibility of iPaaS
First, it's flexible. It's pretty easy to scale your services to suit your particular business needs at any given time without overstretching your IT budget.
For example, if you're experiencing high seasonal demands, you can quickly scale up your iPaaS platform to handle the volume. You can ramp up marketing campaigns and manage high numbers of leads without sacrificing speed or efficiency.
How does this flexibility help you cut costs? Again, it's simple. The more agile your company is, the quicker you can onboard new customers, and the fewer resources you waste in the meantime.
Autonomy of iPaaS
There's no need to worry about scheduling software updates because iPaaS handles these updates for you. Automatic updates:
Helps minimize your maintenance costs
Enhances your system reliability
Put simply, automated updates indirectly reduce downtime. More than 17 percent of small businesses have lost customers through downtime, and 37 percent have lost revenue. The upshot? Automation helps protect your bottom line and your customer base.
Simplicity of iPaaS
Many businesses find the whole concept of rolling out an iPaaS platform daunting.
My advice? Don't be. iPaaS solutions are user-friendly. They're designed with the "novice" coder in mind, so you don't need specialist IT skills to set up the integration.
Since there's no need to hire an outside developer to help you deploy the service, you can save money in the short term.
All you're doing is accessing a cloud-based service. There's little technical installation required.
You can quickly install or delete app integrations without spending extra money.
You don't need system permissions to make changes, either. It's all designed with cost-effective efficiency in mind.
The best part? Since it's easy to use, you'll spend less money training employees on how to work the service.
Your Business Efficiency May Increase with iPaaS
Efficiency is a real selling point for these platforms. Here are the key reasons why.
First, did you know that 80 percent of customers expect consistent information when they speak with different members of your team? iPaaS makes this possible through:
Automatic data syncing across systems
On-the-go access to data
Centralized communications between departments
Improved access to real-time data for critical decision making
This means you're improving your customers' experience with your company and boosting operational efficiency, all at the same time.
This also makes it easier for you to see exactly what's going on in your company at all times. Whether it's tracking weekly targets or assessing customer behavior, you can access everything you need from one simple interface.
It usually takes far less time to deploy iPaaS than installing all your software tools separately.
iPaaS Can Help With Security and Compliance
Did you know that cyberattacks cost the average business $200,000? One of the best ways to avoid costly data breaches is by improving your cybersecurity. Here's how iPaaS can help.
Automatic security updates keep your data and infrastructure safe.
It's easier to protect data since it's all stored in a central location.
iPaaS solutions generally include advanced security tools to find threats, like fraud detection and intruder alerts.
You can quickly cancel an employee's user profile if they leave the business, meaning there's less chance they'll still have access to confidential data.
iPaaS security tools can offer the levels of protection you need to meet many compliance requirements across industries.
Essentially, iPaaS is great for cyber-safe functionality and connectivity because it makes it easier to perform day-to-day tasks, and it facilitates seamless communication across your company. Most of all, iPaaS helps you comply with various industry security standards.
Now that we've covered the benefits of iPaaS, you might think it's the right option for your business. A key question remains: How do you pick the right iPaaS solution for your company?
Choosing Your Ideal iPaaS Solution
Choosing the right iPaaS integration comes down to these two things.
Understanding your company's specific data needs. For example, some iPaaS tools are best suited to automating contact and lead management, while others work best for automating day-to-day workflows.
Finding a suitable iPaaS platform to meet these needs, at the right price point.
The Gartner Magic Quadrant is a good place to start your iPaaS provider research. But before you get started, here's what you should do first.
Identify what you need from iPaaS, whether it's customer analytics, employee management, enhanced security, or something else.
Set a realistic price point. How much can you afford to spend on iPaaS? Think carefully about your iPaaS budget, which we'll cover later.
Once you've given those key issues some thought, it's time to choose a suitable iPaaS integration for your specific marketing and commercial goals. Here's my step-by-step guide.
Be Sure Your Favorite Apps Can Integrate With iPaaS
Let's start with something simple: not all iPaaS platforms work with every app. With that in mind, the right solution for you should work with most (if not all) of your day-to-day apps.
First, just list all the apps you're using right now, and decide which ones you need to integrate. This helps you narrow down your research so you're only focusing on compatible tools.
To narrow your search even further, you need to think in the medium to long-term. Which apps do you plan on integrating as your business grows? What's important for your marketing strategy?
Your iPaaS solution needs to work for you in the years to come, not just the short-term.
Decide What You Want to Do With Data in iPaaS
On its own, a piece of raw data doesn't tell you much. Sure, you might have some customer analytics and a few employee reviews, but unless you translate this data into information, you can't use it to improve your marketing efforts or grow your business.
Remember, that's the whole point of iPaaS: integrating data from across your company so you're turning it into useful information. Once you've confirmed which apps you're using and which platforms are compatible, you need to think about where your data fits in.
Establish what data you have, whether it is names, promotional tickets, emails, reviews, or something else.
Confirm what data you need to integrate to achieve your business goals, because again, not every iPaaS can integrate all types of data.
Identify which apps contain this data, because these apps must be compatible with the iPaaS.
Check which iPaaS tool makes it easiest to migrate this data.
Make Sure the iPaaS Is Easy to Use
This one's important. Some iPaaS solutions are more user-friendly than others, so be sure to consider your employees' IT skills.
The more training your team needs, the longer it'll take to get the system up and running.
Without proper training, your employees might accidentally corrupt or delete important data. If there's no contingency plan in place to handle the learning curve (such as cloud or hard copy backups), you could suffer permanent data loss.
The real problem? Steep learning curves can affect productivity, which impacts everything from customer service to daily workflows. So, factor in employee technical expertise before you choose a platform.
As an aside, if you're looking for a user-friendly tool to assess your recent marketing efforts, check out my A/B Testing calculator.
Find Out About iPaaS Security and Updates
Sure, iPaaS is pretty safe overall. However, it's not foolproof, so here's what to bear in mind.
Check the service provider's track record. Are customers happy with the service? Does the provider have the experience to manage your sector-specific compliance requirements?
You should also check the vendor's record for downtime and data loss. If it's an unreliable platform, your data may be compromised, and performance may suffer.
Confirm how often updates are installed, and ensure they're applied automatically.
Security is extremely important, so don't be afraid to ask questions.
Figure Out Your iPaaS Price Point
iPaaS is a business investment, so you must get it right.
Go back to your IT budget and confirm what you can afford to spend.
Research the options in your price bracket. List the pros and cons of each platform.
Decide if you're better off paying a fixed monthly or annual fee, or if you're looking for a more flexible pricing structure. The same provider can sometimes offer different programs for different prices, depending on your needs.
Many iPaaS platforms offer free trials, so it might be worth testing one for 30 days or so before you commit. That said, if it's a complicated platform, installing and learning it for a free trial period might be more trouble than it's worth from a financial perspective.
iPaaS Tools
Are you still wondering where to get started? Let me leave you with some examples of popular iPaaS tools to choose from.
Zapier
With Zapier, businesses of any size can design customized and streamlined workflows. You don't need tech knowledge either, since there are plenty of premade templates to choose from and integrate as you wish.
For example, you can send notifications to Slack from other apps: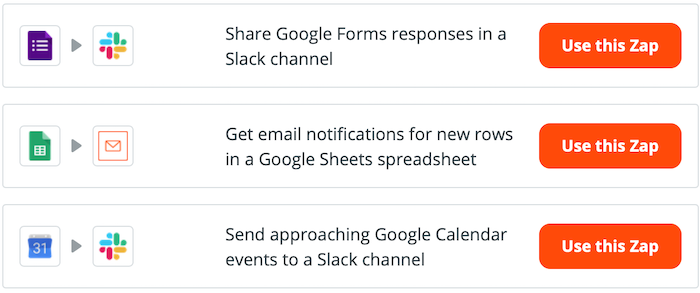 You can also quickly generate tasks without opening each app individually: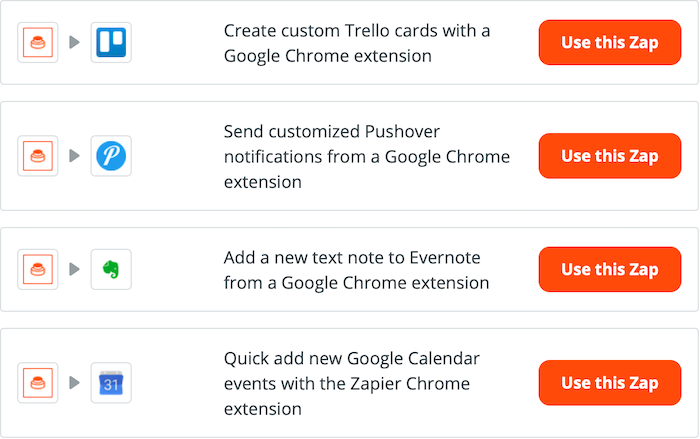 The best part? Zapier is wallet-friendly and there's even a basic free version available.
Oracle Integration Cloud
If compliance is a priority for you, check out Oracle Integration. It has iPaaS templates for many industries, from financial services to healthcare:
It's also simple to track leads at every stage of the process from the one platform: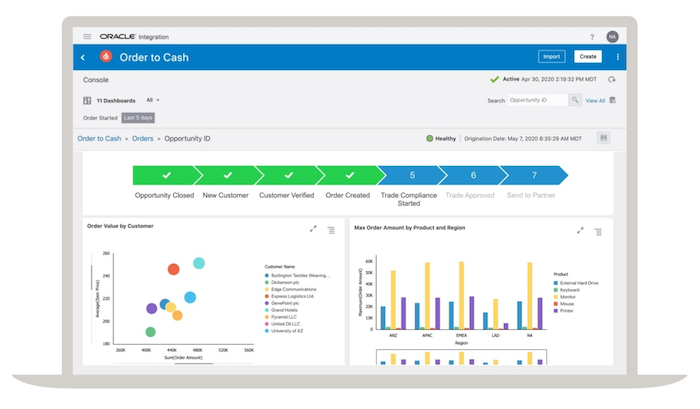 You can pay-as-you-go or choose a custom pricing plan.
Jitterbit
Jitterbit is designed to unify your workflow so you can easily track everything, from marketing performance to subscriber engagement from one location. It's also compatible with popular services like Salesforce and Microsoft: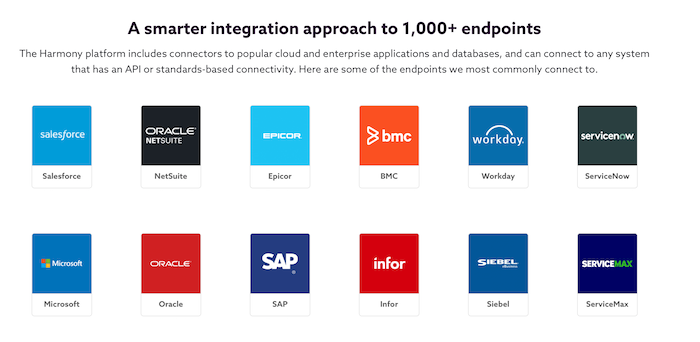 You can request a free trial or contact Jitterbit for custom pricing plans.
Conclusion
iPaaS is a great way to streamline data flow within your company, monitor conversions in real-time, and improve your customer response speed. It's a solid addition to any digital marketing toolbox.
Remember, though, that what's right for one business may not work for yours. That's why it's so important to spend time researching vendors, and ask as many questions as you need before committing to a service contract.
One final thing: if you need help boosting traffic to your website and optimizing your content to improve conversion rates, don't forget to check out my consulting services.
Have you deployed iPaaS across your business yet?