Let's be honest: It's tough-going running a podcast. From content generation to editing, there's a considerable amount of effort involved.
Wouldn't it be great if you could get paid for all this hard work? Well, you can if you secure podcast sponsors.
With the help of a podcast sponsor, you can monetize your show, grow your platform and, best of all, build long-term relationships with various brands. Below, I'll show you how to find potential sponsors and go over some best practices for using sponsored ads in your podcasts.
How Do Podcast Sponsorships Work?
Before you look for your first sponsor, you need to understand how podcast advertising works.
Ad Format
A podcast sponsor, or advertiser, pays you to promote their goods or services over one or more podcast episodes. You're free to get a little creative, but usually, hosts use one of two ways to run ads: radio-style or host-read.
Radio-Style Ads
With this format, a third-party marketing company creates the ads, and you place them somewhere in your episode. Is it effective? Well, according to Edison Research, 70 percent of listeners consider a product after hearing about it through a favorite podcast, so yes!
Some podcast sponsors only work with hosts who run radio-style ads, which is worth bearing in mind.
Host-Read Ads
Instead of inserting an ad, you talk about the product or service and why it works for you. It's up to you to add the narrative; just make sure it sounds natural and flows well.
This is the most popular option, making up over 63 percent of podcast ads.
Whichever option you choose, consider the three places to run an ad:
pre-roll: right before the show starts
mid-roll: somewhere during the episode
post-roll: after the show
Sponsorship Model
Next, you should choose your sponsorship model: CPM, affiliate, or value-based.
CPM
With CPM, or "Cost Per Mille," you're paid for every 1,000 downloads. Here's an example:
Your sponsor pays $20 per 1,000 downloads (you can charge, on average, between $10 and $50, according to HubSpot).
People download your show 100,000 times.
You earn $2,000 for that episode.
The problem? This model works best for big shows. Many sponsors won't work with small to mid-sized podcasts through the CPM model.
Affiliate Model
Some brands let you sign up as an affiliate. You're paid whenever a listener buys the products you're promoting.
On the plus side, there's flexibility over how often you promote the product, and there's no limit to how much you can earn.
The downside? There's no guaranteed income, and you could earn nothing. Affiliate marketing doesn't work for everyone.
Value-Based Sponsorship
Are you a small to mid-sized podcast? Value-based sponsorship might be a good option for you.
Unlike with CPM, you're not paid per the number of downloads. Instead, you negotiate a set rate with the sponsor (for example, $50 per episode). It doesn't matter how many downloads you get: You won't earn more (or less) than $50.
Clearly, it's not a great model for large shows with high download rates, but it could be great for smaller or niche podcasts.
Benefits of Podcast Sponsors
Why should you even pursue sponsors, though? Podcast sponsors offer multiple benefits, but here are the most important ones:
Monetize Your Show
Podcast sponsors help you turn a hobby into an income-generating business.
Think of it this way: Over two-thirds of listeners act based on the ads they hear on podcasts. A pretty impressive number, don't you think?
Remember, when listeners take action, you earn money.
Build Brand Identity
With over 850,000 podcasts out there, you must find a way to stand out from the crowd if you plan on building a dedicated audience. How do you achieve this? Build a strong brand identity.
Here's another way to see it: Roughly three-quarters of Americans listen to podcasts to learn new things. Provide them with meaningful content (and well-targeted, useful product ads), and they're more likely to come back again.
Build a Network
The host-podcast sponsor relationship works both ways. As you promote their goods and services, you earn their trust, leading to further business or networking opportunities down the line.
Grow Your Platform
If listeners enjoy your ads, they'll come back for more and share your podcast with friends. Over time, a few strategic podcast sponsors can help you draw traffic and grow your audience base.
While I'm not suggesting you use sponsorships as the sole way to monetize your podcast, they're certainly a great place to start.
4 Strategies to Get Podcast Sponsors
Here are the four main ways to find podcast sponsors:
1. Reach Out to Sponsors Directly
The simplest strategy? Contact potential sponsors directly.
Research podcasts in your niche.
Check them out (or have a listen!) and identify which products or services they advertise.
Look up the company's details and find a point of contact.
Pitch them directly.
Don't worry about the pitch just yet. We'll take a look at what to include further down.
2. Partner With a Hosting Service
Podcast hosting services give your podcast a home on the internet. These services let you create, manage, and monetize your podcast.
Here are some examples:
Anchor: Anchor Sponsorships gives you control over ad placement and the types of ads you run. This platform is free and could be a great option for new podcasters.
Buzzsprout: The Buzzsprout Affiliate Marketplace helps you find and connect with potential sponsors. It's a good option if you're keen on trying affiliate marketing.
Transistor: For a monthly fee, you can create and manage multiple podcasts, which could boost your chance of finding (and securing) sponsors.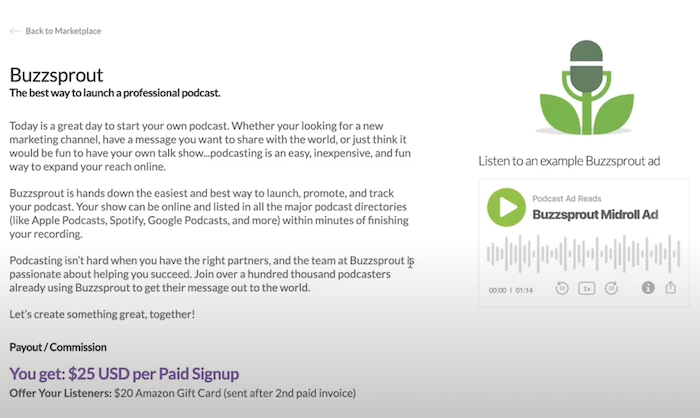 3. Join a Podcast Network
Some networks let you list your show (sometimes for free) on their platform. Potential sponsors browse these platforms and reach out to the shows they're interested in working with.
This is a great way to build some exposure, but if you're a niche podcast or still building an audience, it may be less effective than other methods. Some networks are hard to join, and they often expect a cut in commission for pairing you with a brand.
All that said, there's no harm in giving these networks a go. Examples include Wondery and PodcastOne.
4. Use a Directory
From Spotify to Apple Podcasts, don't forget to join podcast directories. There's always the chance you'll connect with a sponsor this way.
If you use hosting services like Buzzsprout, they can help you list on the top directories, but you can also reach out to whichever ones you want.
Do some research to find the right directory for your podcast, but here are a few to get you started:
Apple Podcasts
Spotify
iHeartRadio
TuneIn
Google Podcasts
What It Takes to Get Podcast Sponsors
Ready to reach out for podcast sponsors? Here are some steps to work through before you send your first pitch or reach out to prospects:
Know Your Niche
OK, so if you've already got a podcast, you already know your niche, right? Maybe.
I say that because, unless you understand your competition, then the answer's no. Consider the following when researching your competitors:
Listen to podcasts in your sector or industry.
Make notes on the popular shows. What are the hosts like? Why do people love the content? Most importantly, how can you use what you learn to improve your show?
If the shows use host-read ads, study how they make those ads sound natural. Think about what works and what doesn't.
Consider where they place their ads. Is it pre-roll, mid-roll, or post-roll? Look for patterns in your niche and follow them, if possible.
This is all key data you can use to improve your show and find potential sponsors to pitch at the same time.
Build Your Audience Base
The reality is, roughly 50 percent of podcasts get less than 26 downloads within the first 7 days of release. This isn't necessarily a bad thing, but what it suggests is that the average podcast doesn't have a huge audience base.
Again, not a bad thing. However, the size of your audience determines which sponsors you'll attract and how to go about securing them. In other words, huge companies are unlikely to sponsor a show with a very small or niche audience.
If you're still growing your audience, consider choosing platforms like Anchor to simplify the process of finding sponsors.
However, if you're confident in your numbers, you might prefer to reach out to individual brands directly.
Present Your Podcast Professionally
First impressions count. Ensure your podcast is professional enough to attract a sponsor by running through a few quality checks:
Make sure your recordings are clear and free from interference.
Always use the best quality recording equipment you can afford.
Fact-check anything you say, unless it's purely opinion-based.
Consider putting together a media kit to include with your pitch letter or send out to potential sponsors.



Learn How to Pitch
Sure, businesses want exposure, which means they're opening to working with podcasters. That said, you still need to pitch your podcast!
The whole idea of a pitch email is to start a conversation. Keep it short, succinct, and professional.
Begin by setting out who you are and why you're contacting the company about a potential partnership between you both.
Pitch your show in one or two sentences.
If you have great audience numbers, highlight this. Otherwise, add a line or two about why you're reaching out to this particular company. Why do you think the partnership is a good idea? How will the company benefit from working with you?
End with an invitation for the company to contact you to discuss it further.
Don't just send one email out to a single sponsor. Target at least 5-10 sponsors at a time. You won't hear back from them all, and it often takes time to find the right sponsor.
Master the Art of the Follow-up Email
Still waiting on a reply to those pitch emails? Here's some tips.
Wait at least two weeks before following up.
Politely ask if they've had a chance to consider your first email, and remind them you're still keen on working with them.
Don't send more than one follow-up email.
If you still don't hear back, move along to the next sponsor. It takes persistence, optimism, and dedication to secure podcast sponsors, so don't give up after a few non-responses.
Choose the Right Sponsors
Ultimately, your podcast is about your audience. Without an audience, you can't grow your podcast, and you'll find it hard to secure sponsors.
The problem? The "wrong" sponsors are worse than no sponsors at all. Not only that, but some listeners despise any ads during podcasts, so there's always a chance you could lose people.
However, consider the following when weighing your options:
Choose sponsors that align with your brand's identity and what you stand for.
Ensure the products or services you're sponsoring offer something of value to your particular audience base. How do you work this out? By running demographic or psychometric profiling.
Don't forget to track your performance, too, so you know whether you're losing, maintaining, or gaining listeners. It can be challenging to pull listeners back if you lose them.
Conclusion
Podcast sponsors can help you monetize your show and turn your podcast business into a scalable, profitable venture in the long run.
Although sponsorships are great, try to limit your ads to no more than two per show. Too many may frustrate your audience and encourage them to turn off.
Finally, remember there's always a chance you'll lose some listeners after rolling out sponsored ads. Don't let this deter you, though. Think of it as a calculated risk: With the help of podcast sponsorships, you could develop your channel, improve your brand, and ultimately reach more listeners over the long term.
Where do you find podcast sponsors? Did you find it easy to pitch them?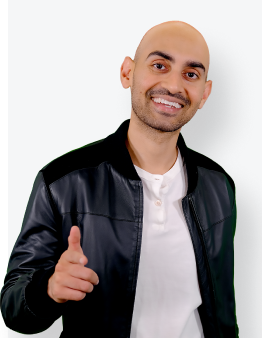 See How My Agency Can Drive Massive Amounts of Traffic to Your Website
SEO – unlock massive amounts of SEO traffic. See real results.
Content Marketing – our team creates epic content that will get shared, get links, and attract traffic.
Paid Media – effective paid strategies with clear ROI.