With over 267 million individual visitors, Google is undoubtedly America's most popular search engine. Why does this matter?
If Google is the most popular search engine, you should be listing your PPC ads on it. What's more, you should be tracking the most popular topics and keywords in your industry to better inform your PPC research.
How can you do this? Well, there are a few analytics tools available, including my own Ubersuggest. However, did you know you can use the well-known Google Alerts service to inform your PPC campaigns, too?
If you didn't, don't worry. When you think of digital marketing and Google, Google Alerts might not be the first tool that comes to mind over, say, Google Ads itself. Let me show you how Google Alerts work and how they can help you run your PPC campaigns more effectively.
What Is Google Alerts?
Google Alerts is essentially a notification tool. You can use the service to track when people use certain keywords or keyphrases online.
For example, you can ask Google to send you an alert whenever someone mentions your or your company's name online, or you can use it to track what keywords your competitors are using most frequently.
The best part? It's free to set up a Google Alert, and it's easy to get going. If you're a marketer, then it's worth giving Google Alerts a try.
All that said, is there anything you can't monitor through Google Alerts? Yes.
You won't see any analytics details, like how often your brand is mentioned online or if your mentions are increasing. Meaning, you'll still need tools like Google Analytics to help you measure KPIs and other significant metrics.
What's more, you can't track social media posts this way, so you'll need an alternative tool if you want to track how often you're mentioned on social media.
In other words, Google Alerts are handy, but they're not the only tool you should use to track your brand presence online, track keywords, or monitor trends for PPC campaigns.
How to Set Up a Google Alert
It takes no more than a few minutes to set up a Google Alert. Let's work through the steps together.
First, go to google.com/alerts. If you haven't already done so, sign in with the Google account you want to receive alerts.
Next, decide what you want to be notified about and type the search term onto the top bar. Let's use the search term "influencer marketing" as an example: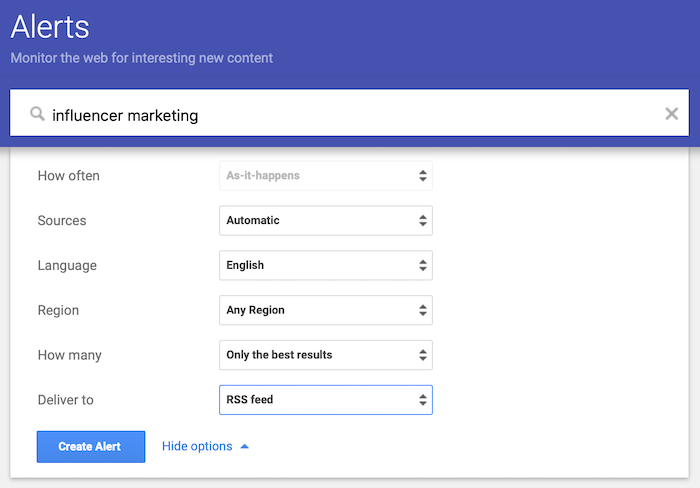 Then, decide which sources you want to track. Remember, Google Alerts can't monitor social media posts for you, but you can choose from other sources like books, videos, and blog posts.
Next, decide how often you want to receive Google Alerts. You can opt for instant alerts, meaning you're notified the moment a relevant post appears, or you can get updates once a day or once per week. It all depends on what works for you.
If you want to tweak your alerts even further, you can. For example, if you only want to receive Google Alerts for posts in a certain language, simply select the language you're tracking from the drop-down menu. Or, if you only want to monitor posts relevant to a certain country, you can limit the search to this one territory.
Next, choose between receiving "all" results or just the ones Google deems most relevant to your search query. For example, if you're using a really broad keyword, you might want to restrict alerts to the highest-ranking results only.
Here's what the best results for "influencer marketing" look like: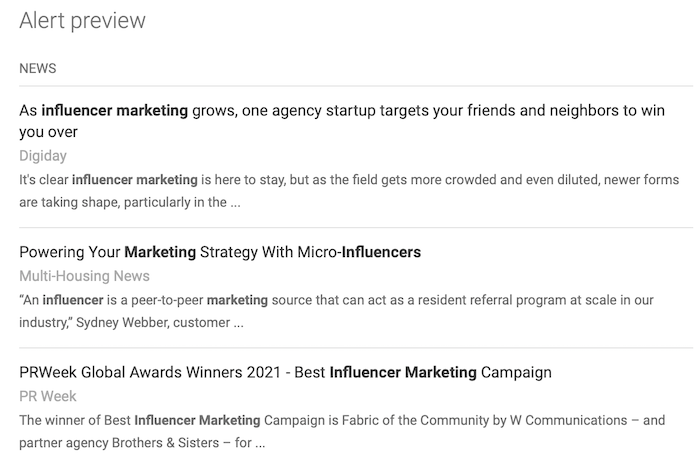 Then, choose where you want to receive your alerts. You can either direct them to an email address or an RSS feed.
Once you've set your parameters, simply click "Create Alert" to complete the process:

Now you'll start receiving Google Alerts for this search term! If you want to set up any other alerts at this time, just repeat the steps. You can run up to 1,000 Google Alerts simultaneously, which is probably more than enough for you to track. However, if you need more Google Alerts, you can always set up a second account to run them through.
Want to update or delete a Google Alert? No problem. Simply go back to google.com/alerts, select the live alert you want to amend or remove, and click the relevant option from the menus available.
How to Use Google Alerts for PPC Ads
OK, so that's what Google Alerts are, but can you use them for your PPC ads? Absolutely. Here are the five key ways you can harness the power of Google Alerts for your next PPC campaign.
1. Find Out What's Trending in Your Industry
Sure, evergreen content matters, but trends are hugely important to every industry. Ideally, then, you want to quickly identify what these trends are and how you can incorporate them into your PPC ads.
How can Google Alerts help? Well, you can use it to monitor blogs and authoritative websites in your niche for new content. You can scan new posts to identify possible trends and capitalize on them before your competitors do.
To set up Google Alerts like these, simply set alerts for "[company name] + blog." For example, you could track "Forbes blog," "Shopify blog," and so on.
Or, if you're interested in general trends in a broader niche such as email marketing, you can use a wide search term like "email marketing trends," ask Google to show you the most relevant results only and see what comes up.
2. Identify Topics to Target
While it's not primarily a keyword research tool, Google Alerts can nevertheless be used to help you identify new keywords and search terms to target through your PPC ad campaigns.
An example might be helpful here.
Say you sell exercise supplements, and you're launching a new product to help people recover after tough sessions. You can set up Google Alerts to help identify whether people are typing in search queries like "exercise recovery supplements" and "vitamin water."
To get started, just set up an alert for these search terms. Here are some examples of how you might write out your keywords:
"vitamin water" exercise recovery
"vitamin water" supplement
"exercise recovery supplements" vitamin water
Using quotation marks around certain words ensures you'll see results containing that exact phrase, plus any other words you've added on.
If no one's searching for these keywords, you should rethink which keywords you're targeting for your PPC ads. On the other hand, if they're popular keywords, it might be worth spending the money to have your ads show up for these search queries.
Like I said, Google Alerts isn't a keyword research tool as such, but you can use it to support your other keyword research strategies.
3. Receive Alerts About Yourself or Your Brand
When you're creating PPC ad campaigns, it's crucial you understand who your target audience is. Who is talking about your brand, and what demographics are you reaching? Once you know the answers to questions like these, you can craft targeted, more effective PPC ads.
How can Google Alerts help? By allowing you to track whenever someone mentions you or your company online. Once you start tracking your mentions, you can learn more about who is engaging with your brand and what they expect from you.
Again, these are simple Google Alerts to set up. Simply set up two individual alerts: one for your business name, and one for your personal name.
Use what you discover to decide which demographics to target with your PPC ads going forward.
4. Monitor Your Competitors
It matters what people are saying about you and your brand. However, it's just as crucial to know:
what your target audience is saying about your competitors; and
how your competitors are performing online
Why does competitor research matter when you're building a PPC campaign? By understanding your competitors' strengths and weaknesses, you can distinguish your own brand and build the most effective PPC ads possible.
You can monitor competitors' mentions more generally, or you can search for announcements using search phrases like "competitor name + product announcement." Use your findings to inform your product launch campaigns and PPC ads and stand out from the crowd.
5. Track and Manage Negative Reviews
No business likes getting negative reviews, but let's face it: they're a commercial reality. What's important, though, is how you handle those reviews and use the feedback to improve your business. In fact, 96 percent of consumers read company responses to negative reviews, so your answers matter.
Why does this matter from a PPC perspective? Even if people click through your PPC ads, they won't buy from you if all they're doing is seeing multiple negative reviews and no feedback from you or the customer services team.
Can Google Alerts help you track and manage negative reviews, though? Sure. Here's how.
First, you can just monitor for brand mentions. However, there's a chance you'll miss negative reviews tracked this way, especially if you're a popular brand with multiple mentions.
Next, then, you can set up a special Google Alert for reviews only. It looks like this:
[brandname] + intitle:review
For example, if your company is called "Coffee King," your alert looks like this:
Seventy-two percent of customers read reviews before taking action, like making purchases, so even if you're running great PPC ads, reviews still matter, and it's crucial you stay ahead of them if you want to get the most from your PPC campaigns.
Google Alerts FAQ
Let me quickly recap some of the key points we touched on.
What are Google Alerts?
Google Alerts is a notification tool. You can use the service to track who is talking about certain keywords you're interested in and what they're saying.
How do I set up Google Alerts?
Set up Google Alerts by going to google.com/alerts. Select your keywords, choose your notification frequency, and click "Create Alert" to go live. You can opt to receive notifications to your email address or an RSS feed, whichever you prefer.
What is the best way to use Google Alerts?
There's no single "best" way to use Google Alerts. However, it's ideal for checking out what people are saying about your brand and, importantly, performing crucial keyword research to better inform your PPC ad campaigns and ensure the right audiences actually see your paid ads.
Are Google Alerts free?
Yes, they're totally free to set up and use. They're worth trying out as part of your wider digital marketing strategy and PPC research.
Is there a limit to how many Google Alerts I can set up?
You can run up to 1,000 Google Alerts at one time. If this isn't enough for you, then you could always set up some Google Alerts on a separate work account.
Google Alerts for PPC Conclusion
If you plan on running a PPC campaign, you'll know how important it is to research your target audience and choose the right keywords. As we've seen, Google Alerts can help, whether you're sussing out popular keywords or researching popular trends within your industry.
Is a Google Alert the only tool you should use to track your PPC performance? Probably not. However, since it's free to get started and it's simple to set up an alert or two, I suggest trying them for yourself to see if they align with your company's unique marketing strategy.
Do you need more help with your overall PPC marketing campaign? Reach out to me and discover more about how I can help you on your digital marketing journey.
Have you set up Google Alerts yet? What are you using them for?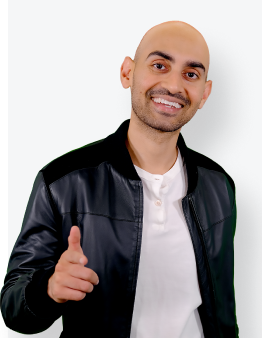 See How My Agency Can Drive Massive Amounts of Traffic to Your Website
SEO – unlock massive amounts of SEO traffic. See real results.
Content Marketing – our team creates epic content that will get shared, get links, and attract traffic.
Paid Media – effective paid strategies with clear ROI.