Brand awareness can seem intimidating and complicated, but it's just a matter of getting your brand in front of the right people.
When you come up with a great idea or launch a new business, how do you get your name out there? How do you help people become more aware of what you've created or are trying to sell?
The options are varied, from billboards and bumper stickers to word of mouth and cold calls.
However, sometimes it can be simpler than that. You can boost brand awareness with PPC (pay-per-click) campaigns that show your ads to people across the internet, including on SERPs, social media sites, in-app ads, banners on websites, and more.
What Is Brand Awareness, and Why Is it Important?
In many ways, brand awareness is about how recognizable you are. Of course, in a noisy world online, where brands compete for attention all the time, it may seem impossible to build brand awareness.
Brand awareness isn't out of reach for a new brand or one whose target market is smaller. Think about the last time you listened to a podcast and heard the name of a new tech company, and then you listened to another podcast and heard it again.
After a while, the name of that company started bouncing around in your head. Maybe you began to get curious about what they did and looked them up online.
That's building brand awareness. You know who they are. They didn't have to set up a sales call and introduce themselves, but you are now aware of their brand.
How Do PPC and Paid Social Campaigns Increase Brand Awareness?
You can use PPC ads to increase brand awareness by introducing your brand in ads that your target market can see. By creating ads that show off what your brand is about, including a memorable name or logo, you can start to be a bug in the ear, or eye, of your potential customer base.
You can even think of it as an introduction. Your ad is your name tag. "Hi, my name is…" This is your opportunity to say hello and explain what you do.
If all you're worried about is large groups of people actually seeing your ads, the impressions rather than the clickthrough rates are going to be more important to you. You can continue to run a PPC campaign while watching two goals.
First, you would see how many impressions it's getting. Then you would see how many are actually clicking on your ad.
In fact, Google recommends switching over to a pay-per-impression option to build brand awareness.
Paid Ad Brand Awareness Campaign Goals
Building brand awareness can take many forms. From just hearing your name or seeing your logo to clicking through, exploring your website, and learning more, your target audience may experience your brand in a variety of different modes.
What should your brand awareness campaign goal be?
Before we talk about the specifics, let's ask some questions about your brand:
Is your product or service already on the market?
If not, when are you going to market?
Are you trying to increase sales, or is brand awareness enough for now?
Do you have marketing objectives such as newsletter sign-ups or social media followers?
Let your timelines and your bottom-line goals drive the target goals you set up for your brand awareness campaign. You could choose to observe the following metrics:
Impressions: This is how many people see the ad you are posting. They may just scroll by, or they may take a moment and read your ad. Either way, they see it.
Clickthroughs: When it comes to general awareness, you may be less inclined to care about how many people are clicking through to your site.
CTR: This is a simple formula to find out how many people are clicking through, in relation to how many are seeing your ad.
Video views: If your ad is a video, on social media, in another video, or embedded on a website, you may want to know how many see your video.
Again, consider whether this campaign is about people passively starting to become aware of your brand or about people actively engaging with it.
Tips for Growing Brand Awareness With PPC and Paid Social Campaigns
Growing brand awareness can come with many creative opportunities, but you want to keep in mind your ultimate goal is to build your reputation and eventually drive sales. Focusing on those can help you make strategic decisions moving forward.
Know Who Your Target Market Is
Do you know who buys your product or service? Do you know exactly who you are trying to build your brand awareness campaign for?
This can get a little tricky if you're trying to break into a new market or switching your focus a bit. Your target market may not be who you've always sold to.
Get specific. Even create a customer avatar, if you can. Who is this person? How old are they? What do they do?
Understand Your Target Market Habits
Once you know who your target audience is, you can figure out what they do on a daily basis. Where do they hang out online? What apps or tools do they use? Which social media sites are they on?
Focus your efforts on areas where you know your target market will be. It's a waste of time and money to showcase ads to groups of people outside your target market.
Don't forget to think about their emotions and psychology too. What are their ambitions? Who do they want to emulate? How are they spending their time and energy to evolve or grow?
While you're researching this, look for niche opportunities. The more you know exactly who your target market is, the more you can zone in on particular places to showcase your ads.
Look for favorite apps or online tools that sell ad space. You can also look at favorite blogs or news sites for ad opportunities. Getting specific will help you get more out of each view.
Diversify Your Ads
Because this is about brand exposure, you'll want to make sure you are getting the word out about your brand in more than one location or through different ad streams. For example, you can use Google Ads as well as Facebook and Instagram or another equation that makes sense for your brand.
You can also try some retargeting ads through Google to continue to drip your brand onto those who have visited your website or social media pages.
Use the Right Keywords and Phrases
It's tempting to throw some obvious or generic keywords into your Google Ads so you know they'll "work." Yes, people will see your ads, but remember that brand awareness is about the right people seeing your ads. Not only that, but it can also be about those right people seeing your brand at the right time.
Using precise keywords and phrases means your ads are more likely to show up for your target market, just when the problem you solve is on their minds.
Maybe you sell a product that soothes a baby who suffers from colic. Anyone who's ever tried to comfort a colicky baby and sees your ad will probably relate to it, and they'll be more aware of your brand if they ever encounter another colicky baby in their lives.
How much more powerful would it be for a mother or father who is actively searching for colic remedies to see your ad?
The next time they see your ad or your product somewhere, they may remember that middle of the night rocking session and think, "Oh, that's right. They can help with colic."
Being in front of the eyes of people who want your brand, even if they don't know it yet, at precisely the time they most need it. That's the power of building brand awareness through PPC and paid campaigns.
Get Creative With Keywords
The fun thing about building brand awareness through PPC campaigns is that you can get really creative with your keyword targeting and start to pop up in unlikely places. Here are a few ideas to get your creative juices flowing:
your competitors' keywords
current event keywords
trending keywords
misspelled keywords
keywords your target market is searching for outside your industry
The key to this tactic is using creative ads that tie in why you are there, either with a pun or a light-hearted introduction. It could be something that makes you relevant to that space, even when you don't seem to be. You'll see some examples below.
Include the Right Information
It's tempting to get super creative with ads and miss the obvious. Remember the goal here is to increase brand awareness. You want people to start knowing your brand and for your brand to start becoming synonymous with the industry you're in or the problem you solve.
All of that can be lost if you forget the basics of your brand, which include:
your logo or a variant of it
your slogan or tagline
your location (if you are a location-dependent brand)
your website (if you aren't easily searchable)
Case Studies: Brands That Increased Customer Awareness With PPC and Paid Social Ads
Do you want to see a couple of real-life examples of how you can use paid ads to increase brand awareness? Here are a couple of case studies:
LifeLock
The first is LifeLock, which bid on the trending Google search terms regarding an Equifax data breach. They were able to showcase their brand, in a hero-to-the-rescue kind of moment, to those who were frantically Googling how to handle the situation.
Here's a related example from a company offering data breach testing:

These are an example of leveraging current events and trending keywords to be at the right place at the right time.
Fiat
Fiat took a different approach by creating a few different ads and testing out different keywords to see how they could build brand awareness. They used specific keywords, such as their brand names, as well as broad ones, such as "small car," to learn more about how their ads were performing.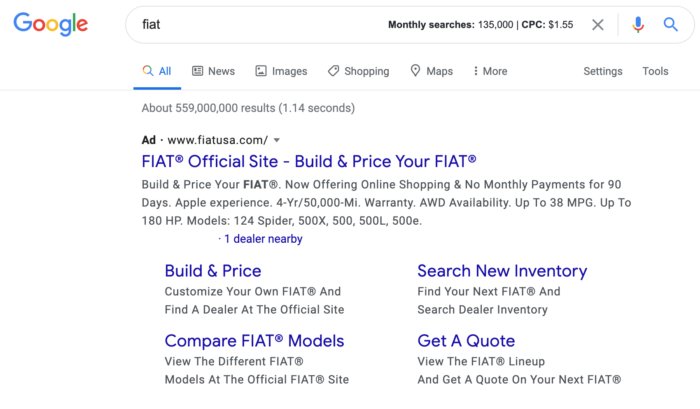 This is an example of using keywords your target audience is looking for and being there when they search.
Conclusion
Is it time to build brand awareness using PPC and paid social search? By leveraging Google Ads and other ad tools, you can ensure your brand is there when people are searching.
If you're looking for a way to just get your name out there in the public mind, PPC campaigns can be a powerful way to do so. If you're not sure how to get started, hiring a Google Ads consultant could help.
Which brands have you become aware of through ads?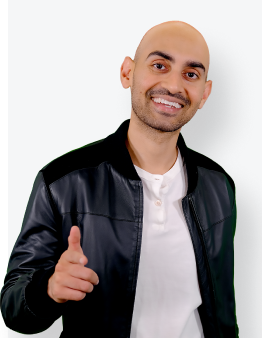 See How My Agency Can Drive Massive Amounts of Traffic to Your Website
SEO – unlock massive amounts of SEO traffic. See real results.
Content Marketing – our team creates epic content that will get shared, get links, and attract traffic.
Paid Media – effective paid strategies with clear ROI.