Disclosure: This content is reader-supported, which means if you click on some of our links that we may earn a commission.
What do you want from your web hosting provider?
Strong uptime rates? Excellent performance? High speeds?
Pretty sure we want it all. But not at the cost of simplicity because managing the web host is equally important.
Your current hosting provider may offer you strong performance, but it won't be any good if you can't manage your account—or if it becomes overly complicated.
What you need is a cPanel web host.
The cPanel is the very helm of your website's designs, domains, extensions, and every other thing you need for having an online site. In addition to being the most popular management system for web hosting, it's incredibly user-friendly and acts as the control center for every website.
But there are quite a few cPanel web host providers in the market. Perhaps even thousands.
So, how are you supposed to find the right match?
In this guide, we'll walk you through our top picks for the best cPanel web hosting, along with our methodology to help you make the right choice.
Top 5 Options for Best cPanel Web Hosting
How to Choose the Best cPanel Web Hosting for You
Every cPanel web hosting provider is unique. Some of them will be better suited for your website requirements than others with their feature offering, hosting type, and pricing.
Making a decision can definitely be tricky if you don't know what you want. Therefore, you should figure out what you need other than the obvious high uptime rates and better speed.
Below, we've discussed a few questions you should consider before choosing a cPanel web hosting provider.
Does the Web Hosting Provider of a Free cPanel License?
You need a provider that offers a free cPanel license if you plan on using cPanel. The good news: Plenty of web hosts do offer cPanel licenses for free.
You'll also find hosts that offer a cPanel license for an upcharge. But why pay for something that you can get for free?
Does the Web Hosting Provider Support One-Click App Installations?
People prefer cPanel because of its simple, user-friendly dashboard and its compatibility with third-party applications. Look for a provider that offers you all the above benefits and makes it easier to manage everything within the dashboard.
Choose a web host that advertises one-click app installs. This will completely eliminate the need to do complicated downloads and installations. Plus, the whole process will be much faster.
Irrespective of whether you own an ecommerce site or run a basic WordPress blog, third-party app installation will make things much more convenient for you.
Web host providers that advertise one-click app installs also allow for one-click or auto-updates. It's a win-win for you either way.
How Well Does the Web Hosting Provider Meet Your Website Needs?
Your prospective cPanel hosting plan should accommodate every single requirement of your website. Otherwise, it won't make sense to invest all that money only to buy a plan that falls short.
Check out the resources included in the plan to determine how well it meets your website needs. This includes RAM, bandwidth, storage, and CPUs. I would also recommend choosing a provider that offers you the flexibility to scale by allowing you to upgrade in the case of seasonal upsurge or organic traffic growth.
What Kind of Freebies Do You Get With the Prospective Web Hosting Plan?
When looking for web hosting options, you must remember to always operate within your budget. Unfortunately, though, many companies resort to shady practices to boost their sales.
For instance, you may choose a plan that appears to be cheap at first. But after subscribing, you realize there are several other hidden costs, even upcharges for basic features.
What happens in the end? You're left with a hole in your pocket and frustration.
Prepare a list of all the features you need, and then look for a host that offers them for free. You'll be surprised at the number of freebies you get when choosing a web host, including domain name, developer tools, SSL certificate, advertising credits, site migrations, and WordPress installation.
While all these freebies are great, your provider should also offer a money-back guarantee. While a 30-day assurance is the industry standard, you can also find guarantees as high as 90 days.
The Different Types of cPanel Web Hosting
Let's take a quick look at the different types of cPanel web hosting.
Small Business vs. Medium-Sized Business vs. Large Business
Every business has its own unique needs, along with different employee capabilities.
For instance, small and medium-sized businesses don't usually hire dedicated experts, nor do they have a large IT department. It's also possible for them to not have professionals with technical knowledge concerning websites.
These businesses, in particular, would benefit from the user-friendly and simple dashboard of the panels. The fact that it's cheaper than other web hosting options (several shared hosting plans include cPanel!) can be better suited to their budgets.
Enterprises and other large businesses often have the necessary resources and workforce to handle the technicalities involved in developing and maintaining sites.
These businesses generally prefer cPanel for its highly customizable interface, allowing them to align it with their respective brands. They can add custom URL branding, brand logo, and HTML to complete a more on-brand look.
cPanel & WHM
cPanel is the control panel used by end-users under a reseller of a web host provider and used by customers to manage their own hosting accounts.
On the other hand, WHM stands for Web Host Manager and is a reseller control program panel that allows the hosting provider to manage all its customers' accounts.
You'll find solo cPanel plans as well as ones that include cPanel and WHM features. The solo plan is ideal for small businesses or freelancers and professionals—basically, individuals who require just one hosting account.
cPanel and WHM combined plans are more suited for small agencies and larger web hosts. It's perfect for use in a supported virtualized environment and managing multiple sites with high-volume traffic or a single high-volume traffic site.
Sub-Domains vs. Parked Domains vs. Add-on Domains
CPanel users can create multiple domains on the same account, with only the hosting provider setting limits on the number of domains for any single account. In other words, managing complex domains is made much easier.
That said, there are different types of domains in cPanel that can influence your experience.
Let's say you have a domain website xyz.com.
Sub-domains: Imagine you install a message board and put it in a directory called xyz.com/board/. You can then turn the directory board into a sub-domain by adding it to the control panel.
In other words, you can access your message board as either xyz.com/board or board.xyz.com. This will be completely free and cost you nothing.
Parked domains: Think that you have another domain site called x-y-z.com in addition to your website domain xyz.com. You want both the websites to go to the same place so that when anyone types ww.xyz.com or x-y-z.com, they land on the same page—your website.
You'll have the option to purchase an additional domain site that can be bought from a registry like WestHost.
Add-on domains: In cPanel, imagine you have two domain sites xyz.com and x-y-z.com. However, you want these two domains to be completely independent. Again, you can buy the additional domain from a registry.
You can select the kind of domain you want in the cPanel based on your website requirements.
#1 – BlueHost – The Best for WordPress Sites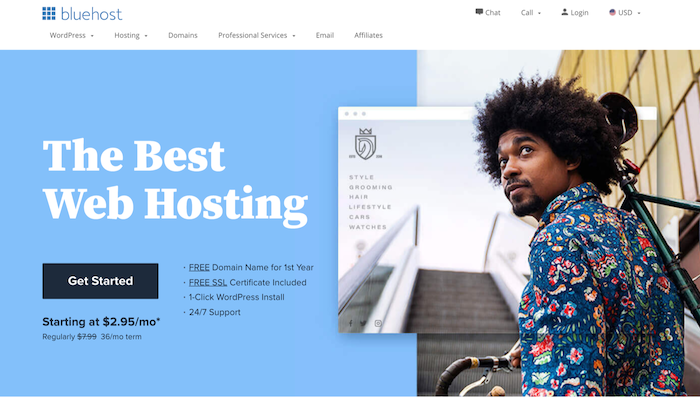 Bluehost is the undisputed leader in the web hosting niche. But if you narrow your search down to the best cPanel web hosts, you'll still find it topping lists.
And it's not without reason.
This web host offers a unique take on cPanel after having redesigned the system to enhance efficiency and straightforward navigation. So you still get the icon-based design, along with several other advantages that work especially well for WordPress sites.
Its cPanel interface is hands down one of the most intuitive and developed when compared to its competitors. Not only can you get your website up and running easily, but you can also customize several parameters without having to invest in third-party plugins or additional software.
You can manage access control from your dashboard, enabling you to restrict access to certain areas of your hosting account. This works particularly well for sites that have multiple users logging in.
For instance, if you own a product review website, you can change the settings to prevent your bloggers from accessing your server resources or billing account.
Plus, you'll get a free domain name (for the first year) and a free SSL certificate when you sign up. What's not to love?
Some features include:
Fully customizable websites
User-friendly dashboard
Built-in security
SimpleScripts one-click installs
24/7 expert support
Pricing
Shared Hosting — Starting at $2.95 per month
VPS Hosting — Starting at $18.99 per month
Dedicated Hosting — Starting at $79.99 per month
#2 – HostGator – The Best for On-Demand Scaling
HostGator has many things going for it—it guarantees a 99.9% uptime, offers excellent 24/7 support throughout the year, and has inexpensive plans. Precisely why so many people recommend this web hosting service.
It can be the perfect choice for scaling companies as its shared hosting, dedicated hosting, and reseller hosting plans include a cPanel-based interface, along with other advanced tools like hotlink protection and IP deny manager.
It comes with a full range of support options, all kinds of hosting types, and several quality features. It's the perfect choice for those who want top performance but don't want to spend a lot of money.
The cPanel control gives you access to all components to design your website from scratch and customize further if needed. What's more, you also get a website builder with HostGator, so you won't have to pay for another service.
People with limited technical knowledge will find the platform easy-to-use. At the same time, it still has enough features to make it suitable for technical users.
Features of HostGator include:
Google ads credits
Bing ads credits
Free site transport
Free domain transfer
Free SSL
Pricing
HostGator offers three hosting plans:
Hatchling Plan — Starting at $2.75 per month
Baby Plan — Starting at $3.95 per month
Business Plan — Starting at $5.95 per month
#3 – A2 Hosting – The Best for Cloud Hosting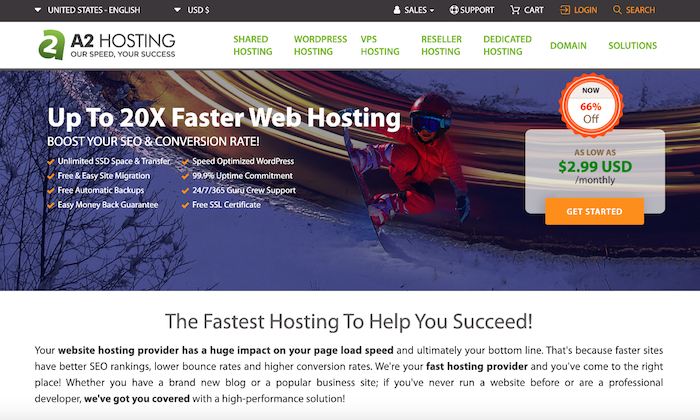 A2 Hosting already enjoys a stellar reputation because of its high speeds and efficient customer service. This, in combination with reliability and green hosting, makes the web host an excellent choice for those looking for a cloud hosting solution.
It uses cPanel to power its shared, dedicated, VPS, and reseller services and has an intuitive and easy to use interface. The web host also combines cPanel with SwiftServers to further enhance your website and boost loading speed.
Moreover, the cPanel integration is seamless. You get swift access to all the necessary tools needed to manage all sites and emails efficiently. You also get additional security and SEO features that come fitted in a straightforward layout.
A website backup done on the cloud is also available, making it appealing for all those who want a backup in case of hacks or compatibility problems.
Features include:
Configure SSH keys
Create a Node.js app
Install an SSL certificate from a third party
Manage your files
Manage databases
Manage email usage
Manage domains
Pricing
Shared Hosting — Starting at $2.96 per month
VPS Hosting — Starting at $5.00 per month
Reseller Hosting — Starting at $9.80 per month
Dedicated Hosting — Starting at $99.59 per month
#4 – InMotion – The Best for Shared and VPS Hosting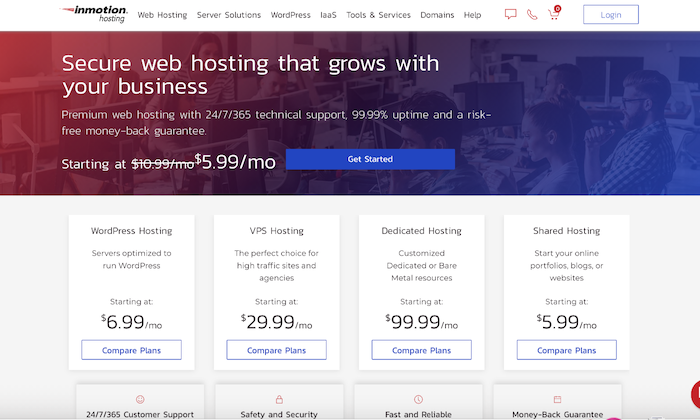 It's hard to beat InMotion when it comes to VPS and shared hosting solutions, thanks to its impressive features, disk space, and customer support.
Regardless of the plan you choose, managing your Linux-based server will always come with a cPanel. As a result, setting up domains, handling site automation, and managing resources will be easier than ever.
It's a great choice for those looking to build their site from scratch or who don't know how to design or code a website. The cPanel is easy to view and properly streamlined, giving it a modern and functional look as everything is laid out on a single page.
You can manage various sections of your site with ease and keep track of crucial statistics like bandwidth usage. If needed, you can use it at the top to jump to any section you want or use the search bar to filter results.
Another thing that I like about InMotion is its incredibly tailored service. You can optimize cPanel for VPS hosting, which, in turn, ensures all your resources are used minimally while also boosting speed and performance.
The software tool offers one-click app installations with 400+ applications, which can be managed directly in cPanel. It also allows auto upgrades, version rollbacks, and easy maintenance.
Some features are:
SSD Storage
Unlimited Bandwidth
Domain Registration or Transfer
No-Downtime Website Transfers
Daily Backups
Free SSL
Free Advertising Credits
Pricing
InMotion offers the following plans:
Shared Business Hosting — Starting at $6.39 per month
WordPress Hosting — Starting at $6.99 per month
VPS Hosting — Starting at $21.04 per month
Dedicated Servers — Starting at $105.69 per month
#5 – GoDaddy – The Best for Extra Features
GoDaddy is definitely one of the better web hosts with cPanel in the market. Once a simple domain registrar, the web host provider has expanded quickly and is currently offering a long list of services, including WordPress and shared hosting, with cPanel tying all the plans together.
The look is slightly different from the regular cPanel, but there's no compromise on the functionality.
While the icons have a more unified color scheme and are slightly larger on the page, the typical left-side menu is absent. Therefore, you don't have WordPress control or access to the MOJO Marketplace.
That said, this isn't a feature that'll be missed terribly by non-WordPress users, so it isn't a major deal-breaker.
In its place, you'll see an overview of your resources, along with quick stats on your CPU usage, memory limits, number of email addresses, and so on.
Its standout is the surprising amount of features.
The list of features include:
Centralized management
Dozens of beautifully crafted templates from renowned designers
Cross-platform access
Customizable themes
One-click application install
Pricing
Web Hosting — Starting at $5.99 per month
WordPress Hosting — Starting at $6.99 per month
Business Hosting — Starting at $19.99 per month
Reseller Hosting — Starting at $39.99 per month
VPS Hosting — Starting at $4.99 per month
Dedicated Servers — Starting at $94.99 per month
Final Thoughts
Whether you're looking for a shared hosting plan, VPS hosting, or a dedicated server, your website is sure to benefit from cPanel hosting. Keep in mind that a cPanel hosting service involves a surprisingly long-term commitment, so be careful with what you choose.
You can use our methodology to find one that meets your website requirements and aligns with your brand.
Our top picks, especially Bluehost and HostGator, have all the necessary features arranged in a user-friendly dashboard to help you take complete charge of your website. Regardless of your decision, you can be assured of a much easier life with cPanel.