What Are Dynamic Search Ads? 
Dynamic Search Ads (DSAs) use the content of your website to automatically generate ads that target relevant searches. Both Google and Bing offer DSAs. 
They can be a great way to target keywords that your traditional search campaigns may miss. 
However, they're not the best choice if you want a high level of control over your ad copy.
This article explains how DSAs work, their pros and cons, and ways to leverage them.
How Do Dynamic Search Ads Work?
Dynamic Search Ad campaigns analyze your site, identify keywords relevant to your business, and automatically generate ads to target them. 
They automatically discover keywords you may not be targeting with your search campaigns. And the right headline and landing page for each search ad.
That can make your campaigns more scalable. 
Here's a Dynamic Search Ad example: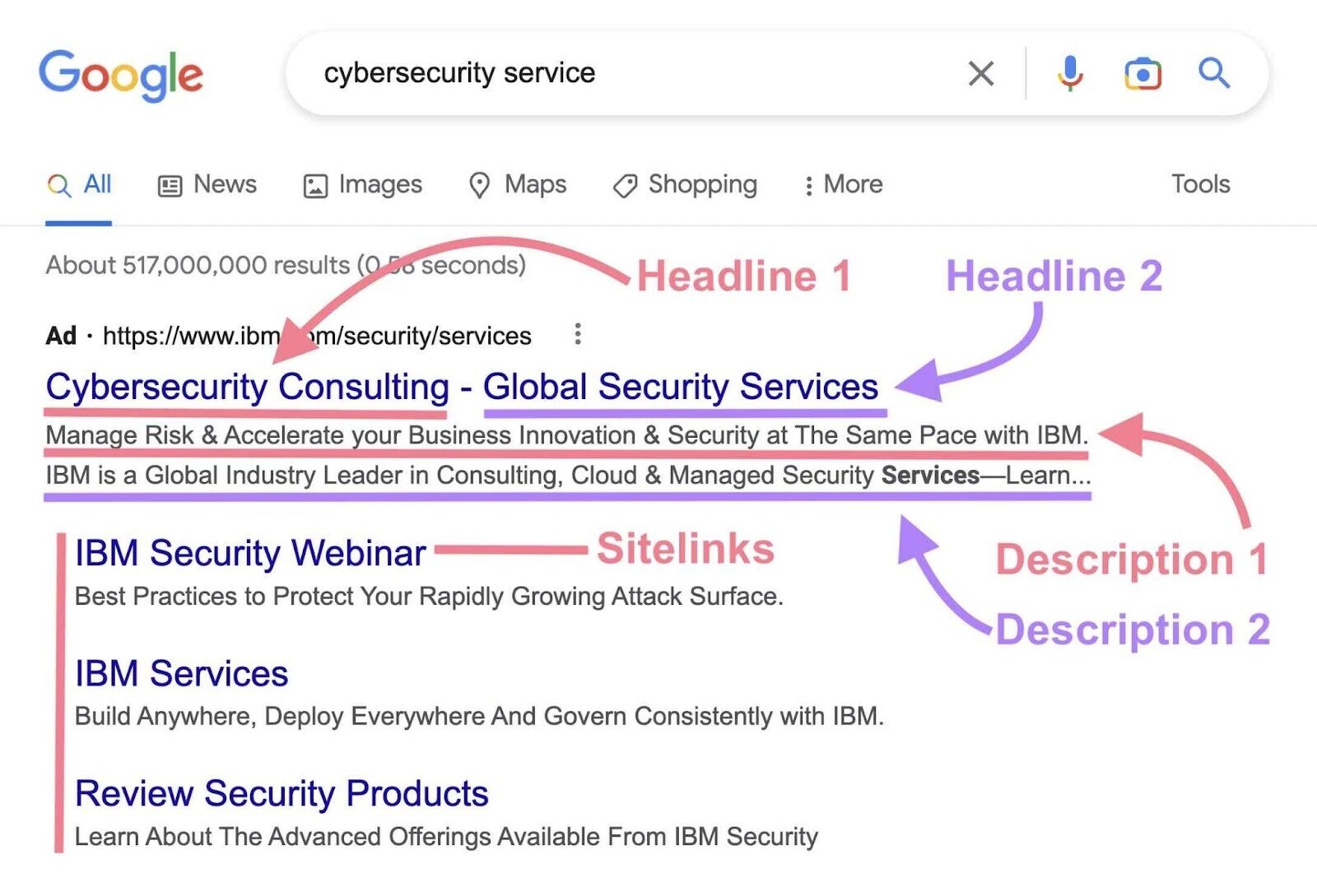 There's a "but," though. 
If your site's content is poorly structured—or if the copy is wrong or otherwise problematic—you shouldn't use this type of campaign. 
Why?
Because DSA campaigns use what they find on your site. 
They take your titles and page content and create headlines with them. 
So, if your site's not properly optimized, your ad will probably come out wrong. 
Learn more about how headlines work in DSA and how to optimize your site's content.
Note: Bing's Dynamic Search Ads let you control your ad text. Google Ads only allows you to customize your descriptions. 
How to Set Up a DSA Campaign
To run a DSA campaign in Google, go to Google Ads and click "New campaign."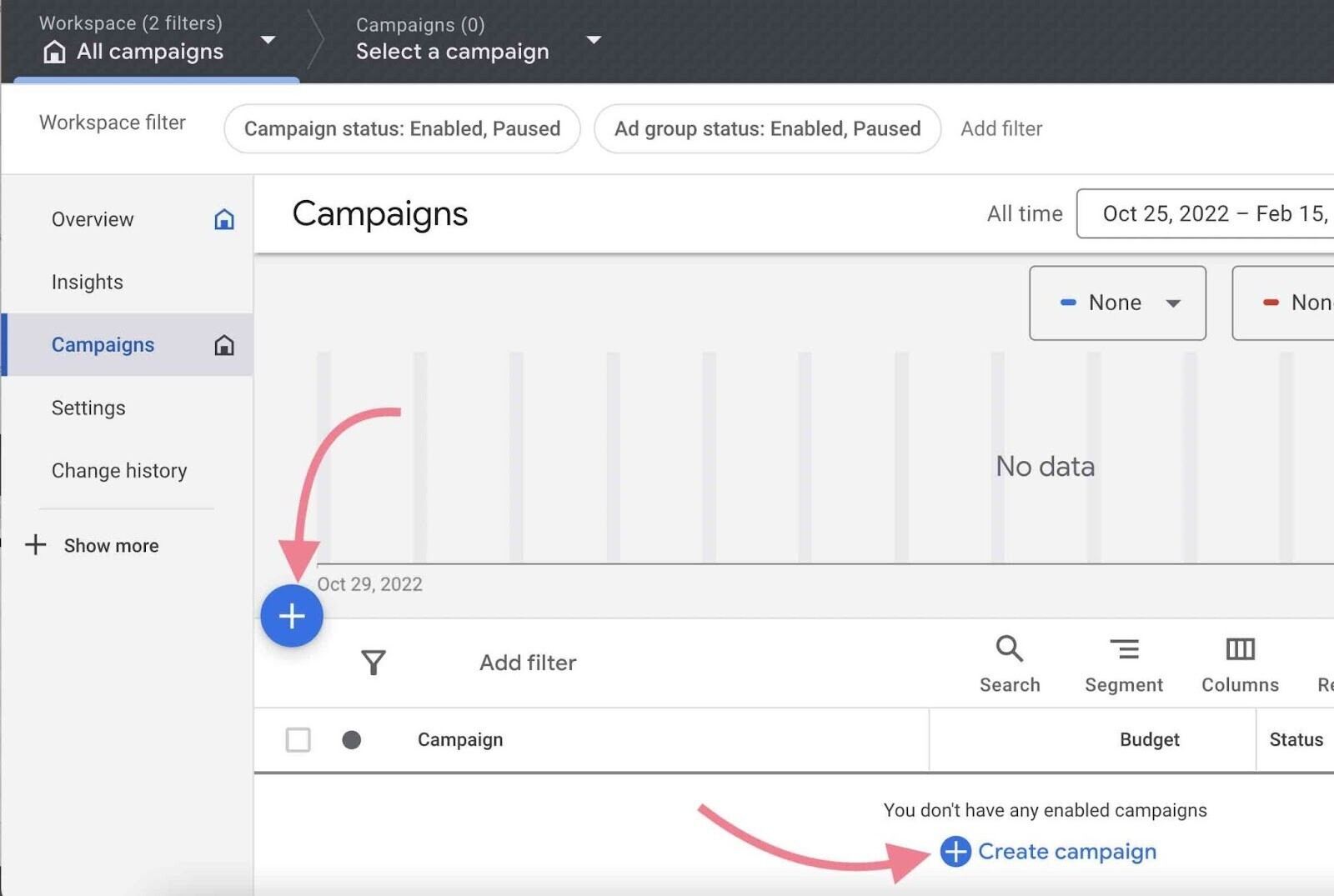 First, select your objective (like "Sales" or "Leads").
Then, choose your campaign type. For Dynamic Search Ads, click "Search."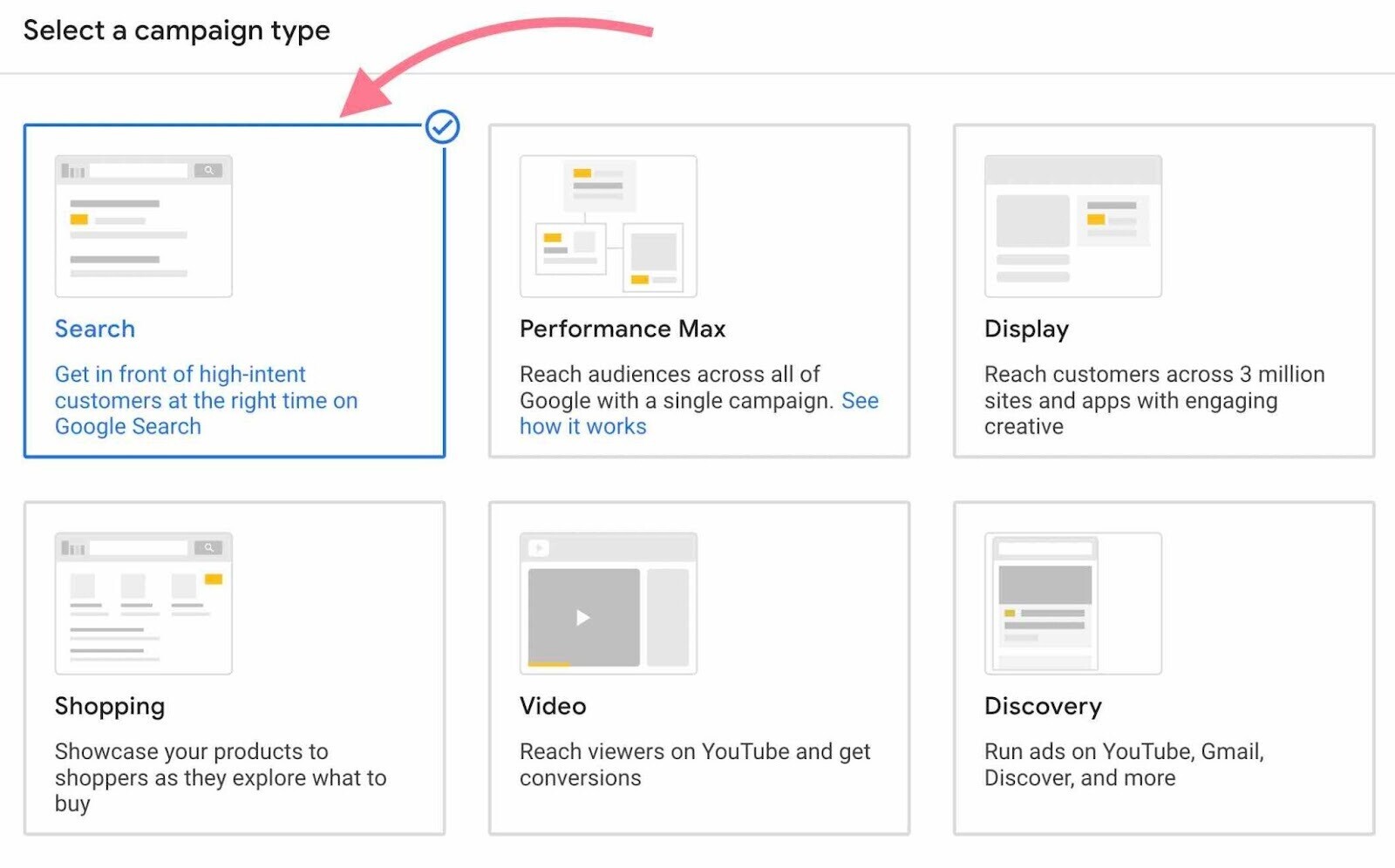 Now, select your bidding strategy. (Learn more about bid strategies on Google Ads.)
Then, you'll see your "Campaign Settings." 
Enter all the necessary information about your campaign: location, languages, and audience segments.
At the bottom, you'll see a "Dynamic Search Ads setting" box. (If you don't see it, click "More settings.")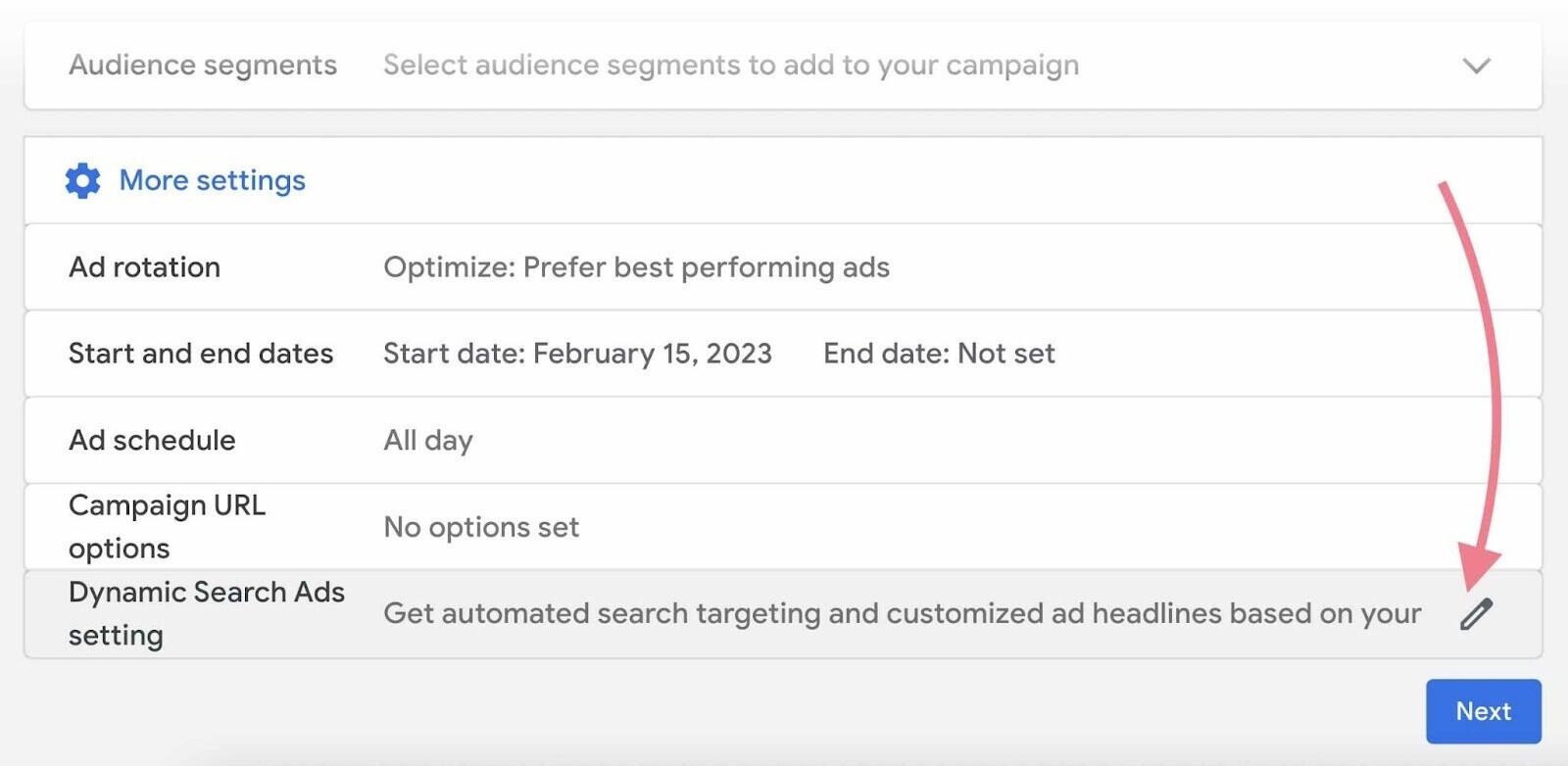 You'll need to type in your domain and choose the language you want to target.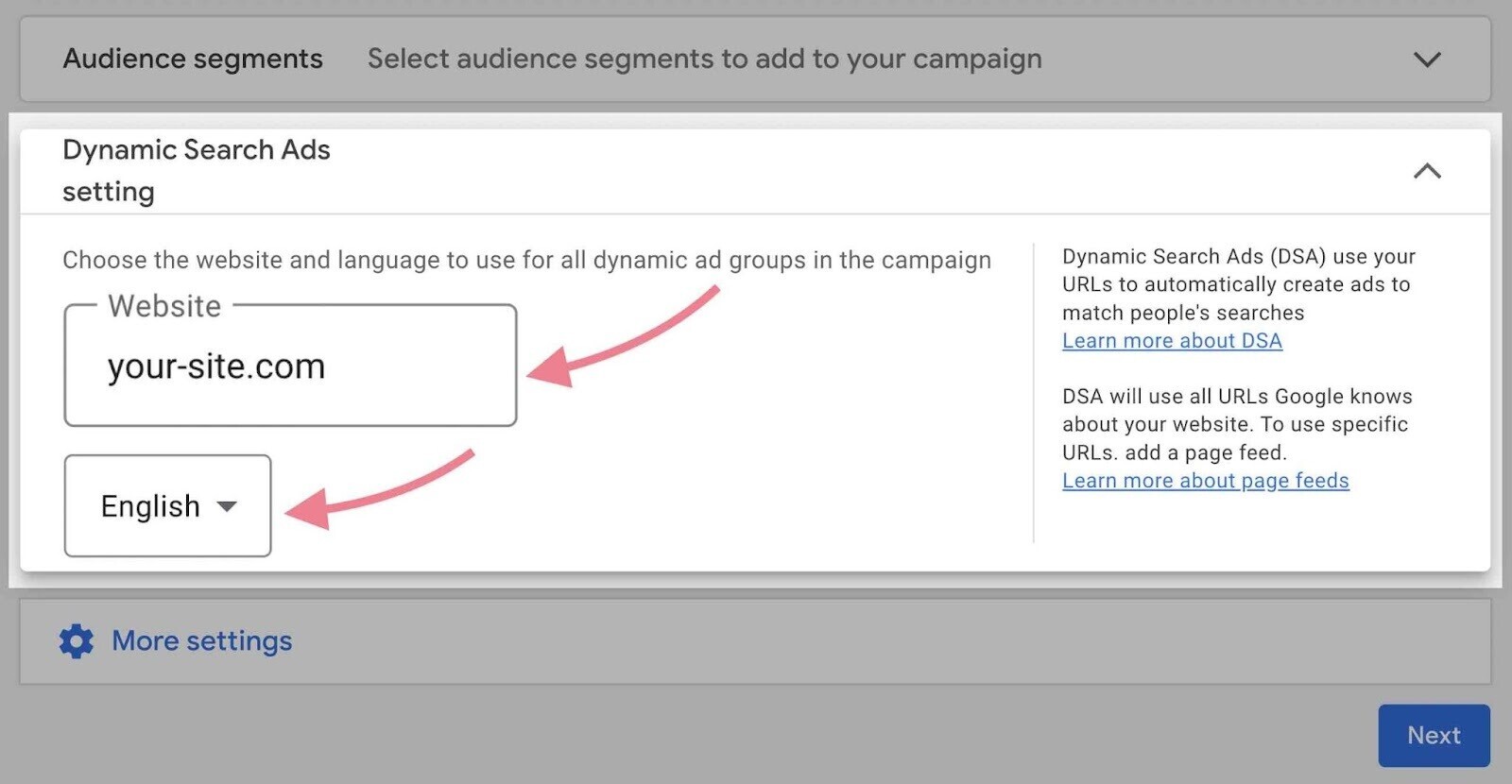 When you've finished setting up your settings, click "Next."
Then, you'll need to set up your ad groups. Click "Create ad group."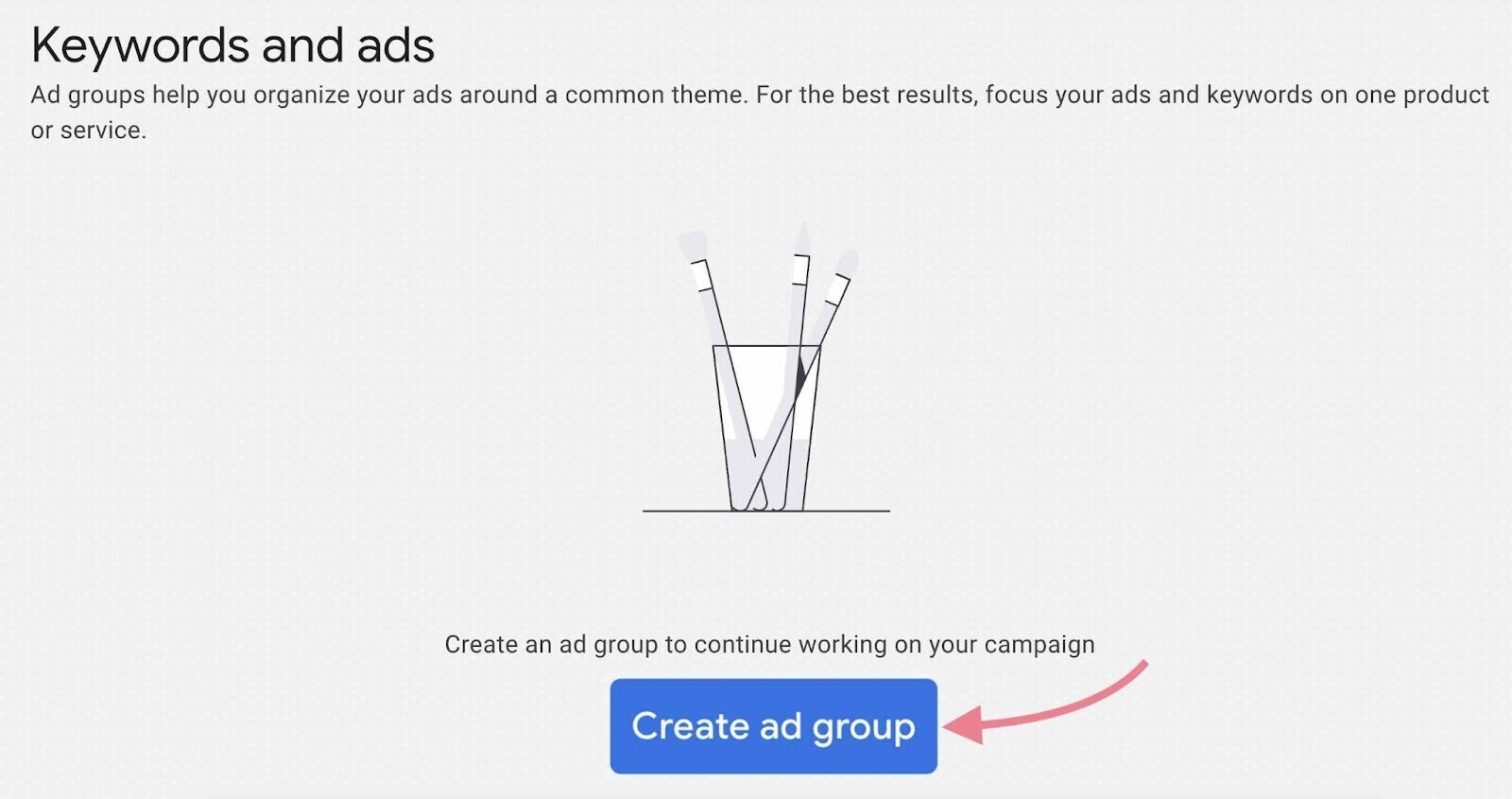 Now, select "Dynamic ad group."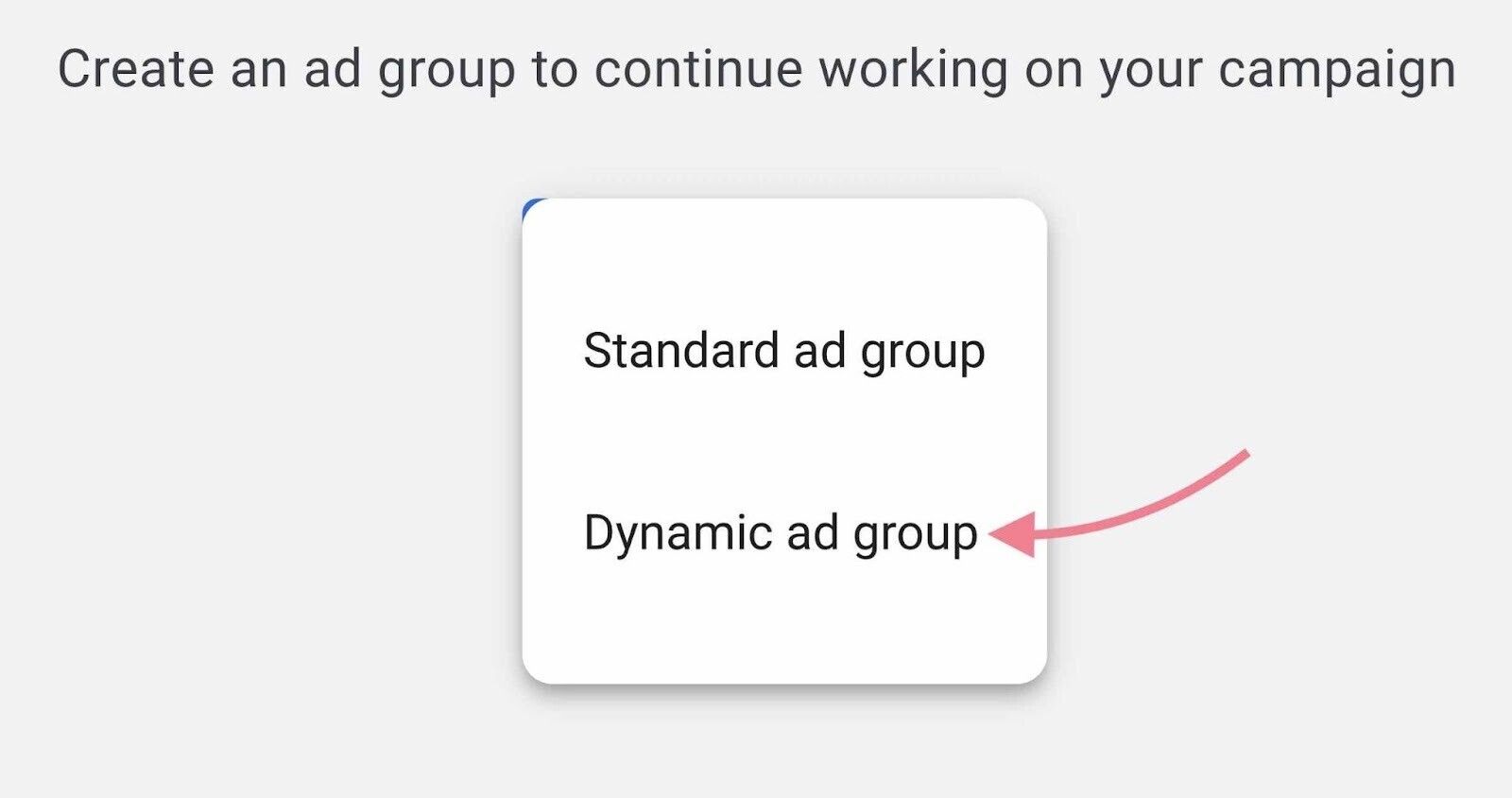 Note: If the tool shows an ad and you can't find this option, you're probably seeing a standard ad group. Delete it and create a dynamic ad group.
Now, you must choose your targeting options.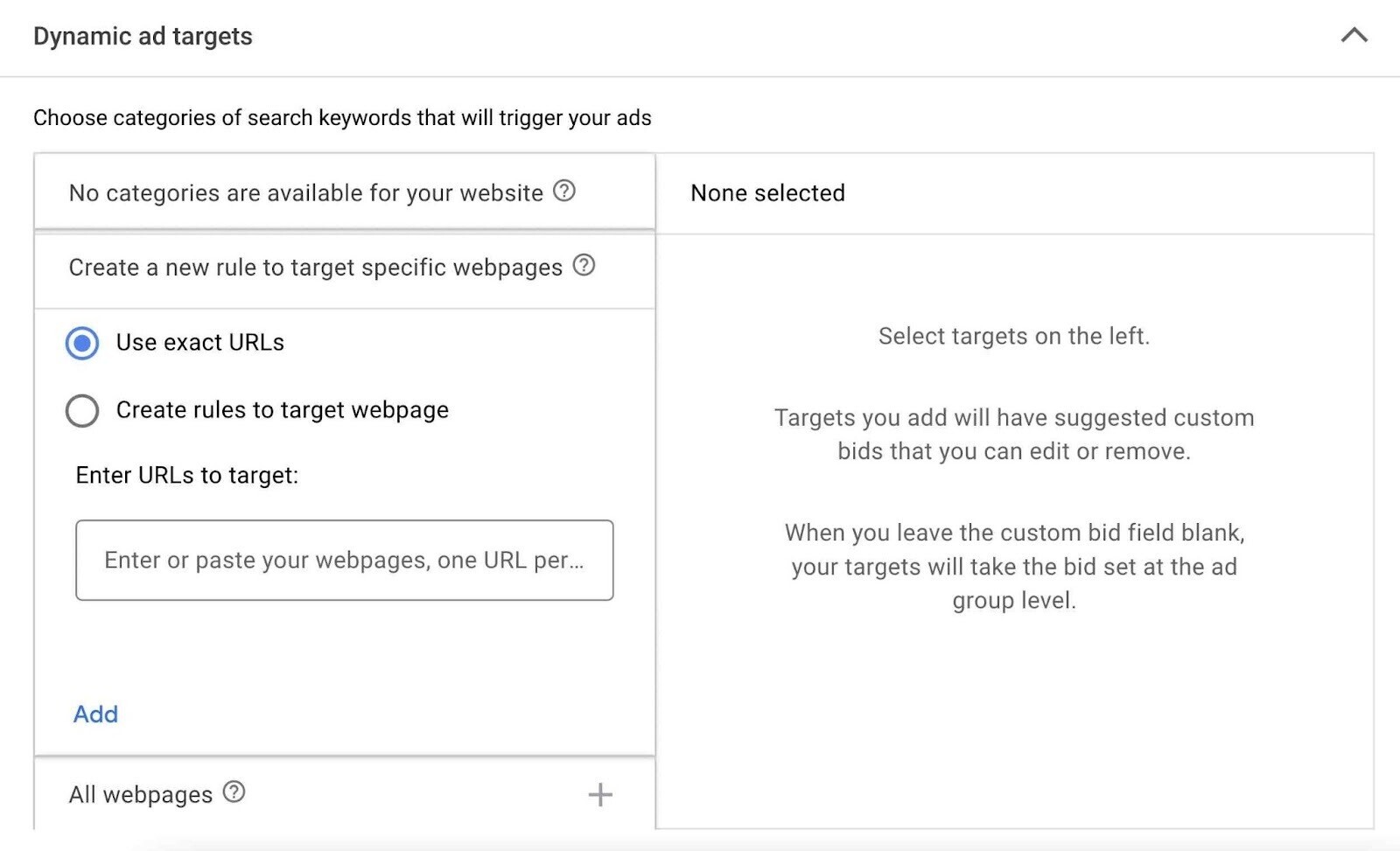 Choose one of these options:
Specific webpages: This option provides the highest level of control. You will be able to choose the exact URLs included in your campaign. This helps to ensure that you take users to a well-optimized page. 
All webpages: If you target your whole site, remember to exclude pages irrelevant to your ad campaigns (like your Terms and Conditions page). 
Categories: You'll get a list of categories and examples of a Dynamic Search Ad for each (with its keyword and landing page).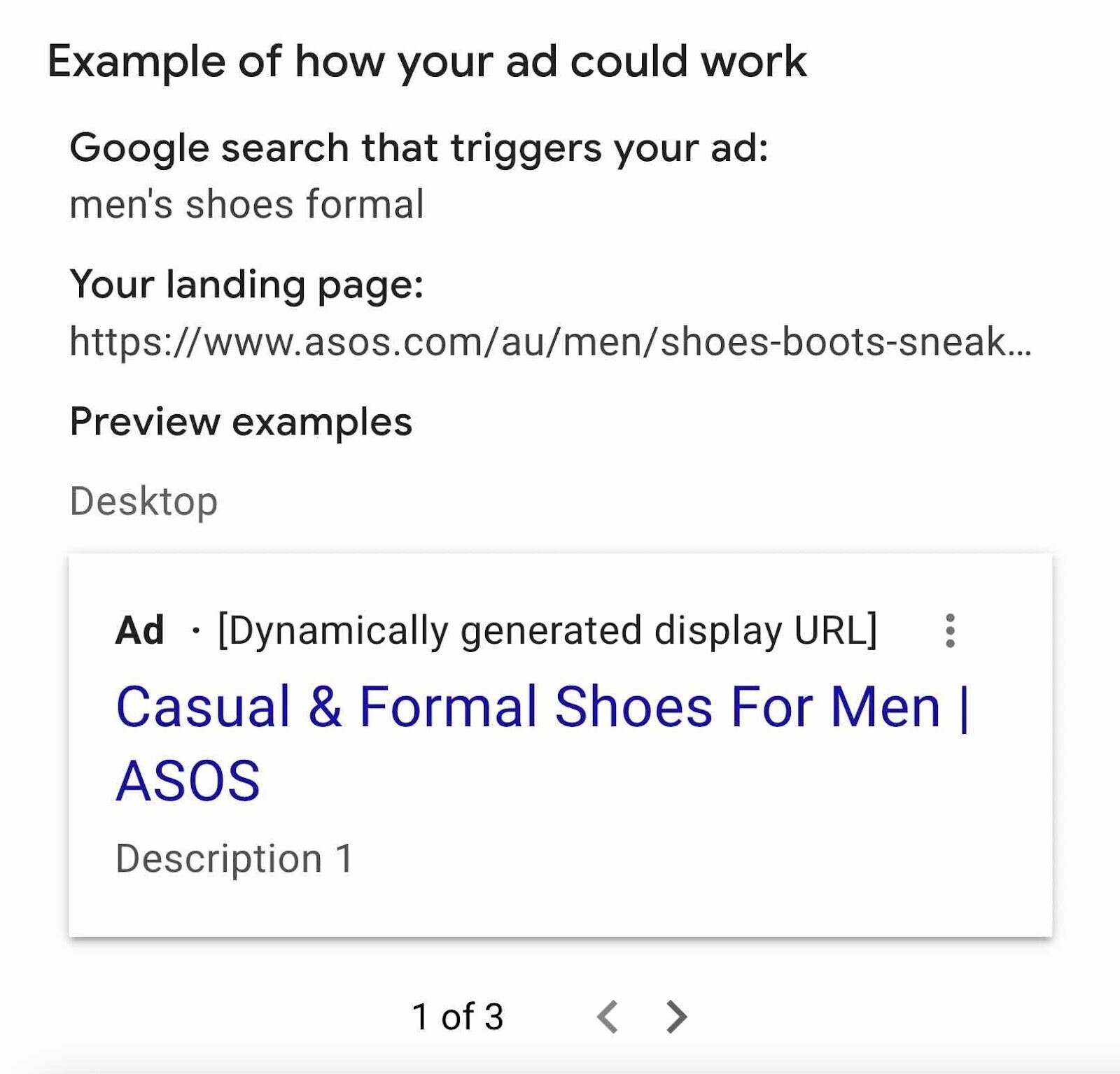 (If you want a more in-depth explanation of dynamic ad targets, jump to the end of the article.)
After you choose your targets, Google Ads will automatically use your site's copy to generate headlines.
You only need to write compelling descriptions. 
When you've finished customizing your ad copy, click "Done."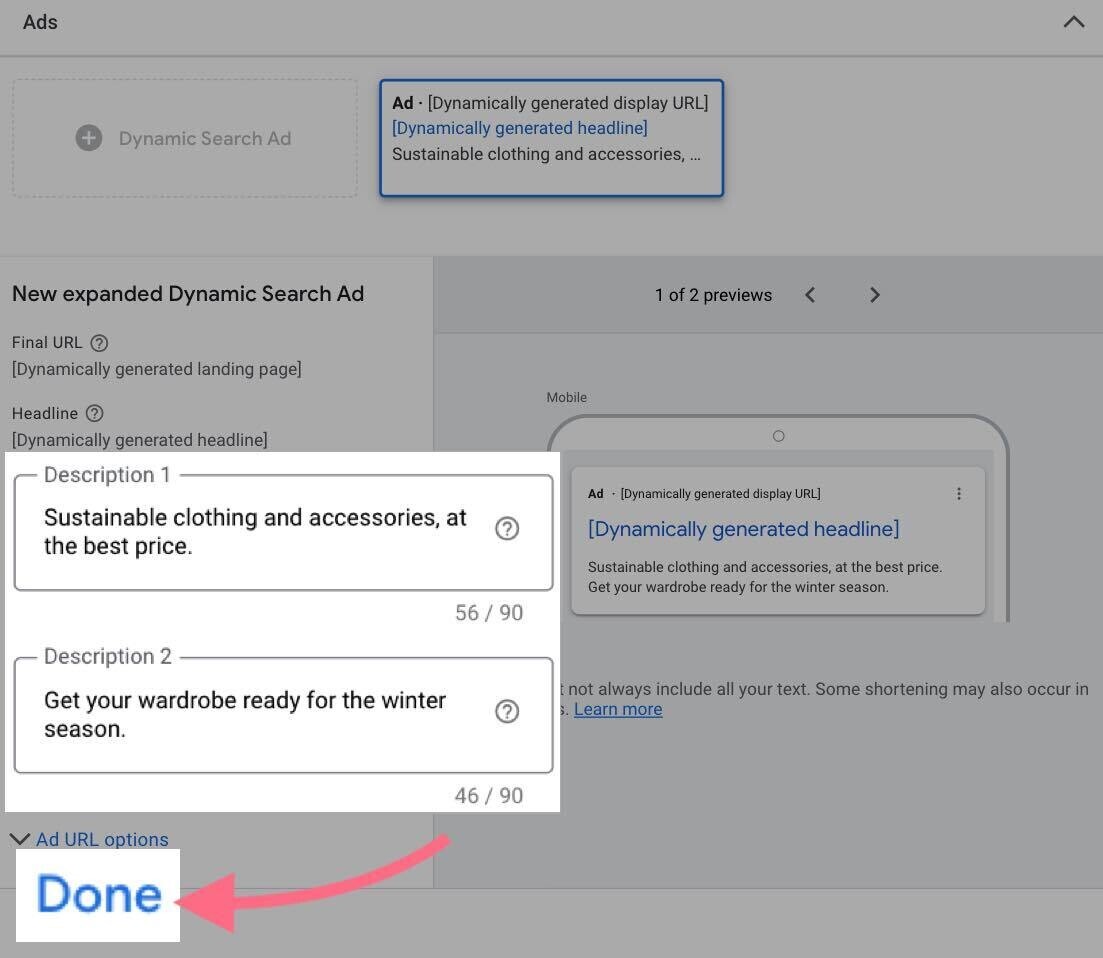 Remember—you can create several ads for a single category. 
Pro tip: With Semrush's Advertising Research tool, you can check your competitors' ads to get ideas for your copy. Go to ​​the Advertising Research tool, type in your competitor's domain, and click "Search." Then, go to the "Ads copies" report. You'll see your competitor's ads. You'll be able to add filters to narrow down the results, check the landing pages they use, and more.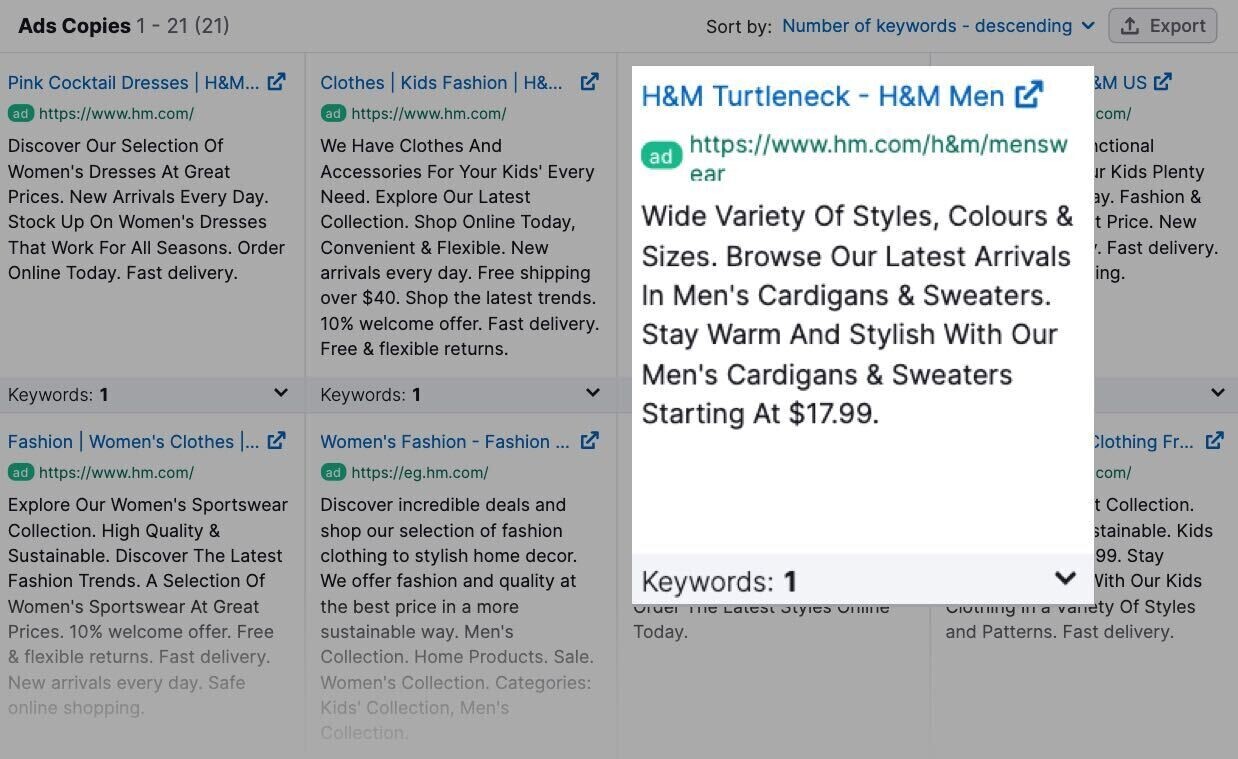 Now that your ads are ready, click "Next" and go to the final step. 
You'll just need to set up your assets, choose your budget, and choose a name for your campaign. 
Review that everything is correct, and push it live.
The Pros & Cons of DSA Campaigns
DSA campaigns are excellent for increasing your coverage in paid search. However, they're not a good option if you need a high level of control of your ad copy or if your site is poorly structured.
The Advantages of Dynamic Search Ads
If your search campaigns are maxed out, DSA campaigns can help in two ways:
They allow you to broaden your reach beyond the keywords you currently have in the account
They allow you to identify new keywords from the search terms that come in 
Pro tip: If you're struggling to find new keywords, Semrush's Keyword Magic Tool is also a great way to brainstorm new keyword ideas.
Go to Keyword Magic Tool, type in a seed keyword, and click "Search."
You'll get a list of recommended keywords grouped by topic. You will be able to analyze its total search volume, intent, and other valuable data.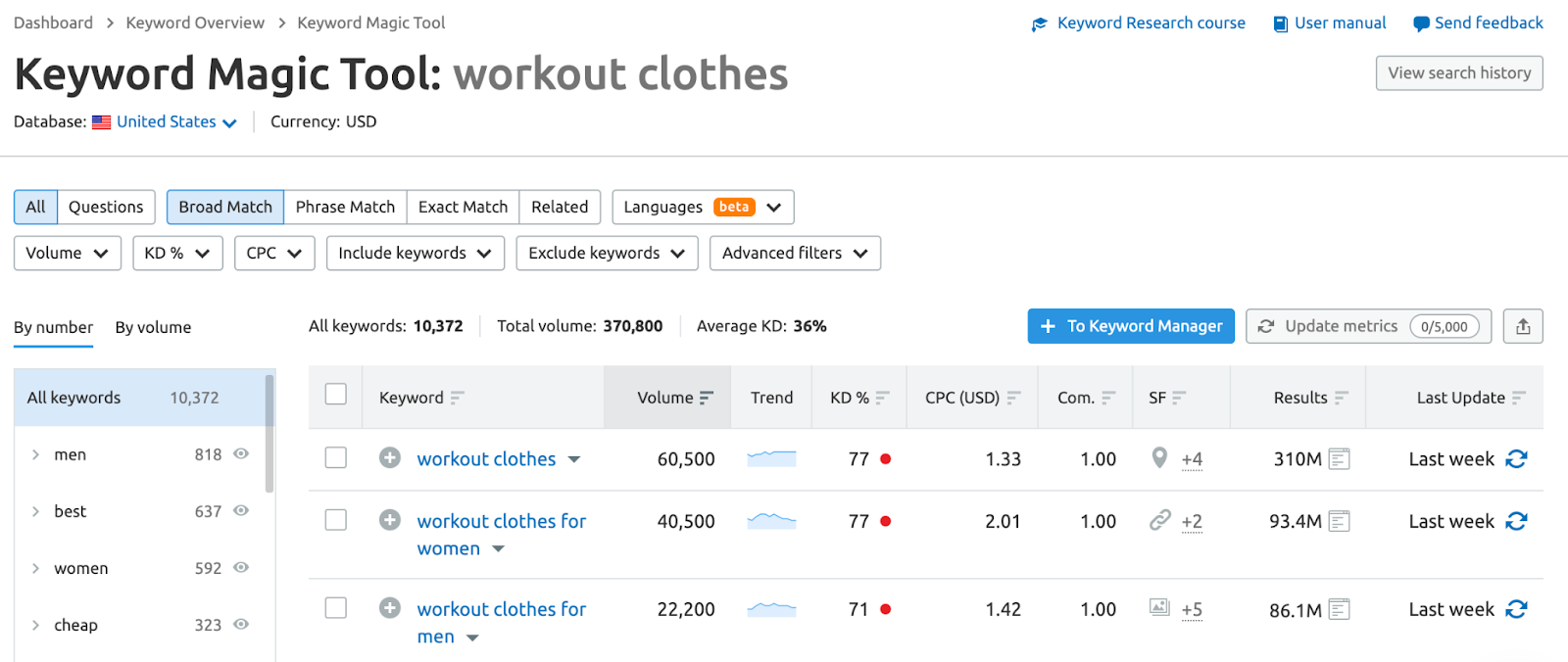 Learn more about the Keyword Magic Tool and everything it can do for you.
The Disadvantages of Dynamic Search Ads
There are two main disadvantages to DSAs. They both stem from the advertiser having less control. 
DSAs can be problematic if you require a high degree of control over ad copy
Dynamic Ads have a broad reach that sometimes can be inefficient. It's important to refine your targeting and add exclusions. 
How to Target DSA Campaigns
There are various ways to target DSA campaigns. The best option depends on your individual use case. 
1. Targeting Only Specific URLs
You select a list of URLs to which you want to generate traffic. Google will show your ads for queries that are relevant to those pages. 
This is a good option if you only want to bring traffic to a specific list of URLs. 
Targeting specific URLs is helpful in certain situations. 
For example, if you have a large website but only want to use DSAs on a few products or services.
2. Targeting Specific Categories
You choose one or more categories. The search engine identifies a list of related queries and generates ads to target them. 
Google Ads will select the landing page of each ad automatically. 
This can be useful if you have a large group of pages you want to target. In those cases, setting up your campaigns can become time-consuming and hard to manage over time.
Targeting a whole category solves this problem. 
3. Targeting Specific Page Titles or Content
Technically, this encompasses two different ways to target (titles or content). But both methods function similarly. 
You can target pages with a specific term in their title or content. 
The tool analyzes those pages and serves dynamic ads for relevant queries. 
This is handy if you want your campaign to be more granular.
4. Layering Additional Targets
If you're hesitant about testing DSAs, or if you've tested DSAs and felt that the targeting was too broad, you can always layer audiences as "targeting" (instead of "observation").
This allows you to better qualify the users who see your ads. 
For instance, you could show your ads to audiences who previously visited your site. 
To do this, go to your campaign settings, click "Audience Segments," and then select "Targeting."

Adding DSA Exclusions
Adding exclusions is crucial if there are any pages you do not want to include in your campaign.
Your blog, for instance. You may prefer to bring organic traffic to it (not paid traffic). 
(This really depends on your goals, though. For some advertisers, such as publishers, it may make sense to drive traffic to a blog.)
You can also monitor the URL report over time to see how each URL performs. 
Then, you can add exclusions if you see that URLs you didn't intend to promote are popping up.
Adding Negative Keywords
DSAs can bring in some irrelevant terms you may not typically bid on. 
It's highly recommended to start your DSA campaign by porting over any existing negative keywords from your other campaigns. 
Keep a close eye on the search terms report post-launch to ensure that you're adding negative keywords as needed.
Get the Most Out of Your PPC Campaigns
Dynamic Search Ads are a good option if you want to scale your paid search campaigns.
But don't stop there. If you're looking to learn more about PPC campaigns, check out these resources:
PPC Fundamentals Course [Free video course on Semrush Academy]