A content calendar streamlines the organization of your marketing strategy, increases efficiency, and saves time. But what are the best strategies, tools, and methods for creating one, and how do you come up with engaging content ideas? 
In this guide, we'll show you how to build a comprehensive content calendar. We'll also include tips and quotes from some members of our savvy SEO community, including Julia McCoy and Melanie Deziel.
What Is a Content Calendar?
A content calendar is a resource that helps you plan and organize your digital content for publication. A content calendar is designed to be an authoritative source that can be easily accessed by your marketing team, or if you are a freelancer, by marketing clients.
You can organize your calendar on a weekly, monthly, or bi-annual basis, depending on your marketing needs. Regardless of which timeline you choose, having a content calendar enables you to easily keep track of all content being produced and published ahead of time. 
Editorial calendars can encompass a range of content, depending on your industry. This includes
Upcoming articles
Planned promotional events
Updating old content
Publishing videos, such as webinars, etc.
Status updates
Case studies
Why You Need a Content Calendar
There are plenty of reasons why it's a wise decision to implement a content calendar as part of your digital marketing strategy. Let's take a look at the top 6 reasons:
1. Save Time
The main benefit of having a content calendar is that being organized and planning ahead saves you time and energy in the long run. The time you free up by implementing a calendar can instead be spent on more creative pursuits for your marketing strategy.
2. Minimize Errors
A well-planned content calendar reduces the chance of mistakes being made by you or your marketing team. For example, you are less likely to produce repetitive content that then gets erroneously posted across your marketing channels.
By planning ahead and clearly designating responsibility between team members, you can also ensure all necessary workflow processes go ahead smoothly. This is particularly important amongst bigger teams where responsibilities such as editing and fact-checking are likely to be distributed amongst members. Rushing this process could lead to costly mistakes
3. Enable Collaboration
Editorial calendars make it easier to effectively collaborate, whether on an in-house or freelance basis. The accessibility features of content calendars allow everyone to see the status of each post without having to contact people individually.
4. Prevent Infrequently Publishing Content
Planning content via an editorial calendar prevents you from publishing infrequently and helps you to identify possible content gaps. This enables you to make changes if need be ahead of schedule.
Consistent posting has been shown to be one of the main ways of driving engagement, and it helps to build genuine connections with your target audience and increase reach.
5. Identify Areas of Improvement
A content calendar can be a great resource for A/B testing, enabling you to experiment with content and posting times and clearly see what works and what doesn't.
6. Boost Creativity
As we mentioned earlier, a content calendar frees up time that can be spent creatively elsewhere. This may mean you have more time to get creative with social media or other aspects of your marketing campaign. You can also draw inspiration from past projects and iterate on what has worked well.
"Here are some quick prompts that always help me:
— What content would help sales?
— Answer questions customers ask
— What can we teach our audience?
— Who should our audience know about?
— What choices can we help our audience make?" — Melanie Deziel
"How I uncover high-ROI topics for [the] ExpWriters Write Blog:
1. Real-time audience topics (our live chat, emails) —> / OR industry hot topic discovery using https://explodingtopics.com/ /https://buzzsumo.com/.
2. Then, I find a low-comp focus keyword (w/Semrush.com and https://mangools.com/." — Julia McCoy
The Elements of a Successful Editorial Calendar
Editorial calendars come in all shapes and sizes. How extensive your content calendar categories will end up being will largely depend on your individual or team needs, as well as your industry. Whether you keep all production in-house or have content created by freelancers will also determine the calendar sections you choose.
The features below are important components of content calendars, but not necessarily all of them will be applicable to you, so pick and choose as you wish
Title
A title is important to ensure you are targeting your buyer persona, whether as a blogger or as a larger organization. Making sure that content is providing value and focuses on the audience's needs is applicable to companies both, big and small. 
Adding titles to your content calendar also provides clarity on what is being worked on and may fuel inspiration for further content too.
Type of Content
The type of content — such as a podcast, email, video, or guide — used to reach particular audiences is important to all marketers, as it clearly defines how content is planned. Having this written down helps you to identify gaps in types of content too.
"The best content for ANY channel is the one that:
Is the right format for the platform
Has a focus the audience is interested in
Is the quality the audience expects
Acknowledges what's at stake for the audience
Includes faces/voices to relate to" — Melanie Deziel
"Don't post content without first tailoring to the medium. HOWEVER, remember: STORIES are always loved. So, tell a personal story in your next email campaign. Write a #fridayintroduction on Instagram. Add a personal About page. Write a LinkedIn story." — Julia McCoy
Section
Having this field is particularly pertinent to larger firms, where content is likely to be distributed across a range of sections (Lifestyle, Travel, Music, etc.). Not having topic columns could make a calendar less clear to team members. You can go another step further and color-code sections for further clarity.
Buying Stage
It can be helpful to include a buying stage category that addresses the audience's respective stage in the marketing funnel; this can help you monitor KPIs more effectively.
"We create our content calendar based on the inquiries and interests of our web hosting customers." — Pair Networks
Edit Date
Having an edit date section is highly recommended for teams where content needs to go through multiple processes and be seen by multiple people prior to publication. An editing date makes it clear when the content needs to be reviewed by all relevant team members.
Publish Date
Important for both freelancers and businesses alike. Whether you are a team of one managing your own site, or a team of 50, this ensures accountability for completing the content. If you are a freelancer working with a number of clients, this helps you monitor deadlines between firms as well.
Writer
A section that is key for bigger firms where content is produced in-house and/or includes external freelancers too. Label who will be creating the content to ensure everyone knows who is responsible for the piece to avoid unnecessary confusion.
Author
An author section is recommended for companies who use external partners for ghostwriting services for some or all of their content.
Tracking Production Progress
A column that shows the status of the content is important for both freelancers and companies. For freelancers, including this can provide peace of mind to clients. For companies, this column removes the need of contacting people individually, and it can also identify potential bottlenecks in the production process too.
With this category, you may decide to separate it into further sections, such as initial content date, editing due date, and publication date.
Channel Destination 
Stating where this content will be posted is pertinent to all marketers, and having this section can be used for analyzing analytics at a later date regarding where this content performs best.
"Content distribution among the different channels varies a lot depending on the client. Ultimately, it's based on analytics with some wiggle room for trial and error." — Alizée Baudez
Promotional Strategy
This section will show how you intend to promote the content you have created, which is applicable to all businesses big and small. Color coding them (such as pink for Reddit, green for newsletters, or blue for Twitter) can provide further clarity in your calendar.
Future Content Ideas
Whether you are creating content on a solo basis or as part of a larger organization, having a section for content ideas is helpful. It means all your ideas are stored in a convenient place, and it is useful when brainstorming content creation in the future.
"Identify your main topics for your site, as they align to your business model. Stick with topics that convert. Ask the team: "What are common problems, where your product/service is a solution?" Start to build content off of those answers & link internally." — John Gibbings
You might decide to base this section on things like industry events coming up, seasonal promotions, or business accomplishments.
Geo-targeting
For those with a sizable international audience, having a section determining the target location for the content may also be useful.
Campaign 
Including this section is recommended for larger organizations as you can efficiently organize content by its campaign (e.g., brand awareness, product launch, or contest).
Document
For larger marketing teams, having a column for document uploads once content has completed a particular stage in the process makes it easier to coordinate responses from other departments. For example, this may be content that needs to be edited and passed through your firm's legal department.
Paid or Organic?
For bigger firms, defining whether the content is for paid or organic search provides clarity. If organic is the goal, an SEO strategy is needed. If it is paid content, adding budget information can help team members. 
Supporting Media
For a piece of content, you may have supporting media such as an e-book or videos to be included. Having a column for supporting media streamlines the process when the content is ready to be published.
Steps to Creating Your Own Content Calendar
Decide Content Types
When planning your content calendar, you need to first establish the content you want to publish. This may include:
E-books
Case studies
Opinion pieces
Landing pages
Blog posts
Videos
Newsletters
Presentations
"Long-form onsite blog content works tremendously well to achieve SEO ranking & traffic goals. Email can be long OR short, depending on the goal and the audience. Personal anecdotes on Instagram AND LinkedIn do very well. Web copy = short & powerful" — Julia McCoy
Have a Brainstorming Session
When you start putting together ideas for your content calendar, you want to chat with your sales and customer service teams to learn the questions most asked by potential customers and the things they need to know to buy.
Next, take that information and brainstorm with your marketing team to determine topics you haven't covered yet, and the different content strategies you can use to reach your target audience. 
"One of the most valuable tools for your content calendar is your own team (or your clients' teams). People working in different areas of your business will know key industry events, seasonality, and what drives or stops sales at different points of the year!" — FSE Digital
"All team members collaborate on ideas, but our Content Strategists, SEOs, and designers definitely lead the way. The more involvement we have from the entire team, the better our topic ideas are likely to be." — iPullRank Digital Marketing Agency
Use Research Tools 
You can also use a variety of research tools for different content types to find more detailed information that will result in better results.
"NEVER go into content creation w/o researching keywords, topics AND mapping it to your audience! I have a method I call a 3-bucket topic strategy. EVERY topic we produce must be mapped to 1-3 of 3 goals!" — Julia McCoy
If you are wondering what keywords you should be targeting, we have three resources that will break down tools for you:
The right keyword research tool can help you build a successful content strategy and find the right keywords to target for SEO and PPC campaigns.
Content Ideation
After brainstorming and choosing keywords, use a tool like topic research that can show you related topics, recent headlines, and the questions people are asking in the search engines.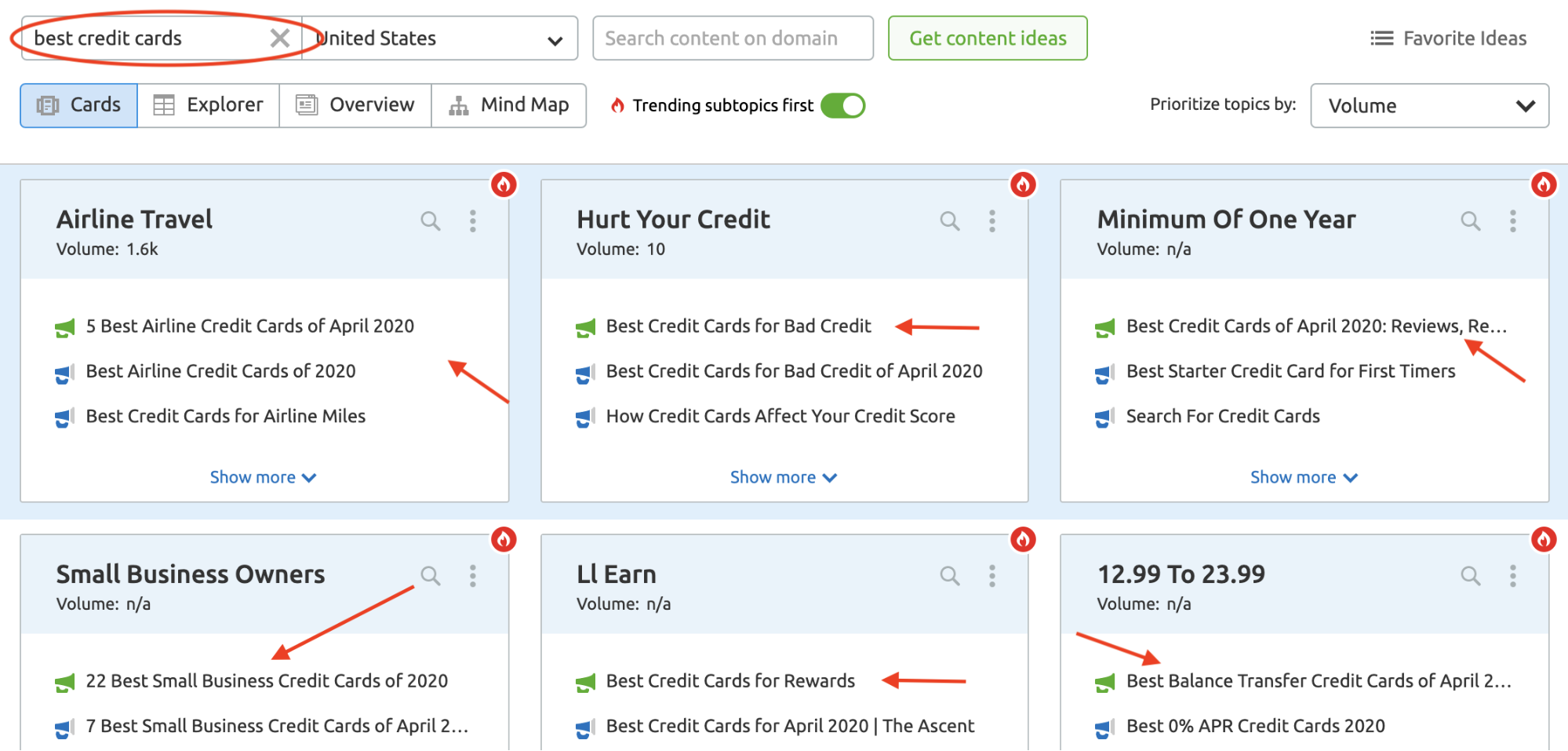 Finding related topics and the questions people are asking can help you fine-tune the areas you want to focus on and which times of the year you should focus on those topics.
Competitive Research
You may find topics you want to cover, but what if your competitors have already written about them? Where do they rank, and what does your content need to include to beat them? 
You can compare your business website to another and see how they rank for different keywords vs. you in the Keyword Gap tool.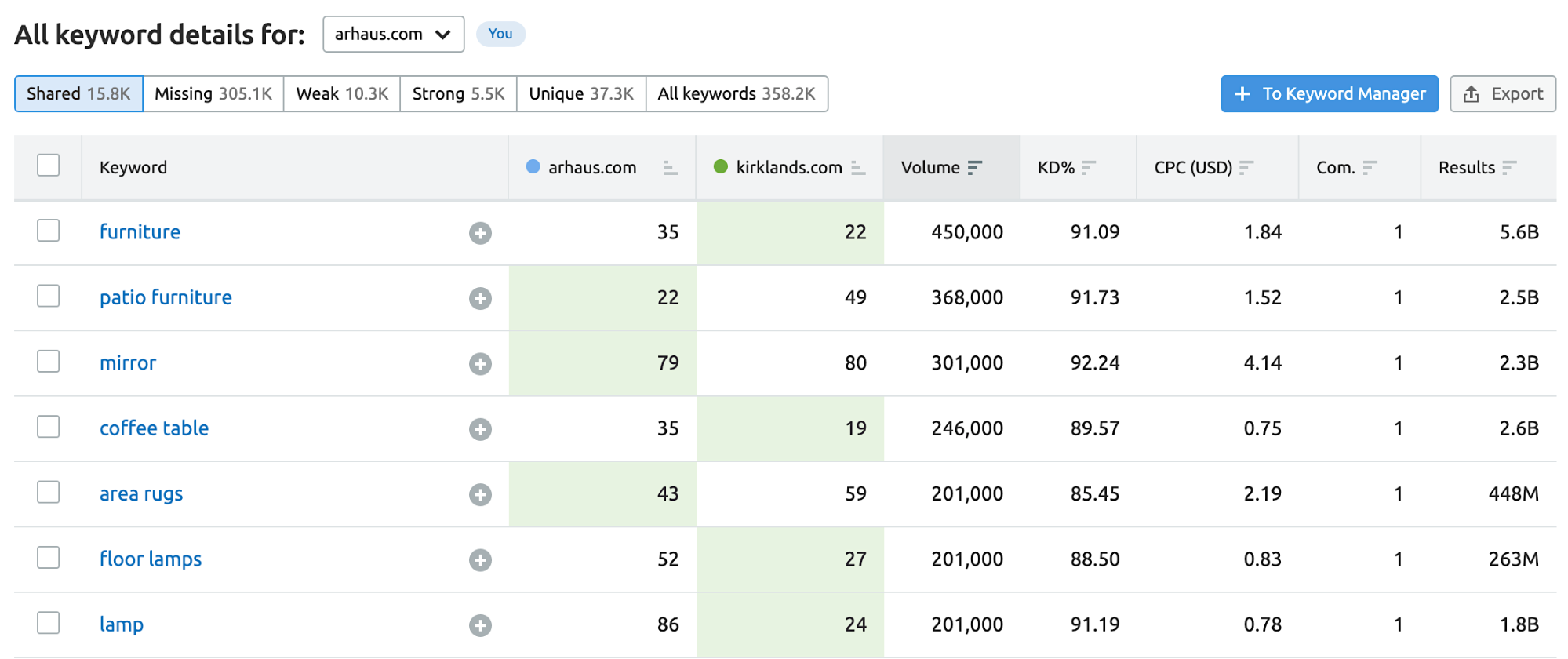 Carry Out a Content Audit
Conducting an audit can help get the ball rolling as to what and when to post for the best levels of audience engagement. Look at your social media analytics from sources such as Facebook and/or Twitter Insights as well as the Semrush Content Audit tool to help you with this. 
The Content Audit tool analyzes the existing pages on your site and suggests what you should rewrite, update, or remove entirely; this can give you a head start for content creation ideas by using existing content.
You can also use the Semrush Content Audit tool to analyze a competitor in your industry
Choose Your Social Media Channels
Be sure that you are clear about your target audience and which social media platforms are best to target them, according to their demographic.
"Generally, LinkedIn & Twitter work better for business & Facebook for B2C audiences! However, it primarily depends on where the business's target audience is and how you approach reaching their target!" — Ben Austin
"It's definitely a balance between prioritizing platforms that are driving the strongest results while remaining consistent in the other places where your audience is active. Optimizing content for each platform is important." — Elena Salazar
Monitor Trends
You will start to notice trends after conducting an audit of your content or your competitors. Use this information to your advantage to create your calendar. Take note of the theme, time, and day of this content, as well as the platforms it performed best on.
Identify the Stages of Production
Define each step of the content process before it reaches publication for all types of content you will create. This is helpful if you are a freelancer, but for larger organizations, it is practically necessary, because to reach publication, the content may need to go through a number of stages beforehand.
Once defined, add these sections to your content calendar, and include the name of the person responsible for each step.
Decide on a Publishing Schedule
Based on content auditing and analytics data, you can determine how often to publish content to increase levels of engagement with your target audience.
Think About Having a Content Library
For marketing teams, it is worth having all your media in one accessible content library in your content calendar via a Dropbox, Google Drive, or internal database link. This can help to make everyone's lives easier when it comes to preparing content for publication. 
Remember Evergreen Content
You should have some content scheduled that isn't restricted to a specific date or time. This can be helpful when there are schedule delays, and you can use evergreen content instead to cover this.
Don't Forget Guest Content
If you and/or your team are doing promotional activity for content such as guest posts or podcasts, add them to your content calendar as well.
Make Last-minute Changes and Publish
After establishing a content marketing strategy for your workflow, you should also consider who needs to approve posts before they can be published if you work in a larger organization. In this case, it may be helpful to have a guidelines section in your calendar so that you have processes and helpful resources all in one easily accessible place.
When it comes to publishing, consider choosing a calendar that has a scheduling function, so that you do not have to do it manually. For scheduling content for social, our Social Media Poster allows you to post and schedule content for business pages on Instagram and Facebook as well as on Twitter and Pinterest.
Social Media Content Calendar Best Practice Tips
Avoid Reposting the Same Message
Don't make the mistake of using the exact same text in posts for each platform; audiences are different on year platform and to reach each audience, you need different messages. 
"Post content periodically to maximize your reach. Don't immediately post your content on all platforms. Got a 2-month old piece of content that's still relevant? Share it on social media! Use UTMs to see where you're getting clicks." — Itamar Blauer
Do Engage in Social Listening
For content calendar ideas, you should make sure you know what people are saying about your company through social listening. This is where you can gain valuable insights from your customers about your brand through social media mentions of your company and products, and competitors too.
"We schedule our posts based on the behavior of our audience (like their activeness, engagement rate, etc). The best way to arrive to your publishing frequency conclusion is by analyzing your audience insights. We tend to post new content almost every day." — SEO Charge
Post Frequently
Scheduling frequent posting across social media channels on your content calendar is important for brand visibility and increasing awareness. But how often should you post? Some of this will come down to your own analytics, but below are recommendations according to SproutSocial:
Facebook — 1-2 times daily
LinkedIn — 1-2 times weekly
Twitter — 2-10 times daily
Instagram — 2-5 times daily
Pinterest — 3-15 times daily
Be Flexible
Your social content calendar shouldn't be seen as something rigid. Allow flexibility for any potential last-minute changes or trends that may arise that you couldn't otherwise anticipate.
Best Editorial and Content Calendar Templates and Tools
A calendar tool, app, or plugin within your content management system can make the process of creating an editorial calendar easier and more efficient. Each calendar tool has different benefits, so before choosing one. Some provide you ready-made content calendar templates or have some partially prepared editorial calendar templates, others may extra bells and whistles, too. Regardless, consider the following questions beforehand:
What is the most important feature it should have? E.g., tracking progress, sharing files, making annotations, etc. 
How easy is it to use?
How easy is to for people to find and use the calendar tool you have chosen (applicable for both freelancers and companies)?
Is it convenient?
Can the calendar include visual content and social media updates?
"Sorry to be the 'it depends' gal, but … I've seen fancy software work, as well as spreadsheets, Google Calendars, task managers, whiteboards and other systems. It's less important WHICH system you choose, and more important that you USE a system." — Melanie Deziel
Below is a selection of the best calendar tools, plugins, and platforms available to take your content creation to the next level:
Google Sheets
Tried and trusted Google Sheets may not be glamorous, but they are super easy to put together a social media or content calendar that is effective, and that can be easily shared.
"A simple spreadsheet is the real gem when it comes to tracking the progress of your content. You can comment, chat and what not on spreadsheets." — Rajeev Lekhwar
"You just can't go wrong with a well-made spreadie! to monitor performance, setting up a dashboard with Google Data Studio will always make life easier down the line and be easier for everyone to understand when reporting." — Steph Whatley
WordPress Editorial Calendar 
This plugin is a free extension on WordPress that is useful for those with smaller teams. Posts can be edited from the calendar, and it includes a handy drag and drop feature to accommodate scheduling changes.
Semrush Marketing Calendar
This multi-tool calendar has built-in task management and can be easily integrated with other Semrush tools. You can map out all your campaigns' actions and processes in the calendar, and it allows for team collaboration. So whether you have an content calendar, editorial calendar, or need to mark other actions, Semrush can help.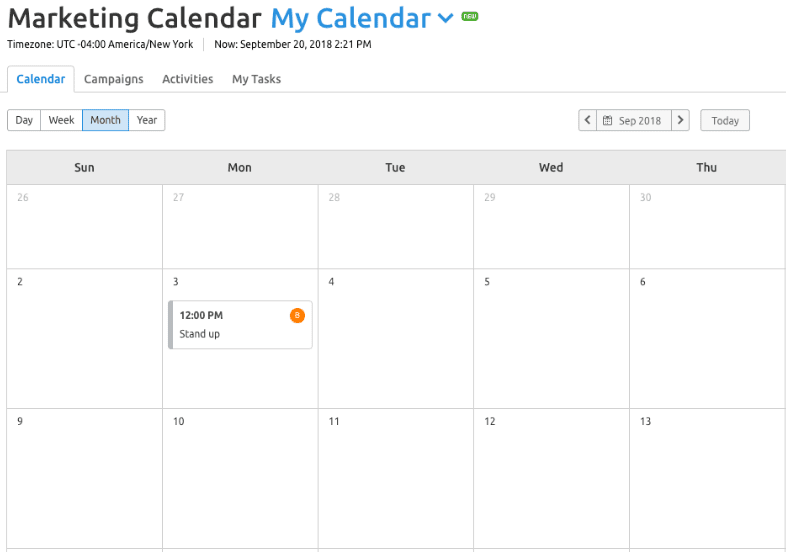 Excel
Excel can be easily customized according to the metrics your team is focused on.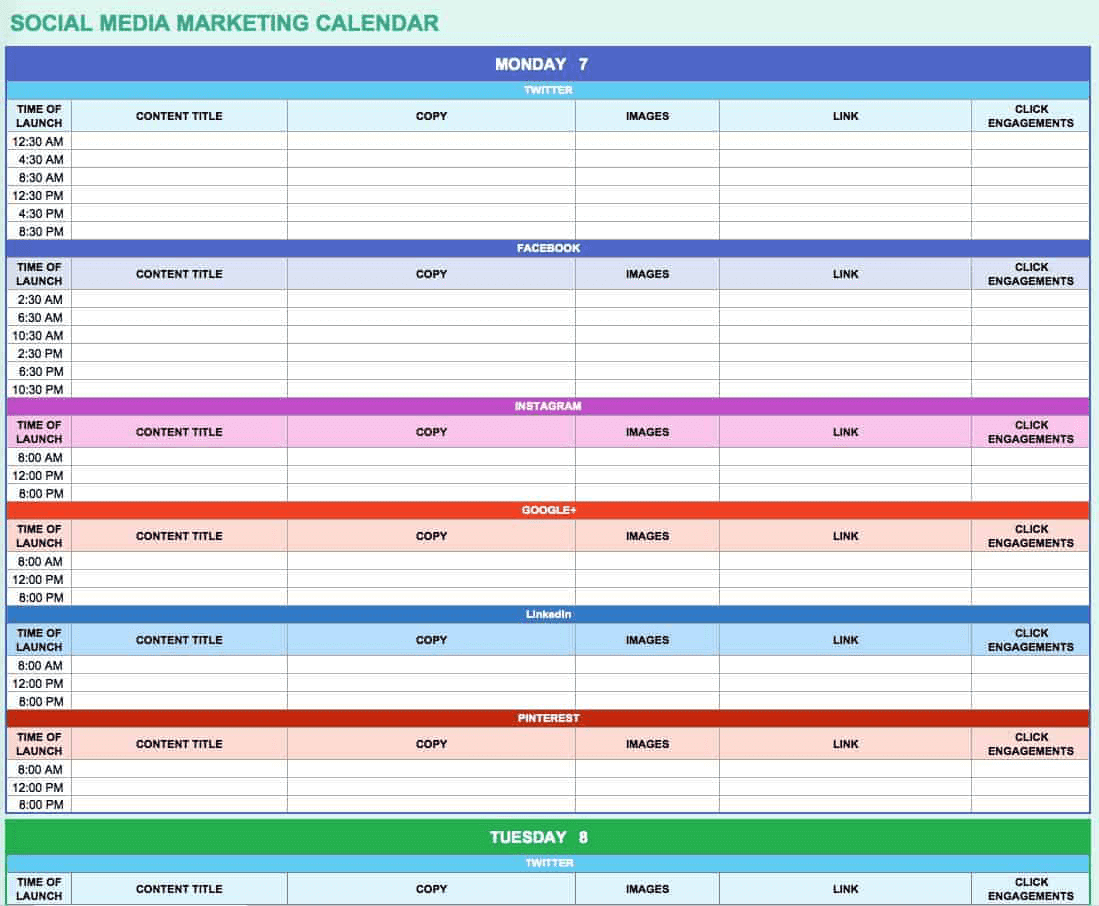 Evernote
This note-taking app has customizable templates that can be adapted according to the needs of your team and campaign.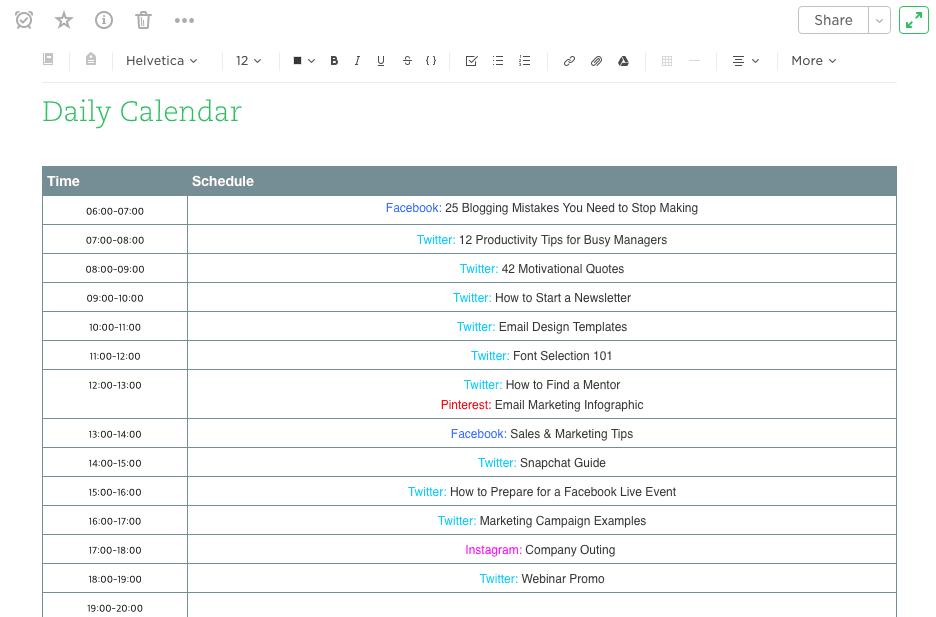 Trello
The free version of this tool allows you to add relevant notes and links, and it has a calendar view-add on. It is simple to add tasks, posts, and track progress via its boards, and it is great for team collaboration.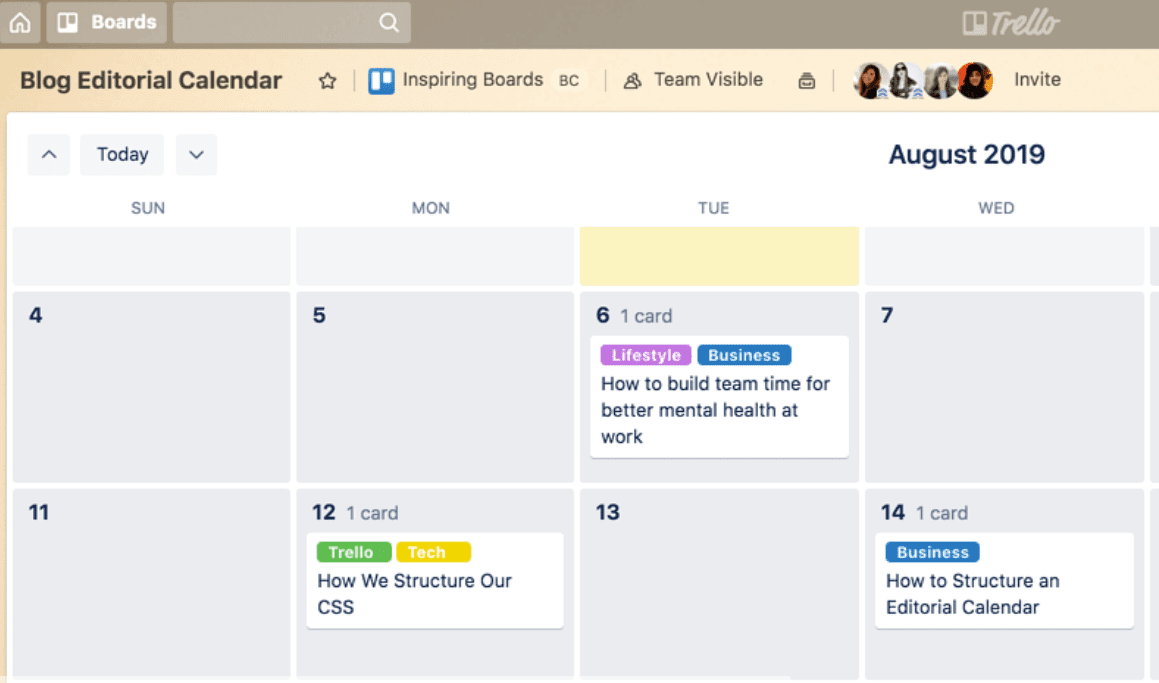 Asana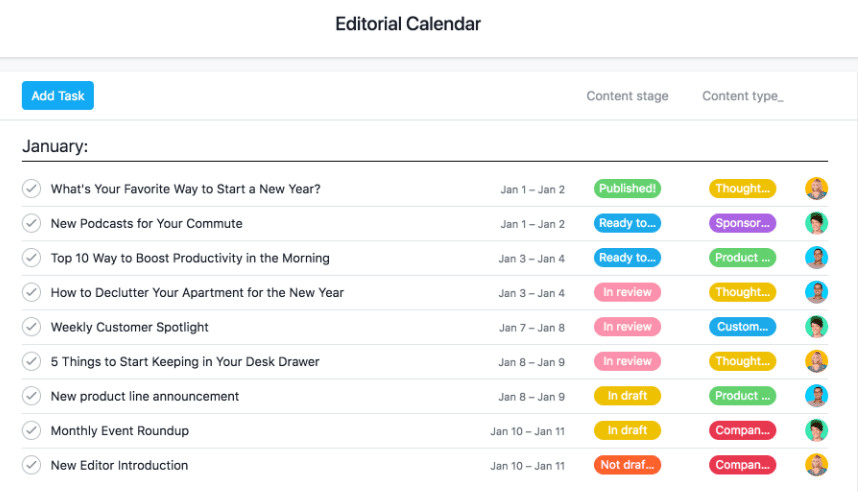 Asana's content calendar enables you to have different calendar views, so you can separately view your personal tasks list, projects, and team projects. It also includes content filtering in any project so that you can quickly identify content priorities or approval statuses.
Here are a few more suggestions from SEO all-stars: 
"In a spreadsheet, we keep track of content by topic & where we are posting that content (blog, newsletter, etc) and then we use Later.com to schedule the posts with our visuals." — Diana Richardson
"I have tried spreadsheets and it is just too exhausting. I'm all about a good software to help me out. Our company started using CoSchedule to plan content and schedule posts and I love everything about it. But there are plenty of gems out there." — Salt Rank
Conclusion
Whether you are organizing a marketing strategy for yourself or are a part of a large marketing team, an editorial calendar helps you to be more effective and use your time more efficiently. Being more organized and coordinated can only yield positive benefits for companies, both big and small.
For more advice on finding the right content calendar, be sure to check out other posts on our blog