If you're running a busy marketing department, it's worth considering not only what you plan to produce in the coming year but also how.
Finding the magic formula that helps you create content that meets your marketing goals is no mean feat. So should you create content in-house? Or should you outsource or use a hybrid content creation model? 
Our State of Content Ops & Outsourcing Report surveyed more than 700 companies to see exactly how they were creating their content. We discovered that, for most CMOs and Content Managers, content quality and effectiveness needs to be balanced out with scale of production. 
Let's explore internal, external, and hybrid content creation options. We'll look at how you can recalibrate your content marketing operations in the coming year. 
How marketing departments create content
Creating content is a labor-intensive process and every content manager has their own approach. But there are three main ways to go about it:

Let's look at the who, the how, and the why. 
In-house content production
There are a number of industries that are more likely to keep their content production in-house. The top three are:
Information technology and software engineering accounted for 9% of those who keep full control of content production
Marketing & Sales and Retail: 8% 
And Healthcare and Education: 7%
As to the size of their marketing departments, 36% of the respondents have a single person running things. Thirty percent have two to five people. Despite such stretched resources, they still keep content in-house.
But what are their reasons for not using agencies or freelancers to help? 
Nearly a quarter (24%) say it's simply more manageable to produce content internally. With complex solutions, 22% of professionals say it's often simpler not training someone from the outside. 
A further 20% of respondents say that only they can do the storytelling, because they know their solutions so well. Then there are those that don't produce any kind of content (14%) and others who've had bad past experiences with external content producers (11%).
Fully outsourced and hybrid content production
At the other end of the spectrum, only 12% of companies surveyed completely outsource their content. The more common approach is a hybrid one. This accounts for companies that mix internal and external content production. 
Thirty-seven percent of companies take this hybrid approach.
The top industries in this cohort are:
Software as a Service (SaaS) and Marketing & Sales both scored 12% of votes 
Healthcare and Retail tie with 10% of responses
Finance comes in at 8%
Content teams varied in size, but the largest segment of respondents (41%) say they have between two and five people.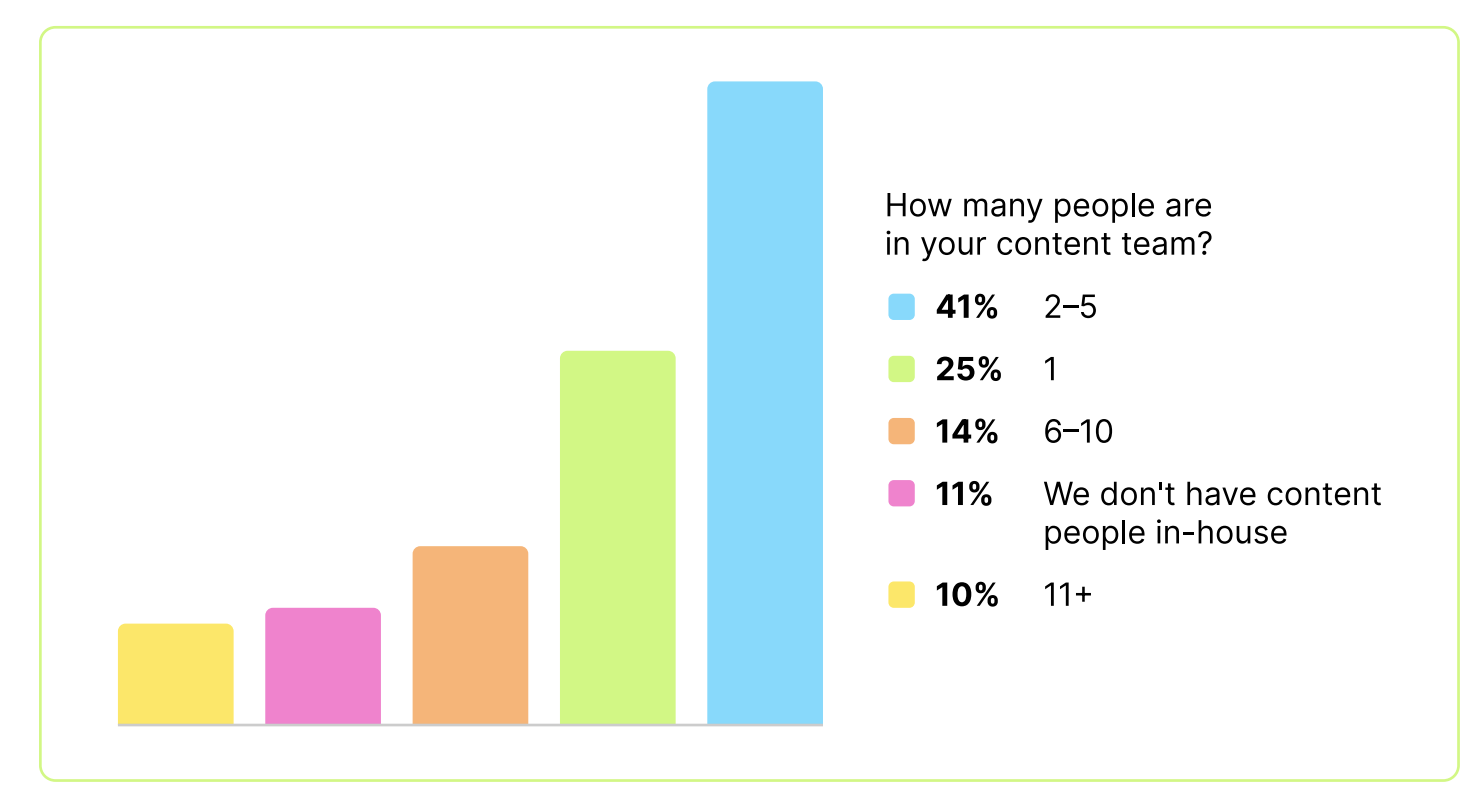 What's behind the decision to outsource content?
More than half of these responses (52%) of the responses say they outsource in order to scale up content production. 
"We do outsource most of the content writing. It's more sustainable and easier to scale," says Natalia Chrzanowska, Content Team Lead at Netguru. 
"Over a month, you can commission a certain number of articles, and when budget or demand drops, you can downscale it and upscale it again the following month. If you wanted to produce that amount of content in-house, you would need to have many writers on board," she continues.
Other reasons include not having enough writers (37%). Also, having tasks other than writing (37%), and the high costs of employing in-house writers (also 37%). 
The final reason for outsourcing is interesting: external writers can give their own valuable input (19%). Faruk Aydin, Head of Growth at iAge Technologies, explains:
"Professional copywriters have their point of view and how they see the market, and they see more from the clients' side than us. Because we have our eyes closed sometimes, we only think that our product is the best, our solutions are at the top. Well, not really. Copywriters, especially when you work with some freelancers, can tell you something different."
Types of content writing providers
Content writing providers come in all shapes and sizes. Let's take a look at what options are available to you and why brands choose certain service providers. 
First, where does most outsourced content come from?
Reputable freelance writers
Writers with strong personal brands and high-end experience are obvious choices for marketing teams that need quality, consistent content. Often, these writers have agency or in-house marketing experience and demand for their services is high. 
In fact, freelance writers with reputable brands coming from referrals account for 47% of the outsourced content services.
Digital and content marketing agencies
Just over a quarter of the market (27%) is owned by digital and content marketing agencies. Often more expensive than freelancers, agencies often provide a fuller service with account managers and editing services. 
Content writing services / marketplaces 
On-demand content shops, like Semrush Content Marketplace, Verblio, or Scripted are next on the list. Here you can find high quality professional writers to create whatever content you require from blogs to ebooks. These services have a 24% market share. 
Freelance writers
Writers who sell their services on gig sites, such as Upwork, Fiverr, and Freelancer are also an option for content teams. These writers might not always have the experience of writers with established brands, but that's not to say their content can't be of high quality. 
Seventeen percent of companies who outsource their content trust freelancers from gig sites. 
AI writing tools 
Artificial intelligence writing tools have recently emerged. Some 12% of respondents use these services to write content at scale and quickly. 
Other options
The remainder of respondents (4%) rely on guest bloggers, expert writers in the field, and PR agencies.
The main reasons for choosing those content providers
We've seen who content managers choose to work with, now let's explore why they make these decisions.
Quality, price and experience
There are no if or buts, marketing managers want high quality content. Forty-four percent of respondents say this is the primary reason for choosing a vendor. Perhaps not surprisingly, price comes in second, with 40% needing to see the value in the service being offered. 
Just behind price comes experience: Thirty-seven percent decide on a vendor based on their portfolio and industry knowledge. 
Knowledge and skills
Content marketing vendors need to be more than just good writers. There are a number of associated skill sets that are in high demand. Natalia Chrzanowska from Netguru says the final product needs to include "all of the important elements such as "SEO and the conversational tone of voice." 
Twenty-seven percent of respondents agree, saying content providers have to be "good at the SEO game" and their "writing needs to match our brand's tone of voice".
At the same time, Natalia says writers need to be able to translate what their in-house experts say. The content needs to be more palatable and written in "language that would resonate with our audience."
When selecting a vendor, some content managers look for depth over breadth. Content producers who niche in certain fields will certainly have an advantage. "Having a 'Top 10 productivity apps' article in your portfolio doesn't count," says Mikita Cherkasau from Your Extra Marketer. 
In his opinion, the content writer:
Must know how the tech business works, what stakeholders want, what end-users want, how different types of solutions work, and how businesses can benefit from them.
Relationships and timing also count. It's what you know AND who you know, when it comes to content writing. Twenty-nine percent of content teams already know the writers they choose to contract.Content managers also value original, fresh content ideas (23%) and the ability to create great content and a variety of content formats (17%). 
This means content creators who offer more types of content tend to be more valued. It's not just about blog posts and emails. If a service provider can do keyword research, write scripts for video content, nail their product descriptions and web copy, they'll be well on the way to success. 
Challenges to expect when outsourcing content writing
If you're considering outsourcing your content writing in 2022, you have to do it with your eyes open. There are pain points to face and hurdles to vault. Our survey also dove into the difficulties marketing teams face when working with external writers. 
It's hard to find a good writer with industry experience
Writers with hands-on industry experience are sometimes described as unicorns. Finding a great writer with niche knowledge is undeniably difficult. 
In fact, 49% of respondents cite this as their biggest challenge. Aazar Shad, Growth Marketing Lead's number one challenge is that "it's so hard to find a good writer. Everybody can say they can write, but very few actually know how to write."
Agata Krzysztofik from Piktochart has a slightly different set of related issues when working with agencies, specifically. Referring to writers who have industry knowledge, she says:
…You cannot request who is really great at one of those things and have a person for each of those. It's been a struggle because we need industry knowledge as well. And usually, they are people who are very good writers or very reliable, but they don't have industry knowledge. Or they are not really in tune with the day-to-day of the people who are in our market.
Maintaining the quality of writing
Everything comes undone when a writer or agency delivers sub-par content. Unfortunately, 41% consider this to be one of the greatest challenges they face when working with external individuals or teams. 
Our takeaway: A writer or agency portfolio is often a good indication of the quality of their work, so be sure to ask for this before assigning any work.
Oftentimes, poor quality content requires lots of editing. Thirty-six percent of respondents felt that this is one of the biggest issues. When content is outsourced to save time, it's no wonder many consider taking everything on in-house. 
Our takeaway: It's important to have a clear understanding on how many revisions you can expect from a piece of content, especially when working with freelancers. If you're working with an agency, ensure that they send edited texts to you, rather than first drafts.
On a related note, nearly 30% of respondents say the biggest problem they face is that the content they receive doesn't deliver on expectations. 
Our takeaway: It's key to have clear briefs and a good line of communication with the writer or agency account manager before they start writing. 
Struggling with consistency
While rarely the case with individual writers, there can certainly be inconsistencies in style, voice and tone when working with agencies. Twenty-seven percent of respondents feel this is their biggest issue. 
Our takeaway: Ensure you have created and communicated your brand style guide. Give examples of tone of voice, share your editorial calendar, and help new writers nail it. It's a time investment, but one that will pay dividends. It's all part of a solid content strategy. 
Time briefing and other challenges
Twenty eight percent of respondents say it takes too long to explain the specifics of the industry, product, or topic to a writer. 
Our takeaway: While we can see this being an issue, every new employee or freelancer requires a certain level of time investment at the beginning of a contract. At the very least, they need an in-depth understanding of the target audience.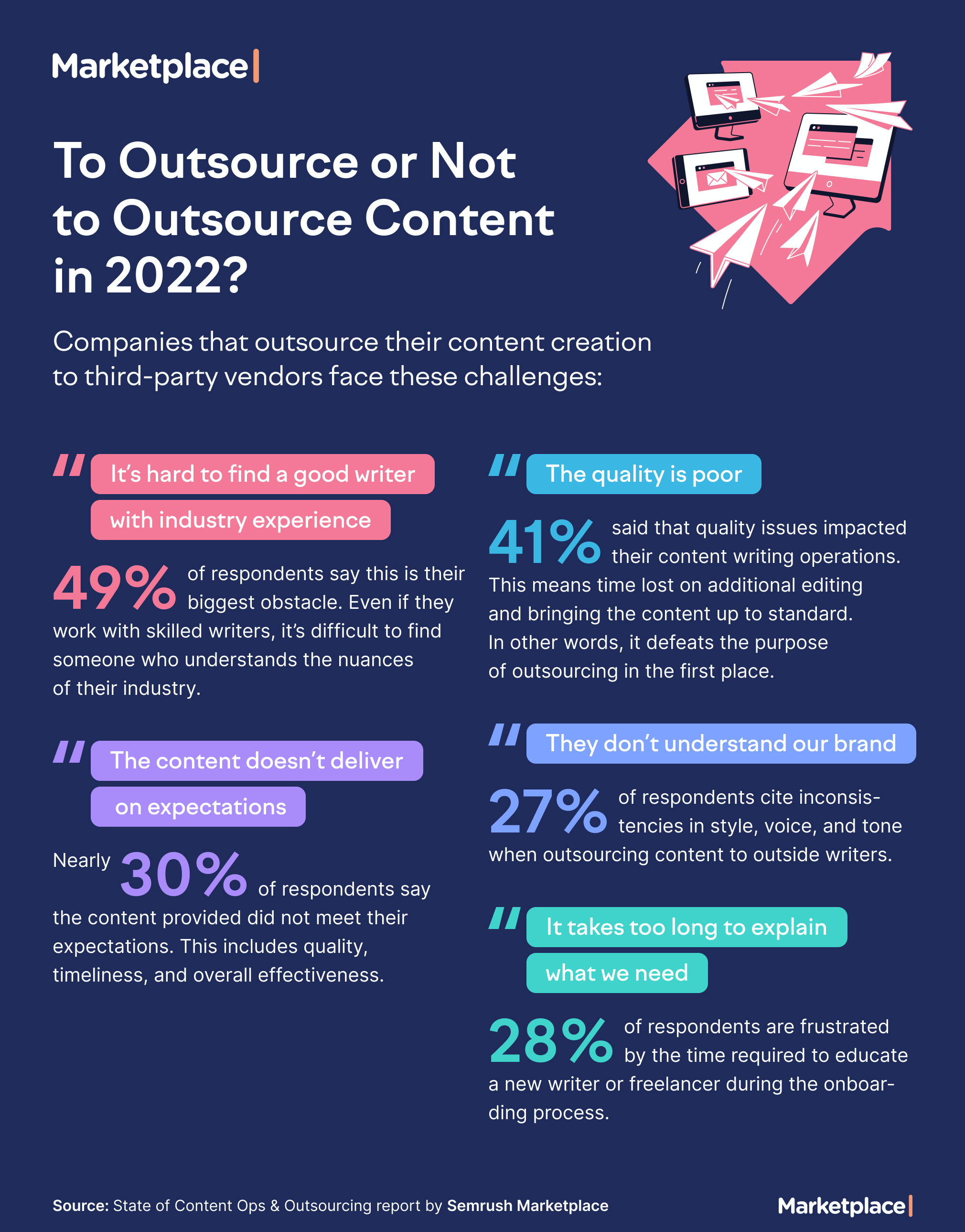 Key content production trends for the future
It's time to gaze into the Semrush crystal ball again and ask what content production will look like in 2022.
Just over half of our survey respondents (53%) think things are working out well. They plan to continue outsourcing content in the same way. Twenty-two percent feel things need shaking up and will create more content in-house. Twenty-one percent are going the other way and expect to outsource more in the next year. 
And what about the rest? Five percent plan to reel their content back in and do all production in-house. 
So, what can we say about these shifting sands? Despite those who plan to do more (or all) content writing in-house, outsourcing is certainly here to stay. 
It is, no doubt, an evolving market that is driven by the need to scale. It's important for clients – the companies doing the outsourcing – to understand the challenges they will face in the process. We've outlined some ways to mitigate the issues in the section above. But ultimately, it will be down to content managers to work out the best approach.
On the other side of the coin, it's also imperative that high-end freelancers, agencies, and content writing services listen to what content ops people are saying. It's the only way they can deliver on expectations and ensure the health and future success of their industry. 
Read more in our State of Content Ops & Outsourcing report
So how should you approach content production in 2022 and beyond?
There is a lot to process. It's obvious that there is no one-size-fits-all approach to content writing. Based on the insights and data, you'll need to identify which path suits you best. Will it be an in-house, 100% outsourced, or a hybrid model?
As with everything in marketing our advice is to test, deploy, and iterate until you are at the helm of a well-oiled content marketing machine.