Audience research is a vital part of marketing and advertising. By understanding the needs and pain points of the people who interact with your brand, you can improve your messaging, SEO, and most importantly—client acquisition.
What Is Audience Research?
Audience research aims to understand your target market in order to better know their needs, goals and challenges. Conducting audience research requires looking at the size, composition, and defining criteria of your audience.
As a result of your research, you will be able to separate your audiences into groups called segments. These individuals share certain characteristics—for example, their age, interests or how often they use a product. 
From there, you can make your marketing campaigns, content, and ads more relatable to your audience.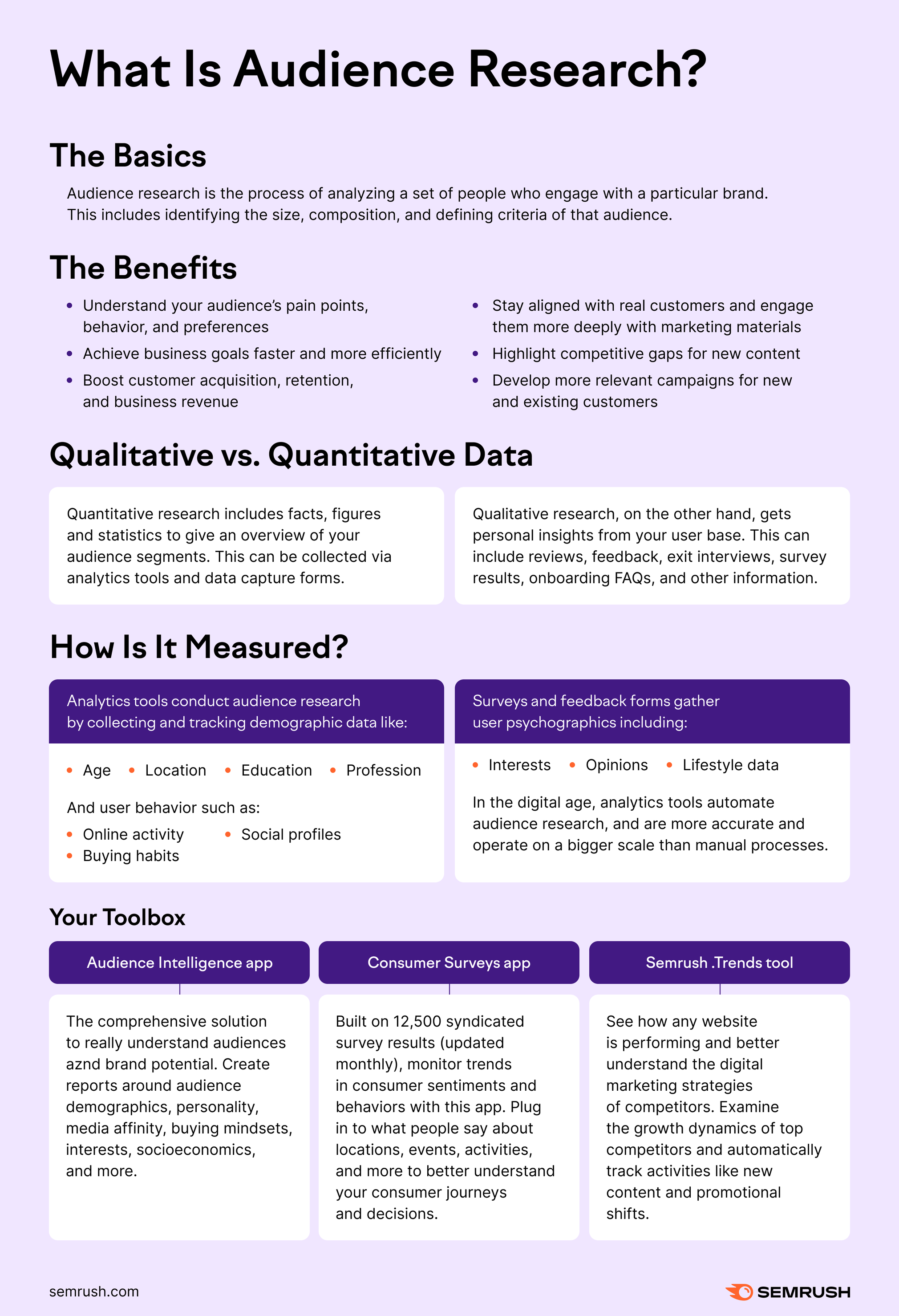 What Are the Benefits of Audience Research?
Carrying out target audience research provides insights that can help your business achieve its goals faster and more efficiently. That can translate to improved customer acquisition, customer retention, and revenue.
Audience research also helps marketers stay in touch with the people that matter most. Knowing a group of people's average age, pain points, and preferences will allow marketing teams to see their audience as real people, instead of just an abstract concept. Most importantly, it allows marketers to connect with audiences more deeply because they understand how they think, behave, and live. 
At the same time, audience research can highlight opportunities and obstacles for your brand. 
For example, if your competitors are trying to communicate with your desired audience but aren't succeeding, audience research can reveal why and how you could create content that resonates more successfully. Your brand can then develop more relevant campaigns for audiences and stay ahead of the competition. 
When conducting audience research, most companies opt to create a buyer persona, which describes the ideal customer in terms of their preferred channels, messaging, and what their motivations are. Buyer personas humanize audience research and ensure that you speak to the right customers in the right way.
How to Research Your Target Audience
Audience research is an ongoing process that can collect both quantitative and qualitative metrics.
Quantitative Research
Quantitative research includes facts, figures and statistics to give an overview of your audience segments. 
This data includes users' demographics (age, location, education, and profession) and users' behavior (online activity, buying habits). It can be collected via analytics tools that track where users are based, as well as how they engage with your marketing material and product. Data capture forms are also effective for quantitative information.
Qualitative Research
Qualitative research, on the other hand, gets personal insights from your user base. For example, it might include reviews, feedback, exit interviews, survey results, onboarding FAQs, and other information.
Other data includes users' psychographics (interests, opinions, lifestyle), and can be collected through focus groups, surveys, questionnaires, and feedback forms. Survey generators, quiz-making tools, and in-person meetings can help gather audience data. 
Audience research tools can also produce qualitative insights, and keep audience research up to date, correct, and processed according to your business needs. Such solutions save time and are more accurate than manual audience research.
Examples of Audience Research Approaches
Audience Analysis Tools 
For brands with large audiences, audience analysis tools automatically analyze and visualize data for audience segments. These tools can additionally support with competitive analysis and go beyond demographic data to show user behaviors and sentiment. Not to mention, they contribute to finding the best marketing channels, influencers, and strategies for your brand's customers.
Customer Interviews
Speaking directly to customers via the phone or in-person is one of the most simple, yet powerful ways to get to know your target audience. Conversations in real time give you a window into customers' lives, motivations, and purchase obstacles. 
It also reveals buying triggers, and can generate unexplored marketing channels or materials for you to orient toward. Plus, you can integrate customers' own words into your messaging to more strongly resonate with them.
Competitive Analysis
Competitive analysis involves monitoring your competitors' marketing materials and customer engagement. It includes competitors' social media channels, email campaigns, website, promotional offers, and customer reviews. Keeping atop of these areas can show where your competitors' aren't meeting audience needs and present gaps for your brand to fill.
Surveys and Questionnaires
Whether on your website, sent via email or during a phone call, surveys and questionnaires are opportunities to ask your audience certain questions or to rate their experience with your brand. You can also gather more data about audiences with these resources, as well as offer rewards for customers that complete them.
There is a wide selection of resources that can help businesses with audience research. These tools can give you a more complete picture of your customers and drive your marketing decisions. What's more, they can automate audience research, allowing you to focus on other business priorities.
Semrush Audience Intelligence App
The Audience Intelligence app from the Semrush App Center creates reports around your audience's evolving demographics, personality, media affinity, buying mindsets, interests, socioeconomics, and more.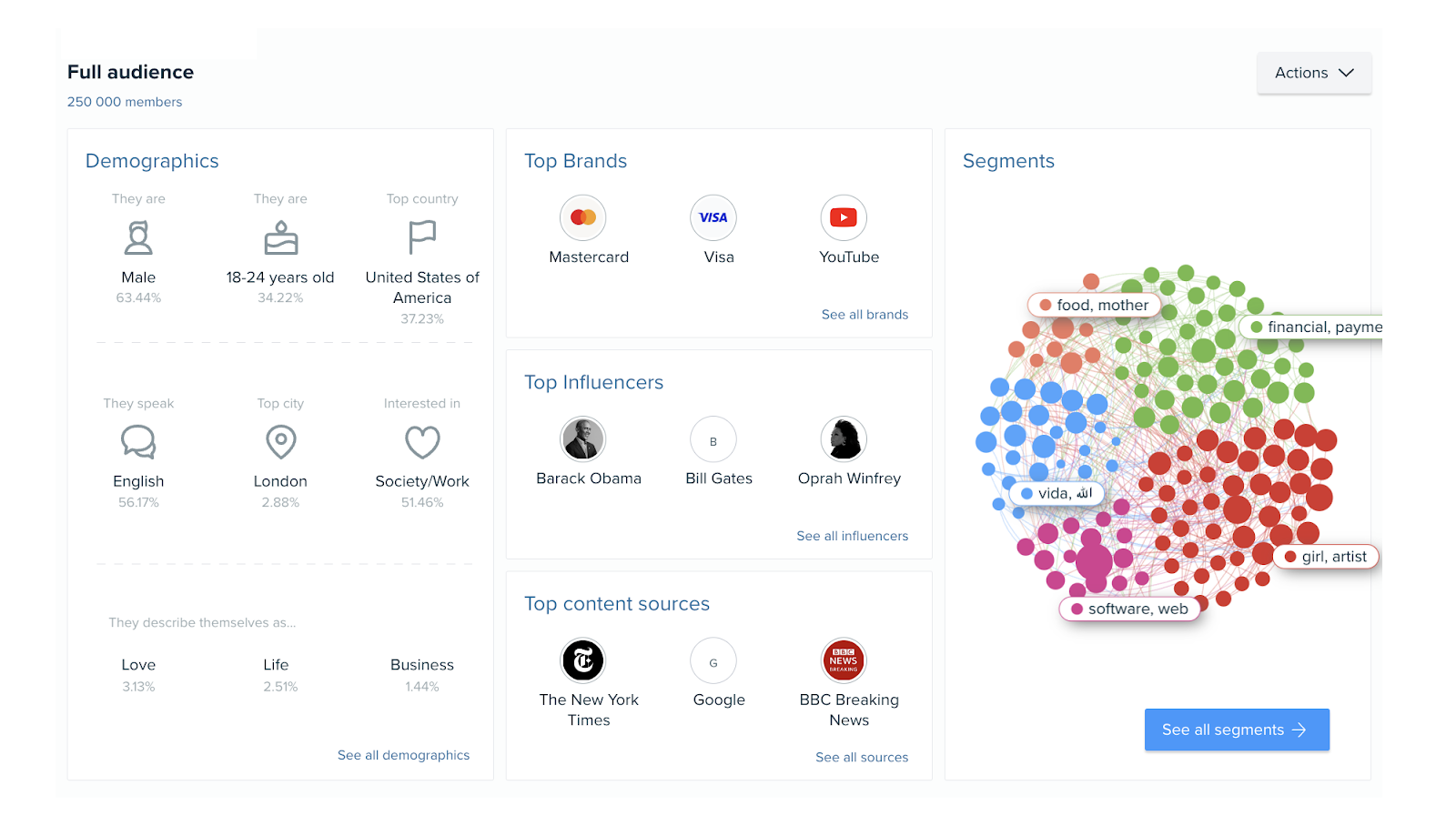 It provides businesses with data insights into various social consumer segments, empowering brands to engage with social audiences in a more meaningful way. 
The app has an IBM Watson integration that analyzes the personality characteristics of audiences, focusing on the Big 5 Ocean personality types. As a result, brands can leverage data around individuals' buying mindsets and online habits.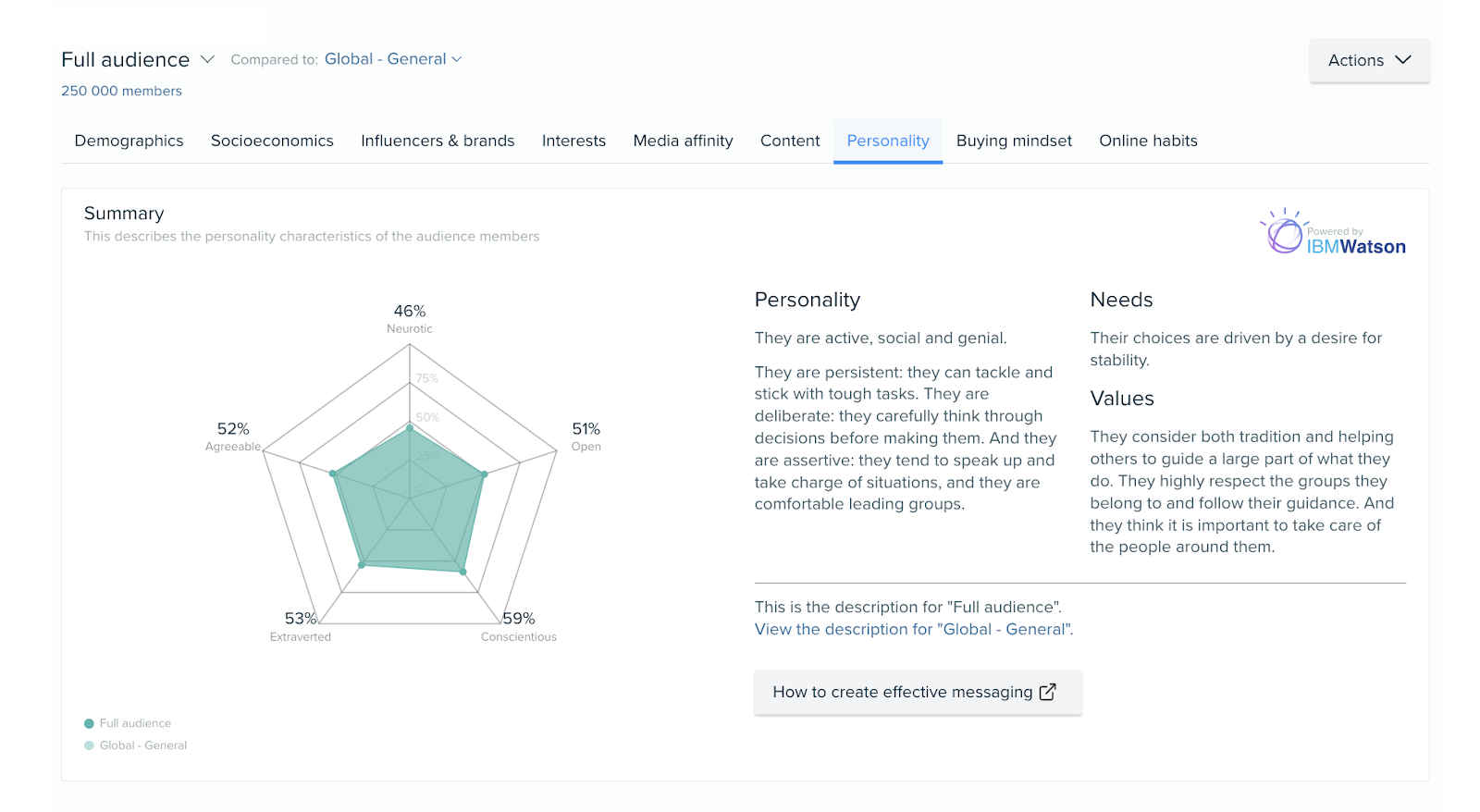 The app also highlights the most appropriate platforms, channels, and outlets for brands to reach audiences at scale. Data can be viewed by total audience or by audience segment. 
Engagement data can be viewed for three types of content: liked, shared, and influential. Elsewhere, users can compare data points against the national or global average, making it easier to spot trends and tap into them with your marketing materials.
Brands can also source influencers and partners through the app, as well as see how audiences engage with competitors and analyze competitors' untapped audiences.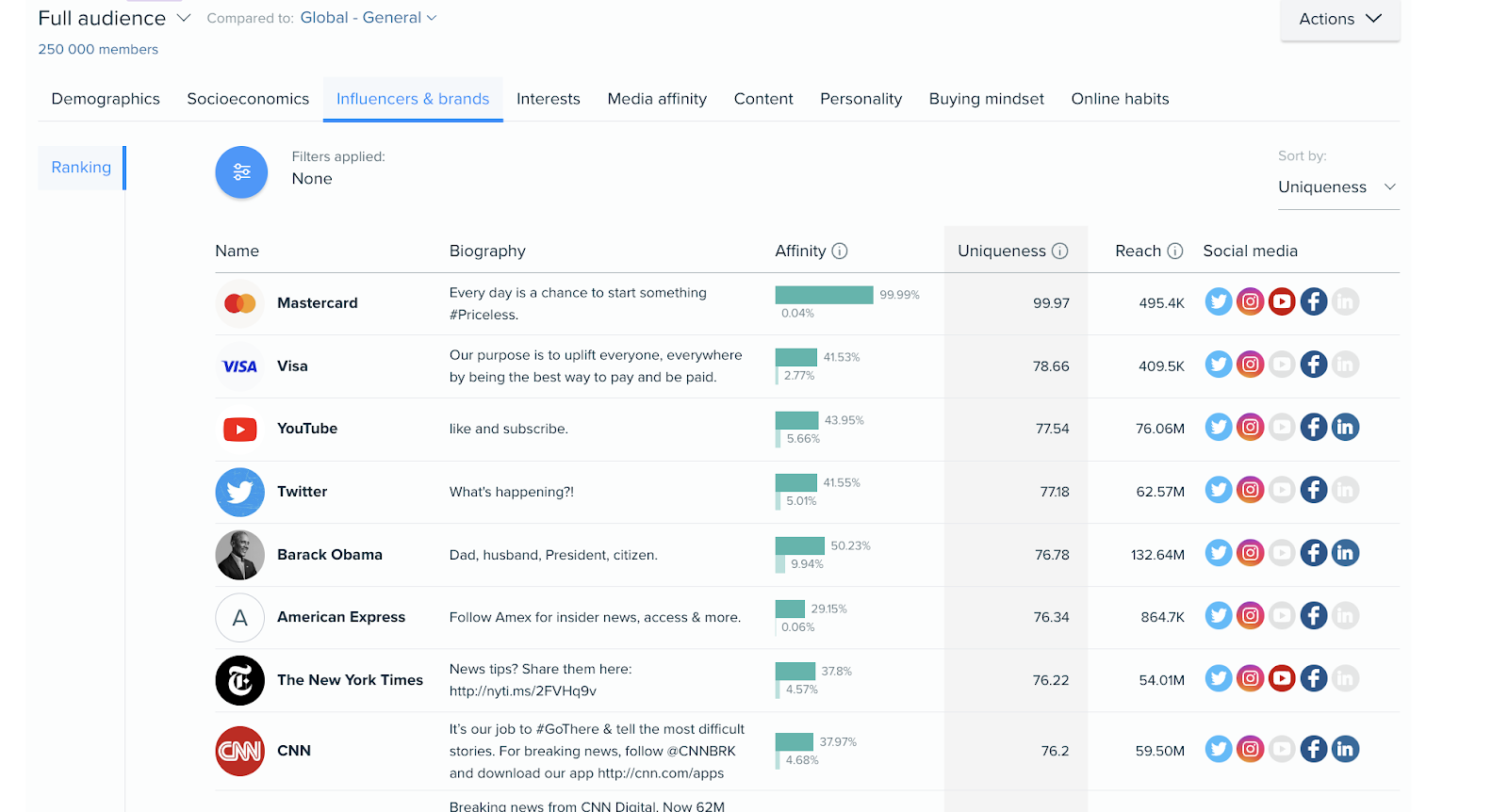 With this functionality, you can fully define your target audience and boost your brand engagement and reach.
A free version of Audience Intelligence is available with some limitations. The paid plan costs $150 per month and has nine sections of in-depth data on audiences, plus more report options.
Semrush Consumer Surveys App
Semrush Consumer Surveys app monitors trends in consumer sentiments and behaviors. The tool is built on 12,500 syndicated survey results that are updated on a monthly basis and help businesses understand consumer journeys and decisions.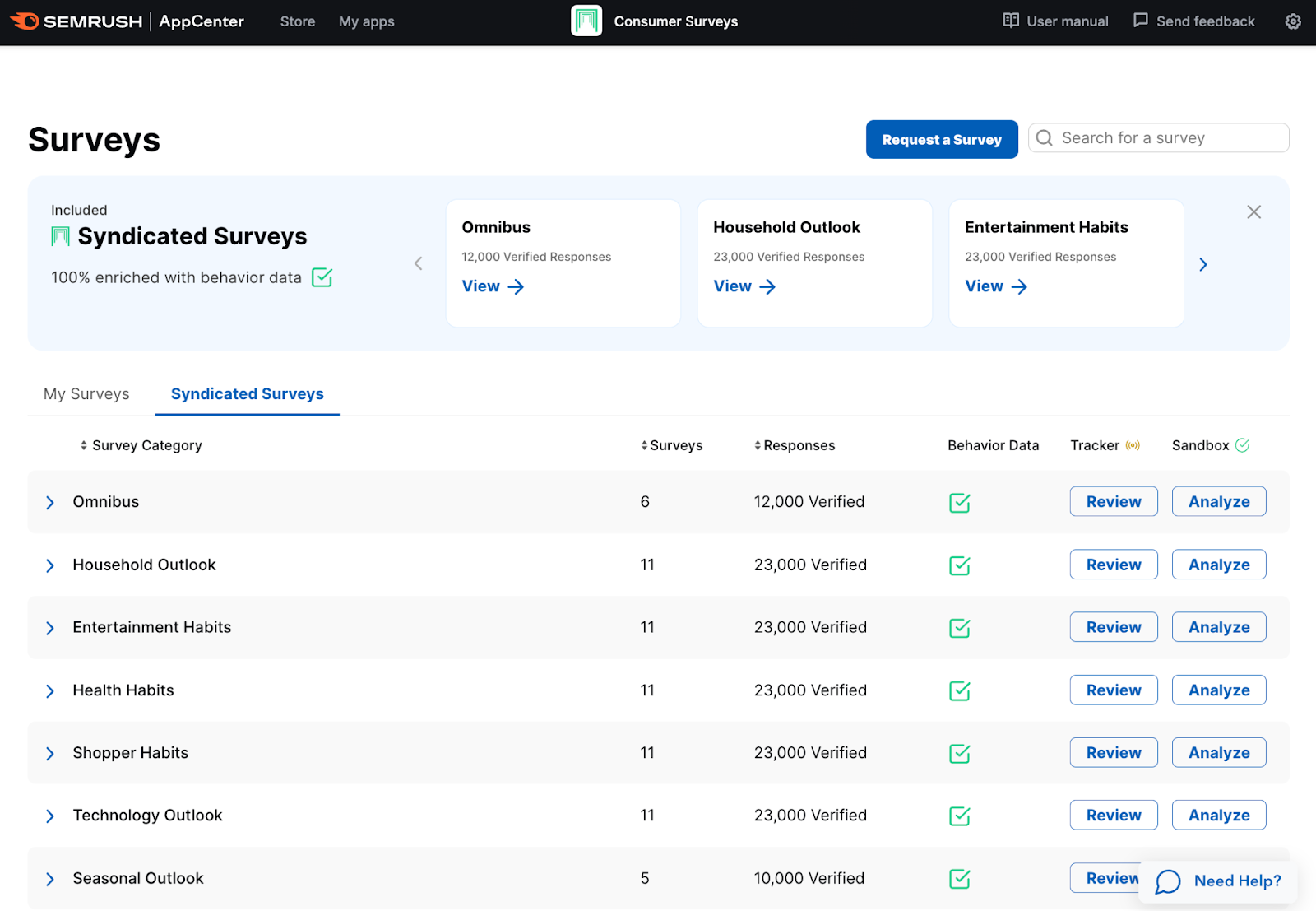 With the app, you can plug in to what people say about locations, events, and apps, alongside what activities they do in their daily lives. 
You can see your targeted customers' habits and outlooks for industries like entertainment, home, health, shopping, and technology. Data is visualized as digestible charts, enabling brands to make clear, concise takeaways.
Brands can also build segmented advertising strategies with Semrush Consumer Surveys, and request custom surveys that pertain to your specific business topics.
A free trial of Consumer Surveys is available. The paid plan costs $100 per month and includes total access to insights.
Semrush .Trends Tool
Semrush .Trends helps businesses discover market trends and get competitive insights around any website and sector in 190 countries.
The tool has a Market Explorer functionality, where brands get an in-depth snapshot of their market, complete with a list of top players, their market share, key industry trends, and audience characteristics. With this information, you can examine the growth dynamics of your closest competitors.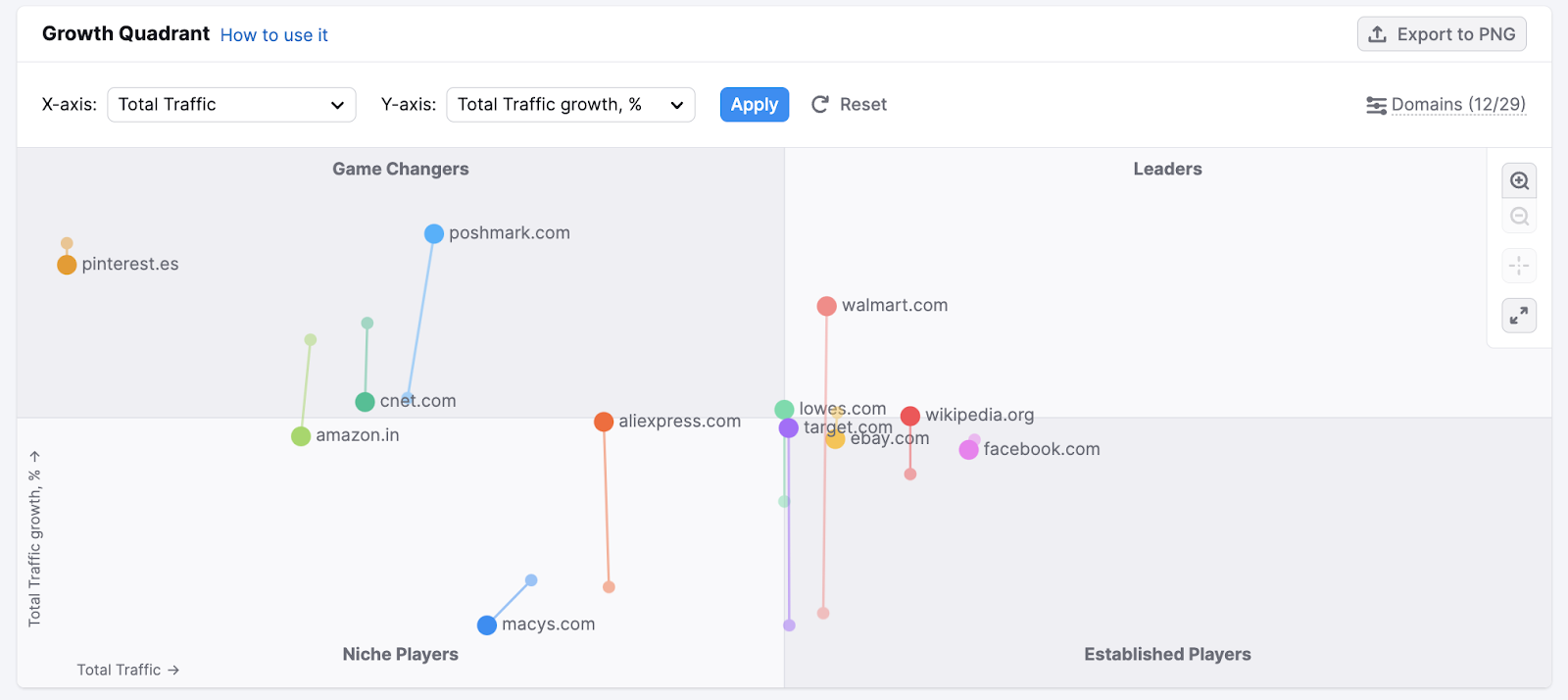 Traffic Analytics lets businesses see how any website is performing and understand the digital marketing strategies of any competitor. The feature comes with a channel-by-channel breakdown, including traffic acquisition priorities (direct, search, referral or paid).
It also generates insights on traffic analytics like sources, top pages, engagement, and website metrics. Elsewhere, the 'EyeOn' tab automatically tracks competitors' activities, such as new content and promotional shifts. The 'One2Target' tab supplies unique insights related to target audience characteristics like socioeconomics, behaviors, audience overlap, and demographics.
Semrush .Trends is only available with a Semrush subscription. 
Like any form of research, audience research is the foundation to taking informed, impactful action. And in the digital age, audience research can be fueled by smart tools that automatically provide up-to-date, granular data.
Try the Semrush Audience Intelligence app to carry out your own audience research and reap the business rewards.